Thanks to modern technologies, an ordinary person can create anything independently, without resorting to the help of specialists, using only the help of Internet resources and programs. In this article, we will look at free window design apps.
And if you like to create your project of the houses and be creative, we recommend checking the best home decorating apps for PC.
PVC and Aluminum Window
PVC and aluminum window is a mobile app that will help you design any type of windows and not only.
Thanks to this app, you can easily design a sliding window, panoramic window, sliding window, doors and much more.
The app has many functions, namely: you can design a window or door in a two-dimensional or three-dimensional projection, you can draw a flat sketch, you can calculate the area of the project or the required amount of materials, save a file in PDF format.
The app has a mobile and computer version, which is quite convenient. You can create a file and do the main work on your computer, and then drop the file on your mobile phone and continue editing on it.
What is equally important – calculations are carried out automatically during operation. This makes your work easier and speeds up the process. You will not need to calculate the area and dimensions, select the right amount of building materials, the app will do it for you.
Features of the PVC and aluminum window app:
Wide range of features. You can choose the design method, as well as create a variety of options for windows and doors (movable, fixed, panoramic, and so on)
Convenient use. You can work both on a computer and on a mobile device.
Automatic calculation of measurements and the ability to calculate the amount of building materials.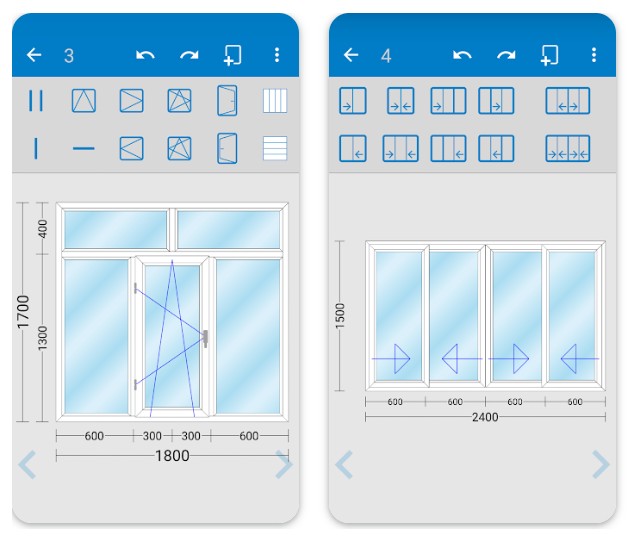 You may also like: 11 Best Games Like Minecraft for Android & iOS
Windowmaker Measure
Windowmaker Measure is a universal window design app. Design, calculate and create documents.
This app has been specially developed for window design and further calculations. It will be useful to everyone: ordinary people who need to take measurements, builders, as well as sales representatives of building materials.
A wide range of functions allows both novice builders and professionals to use the app. The app is intuitive to use and has all the necessary basic functions.
You don't have to design the window yourself – you can create a document with the necessary data and calculations and simply hand it over to employees.
What is particularly interesting is that you can connect the app directly to the laser meter via your smartphone. This function will allow you to make accurate measurements quickly and without unnecessary hassle. After that, you can upload the received data to a separate file.
Features and capabilities of the Windowmaker Measure app:
Make measurements and calculations. You can perform this action manually (enter the initial data) or upload a photo of your window and specify the scale of the ratio, then the application will perform calculations automatically.
User-friendly and intuitive to use application for a person with any level of design skill
The ability to synchronize the application with the laser meter for more accurate results.
Ability to create, edit and share documents.


Window glass design
Window glass design is a mobile app that is able to carry out any necessary calculations and actions for the design of your windows and doors.
What can this app do? This mobile add-on doesn't have any fantastic features, but it includes everything you need to measure and calculate your project.
The app has three main sections of use – a design, a constructor and a calculator. We suggest you consider the possibilities of these options in more detail.
Design. In the design section, you can create a future model of your window – how many sections it will have, what height and latitude, at what angle the window will be installed (in this case, a sunroof window is meant), choose the number of panes, and so on.
Designer. This is the next section that you will find yourself in after you decide on the design of the window. Here you can design the window in more detail. Determine the type of glasses and their number, calculate the thickness and so on.
Calculator. After you create the window design, you will go to the next section – calculator. Here you can make calculations based on which the app will give you information about the required amount of building materials.
Upon completion of all work, the app will create a document with all the information collected. You can use it for further construction yourself or hand it over to employees.
Features of the Window glass design app:
Simple and easy-to-use app
The ability to independently come up with and design a window
The app creates a document with all the necessary information, which you can later transfer to the builder.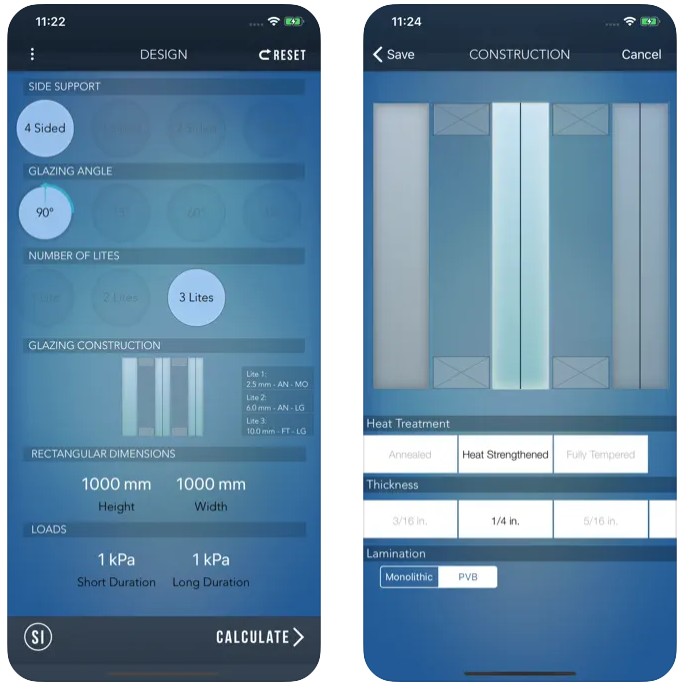 Fenestra
Fenestra is an app for your mobile device, thanks to which you will be able to independently learn how to design and create windows of any type and shape.
This app is a solution to many problems if you are engaged in independent design. What does a beginner need? Basic functions, simple and user-friendly interface.
That's what you'll find in the Fenestra app.
The app includes all the basic options needed to design a window, which makes it a versatile and simple tool.
You will find the following functions: a constructor, a calculator (there are two of them in the application, we'll talk about this later), a graphic editor and much more.
In the designer (or graphic editor) you can create a project of your window and edit it. The built-in accessories gallery can help you get inspired. The app will tell you how best to design a window and what materials should be used.
You can create absolutely any type of window (movable, fixed, with several sections, hatch or panoramic). The app will automatically make all the necessary calculations and show suitable materials at a pleasant price.
Features of the Fenestra app:
Ability to create PDF documents, share them and edit them.
The app includes all the most necessary basic functions.
You can choose materials, parts and accessories directly in the app.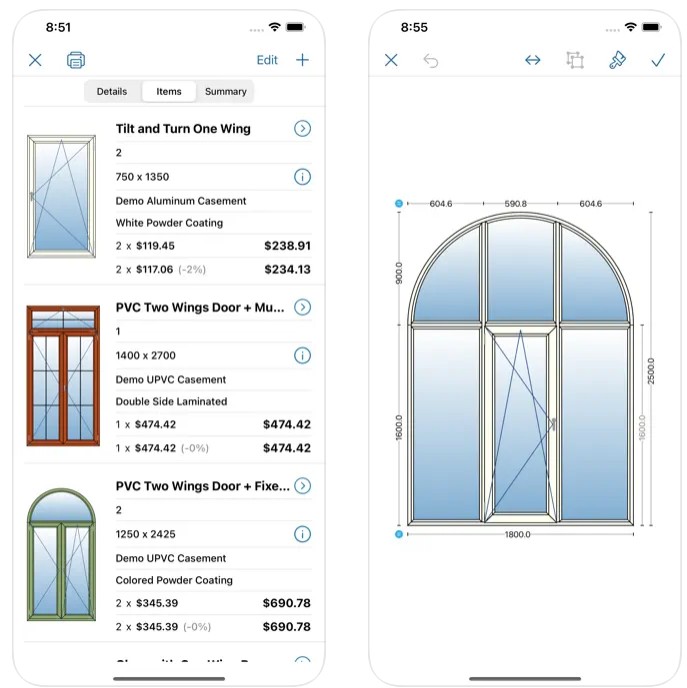 You may also like: 11 Best Games Like House Flipper for PC
Design Tool (by Andersen Windows)
Andersen Windows is a company engaged in the manufacture and installation of windows and doors. The company has developed a website where you can design a window or door yourself, and then send them the project and get the finished product.
The standard has a standard design, by clicking on the link you will be met by the main and additional menu. We invite you to take a closer look at the offer from the site and its components.
In the additional menu (as usual, it is located in the upper left corner) you can find a contact number, a department with windows (already finished products and materials for creation), a department with windows (already finished products and materials for creation), a gallery for inspiration, coordinates of Andersen Windows stores and contacts of employees.
In the main menu (you will find yourself in it as soon as you click on the link), you are offered several sections to choose from, where you can design a window, doors (for a veranda or entrance).
After you go to the section you need, you can choose the model of the window, its appearance, choose from which materials your product will be made and start designing.
Upon completion of the work, you will have a ready-made document in your hands, which you can send to the company and request to make the desired thing for you.
Which is also convenient, you can immediately order all the necessary materials on the website or find information about nearby stores, find contacts of employees who will install your window or door for you.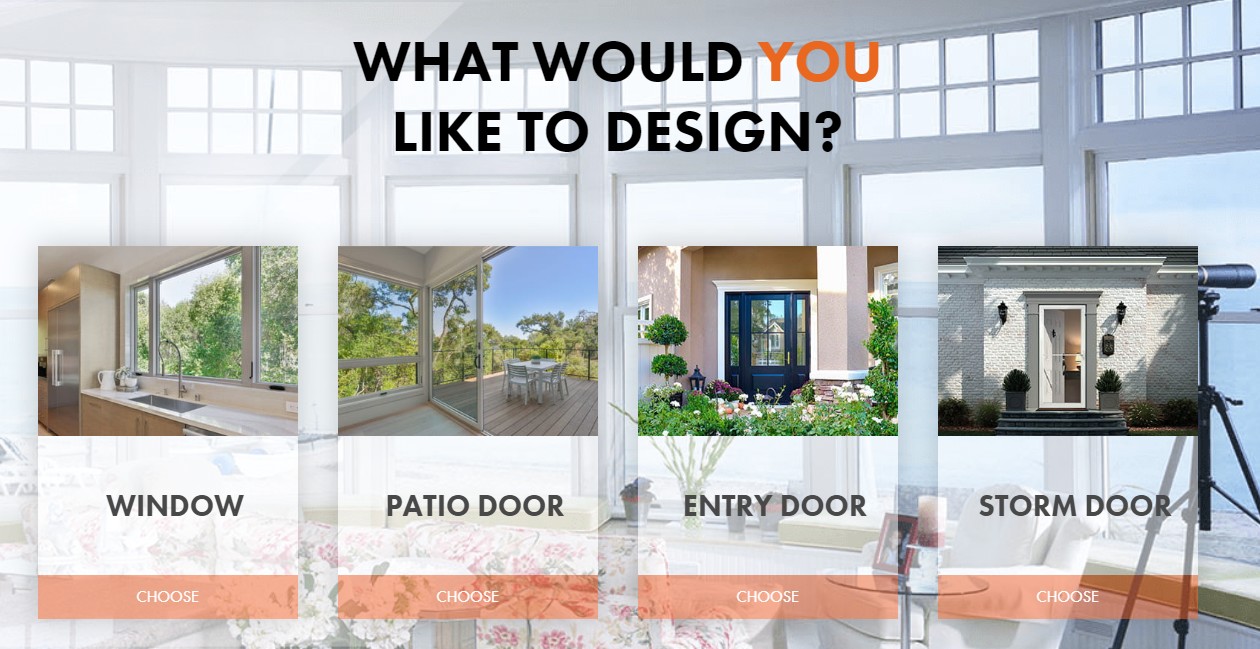 WindoorCraft
WindoorCraft is a website that will help you create a project for your window or door in just a few steps, create a full-fledged document with all the information that you can transfer to builders for further work.
On the website you can create a flat window drawing or a 3D model of the future product. You can create a structure of any complexity and type with ready-made dimensions and calculations.
Creating a flat drawing. In a special graphic editor, you can create a flat drawing – visualization of your project. A large gallery of rectangular and rounded shapes awaits you in the graphic editor, on the basis of which you can create a project.
You can combine them at will and create anything – a square window with round sections, a round stained glass window or a hexagonal window. You can edit every detail, and upon completion you will receive a ready-made project with all the specified dimensions.
You can drag the picture as you like and create large-scale compositions. To do this, select the created image and drag it. You can drag individual sections.
Creating a 3D model. Before creating a volumetric model of your project, you need to create it in flat mode (graphic editor) and then transfer the created object to volumetric mode. Here you can look at your project from different sides, play with the choice of materials.
Upon completion of the work, you will receive a PDF file (consisting of several sheets) with extensive information. It will include: your image, the dimensions of each part, calculations of materials and so on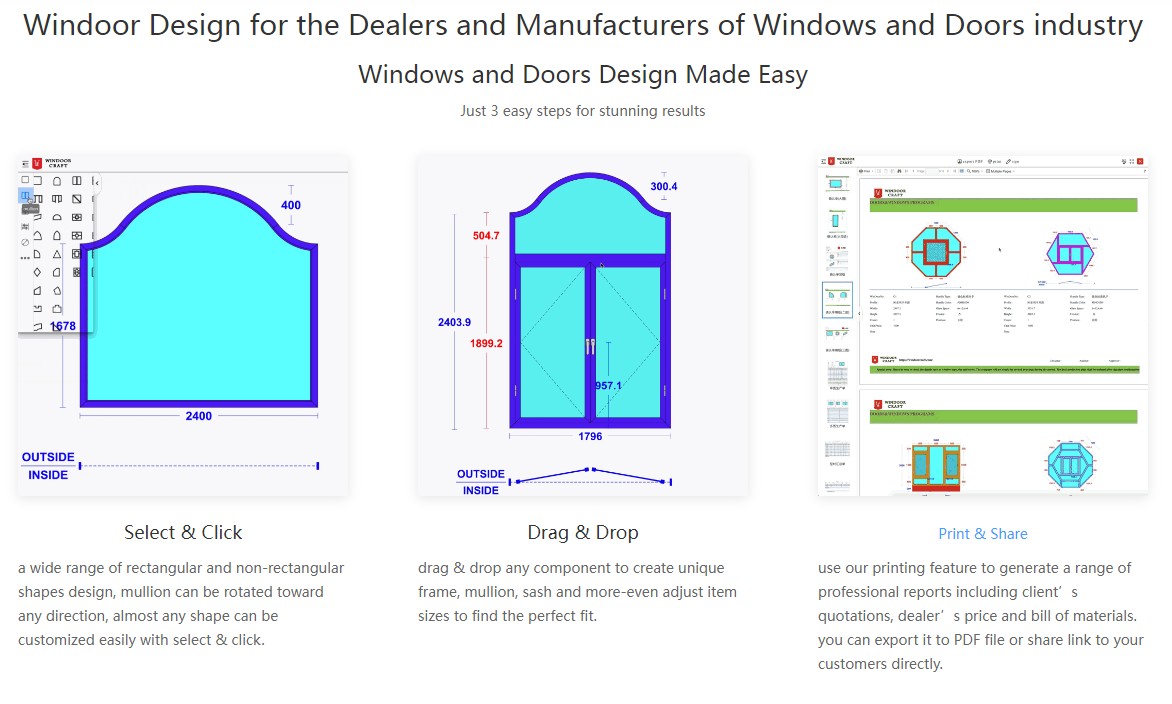 Window Designer
Window Designer is a website builder, thanks to which you will be able to design a window of any type and model yourself.
This site allows you to design, perform calculations and calculations for any type of windows (fixed, movable, hatch windows, panoramic windows, double-leaf and composite doors).
How does it work? All you need is to go to a special section on the website or install the program on your computer or phone (in this case you can create even offline).
Using the application is extremely simple – you have at your disposal a wide library of parts and accessories thanks to which you can create a drawing. Just drag and drop the necessary details and edit them.
You can also create a three-dimensional model by switching to a special mode. The principle of operation is the same – just drag the objects you need and create a composition from them.
Upon completion of the work, you will receive a full–fledged report in the form of a PDF document, which will store all information about your project, namely, images of the project, its dimensions and the amount of materials needed for manufacturing.

WindowCAD
WindowCAD is a website where you can come up with a design for your window or door and create a drawing based on it.
Creating a project on this site is easy and simple, all you need is to go to the site and select the section you are interested in.
There are several sections in the main menu – the design of shop windows and doors, the design of composite doors and the design of windows.
Go to the section you need and that's it, you can start designing. After you go to one of the sections, you will be greeted by another menu. This time you will need to choose the material of the product (wood, plastic, and so on) and the model.
You will be presented with several ready–made models – you can look at them in detail and even evaluate the principle of operation. But you can create something yourself. To do this, you need to register via email.
During the creation of the product, you just need to combine ready-made three-dimensional objects with each other. You can change their color, the texture of the material and the texture of the glass. You can also test the working principle of your project (see how the moving parts will open)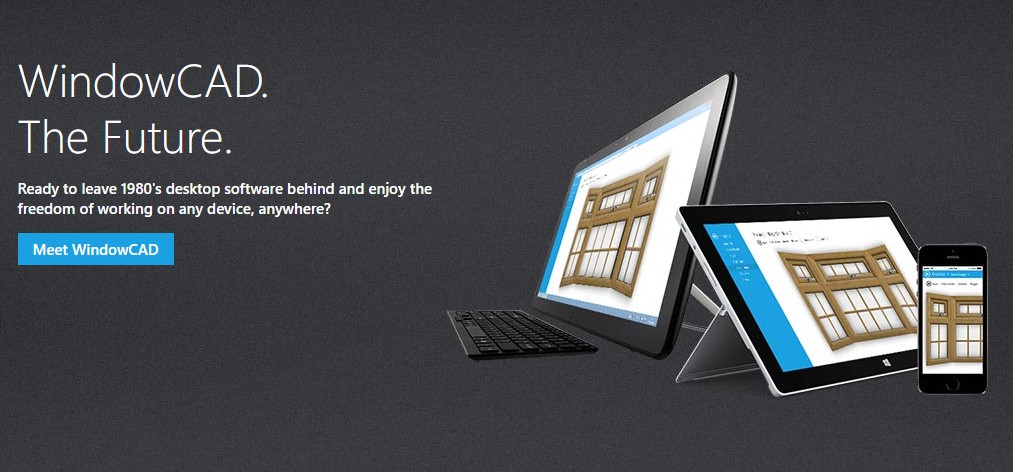 You may also like: 7 Free Height Measurement Apps for Android, iOS, Windows
AutoCAD
AutoCAD is a famous program from Autodesk, designed to create projects and drawings, and is now available on mobile devices.
Thanks to this program, you will be able to create and edit ready-made drawings of any complexity. The program includes all the main important functions that you will need while working.
Thanks to this app, you can view flat drawings, create and edit them offline, manage layers and work on two projects in parallel, draw geometry, make notes and annotations.
In the AutoCAD app, you can create a drawing or a project of absolutely any complexity, be it a window, door project, a drawing of some small detail or a drawing of an entire floor of a house.
During the creation of the project, you can work in a group with several people, make edits and edit the drawing at the same time. You can also save a document and share it with other devices or people.
Features and capabilities of the AutoCAD app:
Work on projects and drawings offline without an internet connection.
Give up paper drawings forever – just create a project in the app and print it out
Ability to work with several people at the same time