Are you ready to take the guesswork out of room dimension calculations? Well, you're in for a treat!
We've scouted the best room size calculators (Android, iOS, Windows) you could try. These nifty tools take the struggles out of estimating a room, and some let you measure distances, too.
And forget about boring, outdated calcs – these are user-friendly, fun, and even a little bit witty. Whether you're a professional architect or just a DIY enthusiast, these will help you make a space that's just the right size. Let's get into it!
AR Plan
Want for a tape measure that doesn't involve a whole lot of bending and unfurling? Give this app a try, then! It uses AR tech and lidar scanning to make measuring a breeze. You can easily count the perimeter and height of a place, as well as doors, windows, and flooring.
And the top part? You can do it all with nothing but your phone. But that's not all this app has to offer. It covers the 3D planner, so you can form an in-depth plan with all the proportions you've taken.
Want to see what your room would look like from a different angle? The 2D side view floor planner has got you covered. And with the ability to store all your measures and blueprints you can easily access them anytime you need to.
But perhaps the coolest aspect of this app is the ability to share your plan via email or messenger. Need to show a pal your design for their living room? No problem! Just snap a screenshot and send it their way.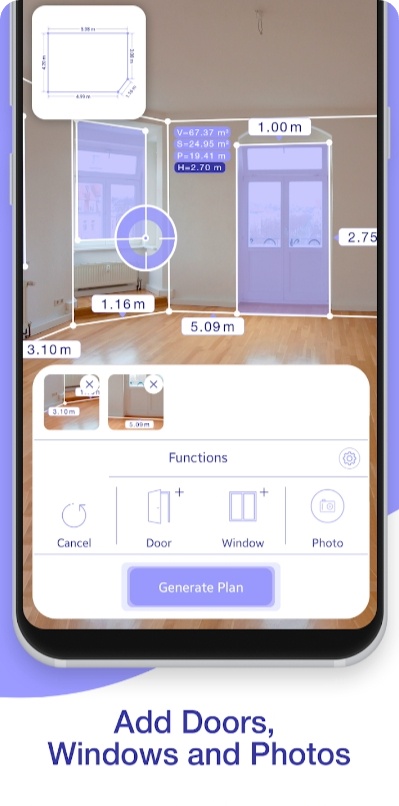 You may also like: 6 Best Exterior Design Apps
magicplan
If you're in the market for an app that lets you measure, sketch, and estimate interior plans, you need to check out this one. This nifty little tool is a gem when it comes to getting work done in the field. With state-of-the-art tech and an easy UI, you'll be measuring and sketching like a pro in no time.
But it doesn't stop there. You can add pics, notes, forms, and markups to get structured reports that eliminate any risk of mistakes. Moreover, this app seamlessly merges take-off and estimation to instantly compute pricing. How's that for a time-saver?
And don't just take our word for it, the app is renowned worldwide, with over 20M users under its belt. That's right, every day the equivalent of a small city is mapped here.
And the best part? You can test the magic with the free version (two plans included). But trust us, once you're hooked, you'll want more magic with their sub plans! If you need a comprehensive sketching tool, reporting solution, or a calc, this one has got your back.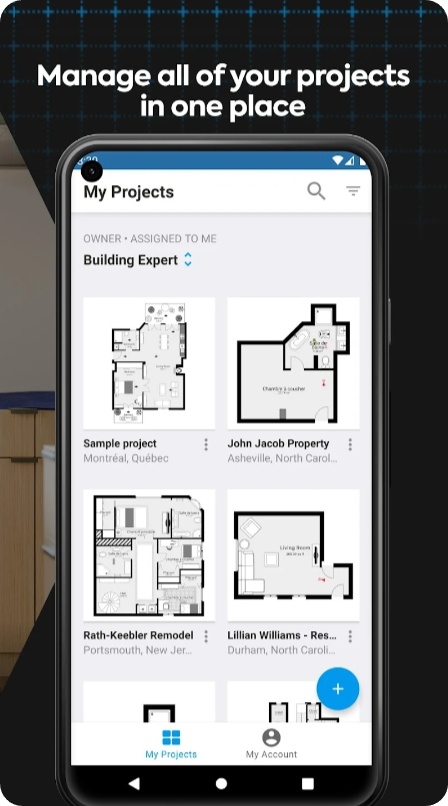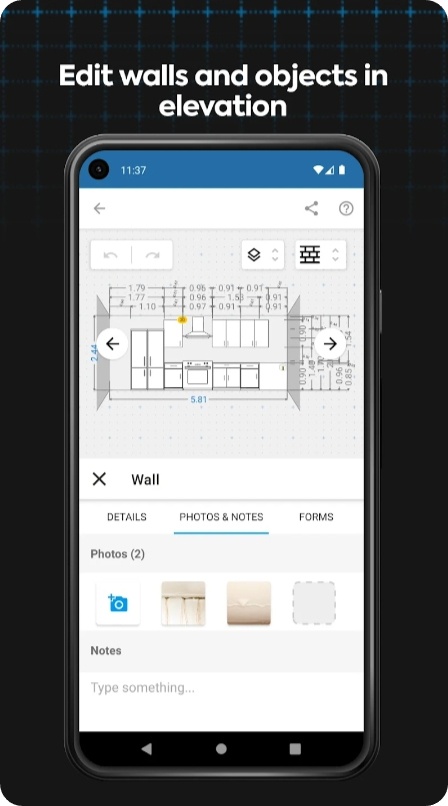 AR Ruler App
Tired of hunting down that old, bulky tape measure every time you need to measure smth? This versatile tool has everything you need to get linear sizes in a variety of units.
It also includes a distance meter for counting the distance from your device's cam to a fixed point on a detected 3D project. Not to mention the angle measuring, ideal for getting those tricky corner counts.
If you're planning on remodeling or redecorating your home, the app is a get. The area and perimeter counter is ideal for getting accurate proportions of your space. The room planner lets you generate a room projection and export it in PDF format.
Need to measure the size of a 3D object? No problem with the volume scanner. And if you need to find out the length of a pic path or the height relative to the recognized surface, the path scan and height scanner are here for it. But our personal fave has got to be the on-screen ruler. No longer do you need a physical one to estimate small objects.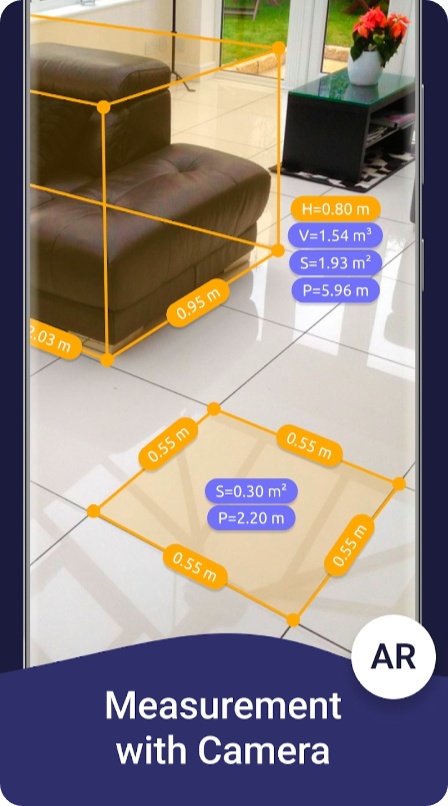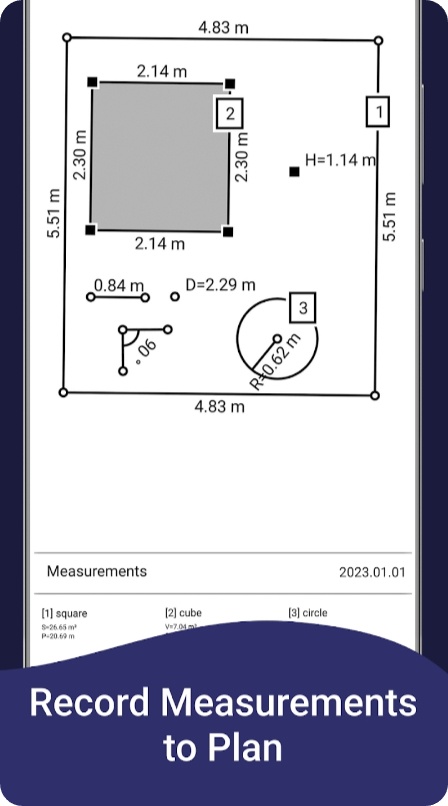 SizeUp
Fed up with lugging around a clunky tape measure everywhere? Desperate for precise proportions without the fuss? This app is for you.
This clever tool lets you play the knight with your phone, effortlessly counting length, width, and height as you room-to-room it. With accuracy so sharp (less than 2 cm up to 3 meters), it's like wielding a lightsaber of precision! With this app, you can trust that your sizes will be spot-on every time.
But hold your applause because there's more! It isn't just a one-trick pony. It can size up anything, from a single chair to a whole pad, in metric or imperial units. And did we mention that it stores your projects too? That's right, your very own personal data hoarder.
You can easily reference past countings and monitor your projects over time. Impress your peeps with your mad measuring skills, 'cause the app lets you share those and even convert them between units with a snap. So whether you're a DIY buff, a pro contractor, or just a room-size enthusiast, it will become your go-to app.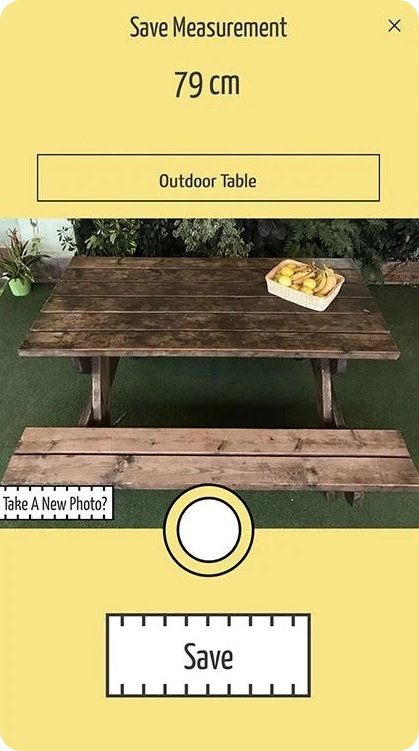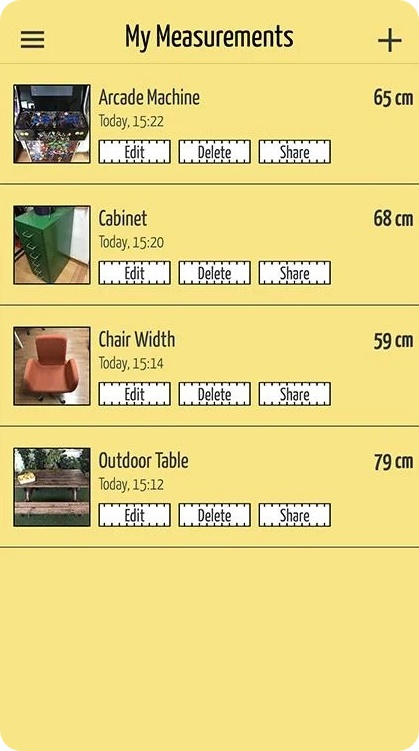 Moasure
Exhausted from your tape measure making you do the limbo? Introducing this app-the smart tape tool that'll have your sizes on point, no contortions required!
From counting a measly 10 cm to an impressive 3000 m, the app does it with lightning speed and zero hassle. Wave goodbye to tape mishaps and hello to accurate proportions, no more starting over.
But wait, there's more! The app can do way more than that. It has five modes for all kinds of objects, spaces, heights, angles, and even round obstacles. Get ready to conquer room dimensions like a boss! And that's not all – the app lets you save and label the sizes, print them out, and share them with a few taps if needed. Oh, and did we mention it's adjustable for metric or imperial units? Talk about versatility!
But here's the kicker: it can even determine the angle between two lines or surfaces. With accuracy better than 1% for distances and angle accuracy better than 1 degree, the app guarantees you precise results every time. It's the motion-measuring app of your dreams!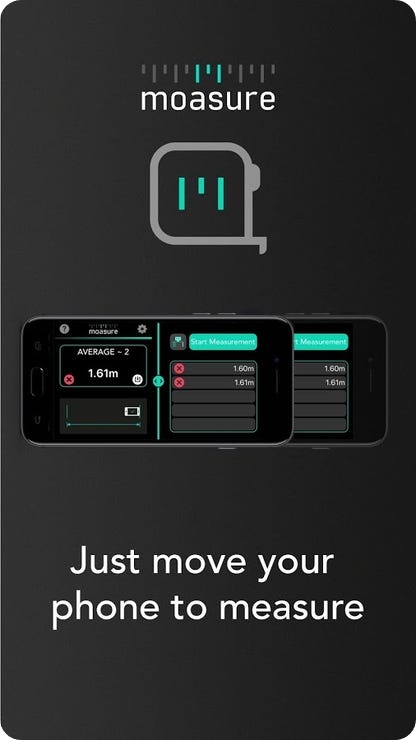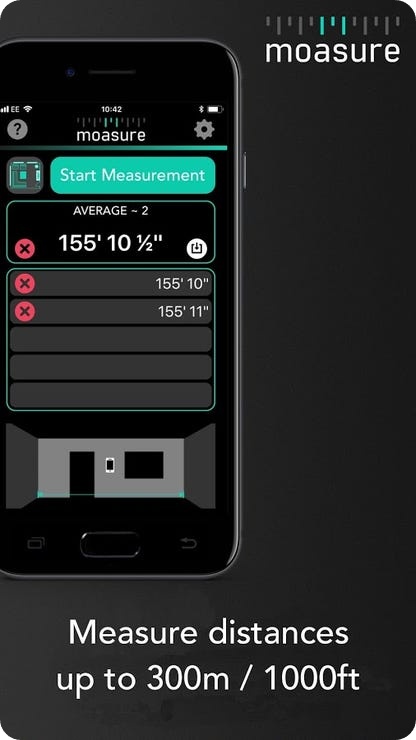 Measure Tools
If you're the kind of guy who constantly misplaces the ruler, you have to try out this app. It's the ultimate solution for all your sizing needs!
This app boasts not one, not two, but five specialized tools made to make sizing a breeze. If you need to calc a horizontal surface with objects in the way, find out the height, or preview the size of furniture before purchasing it, this app can do that.
And don't forget about the angle finder, it will make the process even faster and more accurate. The app automatically calcs the area of a surface, lets you save dimensions by snapping a pic, and sorts those into folders for easy access. Plus, you can share your results with colleagues and clients, so they won't be left in the dark.
And if you're ever feeling stuck or unsure about how to use the app, there are tips and tricks with vids right at your fingertips. Plus, the app works with both imperial and metric systems, so no matter where you are in the world, you'll never be left high and dry. And all that with no login or registration required.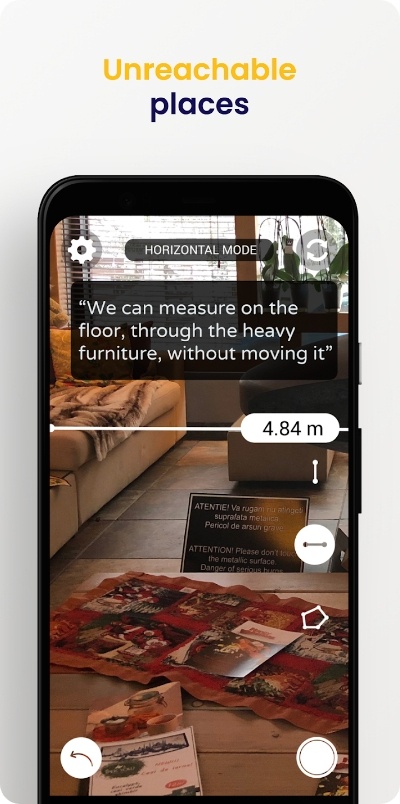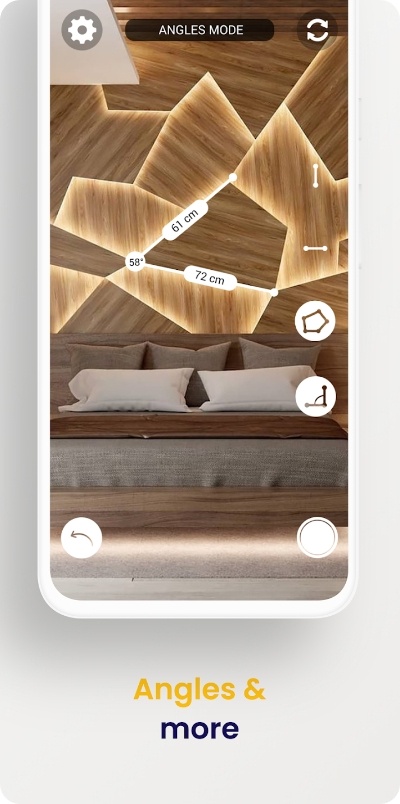 Check also: 7 Free Height Measurement Apps
Quick Measure
This nifty tool is here to lvl up your measuring game. It's packed with cutting-edge depth vision cam tech that ensures accurate dimensions get delivered to you in a jiffy.
Ready to conquer distances like a pro? The distance calc got you covered. From builders to DIY buffs, you'll dig how effortlessly it estimates the cam-to-aim point span. But, hold your tapes, there's more! The area calc is ideal for those quick-lengthy-with moments. And for circles? Bam! This app snaps up radii and areas like nobody's business.
Now, brace yourselves for the showstopper – 3D measures! You won't find this kind of accuracy and precision in most other apps on the market. The app has a simple UI and all the tools will become essential superheroes in your toolbox.
But fear not, those of you without the depthvision cam, you can still make use of all other tools. Ready to join the satisfied customer club? The app is your ticket to instant, accurate counting. Trust us, you won't look back after trying it.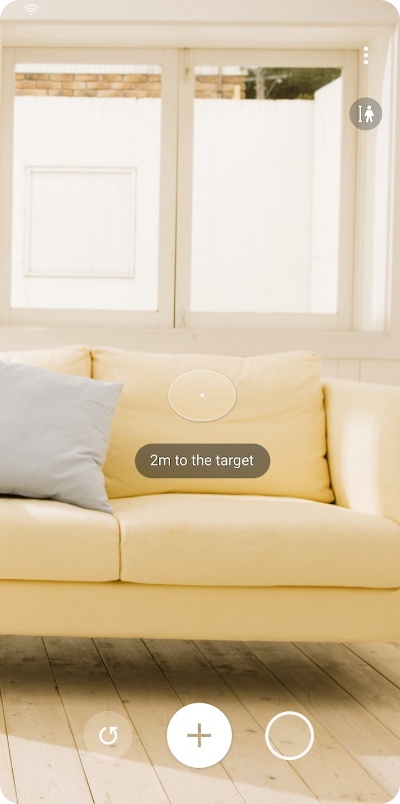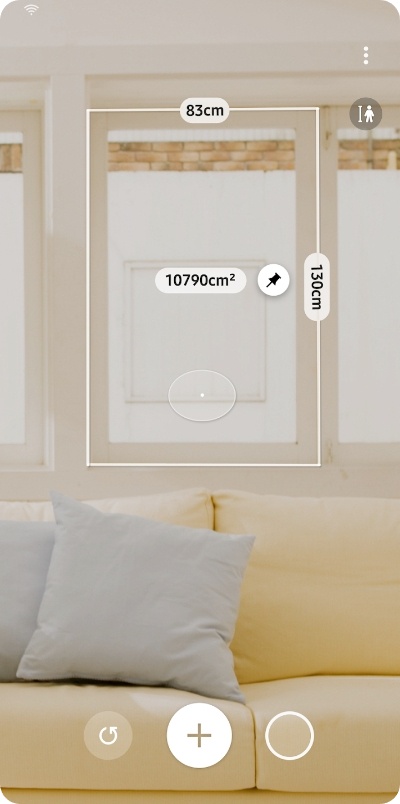 ImageMeter
This app single-handedly redefines the way you calc lengths, areas, and angles. It does it by providing a snazzy Bluetooth connection to laser distance meters. But hey, that's just the tip of the iceberg!
Not only can you calc with effortless ease, but you can also jot down text notes and get artsy with freehand drawings on the canvas. Trust us, the app even lets you play Picasso with basic geometric shapes, making architects and designers swoon. And oh, did we mention the export options? It has both doc files and pics options.
But wait, there's more! The app takes personalization to a heavenly level by letting you tweak brightness and other things to make your annotations pop. You can channel your inner artist by drawing on empty canvases or experiencing scaled mode for a mind-blowing visual feast. Plus, with the context-sensitive cursor snapping, you'll be drawing like a pro in no time.
And for those craving advanced tools, the app has an add-on that lets you import PDFs, draw those cool measurement strings, and yes, even record audio notes. Oh, and the cherry on top? You can organize your images in subfolders with fancy color codes!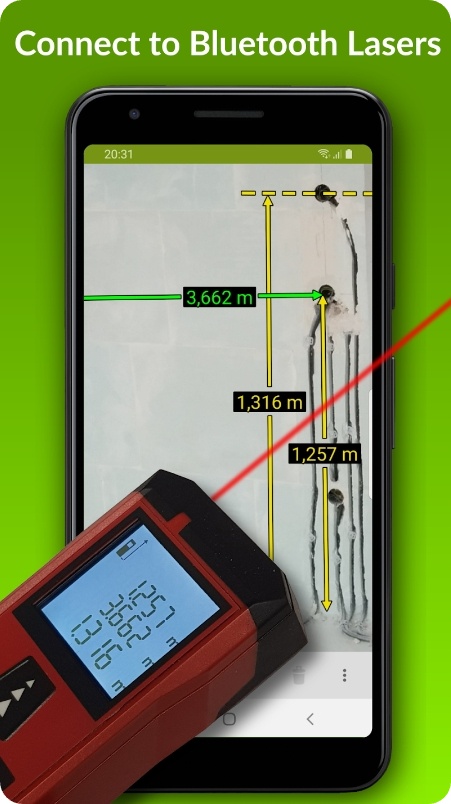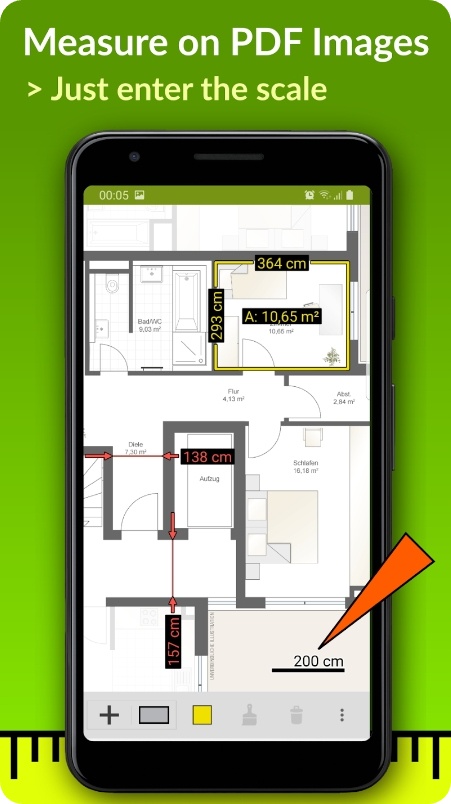 Floor Plan Creator
Moving on to soft for PC. This one is packed with useful tools, but it has its limitations and ads (which is not a big deal, they all do). It's a treat for anyone wanting to redo the interior of their home or generate in-depth floor plans.
First off, let's talk about the 3D support. Being able to see your plan in 3D gives you an entirely new perspective on your space. It's like being able to step inside your plans before even lifting a hammer. Plus, it makes it so much easier to visualize how your furniture and decor will fit into your space.
And speaking of furniture, this app makes it a breeze to add pieces to your plans. You can pick from a huge lib of items and drag-and-drop them onto your plan. This makes it super easy to see if there is enough room for new stuff before you even hit the store.
No more guessing whether that new couch will fit or not – you can see it right there in your plan! This app makes it easy to make precise plans, if you're starting from scratch or modifying an existing one. There are tons of tools to make walls and even outdoor spaces.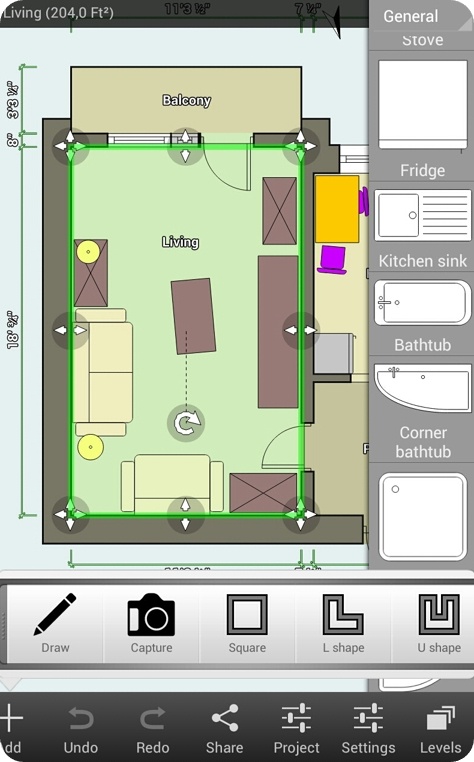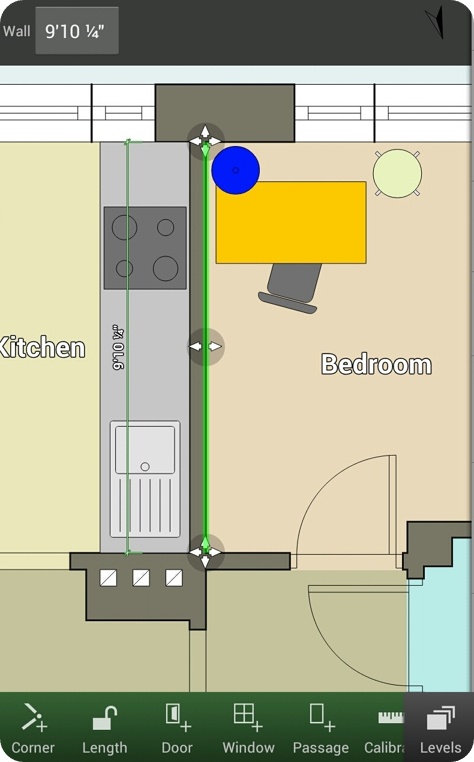 Live Home 3D
If you're a design enthusiast, you know the struggle of finding the ideal app that can cater to all your needs. But worry no more, because this one is here to the rescue!
It is a treat for those who are planning to build a home or renovate an apartment. It's like having a designer and landscape artist all in one app! With its friendly UI, making in-depth 2D plan layouts has never been easier. And the top part? You can easily transform them into 3D ones and even walk through them!
The app takes the guesswork out of the process, thanks to its ready-made samples. No need to scratch your head wondering if your dream kitchen will clash with your living room decor. With this one, you can easily visualize how all elements will work together.
And don't even get us started on the 2,5K items and 2K+ materials to pick from! It's like a design wonderland, where you can add and move furniture, experiment with lighting and textures, and truly bring your vision to life.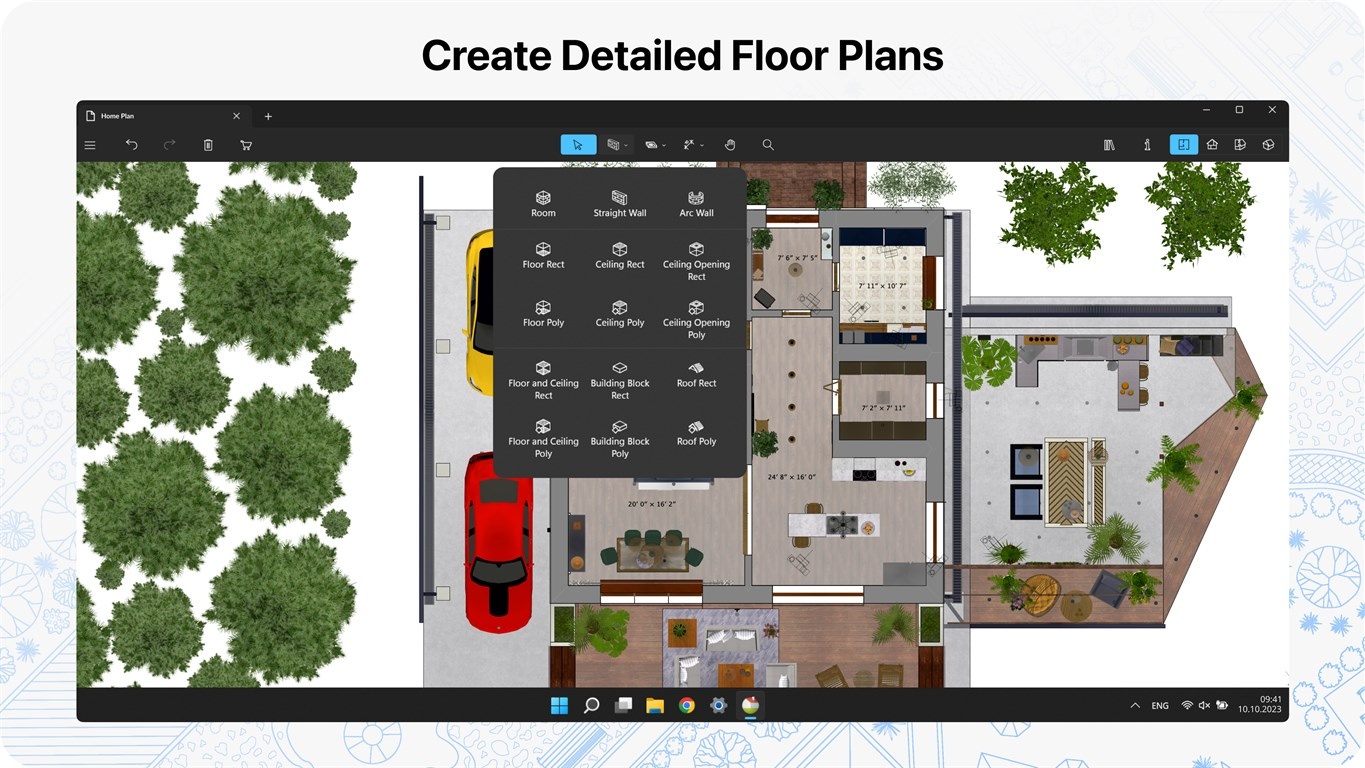 You may also check: 13 Best Furniture Design Software
Planner 5D
And lastly, there's an app that will make your room remodeling easier. It's made for both pros and design buffs alike. One of the standout aspects of this one is its ability to make exceptionally detailed and personalized projects, both inside and out.
And with its drag-and-drop options in 2D and 3D, you can bring your ideas to life effortlessly. It delivers an intuitive approach to design, with friendly UI that doesn't require a degree in architecture. From the floor plan to the finishing touches, you can make a completely unique home that reflects your style.
The app's regularly updated 6,5K item catalog is also impressive. It has everything from furniture to household items and more. It makes adding the ideal pieces to your room a breeze.
If you're worried about measurements, the app lets you switch between unit systems, making it accessible to anyone, anywhere. You can save and share your project with a few taps, too. It's also completely ad-free and multi-language, so you can focus on the process without any distractions.