For a business office or comfortable rooms, you need new decor. In the list down below we have collected the best furniture design software where you will find the sources that can be useful for creating a building, its interior, and a piece of furniture.
And in case you already have some unique furniture pieces that you have customized yourself, you can sell them to others using the apps to buy & sell used furniture in USA.
Moblo – 3D furniture modeling
It is software for your smartphone with the help of which you can make your 3D models of furniture items. Would you like to have a new stand, but do not know which one? Construct it using the tools of this service and then share this prototype with a professional builder.
Also, the app does not require any special skill to make furniture pieces, because it has a user-friendly interface. Just take the service as a fascinating game. Move and rotate various parts until you get what you want.
Do not limit yourself to creating only simple furniture such as chairs or cabinets. It is possible to design a wardrobe or even a kitchen area.
Choose the material that your piece of furniture will be made of. The app provides metal, glass, or wood. It is also possible to change the color of your construction, just select the appropriate function on the building menu.
After you have finished creating a model of your future table, bed, or wardrobe, then you can check whether this item fits well into the atmosphere of the room.
With the help of augmented reality, you can put a piece of furniture that has not yet been created into your house.
Advantages:
Users can choose a material as well as color for the furniture pieces they prefer.
Users can quickly and easily figure out the functionality of the service.
There is an AR feature.
Drawbacks:
There are a few features available in the free version.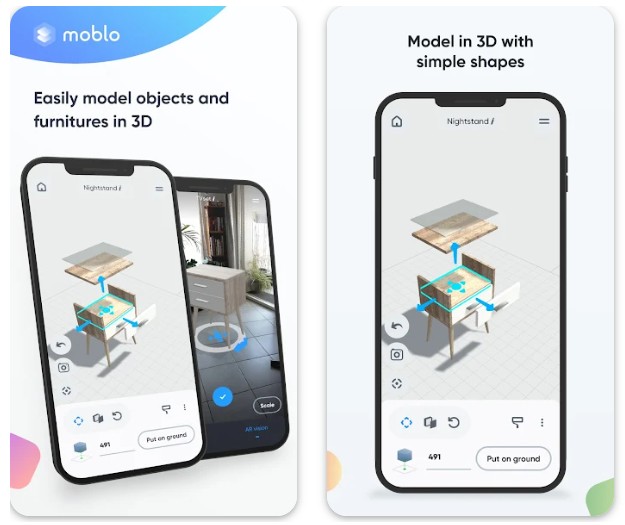 You may also like: 8 Best Home Decorating Apps for PC
Room Planner: Home Interior 3D
Room Planner is a great tool for individuals who have decided to renovate a room or the whole building. The app has all the necessary functions to create an interior from scratch.
First, the floor plan should be created. Specify the proportions of the rooms so that your idea correlates with the actual height and length of the rooms. At this step, you can also place the furniture. This way you get a 2D project of your future house.
What is more, the service contains a collection of ready-made projects. Users have the option to use them as a source of inspiration and new ideas or take them as a basis.
Getting a 3D room design is very simple for everyone. Choose pieces of furniture from the app library, which provides more than five thousand objects. You will find what you have been looking for.
Also, this app is useful if you do not want to do a full-scale repair, but just change some details, such as wallpaper. Recreate your room in this app and then change the color of the walls. This way you will know what it looks like.
Advantages:
There is a large collection of furniture for creating interiors.
You can control the size of the rooms.
Drawbacks:
The app has limited features for the free version.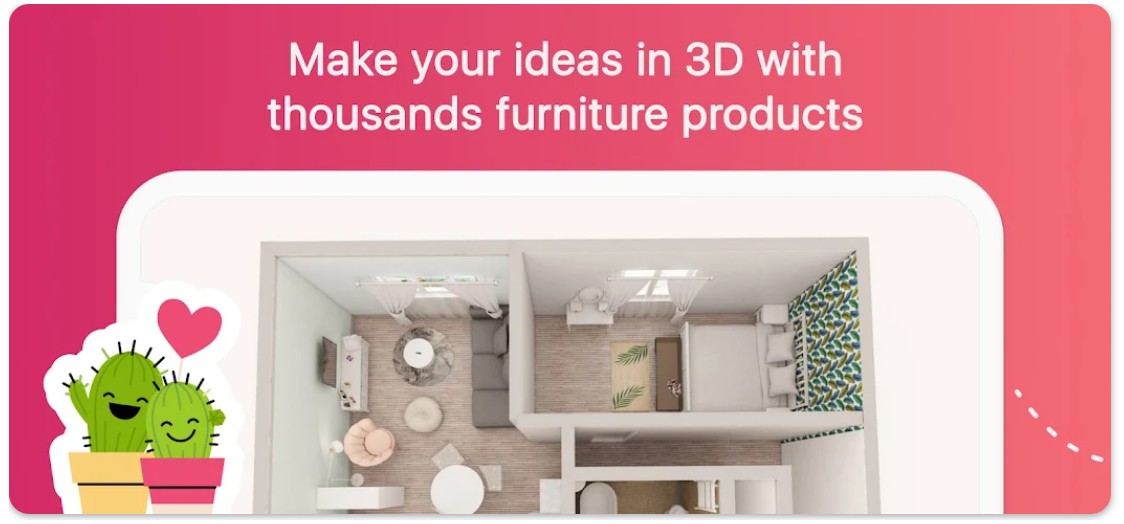 You may also like: Free window design software
Homestyler – Interior Design
This app gives you a chance to create the rooms you need. It has all the required tools and decor elements to build a cozy family home, a study, or a commercial project.
The app has a huge collection of various pieces of furniture. Here you can find suitable sofas, beds, bookshelves, ceilings, floors, plants, different decorations, and much more.
Moreover, the service offers to place furniture of real brands such as IKEA, Target, or Crate. This is convenient if you have already picked something from the store catalogs.
Besides, users do not have to start making their decors from scratch. Just upload a photo of your living room or kitchen and then use AR to set the furniture items as you wish.
The app can even be a wonderful game to play. The fact is that the service organizes a contest every week for the best interior that users create on the suggested theme. Test your creativity and win!
Advantages:
The collection has furniture from real stores.
You can participate in the competition for the best interior design.
It is possible to use AR.
Drawbacks: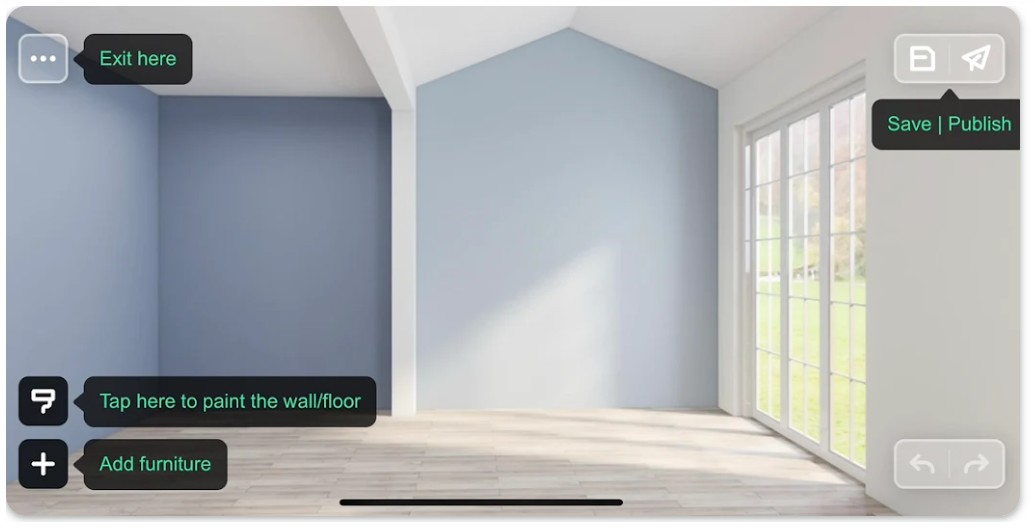 HomeByMe
This is a convenient tool for all people who are looking for inspiration to improve the appearance of their home or to design a new one.
To begin with, you are offered to create a 2D plan for your future dream home. It is easy to scale, set sizes and change the position of rooms. Be free in any of your actions.
The second step is the visualization of new rooms in 3D. You can rotate objects, resize them, move them, and so on.
It is amazing, but the service has a catalog containing about twenty thousand different furniture items. Moreover, this furniture was created by well-known manufacturers and architects.
Also, the service lets you set up furniture in rooms by style, as well as decorate with flowers.
It is available to share your decor ideas right in the app. Your family or colleagues will stay informed about all the transformations in the renovation, as well as the necessary things to buy.
Advantages:
There is an offline mode.
The app has a catalog with 20,000 pieces of furniture.
Drawbacks: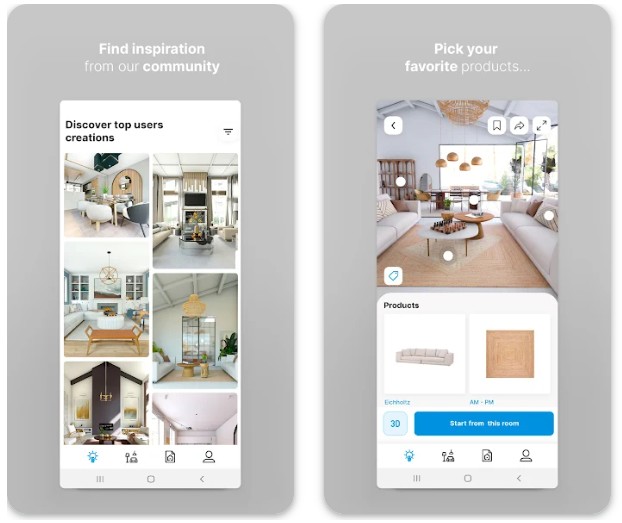 uMake: 3D Modeling CAD, Design
This app is a powerful tool for your iPhone or iPad. It has many functions for constructing various 3D models and is not limited only to the creation of houses and pieces of furniture.
Nevertheless, if you want to design a building or a new wardrobe, then you have an excellent chance to test your modeling skills.
It is available to take some ready-made elements and add them to your design. So you do not have to create an interior or a piece of furniture from scratch.
You can just use your fingers or an Apple pencil to work with the software. This is a modern app with a simple interface and it is very comfortable to create objects here.
Besides, the service provides professional tools to construct pieces of furniture that are very convenient and easy to use.
Advantages:
It is available to make not just furniture but also any other 3D models.
There are ready-made components.
Drawbacks:
Using the free version, only basic functions are available to you.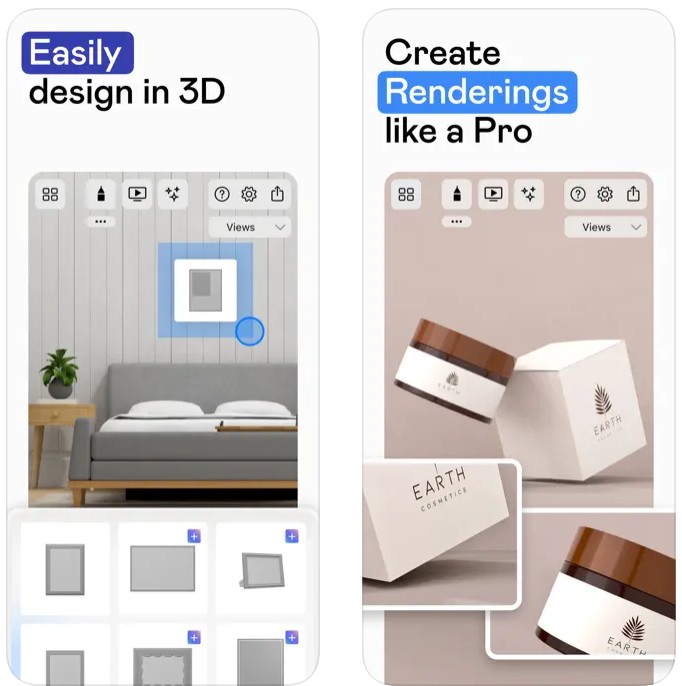 Keyplan 3D Lite – Home design
Keyplan is an app that you can install on your Apple gadget.
Start with a plan on which you will indicate the size of the rooms and the scale and then move on to the most interesting part where you have to paint the walls, and floor and also place the furniture as you want.
It does not take much time to build walls as you could think. Think that you are drawing with a pencil on paper – the new wall is now ready!
The app also allows you to change the height of the walls, which is very convenient for creating unique buildings.
What is more, there is a catalog with more than 350 pieces of furniture and decor to place in the rooms. In addition, they are free.
Another useful feature of this service is the opportunity to save files with created interiors on iCloud. This way you will have access to projects on any device.
Advantages:
There are a large number of free elements for construction.
It is easy to create walls for rooms.
You can save projects the cloud storage.
Drawbacks:
You can create only one room without a subscription.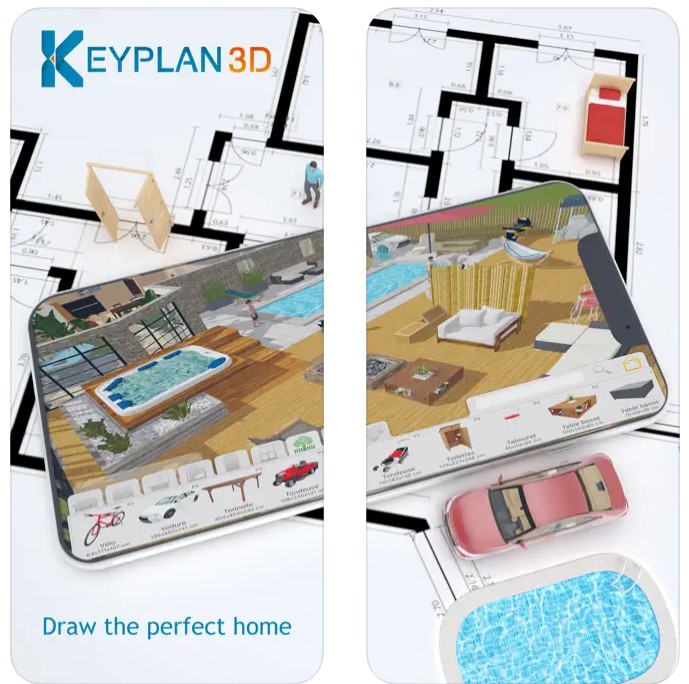 You may also like: 11 Best Games Like Sims for Android & iOS
Home Design 3D
If you are planning to build your house or create an awesome design, then install this app on your iPhone or iPad and start bringing the idea to life.
This software is suitable for both professional designers and common people who want to make a renovation or just experiment.
The first step to successfully creating a construction project is a 2D plan where you decide what the floor will be, how many rooms you want in your house, how thick the walls will be, and where windows and doors will be placed.
All this can be achieved with the tools available in this app.
The most interesting part for creative people is the creation of the interior in the 3D version of the project. You can reveal your talent just by experimenting with different styles and combinations of items.
In addition, the app has a huge number of different pieces of furniture to create cozy, modern interiors for your client or family.
Increase or reduce the size of an object, change the texture, color, move or copy. It is simple to control furniture pieces.
Advantages:
There are many tools to design a house inside and outside.
The app has a large collection of furniture.
It is available to share files with projects via e-mail and other services.
Drawbacks:
Sometimes the app may not save your project.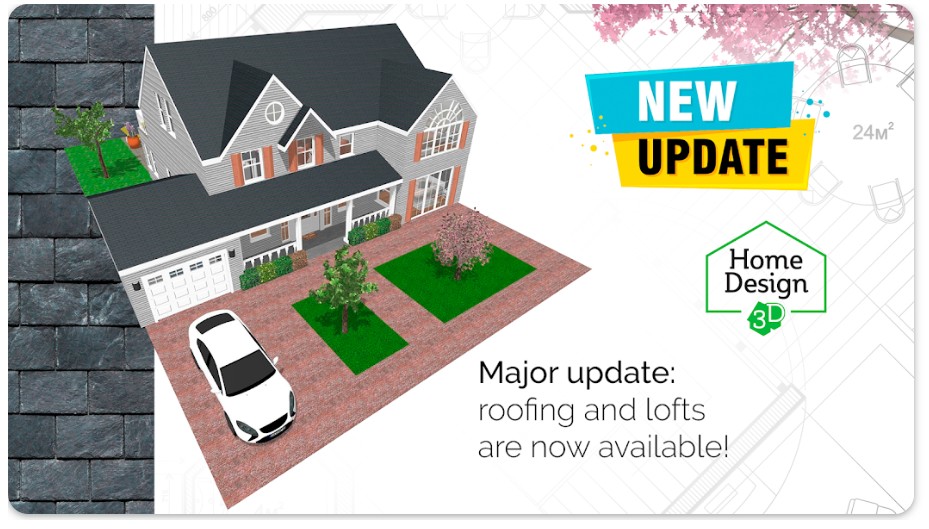 Planner 5D: Design Your Home
This is an app for your smartphone that has everything to create a great home for a family or design a new building.
First of all, you need to make a house plan. This is a kind of blueprint according to which the constructors then build the walls, floor, roof, and so on. In this plan, you need to create rooms.
Move the walls just with your finger on the screen – it is so easy that even a child can do it. However, you may also add ready-made rooms that have different shapes.
Add windows, doors, and stairs. The service provides more than three thousand different items for furnishing and creating a dream interior. Your house can be both in classic style and in ultra-modern.
Switch to 3D visualization mode and enjoy the beautiful environment. There is also a mode simulating a first-person view.
On the other hand, if you have VR glasses, then you can get an amazing experience and try to live in a new house at least for a while.
Advantages:
The app has a large library of furniture pieces.
It is possible to look at the house in the first-person mode.
Drawbacks:
The app has an inconvenient interface to use.


Home Designer 3D: Room Plan
Install this app on your smartphone or tablet and unleash your talent in creating stunning house designs.
Place the rooms on the map. Adjust the sizes and also put the doors and windows where they are needed. At this stage, you also arrange the furniture. Decide where it is better to set up a bed and where to create a dining area.
You can switch to 3D mode at any time and look at your house from all sides. Add various pieces of furniture. The app contains a large collection of different objects for creating interiors.
When you have finished furnishing the rooms, it is possible to check how it will look using first-person viewing mode. You will take a walk around your apartment and breathe a sigh of relief. So much work has been done!
Advantages:
Simple and clear interface.
There are all the necessary tools for designing.
Drawbacks:
The app has low-quality 3D graphics.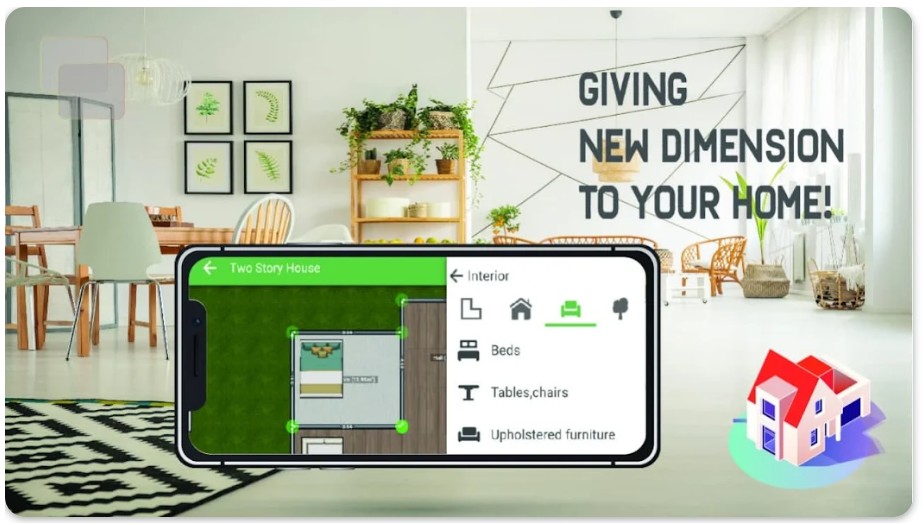 Sweet Home 3D
This is a website with which you can easily create a room or house plan.
It is possible to use the software online via the browser and also install it on your PC and have access to the project even if there is no Internet access.
The program is convenient because you can simultaneously see the house plan in 2D and 3D formats. Create walls, and then proceed to the most interesting part of the design – the interior creation.
The developers have added a ton of different objects and details. You cannot just place beds, shelves, cabinets, tables, and chairs, but even such small details as plants or women's shoes.
Moreover, it is possible to add 3D models of people to your house so that the project looks complete and alive.
The site supports twenty-eight languages, which makes it the most accessible for all people.
Advantages:
It is possible to use the program offline.
You have the option to use 2D and 3D plan formats at the same time.
Drawbacks:
The software has a difficult-to-use interface.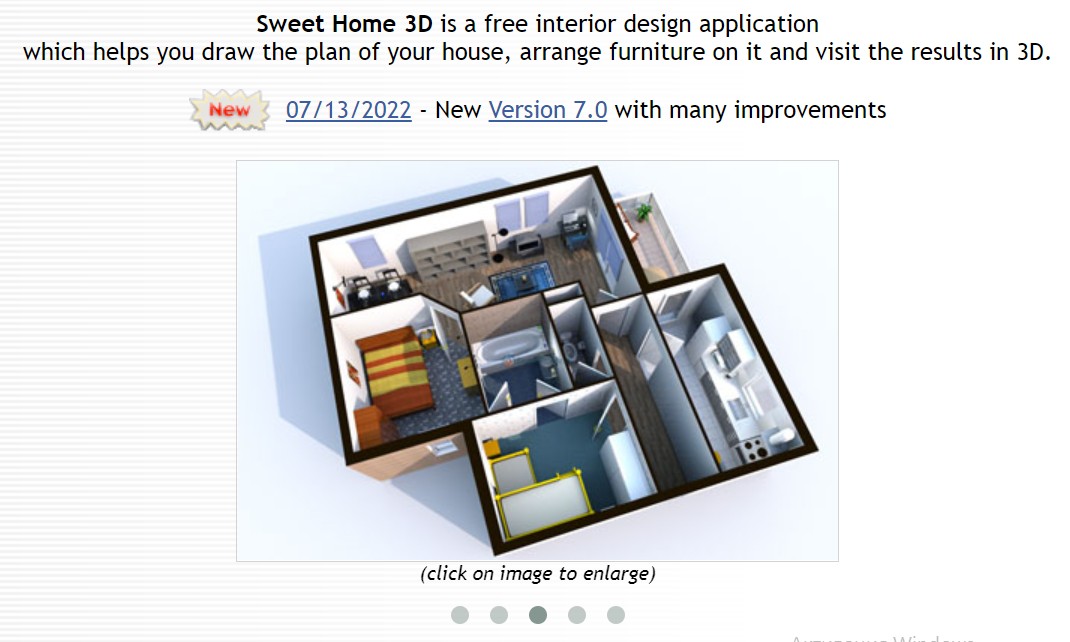 Sketchup
If you are a professional builder or designer, then the tools that this website offers you will be useful for your work. On the other hand, those people who just want to create models of a furniture piece can also use their skills here.
You draw a 3D project with your hand. It is as simple as if you were doing it on a real piece of paper, but this website gives you a lot of extra features. For example, you can change the height and thickness in just a few clicks, and much more.
The service provides subscription options with various additional conditions. However. you can use the free one that gives you the basic functions.
Your projects can be saved in the cloud that supports the website.
In addition, it is easy to understand the interface as it is modern and minimalistic.
Advantages:
There is a wide range of functionality for designing buildings and furniture items.
It is possible to use the free version.
Drawbacks:
The software may seem complicated to non-professionals.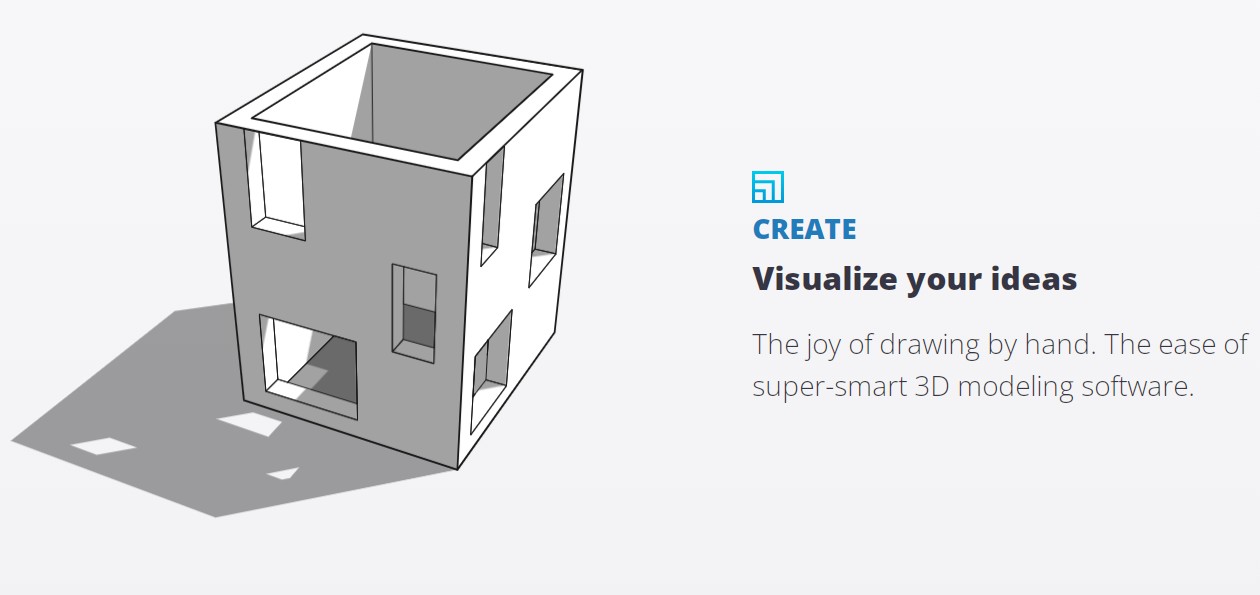 PRO100
This is software that allows you to design cabinets for kitchens and dressing rooms.
As you know, these types of rooms have large, functional cabinets with lots of shelves. Now you can create the perfect cabinet for you that will have the number of shelves and space you need.
Also, you can create an entire room to know how kitchen cabinets will look exactly in your home.
Creating cabinets is almost like playing a children's designer. Take individual boards and construct from their cells until you get a new cabinet.
This is a modern program with a professional set of tools that allows you to create high-quality and beautiful 3D models of cabinets from scratch.
Advantages:
There are many functions for designing a cabinet layout.
You can use the video guide before you get started.
Drawbacks:
It is difficult to use the interface of the software.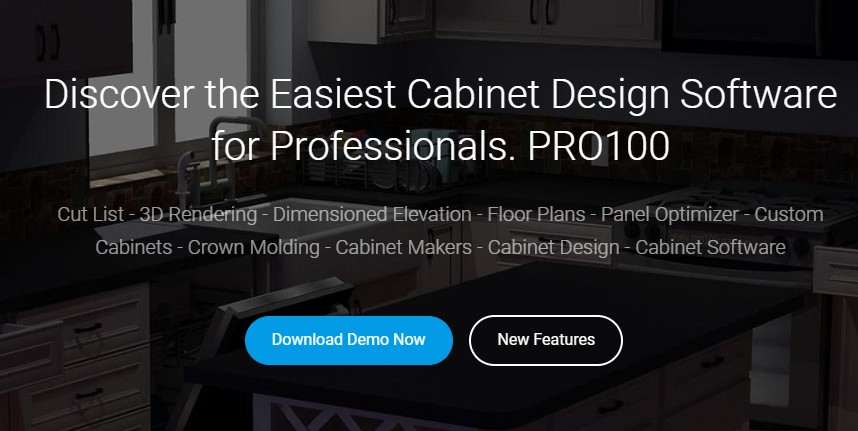 You may also like: 11 Best Games Like Minecraft for Android & iOS
Foyr Neo
If you are looking to get a high-quality and beautiful 3D design of your home, then this software will make a good impression on you.
Make a sketch right in the software. At this stage, it is important to make a floor plan where you will create rooms, hallways, doors, windows, and stairs. Here you can also specify the sizes.
Then you can enjoy the 3D visualization stage. Yes, for some people it can be a great relaxing game. You create your interior. Choose the color of the walls, put a sofa near the fireplace, put a carpet on the floor, and much more.
It is possible to move pieces of furniture as you like, as well as make them bigger, smaller, or even stretch.
Make your interiors more realistic using cute details such as pictures, plants, or books. Moreover, the view outside the window is customizable and you can choose a landscape.
As a result, you get a room that at first glance is difficult to distinguish from the real one.
Advantages:
High-quality 3D graphics of interior visualization.
There are convenient tools for creating a project.
Drawbacks:
You can use the limited features of the software if you do not have a subscription.