Want to add some serious exterior appeal to your home? You've come to the right place!
Nowadays, you don't need to enlist a professional designer: there are tons of exterior design apps for Android, iOS, and Windows, and we've picked the best ones. With just a few taps on your device, you can experiment with colors, textures, and materials to get the ideal look for your home.
You'll get to make landscape and window designs, customize the roof, and much more. The best part? You don't have to be an experienced architect or designer to use these apps. Let's dive in!
Home Design 3D
This app is a treat when it comes to redesigning and remodeling your place. You can literally bring your design dreams to life in 3D with just a few clicks! Designing your floor plan is a breeze with this one. You can draw your plot, rooms, and even dividers with little to no effort.
And the best part? You get to adjust everything. Want thicker walls or unique corners? No problem! You can even add fully-resizable doors and windows to match your desired style. It works for interior and exterior, and there are tons of things to add to your designs.
But this app isn't just for construction workers or DIY enthusiasts. The real fun begins when you get to furnish and decorate your new space. With over a thousand pieces of furniture and accessories, you can fully express your personal style.
And when we say customize, we mean it. You can change the size, color, position, and altitude of any object in your design. But why stop there? You can even import pics as textures to give your project even more personality. And thanks to the eyedropper, you can match any color easily to keep your design cohesive.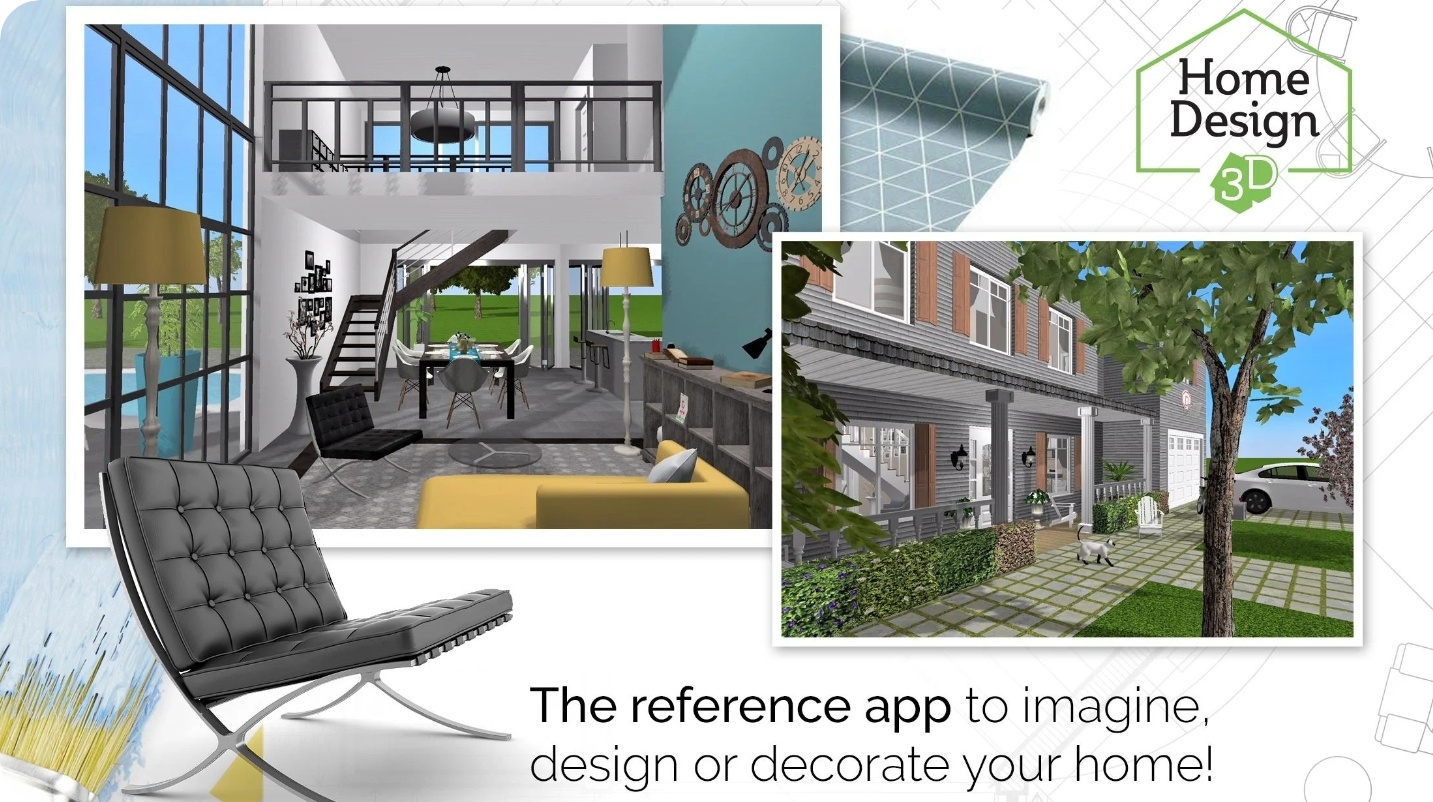 You may also like: 8 Best Home Decorating Apps
iScape
Want to revamp your outdoor living space but struggling to picture the result? This app can help! It lets you easily blend your physical and digital living spaces with 2D landscape designs.
Whether you're a DIYer or want to hire a pro, the app lets you share your vision with ease. You'll get to make collaborative projects to bring your outdoor oasis to life. It's so much easier to make decisions with a visual aid like this app.
The app is a game-changer for any homeowner looking to design their ideal outdoor space. Gone are the days of endless meetings with landscapers and struggling to communicate your vision. With this one, you can visualize and design with ease, then share your masterpiece with anyone in your project team.
And let's not forget about the buying tool. That's right, the app even covers all the products on your work, making buying a breeze. There's a shop link for all the products, so you can get the right items within secs.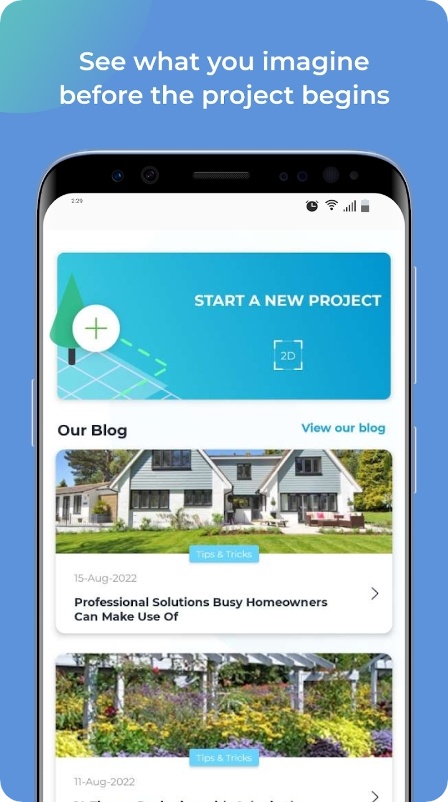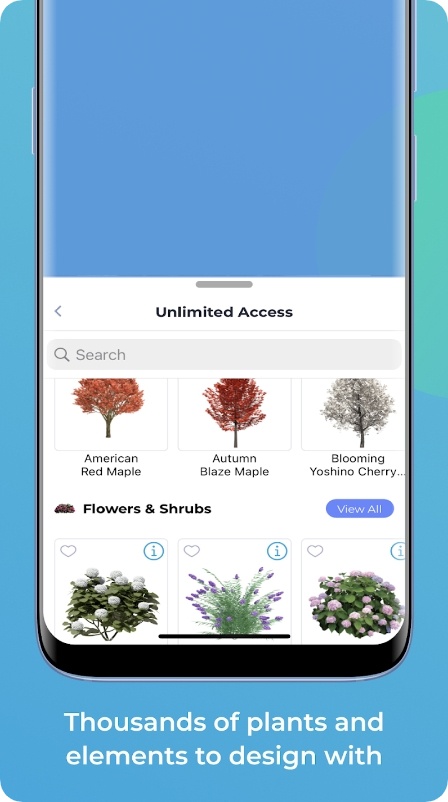 Live Home 3D
That's a powerful, yet intuitive home design app to covers all your needs. It lets you make detailed design plans that will look like a real deal. And the best part? You'll get a beautiful real-time 3D rendering of your design. Cool, right?
When it comes to the 3D environment, you can walk through your design, add and move furniture and other objects, and apply materials to achieve a flawless look. With multiple cam angles, true geolocation, and daylight settings, you can get a natural lighting scene that's sure to impress.
As for making a floor plan, you have the option to either trace an imported one or start from scratch. And if you need to adjust the 2D representation of your furniture, you can do that too. The app even gives you real-time dimensions for walls, ceilings, and floors, so you can easily position your objects with precision.
There's also a smart dimension tool that lets you set the distance between underlying objects or walls, and object snapping ensures you achieve precise positioning. And let's not forget about the app's roof and dormer features. You'll get to add custom segments and fully modify your roof. And with 16 customizable dormers at your disposal, you're sure to get the exact look you're after.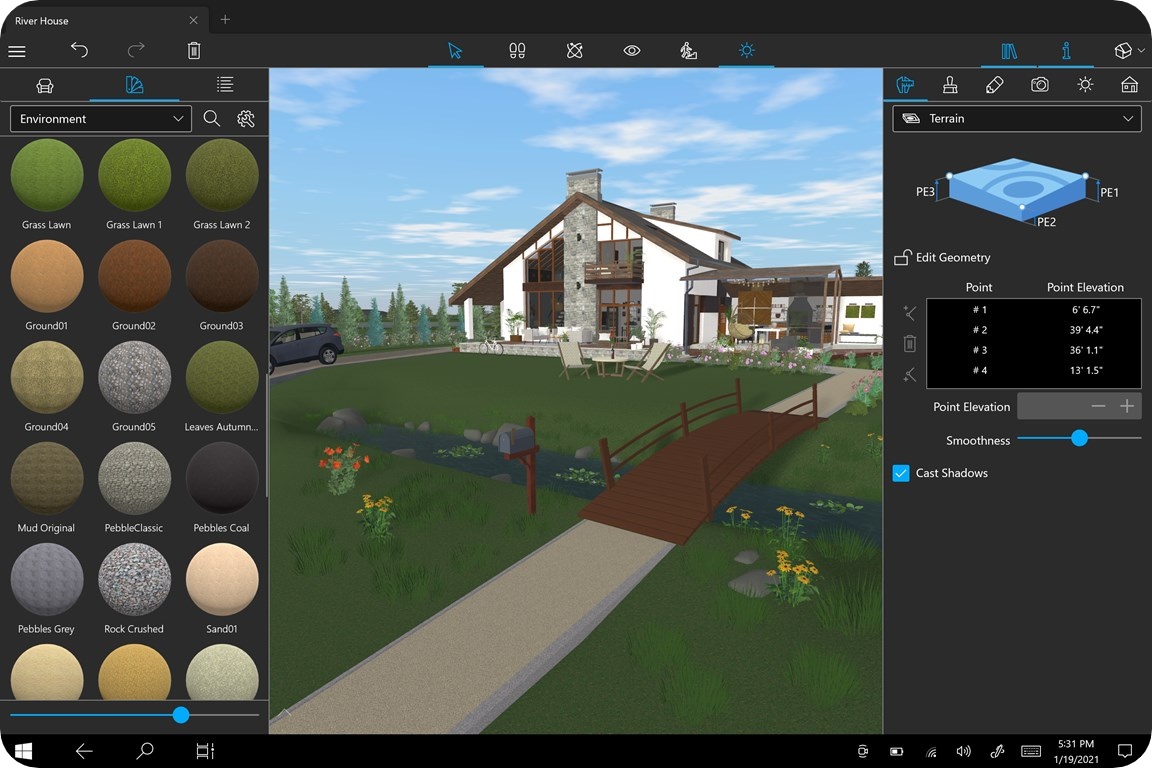 Planner 5D
It's a handy app for anyone wanting to personalize their living space. It's great for making floor plans and layouts, and you'll get to customize these to match your place and style. The app covers an extensive catalog of furniture, accessories, and decor that's updated regularly, so there's always smth new to try.
The coolest aspect of the app is the ability to apply hundreds of textures and colors to any item. You can drag and drop items into place and change their sizes seamlessly, making it easy to generate smth that fits your vision.
It also lets you view your work in VR if needed. You can take a walk through your home layout and get a feel for what it would be like to live in it. This tool is also helpful in m making layouts according to your room dimensions, so you don't have to worry about not fitting everything in.
The furniture catalog is extensive, so you'll get to find smth you like. Plus, you can view images of designs created by other users, which is a great source of inspo.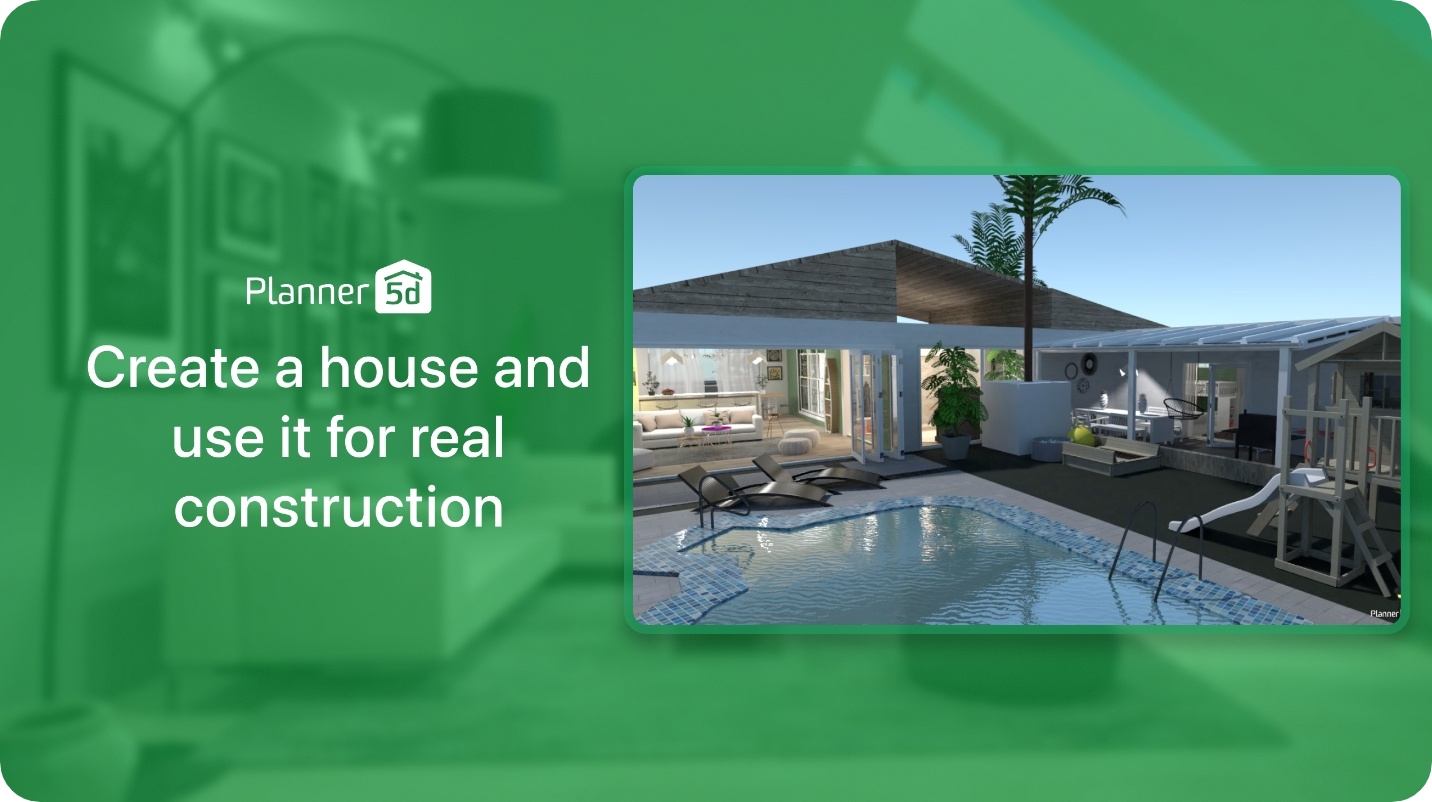 Check also: 13 Best Furniture Design Software
Houzz
Here's an all-in-one app to fulfill all your home remodeling needs. This app is an absolute treasure trove of inspo for your home's interior and exterior. With over 25M HQ pics and the ability to browse by style, location, or room, you'll never be at a loss for ideas.
Plus, the app lets you annotate and draw on photos, letting you modify and play around with designs. But isn't just about getting inspo: it's about turning those ideas into a reality. The app covers over 5M products and materials available for purchase. You can find everything from vanities to lighting to furniture. There's also a visual match tool that lets you purchase items from pics directly.
Need some professional help? No problem. You can reach over 3 million professional architects, general contractors, and interior decorators in a single app. Hiring the right expert is now simpler than ever before!
There's also a massive section filled with educational articles. You can use it to find everything from decorating tricks to gardening advice to full remodeling guides.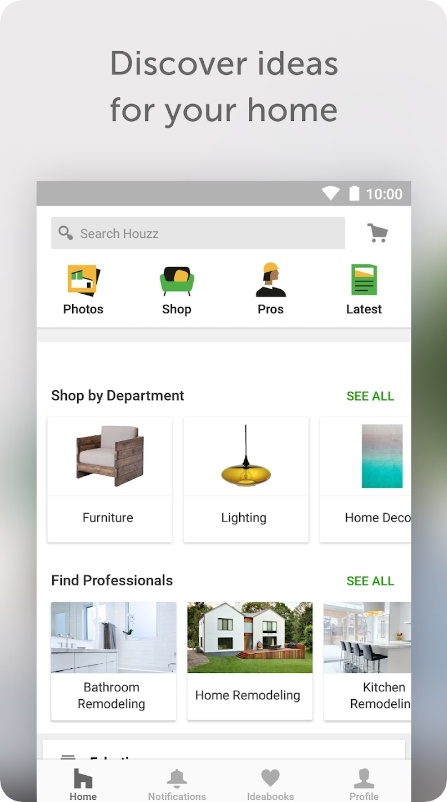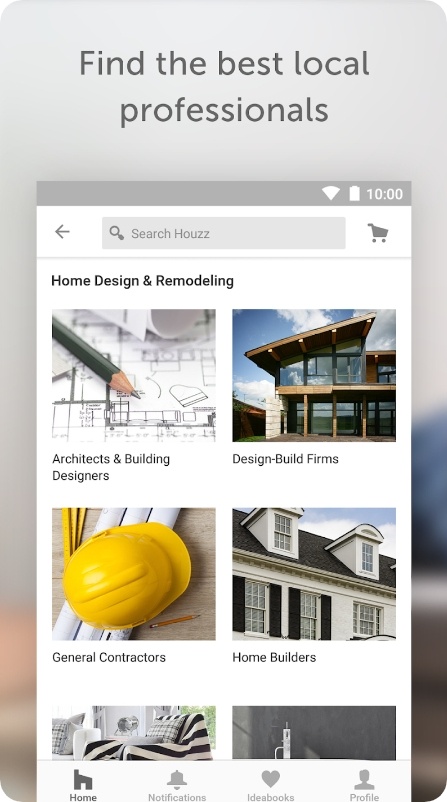 You may also check: 11 Best Apps to Buy & Sell Used Furniture in USA
Remodel AI
If you've been dreaming of remodeling your home for a while, but don't know where to start, you need to try this app. Remodeling is a tough decision to make. What style do you choose? How do you even know what it will look like when it's done? That's where this app comes in!

You'll be blown away by how easy it was to use this app. All you have to do is to snap a pic of your place and pick a remodel style. From there, the AI will do its magic and transform your space into a whole new thing.
The app lets you see your room in different styles, from chic and modern to cozy and rustic. But the best part? The app works for both interior and exterior design. So you can finally stop wondering what your home would look like with a new coat of paint or a fresh set of shutters.

Not only is it functional, but it's also incredibly fun to use. You can spend hours playing around with styles and imagining what your place would look like. The app helps to narrow down your options and start planning a remodel.