In the modern world, we do not see our life without calls, this is an integral part of our communication. But sometimes it happens that it is almost impossible to get through to someone. In this article, we will look at the apps for auto-calling on iOS.
And if you want to be able to make several calls at once, we recommend checking out the article about the best apps like callmutiplier.
IReDial
IReDial – are you tired of constantly hanging on the wire to get through? It's enough to torture yourself, now the app can do this work for you
This app will save you from tedious dialing once and for all. In addition to this function, the IReDial app has a number of options, which we will tell you about now.
IReDial is a real telephone secretary.
This app can: make an auto-call, you can program a call for any time and date, all information about your calls is stored in the app.
Thanks to the auto-dial function, this app will reach any subscriber wherever he is. All you need to do is just enter the phone number and set the dial duration.
You can even make a whole call schedule – enter the date and time, and the app will automatically call.
Features of the IReDial app:
Easy-to-use app
Auto-call and call schedule function
All information about your calls in one app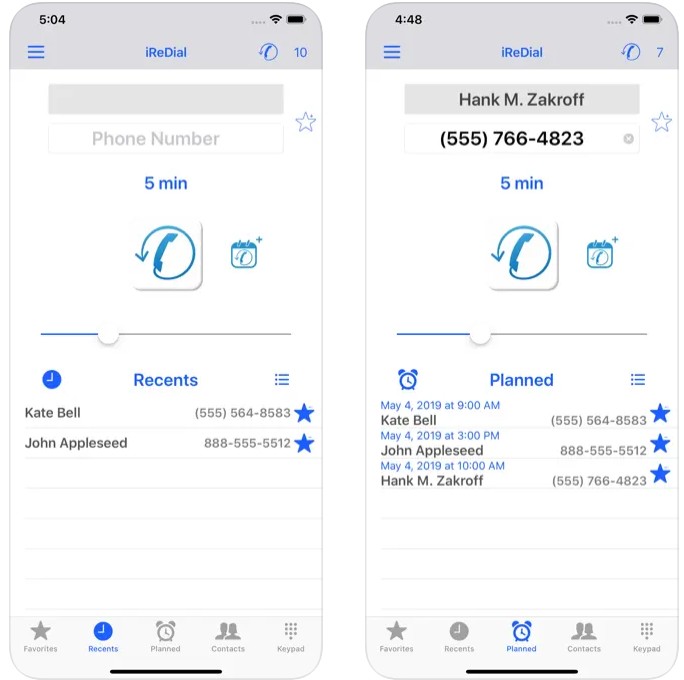 You may also like: 9 Best Call Confirm Apps for Android & iOS
GoDial
GoDial is the perfect app for those who are tired of constantly dialing phone numbers manually. Do your fingers hurt already? Relax, and the app will do your job.
This universal app is suitable for people who have their own private business or people who need to make a large number of calls of the same type.
The app has a number of useful functions, namely: Automatic dialing, auto-dial, call schedule, create your own business card, mass mailing of text messages, repeat call and much more.
Automatic dialing. Thanks to this feature, you no longer need to manually call subscribers. Just copy and paste the list of numbers into the app and the app will call each subscriber in a peep
Auto-call. A useful feature if you need to get through to an extremely busy person. The app will dial the phone number until the other end of the line picks up the phone.
Call schedule. You can use this function to make scheduled calls – just specify the date and time, and also make a list of numbers.
Mass mailing of text messages. This function is suitable for both office employees and other people. In a special window, write the desired text and specify the list of contacts to whom you want to send text messages.
Features of the GoDial app:
User-friendly app with many functions
Bright and pleasant design
Useful app in many fields of activity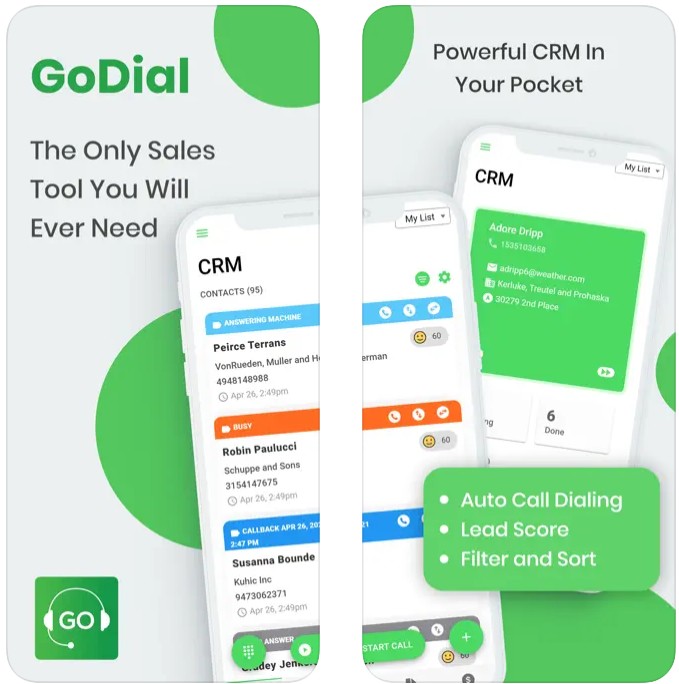 You may also like: Best auto redial apps for Android
Dialer PRO
Dialer PRO – with this app, you will be able to call anyone in just a couple of clicks and significantly save your time.
It doesn't matter if you are busy with some household chores, are on the road or you are just too lazy, the Dialer PRO app will help you make calls. Now all your contacts are available to you with just one touch of the screen.
So, now we offer you to consider the functions of the app: intelligent and fast search, quick dialing of favorite numbers, setting up sending text messages and managing contacts.
The smart search function will greatly speed up your search for contacts. This feature is extremely useful for people with an extensive phone book. Now you can find a contact only with a couple of touches
A quick set of favorites. You can divide numbers by categories (family, friends, work) and add them to favorites. Thanks to this function, you can call a person by typing a quick combination
In the app, you can configure the management of messages and calls, for more convenient use. For example, by swiping your finger to the left, you can start writing a message, and swiping to the right to call someone.
Features of the Dialer PRO app:
Easy-to-use app
You can use your smartphone more conveniently by configuring the necessary functions
Saves you time and effort.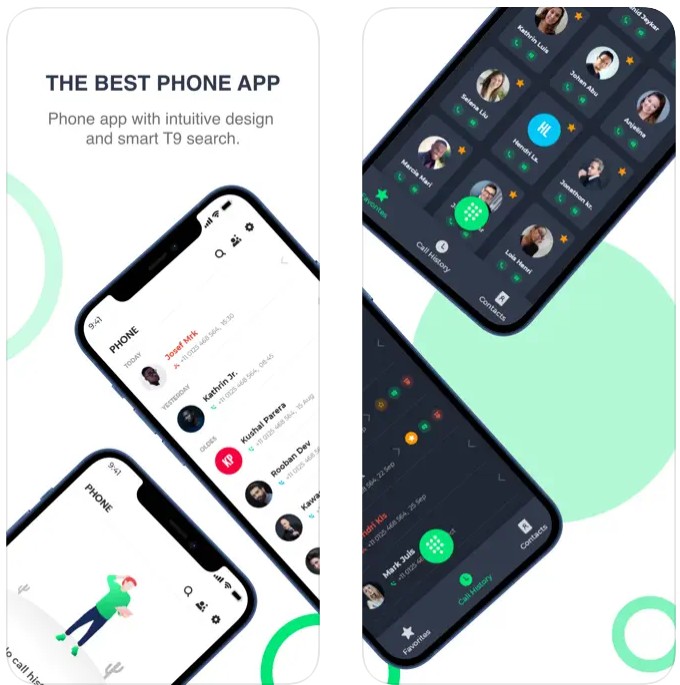 You may also like: 6 Best What's Your Name on a Contact List Apps (Android & iOS)
Call on the Go
Call on the Go is an app for automatic dialing and call tracking. Mind your own business while the app makes an auto-call.
You can set up an auto-call to one number or upload a whole list of phone numbers. In the second case, the app will make continuous calls until you contact all subscribers.
This app will become your assistant both in the office and outside of it in everyday life. You can create whole spreadsheets of numbers and edit them at any time, and then call without interruption.
The app has a built-in artificial intelligence that will calculate, based on previous calls made, at what time it is better for you to call.
At the end of the call session, the app will give you a report that will indicate the contacts to whom it is easiest to get through, the most difficult, the time at which to call and the time spent on this process.
Features of the Call on the Go app:
An app with a number of useful functions that will be useful to you at work or in everyday life
The app provides you with complete information about calls.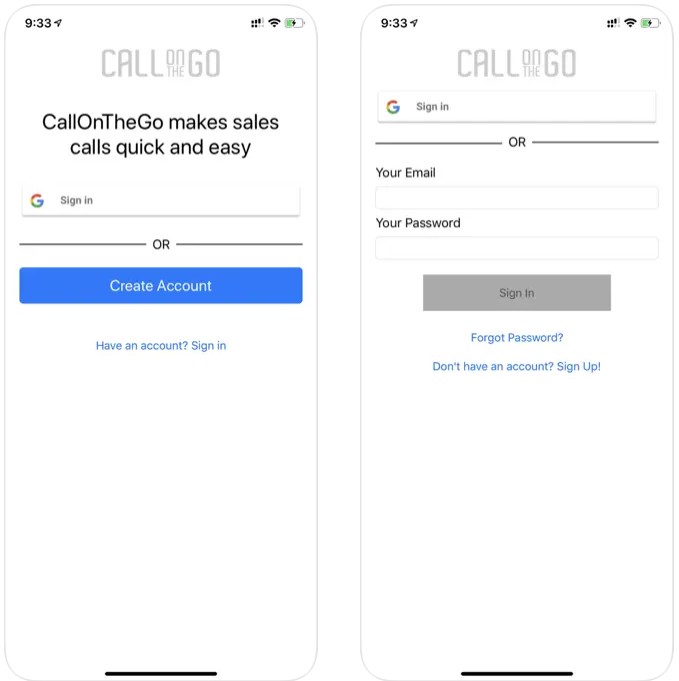 Smart Dial
Smart Dial is a mobile app for speed dialing. Save time while talking on the phone and time spent sending messages.
Thanks to this app, you can quickly and easily call people from your phone book. The app has several basic functions that we will tell you about now.
Speed dial. You can assign a digital code to a specific subscriber and then a call will be made automatically when you dial this combination. You will no longer have to search for a contact in the list
Sending messages and managing calls in one touch. You can configure this function and then, with the appropriate actions, a quick set of text messages or a call will open.
Sort contacts by groups and categories for more comfortable use of the phone book. You can divide all your contacts into lists and, if necessary, enable the automatic dialing function to ring the entire list.
Features of the Smart Dial app:
Easy-to-use app
You can use your smartphone more conveniently by configuring the necessary functions
Saves you time and effort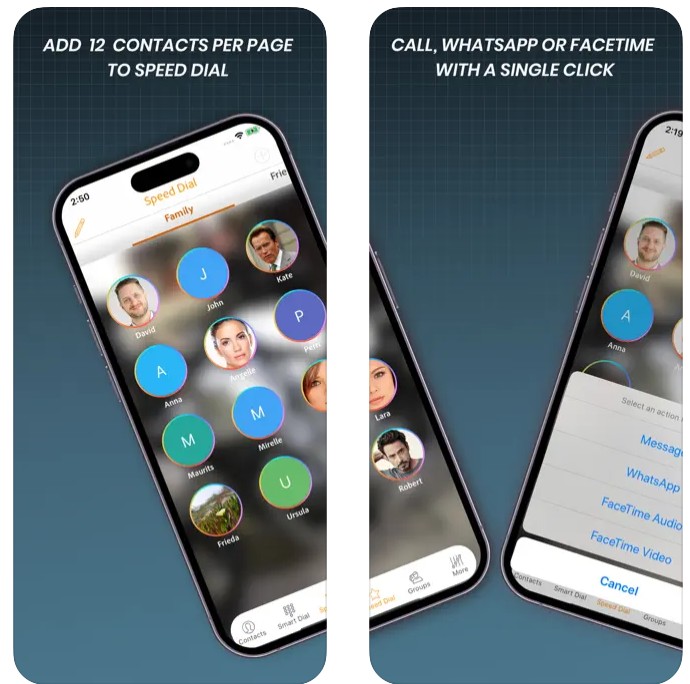 Drupe
Drupe is an incoming call ID app as well as an auto–dialer app.
This app is convenient because it combines all your contacts (contacts from the phone book, WhatsApp, Twitter, Facebook and other messengers) in one place.
You no longer need to sit in different apps for the sake of communication. You can communicate with work colleagues, family and friends in just one app – Drupe.
With this app, you can dial a number or write a text app with a single touch, you can make an auto-call or block annoying subscribers (in all messengers).
You can set up special lists in which you sort the numbers by category. This way it will be much easier for you to communicate and filter outgoing calls and messages.
Features of the Drupe app:
Convenient sorting and management of contacts. Now all your contacts from different apps are in one place.
Auto-call Function
Save your time and effort with the speed dial function.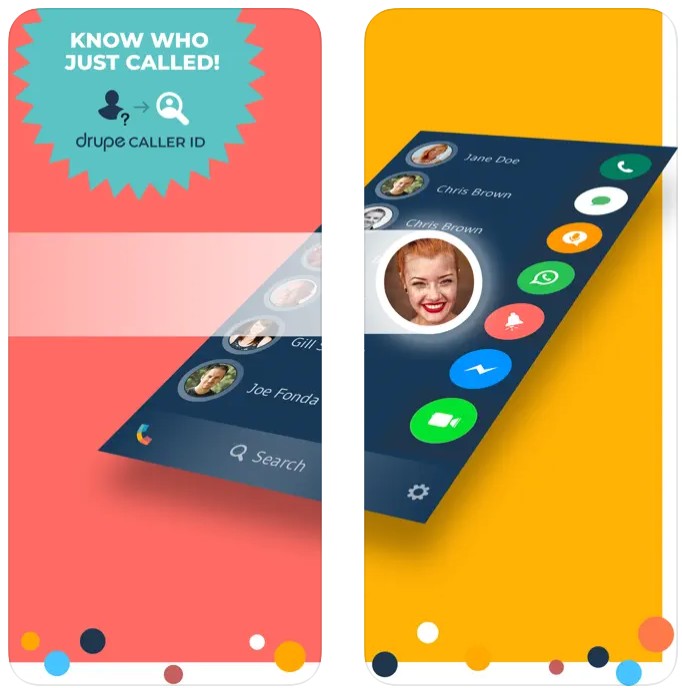 You may also like: 11 Best Apps Like Getcontact for Android & iOS
Dial+
Dial+ is an app with which you can spend your time more carefully when making calls. Now it's even faster and easier to communicate by phone
Thanks to this app, you can quickly find contacts in the phone book, make calls using digital combinations (speed dial function), quickly call back and repeat the call.
Thanks to this app, you can also make your phone book and call log visually more pleasant. To do this, you can set images on contacts, change the color of the menu and much more.
Features of the Dial+ app:
Convenient use of the call log and phonebook management thanks to special functions
Ability to customize the phone book and call log to your taste