Thanks to the game The Sims for many years, all fans of the life simulation genre can create their own virtual copy and make all their dreams come true. Here you can create the perfect home, family, go to space and get the career of your dreams.
But playing the same game all the time can be very boring. Moreover, the full game The Sims, which includes all the features and characteristics, is available only on PC, which makes it very difficult to use it anytime, anywhere.
Today we have our smartphones in our hands almost around the clock, which replace most of the technology. So, you can play almost any game analogs that are popular on PCs on them. 
You may also like: 11 Best Shopping Mall Girl Games for Android & iOS
To sum it all up, this review is good for you if you're a fan of The Sims series games and an active smartphone user. So, we have gathered for you the best games like the Sims for Android & iOS, which will definitely meet all your desires.
IMVU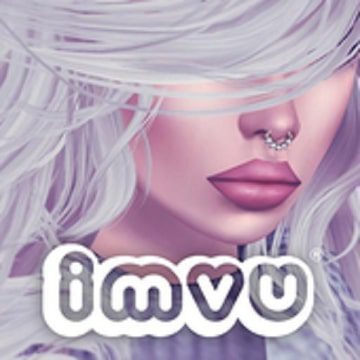 IMVU is a life simulator and social network in one bottle with a huge virtual world and many accessories for the character.
In this app, players can change the look of their home, decorate it to their liking, and communicate with friends.
For fashionistas and fashionistas, IMWU has several boutiques where you can try on and buy the closet items you like.
The assortment of clothes ranges from evening gowns to outright crazy masquerade costumes. In addition to the boutiques in the game are available furniture showrooms to equip houses, and gyms, where you can pump up your hero almost any organ.
It takes a few seconds to install this app and allows you to enter the world of communication and relationships with other people.
In the game, you can explore locations and communicate with people in a group. You create yourself a 3D avatar using the extensive settings menu and start playing.
The game allows you to explore different worlds, and users will meet people according to the locations where they have already been.
Players can switch between locations, take part in dialogues and perform various actions. For example, an air kiss, a hug, and more. You can also add other users as friends by sending them an application.
You may also like: 11 Free Fashion Games for Adults (PC, Android, iOS)
Avakin Life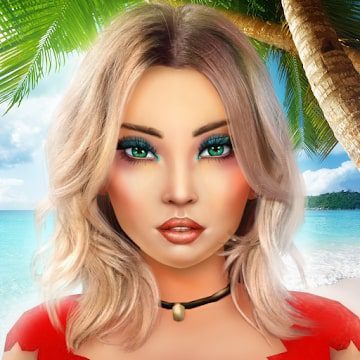 Avakin Life offers you the opportunity to start your own new virtual life on your mobile device.
Customize your own character and his/her apartment by spending time with different people in unique virtual social places.
Avakin Life embodies the perfect combination of customization, house building, and social elements, which in turn attracts millions of players to the game.
Starting with the creation of your character, players have many different options, including gender, complexion, skin color, hair, facial hair, eyes, mouth, ears, and even eyebrows.
This means there's nothing stopping you from recreating yourself in Avakin Life, or choosing to create a new personality. Further customization of the Avakin avatar is offered through a healthy collection of clothing items and accessories, both at initial creation and with levels of gameplay.
Avakin Life as a whole is divided into 3 gameplay elements: social places, clothing, and housing. Social is where most players spend most of their time and takes place in different scenes such as parks, cafes, bars, coffee shops, and even beaches.
These locations serve as centers for players to come together. Each has different interactive objects to help them feel like they are in real life.
They can be activated with simple one-touch control. Players can take part in the chat, add friends, or people in a private chat from each of these hubs.
When you're not chatting in Avakin Life, you'll spend a bunch of in-game coins on attractive new outfits, hairstyles, grooming, and furniture for your own in-game apartment.
Other purchases include special animations for your characters and even pets that serve to show off your style to other players by introducing the unique items you've accumulated in Avakin Life.
But, the biggest part of your in-game funds is the apartment system, where you can buy a beautiful item to beautify your personal space. It can also be further customized with your furniture items and used as a hub to bring your friends together in one place.
Each apartment also gives players a daily diamond income for premium items. They can be voted on by other users, which encourages careful style choices to maximize the premium currency earned.
Avakin Life is an impressive social mobile game and certainly one of the leaders in the mobile space in particular. With plenty of customization, a solid app, and a strong community, it's hard to convey what Avakin Life offers in the virtual world genre.
Lady Popular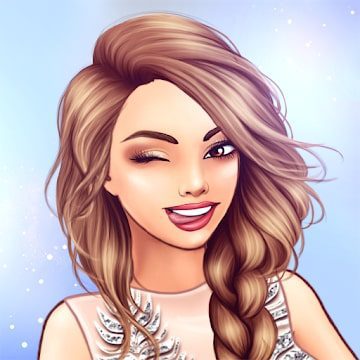 Lady Popular gives you complete control of your game character's life, fighting in the fashion arena, decorating your apartment, and more.
You'll be surprised at how deeply Lady Popular maintains a basic presentation and interface that hides a lot of fun in the gameplay.
Players begin their journey in Lady Popular by creating an in-game avatar that will serve as a presence in Lady Popular's virtual fashion arena.
When creating your avatar, you can choose your eyes, lips, hair and skin color.
These are based on your progression through the world of Lady Popular, allowing you to further customize your avatar with levels and money gained through gameplay, translating them into part of your purchases.
Before this world of the Lady Popular app opens for free exploration, you can use your avatar to go through a detailed tutorial that presents the full range of mechanics on offer.
Emma is a very fashionable friend who communicates with players through their personal phones at the top of the game menu. This includes exploring the town, which has its own disco, fashion arena, mall, beauty shop, furniture store, pet store, and carnival.
Your first stop in this lesson is the beauty salon, where you can change your hair in just a few minutes after choosing. The beauty salon is also home to makeup, tattoos, piercings, and tans with a variety of choices that will allow you to create the perfect personalized look.
After exploring a variety of hairstyles, you'll go straight to the mall with Emma, your study guide, where you'll shop at Colors, which offers a wide selection of basic free items.
There are a total of 14 stores that open as you level up, offering different styles with names such as A – Z, Connections, Urban, Chic & Co., and Lady's Secret, the best store available at level 22 of the game.
These stores are more than just a way to spend your play money. Each purchase also comes with a reward of fashion points. They have popularity-enhancing abilities in six categories that are linked to the core mechanics of Fashion Arena Lady Popular.
These popularity categories include style, creativity, loyalty, beauty, generosity, and loyalty. All of these increase with the aforementioned fashion points, directly from play dollars, or with extra activities such as your club, bonuses, or your boyfriend.
Once you're done shopping, it's time to visit "My Place". Here your avatars' own high-rise apartments are located, where you can mix and match purchased items to create an entire outfit.
Lady Popular allows you to save up to 30 outfits so you can easily switch between your favorite looks with a single click.
The character then enters the Fashion Arena, where he or she will be ready for the first fashion competition with another player. Battles in the Fashion Arena are the heart of Lady Popular, with battles for the fashion star with the highest popularity stats. But, there is a random element here.
Lady Popular has 3 battle rounds, each causing 3 randomly selected qualities, potentially allowing you to defeat an opponent who does not have balanced stats.
These battles are also one of the few actions in the game that uses an energy system (1 per battle) that recharges during the 15-minute game cycle.
Win rewards and for experience, that's what the Lady Popular gameplay cycle is all about when you take currency from battles in the fashion arena to expand your closet and eventually your popularity stats. So you can seek out tougher opponents for fashion battles.
With this game design, Lady Popular is really a great game about fashion that allows you to set your own goals and objectives. Want to be the best in the fashion arena? Focus all your money and time on increasing your popularity.
Maybe you want to make the apartment of your dreams. Then spend your money in a furniture store. Or maybe you just want to mix and match amazing outfits to create new fashions? Spend hours at the mall picking out that perfect style and color.
Desperate Housewives: The Game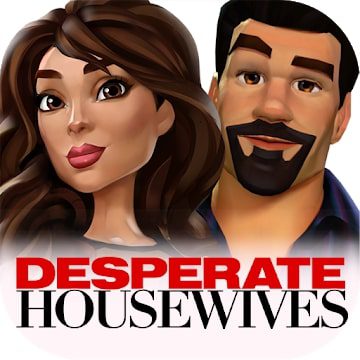 Desperate Housewives: The Game combines The Sims-style gameplay with a popular television series of the same name.
It all creates a story-driven adventure in 12 episodes, closely related to the first two seasons of the franchise.
Fans of The Sims series will feel right at home with the gameplay style offered, which is clearly inspired by the popular EA franchise.
From character customization to home design and relationship management, though with an added touch of secrecy and housewife history.
Desperate Housewives: The Game includes footage from one of the writers of the TV series and a voiceover by Brenda Strong, who plays Mary Alice Young.
This gives the game a slightly higher level of appeal for those familiar with the characters in the TV series, although given that the game is loosely set between Season 1 and Season 2, it is not necessary to have knowledge of the Desperate Housewives series to enjoy this gaming experience.
It's also worth noting that while the TV show isn't intended for young audiences, the game is rated for teens and contains only a small amount of adult themes to make the video game more appealing.
Your goal in Desperate Housewives: The Game is to play the role of a housewife who has just moved to Wisteria Lane with her husband and teenage son.
The move to Wisteria Lane comes shortly after a tragic jogging accident, though it leaves you with no flashbacks to the plot, revolving around gathering clues that uncover your past while struggling to keep your life together.
This storyline tells over 12 different episodes and actually has four different possible endings to encourage players to repeat the passage of the story.
While one of these is perceived as a bad ending, the other 3 are fairly neutral and can be interpreted by the player as bad or good depending on their own views.
Much of the gameplay is actually closely related to The Sims series of games, and the players have tremendous control over the visual appearance of their character, the customization of the house, and the management of their character's needs.
Desperate Housewives: The Game uses a needs system similar to The Sims. But it is simplified down to 4 characteristics that players can control (self-mastery, happiness, communication, and appearance).
While the needs system requires careful player management, it adds a mystery element to the game that will also take up a lot of gameplay time as you move around the neighborhood, solve various puzzles, and collect clues.
The usual activities throughout this part of the game include espionage, charm, sneakiness, and fun for gathering information.
Many mini-games have also been incorporated into the main experience of Desperate Housewives: The Game to make your repetitive tasks more fun, such as cooking and gardening.
Virtual Villagers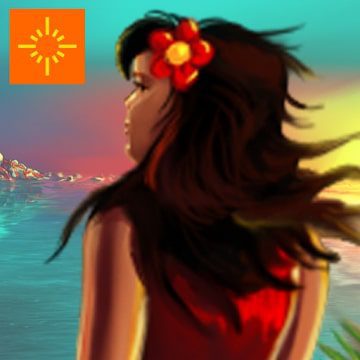 Virtual Villagers is a small and lightweight game, a hybrid of The Sims and Tamagotchi.
The characters in the game are similar to the living, and also need food, sometimes treatment. Here, virtual residents live their lives forever, even when the player is out of the game.
That is, if you send to build a house of 5 people and leave the game, then coming in, you will see how the house finished or the construction of the house has progressed over time.
This is a very original idea. As a result, you can spend on the game for 5 minutes a day. Virtual residents do everything themselves. You just need to occasionally adjust them, to open up new opportunities for them.
All the action takes place on a small map. That's why the game weighs quite little. In the story, virtual residents have met in the jungle tribe of pagans and try to lure them to their side. But it's not easy.
If the blue masks can be enticed by a single conversation with them, the yellow and red can be enticed only at the end of the game, through the use of a powerful super hold – earthquake.
In general, the game is not as simple as it seems at first glance. The game has such puzzles that you'll never guess how to solve them. For example, the yellow and blue masks can only be lured to your side in a certain place on the map. If the masks are elsewhere, they will never come to you.
Virtual Families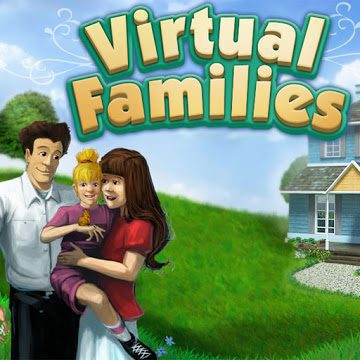 Virtual Families is a popular and unique life simulation game developed by Last Day of Work.
As with other games from this developer, the action of the game is in real-time, which means that your sims will sleep while you sleep. But, some players may find that this slows down the gameplay too much.
In Virtual Families, players control their own virtual sims throughout adulthood, with an emphasis on family, career, and creating a home.
These virtual characters are "adopted" into virtual families out of thousands of possible choices. From this point on, players will be in control of every aspect of their daily life on their career path and even their partner with whom they will have a family.
Virtual Families also mixes in a large number of random events to keep players constantly on track. These random events include illnesses, home repairs, and other family emergencies that need careful planning (and minigames) to get through.
Other features that add depth to the Virtual Families gameplay experience include a large number of trophies to be earned, hidden puzzles to explore, a dynamic weather system, and extensive customization options for your Sims and their virtual home.
This game offers the same day-to-day experiences that fans of The Sims and other life simulation games will love.
You may also like: 11 Best Games Like Movie Star Planet
SocioTown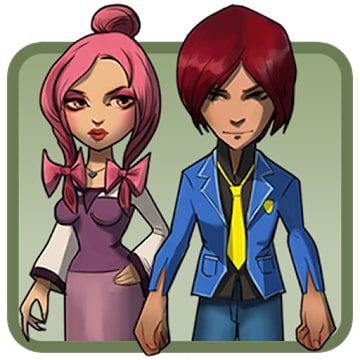 SocioTown is a free online multiplayer game that you can play on your phone.
If you want a socially-oriented gaming experience that you can start playing in less than a minute without any customization, you might be interested in what SocioTown has to offer.
The game is very impressive and completely permanent, so the game continues to change and grow even after you log out.
It's easy to get lost in SocioTown, as the experience is very immersive, you explore a large virtual world, interact with other players and experience the game world around you.
SocioTown offers a huge number of activities and missions to help you move up the social ladder as you gain experience and level up. As you level up, you also gain access to high-level areas of the game world, which gives you incentives to develop your character.
These activities include shopping, bug fishing, fishing, scooter riding, sailing, boxing and more.
So there is no shortage of variety in the game to keep you occupied. The task in which you will spend most of your playing time is your job. Jobs must be applied for, and if successful players can earn SoBucks currency, they can spend it on their apartment or items for their character.
The friend system in SocioTown is one of the most unique features of the game and tries to be a real social experience.
For example, with players you haven't met, their name will be hidden, but once they tell you their name, it will be revealed for the next encounters. As you interact more with players, their status in your circle will change, reflecting your new friendship status.
Dream House Days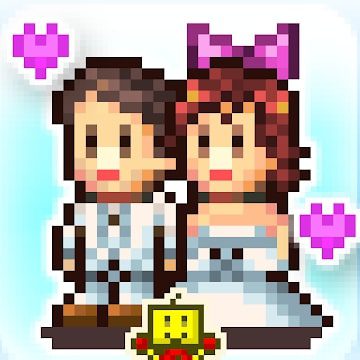 Dream House Days is a game with a truly biblical theme – you are renting out several apartments.
Anyone who has ever entered into such a legal relationship (on either side) knows how many pitfalls and possibilities there are for playing any genre – from strategy to horror.
This is such a micro-strategy, where 90% of the time passes for the study of tables, gauges, and numbers.
Then the result is imposed on three or four rooms that fit on one screen. Such minimalism, but the developer is used to it.
The rooms themselves, which you rent out to funny pixel men, are divided by price and conventional "comfort" attributes. The better you furnish the room, the more the tenant will pay for it, if, of course, he can afford it at all.
The goal, as you can imagine, is simple – to make a surplus out of the cost of maintaining the house and the income from tenants. But it's not all that simple.
People come to rent: with their own needs, rights, and desires. There is no point in describing the obvious situations where the tenant lacks comfort and thus packs his suitcases.
But what about, for example, such detail: the client's desire to live near work? Or a fight with the neighbors – there are several people who live nearby.
Sociality, in general, in Dream House Days is put on a separate plane – at times it seems that you are playing a pixel version of The Sims.
Humans can communicate, make friends and find a soulmate under your watchful eye. Such changes have little effect on business, but they certainly add to the game's charm.
Accounting is not easy here. To start earning money, you will have to sit in debt for months, the economic schemes are not obvious. You can pay with real money – Dream House Days conditionally free, and this method of doing business only approves.
In any case, it is worth playing – the development of not the last firm, besides the author's handwriting is visible. This is recognizable graphics, interesting details, and the opportunity to personally observe the relationship of the couple from any apartment.
Fallout Shelter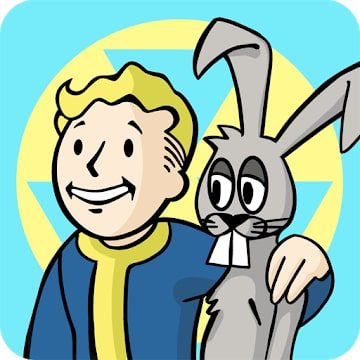 In Fallout Shelter, you are invited to try your hand as a Caretaker, a leader, an organizer, and just a cap man. It is his responsibility to protect, breed, and multiply the many persuaders.
Tutorial skimpy explanations, and immediately get into a multi-page built-in manual – boring. Thus, the first attempts to establish a post-apocalyptic life are likely to be doomed to failure.
Mentally prepare yourself for situations in which women do not give birth. There is no light, crocodiles are not caught, and all the wards die of radiation.
Fallout Shelter is a game about impeccable resource balance. There are three of them. Provision keeps the inhabitants healthy, electricity keeps all the interior rooms running, and water saves from disintegrating into radioactive ash.
You build important production zones, distribute residents according to classic S.P.E.C.I.A.L. parameters, and voila – resource counters creep up.
If you place a character in the wrong job, your resources go down. Overpopulate an anthill – resources go down. Fight off raiders – resources go down.
Then you can effectively shuffle everyone into rooms, and you'll start earning Nuka Cola caps to build new rooms. Send your tenants off to explore the Wasteland: Keep a cheerful diary and get their gear.
At first, everything will go smoothly until you run into a shortage of workers. Send pairs of tenants to the furnished apartments. A few minutes of small talk and they're already breeding behind the wall. The women will return deeply pregnant, the men obscenely happy.
Building up the population leads to an inevitable dead end. Pregnancy lasts three hours of real-time, and the newborn will not be able to work for another as long.
You can speed up the settlement process by opening lunch boxes, which are given as a reward for rare tasks and bought for real. In the boxes, among other useful things, you will occasionally find new, mature, and able-to-work residents.
House Flipper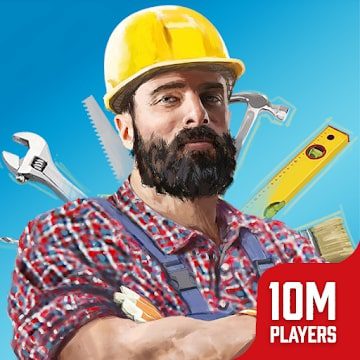 House Flipper is a designer-builder simulator, with uncomplicated game mechanics that will not appeal to everyone.
This genre of games refers to meditative, in these games you don't need the skill, you don't need the reaction, you don't need to solve complex puzzles.
Here you play without rushing for your own pleasure. For many, these games are boring and uninteresting.
The game came out in 2018 and has since evolved, there were a couple of small additions and one major. The game is constantly working and improving the mechanics, it becomes clearer and more convenient.
You have a house or a plot, inside the house you can remodel everything as you like. You can do the same outside as well. It opens up a lot of potential for creative people.
Before, to buy the right paint or furniture, you had to look around the store through a search or menu. Now, you have the order section where you can buy the right thing in 2 clicks. The game has a big variety of houses, for example, you can buy a cyberpunk-style house or a house on the moon.
In the game, there are a lot of ways to implement your design message, create a room for a streamer gamer, or a room for a girl in pink colors. Want a beautiful garden with a backyard pool? Please, it's all in your gaming hands.
Once you buy a house and start to remodel it to your taste and color, matching the curtains to the wallpaper or how best to place the couch, you do not notice how many hours will pass for this game.
In it, in its primitive form, shows how to replace the socket or how to hang curtains, how to connect the sink or install the tub. The game is implemented system pumping, the more you perform some actions, the faster you can pump in this skill.
To make money, you can not just perform the same tasks, but, for example, buy a trashed house, and bring it to your dream home.
Each buyer has their own requirements for how they see their dream home. Some like coziness, others want bunker and minimalism. When you renovate a house you will be shown clues on who likes that house.
What does the game give us? 52 tasks in the main game and in the DLC Apocalypse Flipper, Garden Flipper, HGTV, and 40 purchasable houses and territories for your design decisions and creative flight of fancy.
At the moment the game added support for Steam Workshop, for a game of this genre is a very important point in the development of the game in the future.
With an active community, the game will evolve endlessly, and if now available to download 280+ items, in a year or two this figure can grow exponentially.
This game won't suit everyone, but whoever likes, it will give a lot of pleasant moments. After spending a couple of hours designing a house, it's nice to see that a miserable hovel house turns into a cozy little nest.
You may also like: 11 Best Games Like Neopets
SimCity BuildIt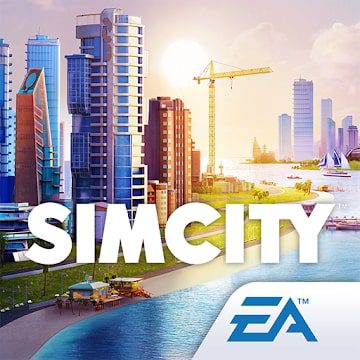 Simcity BuildIt is positioned as a city development simulator. Accordingly, it has residents, the needs of which must constantly be met.
If in any online farms you are only engaged that grow vegetable gardens, and crafting some goods from others, here you still need to build buildings. Or rather, the houses.
There is no storyline at all. Instead, you take on the role of the mayor of a newly minted modern town, which should collect taxes from citizens and invest them in the development of the industry.
As in all other parts of SimCity, in BuildIt, too, you must build a dream city for your people from the ground up.
Place smoky factories, build roads, put people in apartment buildings, and solve all sorts of problems. In the early stages, a short tutorial will help, which will tell you all the basics of this game.
After training, tedious missions that prohibit the player to think freely, gone forever. Only once in a while, there will be story missions that reveal new features of your city.
To build a thriving city in SimCity BuildIt do not need long to think, get into virtual debt and start the game again. You only need to save a large amount of currency to fulfill the needs of citizens and population growth.
With almost every new level the townspeople will need more and more buildings, which should be instantly serviced. Only place the fire station in all corners of the city, as has already become necessary sewage.
But doing it is not completely boring, even fun, because you have to be clever to put in the same area a few apartment buildings, a small school, a police building, a bus terminal, a green park and wrap it all around the road.
What everyone can enjoy in SimCity BuildIt without exception is the graphics. It will really appeal to any player with its lushness.
Reflections of the sun flicker on the glass of large skyscrapers, shadows fall smoothly on the ground, the bright lights in the windows are visible in the dark night. Nature, with its smooth transitions of day and night, also looks beautiful. And city life is in constant motion.
Cars drive along city roads, pulling into parking lots and stopping at traffic lights like the real thing. A fire truck, rushing to put out a fire, flashes its lights, illuminating the streets in red and blue.
Even people, though not very drawn, can be found on the pedestrian roads. You can look at all this beauty from any angle.