We all know what the regular soundboard is, but have you ever tried the meme soundboard? It's a lot of fun and it contains all your favorite meme sounds from the most famous videos! In the article down below, you will find the best meme soundboard apps.
And in case you're a musician or a sound editor, we could recommend you explore the article about the best vocal remover apps.
Before you start reading this article, we must warn you that there is no extremely decent app in this category. They're all rather a prank or just fun apps that always contain some amount of ads.
Meme Soundboard
If this category of apps would have a leader it would be this app. It includes a complete collection of the most popular sound from the memes starting from the year 2016. In total, here you will find more than 1000 different sounds!
Moreover, new sounds are added almost every day, and the app even has a community where people share various sounds from memes with each other.
If you're looking for a particular sound, you can always use a search bar that this app provides. You can even add your meme sound to the app. All the swear words in the memes are deleted.
Another interesting aspect of the app is that it allows you to edit those sounds in the way you want. You can cut them, change the pitch of the voice, or play them in reverse.
The interface of the app is quite trivial. It's just a bunch of sounds gathered in one place.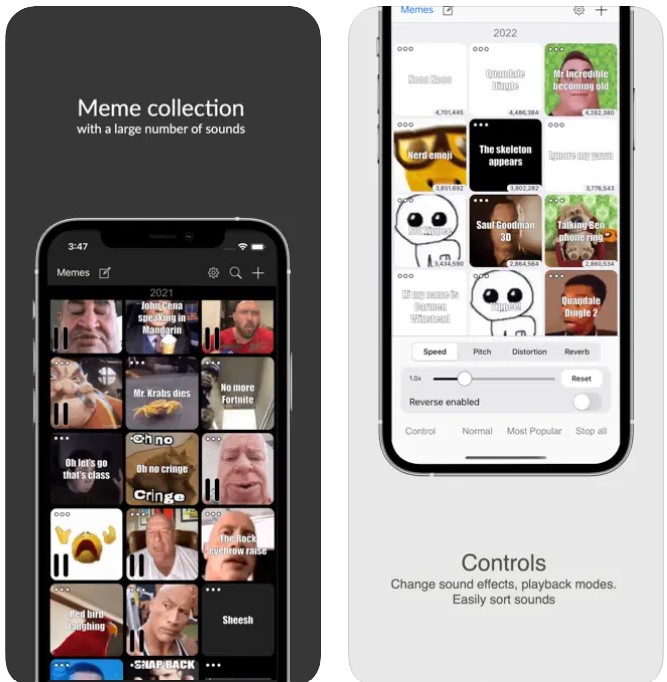 You may also like: 11 Best Sheet Music Writing Apps for Android, iOS, PC
MyInstants SoundBoard Buttons
This app has a more simple interface design and this is simple in general. In its main menu, you will find several buttons, by tapping on which you will hear various meme sounds.
The remarkable thing about the app is that the Android version here is extended and it even contains a kids' section where users can find kids-friendly memes. In total, there are almost 400 different meme sounds.
In the Android version, the sounds are even divided into categories so it would be easier for you to find the meme you are looking for. It includes the following categories: games, movies and series, sound effects, and others.
But the downside of the app that many users complain about is that it tends to freeze.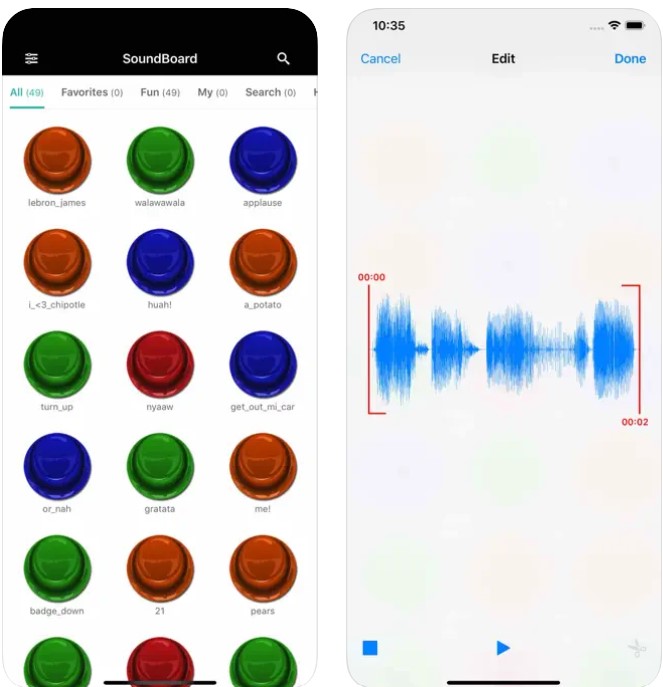 Yeet Meme Soundboard Generator
Yeet is an app that promises to deliver the funniest sounds from memes. It has a smaller collection of meme sounds than the previous app, so here you only got 300 different sound memes. However, the app is regularly updated.
Here you also got a chance to create your meme sounds. You can apply basic editing to the sounds, like speeding them up or cutting them. There is also a search bar using which you can find a specific meme sound.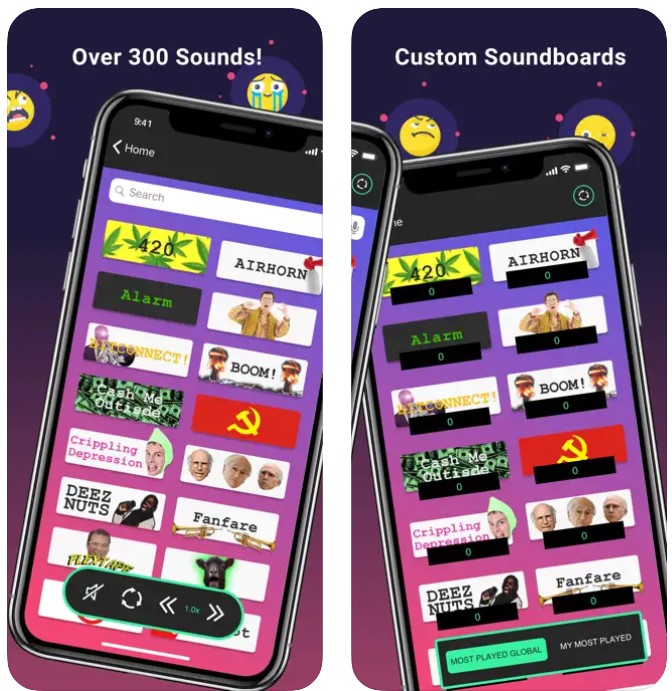 Meme Sound Effect Soundboard
This is a fun app to use! Here you will discover the best 200 meme sounds ever. All of them are presented in high quality. What is more, you can download any sound meme that you like.
Of course, this app doesn't contain some extended possibilities, like the search bar or the editing section for memes, but in case you just need to download a certain sound to your Android device, this is the right choice.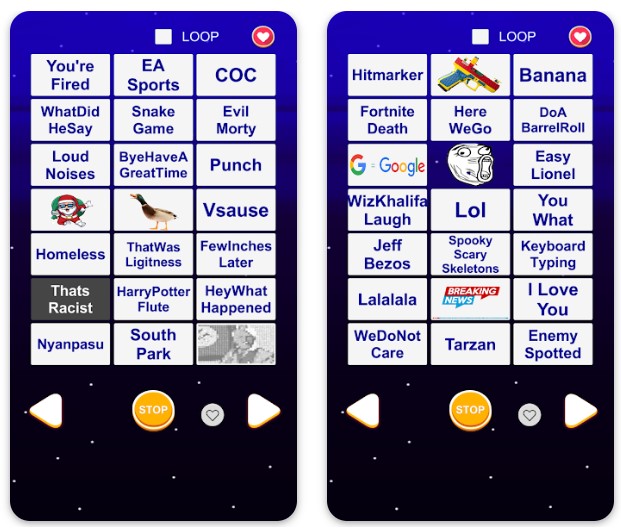 You may also like: 5 Best Last Minute Music Concerts Tickets Apps for Android & iOS
Dank Meme Soundboard
In terms of the interface, this is not the most sophisticated app, but it seems like it provides stable functionality and a decent diversity of meme sounds. It is a simple app where all you have to do is just browse through its opening and listen to your favorite meme sounds.
The app is updated regularly with the new sounds so it never comes out of fashion. The quality of those sounds is decent.
With Dank Meme Soundboard you can find a funny sound for your ringtone or an alarm sound! We tested the app and found it extremely easy to use and discovered it almost doesn't have any annoying ads.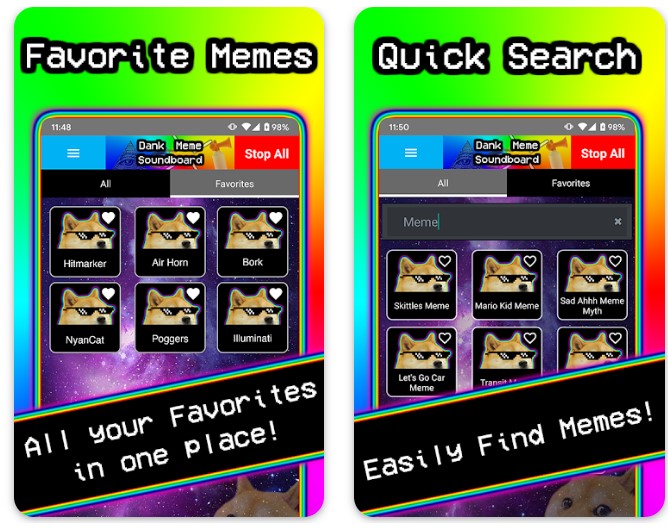 MLG Meme Streamer Soundboard
This is not the best app in terms of the diversity of the sounds, but we liked the interface design of it. It is nice and pleasant to use and you can navigate here quickly even if you opened the app for the first time. Its remarkable feature is that each sound here has its icon.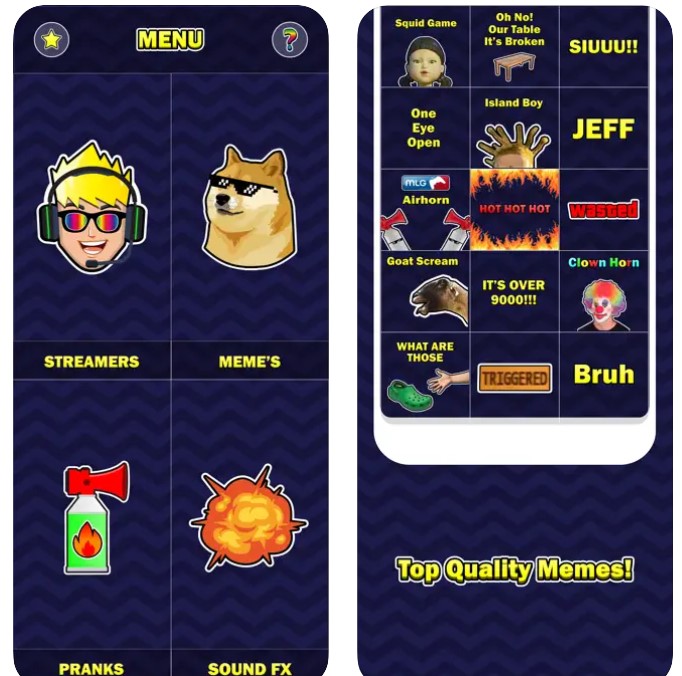 You may also like: 12 Free Fitness Apps Without Subscription (Android, iOS & Windows)
Memesound (Meme Soundboard)
This app claims that it contains more than 1300 meme sounds. The good thing is that all the sounds here are divided into categories and it even has a search bar so you could look for something specific.
One interesting thing is that in Memesound you can play several sounds simultaneously. You can download the found or save them to the favorites in the app. The minimal editing of the sounds is available as well – you can adjust the speed, apply a funny filter or play the sound in reverse.
It's funny, but here you can even create whole playlists with the meme sounds. However, unlike all the previous ones, Memsound contains some in-built purchases for the extended features.