Have you ever wanted to alter your voice? Do you dream of sounding like a smooth-toned, deep-voiced man instead of your own shrill tones? Well, you're in luck!
We've scouted the best female-to-male voice changers (Android, iOS, Windows) you could try. These nifty tools let you adjust your voice with a few taps and start sounding like a whole new person.
These are ideal for prank calls, voiceovers, and having some laughs with your pals. All the apps are intuitive and are sure to tickle your funny bone. Let's get into it!
Voice Changer With Effects
Bored with your regular old voice? Want to add a bit of fun to your audio? This app can help. It covers over 50 FX to play with, and it can make you sound like a whole new person.
Well, it can actually do more than that. The app will be your one-stop prank companion as it can add helium and make you state like a robot or even a zombie. Thus, you'll never run out of options and joke sources, and all that without spending a dime.
Plus, the app lets you share your recordings through various platforms with just one tap.
But it's not just about silly FX, the app also has practical tools like the ability to add pre-made files and voice text. And you can even set the sound as your ringtone or notification sound. The adjustable audio quality ensures that your files sound great no matter what effect you use.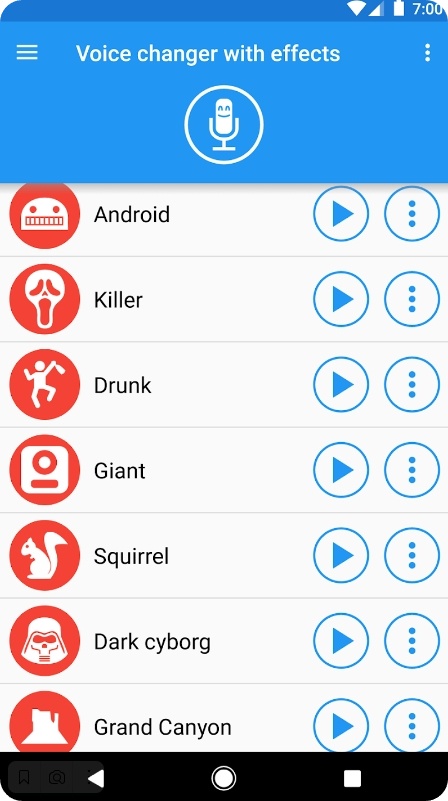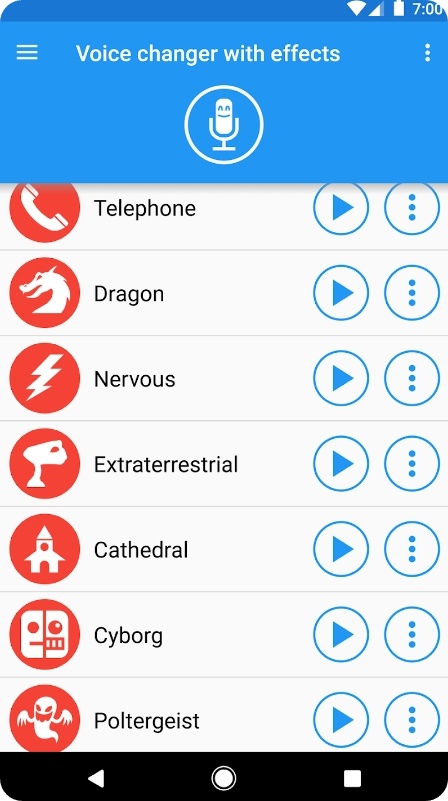 You may also like: 11 Best Gender Swap Apps
Voice Changer
It's a fun and creative way to spice up your audio. The app covers a vast scope of FX, including one that makes you sound like a baby, male, female, and more. It even has an accent changer, how cool is that?
Thus, with just a few taps, you can turn your voice into smth entirely different and have a blast doing it. One of the best aspects of this one is how easy it is to use. Whether you're making audio from scratch or using a pre-existing file, the app lets you apply FX quickly and efficiently.
You can also alter the metrics such as pitch and volume to fine-tune your results. The app also covers video clips, making it ideal for funny prank clips you could share with mates.
Finally, the app is completely free to use. That's right, you can enjoy all these exciting FX and sound filters at zero cost. The as are minimal too, so no worries.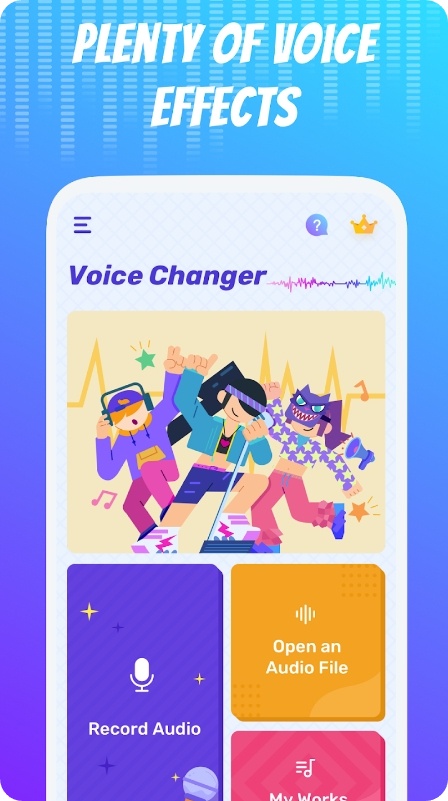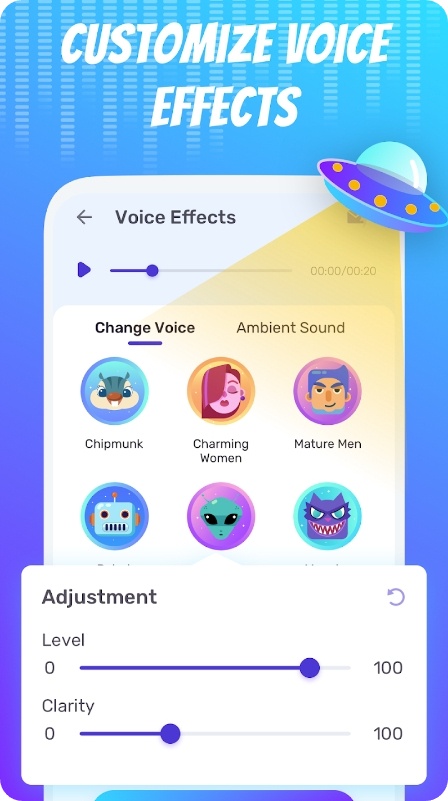 Voice Changer Male to Female
This little voice changer that's sure to give you endless entertainment. It covers a diverse scope of audio FX and its user-friendly voice editor, which makes it the ultimate tool for all your voice transformation needs.
One of the highlights of this app is its extensive lib of fun and amusing voice modulators. You can shift your voice into anything from a baby's coup to an elderly woman's cackle, or even mimic the sounds of animals like sheep or bees.
You can even try avatars for zombies, aliens, and monsters and truly unleash your creativity. But that's not all: you can also modify the file, ensuring that your entertainment options are truly limitless.
You'll get to alter pitch, clarity, and all that, and you get complete control over a transformation. And all that is entirely free. Most avatars come without cost too, so you can enjoy hours of endless fun and laughter without spending a single penny.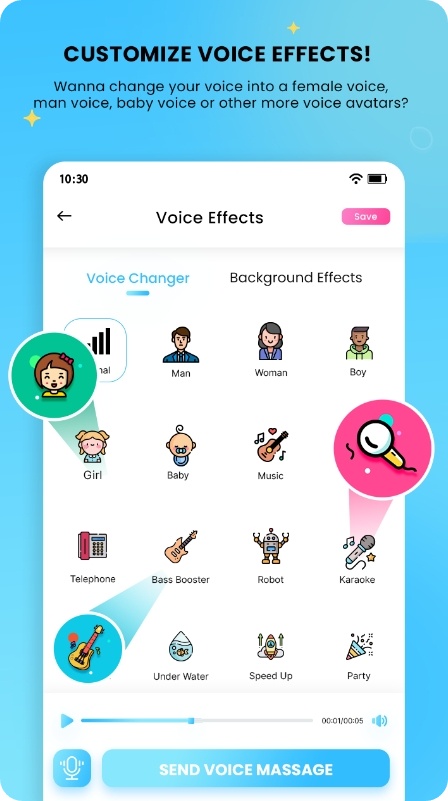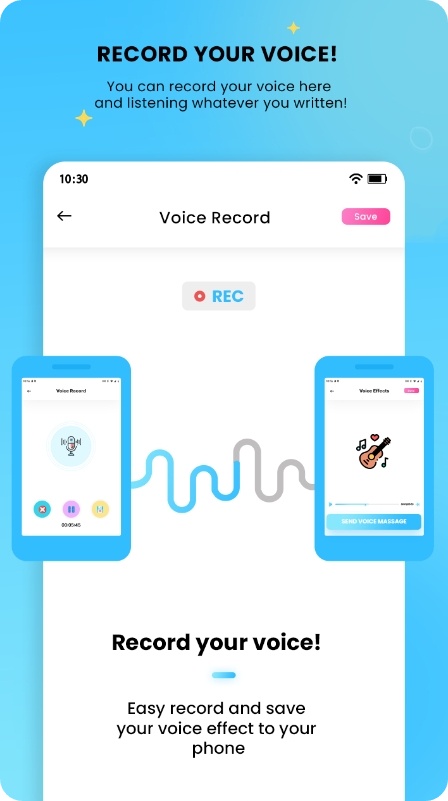 Voice Changer – Prank App
This app is a treat for those who love to get creative with their tune. It has a simple UI and lets you pick from a vast scope o FX and styles. From robotic to cartoon impressions, you can experiment for as long as you like.
The app has two input methods: you can use the mouse or upload an already recorded file. Once you've got your result, you can easily alter your voice to make it sound like a male, female, or even ghost.
And let's not forget about the real-time processing tech! With this tool, you can apply FX in real time as you record. It's ideal for making unique and entertaining content that will have your friends laughing for days.
As if all that weren't enough, the app also lets you save the files or share them right away. It's never been easier to introduce your hilarious creations to the world! It's also fully free, so you're not risking anything.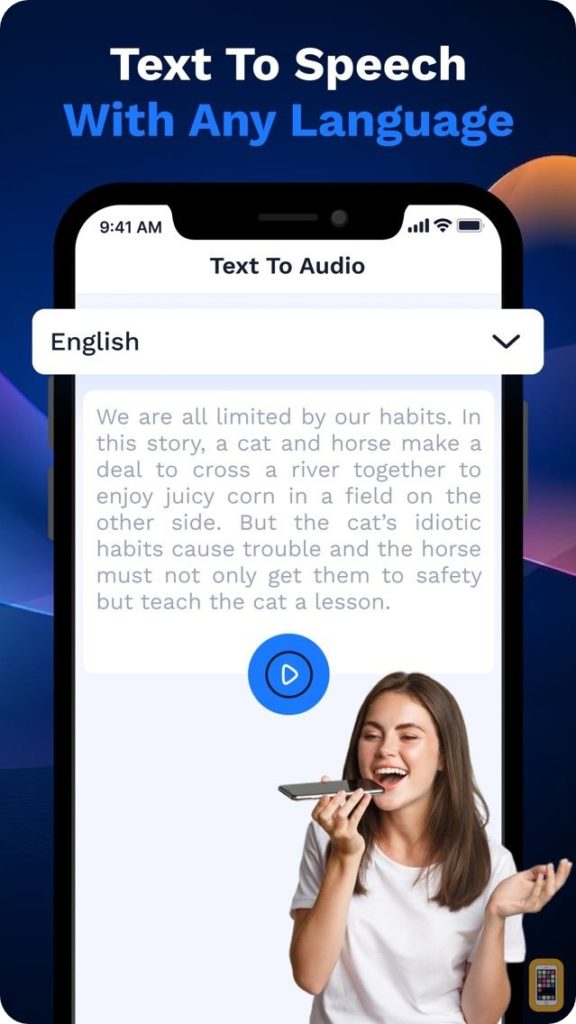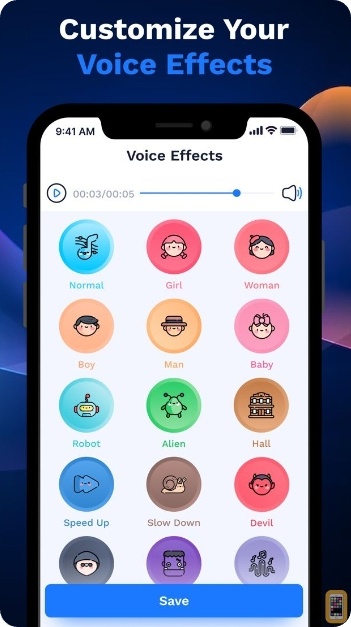 Voice Changer – Audio Effects
Need a tune app that's both easy to use and chock-full of tools, this might be the one. It covers a spectrum of FX, so you can share the way you sound instantly and play with soundscapes without any effort.
One of the best aspects of this one is how adjustable it is. You can try any style and generate an infinite number of soundscapes that are unique to you.
But that's not all! If you're a music lover, then you'll definitely appreciate the bass booster. Enjoy your fave tunes with a little extra oomph, and make your pals jealous with your tuned sound system. The app can make you sound like anyone and turn your voice into the opposite sex.
Now, if you're feeling a little silly, why not try out the speed regulator? With custom effects for tempo and pitch, you can make hilarious soundscapes that will have everyone laughing for days. You can even set those as your ringtone if needed.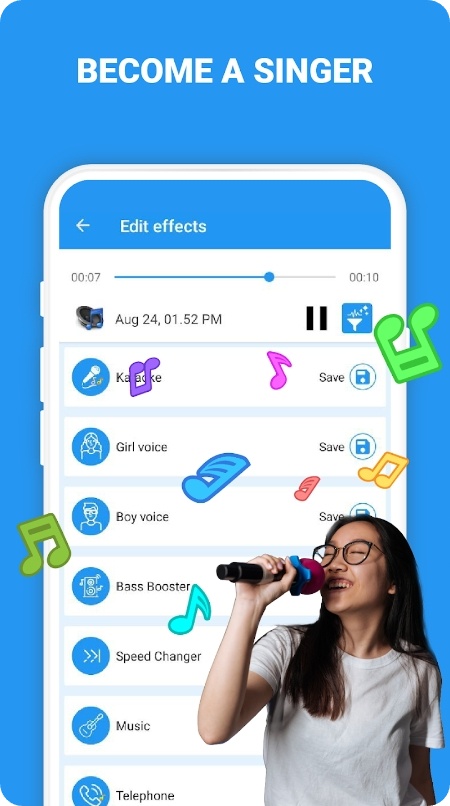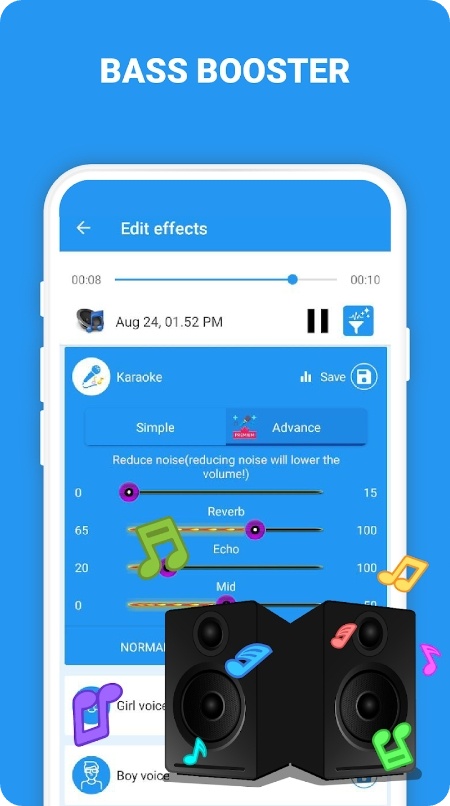 Super Voice Changer
This app will bring your calls, texts, and recordings to the next lvl. It really has smth for everyone, from funny pitch changers to recorders. It has a vast lib of funny FX of all kinds.
You can sound like the opposite sex, a robot, or someone straight from a horror movie. The transformation takes literal secs, and the quality is on the level, too.
But it isn't just for gamers. It's also a great tool for singing and recording music. With FX that ranges from deep and powerful to high and sweet, you're sure to find the ideal tune for your next song.
And if you need some FX to add to your recordings or editing, you can find them here, too. The app doesn't have any paid content, you can start using it straight away. The ads are minimal, and there are no crashes or glitches to ruin the exp.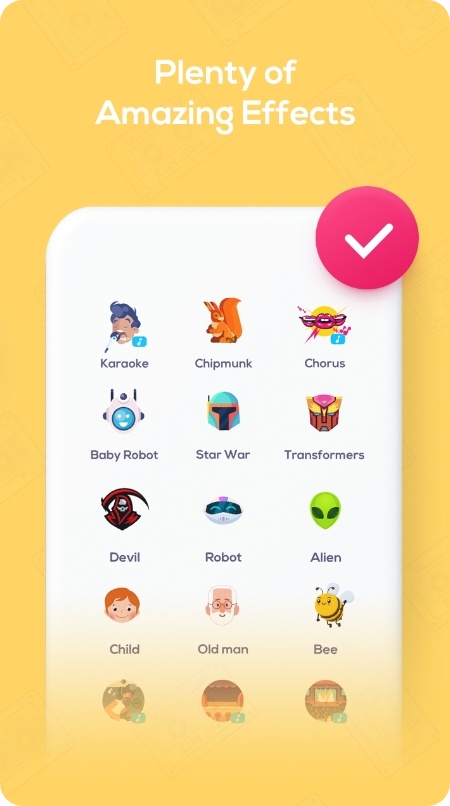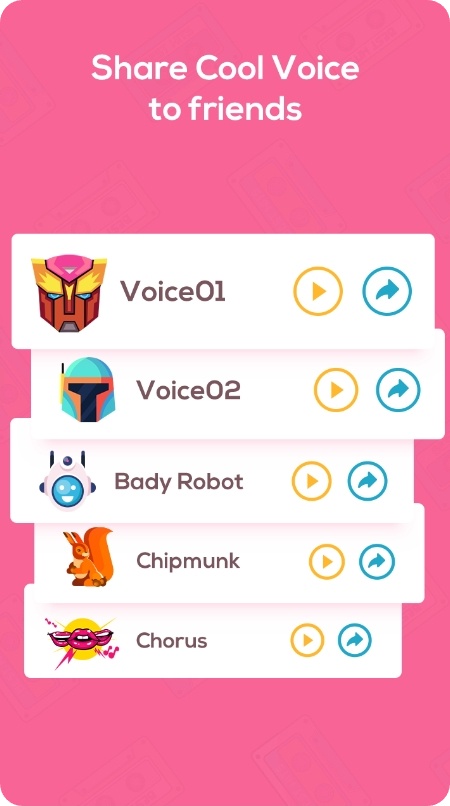 Voice Changer – Voice Editor
This app will turn your voice into smth new and hilarious. It is packed full of tools that will keep you considered. First off, it comes with a recorder. It takes a few taps to make an HQ audio that you can reuse multiple times.
The recorder operates offline, so you can use it at any time, anywhere. You can also cut it and do some basic editing if needed. The editor works with all formats, and it's pretty powerful for an app like that.
You can even use an app to make a new ringtone if needed. Want to add a little extra fun to your convos? The app covers tons of awesome avatars you can use to alter your voice into a male or female, a child, and more.
And for added entertainment, there's a powerful tuner with a variety of interesting scenes too. You can even use the app to alter your voice in messengers. It will take your voice memos to the net lvl.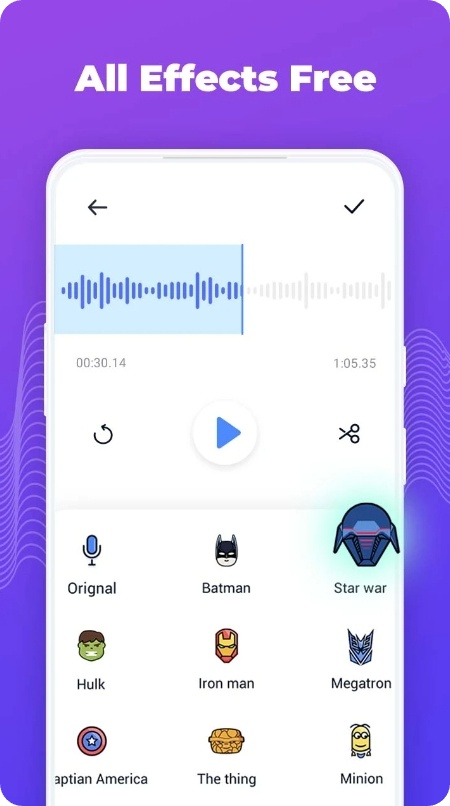 Check also: 13 Best Anonymous Texting Apps
Audio Editor
This app is a real hoot, and it will surely provide you with hours of fun. Firstly, the recording is so quick and seamless. It saves so much time and effort when mae to record smth quickly.
The HQ audio definitely enhances the overall exp of this app. The ease of adding the FX is just the cherry on top. Plus, you get a cutter to easily trim any file with a few taps only. Seems like not a big deal, but it makes a great difference.
The app lets you replace your normal voice with various funny ones. It makes vids and audio way more interesting, and there are tons of options you could try here. It's like having a personal voice-over artist!
You'll get to easily save and rename your files to keep things organized, too. And being able to set your creations as a ringtone or notification sound is an added bonus. It's also free, so you're not risking a thing.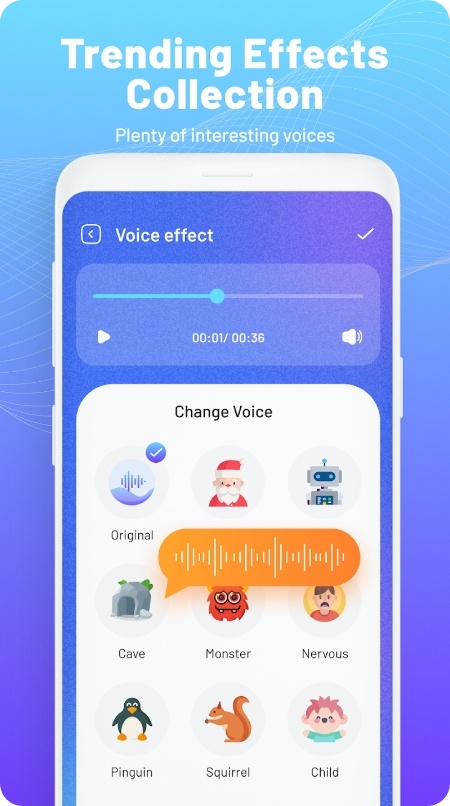 Fast Tuner
It's a nice way to jazz up your voice and make it stand out. This little gem is jam-packed with tools that let you pivot your voice into whatever style and tone you want.
One of the most impressive things about this one is its tuner. It lets you tweak and adjust the voice to perfection, giving it a rich and spacious effect. It will sound as if it's been finely tuned by a professional sound engineer.
The recording and processing capabilities are also top-notch. You can regulate the speed and range of your voice, add echo and reverberation, and even add fun FX. Then include gender swaps, animals, kids, and all that.
Plus, you can use this one for so many things. From congratulating mates and fam with a silly voice to pilling off hilarious pranks. You can even use it for presentations and reports to add a bit of personality and flair to your speech. And don't forget to set silly audio as a notification sound.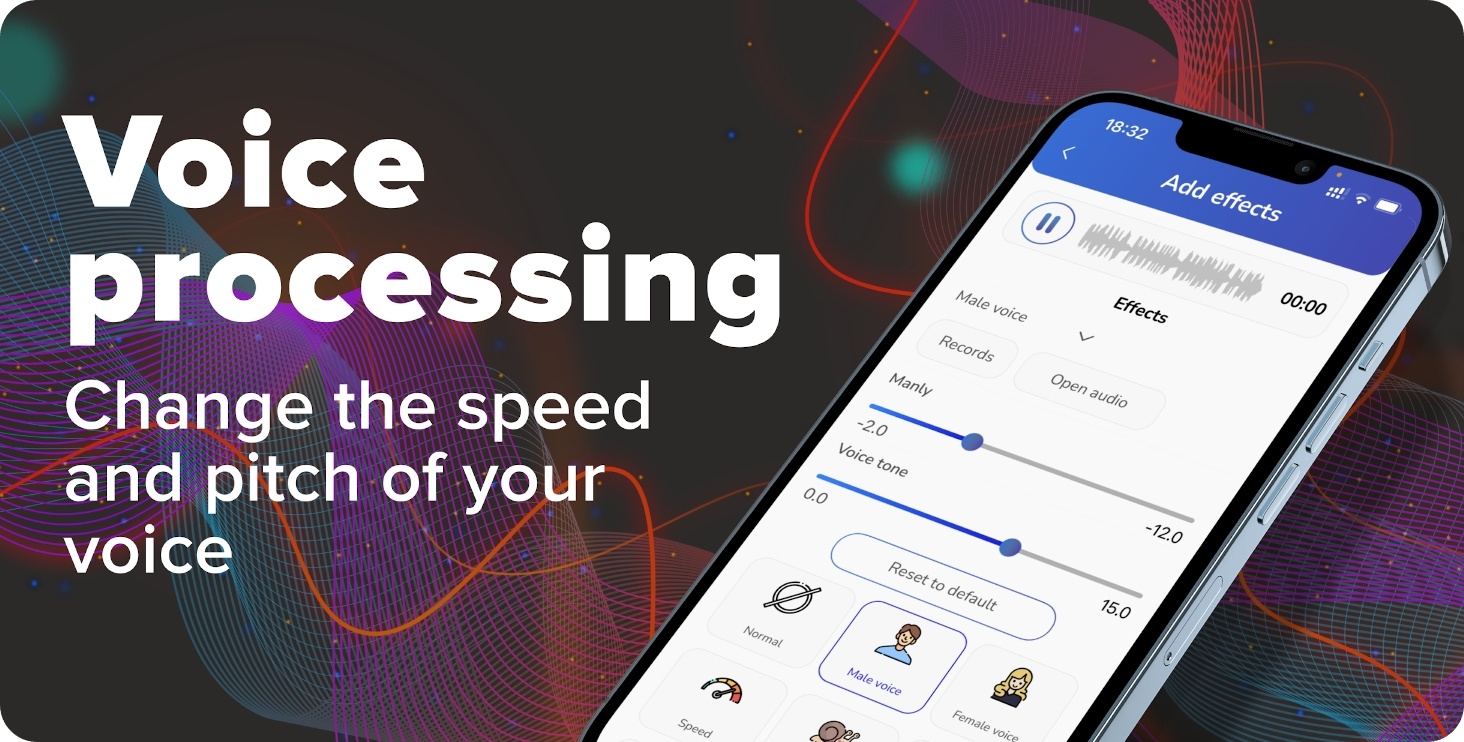 Voice Changer
Are you someone who loves to have fun while chatting with your pals? Are you the one who always brings something exciting to the table? Then this app is a must-try. It does exactly what its name suggests: changes your voice into various exciting FX.
You can make your dull convos with pals among the most memorable ones! Imagine chatting with your besties as a cute little chipmunk or a husky-voiced hunk! Trust us, once you start using this app, you'll never want to go back to your old voice.
What's even better? This software is available for PC, making it easily accessible for anyone to use. Imagine sitting at your computer, chatting with friends online, and suddenly transforming your voice into a silly character.
The free version is limited with FX, so you'll need to get a paid one to unlock all the potential. The basic gender swap is free, though, so if you're not interested in other FX you can surely stick to a free pack.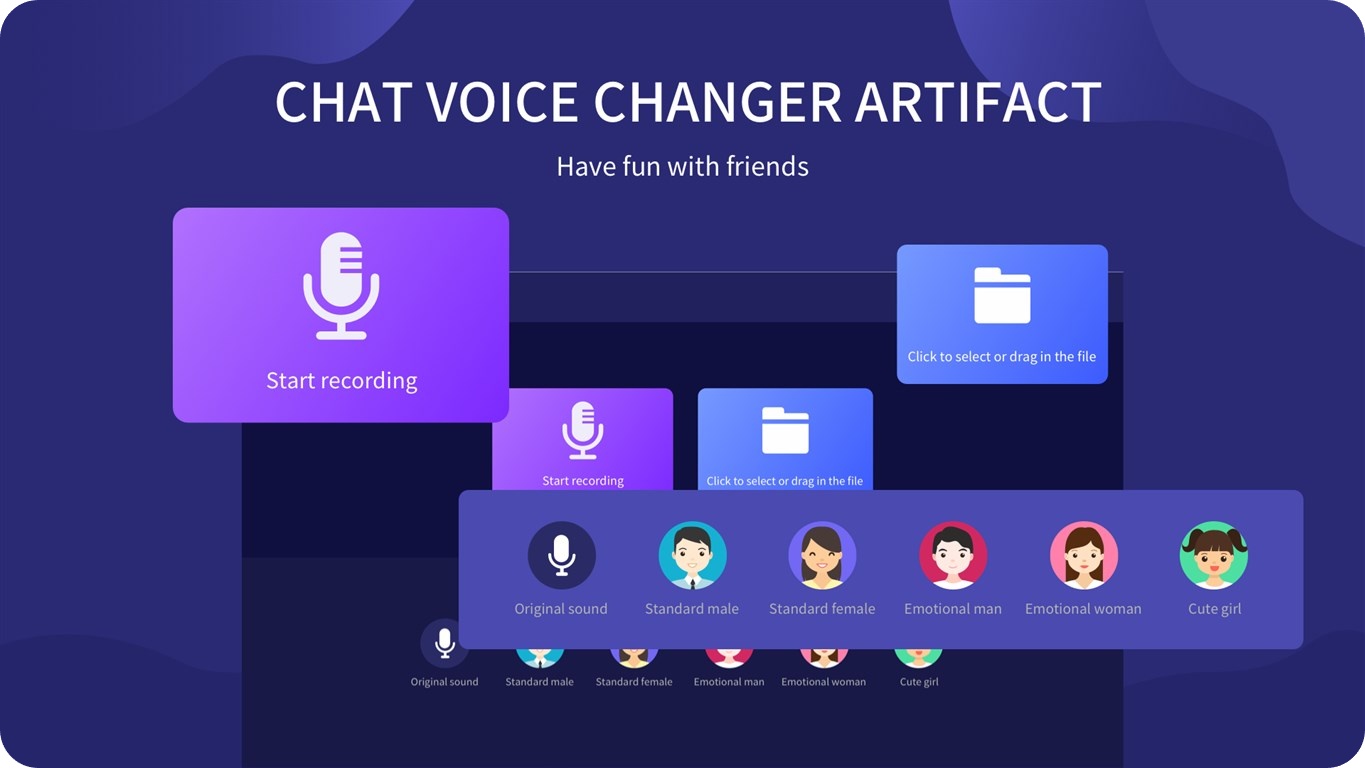 Voice Changer Fun
It's the kind of app to give you endless laughter. This app is not only intuitve, but it also has a vast scope of FX that are sure to keep you and your pals laughing for hours on end.
The concept is simple: the app lets you turn your voice into a helium-filled chipmunk, a growling monster, a haunting ghost, and more. The basic gender swaps and child FX are covered as well, so you can experiment for as long as you want. The potential is boundless, and each effect is more hilarious than the last.
Not only is the app ideal for entertaining kids, but it's also great for adults who want to let loose and have some fun. Record your speech and apply FX, or try recording your pals and see who can come up with the funniest voice.
It is also great for prank calls and for spicing up your clips. Whether you're a vlogger, influencer, or just looking to add some humor to your daily routine, this app is a great tool for you.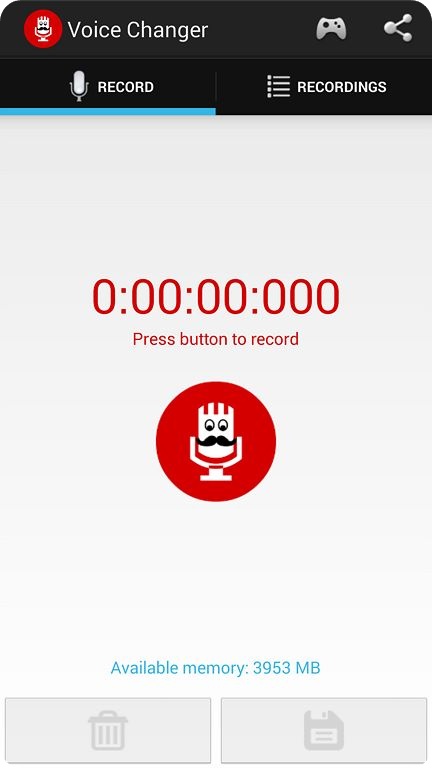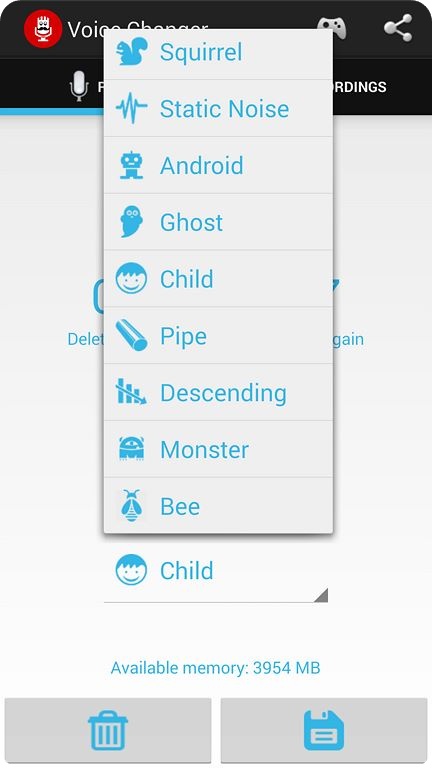 Voice AI Effects
This app is the ultimate sound editor, letting you transform your voice using a vast scope of FX. It can make you sound like a helium-filled giant, a backward-speaking alien, or a drunk squirrel, this app has got you covered.
There are over 13 FX you could try to alter your voice in ways you never thought possible. The Dizzy and Deep ones are personal faves, but there are many more to explore and experiment with.
One of the top perks here is the versatility. You can use the app to revise audio and or to record smth new and apply FX. The accent changer is a particularly fun tool, ideal for pretending to be a foreigner and fooling your pals.
But the fun doesn't stop there. There's also a range of AI ringtones that are sure to make you smile. From silly sounds to animal noises, there's one to suit every taste and personality.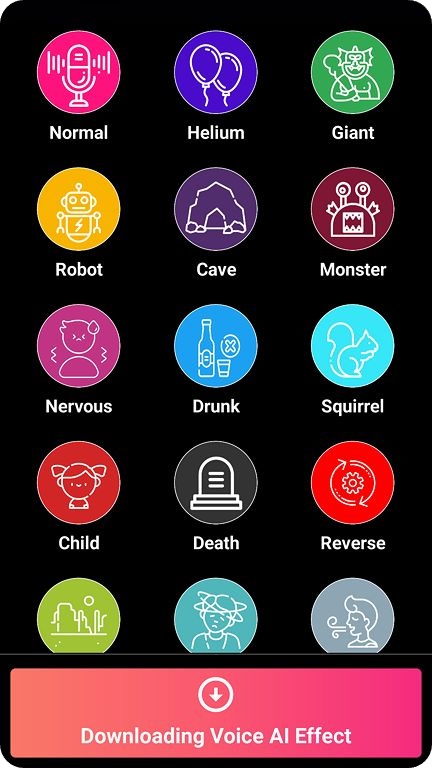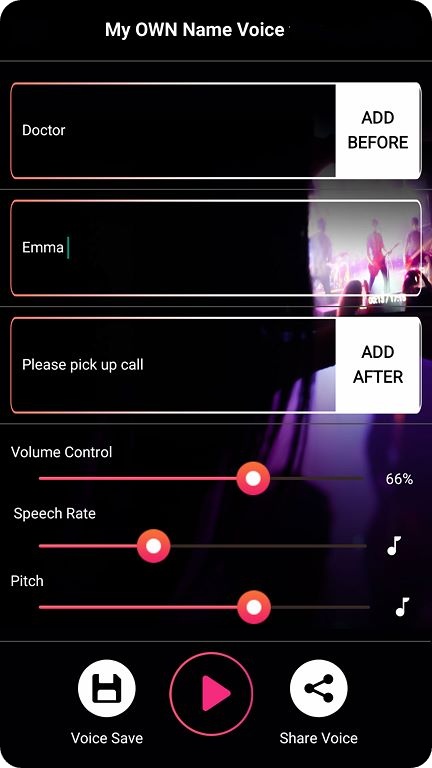 You may also check: 11 Free Apps to Make Photos Talk
Voice Effects
To wrap up, there's an app to turn your voice into smth truly hilarious. This app is so easy to use, even your grandma could figure it out. With tons of options to try, you can sound like a helium-filled chipmunk or a deep-voiced monster in just a few taps.
And let's not forget about the robot and dragon options – ideal for making your sci-fi dreams come true. You can even make yourself sound like a person of the opposite gender if needed. There are dozens of options, and new ones get added regularly.
And if you're feeling musical, the piano tool lets you play along with your changed voice. You can also use a tuner to improve the audio a little.
But wait, there's more! You can even use it to make an image with sound, taking your fun to the next level. Plus, you can save your files to savor the memories later.