A hairstyle can tell a lot about a person. How we look depends on our hairstyle. If you choose the right haircut, then you can emphasize the dignity of your face. The new style makes you more masculine and attractive.
Unfortunately, we only have one attempt at a new hairstyle while cutting. If the hairstyle is unsuccessful, you will have to wait a month or two to get your hair cut again.
However, we found a great way to solve this problem. Try the apps from our list and choose the most suitable haircut for your face type. Then boldly go to the barbershop and show the desired haircut to the barber.
You may also like: 7 Best Fake Hair Clipper Apps for Android & iOS
Men's Hairstyles
Let's start our list with an app that has over 250 haircuts. Imagine what a variety of styles and eras awaits you. Try your grandfather's or father's haircut – fashion is back!
Upload a photo and choose a hairstyle. In addition. artificial intelligence will perfectly match your face with your haircut. The image is realistic, which will allow you to better understand if the haircut is suitable.
There are several ways to upload a photo. The first way – select your photo in the gallery. The second way – take it in real-time. What's more, add facial hair and try different beard and mustache styles.
As an example, light stubble will make you a manly macho or romantic genius. Adjust your hair if you think you need to fix something. That is to say – a couple of finger flicks and you're done.
Remove excess hair with an eraser. This editing tool allows you to get an endless number of hairstyles.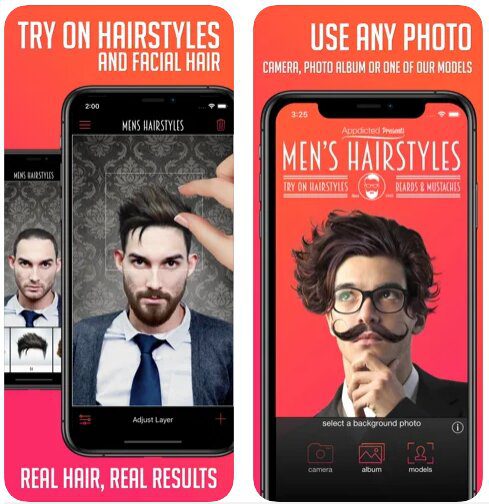 You may also like: 11 Best Fake Muscle Apps for Android & iOS

Boys Men Hairstyles and boys Hair cuts 2021
Choosing a hairstyle is always a difficult choice. However, with this app, you will forget about bad haircuts. But most importantly, it will allow you to find the perfect hairstyle.
Search in categories for quick access. Set up search filters such as length, color, structure. The app publishes daily ideas for the world of haircuts. Follow trends and be fashionable.
Fortunately, you will always look cool – at home, in the gym, in the office. The developers do not stay from modern trends by adding quarantine hairstyles. This is important because of the covid.
The app will become the guru of men's hairstyles. Read the detailed instructions for styling your hair. This will save you money on barber. Moreover, you will have a better understanding of how to care for and manage your hair. In short, the app is worth trying.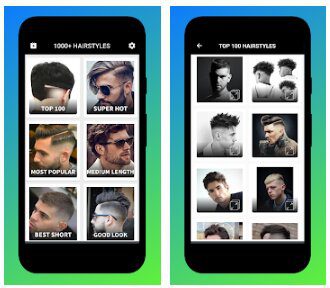 Peinados (Men's Hairstyles)
Hairstyle is the third thing people pay attention to when they first meet. The first is the eyes, the second is the lips. In other words, hair is an important part of our personality.
Follow the fashion with this app. It allows you to find the best 2022 hairstyles and try them on virtually. The collections are constantly updated. Moreover, the app also includes 2021 hairstyles, which are still relevant.
Read on for tips on caring for your scalp and facial hair. If your beard grows poorly, then the app will tell you how to find a way out of this step. What's more, it has hairstyles for all ages from children to the elderly.
Save your favorite haircuts to the gallery to quickly show them to the barber. Enlarge your photo with the new hairstyle to get a closer look at the new style.
By the way, the app has been downloaded over 1 million times, which speaks of its usefulness and quality.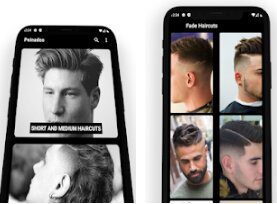 Hair and Beard Styles
Change yourself beyond recognition to try a beard or mustache. How will you look like? Can you be funny or courageous or menacing! The more we try, the more we know ourselves.
Download this app with a huge selection of hairstyles and haircuts. What are the advantages of this application? First, there are over 200 haircuts. Second, there are over 80 beard styles. And last but not least, more than 30 types of mustaches.
Moreover, the app will allow you to virtually change your hair color. 60 colors are waiting for your virtual experiments. If you want even more styles, then buy the full version. The thing that makes the app cute is the title of the haircut. You will laugh and enjoy your new haircuts.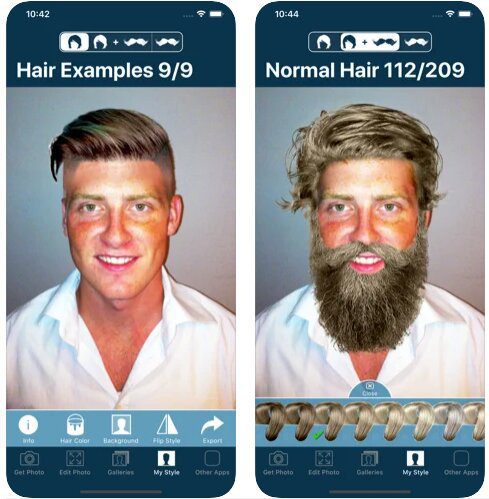 You may also like: 11 Best Shopping Mall Girl Games for Android & iOS
Men Hair style photo Editor
Do you want a lightweight app with a dozen functions? Here it is. This is a photo editor that will allow you to completely change your style from head to toe.
It has various styles of haircuts for any occasion. Only men's haircuts and only men's styles! A huge collection of mustache and beard haircuts will make you macho and heartthrob.
In addition, you can try a tattoo, as well as count a little and add relief to your muscles in the photo. We are sure the girls will appreciate it.
Unfortunately, the app has a big drawback – it is frequent pop-up ads. It is quite intrusive and sometimes even distracting.
In conclusion, we would like to note that the app weighs only 12MB.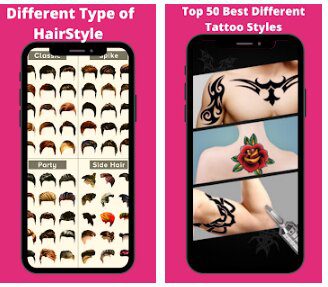 Man Hair Mustache Style PRO : Boy Photo Editor
Looking for a stylish app with thousands of stylish hairstyles? Stop and download this. It has a nice design on a white background. Use the app as a photo editor or search for new styles.
You can try on your hair in the virtual salon. Add your photo and choose a hairstyle to try on. The app automatically recognizes your facial features and perfectly position your hair in all proportions.
Erase hair in unnecessary areas. It also works with a mustache and beard. If you are balding, use the app as a photo editor by adding extra hair where needed. Nobody will notice photoshop.
Moreover, the app does not leave any water signs on the photo.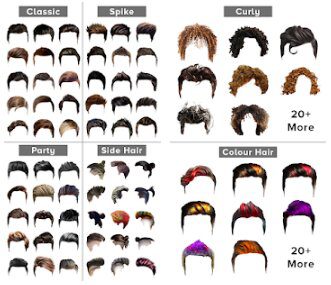 Your Perfect Hairstyle for Men
Have you ever wondered about your perfect hairstyle? This app will help you find it. The app will choose a haircut and trim it. Thanks to the handy sliders, you can change the length, color, and structure of your virtual hair.
The app has few hair colors, but you can customize yours. This opens up possibilities for creating thousands of hair colors. Adjust the brightness, saturation, contrast of the hair, add gray hair.
Plus, you can view the before and after results to compare the difference. Moreover, the developers add new packs with hairstyles, thereby increasing the functionality of the app. Share photos on social networks directly from the app.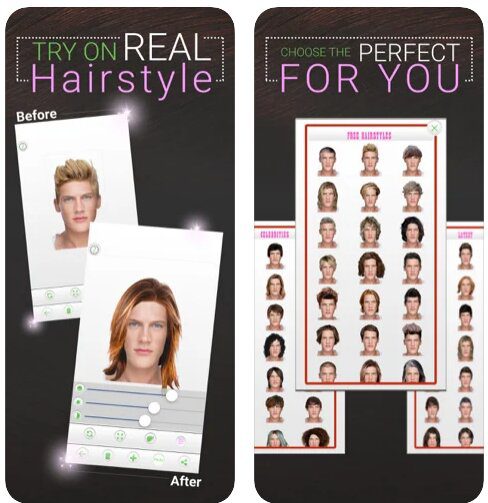 Boys Men Hairstyles and boys Hair cuts 2021
The next app will open up possibilities for the imagination. It has a hundred cool haircuts that, according to the developers, will always be relevant.
Further, choose your favorite haircuts and try them on in the virtual barbershop. To do this, you need to add your photo and wait a few seconds.
Plus, add beards and mustaches. Choose the length of the bristles and see how they look at you.
And one more thing, the app is free and has almost no ads. This will allow you to enjoy the process of choosing your hairstyle.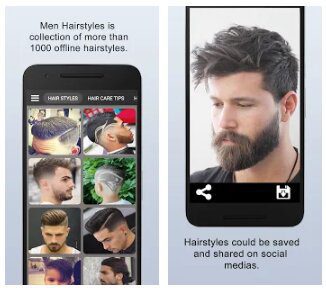 Latest Classy Hairstyles for Men
If you want to know the latest trends in male haircuts, then this simple app is just for you. It is filled with new haircuts from all over the world. Just scroll through the feed for inspiration.
Unfortunately, the app does not have a virtual hairdresser, so you will not be able to try new haircuts online in front of the barbershop. But we are sure that as soon as you show a photo of a haircut to your master, he or she will cut you as well.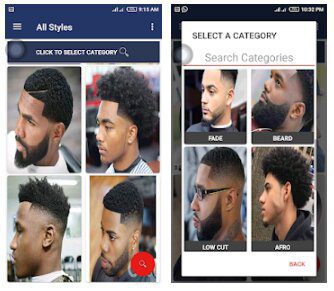 You may also like: 11 Best Gender Swap Apps for Android & iOS