Puzzles have always had a huge audience because in the process of solving them you have to include all your abilities to find the right solution. Also, this type of game is a great time killer, so you can play them anytime and anywhere.
Excellent representative of the genre is the games where you need to sort various items. We have decided to create a list of the greatest apps of this genre. In this review of the best games like Water Sort Puzzle for Android & iOS, you will surely find something most suitable for yourself.
For all of those who wants to try more game of this genre, we also recommend yo try these best jigsaw puzzle apps.
SortPuz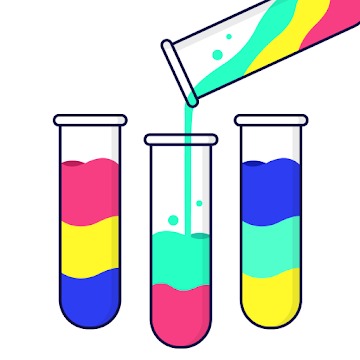 SortPuz is an app for playing glasses with colored water. This game is suitable for the development of logical thinking. You will be sorting water by color into different containers. Play and level up.
Each time the puzzles will become more difficult. The app includes many features. Pouring water into glasses is easy enough, the main thing is to understand the whole point of this logic.
You can constantly train and give your brain some kind of load. The game can be run on any mobile device. Remember that the cups must be moderately filled with liquid, also in the container should be only water of the same color.
Play and develop your brain. Before passing this arcade, read all the rules so you know how to come up with a great result. Then start conquering the rounds and fill the place of each container filled with water. Fill everything with water and win.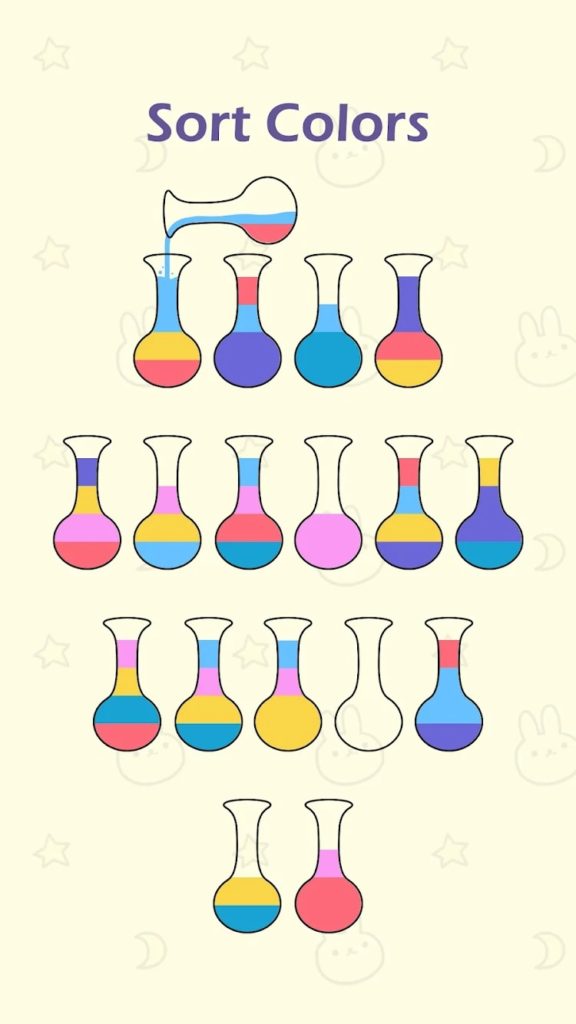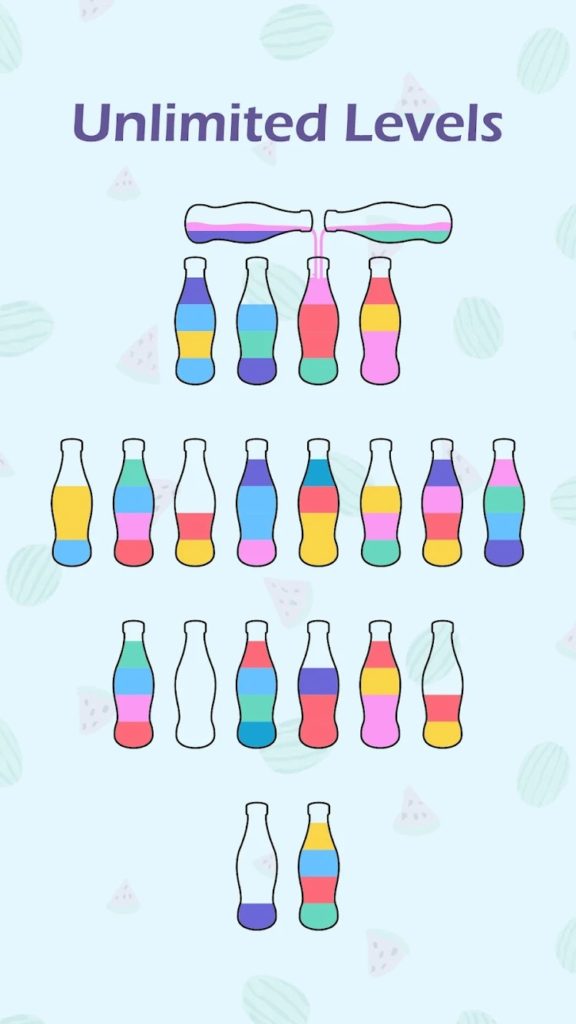 If you like this kind of app, SoftPuz will definitely not disappoint you. Go through exciting puzzles. Invite your friends and compete!


You may also like: 9 Best Box Puzzle Game Apps for Android & iOS
Get Color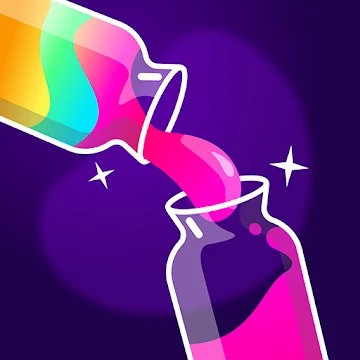 Get Color is a puzzle game in which you have to spill the liquid. Do you like games with logic? Then this program is for you. Download it and recommend it to your friends.
You should pour water of different colors into containers while thinking logically so that the glass is not filled to the brim.
With such a great game you can enjoy the process and have a good rest, and also remove stress for the day. A huge number of different tasks here. Play when you are bored, the program will quickly dispel that feeling. This is a simple but really interesting game.
Besides, the app is made in 3D. Think a little and pour the liquid from one test tube into another. Do not rush to pour, think carefully about the task. Study the instructions for all the rules of the game.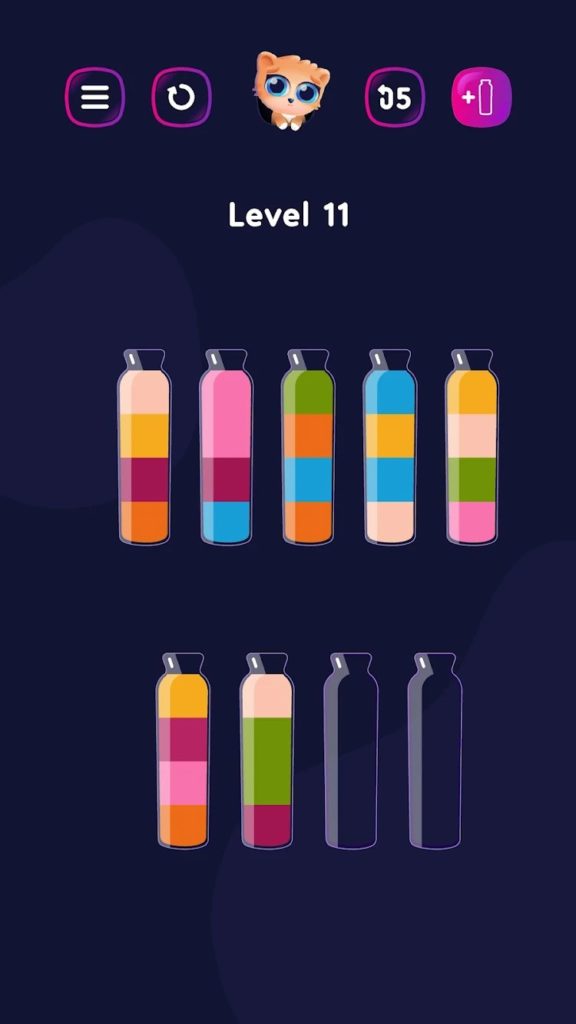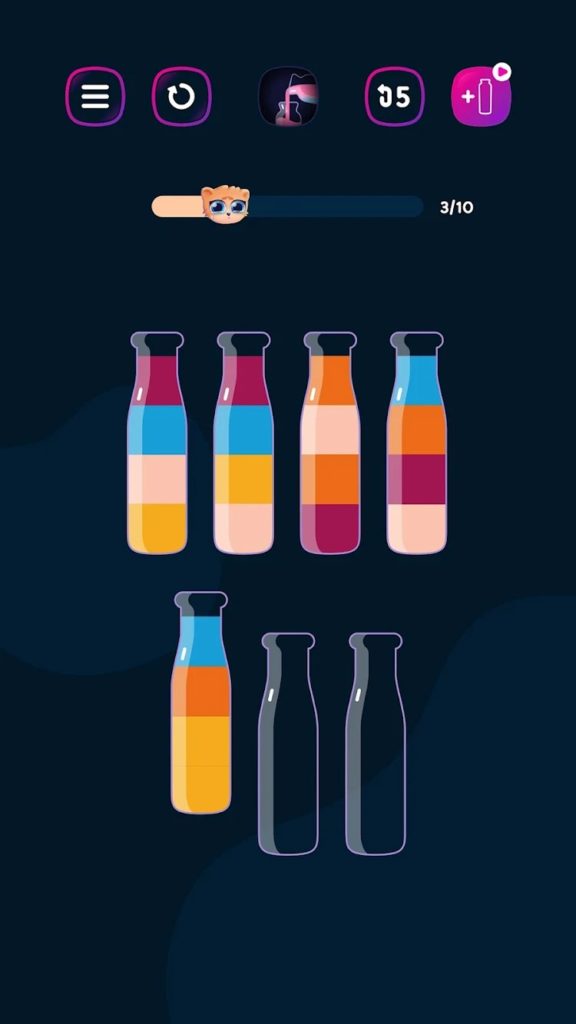 Users speak highly of the Get Color game, everyone likes the levels with jars and colored water. Moreover, you can read reviews about the game and write your own.


Tricky Water Sort Puzzle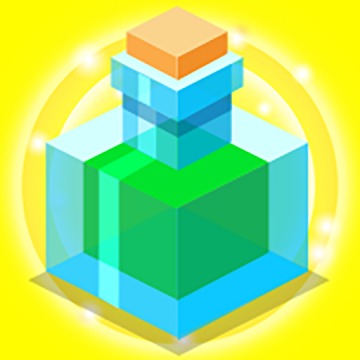 Tricky Water Sort Puzzle is a game that presents glasses that need to be filled with liquid of the same color.
Such a program will give you the opportunity to sort the water by color into the right containers. Make sure that the water is equal everywhere and that it is the same color.
The game has several awesome features. You can control the game with one hand. There are different interesting rounds in the app.
Tricky Water Soft Pizzle is made with excellent graphics, beautiful drawings attract the eye. Go through the exciting game together with your friends. Compete and become a pro.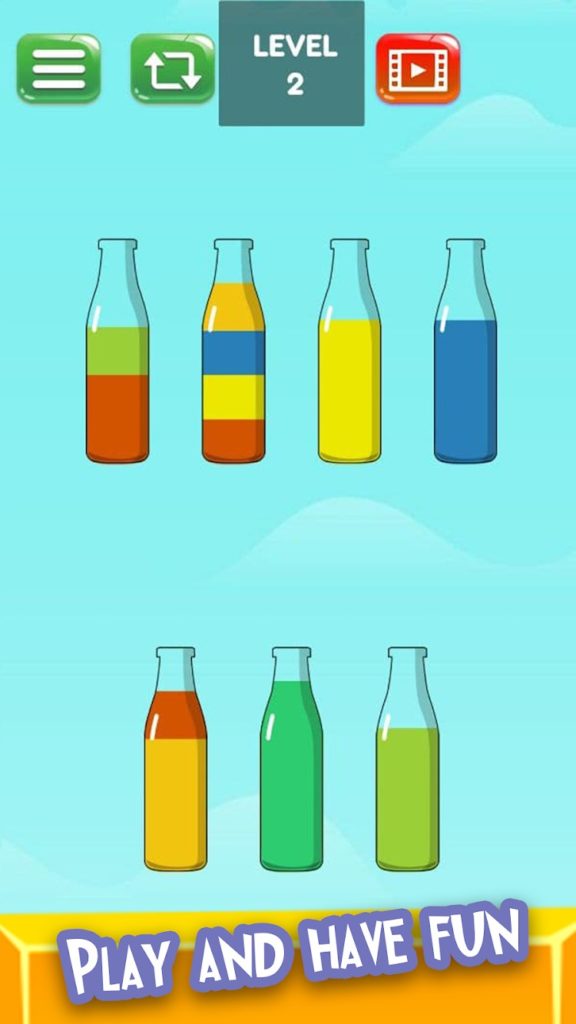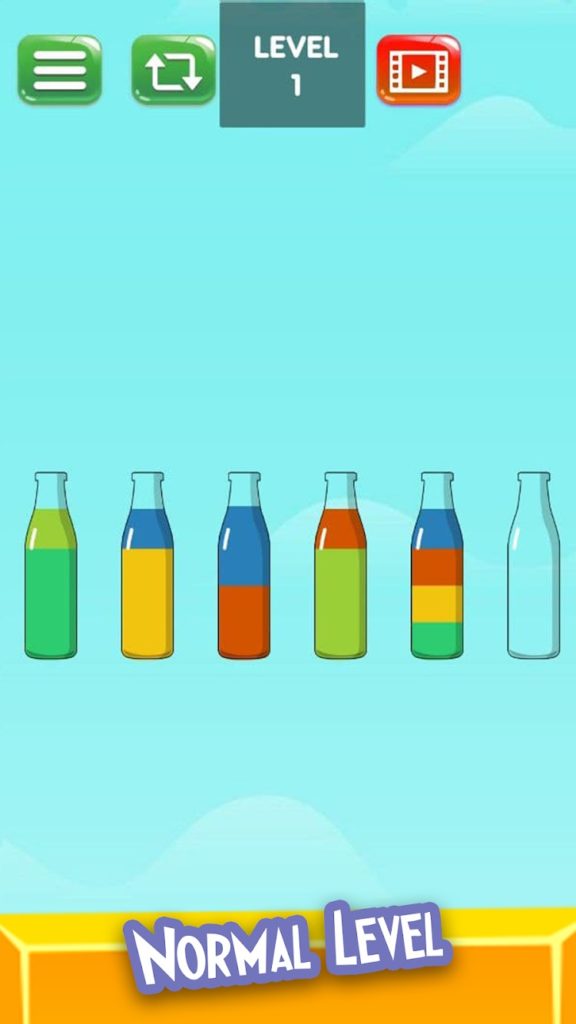 Sort all the bottles by color and start pouring. Go through the rounds for time and more will open up for you later on. Many different types of challenges await you.

Color Fill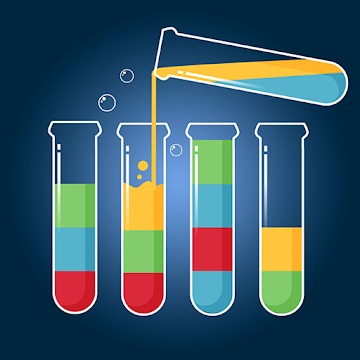 Color Fill is a program with lots of liquid in glasses. Do you like this kind of game? If yes, you should definitely install Color Fill.
This is a casual type of game. You will need to develop water in tubes and thus pass one level after another.
So how do you properly play this game? You will click on the flasks and pour the liquid from one container to another. Remember that the liquid must be of the same color, otherwise, you won't pass the level.
Moreover, there is a limited amount of water in the cup, so think carefully about what and where to pour. The interface in Color Fill is handy, play with a few taps of one hand.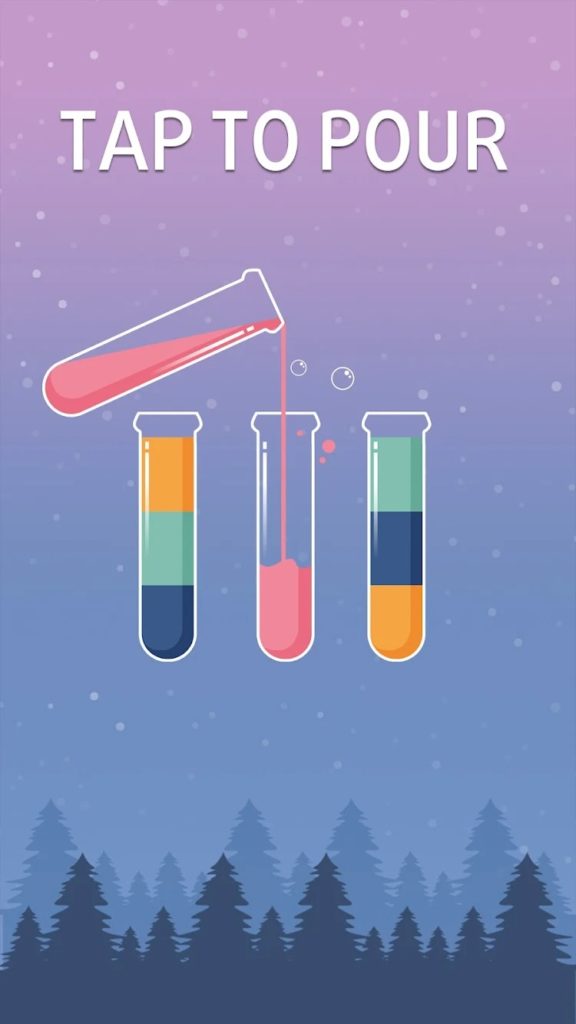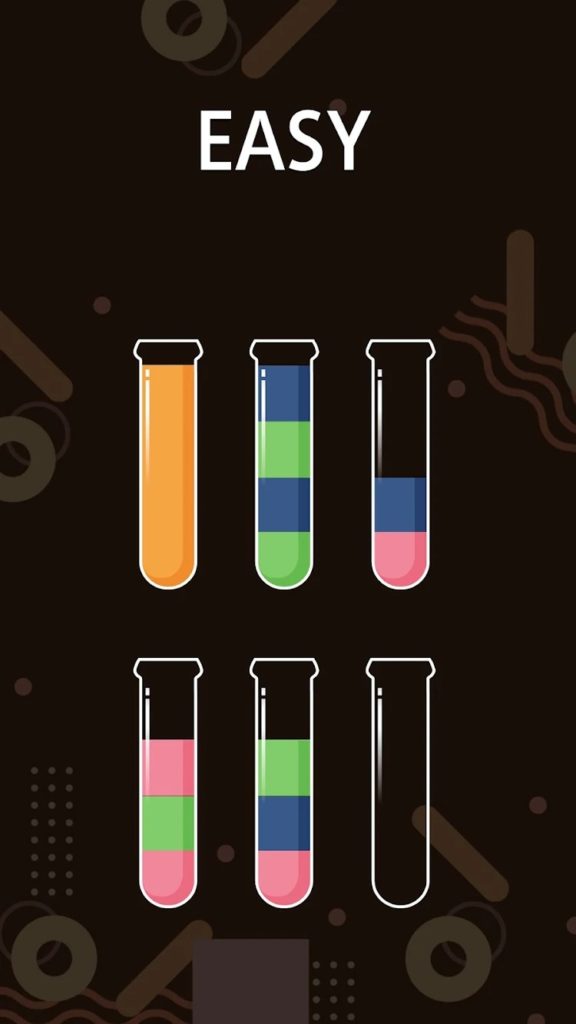 Play the game as a friendly group or with your family. Come up with your own ingenious plan to spill water in such a challenging puzzle game. If you have any questions, email the app support team.

Cups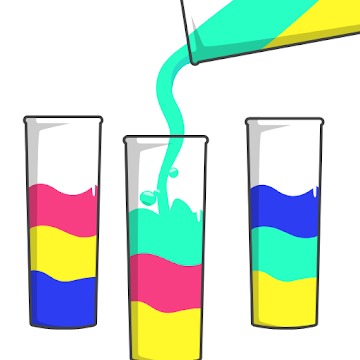 Cups is an app for playing with glasses with colored water in them. Your task is to pour water from one glass to another, sorting them by color.
Practice daily and you will become an expert at the game of Cups. Challenge your buddies and have fun playing such a great game.
Have a lot of fun playing it. Use your brain and think about how you can pour everything into the jars faster. Move the water containers of the same color. Solve such clever problems and think about your moves.
By the way, if you make an unnecessary action in the game, you can easily cancel it. Moreover, you will be able to choose the difficulty levels.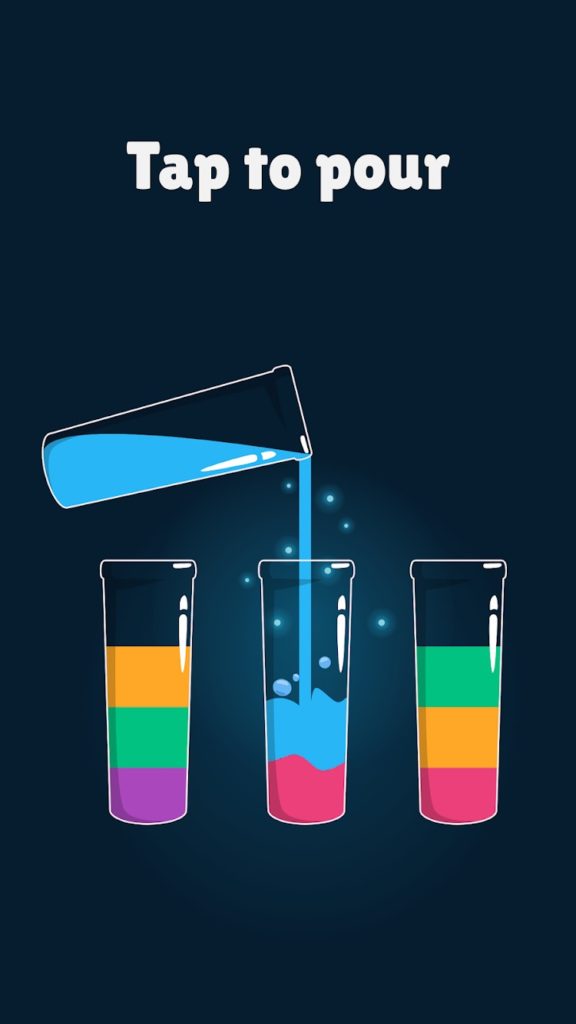 This app requires your attentiveness and the ability to plan your moves ahead. It is a really fascinating game. Download it and get started as soon as possible!


Water Sort: Color Sorting Game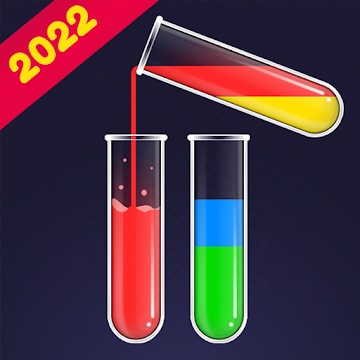 Water Sort: Color Sorting Game is a program with a clever puzzle. In this app, you will have to match the right bottle with the right water of the right color.
Do you like to think through moves of action? Then download Water Sort soon. Pouring liquids is easy, but not everyone can pour them correctly.
Start the game with easy levels, and then move on to harder ones. Have a rest and play this app with friends, and enjoy the atmosphere. By the way, here you will be able to think through the moves and in case of wrong you can cancel everything with one button.
Besides, it is worth noting that if you are not happy with something, just go to the settings and remake everything to be comfortable.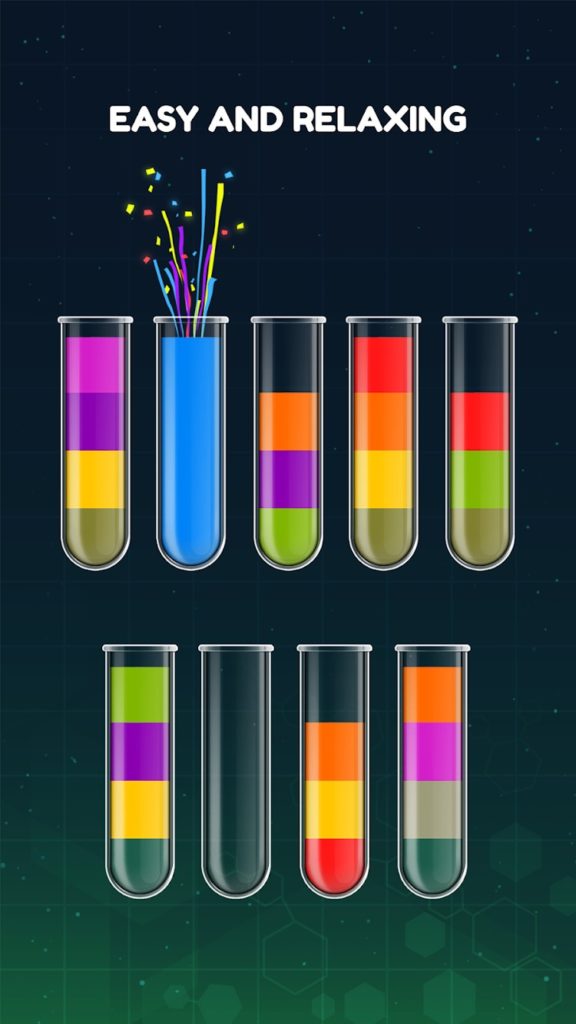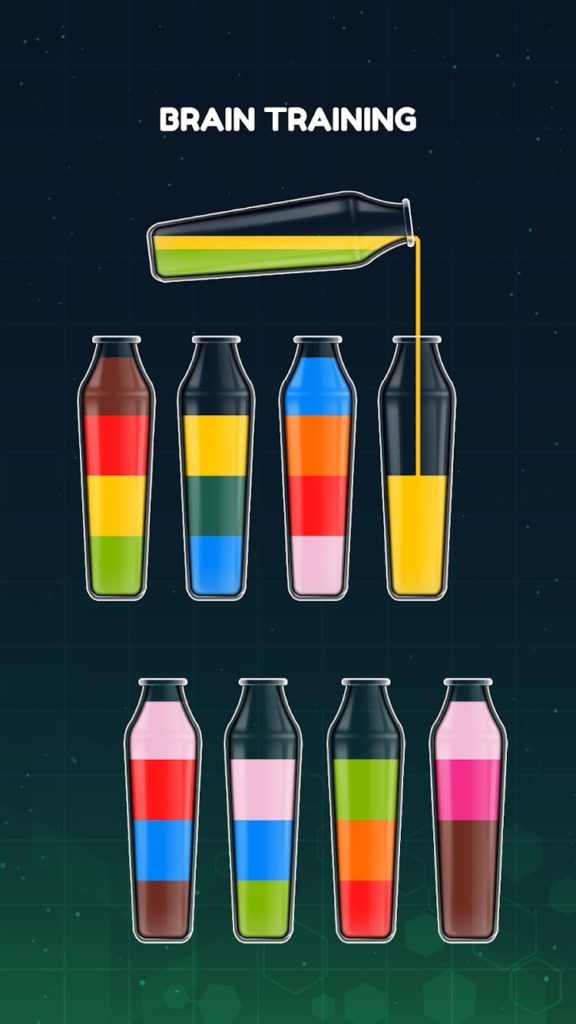 The game has a beautiful design, the graphics are very clear. The app does not require a network connection. Fill all the containers with liquids and become winners!

You may also like: 7 Best Horror RPG Puzzle Games for PC, Android, iOS
Water Sort – Brain Puzzle Game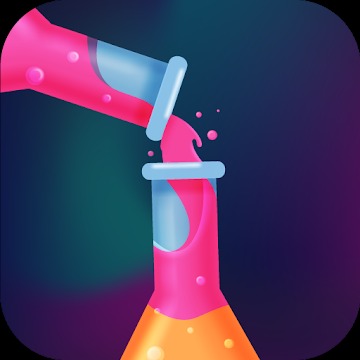 Water Sort – Brain Puzzle Game is a program for sorting colored water glasses. If you are a fan of logic games, you should definitely try this app.
Develop your brain and enjoy such an entertaining game. The program includes a lot of different logical tasks. Pass your choice of levels.
You can soon become a pro at Water Sort if you play every day and practice. There are over 400 different types of difficulty of tasks with jars.
It is worth noting that the interface of the program is simple, even beginners will be able to understand everything. This game can be played by children and adults.
Go to Water Sort, when you suddenly have nothing to do or you are bored, the program will quickly take you and you will instantly forget about everything.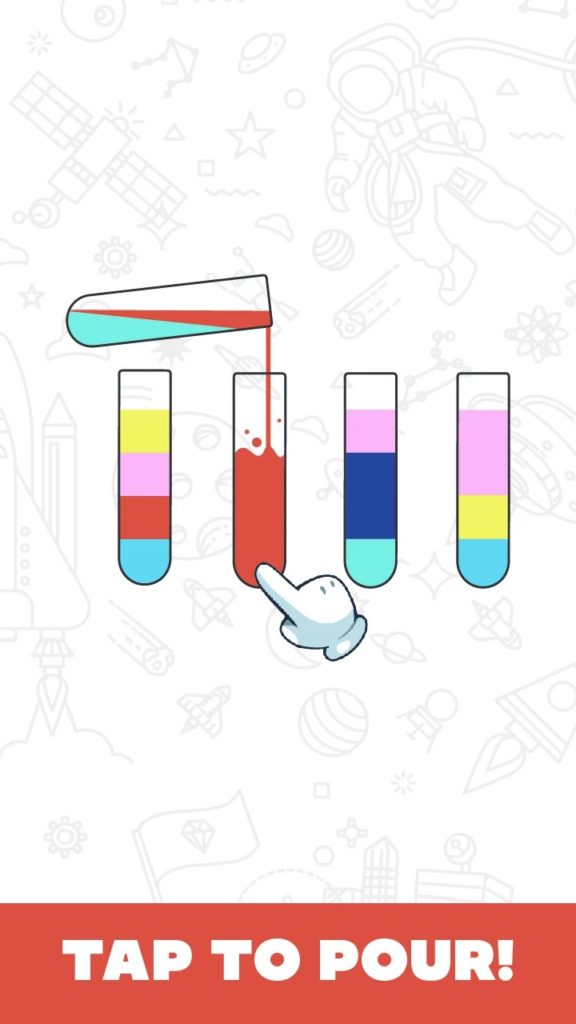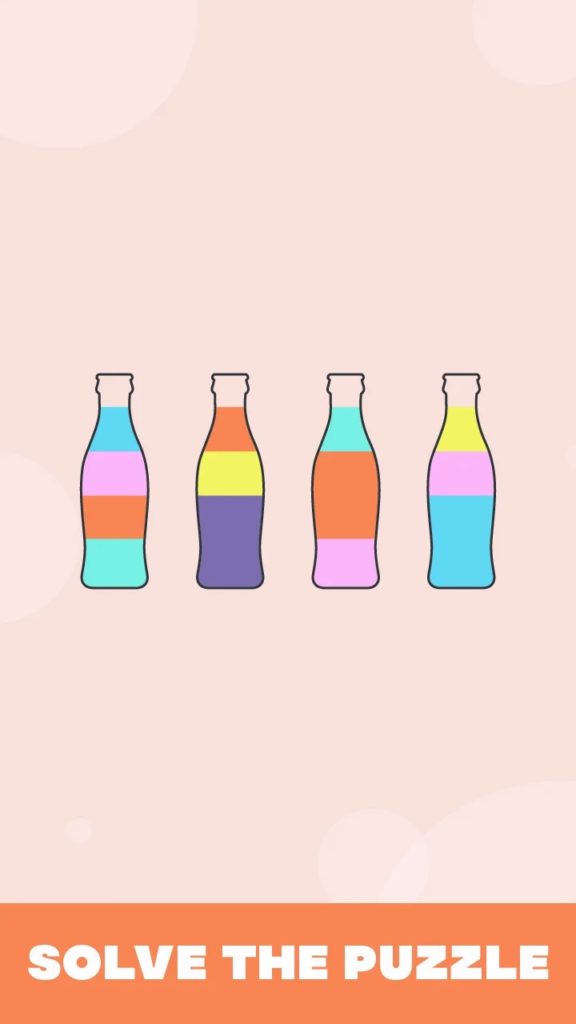 In all the bottles you will need to pour the liquid. Before you do anything, be sure to think about your strategy for winning. Play the game whenever and wherever you want.

Love Water
Love Water is an app where you can play glasses filled with water.
Do you like games in which you have to think logically and pour the liquid until the whole container is filled? If so, then download Love Water to your device.
Here you will need to pour the liquid from one glass to another so that in each container was enough liquid of the same color. Try this game and you will surely love it! Come in and play when you're tired, let your brain unload a little.
Besides, when moving the glasses, think well first about which color corresponds to a certain container. In any case, you will be able to cancel the committed move or go through the level again.
Love Water offers many interesting features. The app can be used even when your smartphone is in airplane mode. There is a large variety of levels that you will be able to choose.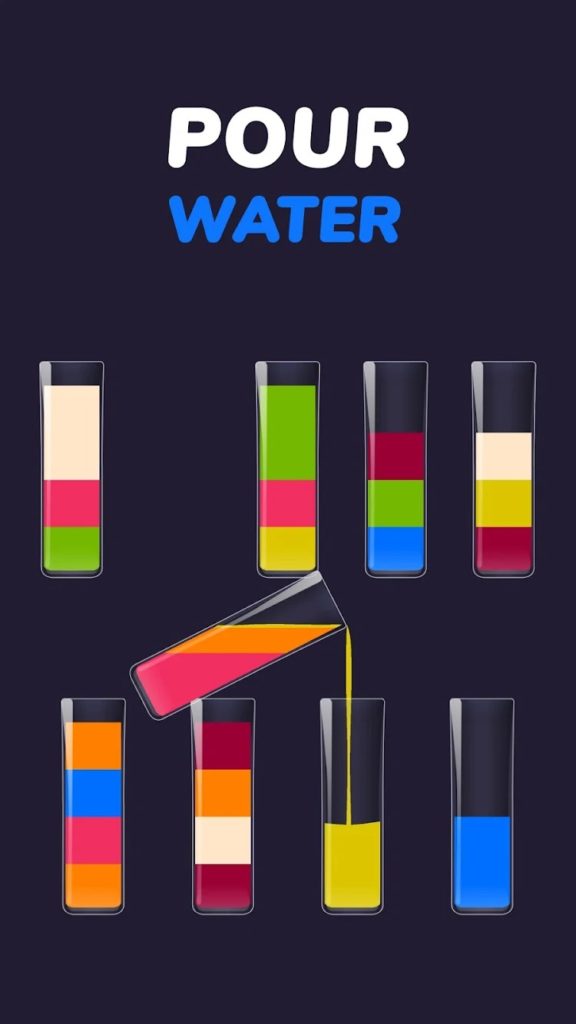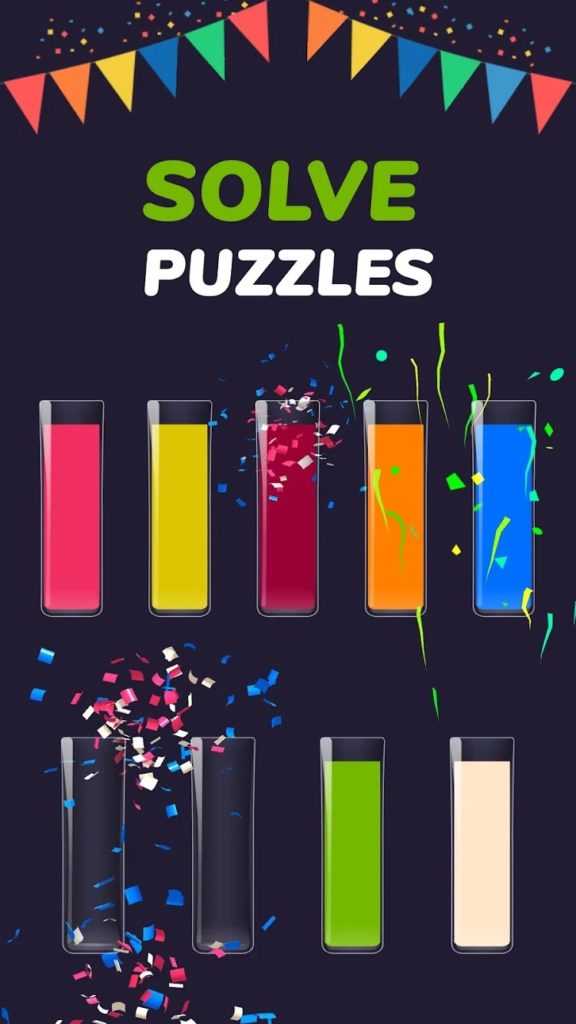 Moreover, the management in the program is as simple as possible, click on the glasses and move them with the finger of one hand. Get good emotions here! Let the people around you think about the game if you can not pass the hard level.


SortPuzzle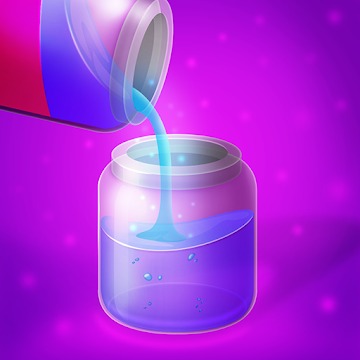 SortPuzzle is an app for thinking logically about rearranging glasses of liquid. You will think and pour colored liquid from glass to glass.
One bottle should contain liquid of the same color. Pass entertaining levels. Go through rounds from the easiest to the incredibly difficult.
Challenge your friends to see who can solve the puzzle the fastest. SortPuzzle includes easy controls and you can zoom in and out.
Besides, you will be able to choose the colors of the liquid, as well as the bottles themselves. Get the relaxation of overflowing colored water. Sort through all the containers and cope with the task at hand.
Learn how to do the tasks by example and then you'll be sure to get through it all. Play when you have nothing to do, the program will quickly cheer you up as well.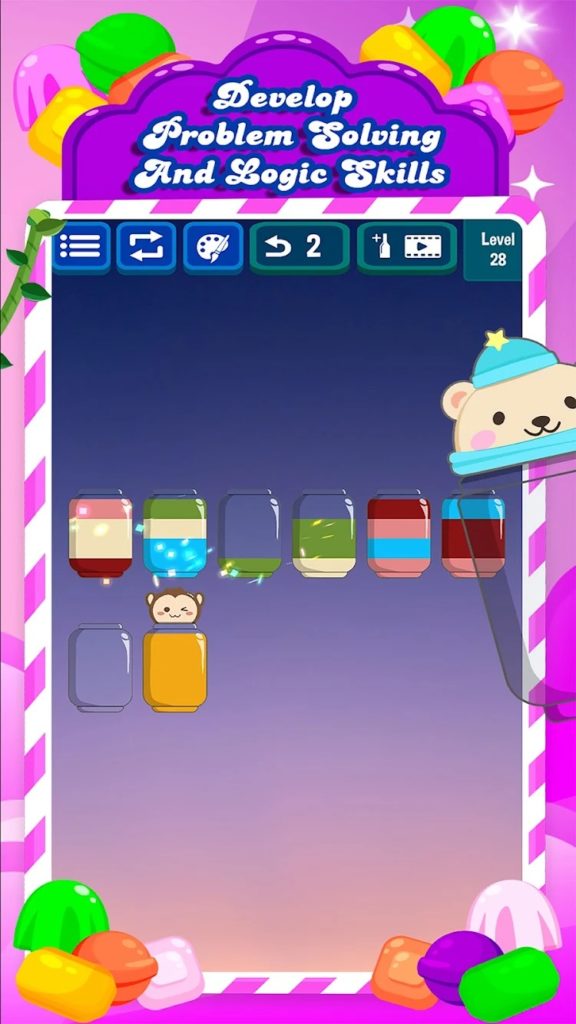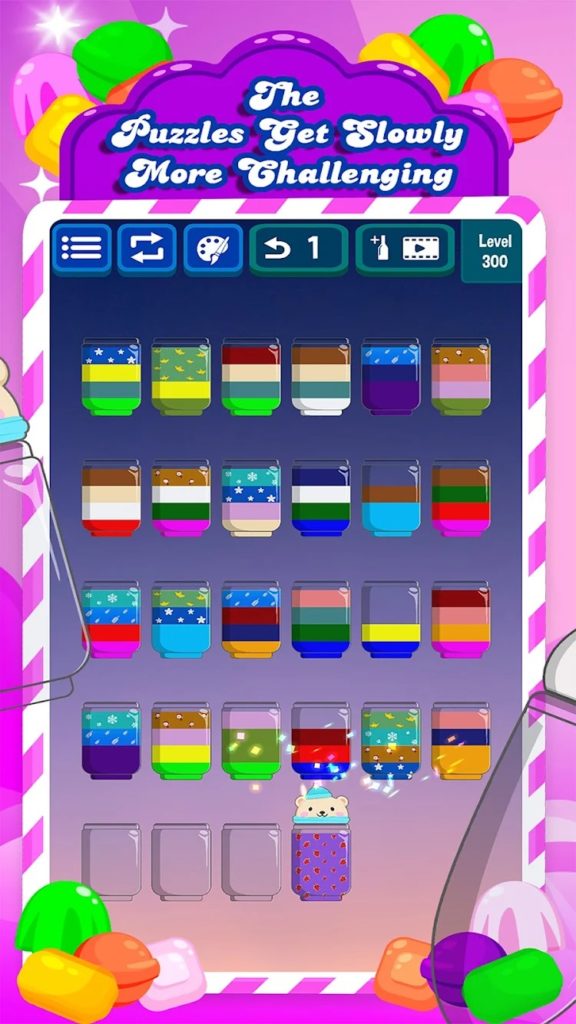 Keep an eye on SortPuzzle for updates so you don't miss any new features.


Beer Game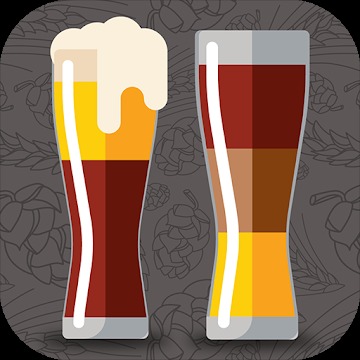 Beer Game is a program for pouring liquids of the same color into glasses.
Are you a fan of such games? If so, then you should definitely try this app, it certainly will not disappoint you. Pass the easy levels first, and then the difficult ones.
Besides, in the process of playing with beer explore its different types. Begin at last a better understanding of the types of alcoholic beverages.
The program has a lot of unique features. There are a large number of levels for all tastes. You can play the game as much as you want and time is not limited. Here you can learn a lot and play for yourself.
Enjoy the passage of such a wonderful game. Choose certain containers and pour liquids there. If you have not managed to understand the whole point of the passage, then read the rules.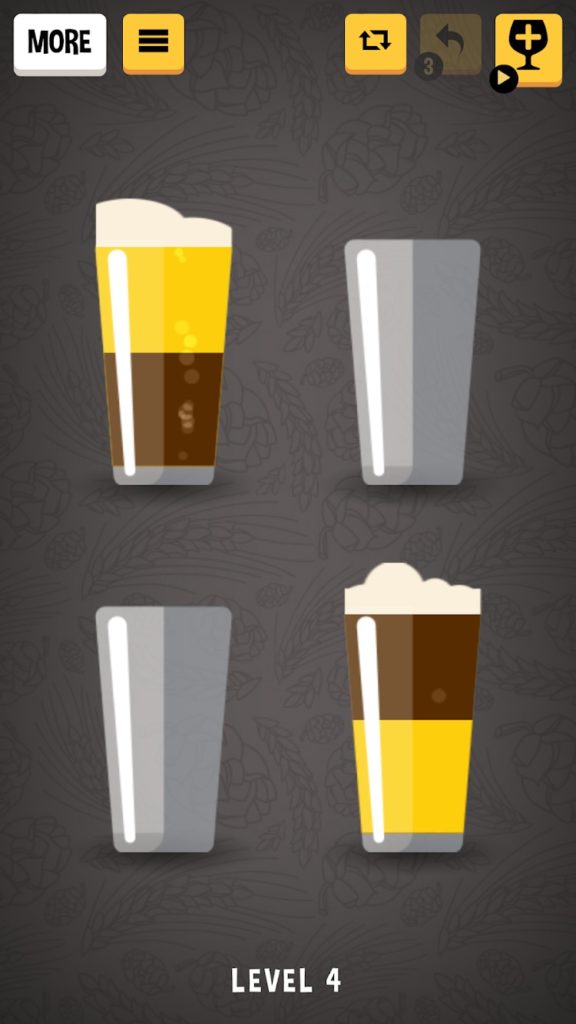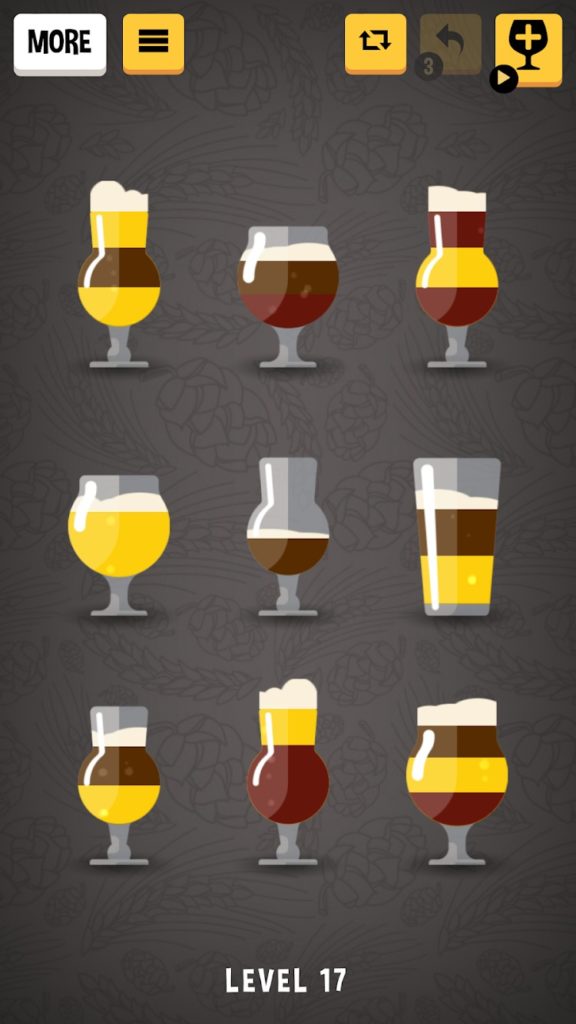 Pay special attention to the color of the liquid, you will need to pour in the same color water or beer. Solve as many logical puzzles as possible and open new unpredictable levels.


You may also like: 7 Best Cube Puzzle Games for Android & iOS
Color Sort Puz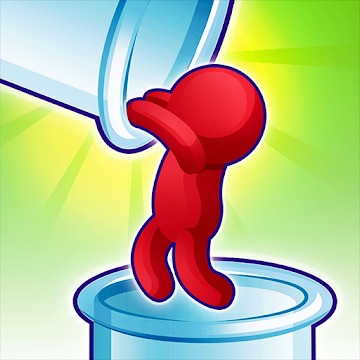 Color Sort Puz is a program for placing virtual heroes in a test tube. You will be able to move people by color to different containers.
The goal of the game is to sort people who have their specific color into the right places. Enjoy the walkthrough and collect large multicolored crowds.
Color Sort Puz includes many great features. Control the crowd with a single tap of your finger on one hand. The overall interface of the app is smooth. What's more, there are different modes, including a night mode.
Some of the features you don't need can be easily disabled. Mastering the information in the game is not difficult, the main thing is to understand what is relevant.
To start acting in the game, you have to click on subgroups and move people. It is worth noting that a lot of people in one group should not be, you need to make sure that each was equal.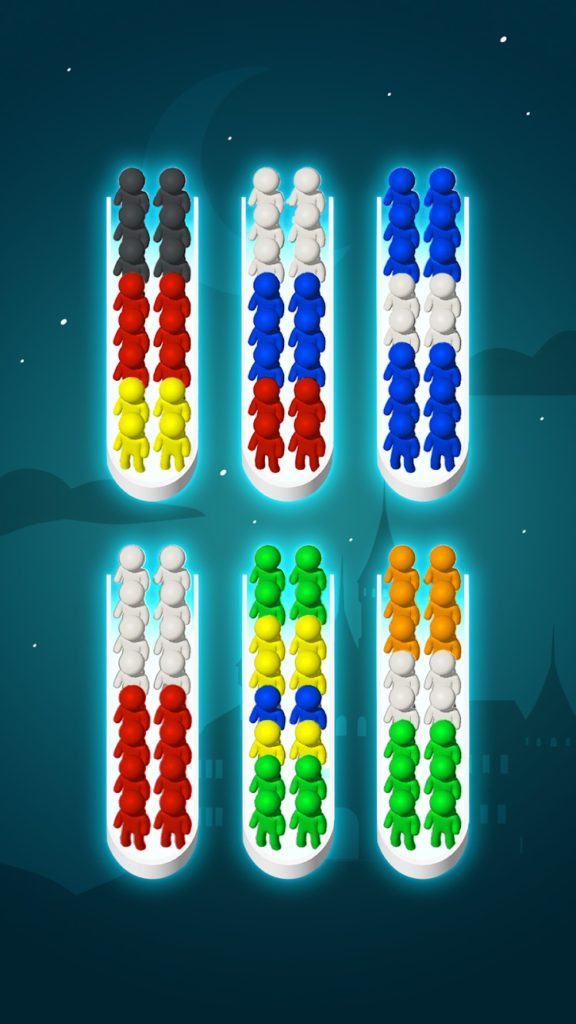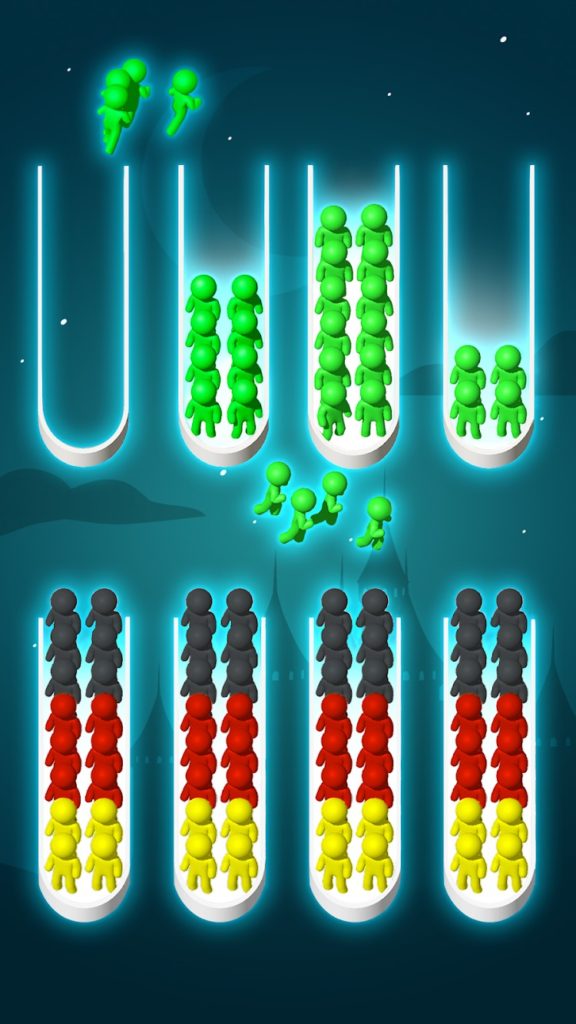 This is a difficult game that requires logic. Download Color Sort Puz, play with your friends and watch for all the updates.