Are you searching for an involving RPG game with fantasy elements? Then, we have to present to you Dark Rage. The app is developed by ColdTeams company. The game works stably and it does not take up much storage space.
After his death, the hero has to defeat enemies and pass through challenging traps. While playing, you will have to face such creatures as skeletons, zombies, and other monsters.
You might also want to explore the games like Red Alert 2.
By the way, you will have to fight against more than 22 bosses. Each of them has its own battle tactics and various abilities.
In addition to the aforesaid, you will collect gold coins that let you receive new skills or equipment. Or, you can even obtain gemstones. The next feature that many users will find very useful – the app allows you to enable joysticks and controllers. Plus, you can adjust the controls' position and size.
Moving on, the design fully matches the game's genre. In Dark Rage, you will find pixel graphics and amazing visuals. Moreover, the navigation process is very simple to manage.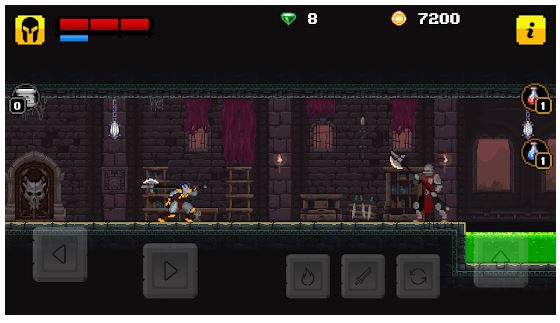 Besides, we were pleasantly surprised by the well-developed locations – mysterious dungeons, amazing castles, and so many others! In case of any misunderstandings, the app allows you to contact responsive tech support. Customer specialists will tackle all your problems.
We have not found any negative feedback from users about this app. For us, there is the only disadvantage – the game comes with a paid version. However, you can buy it at a quite accessible price.
And you can also read the article about the games like Dragon Dogma.
To conclude, we have to admit that this is not a simple game, but it is very addictive. Involving plot and wide range of entertaining tasks are waiting for you! Hurry up to try it – we surely say, you will like it!