FluidSynth MIDI Synthesizer allows you to quickly record playing on the musical instruments. This app works as a traditional tape recorder. So, let's read more about its features.
Check also the multitrack recording apps for your phone.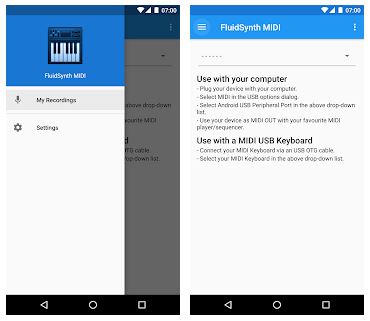 First of all, we have to admit that this app is extremely lightweight. So, there is no need to waste too much time on the installation process. FluidSynth MIDI Synthesizer works steadily. Moreover, it is available for both smartphones and tablets.
Before you start recording, you should connect your MIDI keyboard via a USB OTG cable and then choose your MIDI keyboard type. Or, you can connect your device to the computer.
The best part of this tool – it works even in the background mode. Additionally, the app's version is constantly updated. In the sidebar of the app, you will find two sections – My recordings and Settings. Plus, if you want, you can even disable sound and adjust modulation.
We can surely say that FluidSynth MIDI Synthesizer guarantees only the high-quality sound of the instruments. Besides, the app records audio without any lags. No doubt, this is a great advantage there!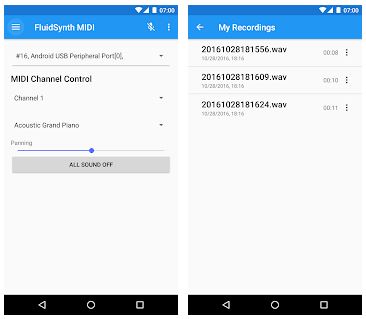 In addition to the aforesaid, there is nothing difficult in this app, as it boasts a user-friendly interface. So, even inexperienced users will simply find out how to use this tool.
The developer offers responsive tech support, so in case you face any issues while using this app, you can contact customer assistants. They will help you at any time.
As a whole, the majority of users like this app. We have not found any negative feedback. The major disadvantage there – it comes with in-app purchases and ads.
What is more, the M3U player apps will allow you to play all kinds of tracks,
To sum up, FluidSynth MIDI Synthesizer is truly worth downloading. If you can't find both a high-quality and convenient musical instrument recorder, you should definitely try this variant!