Ah, the resume. The doc filled with so much potential, yet so much pressure. Trying to cram years of experience and skills onto one piece of paper sounds like a cruel joke, but alas, it's a necessary evil in the job hunt.
Luckily, we've rounded up the best resume AI builders in 2023 you could try. These beauties use advanced AI tech to help you make the ideal CV, without the added stress and confusion. Plus, they're actually kinda fun to use.
All you'll need to do after using these is to add a headshot and send it to the hiring manager. These builders will analyze job descriptions, identify keywords, and even suggest improvements to your writing style. Let's get into it!
Kickresume
This app is a gem for those who need to make a job-winning CV with exceptional efficiency. It simplifies the procedure, making it easier and faster for jobseekers to make smth that will impress any hiring manager.
One of the top perks of this one is that it has free plans. It's also user-friendly, and you can adjust your doc by changing its format. The app comes with LinkedIn data import which is a significant plus as well.
The app also has a spelling checker, so that your CV is well-written and polished. The assortment of templates for CVs and cover letters is pretty impressive. You can pick the one that best fits your style and prefs. It even comes with career counseling and CV monitoring which is a bonus.
In terms of cons, the free plan is limited, but it is still sufficient for making CVs and applying for most jobs. The pro pack is rather pricey, but given the level of modification, it might be worth it. AI suggestion needs edits, but it is still a huge timesaver, and you can make changes as needed.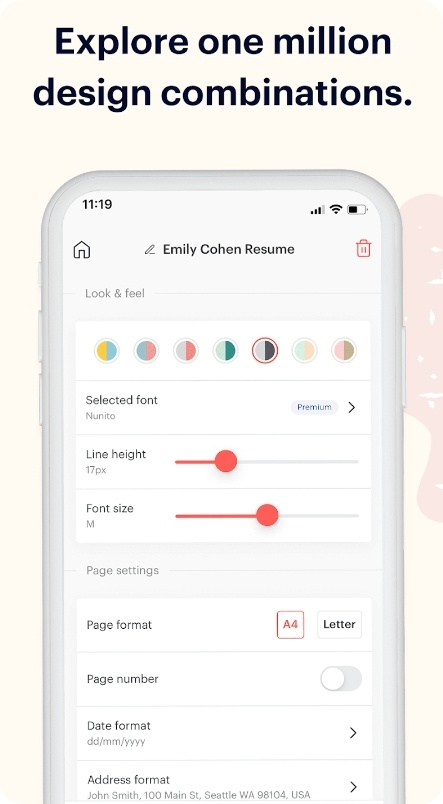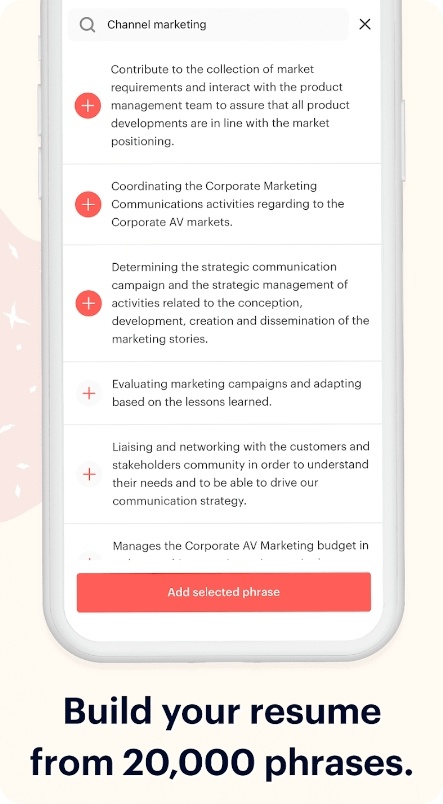 You may also like: 11 Best Job Apps Like Wonolo
VisualCV
With this app, there won't be any need to search the web for mundane templates that don't showcase your awesomeness. It is the ultimate AI-based CV builder that lets you create a pro CV in minutes.
There are over 20 templates, you can adjust the CV to match your style effortlessly. No more dull formatting or constant tweaking! The app's built-in AI tools help you make a standout CV that leaves others in the dust. Get expert suggestions and tips to address any glaring resume weaknesses!
The mobile-friendly templates are optimized for search engines, making sure potential employers notice you. Track CV views and saves through analytics and uncover who's checking out your credentials!
The app can also do cover letters if needed. Bid farewell to cover letter struggles and welcome perfectly tailored letters for every job application!
With shareable resume links and the ability to save them as a PDF, this app is the dream you've been waiting for. No more boring templates or cover letter conundrums. It is the future!



Resji
This app is here to take the hassle out of formatting and boring CV making. It's an intuitive app that lets you make a pro resume in just minutes. It will quickly become the go-to for job seekers everywhere.
What really sets it apart is its ability to harness the power of AI to analyze your skills, exp, and prefs, matching you with the ideal templates for your industry. Whether you're in finance, healthcare, IT, or any other field, you'll find the right layout to make you shine.
But it isn't just about looks, it's also about substance. With its built-in keyword optimization tool, this app helps ensure that your resume not only looks great but also catches the eyes of ATS systems and recruiters.
Of course, all this would be for naught if the app weren't user-friendly. But fear not, it boasts a sleek and intuitive UI that makes it simple, even if you're new to the game. With the ability to save and share in diverse formats, you'll be able to send it off with ease.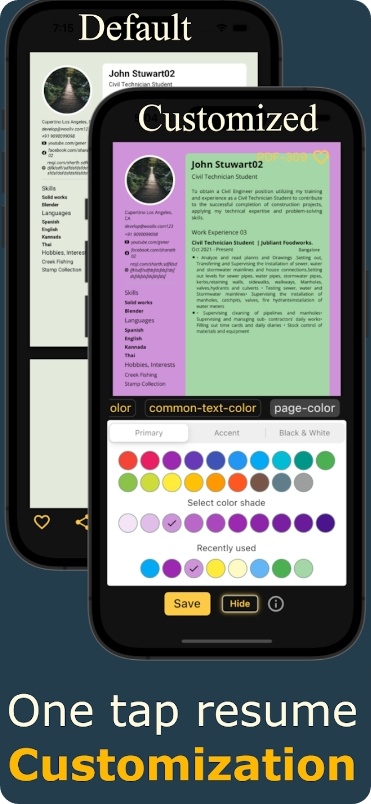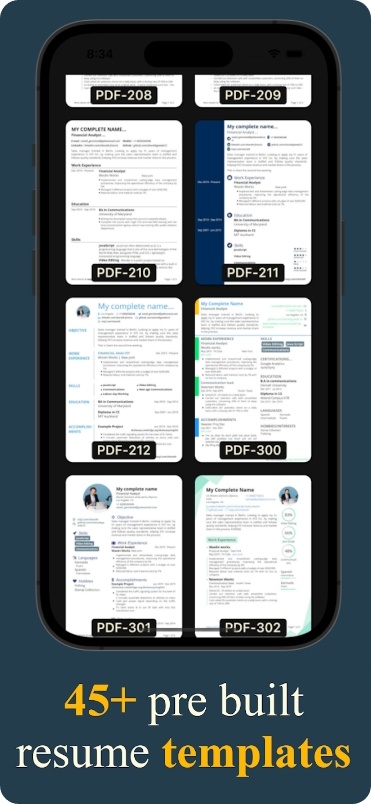 CV PDF
Have you ever suffered from writer's block while trying to summarize your skills and experience? Then you have to give this app a try. It covers a ton of templates and whether you're aiming for a minimalist design or want to add a pop of color, you'll find it here.
But how about the dreaded cover letter? We all know it can be a daunting task. However, thanks to this app and guidance, you'll be able to compose a convincing one in no time! So say bye to those sleepless nights staring at a blank page and embrace your newfound confidence!
Now, let's talk about resignation letters. The app lets you quickly professional ones and even provide sample resignation letters to help you get started! The AI is here to make a process way quicker, and it helps to bring your thoughts together.
Not to mention, the app covers custom letterhead designs that scream sophistication. Impress your employer or business partner with letterheads that reflect your attention to detail. You can export the docs in diverse formats as well, which is a bonus.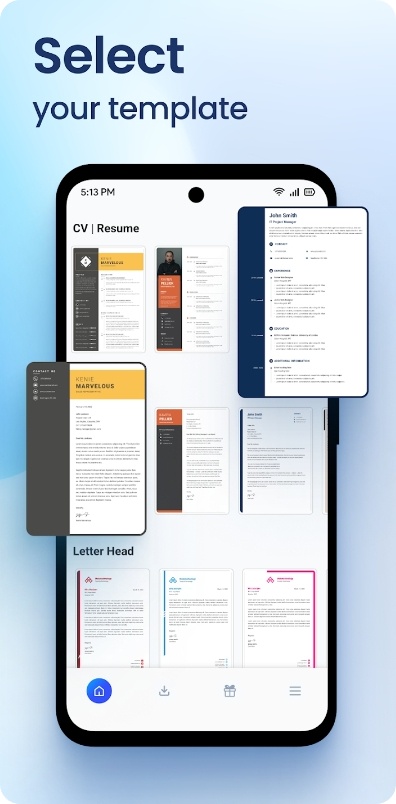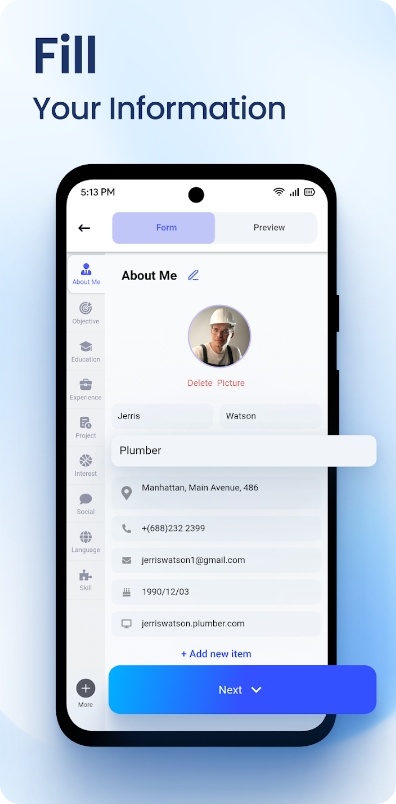 Resume.ai
Tired of staring at a blank screen, trying to make sense of your jumbled work history and accomplishments? Then this app is right up your alley. It's a true gem for anyone seeking employment.
The adjustable templates make it easy to make a polished and pro CV, no matter your industry or experience level. The AI-based formatting means you don't have to worry about wasting time on fancy formatting or making your sections match up perfectly. The app takes care of that for you, so you can focus on the important parts – your skills and accomplishments.
Not only does it cover a scope of formats and a powerful editor, but it also delivers job search assistance through job alerts and career advice. We all know how daunting it can be to search for a job, and this app simplifies the process to make it as smooth as possible.
And the top part? It is suitable for job seekers of all levels, from fresh graduates to experienced pros. You can make a beautiful resume in mins and get your job search started right away.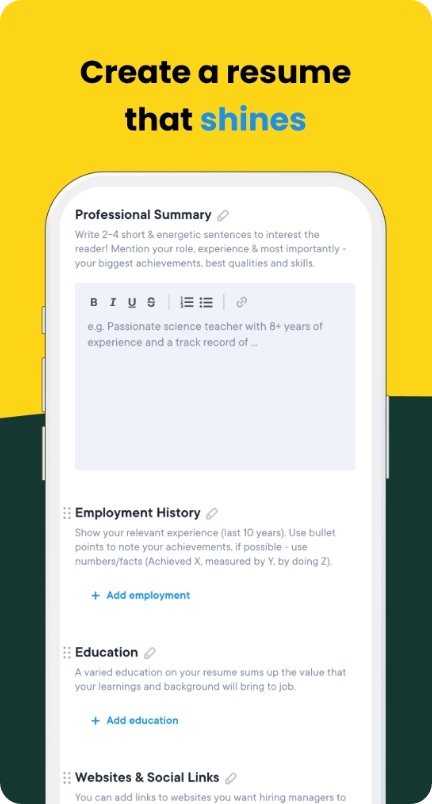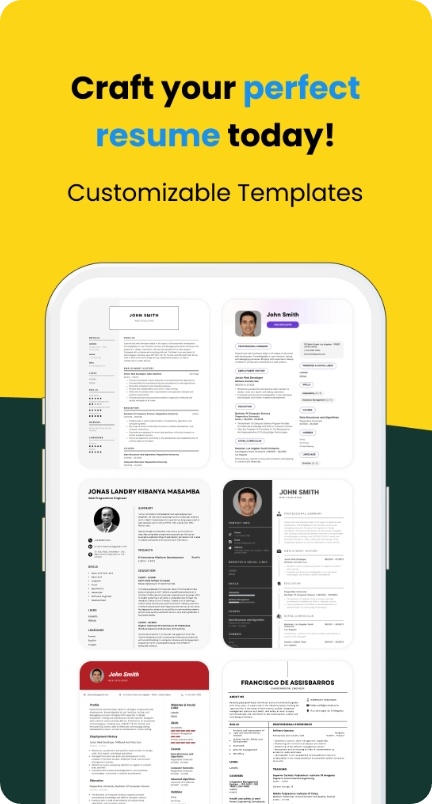 Resume Builder
This app is here to ensure you won't be submitting the same old resume and cover letters that seem to disappear in the black hole of these. It helps you make outstanding job application docs that open doors to new opportunities.
Thanks to its extensive lib of CV templates, the process becomes way quicker. Whether you're a new graduate or a seasoned pro, there's an option that makes your CV stand out from the contest. Yep, the AI won't do the job for you here, but all you'll need to do is paste the info into an already beautiful design. Could it really become more simple?
But it doesn't just stop at aesthetics. Their certified CV formats ensure you're adhering to necessary regulatory standards, giving you the confidence to apply for jobs worldwide.
It also does cover letters. The app generates pro-level cover letters in just a minute. You'll make a powerful impact on recruitment agencies, headhunters, and hiring pros.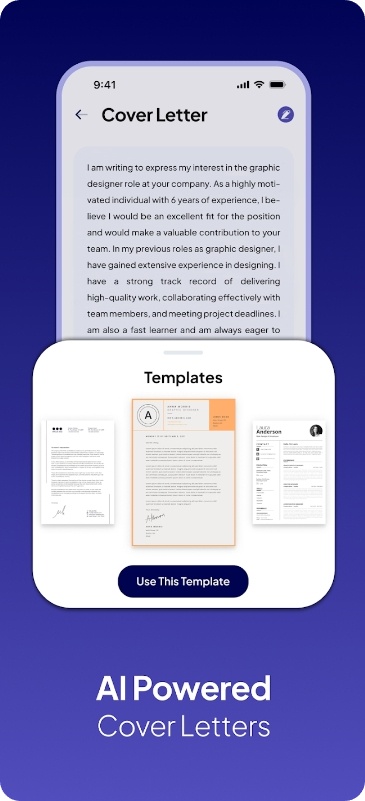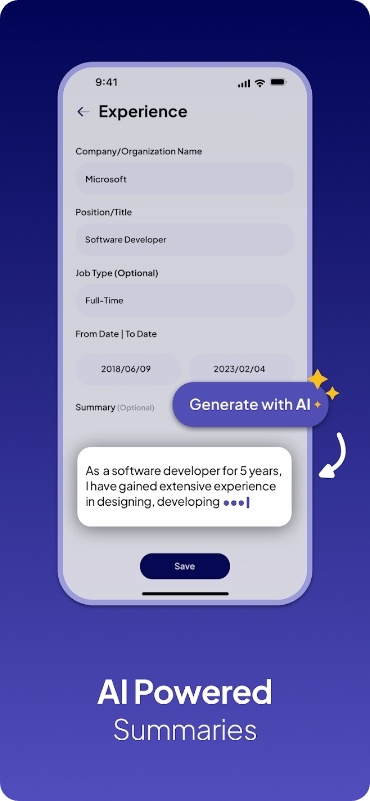 Check also: 11 Best Write On PDF Apps
Resume AI
This game-changing app is based on a smart AI tech that not only builds a pro CV in just a few clicks but also tailors it to a dream job. Wave bye to generic templates and hello to a quick and efficient soft.
It also covers personalized job consultation coaching, so you can tackle any challenge that comes your way with full preparation support. And let's not forget the cover letter, created by the AI editor, so you can make a truly great impression from the get-go.
But what really sets this one apart is its ability to improve your existing resume instantly for free! Its AI analyzes your resume in PDF format and suggests edits and improvements that will make it an ideal fit for your desired job. You can easily upload your existing resume, sit back, and let the app work its magic.
The app also takes the guesswork out of it by providing detailed answers to the typical interview questions. It makes the entire process of job hunting an absolute breeze. It will surely give you a benefit in a job-hunting game.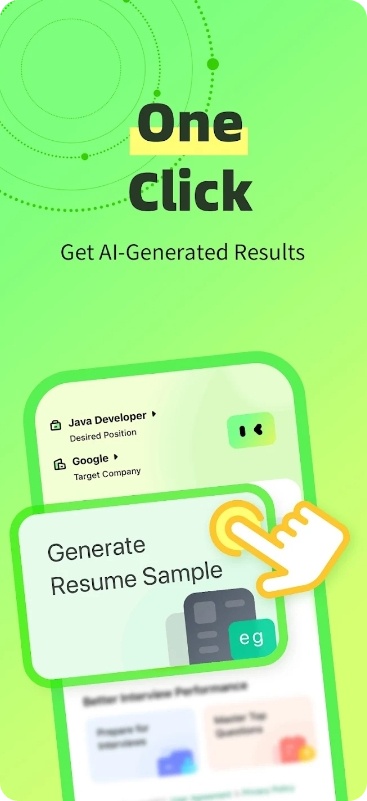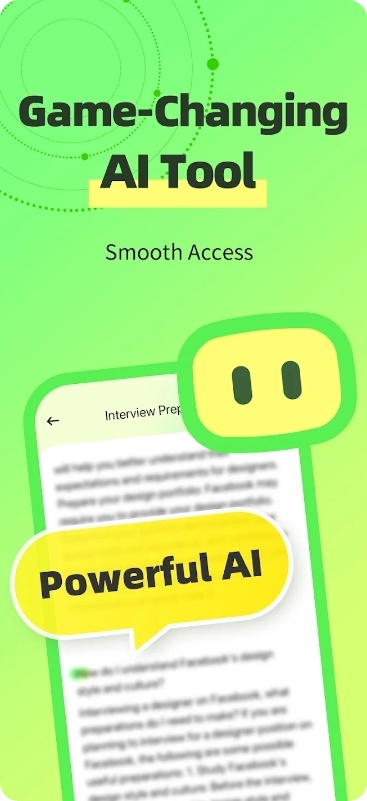 Ai Resume
You know you need a powerful resume to make an impression, but who has the time or patience to craft the perfect one? With this app, you sure will, and mainly because it does all the heavy lifting for you.
With a friendly UI, the app is an absolute breeze to navigate. You don't need to be a tech whiz to use it, the app is intuitive, and the creative control is all yours. The comprehensive toolkit helps you match your CV to your needs and those of the company you're applying to. No more cookie-cutter resumes!
The app uses AI to ensure that your resume stands out from the crowd. The app examines your exp, skills, and schooling to help build a CV that is perfectly suited for the job you want.
No need to spend hours crafting a resume, only to have it lost in a pile of other generic applications. Let the app help your true potential shine through. Impress potential employers with a sleek CV that sets you apart from the rest, and increases your chances of landing that dream job.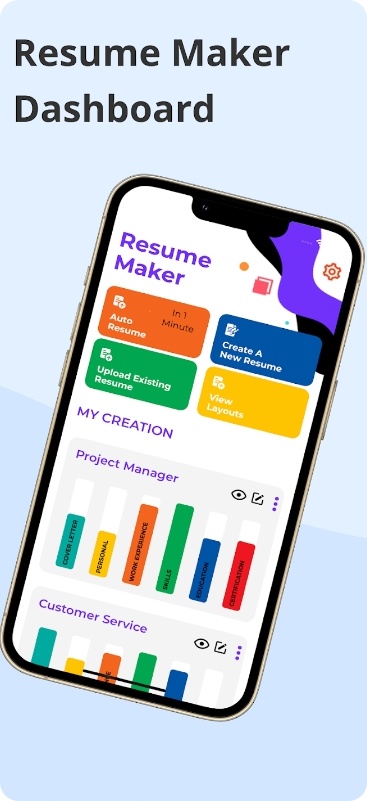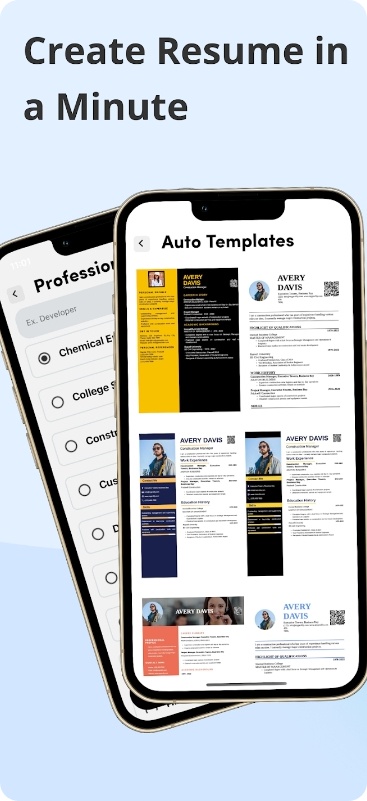 Resume Builder
This app is a virtual assistant for job seekers, and it covers a scope of tools to help you make a CV that will grab recruiters' attention and land you the job of your dreams. There are tons of templates, so you can alter the CV to match any style.
The AI tool takes your CV to the next level by analyzing your content and giving tips for improvement. Say bye to typos, grammatical errors, and awkward phrasing. With this app, you'll have a polished and pro-made resume in no time.
The easy-to-use editing tools make it a breeze to tweak and refine your CV until it's immaculate. Use bullet points to emphasize your exp in a clear and concise format, and add custom sections that don't fit into traditional categories.
No matter what industry you work in, the app has examples and guidance for your profession. Whether you're a healthcare pro, student, or executive, you'll find everything you need to form a winning CV. You can share it in diverse formats or send it as an email attachment right away.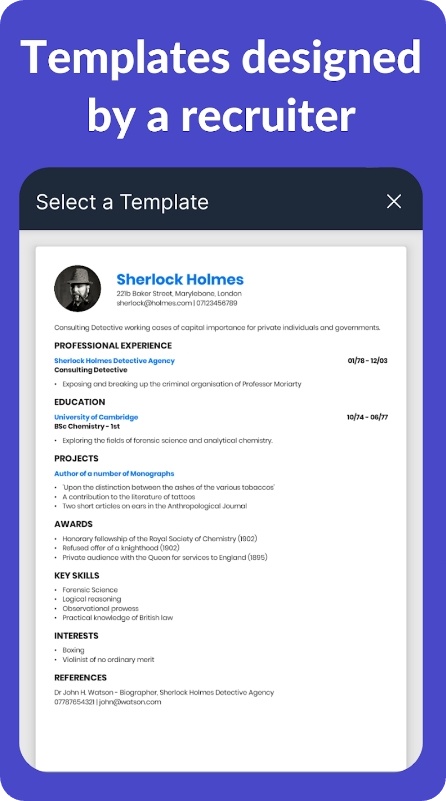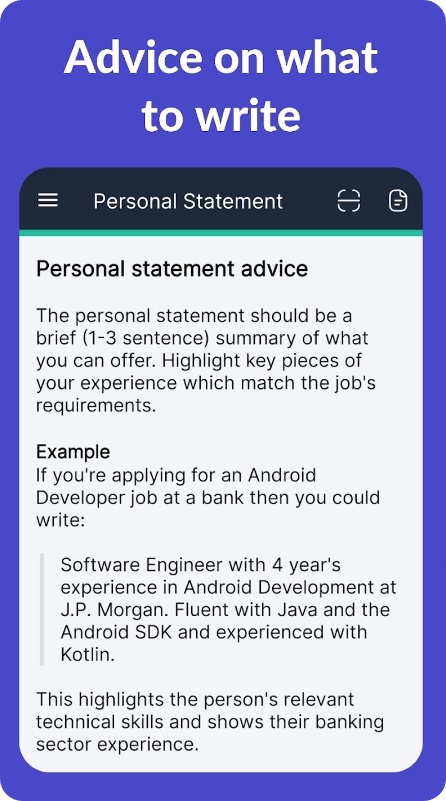 Resume Genius
It's an AI-based resume builder that makes an overview of your CV with just one click. Not only the UI is friendly with guided assistance and hints, but the stylish layouts will make your potential employers take notice.
Plus, with the ability to export your CV as docs, it's easy to send out to employers. One of the top perks of this one is the personalized suggestions based on the job title you input. The AI writer gives plenty of useful suggestions for major triumphs, making it a breeze to make a standout CV.
And if you're not satisfied with the generated summary, you can easily adjust and adjust it to fit your background and skill set. While it may be time-consuming for personalized summaries, the end result is well worth it. The tool requires a specific order for entering info but offers no flexibility.
However, with the variety of templates, there are enough choices to suit diverse industries and tastes. While there is no free plan, the price is definitely worth the investment for the time and effort it will save in the long run.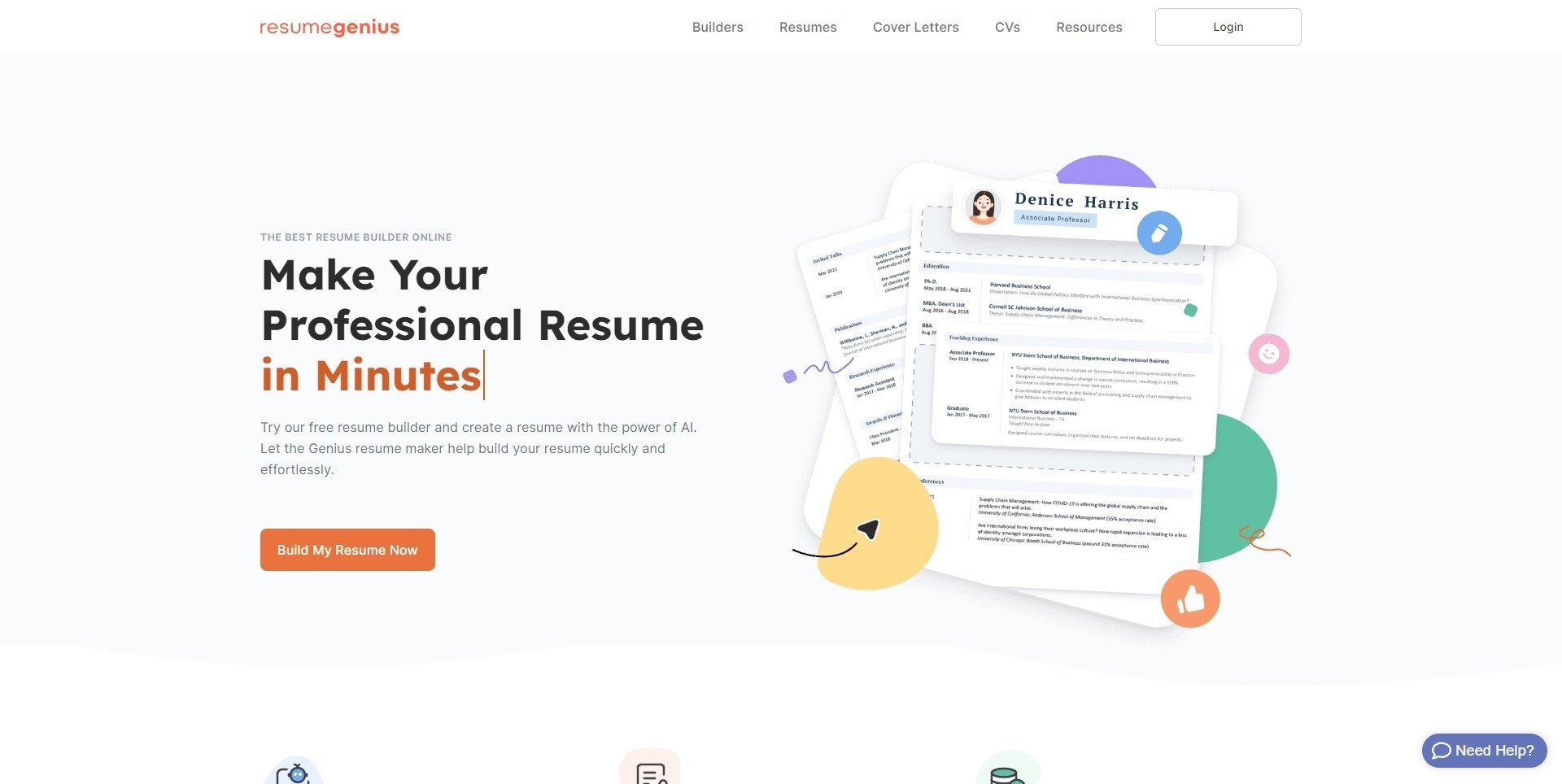 You may also check: 13 Best Cash Advance Apps that Work with PayPal
Resume.io
Lastly, we have a handy tool that strikes the perfect balance between ease of use, functionality, and affordability
The first thing that you notice about this one is how easy it is to use. Within mere minutes of signing up, you'll be already crafting a resume. Plus, with a huge variety of industry-specific templates, you'll be able to find the right format.
But what really sets it apart is its AI writer. This tool lets you generate tailored CV descriptions and cover letters based on the actual job advertisement, increasing your odds of getting hired. Plus, the tool's flexible personalization options meant you could make a unique resume that truly reflected my strengths.
Of course, no tool is flawless. While we appreciate the variety of templates, it would be nice to be able to change fonts and formatting more easily. And while there is no free plan, pricing is rather reasonable, especially considering the quality of the final product.