We all need to edit our pics from time to time in different ways. And the cool thing is we don't need to do that in the way we used to – because nowadays AI technology will automatically delete all the imperfections and make improvements where necessary. So let's explore the best AI photo enhancer apps.
And in addition to this collection, we also recommend you explore the article with the apps that help to remove glare from photos.
Photoshop Express Photo Editor
Of course, we couldn't go without our good old Photoshop, and this is actually the most versatile app on our list that is available for all the platforms, so let's start with it. When it comes to photoshop, it's the synonym of the latest technologies and best Innovations in the photo editing industry.
The distinctive feature of Adobe Photoshop is that includes intuitive features that will allow you to create your unique photos.
Using the AI feature, the app is capable to remove the blur from photos, and, according to our test results, it's even capable of removing the fog from pictures that other apps or software are not capable of.
Considering the Improvement in the look of the portrait pictures, here your possibilities are almost limitless. You can change the face shape, you can change the skin color, the skin looks anything, and with the help of the artificial intelligence feature, it's quick and easy.
Photoshop Express will also help you to increase the quality of your old pixelized pictures or restore your old black-and-white photos or photos with any type of damage like glare and so on.
But despite all the advantages listed above, we must warn you that photoshop has always been a tool for those who have a little bit more experience with photo editing, and the interface of this app and its range of features are not suitable for beginners.
It means you will still have to know how to operate its features and functions in order to get the result that you won't, and the app is not fully automatic.
So in case you just want the AI would make all the jobs for you with the minimum interaction from your side, you should better go for the apps down below. But if you want to get the best and the most natural result possible when enhancing your photo with AI, Photoshop is the top choice.



You may also like: 9 Best Apps to Easily Turn Photos into Sketches on Android & iOS
YouCam Perfect
YouCam Perfect is known for editing photos and portraits. Now it includes an artificial intelligence feature that can enhance your pictures automatically in seconds. There is a function for auto-enhancing photos that you've been looking for.
It means that the app can polish your picture, removing all the imperfections and flaws from it.
This time, you won't have to adjust the brightness, correct the angle of light, or tag the spots on the screen in places where you want to remove wrinkles, dark circles, pimples, and other can make imperfections because YouCam can detect all that and remove it on its own.
Additionally, this app can layer the makeup on your face, and you can choose any type of makeup you want to wear. YouCam Perfect applies it really flawlessly, so no one would actually recognize that it's not your original picture.
There's also a feature of auto beauty selfies, where you can just take selfies right in the app already with its artificial intelligence features. What is more, YouCam Perfect can produce art with artificial intelligence technology, that can create a cartoon avatar for you which is so trendy right now.
In addition to all of that, YouCam Perfect can also apply AI technology to body editing. Just upload your picture to the app and choose the top of the body that you want to have, and the app will do the rest for you.
And, what is even better, this app can remove all unnecessary objects from the picture though, this feature is not that smooth yet.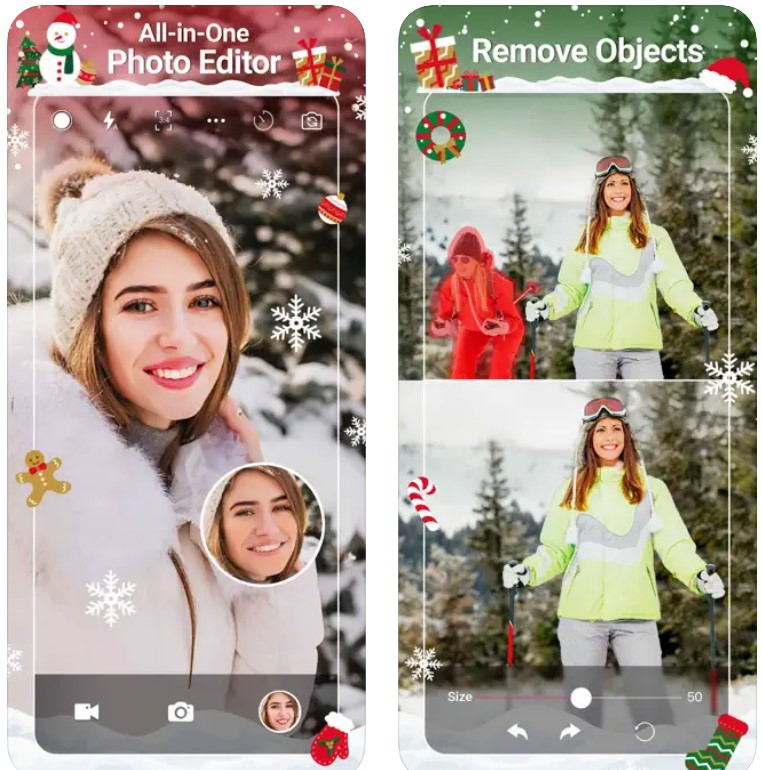 Enhance it – Fix your photos
The name of this app speaks for itself here you can enhance your photos by applying the artificial intelligence function. Unlike the previous app, this one is more versatile. It means that it allows not only to improve portrait pictures but all types of pictures in general.
So, let's start from the beginning.
Portrait enhancing feature.
Just like the previous app, enhance allows you to flawlessly improve the overall look of your portrait pictures, making you free from the necessity to manually tag on all the wrinkles, pimples, and other imperfections on your skin in the picture, because it can detect it on its own and erase them in seconds.
The app also can make small adjustments to facial features, for example, correct the shape of your nose, chin, and eyes in a soft way so it's not visible but the picture looks significantly better. And of course, you can always adjust the intensity of the effect, so it doesn't look way too unnatural.
Deblur feature.
Moving on, we have a feature that can help you to remove the blurry effect from pictures and remove fogginess from them, however, keep in mind that if the pictures are way too smudged, even Enhance It will not be helpful.
You have to upload a smudged picture to the app and then apply the filter, and you will get a more or less clear pic. We conducted our own experiment and uploaded a picture like this to the app, and, frankly speaking, the result was not always that great.
We would say that one picture would be nicely enhanced and the other one was a failure. The same thing is to remove the noise from the pictures. Sometimes it's good sometimes it's not.
Restoring the coloring of the picture.
Do you have brags about how it can turn any black-and-white photo into a colored one.
We tested this feature and it's really capable of doing so, but take into consideration that the artificial intelligence will decide on its own which colors it wants to see in the picture and they can unmatch the original colors of real life.
Enhancing overall quality.
Another flex of the Enhance It app is that it can improve the quality of the pictures.
Actually, this feature is not new to the photo editing apps market, therefore this task is more or less easy, but just make sure that the picture that you want to edit doesn't have a way too low resolution because in this case, even the most powerful software will be useless.
These are not even all the features of the Enhance It app, we skipped the minor ones, like applying the filters or turning the pictures into art using the AI feature, but we guess these are pretty common for any photo editing app nowadays and you can explore them on your own.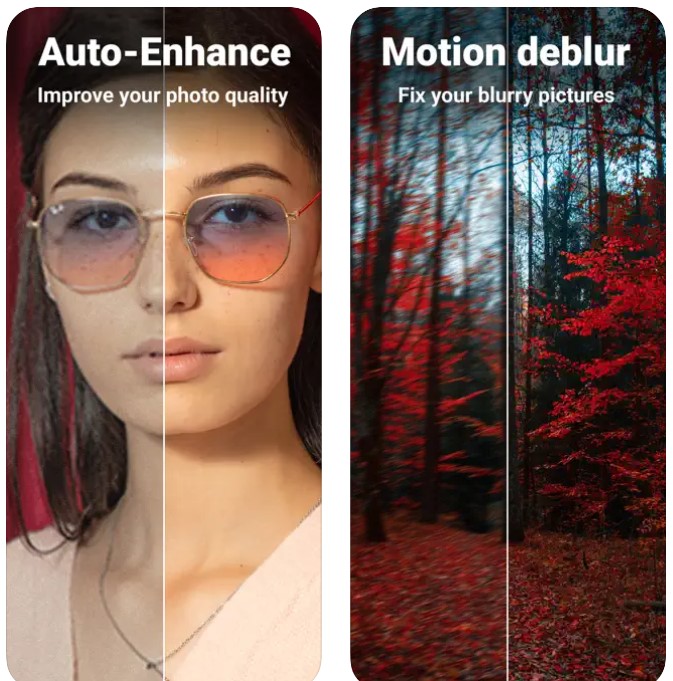 You may also like: 8 Best Apps to Animate Still Photos on Android & iOS
PhotoAI – AI Photo Enhancer
Here it's basically an analog of the previous app, but this time we have it for iOS devices. This is one of the best photo editor software with the artificial intelligence function. In total, in PhotoAI you will find more than 10 different AI-enhancing features that will make your photos better.
So let's see what exactly you can do with PhotoAI.
Increasing the quality of images.
If you have a photo below quality, by uploading this picture to the app and then applying the AI teacher you will be able to significantly improve the quality of this picture, making it not so pixelized or blurred.
But just like in the case with the previous app, keep in mind that for this purpose, the quality of the original picture should not be terrible as well, otherwise, the app won't be able to recover it.
Restore the color of the image.
PhotoAI will help you to restore the original colors of the images, even if there is a glare or you have a black-and-white photo. And just like in the previous case, keep in mind that the app will not reconstruct the original colors of the picture, but it will paint it in the colors that seem more logical to the AI.
And even though they are promises to convert every single pic into HD quality. We noticed in our tests that sometimes if the original quality of an image is poor, it's won't be significantly increased in this app no matter how hard you try.
Portrait editing feature.
This is almost a must-function in photo editing apps nowadays. The artificial intelligence feature that is involved in PhotoAI will analyze any portrait picture, and detect all the imperfections, wrinkles, pimples, and other gangs on the face.
Then it will automatically erase them, carving the shape of the face in a more proportional way, and will make it look more attractive. You can regulate the intensity of the filter.
There are also a number of other possibilities that the AI feature of this app first, such as removing the background from the pictures, turning the images into sketches, and other not-so-important features that you can discover if you download this app to your device.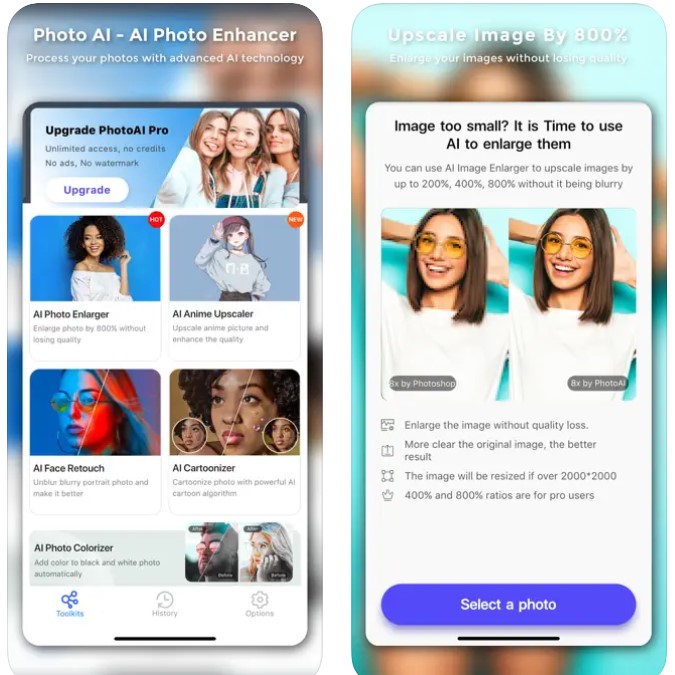 Remini – AI Photo Enhancer
Remini is one of the most popular AI photo enhancer apps on Google Play and according to our opinion, one of the most decent ones. Just like all previous apps mentioned before, it has a well-working artificial intelligence feature that can repair and improve pictures automatically.
We're not going to count all the same features that we have already named in the previous reviews, but we will give you a quick overview of what Remini can do.
First of all, Remini can significantly improve any portrait picture by applying this AI function. The restoration of the old, blurry, black and white, and scratched photos is also possible, but once again, take into consideration the initial damage of the photo and how well it can be improved.
The app can also do classic photo editing, like removing backgrounds, moving objects, and all that stuff. You know do not repeat ourselves, we would say that the app has a nice interface design that is so easy to work with and a lot of users all around the world are enjoying Remini.
The only downside of it is that recently it got a new update that dissatisfied a number of users because it seems to have way too many bugs in it.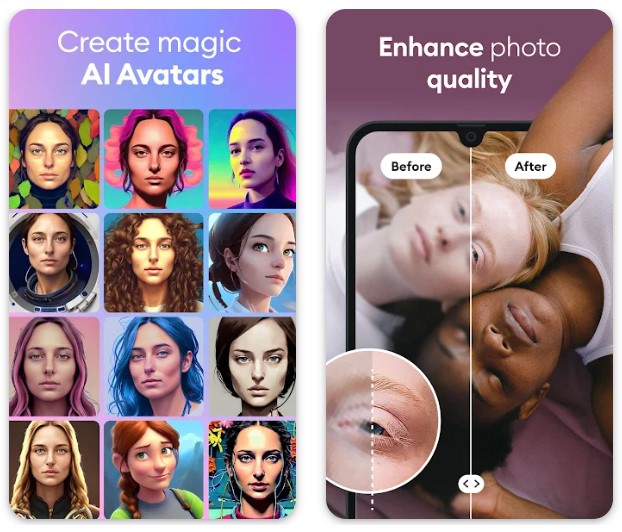 HitPaw Photo Enhancer
HitPaw is known as one of the best photo editors and enhancers for Windows. The core feature of the software is that it's specialized in AI and it also includes unique patented technology also powered by AI.
It can significantly enhance the resolution of the images that you applaud to the software in just one click. In general, this software is pretty much capable of doing everything that we've already named in the apps category, but here you just have the same features for PC.
The only difference is here the overall quality of work and functioning is going to be a little bit better since it requires some more powerful hardware and as a result, you get a more solid image.
The remarkable feature of HitPaw is that it supports batch processing of your photos and it comes with four brilliant AI models.
Not to mention such classical features as portrait editing, restoring blurry images, restoring old images, and so on. The software is not free and there are different versions depending on how many of its features you're actually going to use so the price may vary depending on that.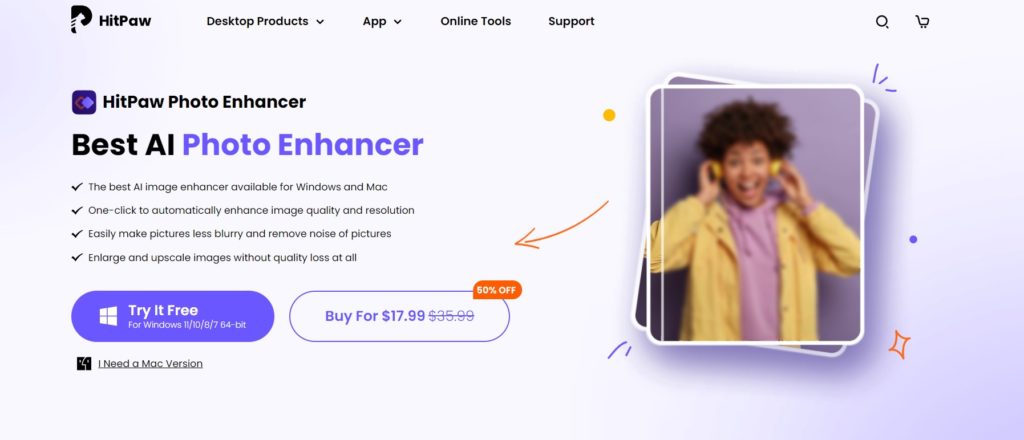 You may also like: 15 Best Shadow Remover Apps For Windows, Android, iOS
Luminar NEO
Even though the software is not that famous, those who work with photo editing probably know about it because it is a hands-on AI-powered image catalog and photo editor. It has a specific range of tools and especially portrait editing tools that can be found only in this software.
Luminar NEO is template based. One of the remarkable features of it is that here you can save the adjustments from one image and later apply them to the rest of the shot.
Its extended AI tools allow you to remove backgrounds from the photo, reduce the noises and color noises on pictures, sharpen the images, and upscale the photos. You can also increase the quality of pictures in Luminar NEO.
In case you are already using Adobe products Luminar Neo can work as a plugin for you. All in all, we would recommend software for anyone who works with editing all the images professionally.