Have you ever struggled with picking avatars for your socials? Well, we've all been there. Sometimes none of the ordinary selfies seem to capture your vibe enough to become your profile pic.
That's why we've rounded up the best apps to create avatars from photos (Android & iOS) you can try. These let you generate avatars that capture your true essence.
From becoming a superhero to turning yourself into a magical fairie, these apps can do it all. With a little bit of creativity, you can easily turn yourself into a digital persona that reflects your unique personality. Let's dive in!
AvA
Have you ever dreamt of turning yourself into a magical fairy, a cosmic warrior, a stylish fashionista, or even a rock star? Well, with this app, you can make all your wildest avatar dreams come true! This app lets you turn your snaps into cool, studio-quality avatars that truly reflect your style.
And the newest update lets you make avatars out of your pet's photos too. Imagine how cool they will look in a superhero costume or smth. Simply adorable. And the best part? It takes just minutes to do!
But don't be fooled by the app's ease of use, its AI tech is truly cutting-edge. Through its advanced algorithms, the app can analyze your snaps and generate avatars that capture the nuances of your facial features and even clothing. So you can rest assured that your avatar will be uniquely yours.
And when it comes to styles and categories, there's no shortage of options. Whether you're a die-hard fan of sci-fi, anime, fairy, or any other genre, you'll find the ideal avatar theme to suit your taste. And if you're feeling extra creative, why not mix and match a couple of elements to make a one-of-a-kind, hybrid avatar that's totally you?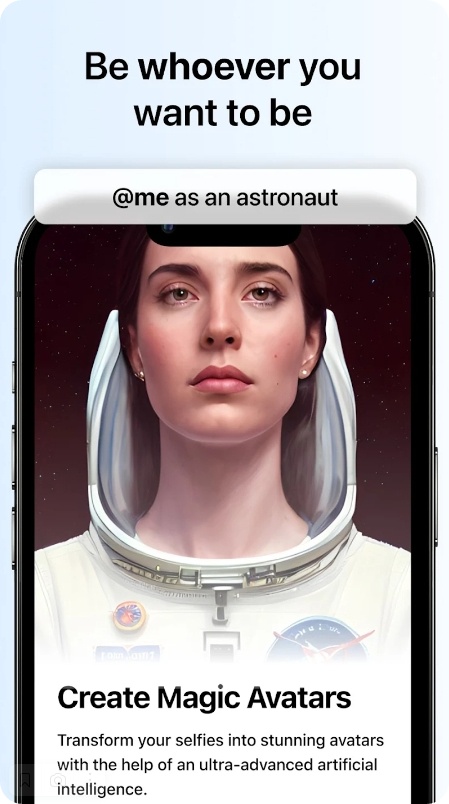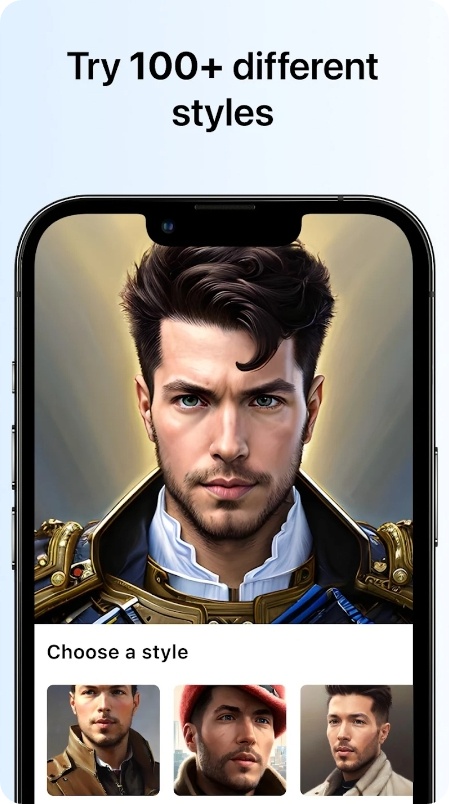 You may also like: 7 Best AI Photo Enhancer Apps
Avatarro
If you're on the hunt for an app that combines the best of both worlds: AI and art, you have to check out this one. It's an ultimate go-to for making a new acc pic that truly reflects your attribute and style. The app uses AI to make portraits that are so realistic, you'll be hard-pressed to tell the difference between them and actual photographs.
And with over 200 styles to pick from,you can do whatever you want. But wait, there's more! The app also boasts an art generator, which lets you add filters and FX to your avatar, taking it to a whole new level of originality.
And with the stable diffusion of the art, you can be confident that your incarnation will always look its absolute best. But what really sets it apart is how fast and easy it is to use.
The UI is simple and intuitive, making the creation process a breeze. And with the ability to make an unlimited number of snaps, you can keep experimenting until you find the ideal one. And it's free, too. The ads are there but they are fully bearable.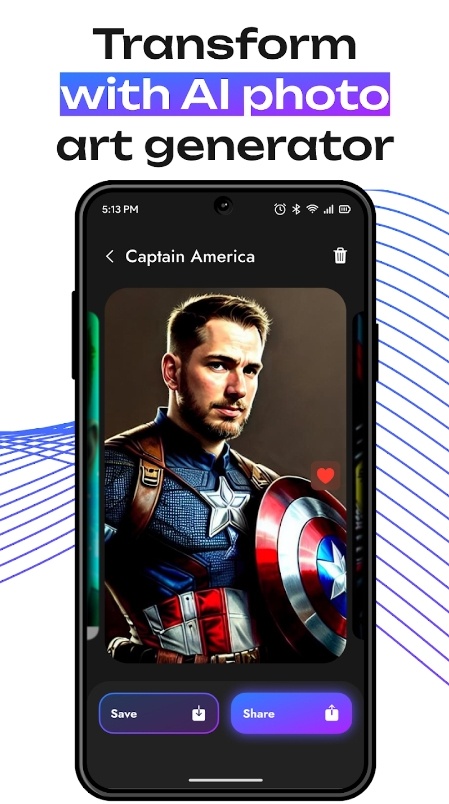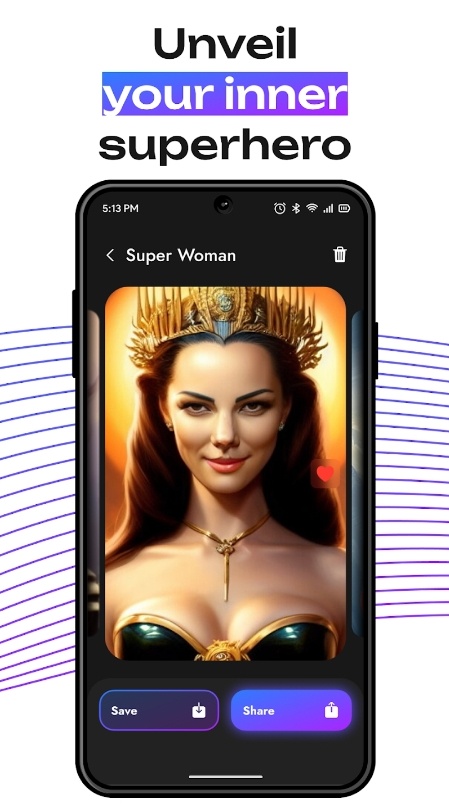 ToonMe
That's the kind of app you don't typically expect much from, but it ends up being impressive. Not only can you toon yourself with just one tap, but you are also spoiled for choice when it comes to filters and bg contexts. Whether you want to be an epic superhero, a lovable anime hero, or a fearsome direwolf, this app has got your back!
It covers an extensive lib of presets that can turn any snap into a work of art. And trust us when we say that these make the coolest avatars. The app is based on AI tech that delivers excellent results within just secs. No need to spend hours fiddling with the editing tools, the app does all the hard work for you.
But the fun doesn't stop there! It also covers a variety of stunning bgs and FX that can take your cartoon game to the next level. From futuristic cityscapes to fairytale forests, the possibilities are endless! The app is petty easy to use, and it's mostly free, too.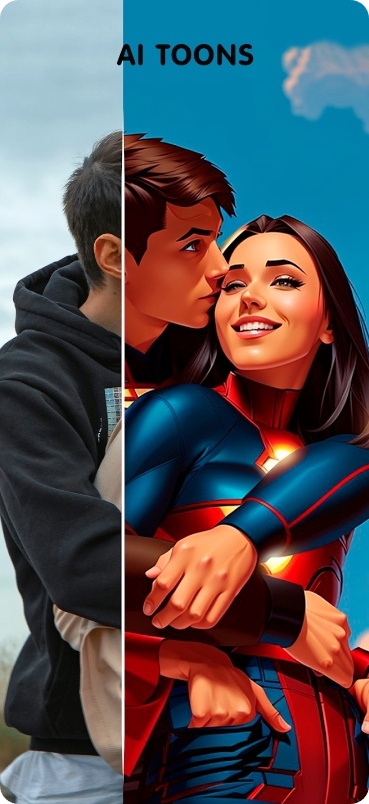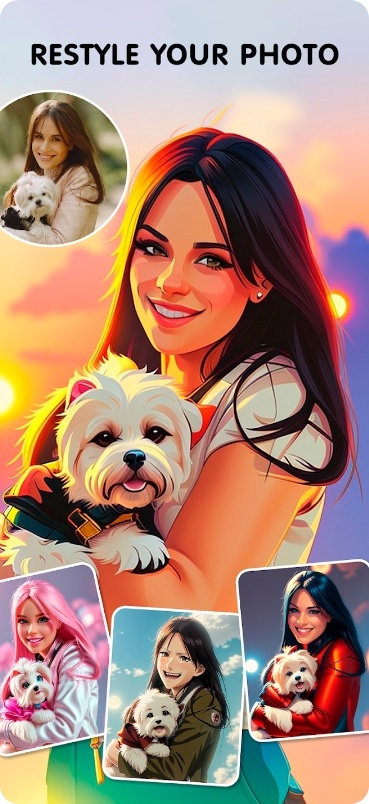 AI ARTA
This app is a potable AI art studio that turns your selfies into stunning avatars within secs. It covers a bunch of tools, and you're sure to be dazzled by its artistic capabilities.
One of the top aspects of this one is the avatar maker. It turns your selfie into an anime or manga-inspired avatar that's sure to impress your pals. It's so cool to see how the various filters can transform your snap into a completely different thing!
But the app doesn't stop there. The gallery of AI art made by people from all over the world is a true inspiration. It's amazing to see what others have created using AI, and it really helps to get the creative juices flowing.
And the best part is, you can literally paint anything using styles and FX! It is also capable of turning words into art. Just give it a few prompts and watch the magic happens before your eyes. The quality is high, and you're free to share the art as you wish.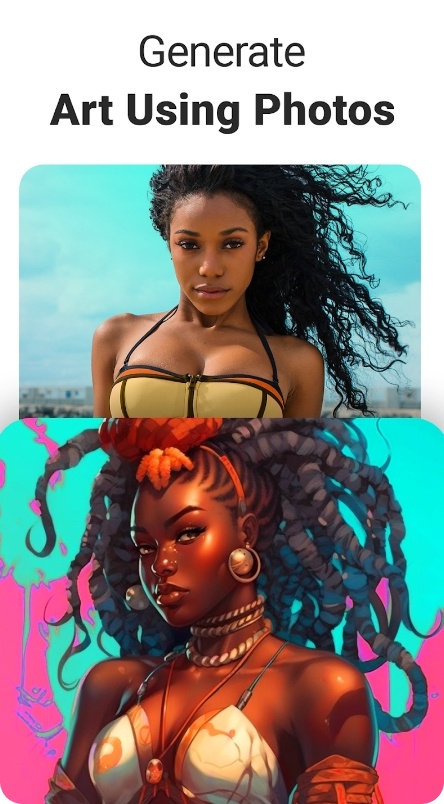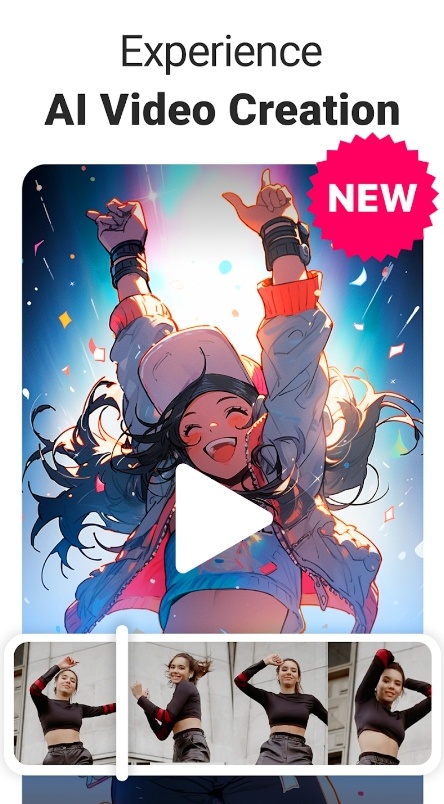 ToonArt
This nifty tool will turn your selfies into stunning caricatures. Say goodbye to the monotonous editing tools that leave you uninspired and hello to your new fave app. With this one, you can make fascinating snaps that will make your friends go "wow."
Let's talk functions. First off, the app covers 100+ filters, which means endless opportunities for creativity. And it's not just caricatures, you can turn your snaps into manga or comics in secs. Can you imagine being a part of your fave animation? This app can make that happen easily. It's like magic!
But it's not just limited to filters. You can make sweet selfies and procreate wonderful avatars. And if you're strapped for time, don't worry. The app offers a one-tap emoji maker and a fantastic bg switch that will complete your masterpiece in no time.
Now, let's talk about the UI. It's simple and user-friendly. You can easily pick a snap from your cam roll or take a new one right away. The app offers various styles and FX to add an extra touch of creativity to your snaps.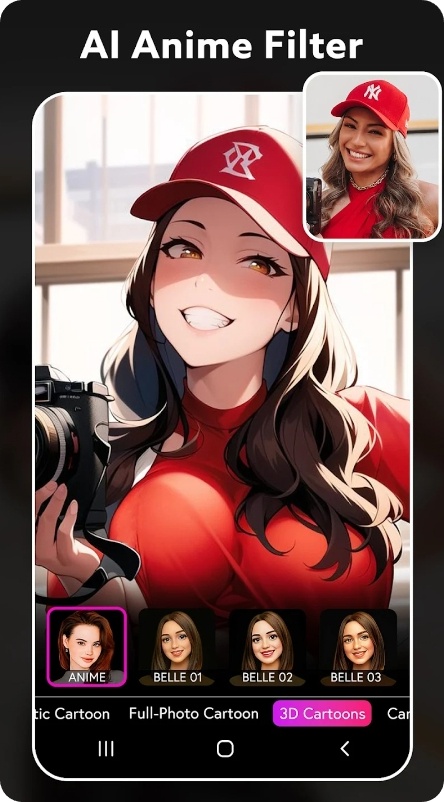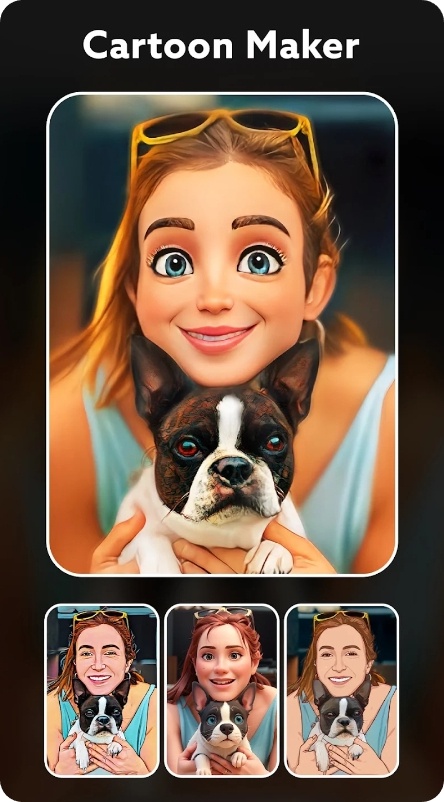 Check also: 11 Free AI Art Generator Apps From Text
AI Art Generator & AI Avatar
Have you ever found yourself staring at a pic and wondering how you could make it…well, better? Avatar-worthy? Then you have to try this app. It lets you turn ordinary into smth magical, smth that will make your profile pop up.
The app covers tons of styles you could try, so there's no shortage when it comes to options. Explore the magical world of anime with vibrant and dynamic styles that will make your sap pop with charm and energy. Or, unleash the power of comics with bold and impactful styles that turn your pics into visually striking comic book panels.
There are also tons of cyberpunk styles, dystopian ones, and more. Well, you've got the point: you can become anyone here. You can make an authentic digital representation of yourself with just a single click.
And let's not forget about our furry friends. The app even lets you transform pet pics into animated art styles, capturing their unique personalities and making them even cuter (if that's even possible!).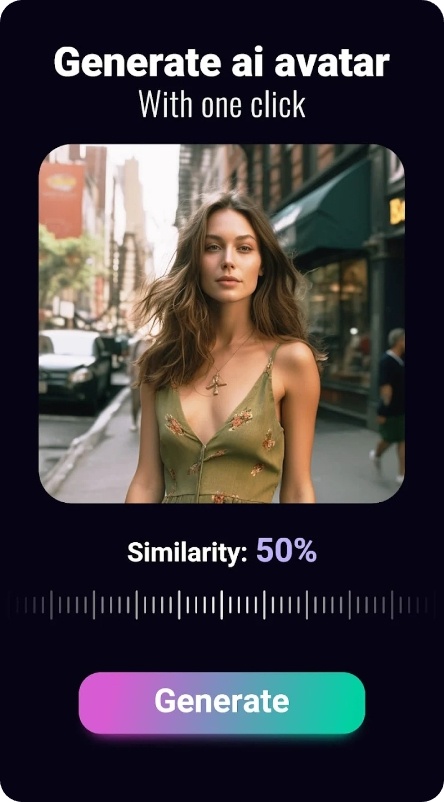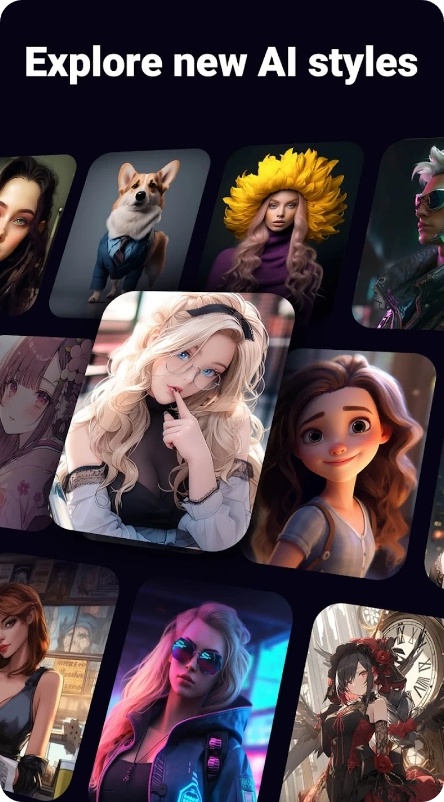 Magic AI Avatars
This app turns boring snaps into mind-blowing avatars. It uses advanced AI tech to make over 200 options in diverse styles! It literally takes a couple of taps to get things done with it, and you get more than enough options to pick from.
The app will make you feel like a superhero, an astronaut, or any other hero you can imagine. The range of breathtaking themes available will make your snaps stand out from the crowd, giving you a unique and personalized look that everyone will envy.
But it is more than just a fun little app, it's also incredibly practical. With the ability to make photorealistic avatars that look just like you, this app makes it easy to update your profile pics, and posts, or simply spice up your text messages. You can even use it for professional platforms if needed.
Best of all, the app is incredibly user-friendly. You don't need to make an acc or jump through any hoops to get started. You can pay to unlock extra tools, but the free version is fully usable.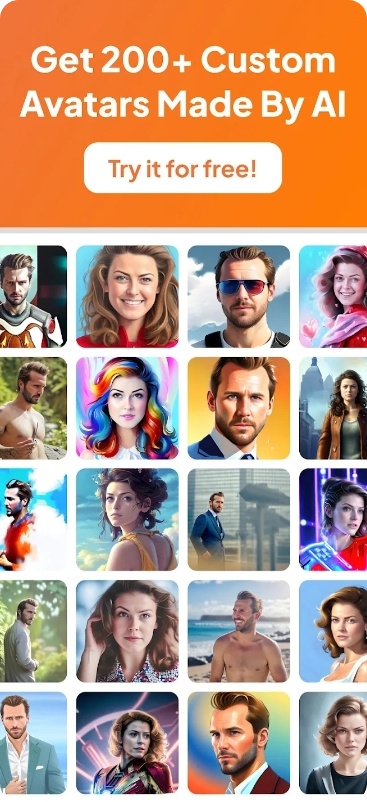 MeBoom
This app is a game-changer for anyone wanting to craft their digital persona. With a state-of-the-art AI system, the app covers a vast array of themes to pick from, ensuring that there's smth for everyone. You can truly capture your true self with it.
One of the newest tools is the option to turn your pics or vids into any AI art style! From watercolor paintings to sketches, the possibilities are truly limitless. Not only is this a fun and creative way to showcase your essence, but it also sets you apart from the crowd.
But the app doesn't stop there. They take the game to the next level by offering half-body pics that capture your essence and showcase your style like never before. This tech goes beyond ordinary avatars and creates a unique expression of your identity.
And let's not forget about the diverse range of themes. Whether you're a fan of anime, gaming, or celebs, there's smth to match your prefs. The app's algorithm tailors to your prefs, ensuring that the pic truly represents you. The app has a paid pack, but you can try it for free.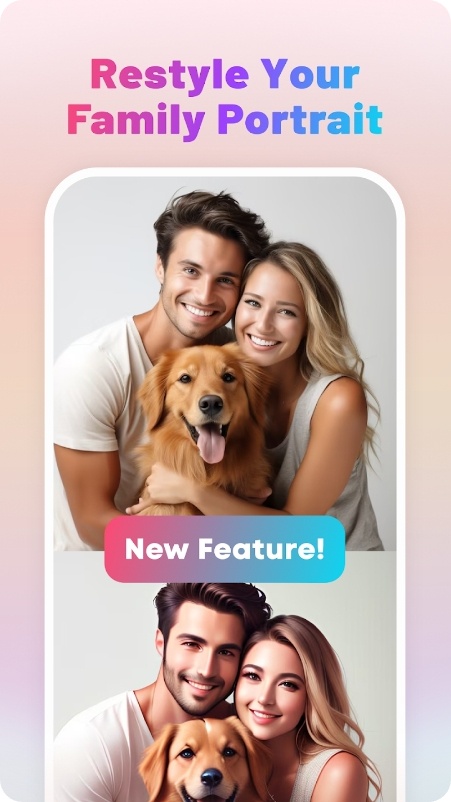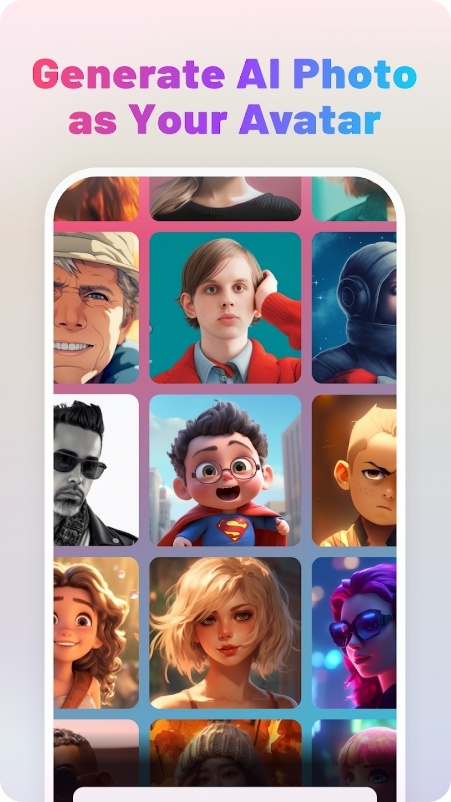 You may also check: 15 Best Anime Photo Editor Apps
Mutaro
Lastly, there's an app to make countless avatars that suit your vibe. It's incredibly powerful yet extremely easy to use. Even if you haven't edited a pic once in your life, you'll be able to make it work. The best thing is, you won't really have to do much here.
All you need is to give it some prompts to ensure the avatars look like you. To do that, you'll need to load a couple of selfies from your cam toll. At this point, the more the better, so pick as many as your heart desires. Then, the app will start doing its magic and all you can do is wait for it to get done.
Thus, with just a few clicks, you'll be able to get hundreds of stunning avatars that look just like you. Hereby, the app covers diverse styles of art. This means you can easily switch things up and try diverse looks depending on your mood.
Plus, since the app uses cutting-edge AI tech you're guaranteed to get results that you won't find anywhere else. It's fully free, and none of the results will have watermarks on them.