If you have a passion for coin collecting, you know how exciting it is to find a rare and unique coin to add to your collection. And lucky for you, we know how to make your hobby even more enjoyable and effective.
We've rounded up the best apps for coin collectors (Android, iOS, Windows) you could try. With these apps, you'll be able to easily catalog your collection, keep track of pricing, discover new coins, and connect with a community.
You'll also get to export your collection info in a doc file for further editing. Whether you're a seasoned collector or just getting started, these apps are easier than ever to keep track of your precious treasures. Let's dive in!
CoinSnap
Tired of clumsily going through your coin collection trying to figure out which one is which? This app is here to save the day! This app is like having a coin expert right in the palm of your hand. With its AI-driven image recognition, you can easily and quickly identify any coin from around the glove with just a quick snap. You can also do that by picking a pre-made pic.
No more digging through old reference books or scouring the internet for hours on end. But wait, there's more! Not only does it give you accurate ID results, but it can also identify rare coins and error ones, too.
Plus, you can even grade your coins via pics and estimate their value, giving you a total overview of your collection's worth. So, even if you're a newbie, you can feel like a pro with the help of this app.
Speaking of collections, it also lets you record and store your treasure right in the app. The app keeps you up to date with trendy coin series, so you'll always know if you're missing out on the latest craze. Cool, right?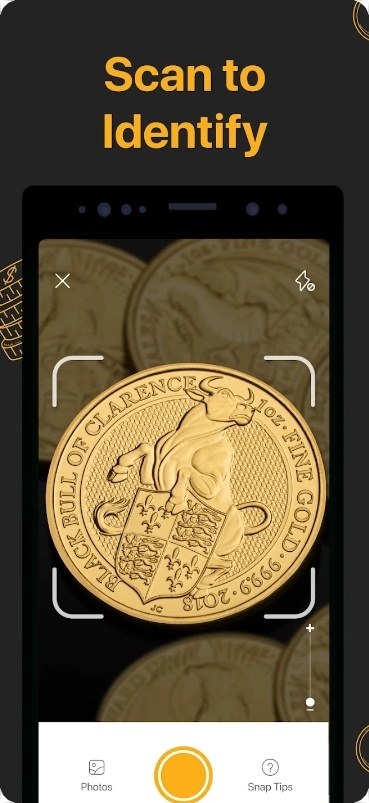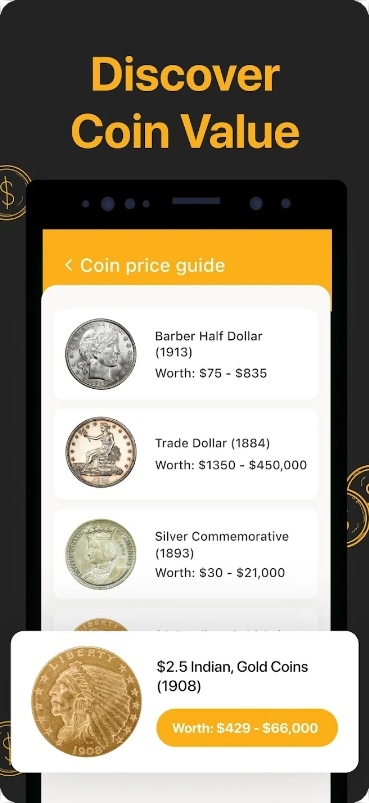 You may also like: 11 Best Receipt Capture Apps
Greysheet
Need an app that delivers accurate pricing and research information on coins? This might be the one! Whether you are a coin dealer, investor, or collector, this app has got you covered. It covers all items with relevant mint marks, grades, and mint designations in all relevant grades. And the best part? The pricing data is highly specific, so you know it's reliable and up-to-date.
Not only does the app provide precious metal spot pricing, but it also covers CPG price data for U.S. currency and modern Chinese coins. And for those who love to keep up to date with industry news and events, you'll be pleasantly surprised with the app's directory of industry events and dealers.
And if you're curious about the value of some of your own coins, there's a section of auction prices realized from major houses, so you can get an idea of what similar coins have sold for in the past.
There's also real-time gold, silver, and platinum spot pricing, so you can monitor all the precious metals with ease. The app is free to use, and the ads don't really affect user experience.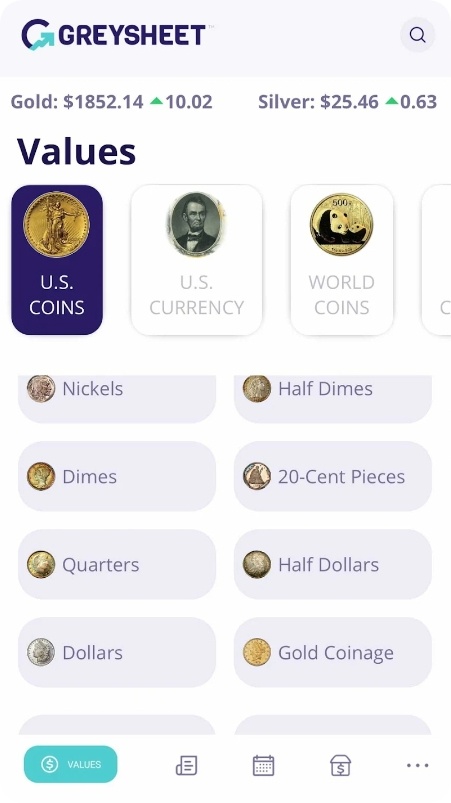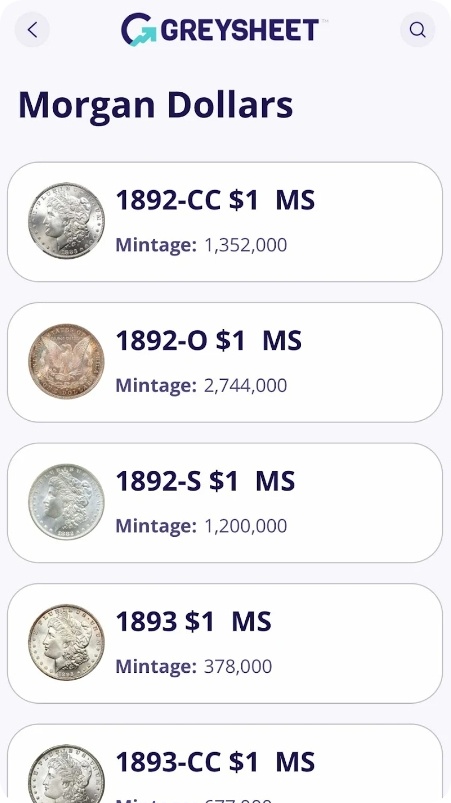 CoinID
This app is a treat for collectors and those interested in numismatics. So if you've ever stumbled upon a coin and wondered about its value and history, you need to try this app ASAP. This nifty tool lets you snap a pic of any coin and learn all of its details, from the year it was minted to the country of origin.
Not only that, but you'll also get fun facts about the coin's history that you can share with your fellow collectors. But that's not all, the app also has a coin tracker that lets you monitor all the coins in your position. It's ideal for those who are constantly expanding their assemblages and want to keep tabs on its growth.
And if you want to expand your pool even more, the app has ready-made selections of different types of coins, from commemorative to modern. You'll be sure to find some inspo for the next addition here.
However, it's not limited to ID tools only. The app also covers in-depth insights into the world of numismatics. You can explore helpful tips, the latest news, interesting articles, and more.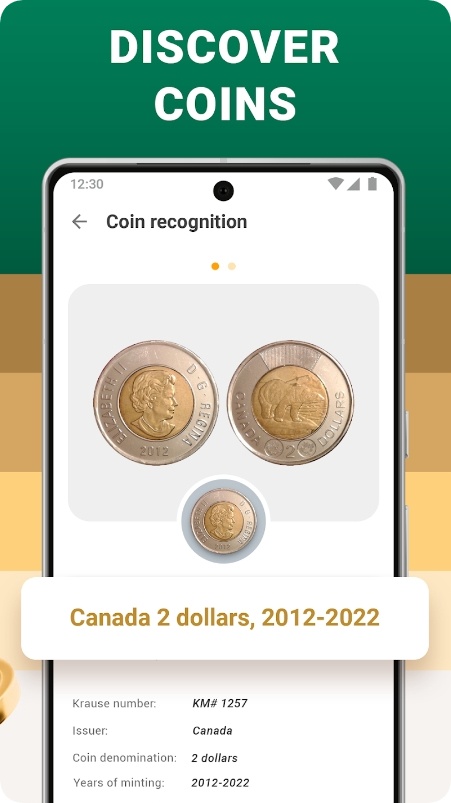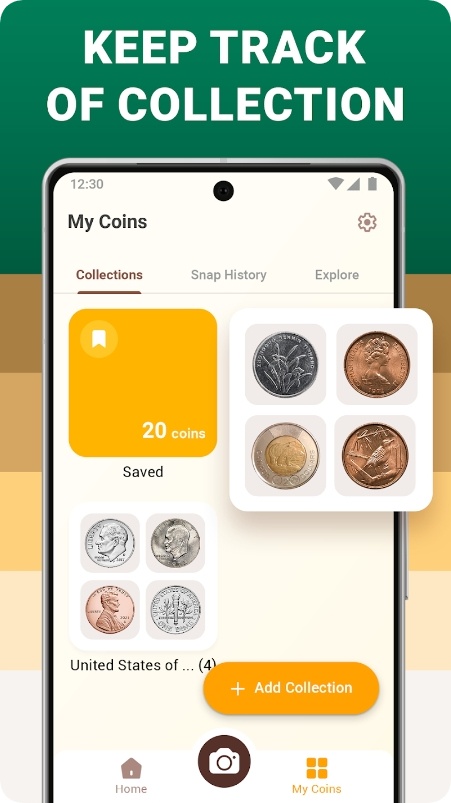 PCGS CoinFacts
This app is a numismatist's dream come true. With this one on hand, you can stop endlessly flipping through pages of coin catalogs to find valuable info: it's all already here. With barcode scanning, instant coin look-up has never been easier. No more digging through paper catalogs or searching online for hours!
Plus, you'll have access to listings for every silver, gold, and copper coin in every grade. And let's not forget the complete population stats spanning over 30 years of data.
But that's not all, folks! The app boasts over 3.2M auction prices pulled from over 5,8K auctions including Heritage, eBay, and others. It's like having access to a treasure trove of coin pricing info from the world's top auction houses.
Expert narratives from industry legends will keep you riveted for hours. You can read multiple narratives and learn more about the history of each coin. You'll even have access to coin rarity and survival estimates by grade, coin condition census listings, and hundreds of thousands of HQ pics. It's really a one-stop shop for everything coin-related.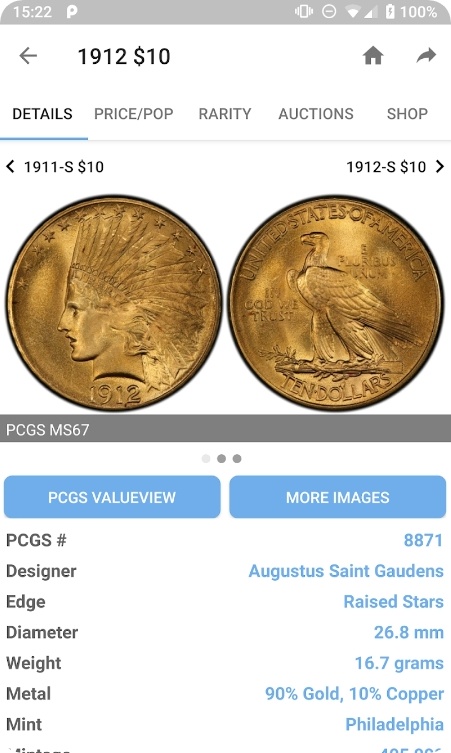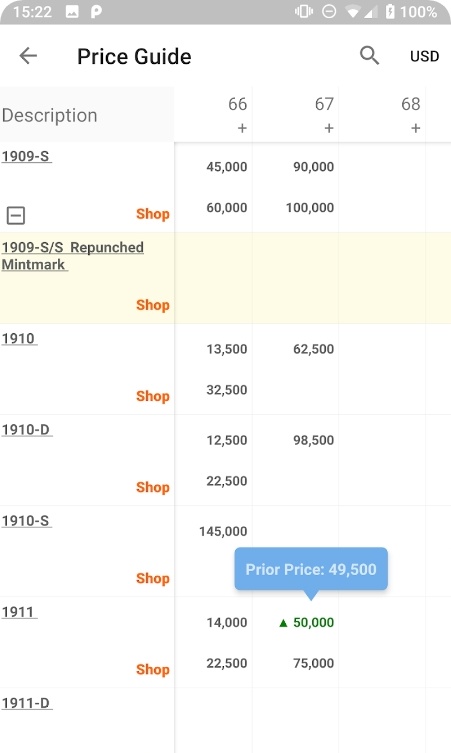 Check also: 9 Best Recycling Apps to Simplify Recycling
NGC
This app has truly taken coin collecting to new heights. It gives you access to some of the most popular research tools in the industry. You'll be blown away by the tools available in this app. First off, there's a certification resource that will change the way you treat your pool. It lets you easily scan the barcode on any NGC label and verify the authenticity of the coin holder.
Above that, you can view in-depth population data and price guide values for all the US coins. The app even includes images for nearly 15 M certified coins – talk about convenience! But the real magic happens when you join or log in with a free acc.
The app is a treasure trove of info, displaying population data for certified coins by type and grade. The data is incredibly valuable for collectors who want to stay up-to-date on the latest trends and market values.
And with weekly updates, the app ensures that you always have access to the most current info. Did we mention that you can also view the latest news articles? The news section of the app is constantly updated, ensuring that you're always in the know. And with push notifications, you'll never miss an announcement again.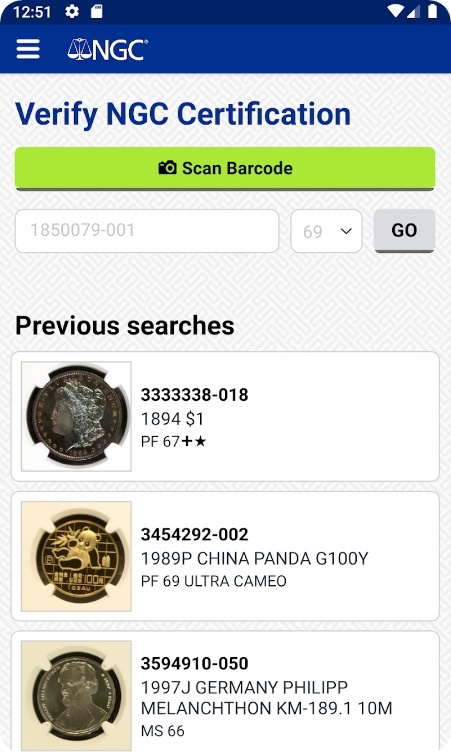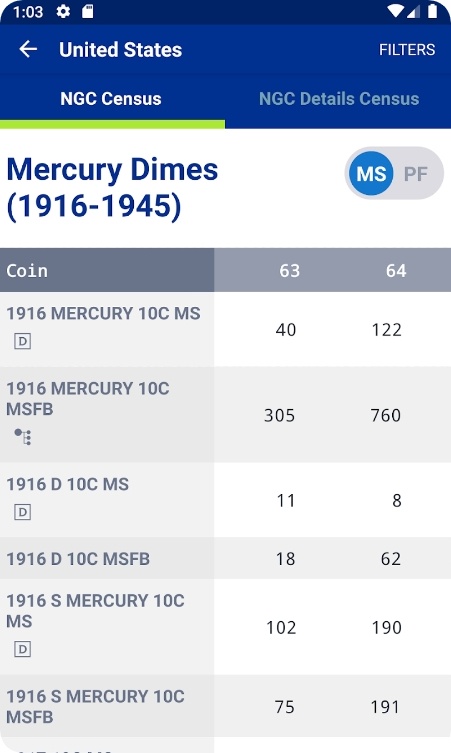 Maktun
If you're a coin enthusiast, and you haven't heard about this app yet, you're missing out! With over 300K types of coins in its database, you can easily identify any of your coins just by taking a pic. Yes, you read that right! It's like having a personal numismatist in your pocket.
But wait, there's more! The app also provides detailed info about your currency, such as the country, nominal value, years of mintage, and more. It covers all the dimensions, weight, and other interesting tidbits. You can build and maintain your collection, so you never forget about those rare coins or unique coins.
And the best part? You can access your pool on all your devices, even with no web connection! You can save pics, add them to lists, and get an approximate value of your currency.
The app also ensures the safety of your pack with its backup system. You don't have to worry about losing precious data ever again! You can even share your coins, which is a great way to connect with fellow collectors and learn more about your pool.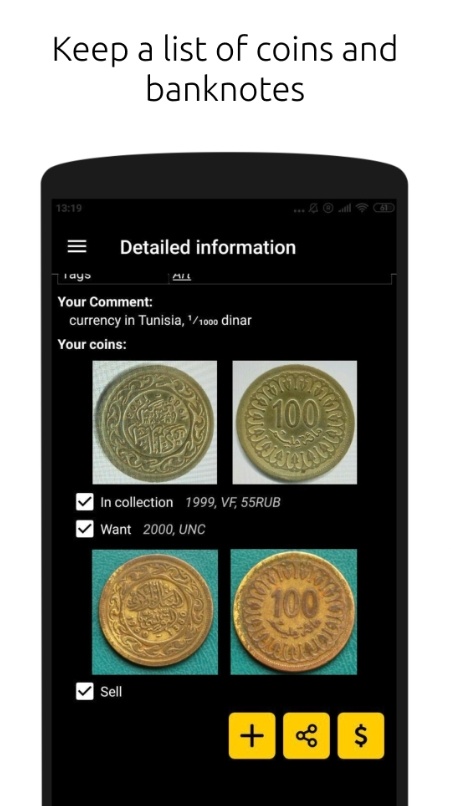 OpenNumismat
This app is here to end all the struggles you may have with your coin collection. It lets you organize and manage your coins like a true pro with minimal effort. Not only can you make an advanced catalog of your coins, but you can also monitor your wish lists and selling lists.
And with the ability to view stats, you can see just how impressive your numismatic collection truly is. The app offers over 80 customizable fields to describe your coins, including the state, emission, buy and sell info, and more. You can even add up to 11 pics to each one.
And with the grouping, filters, and sorting options, retrieval of coins in your catalog has never been easier. All these aspects are fully flexible, so you can tailor them to your needs with ease.
And let's talk about the report-generating. You can save your reports as doc files and export these to other programs. Plus, if you have a similar coin to add, the duplication tool can make the process a breeze. And with the built-in image editor, you can ensure that your coin pics are looking sharp.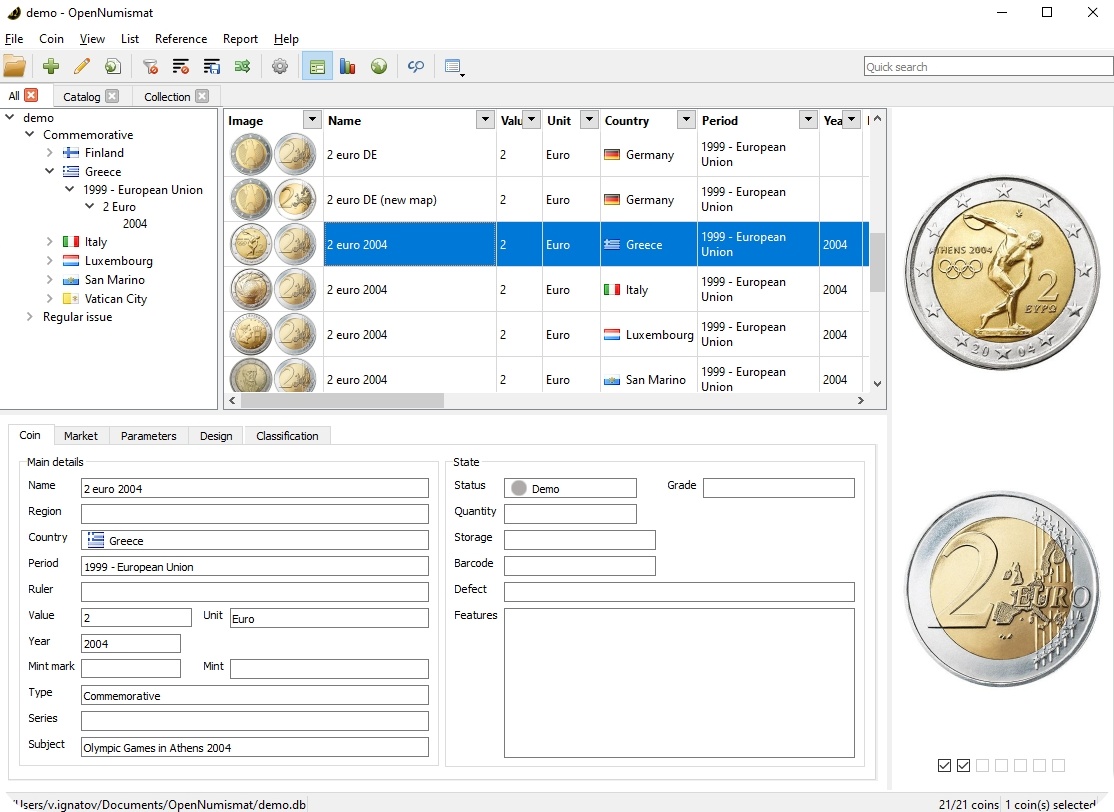 You may also check: 11 Best Apps Like OfferUp
Exact Change
And lastly, there's an app to elevate every coin collector's experience. The soft's base covers over 70K types of coins from over 240 countries, complete with HQ pics of each one. It's literally a wealth of information at your fingertips.
And not just any information: we're talking HQ pics of each and every currency, so you can see all the details up close. One thing you'll surely appreciate is that it covers catalog numbers for reference. That means you can easily cross-reference with other resources and expand your knowledge of coin collecting even further.
Plus, the app covers all the precious metal prices, so you always have the most recent info on the value of your pack. It also contains coin size and shape info for comparison, making it easy to identify and organize your coins.
And let's not forget about the personalization factor: it's a breeze to add custom coin info and keep track of your pool. All of it is free, and the UI is pretty easy to navigate.