When creating a website or web documents, you need to know programming languages ​​to get a quality product. What about those who don't know to program? This question found a solution in DA-HelpCreator software
DA-HelpCreator is a help create software that helps you create online help and documentation in a variety of formats.
Check also our article about the Best CDR to PNG Converters for Windows.
At the top, the user will see a menu with such functions as "New", "Open", "Save", "Settings", "Website Export", "Help Export", "HTML Editor". These are important parts of the design function.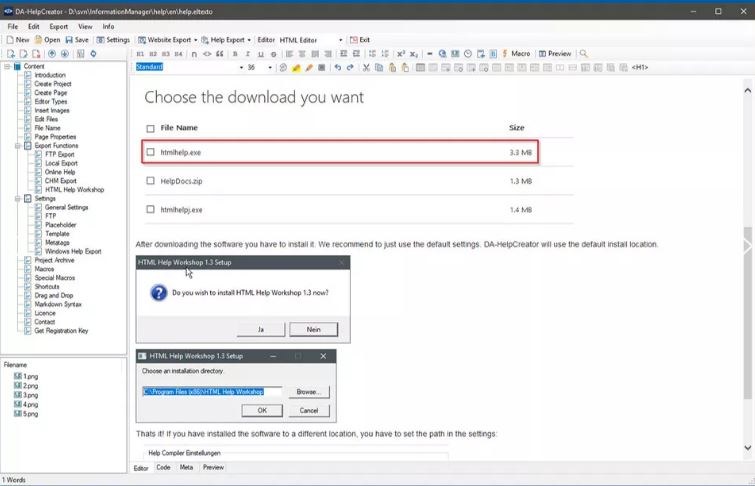 DA-HelpCreator has a support system. Many users may have questions or problems. Compose your question and send it to the support specialists and they will definitely answer you. The developer's website will allow users to get acquainted with more detailed information and principles of work.
DA-HelpCreator includes a simple classic design, intuitive interface, and easy operation that will allow users to immerse themselves in the work environment and discover important moments.

How does it work? After starting, the user needs to select a new project, specify the main parameters of the project. Edit and configure all the necessary parameters, insert links to navigate within the document itself, and save.
The generated HTML content is based on the bootstrap environment. This is an undoubted advantage that allows you to display content on mobile devices such as smartphones or tablets.
By the way, if you also want to have remote access to your PC whenever you want to, you might want to use apps like MobaXtreme.
Overall, DA-HelpCreator is a powerful tool that allows you to quickly and easily create content then convert it to various export formats. Moreover, CSS and HTML Templates can edit for each project. The wide functions of the program can find on the developer's website.