Love story games are never out of fashion – and not just because we all want to believe in a beautiful tale, but because of beautiful aesthetics. Who doesn't like all those pretty faces, beautiful sceneries, and beautiful houses? It's our chance to escape to that fantasy world.
However, when you play all those love story games it might seem that they're all the same. We want to reassure you of that and just picked up the most diverse and interesting ones for you. Some are more interesting, some are more popular – but it's always up to you to decide which one you're going to choose.
And though it might seem like all those games are strictly for teenage girls – we found games that can be captivating for everyone – boys and girls, men and women. The stories told in those are really authentic and it feels like you're watching a Netflix series.
You may also like: 11 Best Secret Dating Apps That Look Like Games
Most of those are going to be anime-style games – but we tried to find the ones with different animations. All the games are made in cartoon style.
1. Episode
This is probably one of the most popular games in this category. What is more, it was almost the beginning of the genre itself, when love story games seemed like something fresh and new.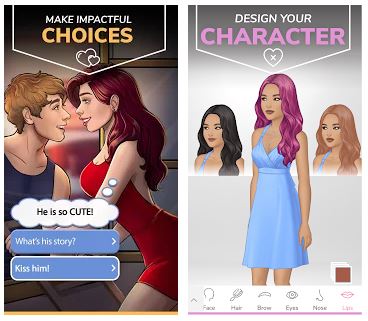 The idea of the game is the following: you're playing for a character, watching their dialogues and actions, with the ability to choose your actions and replies (sometimes). Depending on what you choose to say or what to do, the outcome of the level/game will be different.
Unlike many other popular love story game apps, Episode actually gives you a chance to create your main character and develop relationships with many guys. You're going to get involved in the most mind-blowing stories and see what are the consequences of your choices.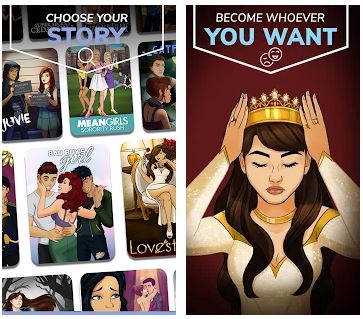 There are a lot of various worlds and even more choice possibilities! The graphics of the game is made in the cartoon style and, compared to some other games in this category, look quite plain. What is more, the game is not recommended for playing for kind under 16, since there are lots of revealing scenes.
For those who prefer the more creative approach in the game and prefer to have total freedom of choice, the Episodes, of course, will be the best options. Be ready to plunge into a beautiful world of hot girls and boys and love dramas!
However, the super sophisticated and captivating plot is not exactly the strong side of the game. What is more, lots of users are disappointed about the fact they need to buy crystals in order to have more choices.


You may also like: 11 Best Shopping Mall Girl Games for Android & iOS
2. Choices: Stories You Play
As we're progressing in this chart, you'll see that these games are not really creative with their names.
However, Choices is one of the best games in this category.
This game is also quite old and it was released when the love story novel games only started gaining popularity. Unlike the previous games, here you have the weaker control on what is going on in the game in general, however, the story and graphics are much better.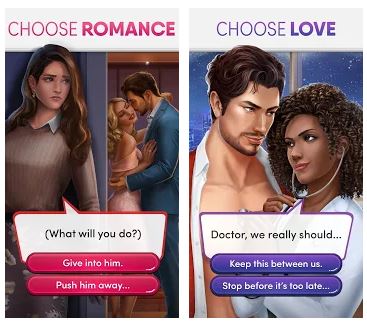 You're going to play only for one character – the minimal customization will be available at the beginning. If you want to expand those possibilities, you need to buy gems. The action revolves around a group of friends who are involved in adventured and love triangles.
The main character is the girl – a freshman who just got into the Ivy League university. First, you're getting to meet your new roommates and then you go to the party where you meet your dream boy. Then you, of course, going to meet a mean girl in your class who's going to mess up with you throughout the whole game.
In general, the whole action takes place not only in the college. You will be traveling with your friends to beautiful locations, visit Christmas fairs, and many more! In some moments the game has features of a quest where you have to solve easy riddles.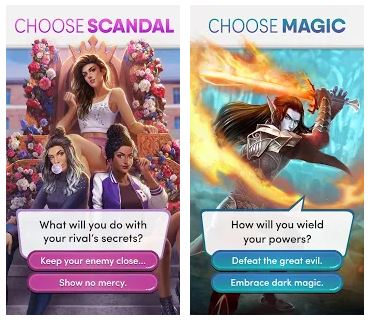 However, the main question of the game is if the girl you're playing for and her dream boy be together? Or maybe she will choose her next-door friend? Or maybe she will start a relationship with her roommate? It's up to you to decide.
Your choices here truly impact the plot of the game, however, it's a pity that sometimes the most interesting choices cost money.
The graphics are more than decent so you are just enjoying watching these series. You can also get gems by watching the ads (the option is limited).


3. Love Story Games: Vampire Romance
Seriously, vampire love stories are never out of fashion. Here is the game for all the Twilight and Vampire Diaries fans. The game is also based on the concept of choices, but unlike Choices, it gives you a chance to customize your character at the beginning of the game.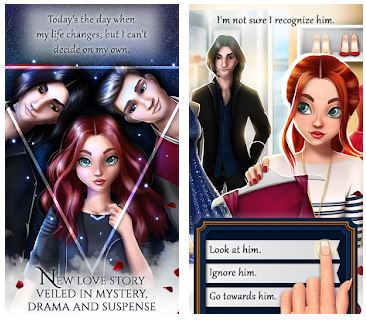 The main story of the games takes place in a tiny little town where nothing ever happens. However, this town hides a lot of dark secrets – it's full of hot vampires! The main character discovers this truth as she finds out that her crush is a vampire as well.
She starts finding different artifacts of black magic which belong to the vampire world and helps her to understand the nature of these creatures better. She is thrilled and hypnotized by a beautiful vampire boy.
Plus, the game has excellent graphics – and the locations are drawn beautifully, so you truly enjoy while playing. Moreover, all those who like the magic element in their games will love Vampire Romance for sure.
And once again, this game isn't providing an abundance of choices, but the plot itself is extremely captivating. The biggest drawback is the ad pops up constantly as you play.

4. Love Story Games: College
This next love story game on our list was developed especially for iOS devices and once again, it will probably be appreciated by the girls aged 12-14. The looks of main characters here are relly resembling of the Barbie games – for those who love this aesthetics this game is a nice choice.
As you already guessed from the name of this app, the whole action takes place in the colledge – you will need to choose the looks of your character, meet new boys, flirt with them and start the relationship.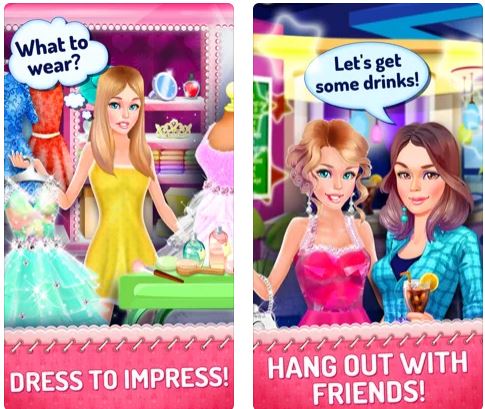 In comparison to Episodes, this game looks very innocent and there are no provocative scenes in here. That's why it's one of the best choices for teenagers.
The story tells us about a girl who is at the serior year in her colledge and this final year starts with a party.
After you have chosen the outfit for the evening it seems like your dream boy is making a move towards you – however, as it always happens, your best friend is also has a crush on him! What is more, you noticed that there is a new mysterious professor in your college – maybe you flirt with him?
The game is nice in terms of customization of characters – it means you can create your own character basically from the scratch. However, the game itself is quite short and some parents deem that it promotes molesting.

You may also like: 11 Best Harem Games for Android & iOS
5. Romance Club – Stories I Play
Romance Club is trending right now and it's one of the most popular love stories in general, so no surprise there is also a game about it.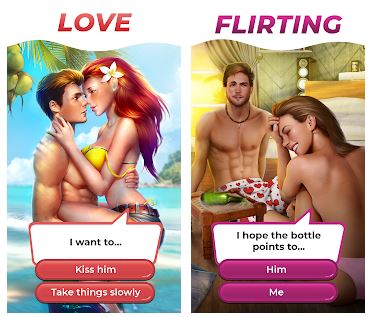 However, the game is based solely on the idea of the Romance Club, so you're almost not restricted in your actions. You create a character from a scratch, so you create either a boy or a girl – and that's the feature that distinguishes all other games from this one.
You can choose any of your favorite worlds – vampires, dragons, heaven's secret, and so on. Find all your favorite locations from the TV series! The game itself is also based on the concept of choices – however, the diversity of them here isn't that wide.
As always, in order to get more choices, you need to buy gems. Considering the graphics – it looks beautiful, in the best tradition of the Romance Club. But be careful – the game crashes on some devices.


6. Lovestruck Choose Your Romance
Now all the anime fans will appreciate this game. However, take into consideration that it is 18+ since there is a lot of homosexual love scenes.
Here you can choose among 70 different characters – quite an impressive choice, isn't it? Another feature that makes this game stand out from others is here you have a chance to play in more than 10 different fantasy worlds – so you can be sure that this game is far from being short!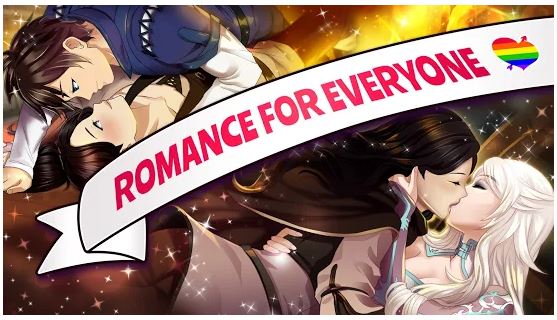 Everyone will find a kind of love story that they like: classic romance, school affair, gangsta love, island love, and many more. Choose what to say and what to do in order to win the heart of your crush!
In other words – this game won't let you get bored for sure. It's one of the best love story games, and if you don't mind against half-anime style – it's a perfect choice.


7. Teenage Crush – Love Story Games for Girls
If you're a fan of teenage love stories then you will definitely love this game. It stands out for its authentic style and design – and the graphics, of course. All the drawings here are made in high quality that sometimes it seems like you're playing the 3D game instead of 2D.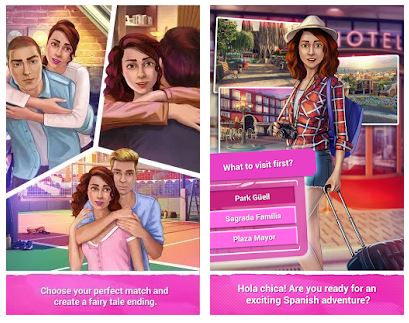 Here you can't create your own character – there is only one story, but only you decide how it ends. You go to high school and have a secret crush. What is more, you also need to develop relationships with your friends and groupmates.
You will also need to pick up the dresses for your parties, in the best traditions of the love story games. Plus, your enemies are going to get in your way – find out to be smarter and defeat them!
So basically, Teenage Crush has everything that people might be looking for in a story like this: school crush, love, drama, gossips, best friends, traveling, and many more! Plus, this is almost the only game in this category that mainly has only positive feedback from all the users.


8. Love Story Games: Amnesia
This game is remarkable for its insanely beautiful visuals. It's truly a visual novel, as the genre claims. Here you're going to play for the main character, a girl, who gets involved in a love triangle.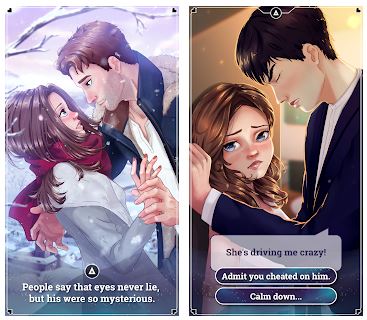 You will need to make choices throughout the games not only with your potential lovers but with your friends and potential enemies and each choice can change the course of the game. Also, you don't have that much control over the overall story.
And as you have already guessed by the name of this app, this story is about a girl who wakes up in a park in an unknown town not remembering who she is.
For those who like to have a wide choice with their dresses in the game, here you will probably get disappointed because all the looks cost lots of gems. What is more, the game has lots of ads.

9. Hometown Romance – Choose Your Own Story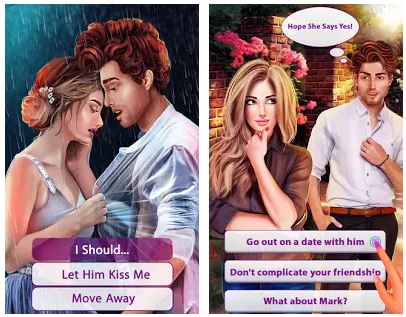 For those who like stories about small towns – here the main character comes back to her hometown from a big city because of a tragedy. Suddenly she meets her old best friend Mark – and discovers that she has feelings for him.
But everything is not that easy. The small town is full of gossips and Mark's relationships are more complicated than they might seem. You're going to choose if you want to play it safe or whether you want to dive into this hometown romance.
What is more, Mark has another friend who also tries to win your heart. Watch this exciting story, enjoy the beautiful graphics and make choices according to your preferences. We didn't find any significant flaws in this love story game and the user's feedback is mainly positive.

10. Love Story Games: Blog of Secrets
If you're a teenager and you're mesmerised by the world of bloggers and online celebrities, then this one will catch your attention. You're going to play for a main character – a famous blogger, but none of your friends know about it.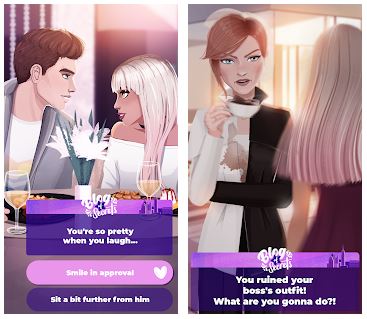 If you liked the Gossip Girl show then this game is something like the life of that Gossip Girl. You will have to work hard in order to keep your identity private and develop your blog at the same time. The game includes the possibilities of customization of the character – in a limited way though.
The graphics are pretty standard for a game of this level – it cannot compete with Amnesia or Romance Club. What is more, if you find that the most of love story games are too short – try this one – it has more than chapters.

You may also like: 11 Best Harem Games for PC
11. Fantasy Love Story Games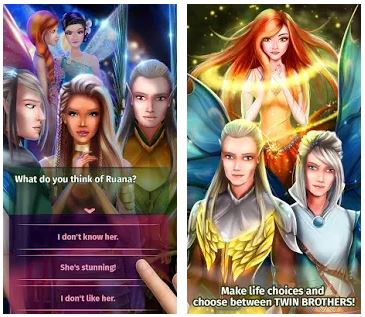 A perfect game for those who like magic stories. And even though the graphics in the game are not the top level, the fact that this is one of the few love story games about magic creatures makes it so attractive.
You will be living in the world of elves, and first, you will need to create your character. Well, the game actually starts with a story that a regular girl walks home and then meets a girl who says she got into this world by mistake.
As the plot evolves, the girl then wakes up in the elves kingdom the next day. You will see that there are two gorgeous elves-boys that will be competing to win your heart – whom would you choose? In general, the story is quite simple, the game is more for the vibe and visuals.