Tired of the same old games with your significant other or bestie? Do you feel like you've conquered every level and need a new challenge?
Well, it's time to spice things up with some two-player game apps for Android & iOS. From intense multiplayer strategies to light-hearted trivia contests, there are all kinds of games to be played on the same screen.
Get ready to laugh, compete, and maybe even throw a little friendly trash talk in the mix. These games will bring out your inner gaming champion and leave you wanting more. Let's dive in!
Cats Carnival
Think you and your friends have what it takes to dominate in a head-to-head showdown? Or maybe you're up for a bottle against the PC? This app has a lib of 10+ games that will put your reflexes and finger muscles to the ultimate test.
Let's start with the 2-player competitive mode – this is where the real fun begins. Endless 1-on-1 gameplay means you can battle it out with your bestie for hours on end. And if you're feeling extra bold, try your hand at the single-player mode. But beware, the three levels of crazy AI opponents will have you on the edge of your seat.
But wait, there's more! As you move through the lvls, you'll unlock new characters in both two-player and one-player modes. And let me tell you, these are downright adorable. Who wouldn't want to play as a fluffy little kitten or a suave, debonair cat? All in all, it's witty, engaging, and downright addictive.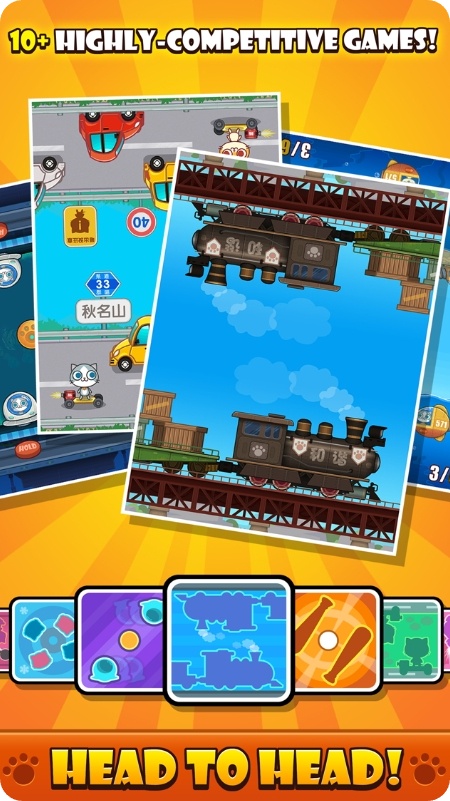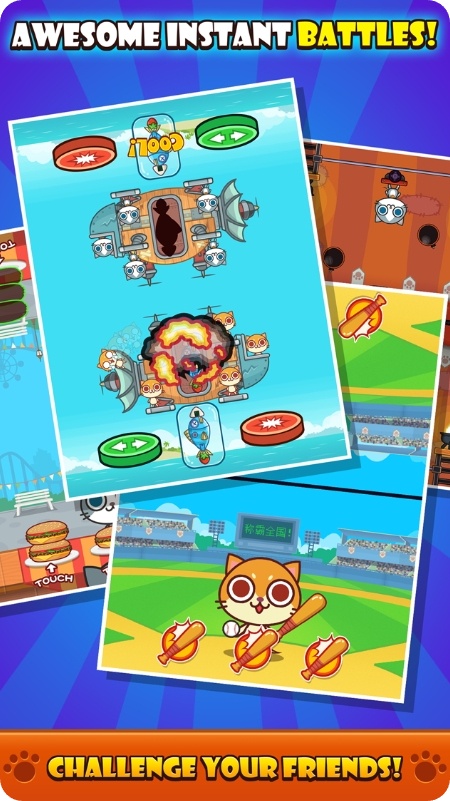 You may also like: 15 Best Bluetooth Multiplayer Games
Loco Pets
It's an adrenaline-packed adventure that is sure to get your heart racing, It lets you navigate through hundreds of challenges filled with dynamic obstacles like doors, ropes, wind, and propellers. And the best part? No annoying ads to slow you down! And the game won't cost you a dime, either.
But the app isn't just about heart-pumping action. As you conquer challenges and defeat bosses, you'll be rewarded with new pets and clothing options to adjust your exp. And with the ability to mix and match these outfits, the possibilities are endless.
But don't think for a second that the game is just a cutesy game with no bite. Epic boss battles are waiting to test your skills, and only the most clever and strategic players will come out on top. So if you're on the hunt for dynamic gameplay, give this one a try. It covers endless challenges that will keep you hooked for hours on end.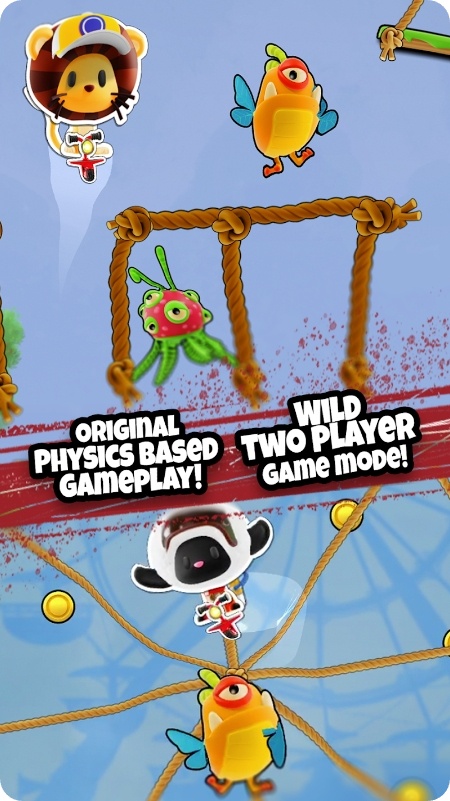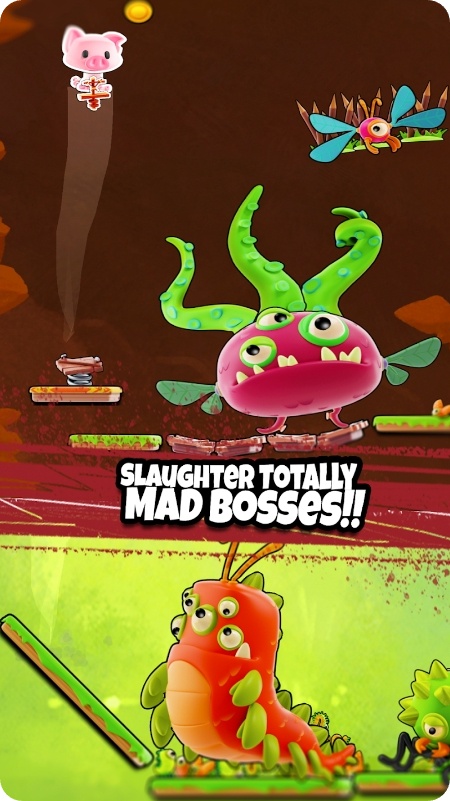 PKKP
This app is practically a collection of engaging mini-games, and it's an ideal pick for playing with mates on one device. It's like a fresh air after all the going games.
One of the standout aspects of the one is the Flag Race mode. Roll the dice and race to the finish line, but watch out for those unexpected prop FX! It's a strategic game that tests not only your skills but also a bit of luck.
But if you're seeking quick and exciting gameplay, the Quick Battle mode is where it's at. With three mini-games randomly selected, the pressure is on to see who comes out on top. And with 60+ super cute classic options available, you'll never run out of options.
And even when you're flying solo, the Single mode with AIs waiting to take you on. Overall, it's a must-have for anyone wanting to have fun with pals and fam.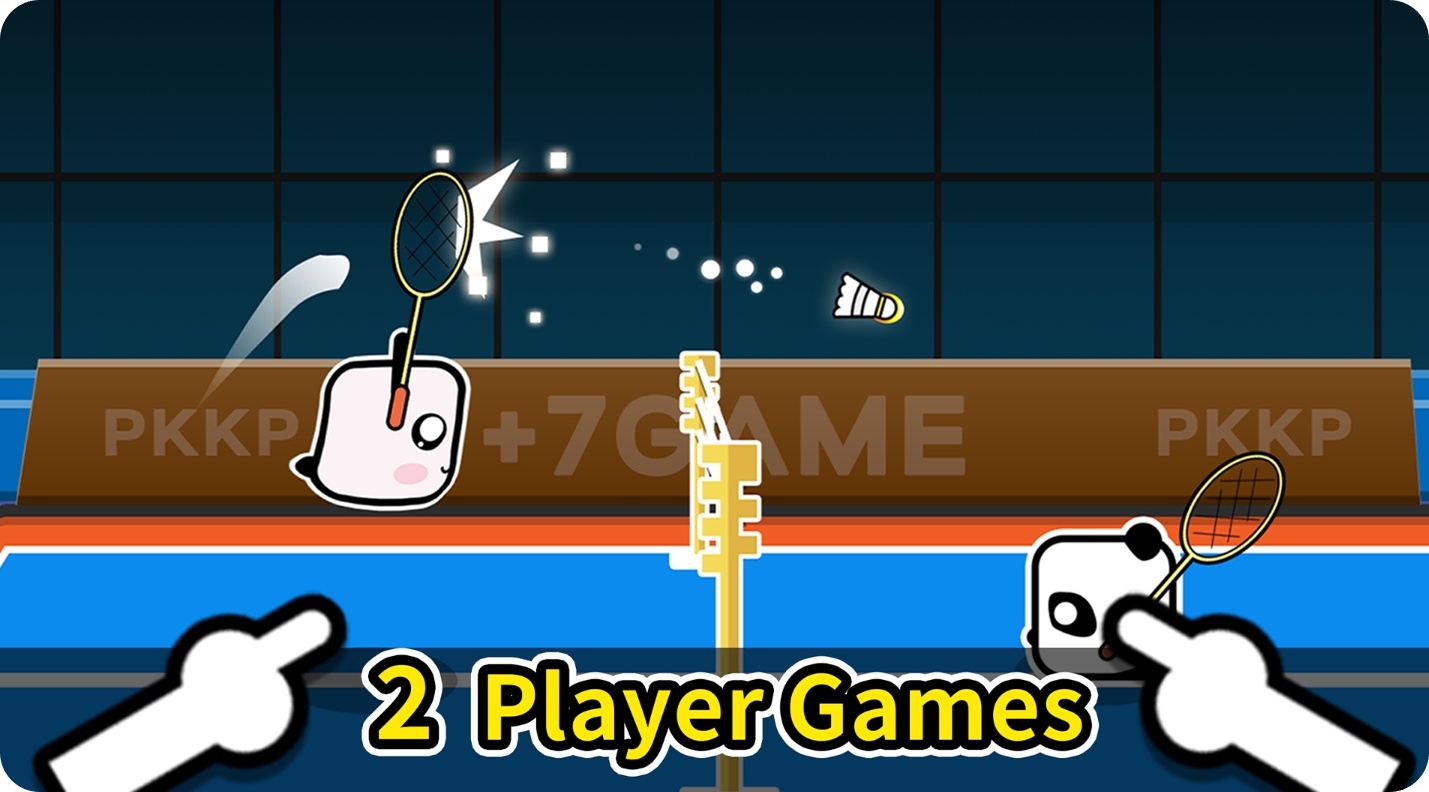 Supreme Duelist Stickman
This game promises endless hours of hilarious fun and intense battles. One of the newest additions is the Mini Football mode, which lets you play soccer with your pals on the same device or against the CPU. Yes, you read that right, playing footie with stickmen – it's wacky and enjoyable at the same time!
The boss fight is another exciting mode added to the game, with many unique maps to play through. Plus, the new map editor will give you the freedom to make your own battlegrounds and really put your skills to the test. The game's simple controls make it easy for anyone to pick up and get into the action.
Whether you're a seasoned player or a newcomer to the world of stickman games, this one has something for everyone. With plenty of new skins to unlock, you can modify your stickman warrior to your liking. It also has realistic physics. It's both hilarious and satisfying to watch your opponents tumble through the air after a well-placed blow.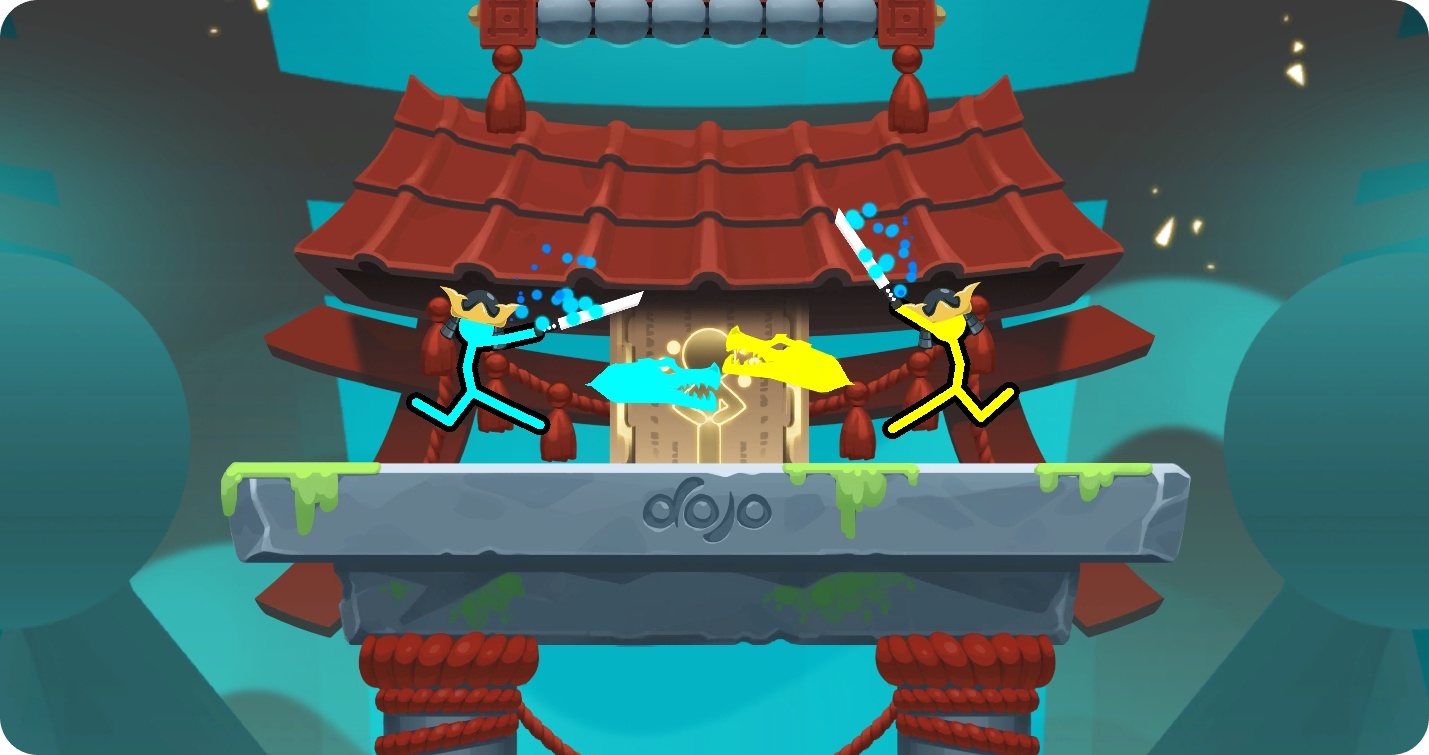 BADLAND
Ready to be transported to a dark and mysterious forest filled with danger and adventure? This app has all that. There are 100 unique lvls in its single-player campaign and more are on the way in future updates.
But that's not all – the multiplayer mode lets up to 4 users battle it out on the same device, And there's also a cooperative one to team up with pals to take on modified versions of the classic campaign.
The lvl editor is where the game truly shines, letting you flex your creative muscles and generate your own lvl. And with new ones being added all the time, the adventures never have to end.
The app takes it to the next level with stunning graphics and immersive audio, making you truly feel like you're in the heart of the forest. And with full support for game controllers, you can fully immerse yourself in it. It's also free, and the ads are fully bearable.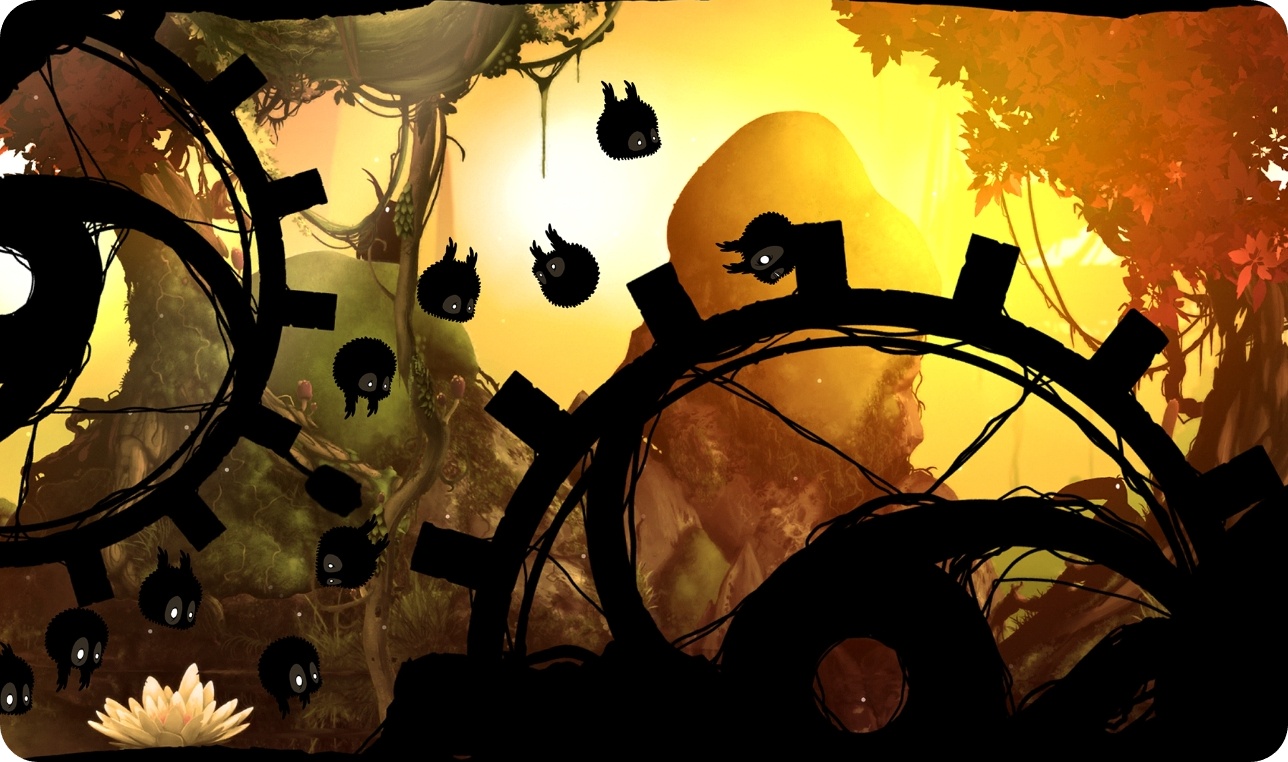 Fruit Ninja®
Prepare yourself to don your ninja outfit and get your slicing skills on point. Cause that's exactly what this game lets you do! With three modes to try, there's smth for everyone here.
Dodge bombs, slice massive combos, and aim for a high score, or take a more relaxed approach with stress-busting mode. And, if you're feeling competitive, put yourself to the test by facing off against some of the toughest guys.
The app also covers daily challenges where you can compete for prizes and glory and a shared-screen local multiplayer to show off your skills to pals. But what really sets it apart is the special powerups that you can equip to give your score a boost. And who doesn't love juicy extra points?
With its intuitive gameplay, addictive modes, and power-ups, this app is sure to become your go-to mindless fun activity. It also won't cost you a dime.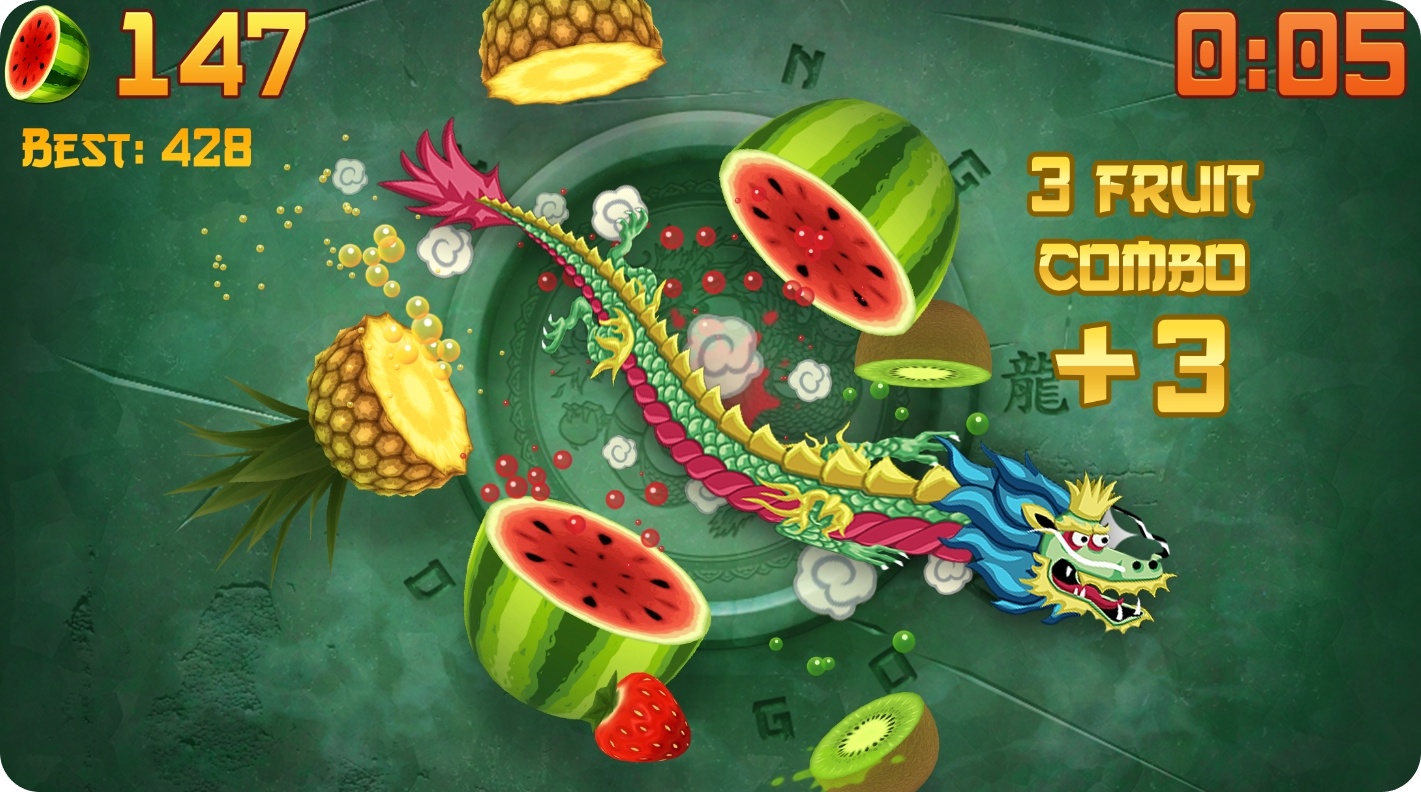 2 Player games
Here's the kind of game that you may rather enjoy with pals or kill time solo. And with a variety of mini-games, there's truly smth for everyone.
First up, we have the traditional game of Ping Pong. It's simple yet addictive and ideal for quick matches with a friend. Just move the racket with your finger and get ready to challenge your pal to a game of virtual table tennis.
Next on the list is spinner war. This one is all about pushing your competitors outside the stage. With only two players in a small area, it gets intense quickly. If you're a fan of air hockey, it's covered by the app as well.
For smth a little different, try out Snakes. You'll need to avoid touching your opponent's body and stay alive as long as possible. If you're a pool fan, you're in luck too. Of course, no set of such games would be complete without the classic Tic Tac Toe. It's a great option for when you don't have pen and paper handy and want to challenge your pal on the same device.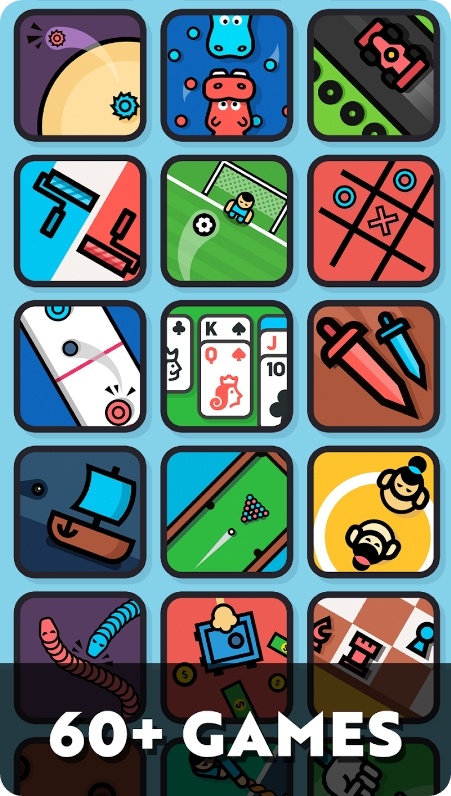 Drive Ahead!
This game is an ideal blend of racing mayhem and cartoonish madness. With its seamless blend of online PvP, intense duels, and co-op challenges, this game truly has it all.
Challenge your pals to quick-fire 2-player battles in the arena, or team up with guild mates to crush the competition on the leaderboards. And with daily stunts and new quests every week, there's always smth exciting to do in this pixel-perfect paradise.
But what really sets it apart is its fantastic social community. Whether you're sharing your high scores or showcasing your most hilarious moments, you'll find plenty of fellow racers ready to cheer you on. And with regular updates and exciting new boss fights to look forward to, the fun never stops here.
So hop into the driver's seat and take a road trip to adventure today! Whether you're a pro or just seeking a little bit of casual fun, this one is for you. It's ideal for those who love high-speed thrills and cartoonish action.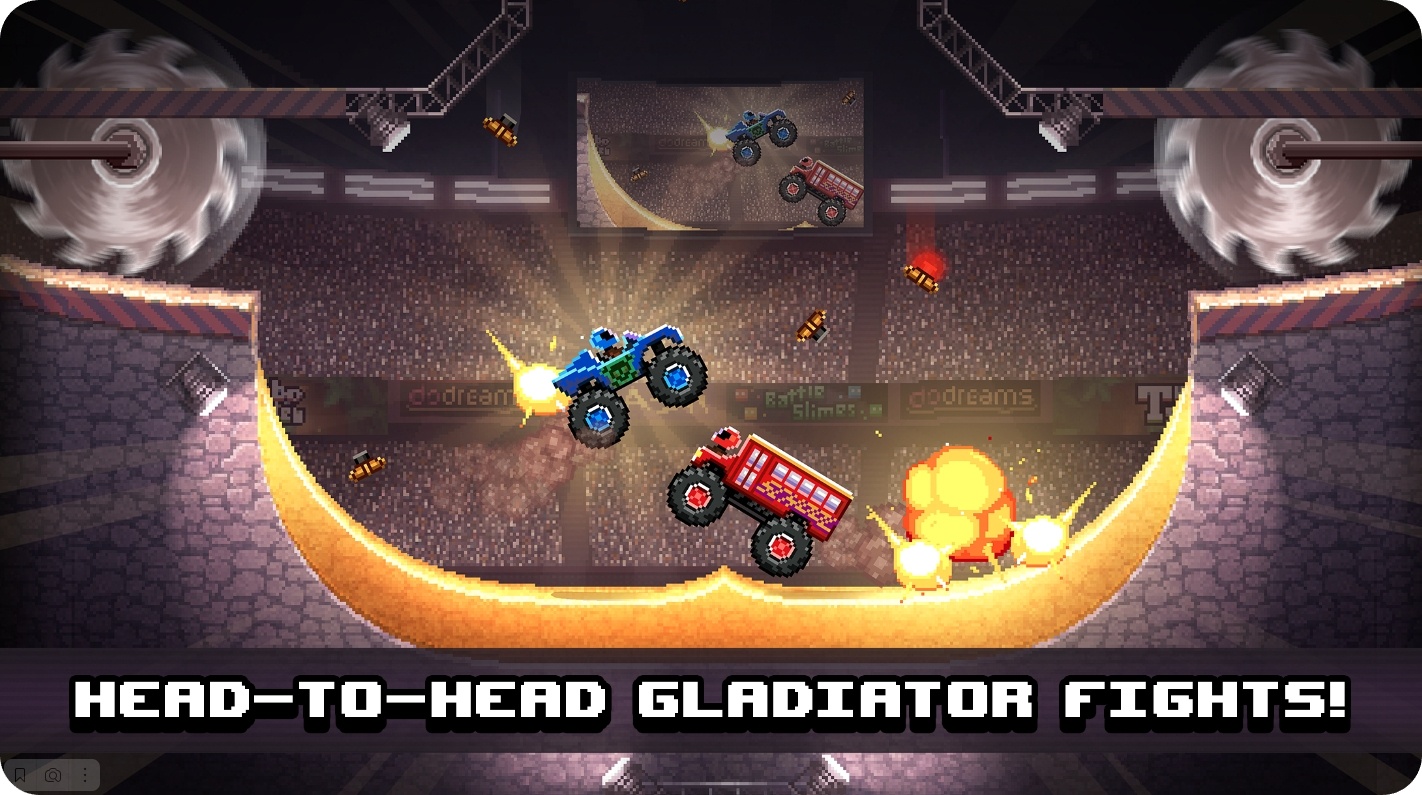 Check also: 11 Best Multiplayer Farm Games
2 3 4 Player Mini Games
On the hunt for a fun and engaging way to battle it out with your buds on the go? That's what this game is here for! With its simple one-touch controls and 20 diverse games to pick from, it is ideal for any group seeking some multiplayer action.
Whether you prefer to grow your snake, duke it out on the battlefield, or test your timing skills, there's a game for everyone. And with the ability to play with up to 4 players on the same device, you'll never have to worry about leaving anyone out of the fun.
But what makes this app truly stand out is its witty and engaging tone of voice. With quippy descriptions like "Be the quickest driver on the sandy tracks to complete 3 laps" and "Use your slingshot to shoot bread crumbs into the pigeon's mouth", you'll be laughing and smiling from start to finish. It's incredibly simple to play, even a kid could easily cope with it.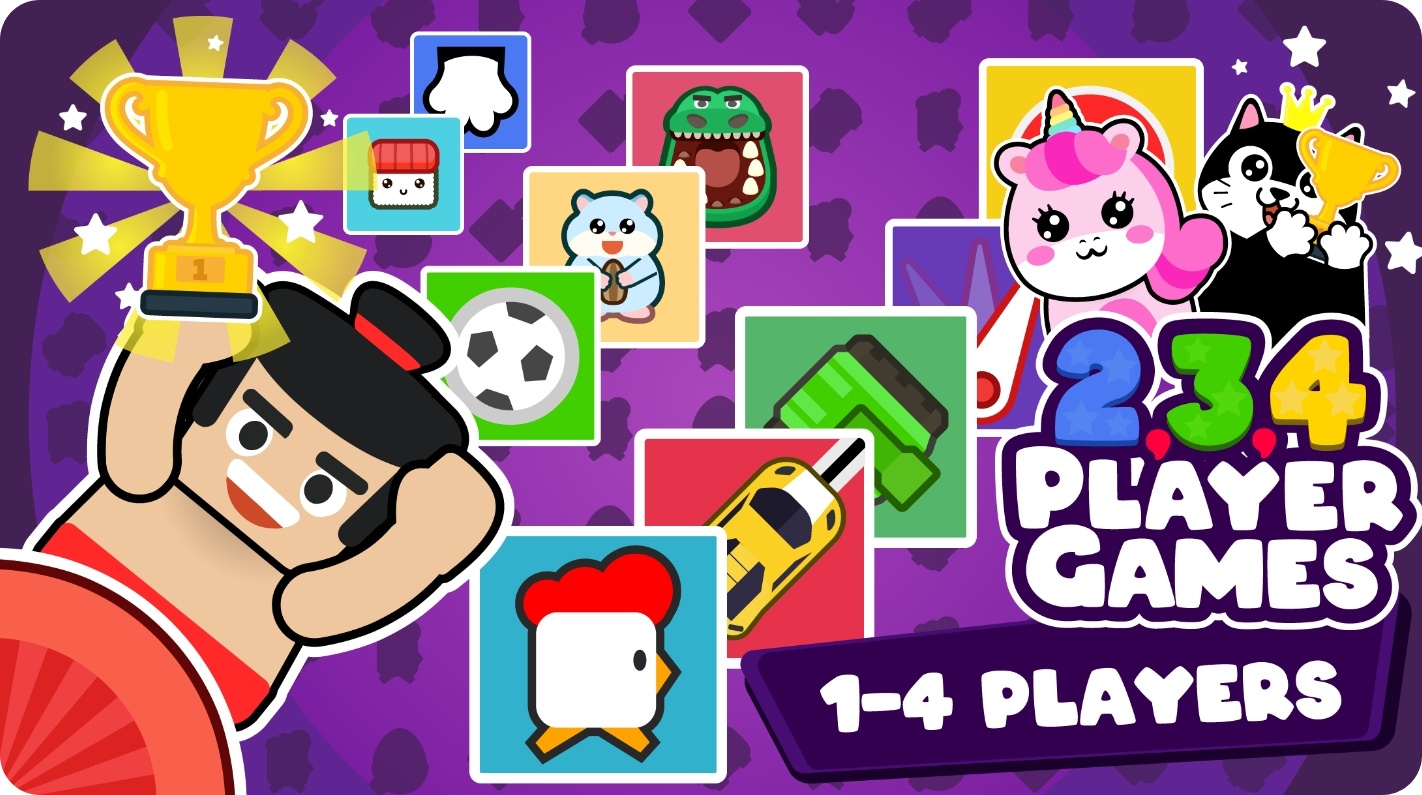 1 2 3 4 Player Games
This game is here to spice up your offline time with buds. It's got games galore, so you can get your game on no matter how many players are around.
What's the best part, you ask? It's easy-peasy lemon squeezy! Open the app, pick a game, and voila! No WiFi is required! All the classical games a covered, and there are a couple of exclusive ones to ensure you won't get bored with the process.
But the real magic happens when you challenge your loved ones. Battle it out in multiplayer PvP or team up for some 2v2 action. Get ready for mind-boggling fun and reflex showdowns! And with a whopping selection of games, you'll never run out of challenges.
We absolutely recommend the app to everyone seeking a hilarious scope of multiplayer fun. Whether you're beating rivals or enjoying solo play, this app guarantees endless entertainment. The concept of all of these is beyond simple, and they work great if you want to kill time after a long day.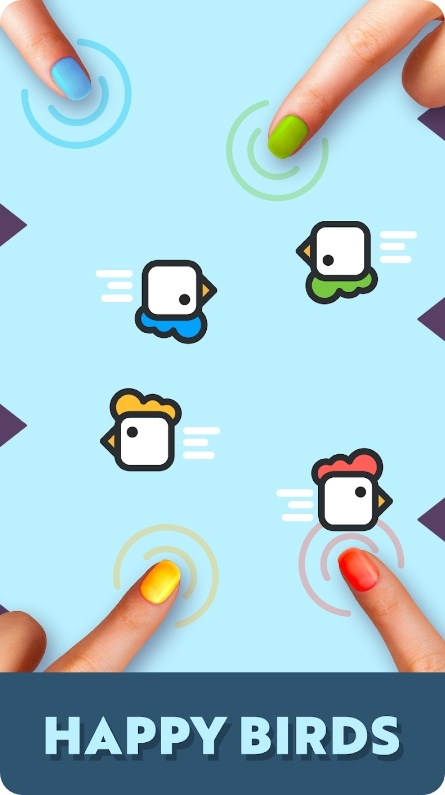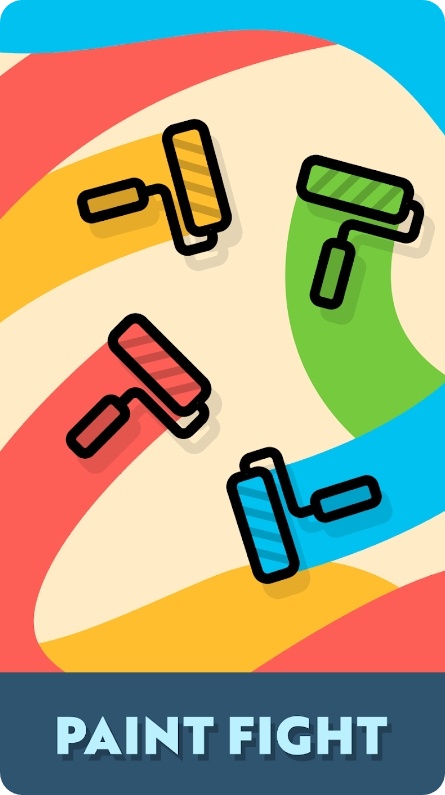 Duel Otters
This game covers 13 mini-games made for two players to battle it out on the same screen. And don't worry if you don't have a pal nearby, the training and arcade modes have plenty of options for solo play too.
First off, let's talk about the games themselves. These are not your average mobile games. They are fast-paced, require quick reflexes, and will challenge your finger muscles like you wouldn't believe. From bouncing balls to flipping pancakes, each one presents its own unique situation.
It's easy to get lost in the heat of the moment as you and your opponent battle it out for that coveted victory. The two-player campaign is where you truly get to show off your skills against your buds. And don't forget to hone your techniques and earn points by defeating AI and completing special challenges.
And if you're feeling confident in your skills, give the arcade bode a try. This one is a score-attacking version of each game. How high can you score? How long can you last?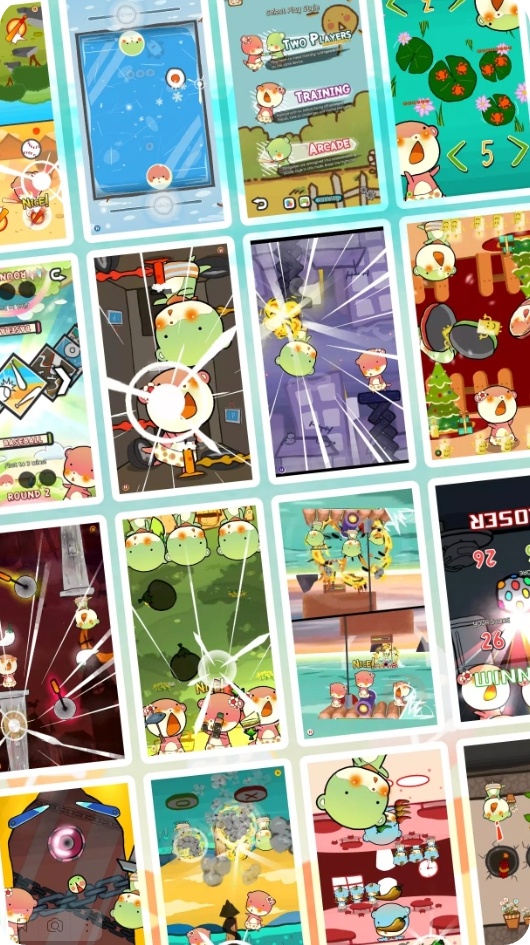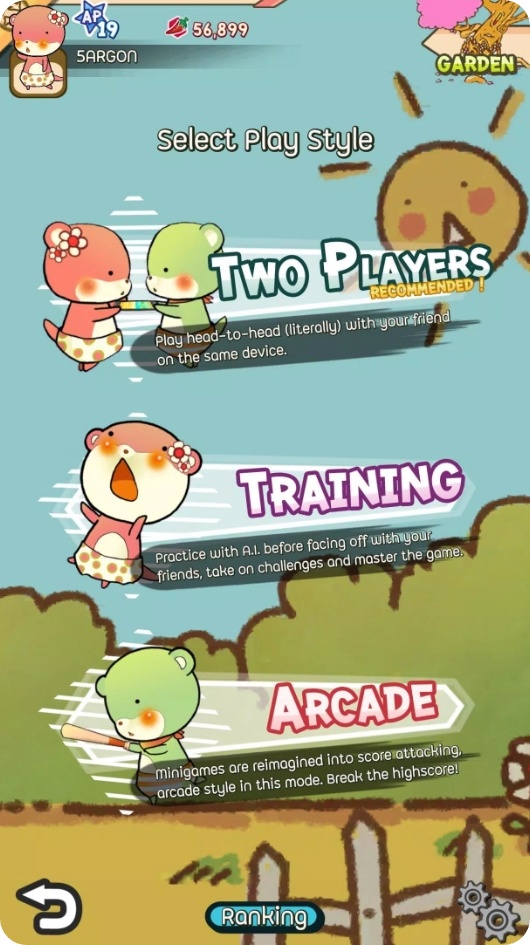 Two Player Battle
If you're into easygoing games for solo or buddy play, then you absolutely need to grab this one. This gem flaunts minimalist graphics that won't strain your peepers, letting you dive right into your preferred game.
And guess what? It's not just a two-player limited deal. Oh no, you can also go toe-to-toe with the AI, which ain't no walk in the park! So whether you're hanging with a pal or flying solo, there's always some fresh round waiting to spice up your day.
Speaking of which, this treasure trove has a slew of wickedly rad 2 player games. Each one packs a unique vibe, so boredom doesn't even stand a chance. The app lets you rock the gameplay both online and offline, so no more sweating over lost progress or lame connectivity issues. Plus, the easy-peasy one-finger controls make it a breeze to pick up and start playing, with zero hassle required!
All in all, this one is a gem for all you peeps on the hunt for a chill yet thrilling gaming app. The game variety, the friendly rivalry, and the option to face off against both pals and AI make it an absolute must-have.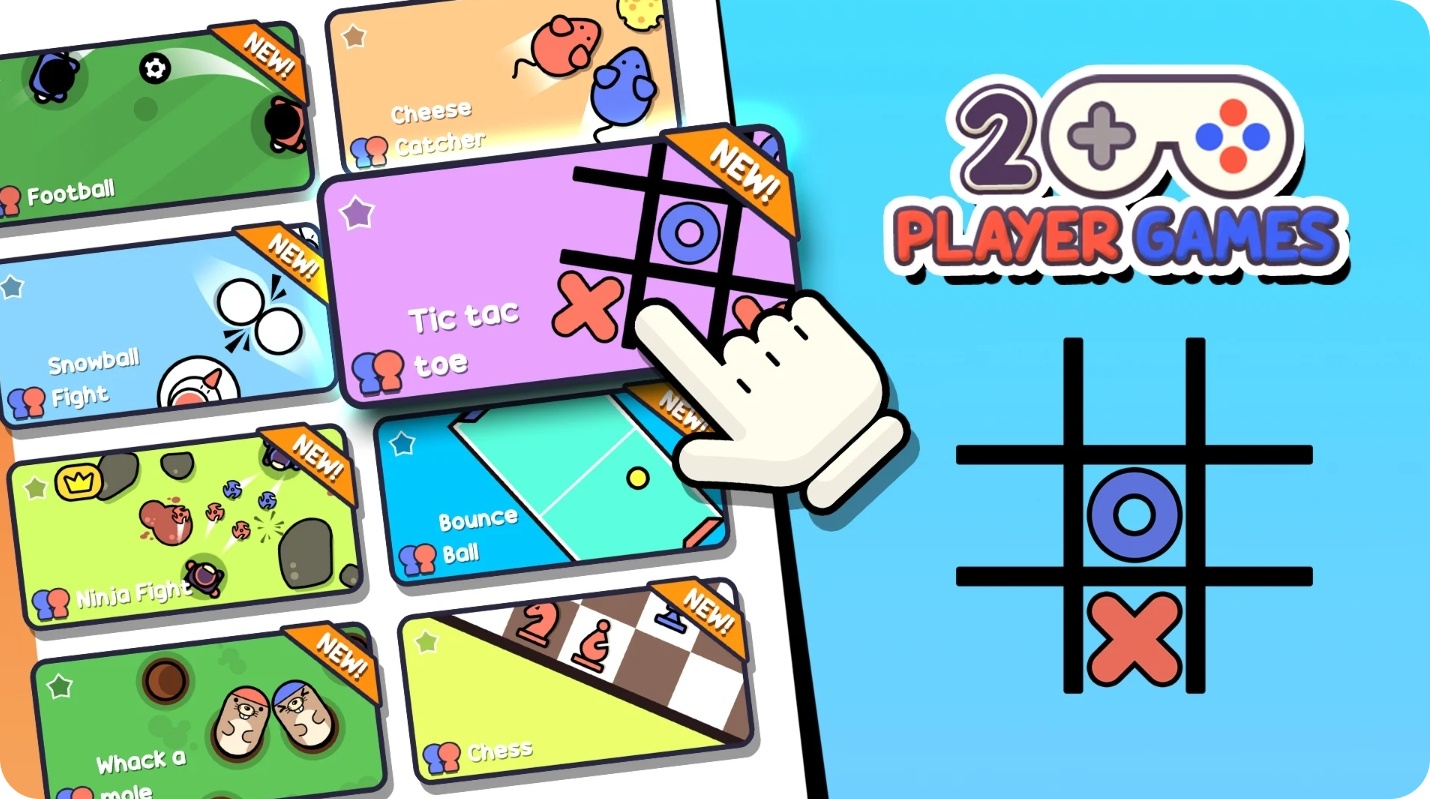 Party 2 3 4
Want to level up your gathering? This app can help. It's not just about stunning minimal graphics that keep you hooked; it also saves scores between matches, so you can have an epic rivalry going all night long. No need to juggle between diverse apps and games – everything you need is right here in the palm of your hand!
You can switch between 2, 3, or 4-player games and make sure no one feels left out. And hey, even if you're solo, fear not! Challenge the AI and hone your skills till your next gathering.
Let's dive into the games! First up, tank battle. Who's got the best shooter skills? Battle it out and claim the ultimate victory against your friends! Sports buffs, soccer is your jam! Score a goal with just one touch – unleash your inner Messi and show off those mad skills.
Ready for some adrenaline? Dodge cars, leap over water and show your opponents who the true champion is. Vroom, vroom!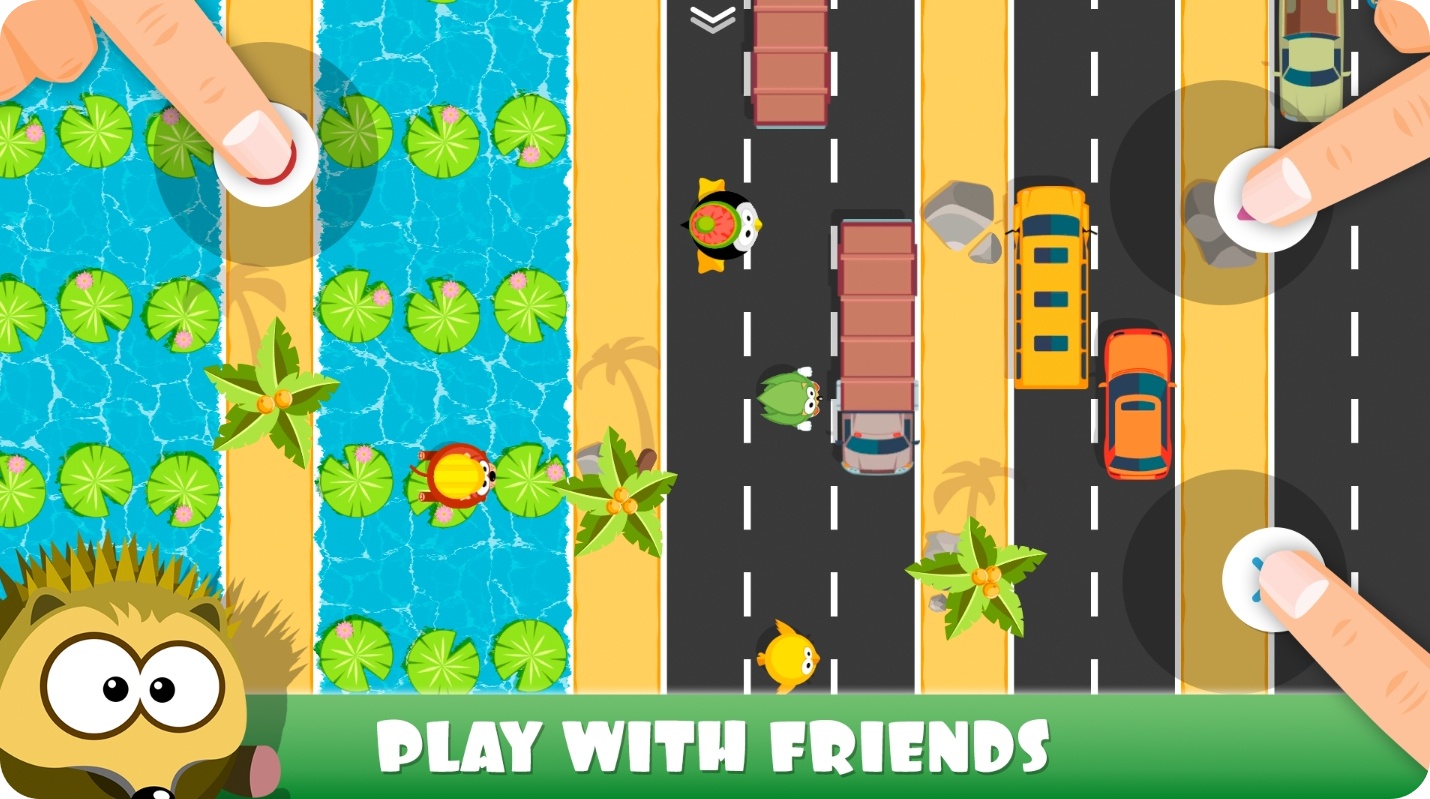 Stickman Party
Tired of those same old mobile games all by your lonesome? Well, that's a stellar collection of single and local multiplayer games that'll jazz up any occasion: road-tripping, parties, or simply chilling with pals.
Here's the kicker: it lets you go with up to 4 folks on a single device. The more, the merrier! And fear not, even if you're flying solo, the one-player games are still a blast and ideal for honing those skills before your next showdown.
What's cool about the app? Simple rules, high-octane fun. These games are easy to pick up but packed with unexpected twists that'll keep you hooked. Plus, they've thrown in some wild remakes of famous mobile games just to spice things up.
But here's the icing on the cake: it doesn't need internet or Wi-Fi to play. Yep, it's all offline, local multiplayer goodness right on your device. Ideal for those moments when you're on the go but still itching for some non-stop fun.



You may also check: 11 Best Multiplayer Horror Games
Hangman Words
Are you a spelling wizard in search of a word game that challenges your brain and keeps you entertained? This might be the one. It's a gem for word search and crossword puzzle buffs!
In this fast-paced and thrilling game, you'll be tasked with saving a hangman from being, well, hanged, by correctly guessing the secret word. You can play with folks or random opponents, making the competition even more intense.
The gameplay is simple yet challenging, requiring quick thinking and a vast vocabulary. As you progress through the lvls, the difficulty increases, testing your word search brainpower to its fullest potential. But don't worry, the graphics are simple and fun, with interactive hangman animations that respond to every word you enter.
It's the kind of game you can pick up on any occasion, and it won't disappoint. It's a great time-filler, too, and it won't cost you anything.