Atomic Heart is now at the top of the best-selling games, but which apps on your phone can bring you as much fun as this game? With this article, you will find the best mobile games like atomic heart.
And before you start reading, I would also recommend another cool article about the best games like Metro: Last Night.
Nuclear Day Survival
This game offers an amazing experience of surviving in a world after a nuclear disaster.
The game has an interesting storyline where the player takes the role of a survivor who must navigate through a dangerous world filled with radiation, mutated creatures, and scarce resources.
You should gather resources, craft items, and build shelters to survive. The game offers different gameplay modes, including scavenging missions, PvP battles, and survival modes. Each mode offers a unique experience, and the game is highly replayable.
What's more, this game has a post-apocalyptic feel to it, with the use of desaturated colors, broken buildings, and abandoned cities.
However, some of the animations, such as character movements and creature attacks, could be smoother. Despite this, the graphics do not hinder the overall gameplay experience.
However, Nuclear Day Survival can be quite challenging, especially for beginners. The scarcity of resources and the constant threat of radiation and creature attacks can be frustrating.
Advantages:
Engaging post-apocalyptic survival experience.
Different gameplay modes for variety.
Quick response from developers to fix bugs.
Drawbacks:
Challenging difficulty level.
Graphics could be improved.
Some bugs and glitches were reported by users.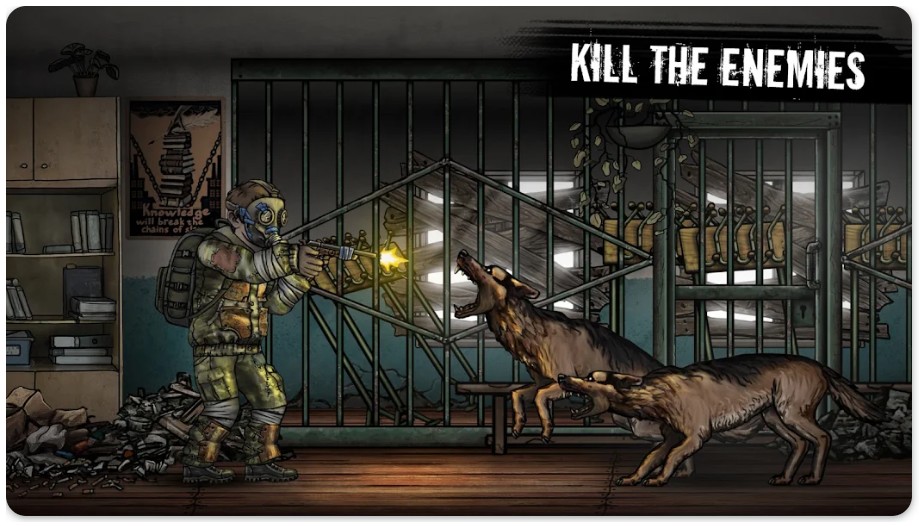 You may also like: 11 Best Games Like Ashes Of The Singularity for Android & iOS
FZ9: Timeshift – Legacy of war
If you're looking for a quick and simple game to play on the go or a more in-depth experience, this game is worth checking out.
You have to complete various missions by shooting down enemies and achieving objectives. The game offers a range of weapons and upgrades that can be unlocked as players progress through the levels.
While the gameplay is simple, some nuances make it engaging, such as the different types of enemies that require different strategies to defeat.
Also, there is a variety of environments that players will encounter as they progress through the game. However, the graphics can be a bit rough around the edges at times, with occasional glitches and frame drops.
One of the most common complaints in user feedback is that the game can be quite challenging, with some levels feeling almost impossible to complete without purchasing upgrades.
This can be frustrating for players who want to progress through the game without spending money.
Advantages:
Engaging gameplay.
Decent graphics.
Challenging difficulty level.
Drawbacks:
Occasional glitches.
Repetitive missions.
Can be challenging without purchasing upgrades.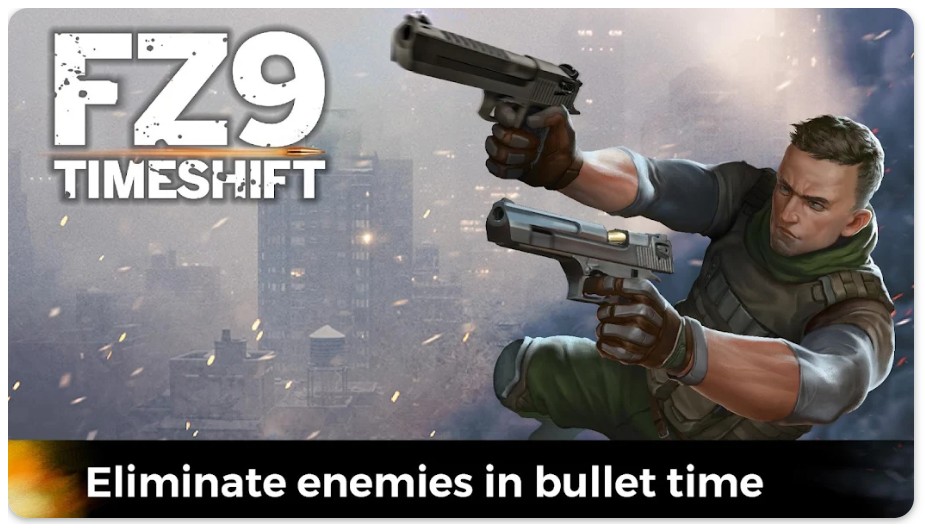 Infinity Ops: FPS Shooter Game
This is a multiplayer first-person shooter that provides players with striking graphics and exciting gameplay.
The game offers you the chance to play in 5 different game modes, ranging from classic deathmatch to team battles, as well as the ability to create your private room for friends to join.
It is possible to choose from various characters and customize their appearance and weaponry.
Also, you can switch between two different modes of movement – parkour and traditional walking.
This adds a new level of strategy and depth to the game, as players can utilize parkour movements to navigate the environment and gain the upper hand in battles.
Some players may find the textures and animations to be lacking compared to other games in the genre. However, the game still offers a visually satisfying experience, with a range of detailed maps and colorful environments.
Furthermore, there is a lack of balance in the matchmaking system. Many players have claimed of facing off against opponents who are significantly higher in level and equipment, making it difficult to compete.
Advantages:
Offers a variety of game modes.
Customizable characters and weaponry.
Unique parkour movement system.
Drawbacks:
Unbalanced matchmaking system.
Microtransactions may frustrate some players.
The graphics are decent, but not the best.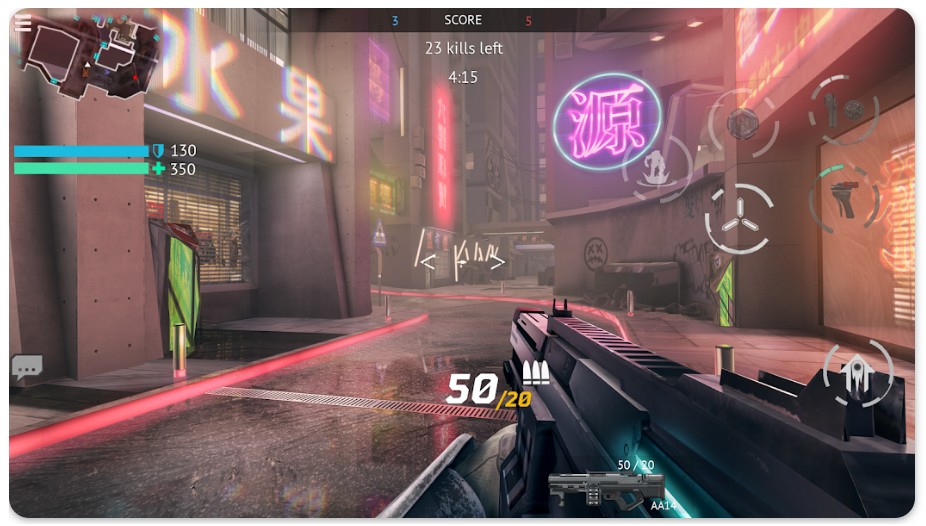 Robot Warfare: PvP Mech Arena
Robot Warfare is a game for you to build robots and take part in battles against other players who can be your friends.
The game system is designed to keep players entertained for hours. It is possible to pick the way you would like to play.
You can enjoy the game alone or call your mates to fight with you.
Also, try yourself in the game with many other people. All of you have a chance to battle and get a place on the leaderboard.
On the other hand, the single-player mode offers different challenges and missions that players can complete to earn rewards and unlock new robots and weapons.
Moreover, you need to think about which robots to build and which weapons to equip to maximize their chances of winning. The game also requires you to upgrade your robots and weapons continuously, according to your game progress.
The graphics of Robot Warfare are top-notch, and the developers have done an excellent job of creating a futuristic world where robots are fighting against each other.
Advantages:
Engaging gameplay.
Top-notch graphics.
There is a variety of modes.
Drawbacks:
Flawed matchmaking system.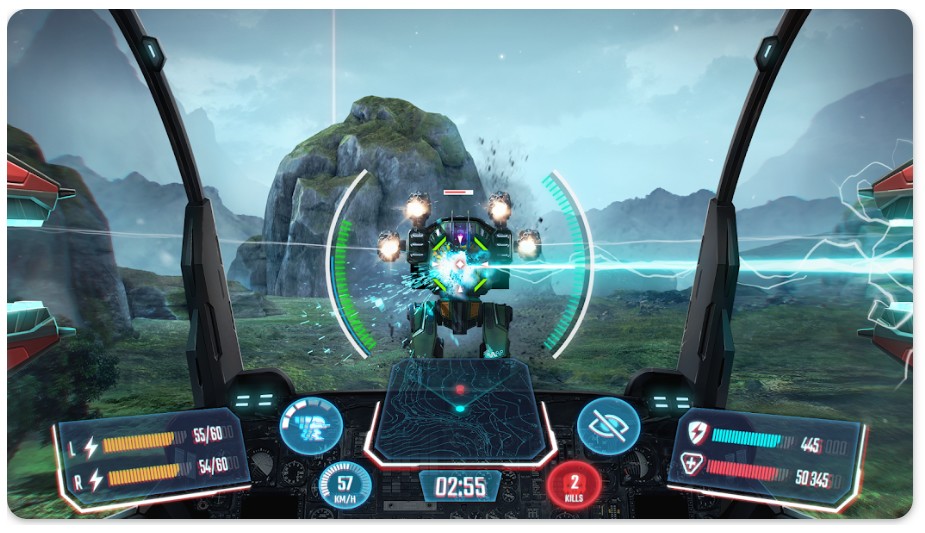 Cyberika: Action Cyberpunk RPG
Cyberika is a new action-packed RPG game that has taken the gaming community by storm.
This game has a fascinating story that is based on a post-apocalyptic world where players take on the role of a hero fighting against evil forces. The player's mission is to save humanity by defeating hordes of enemies that appear at each level.
You can enjoy the app's gameplay which is a mix of action, adventure, and role-playing, which creates a unique and engaging experience.
What's more, there is a huge number of enemies and weapons open. The game features different types of enemies, each with its outstanding strengths and weaknesses, making the game exciting and dynamic.
Players can choose from a collection of guns, from guns to melee weapons, that they can upgrade as they progress through the game.
The graphics of Cyberika ​​are impressive, with excellent visual effects and animations. the environment is well-designed, with stunning landscapes that create an immersive experience for players.
Moreover, characters and opponents are well-crafted, adding to the game's overall appeal.
However, some drawbacks must be mentioned. Firstly, the game can be quite challenging, which may frustrate some players. Secondly, the game's controls can be a bit difficult to get used to, which may take some time to master.
Advantages:
Engaging gameplay.
Captivating graphics.
Variety of enemies and weapons.
Drawbacks:
High difficulty level.
Controls can be difficult to master.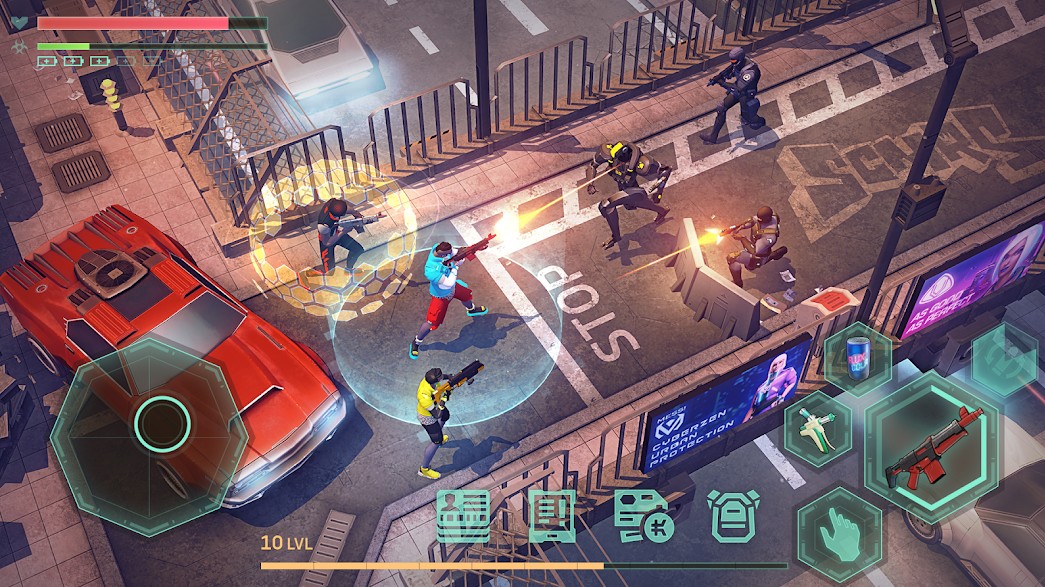 Cyber Hunter
This is an action-packed mobile game that has gained immense popularity since its release.
The gameplay is one of the game's strong suits. The battles are intense, with players needing to use strategy and wit to overcome their opponents. Players can choose to fight alone or team up with other players in the game's cooperative mode.
The game also offers different modes, such as the story mode, arena mode, and treasure hunt mode, among others, to keep the players engaged.
Though, the graphics in the game are decent, with an oriental feel to them. The game's characters and environment designs are appealing and immersive, but there is still room for improvement.
Sometimes the visuals can be a bit pixelated or blurry, which may hinder the overall gaming experience.
However, despite the game's engaging gameplay and graphics, some issues still exist. For instance, the game can be quite repetitive at times, making it feel like a grind.
In addition, the game has a pay-to-win aspect, where players who spend real money have a distinct advantage over free-to-play gamers.
Moreover, some comments on the game's Google Play Store page indicate that some players are frustrated with the game's matchmaking system. They claim that they are paired with opponents who are significantly stronger, leading to unfair fights.
Advantages:
Engaging gameplay.
Immersive graphics.
Various game modes.
Drawbacks:
Repetitive at times.
Pay-to-win aspect.
Expensive in-game purchases.
Frustration with the matchmaking system.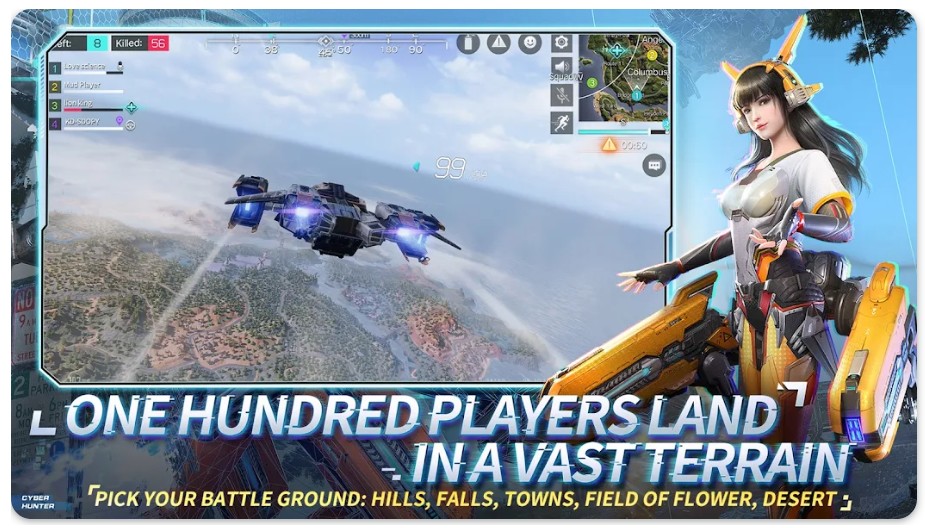 You may also like: 11 Best Post Apocalyptic Survival Games for Android & iOS
Into Mirror
Into Mirror are a fun and addictive game that is sure to provide hours of entertainment.
You have a chance to enjoy the gameplay that revolves around a character who is exploring a mirrored world, trying to find a way out. Players need to guide the character through a series of obstacles, including enemies and traps, to progress through each level.
The game is easy to learn, but the difficulty level increases as you progress through the levels.
Moreover, the graphics in Into Mirror are visually pleasing, with vibrant colors and detailed environments. The game's character design is also well executed, with a unique and interesting appearance.
One drawback of the game is that it can be quite repetitive. The gameplay nuances are limited, and players may find themselves doing the same thing over and over again.
In addition, some users have reported that the game can be a bit glitchy, with occasional freezing or crashing.
Many people enjoy the game's simple yet challenging gameplay and find it to be a great way to pass the time. However, some users have expressed disappointment with the game's difficulty level, particularly in the later stages.
Advantages:
Simple and easy-to-learn gameplay.
Visually pleasing graphics and character design.
Drawbacks:
Can be repetitive.
Occasionally glitchy.
Some users find the difficulty level frustrating in later stages.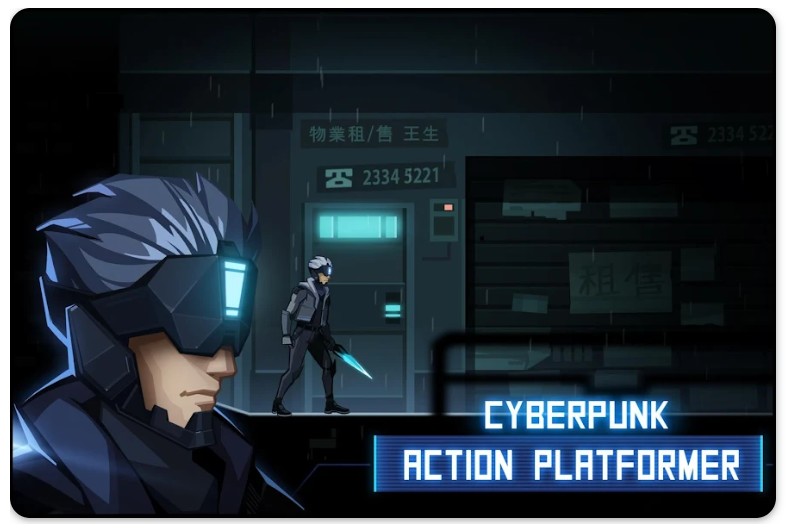 Modern Combat 5: mobile FPS
Modern Combat 5 is a first-person shooter game that can give you a unique sense of fight. Downloading this game is a good idea for first-person shooter apps.
The game system is fast-paced and exciting, with many challenging tasks to complete in special locations. The game has both single-player and multiplayer modes, which let you connect with other people or stay alone and enjoy the game by yourself.
Also, the design of Modern Combat 5 is great, with great textures and stunning visuals. The scene sounds and music add to the immersive experience, making players feel like they're in the middle of a real battlefield.
Though the game is enjoyable, there are some drawbacks too. For example, periodic freezes and bugs.
By the way, users may face the in-app buys required to unlock certain features, which can be costly for some players.
Advantages:
Popular and widely downloaded.
Fast-paced and exciting gameplay.
Impressive graphics and sound effects.
Drawbacks:
Occasional glitches and bugs.
In-app purchases are required for certain features.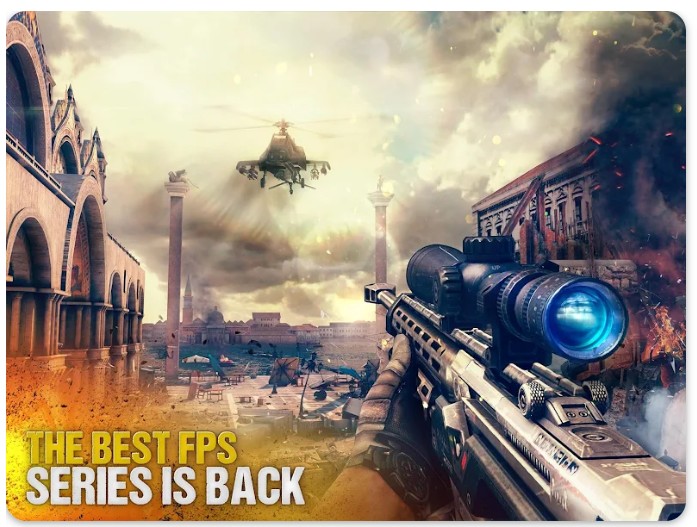 Overdrive 2: Shadow Battle
This game will become a favorite for anyone who enjoys fighting games and is looking for a fun and engaging experience.
Firstly, the gameplay nuances of Shadow Battle: Overdrive Legend are quite intriguing. The game is set in a 2D world where players control a character and battle against various enemies.
Shadow Battle has different modes, such as Story mode, Arcade mode, and Survival mode, to keep the players engaged. The controls are easy to understand, and the game has a tutorial mode for new players.
One of the standout features of this game is the graphics. The graphics are impressive, with detailed character models and smooth animations.
You can notice that this game has a unique art style that is sure to appeal to anime and manga fans. The backgrounds are also well-designed, and the music is catchy, adding to the overall experience of the game.
On the other side, it can be quite complicated to play this game for new players. The enemies can be very difficult to defeat, and the game doesn't provide enough resources to upgrade your character's abilities.
Secondly, the game has a lot of ads, which can be frustrating at times. Although ads can be removed by paying a small fee, it can still be annoying for players who don't want to spend money.
Advantages:
Impressive graphics with detailed character models and smooth animations.
Different modes to keep players engaged.
Easy-to-understand controls.
Drawbacks:
Can be challenging for new players.
Excessive ads can be annoying.
Some balance issues were reported by players.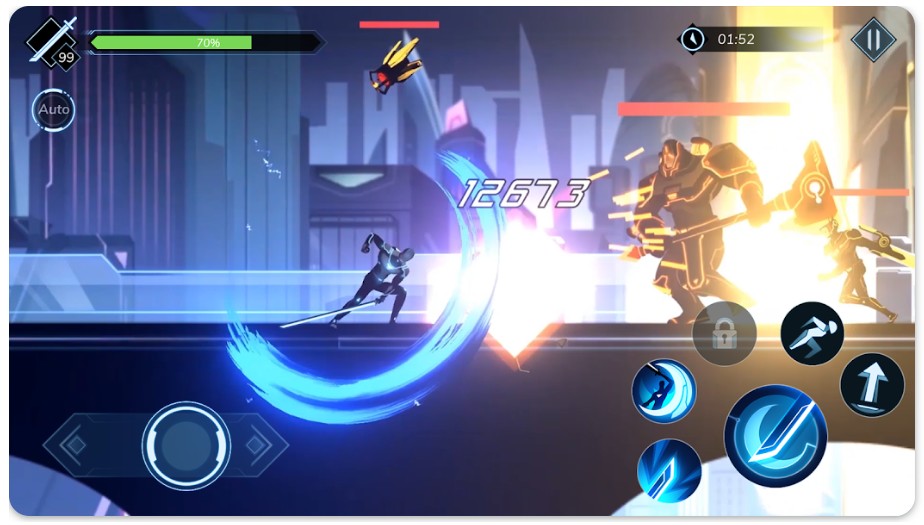 Cyber Fighters: Stickman Shadow
Cyber Fighters: Stickman Shadow is an action-packed game that can become your addition very soon.
You have a chance to experience striking gameplay, with various levels to play through. Players get to control a stickman ninja and take on various enemies with different fighting styles.
There are multiple moves and combos that players can use to take down their enemies. This way the game system becomes even more challenging.
Though the design is not the most pleasing but is is quite great. The game has a dark, shadowy atmosphere that sets the mood for the game. The environments and levels are amazing, and the characters are well-animated.
However, the graphics can be enhanced, as they sometimes appear pixelated and outdated.
Unfortunately, this game only has a few characters to choose from, and there is no option to change their appearance or upgrade their weapons. The lack of customization can make the game feel repetitive after playing for a while.
Overall, Cyber Fighters: Stickman Shadow is a fun and exciting game. It is worth playing if you enjoy action-packed mobile games, but it may not be for everyone.
The game has a lot to offer, with its engaging gameplay and challenging levels. However, it does have its flaws, such as the lack of customization options and outdated graphics.
Nonetheless, it is a fun game that is worth playing if you are a fan of action-packed mobile games.
Advantages:
Exciting and challenging gameplay.
Ability to switch between characters.
Multiple levels and enemies to fight.
Drawbacks:
Outdated graphics.
Lack of customization options.
Some users have reported issues with crashing or freezing.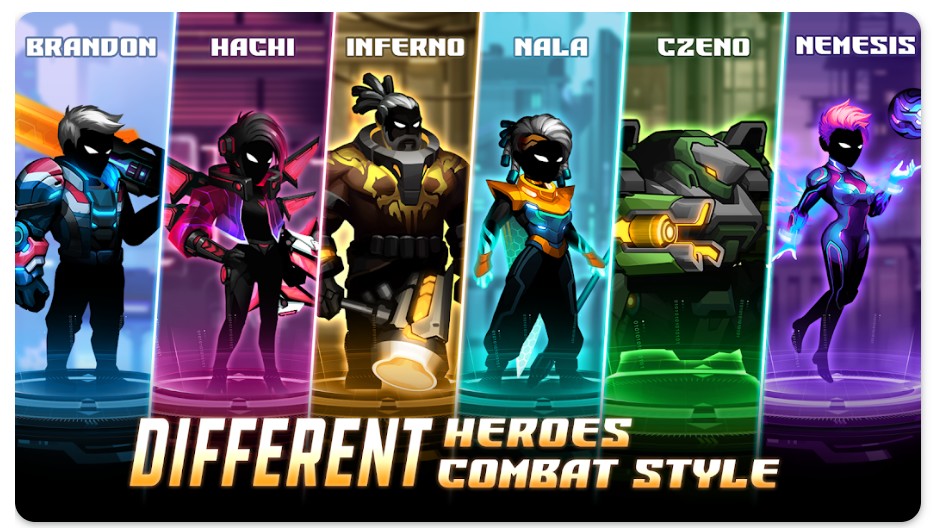 You may also like: 11 Best Games Like Fallout for PC, Android, iOS
Alien Zone Raid
Alien Zone Raid is a fun and challenging mobile game that is worth playing if you enjoy top-down shooters and retro aesthetics.
Gameplay-wise, Alien Zone Raid is a top-down shooter that puts players in the shoes of a space marine tasked with clearing out an infestation of alien monsters.
The game has multiple levels, each with its unique set of enemies, bosses, and obstacles. Players can choose between different weapons and upgrades to aid them in their mission.
While the early levels are relatively easy, the difficulty ramps up quickly, and players will find themselves facing waves of enemies that require quick reflexes and strategic use of weapons and upgrades.
For some people, it can seem rather challenging, while others will enjoy the intensity and sense of accomplishment that comes with beating a tough level.
As for the graphics, Alien Zone Raid has a retro aesthetic that is reminiscent of classic arcade games. While the graphics might not be as detailed or polished as some modern mobile games, they still have a certain charm that makes the game stand out.
However, some players might find the graphics too simplistic or outdated.
Also, it can be annoying for some users that the game has in-app purchases. Though it is free to play, it features ads that pop up between levels or after a player dies.
Advantages:
Challenging gameplay.
Retro aesthetic.
Multiple levels and upgrades.
Drawbacks:
Frequent ads.
The difficulty level may frustrate some players.