Want to add some serious cool factor to your snaps? Well, you're in luck!
We've put together the top smoke effect apps for Android & iOS you could try. These apps let you experiment with diverse effects and play with photo layering.
Whether you're going for a mystical or edgy vibe, these apps cover an array of options that will blow your mind, figuratively speaking. From colorful smoke streams to eerie misty ones, these apps have it all. You can get creative and add a touch of drama to your pics, or just have fun experimenting with FX. Let's dive in!
LD Photo Editor
This app is here to bring your game to the next level! Say goodbye to basic filters and hello to a world of stunning cinematic overlays that'll make your pics stand out from the pack.
The FX lib is truly the star of the show here, offering a dazzling array of options that are sure to tickle your creative fancy. For starters, light volume is a game-changer, letting you adjust light rays with dynamic sources and atmospheric textures that'll add a touch of magic to even the most mundane shots.
But that's just the tip of the iceberg. Hits will have you feeling like a Hollywood cinematographer with its easy-to-use lens flare options. And natural elements take your landscapes to new heights with organic rain, snow, and fog FX that'll have you feeling like you're in the midst of a blockbuster movie.
And let's not forget about the overlays, too. These cover iconic glass textures and unique foreground elements that'll elegantly frame your shots and add a touch of sophistication. It's like having an art director on standby at all times!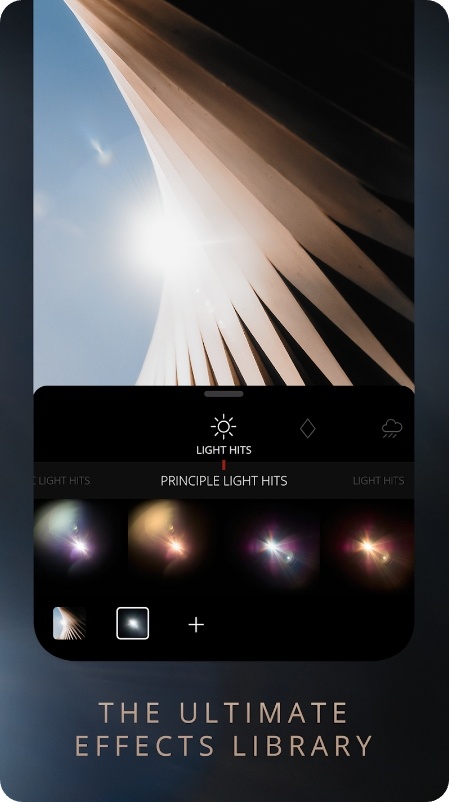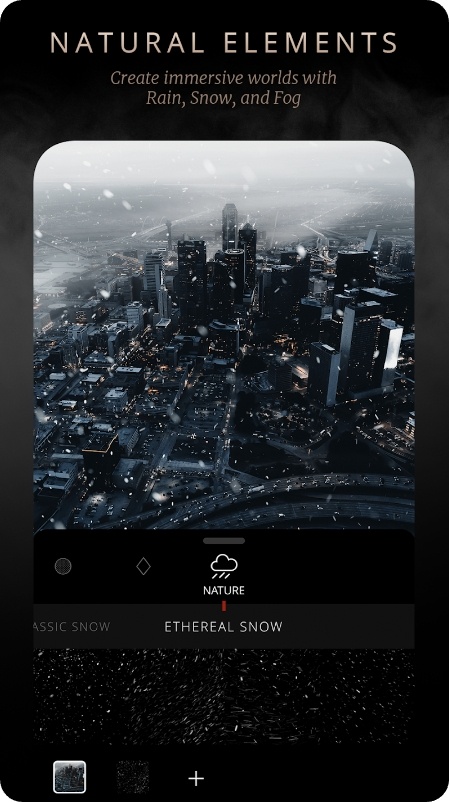 You may also like: 5 Best Sparkle Effect Apps
Shot FX
This smart editor is ideal for adding that extra oomph to your visual content, and trust us, it covers all the bases.
Let's start with the FX templates. If you're feeling fiery or electric, the has got a template for you. And if you're feeling extra creative, you can even edit the FX to your liking! Adjust the size of the magic ball or flip the fire in hand – the possibilities are endless. The smoke FX is covered too, and there are quite a few options here.
But it's not just about the vids. The app covers GIF and boomerang tools that will add some serious pizzazz to your daily chats. With over, 2800 unique live face stickers and a makeup cam that lets you play around with lipstick shades and contouring options, you'll be the envy of all your pals.
And we can't forget about the real-time FX that will solve all your creative issues right away. From glitter filters to natural themes, the app has smth for everyone. The app is free, and the ads are fully bearable.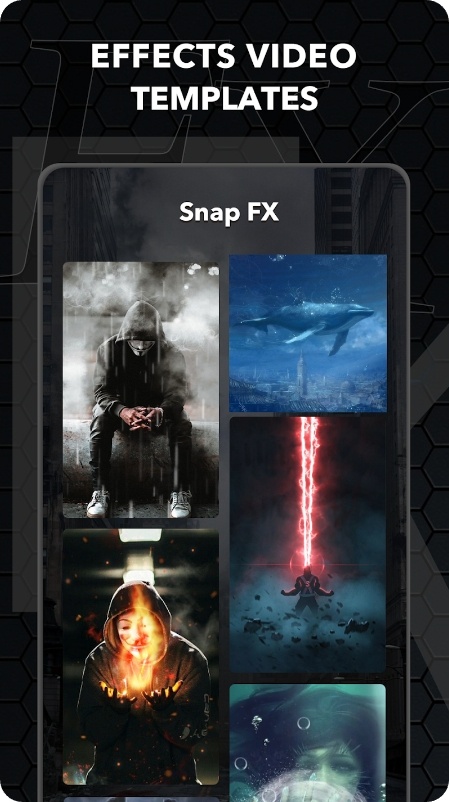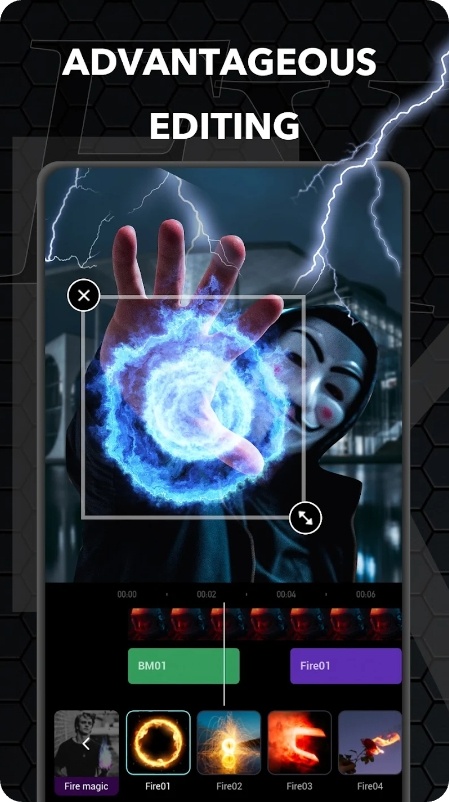 Smoke Effect Photo Editor
Want to impress your pals with some smokin' hot pics? This app can help! It is ideal for anyone who wants to add a touch of coolness to their snaps. With a variety of FX to pick from, you'll never run out of ways to make your pics stand out.
Using the app is easy and intuitive. Simply pick a snap from your cam toll or take a new one, and then select the smoke you want to use. From there, you can adjust the size of the FX, and add filters, stickers, text, and emojis. Whatever comes to your mind, really.
One of the top things about this app is how realistic the smoke looks. If you want to create the illusion of a giant cloud of smoke or a subtle, wispy trail, this app lets you do that. You can also switch the placement of the FX to be sure the snaps will look exactly how you want them to.
But the app isn't just about FX-, it's also about having fun and letting your imagination run wild. And with easy sharing options, you can show off your cool new snaps to all your pals on IG.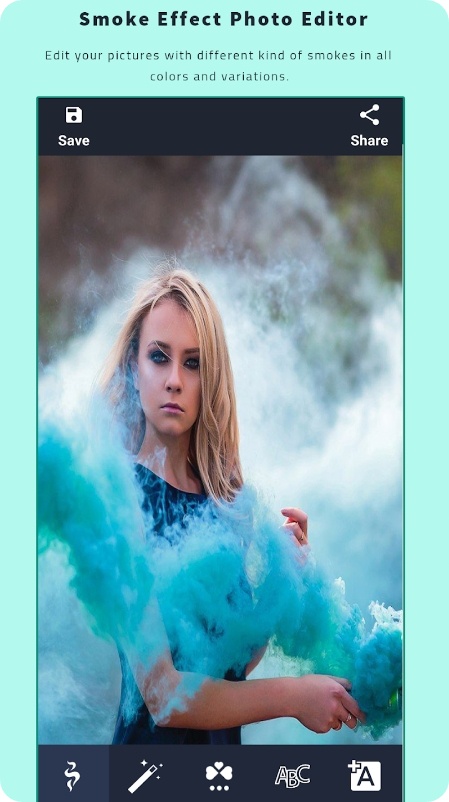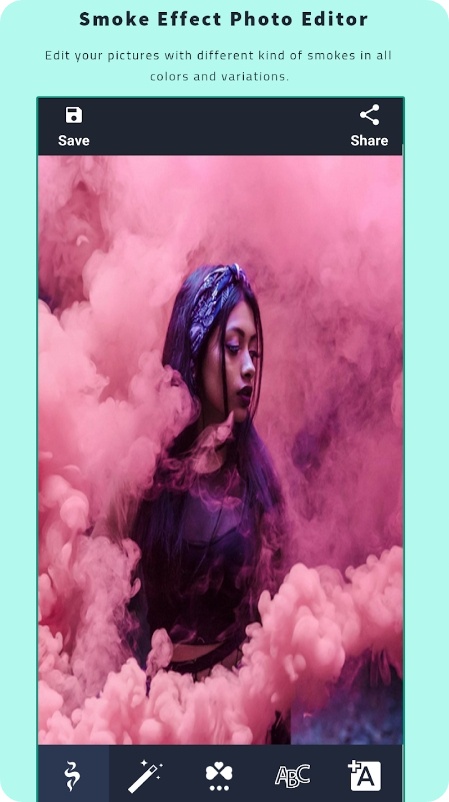 Smoke Name Art
Need for a smoking-hot way to make your name stand out? This app boasts over 50 bgs and an impressive array of smoking FX!
Whether you're an aspiring artist or just want to add some flair to your IG feed, this app has everything you need to make your name pop. With its selection of stylish fonts and unique heart emojis, you'll be sure to find the ideal way to express yourself.
You can also add stickers to your pics for an even more personalized touch. With the ability to zoom and rotate these stickers, you'll have endless creative possibilities at your fingertips.
And the best part? You can save your shots on your SD card and share them with your pals. So whether you're looking to spice up your personal brand or just add some pizzazz to your posts, this is the app for you. As for the UI, this app is a no-brainer. Everything is simple to navigate, and the ads are not too annoying.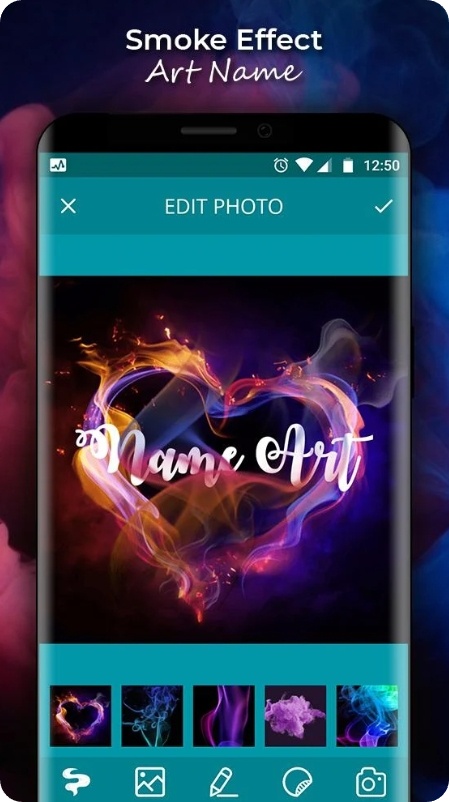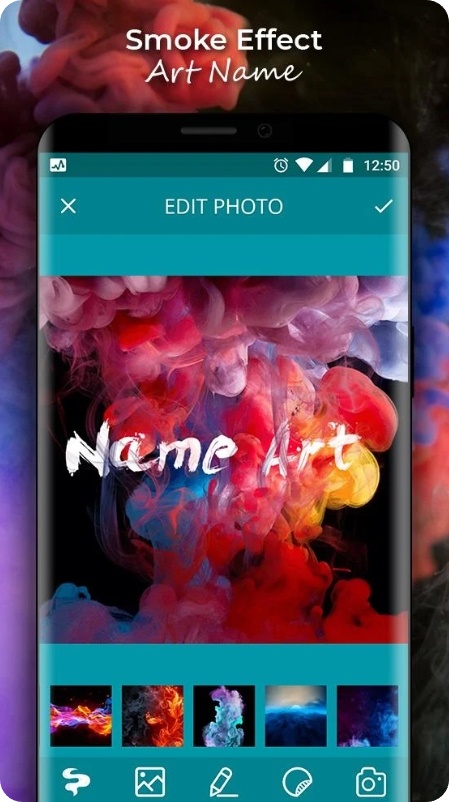 Mextures Photo Editor
If you're the kind of person who appreciates the aesthetic aspect of apps, this one is right up your alley. This editor in particular is fast, easy, and versatile at the same time – what else could you ask for?
It covers over 150 textures to try, including a bunch of smoke ones. You'll get to regulate the transparency, too, so whatever the vibes are, the app lets you get the job done. In fact, there are 12 blending modes and a virtually infinite number of layers, you can get stunning FX in secs.
But it isn't just about presets and filters – it also covers a suite of pro-grade editing tools. You can also adjust your pics with all the basic tools aka brightness and shadow control if needed. And if you're seeking that authentic film look, check out the 30 film presets that emulate popular film stocks.
But perhaps the best aspect of this one is its formula workflow. It lets you save edits for further use and share them if needed. With the new manager, you can import formulas from other users and share your own snaps with a simple code.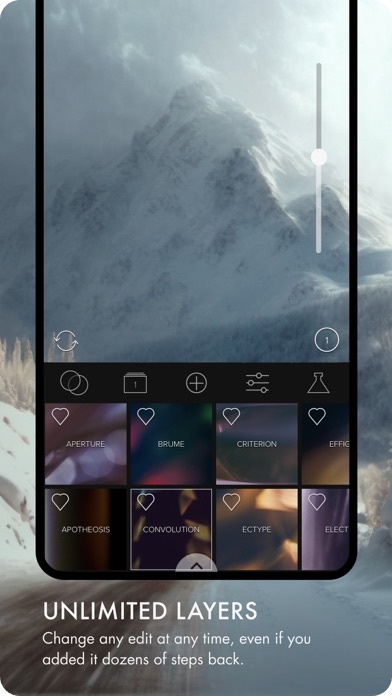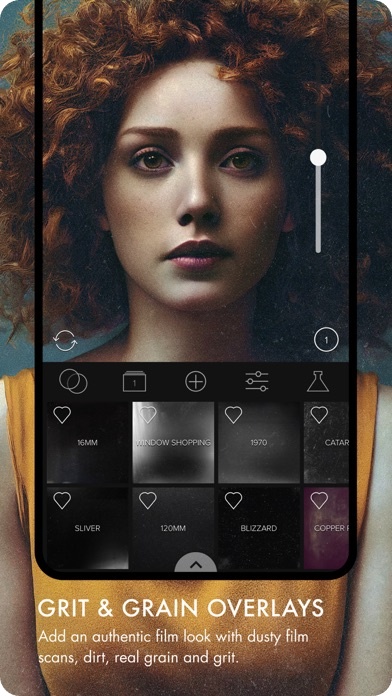 Check also: 8 Best Apps to Animate Still Photos
Smoke Effect Picture Art
Want to sprinkle some magic on your pics? Don't get past this app, then! This app is on fire with over 100 intriguing smoke FX to pick from, ensuring your snap is a standout star.
Not sure which one to pick? No sweat! With the power to scale and rotate, finding the ideal fit for your pic is a breeze. And if you want to make it truly tailored, the app has got your back. Add your name or a snappy caption and let it float right on top of that smoky goodness.
But here's the kicker – you can crop out the unnecessary bits with one cool move. Focus solely on the subject and let the smoke take center stage in no time.
And let's not forget about spreading the love for your masterpiece. The app makes it easy to post it on IG or slap it on your wallpaper like a boss. It's a handy tool to add some flair and pizzazz to your pics, no internet connection is required. The UI is beyond simple, you'll quickly figure it out.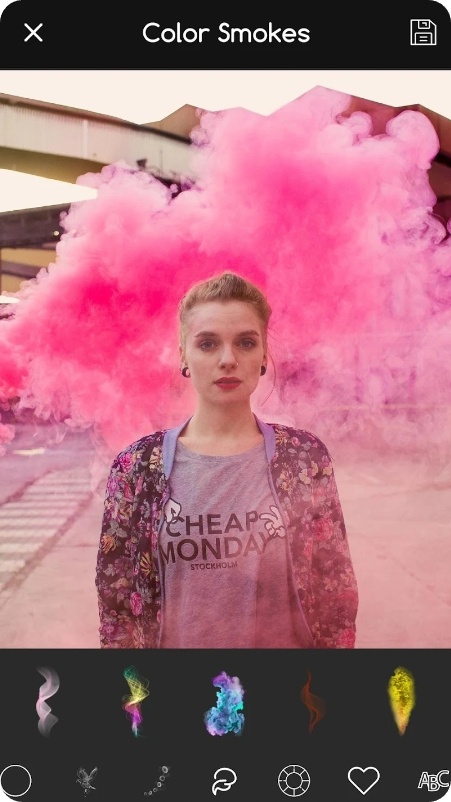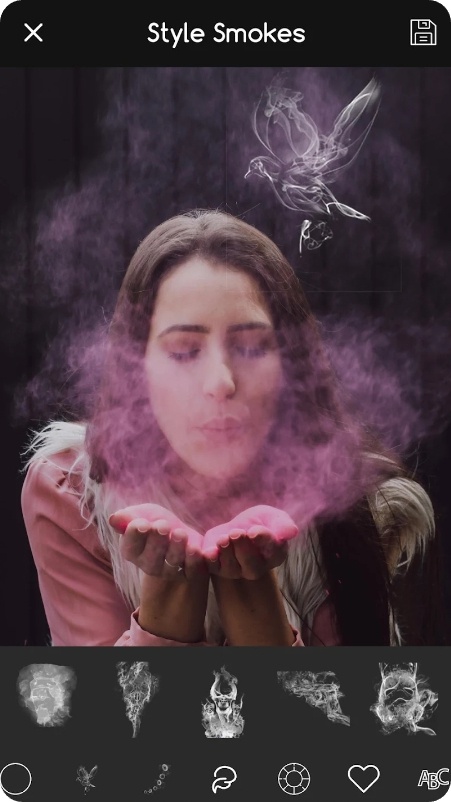 Smoke Effect Photo Editor
In the mood to give your pics an extra kick? Say no more! Introducing this app, where ordinary pics turn into smokin' masterpieces that'll leave your pals and subs in awe.
Here's the deal: this app has an insane range of smoke FX. If you're going for wispy and ethereal or bold and dramatic, it has got your back. And get this: You can even adjust the size with zoom tools, so it's ideal for your pic.
But don't stop there! The app also covers a scope of FX and filters, so you can really make your pics pop. Add stickers, texts, and emojis to make your snaps even more expressive and personal. The possibilities are endless!
One thing we really appreciate about this app is how easy it is to use. If you're an experienced editor or a complete newbie, you'll be able to make amazing snaps. And once you're finished, you can save those and send them to your pals right away. The quality won't be ruined, and there won't be any watermarks.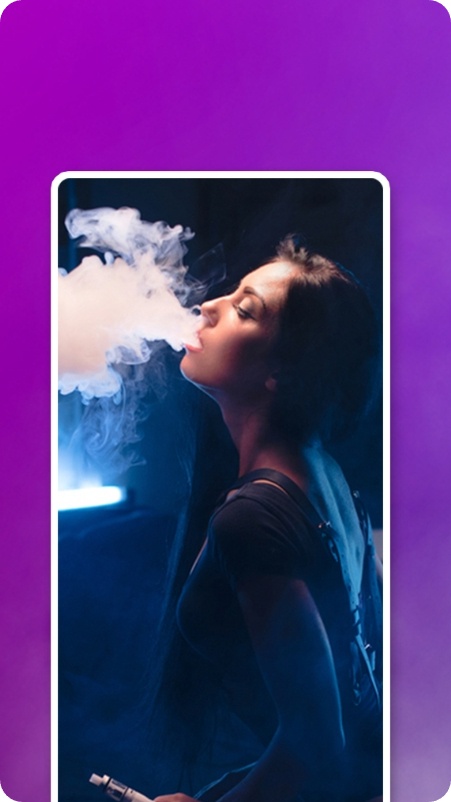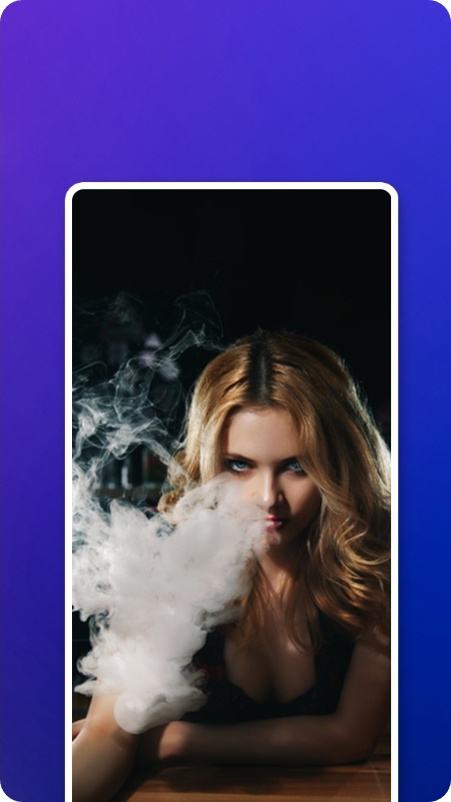 PhotoJus
If you're someone who wants to jazz up their pics with some seriously impressive smoky FX, then boy do we have a treat for you! This app is the real deal when it comes to effortless and stunning transformative FX.
Firstly, let's talk about the instant one-click FX you can do here. It's so easy, even your grandma could use it! Seriously, no adding layers or complicated editing involved: just pick a snap and let the app do all the hard work for you.
But the fun doesn't stop there, folks. With the app's live FX, you can easily adjust your cam before you even shoot and get the ideal smoky effect you're after.
Now, we all know that sometimes accidents happen, and maybe you don't want that rogue smoke all over your beautiful face. With this app, there's no need to worry! The editor lets you easily remove any unwanted smoke, making sure your gorgeous features remain front and center.
Sharing your creations is a breeze with this app, too. All it takes is one tap, and you can watch as the likes start pouring in. And get this – no internet connection is required for anything.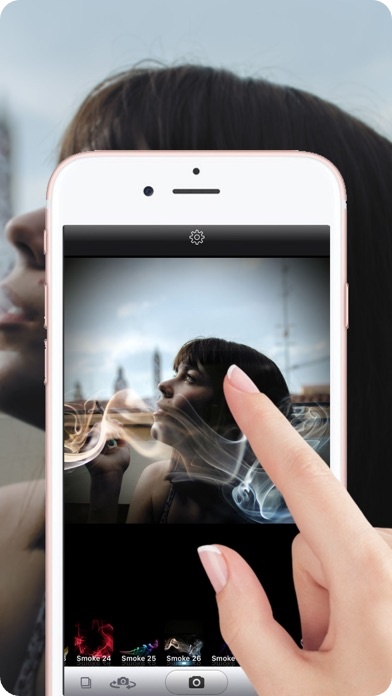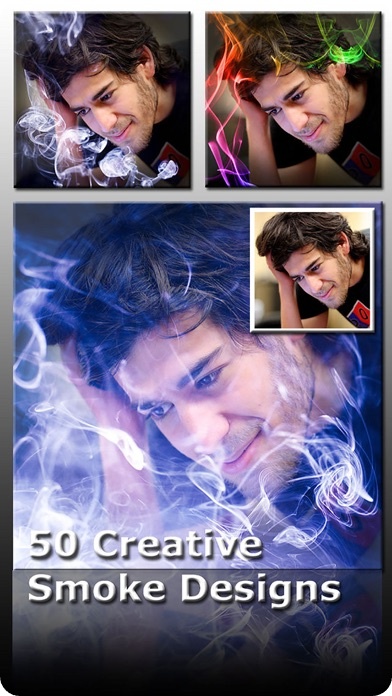 Smoke Effects Photo Editor Art
Are you tired of plain and boring graphics? This app lets you take that to the next lvl. It covers a plethora of HQ smoke FX, fonts, bgs, stickers, and frames that will revolutionize your snaps.
Not only can you make cool cards, posters, and logos with ease, but you can also adorn your phone with stunning 3D smoky wallpapers. The app even lets you pick between a variety of textures and bgs, ensuring that your artwork will be one-of-a-kind.
But what sets this app apart is its smoke typography tool. The stunning blend of typography and FX will make your name art stand out, leaving a lasting impression on anyone who sees it.
Overall, this app is a must-have for anyone who wants to elevate their artwork to new heights. With its friendly UI, vast scope of tools, and premium FX, this app is sure to delight both amateur and pro artists alike. So why settle for mediocrity when you can use this app to make masterpieces? Give it a try!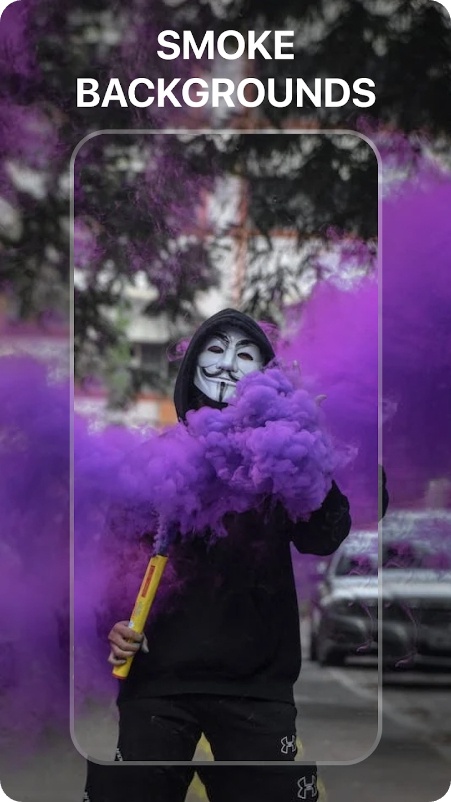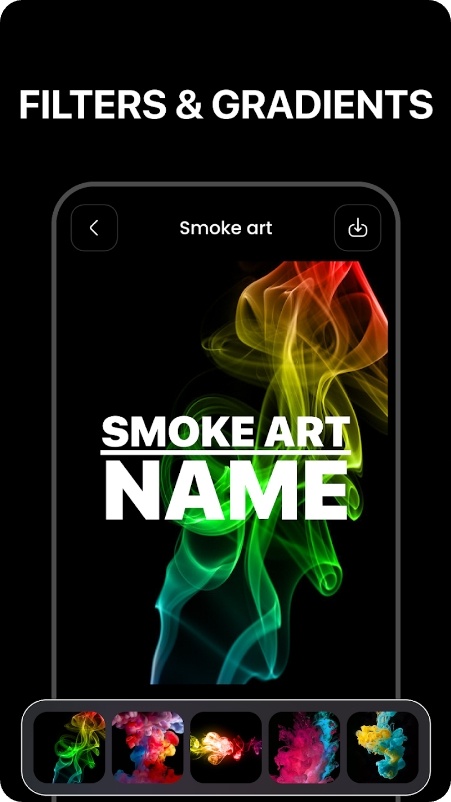 You may also check: 7 Best AI Photo Enhancer Apps
Smoke Effect
If you're someone who loves to indulge in smoking but also values health, then this is an ideal app for you. With this one, you can add realistic smoke FX to your snaps while avoiding the harmful consequences of actual smoking.
The app covers a vast scope of FX to pick from, including simple, 3D, artistic, colored, and even rainbow ones! This app covers over 40 styles of FX that are sure to impress even the most discerning smoking enthusiast.
Above that, this app comes packed with a scope of tools, including the option to adjust the size of the FX according to your face shape. You can also crop out unwanted portions and even add funny stickers, text, and emoticons.
The app is also easy to use, with options to flip and spin your pics to properly fit the smoke onto your face. You can make stunning new pics to share with your pals and family with one tap. There are also themed filters if you need a quick edit on the go. Plus, you can use the app without a web connection for added convenience.