Similar Worlds is a cool website for people who love to communicate. Share fascinating stories with the community. Don't forget to immerse yourself in stories from the lives of people from all over the world.
Moreover, the Similar Worlds website brings people closer together. You will be able to send your responses to stories, support narrators, and share your opinions.
Agree that the most convenient way to communicate is through apps. Unfortunately, Similar Worlds do not have their app.
We have come out of this situation and select the top of 11 Similar Worlds alternatives apps especially for you. Each application has its pros and cons. Choose the one you like the best.
You may also like: 11 Best Apps Like Bitmoji for Android & iOS
Reddit
Like the Similar Worlds, Reddit is a place of general discussion and endless conversation. In short, this is a huge community where everyone will find a conversation partner. The most heated conversations are here.
Plus, you can create mini communities based on interests. Do you like to take care of plants? Find the same people. Do you love comics? Thousands of comic book lovers are waiting for you.
The app has over 150 million communities. Moreover, every day there are more of them. You can be anyone and feel like you are. Reddit is also a place to relax and have fun.
And in fact, open the news feed and read memes, watch short videos and GIFs. By the way, the app has one of the largest collections of videos with cats. Discuss important issues in the comments and share your opinion.
You can ask for advice and even the best apple pie recipe at any time. Communicate with your community using live streams or chats. You will always be in touch.
The most interesting feature of the app is its anonymity. It doesn't matter who you are or where you are from. This makes Reddit one of the best alternatives to the Similar Worlds.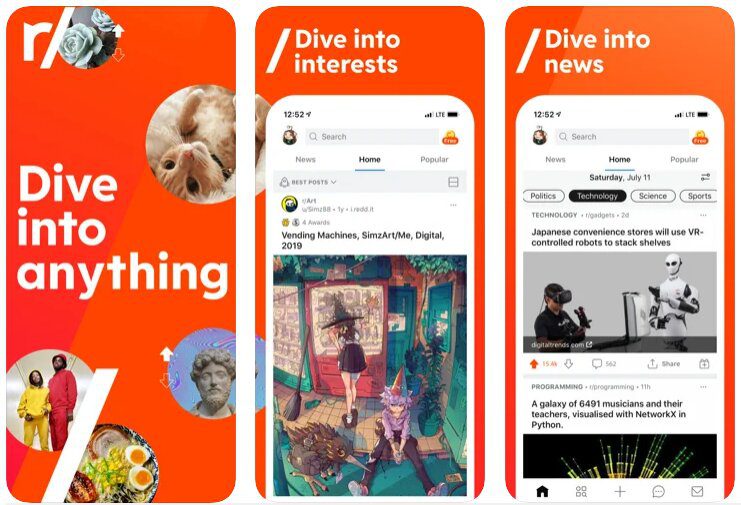 You may also like: Moon+ Reader App Review
ColdCast
Let's move on to the next app – ColdCast. It has many interesting points. First, the developers do not censor the posts of the community members. You can write whatever you want, but please be reasonable.
Secondly, the app is reliably protected, so you can forget about information leakage or theft. Third, the developers do not store your data after you delete your account. If you no longer want to use ColdCast, then you can instantly delete the page.
What can you do in the app? Share posts with your thoughts. Share photos and also publish your articles. It doesn't matter what topic you are interested in. ColdCast is a place for general discussion and acquaintance.
And the best part is that the weight of the app is only 1.8MB. It has no negative reviews.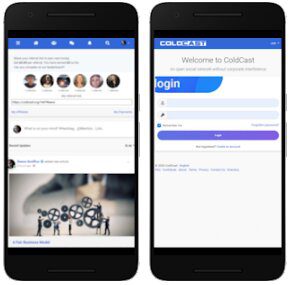 Kaana Platform
This app is a kind of small world of openness and expression. Moreover, you can become anyone there. Take off all masks and start breathing deeply. You will not get bans for your opinion.
In addition, the app encourages freedom of speech and thought. Kaana will give you access to any source of information. You will not be left out.
Thousands of informative and educational videos are waiting for you. In the same vein, you can get the opportunity to become famous. Promote your business or philosophical thoughts.
Everyone has great opportunities. In addition, Kaana does not impose its opinion. You can belong to any group of people. Join communities and discuss common topics and issues.
A small drawback of the app is the limited memory for storing information on the account. The developers specially created the Cloud for data storage. It is well protected.
Plus, the app will give you 3 hours of free tech support per week. If numbers are important to you, then track your account statistics. Kaana is an app that will leave a bright mark on your memory.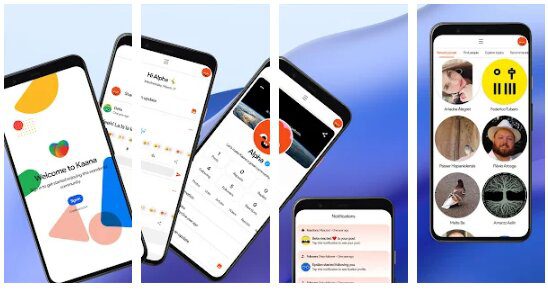 Discussions.app – Social Forum
Would you like to find a community app where you can earn money? Here it is! Fortunately, it has content monetization. For example, the users with the best posts receive special points.
They affect monetization. Moreover, the app has a reputation system. Follow the community guidelines and you will be fine. Let's take a look at registering in the app.
There are several ways. The first is the simplest. This is a social media login. The second method takes a little more time, but you will have a full-fledged account. t will not be tied to anything. Fill in name, age, and email.
Frankly speaking, important problems of humanity are discussed there. Moreover, you can become part of the discussion and even change the course of the dispute. Plus, meet new people from all over the world. It's great to have friends with the same interests. Thumbs up any posts you like.
In conclusion, if you want to publish the post, then add a picture to get more attention. The average app rating in the play markets is 4.9 stars.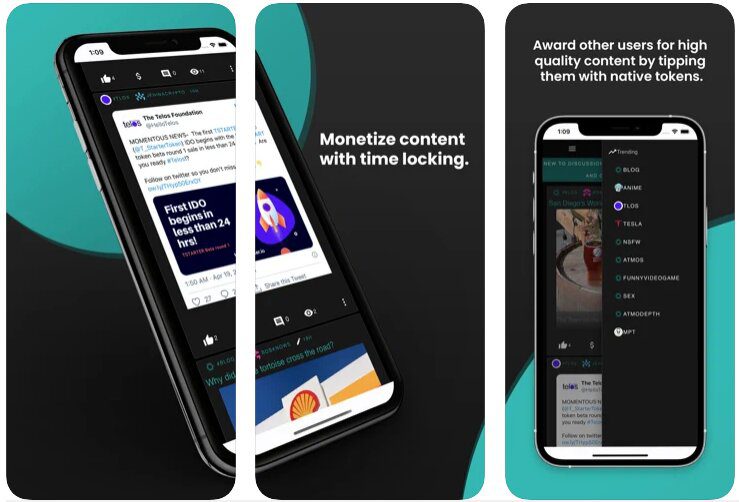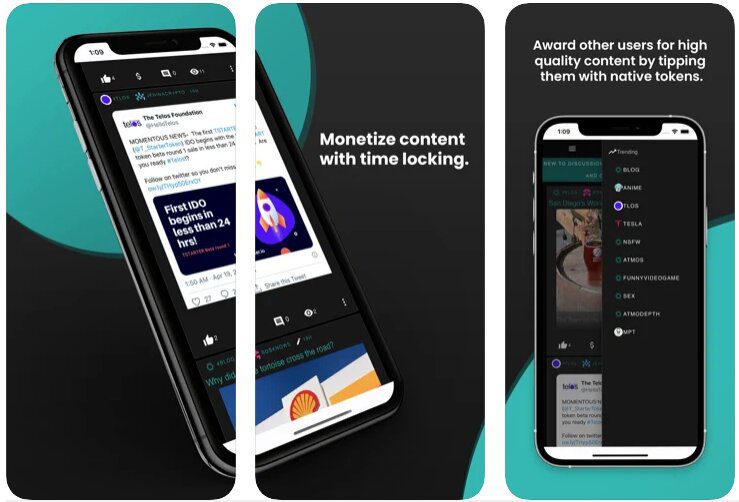 TapeReal: Watch, Listen, Earn
Along with the previous app, communication and freedom of opinion are valued here. Read, watch or listen to your favorite topics.
In short, it is a huge collection of real-life moments. There is no deception here. All moments are published by real people. Moreover, you can become one of them.
Publishing content is very easy and fast. Add files from the gallery or record live video. Now let's move on to the special features. You don't need to buy a premium account for the app, so you can create premium pages yourself.
Add content and information to the premium page. Set a price for access to your valuable data. It's also a good way to make money. Another thing that makes this app cool is new creator support.
Get coins that you can spend on promoting your profile. In short, this app is a great alternative to the Similar Worlds. What else can make this app cool? Lack of ads!
Believe it or not, but you won't have to waste time watching the ads. In addition, the app does not have insidious algorithms that steal your information for the selection of ads.
Enjoy communication, opinions, and disputes.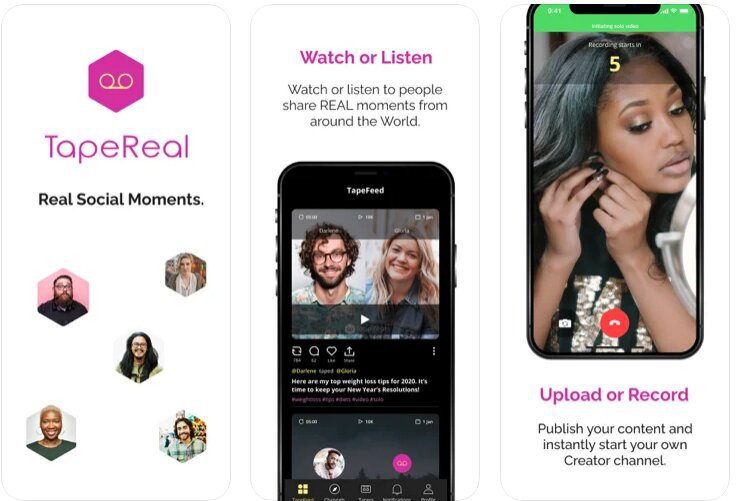 You may also like: 11 Best Gender Swap Apps for Android & iOS
KARMA | Social Media For Good
Agree that it's always nice to read unique content. You can learn a lot of new and interesting things, as well as look at the situation with different eyes. Karma app will help you become a part of the free community.
At first glance, the design of the app is somewhat similar to Instagram. You will have your profile where you can upload photos and videos. Don't forget to write a few words or a whole essay in the post.
To be more precise, this will help you and your readers find a connection. Unlike Similar Worlds, this app is a full-fledged social network in its modern sense.
Subscribe to interesting accounts and also follow the growth of your subscribers. The more subscribers the more popular your page is. Moreover, a large number of subscribers will help you become more popular.
By the way, the app has a monetary system. Donate to your favorite accounts or support budding creators. Karma will give you positive vibes and unite with thousands of people.
This app has over 100 thousand members. Thus, it will not be difficult to find friends with the same interests.
We would like to warn you that sometimes the app has problems with registration. If you encounter such a problem, then contact technical support. They will explain to you what to do in this case.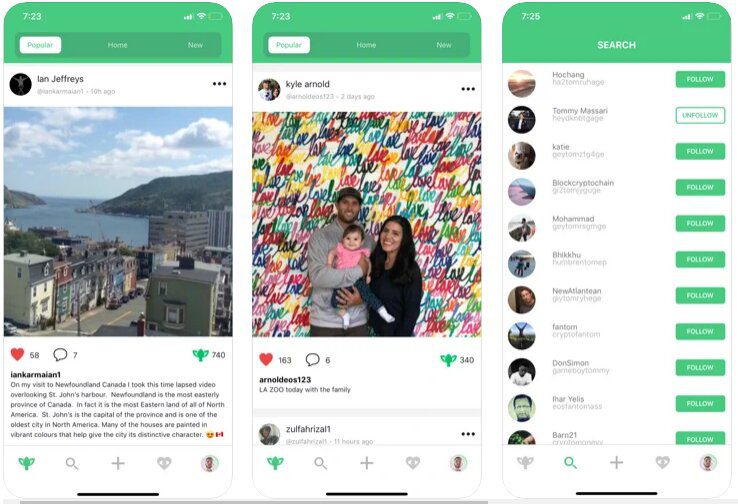 Seahart – Private Social Media (Early Access)
The next app on our list will help you keep in touch with your friends and family. One of the interesting features is the accurate indication of the location of your friends.
Open your buddy's page and see which city he or she is in. Track the activity of your acquaintances. This will help you always be aware of what is happening. A small addition, the app reliably protects personal data, so you can disable the display of your location.
Add location tags or create them yourself. Another thing that makes this app outstanding is 12 hour long posts. You will always make sure you know what your friends are doing at the moment.
Publish posts that will be deleted after 12 hours. Moreover, the app has an automatic diary system, where all your posts and statuses will be stored. It's interesting to re-read what you did and what you were fond of a year or two ago.
You will have full control over the friend list. Allows sending messages or viewing your feed. You can block unwanted users or partially restrict their access.
It needs to be said that the chat system of the app is slightly different from the standard. There is a ping for fast communication.
And finally, we would like to note that you can change the theme of the app to dark or light. Moreover, enable the function of automatically changing the theme depending on the time of day.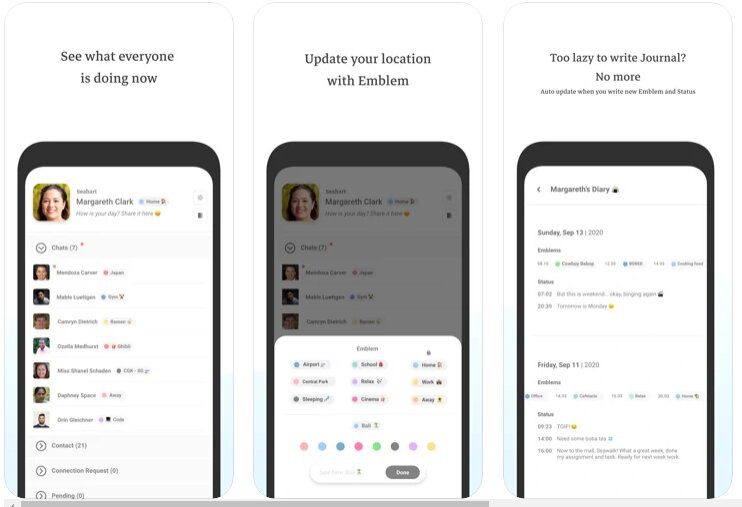 Panion : My Community Builder – Find Communities
How to quickly unite the team? Of course, find common interests. This app will allow you to keep in touch with your colleagues, classmates, or just friends.
Share your opinion and discuss current issues. It needs to be said, the app has tens of thousands of different communities. Become a part of them. Make new friends.
Besides, if you move to another city and do not know anyone there, this app will help you. Find and step into local communities. You can also create a community. The world is full of like-minded people.
Along with that, create events and make the world a better place. Plus, you can also attend any events that are announced in the app. A cat fancier club or a fellowship of auto mechanics? All this you can find in the app.
Moreover, a unique algorithm will find the perfect match for you. Another thing that makes the app interesting is the Interest Search. Enter hobbies or interests in the search bar and the app will find similar people for you. Even the most extravagant hobbies are here.
If you are interested in someone, send your thumbs up. Send messages and make appointments in the real world.
In conclusion, we want to note that the app is constantly updated. All wishes can be sent to technical support. They will consider them.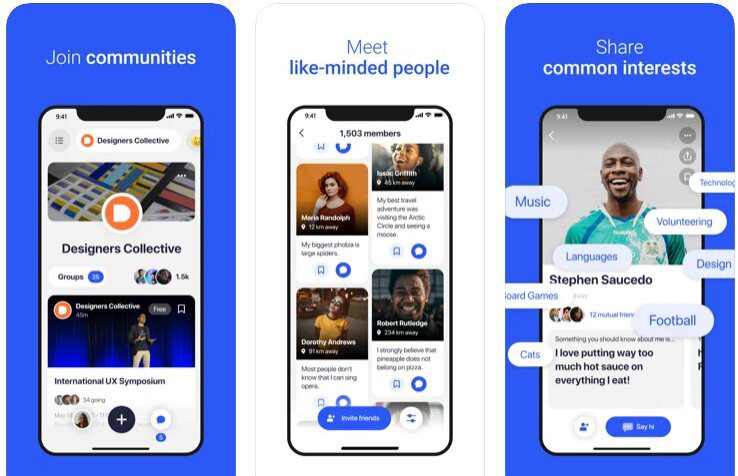 Mageo – More Than a Social Network
What makes this app different from others on our list? This is an online community adventure game. Create avatars and be who you are.
In short, the app is based on users' geographic location as well as social roles. Each user has a reputation and rating. Be polite and sociable and you will become the first on the leaderboard.
This is a whole virtual world that unites. Thousands of adventures await you. Moreover, it's so great to get together with colleagues after work and take over a new planet.
Plus, you will often be in touch with friends and family. At first glance, it might seem like a waste of time. Once you get the hang of the gameplay attitude control system, you won't be able to tear yourself away.
There are many professions here that match your interests. Unlike the Similar Worlds, this app is based on a game process. You will not only improve your communication skills but also relax.
This app also has an educational component. To be more precise you will be able to get together to learn languages, to meet popular scientists and professors.
Register now and start exploring the world of Mageo.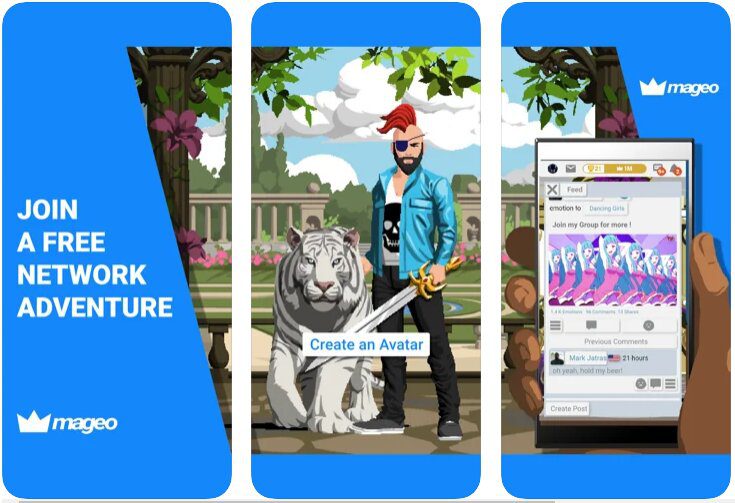 HalloApp
The last app on our list has the simplest set of communication tools. But to be honest, this number of tools is enough for comfortable communication.
What is in this app? These are groups and chats. In the group section, you can group your contacts. For example, start a group of family, coworkers, dog lovers, or even an embroidery club.
In other words, you will always have quick access to these contacts. The chats section will allow you to chat with anyone you want. It needs to be said, the chat system is fully compliant with modern standards.
Send text or voice messages. Use stickers and emojis. Also, share media and audio. It is a simple and safe place to socialize.
Your data is securely protected by triple verification protection. The developers do not save your data. They are convinced that personal boundaries are the primary human right.
Unfortunately, the app has a small problem with deleting accounts. Sometimes, you can't delete your account. The developers are trying to fix this bug.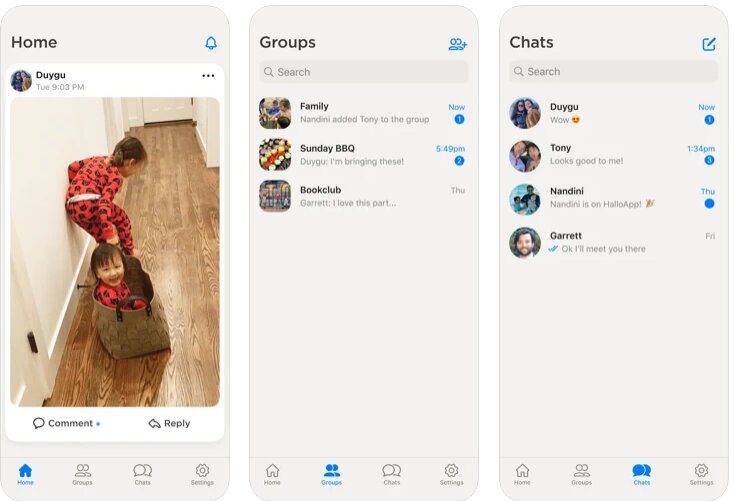 You may also like: 11 Free Fashion Games for Adults (PC, Android, iOS)