If you're a fan of traditional board games, you're in for a treat here!
We've rounded up the best dominoes games for Android, iOS, and Windows you could try. These are the top-rated options that will suit your mood and skill level, and most importantly, keep you entertained.
These let you enjoy a good-old domino puzzle game at any time needed. From classic block dominoes to exciting multiplayer modes, there's smth on this list for everyone. Let's get into it!
Dominoes
It's a classic boarding game with a bunch of modes to keep you entertained. It's for a laid-back game night with mates, as you simply need to match the tiles you have with those already on the board.
And if you're just getting started, this mode is a great way to ease into the game and learn the ropes. But there's also a mode that adds a little more intensity to the game. If you run out of alternatives, you'll have to pass your turn, so the stakes are higher. But don't worry, you can pick an extra domino from the boneyard if needed.
The app will also test your strategy, as you'll need to add up all the ends of the board and score points if they're a multiple of five. But trust us, once you get the hang of it, you'll be hooked.
The app itself is sleek and user-friendly, with a minimalist design that lets the game take center stage. And if you're tired of going against the PC, you can challenge mates online.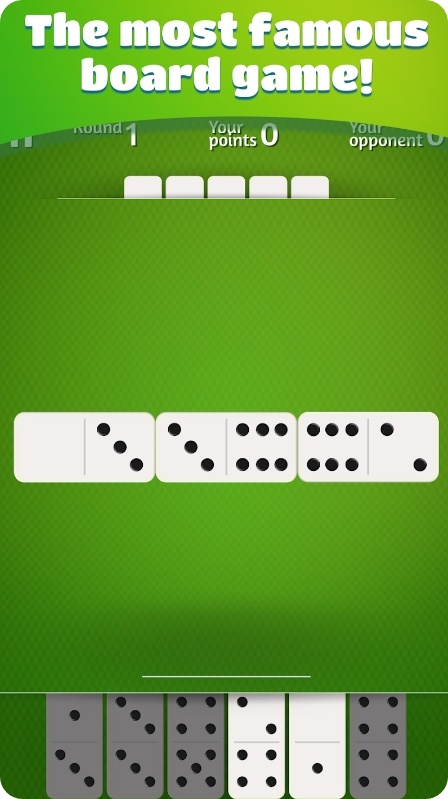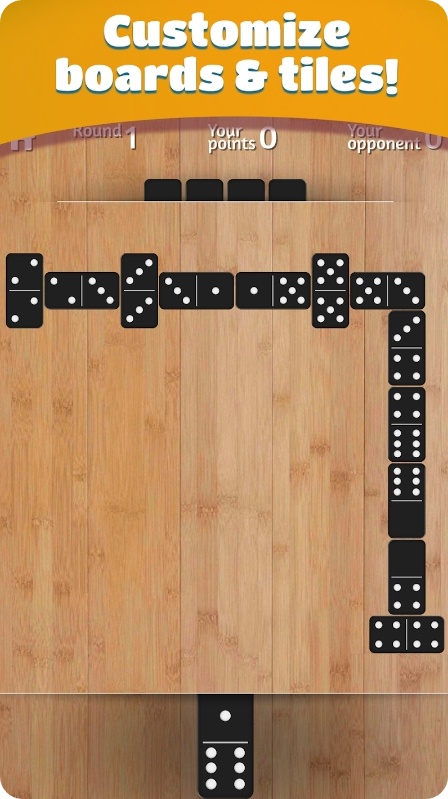 You may also like: 9 Best Quick Reaction Games to Play Online
Domino
This app offers covers one, not two, but SIX classic domino games all in one easy-to-use app! One of the top aspects of this app is the ability to play online with your FB friends or random users. And don't worry if you can't find anyone, a PC opponent knows how to play like a pro.
Plus, it gives detailed stats on your rounds, as well as a leaderboard to showcase the best users. You can also get bonus coins every few hours and pick your fave tiles.
But the fun doesn't stop there – the app has a hint syst to give you an extra edge over your rivals. And if you really want to spice things up, you can send gifts to your contestants or ask your pals for free coins to keep the game going.
And for those who like to chat, the app lets you do that too. Thus, you'll never feel alone while playing.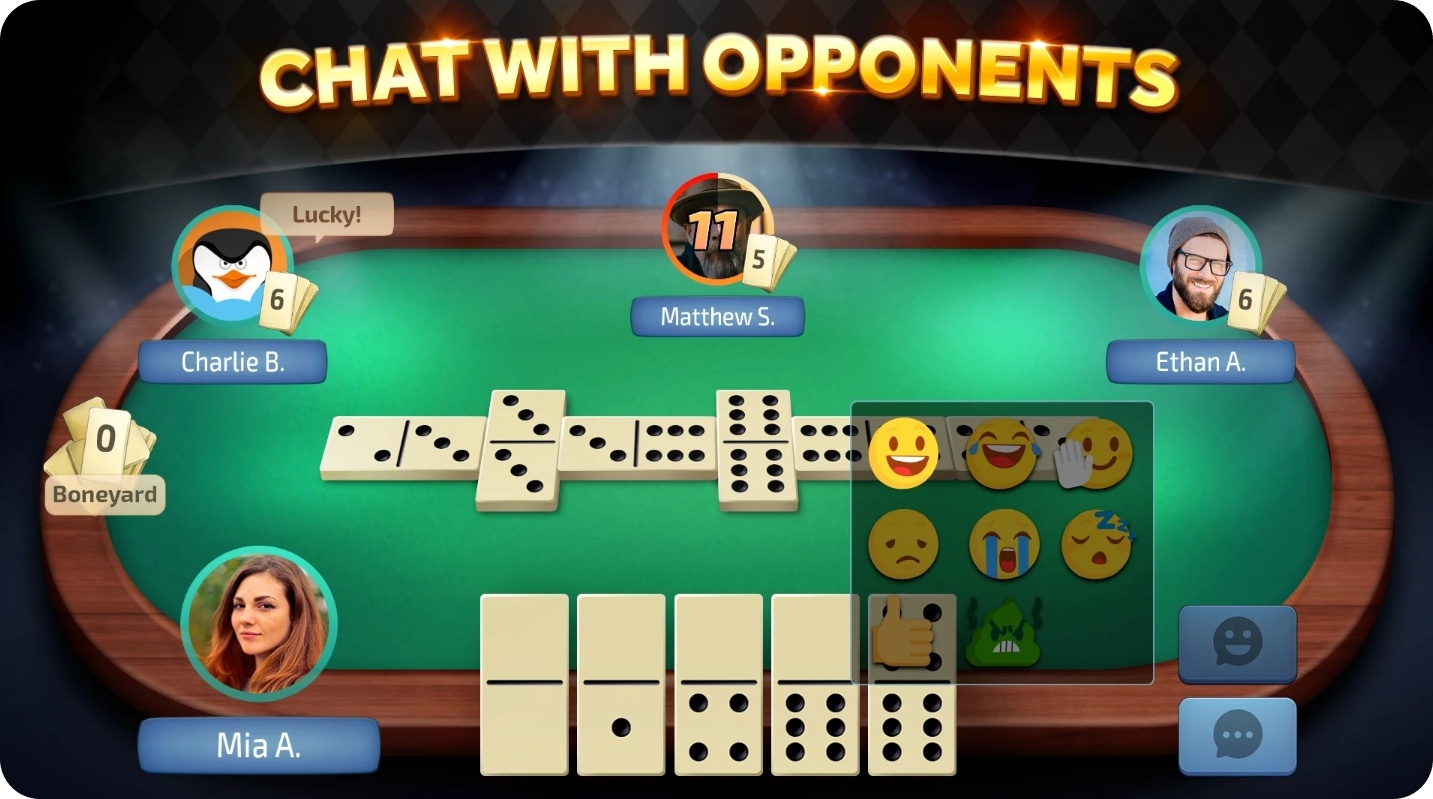 Dominoes Pro
It's an addictive game with tons of lvls and challenges for you to go through. What's great is that you can modify the game to your prefs, whether it be picking the rounds or altering bone skins and table layouts.
Plus, the app has easy-to-use controls and stunning graphics, making it feel like you're playing with the real thing. You can also go against mates or ransom users if needed. There's even a chat, so you can strategize and have fun while putting your skills to the test.
As if that wasn't enough, the app is regularly updated with new stuff and improvements. There's always smth new to try here, so you won't get bored. And don't forget to check out the leaderboards to see how you stack up against another user.
The app comes with HQ graphics and smooth animations to add up to the overall exp. It's also free, so you're not risking anything.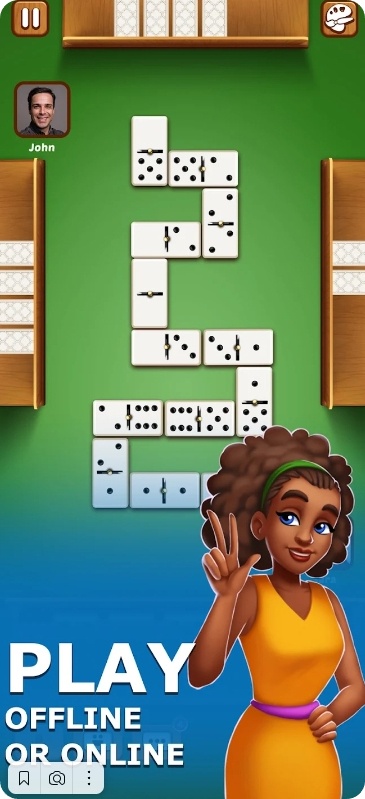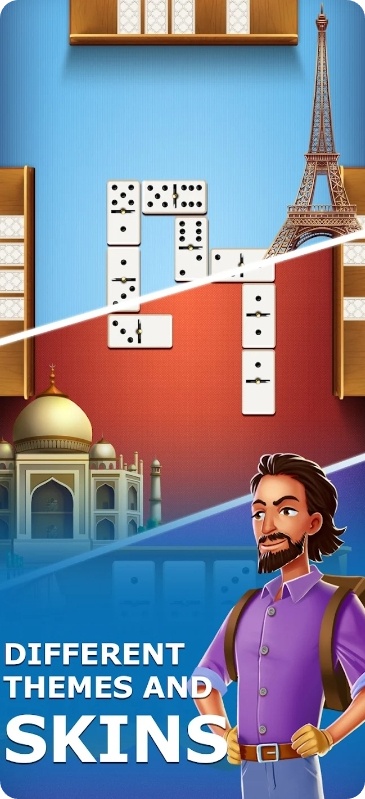 Dominoes: Classic
As you may guess, this app is a traditional version of Domino for mobile. The fact that it offers three variations of dominoes is a major plus in our book. Whether you're in the mood for a relaxing game or a more strategic one, this app has got you covered.
And if you're new to the game, don't worry, the app provides helpful hints to get you up to speed in no time. You'll get to invite other users to play and connect with your pals, too. It's a great way to stay connected while having fun and showing off your skills.
But even if your mates aren't available to play, you can still enjoy engaging matches with random real users who share your love for the game.
And let's not forget the aesthetic appeal of the app. With an array of board themes and tile designs to pick from, you can alter the exp to your liking. It's all in the details, right?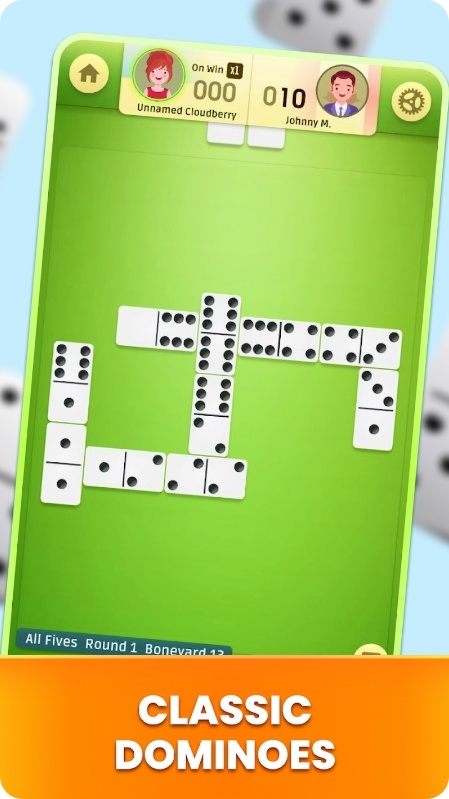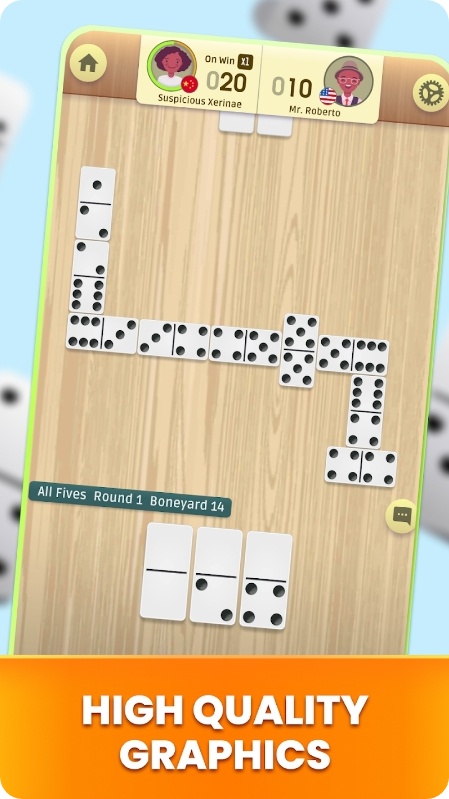 Dominoes Offline
It's a fun and challenging way to test your domino skills. This app covers 3 modes, so there's no lack of variety for sure. And with challenging AI bots, you'll always have a worthy opponent.
But why stop there? Take your skills to the next level with the online mode, where you can go against users from around the world. And with daily and weekly quests, you can earn more gold and enable new features to keep the fun going.
Not online? No problem! The app also offers an offline mode for no-wifi games, so you can play anytime, anywhere.
Pick from diverse themed rooms with varying bet amounts and difficulty lvls to adjust the exp. And did we mention the daily bonus? That's right, log in every day for even more chances to win big. You won't have t spend a dime to enjoy the game.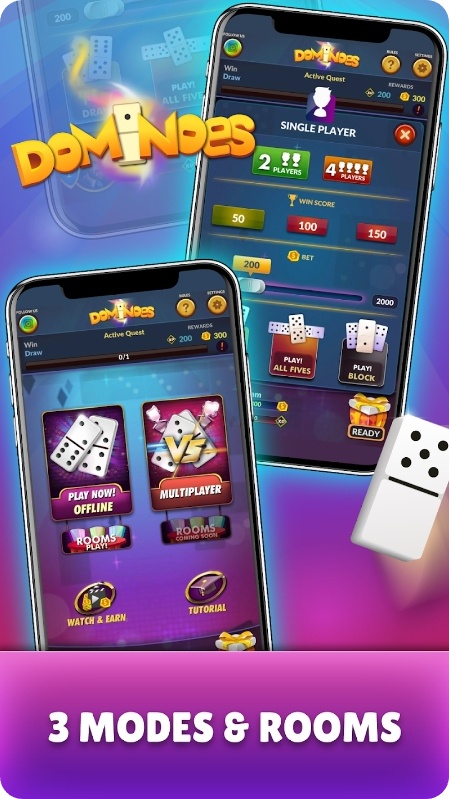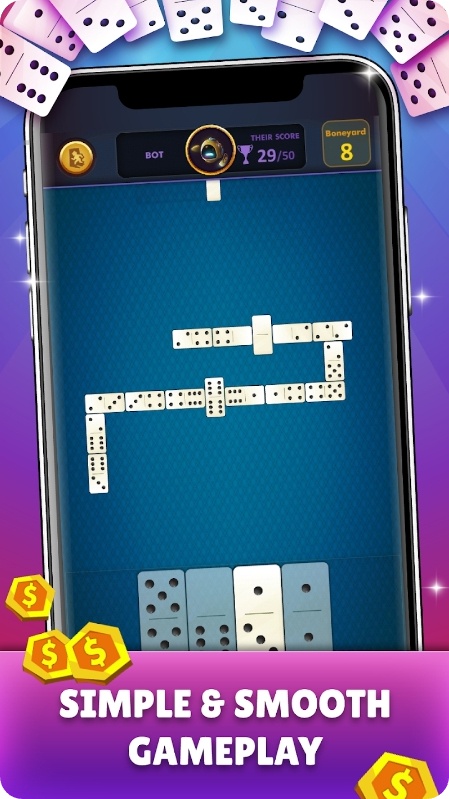 Dominoes Elite
This is a classic domino take that just got a major upgrade. Well, it's no wonder that it has received more than half a million downloads in the first month of launch.
First off, the graphics are absolutely stunning. It's like watching an HQ movie with crisp and clear visuals. The colors pop and the tiles look almost lifelike. It really adds to the overall exp.
The app has two versions: classic and cross. And let us tell you, you'll surely appreciate the ability to switch those. While you may like the traditional game with its simple ruleset, the cross version adds an extra layer of excitement with its innovative gameplay.
And let's not forget the best part – multiplayer mode! There's nothing quite like playing with other users, and this app lets you do that with ease. You can go against pals or random users, it's up to you.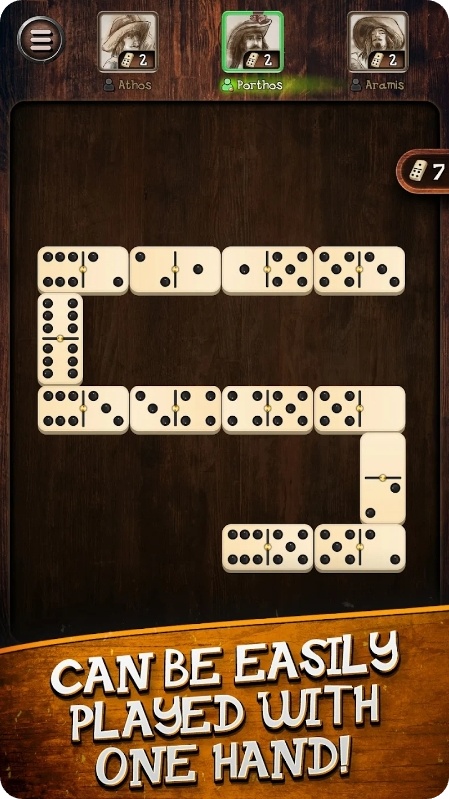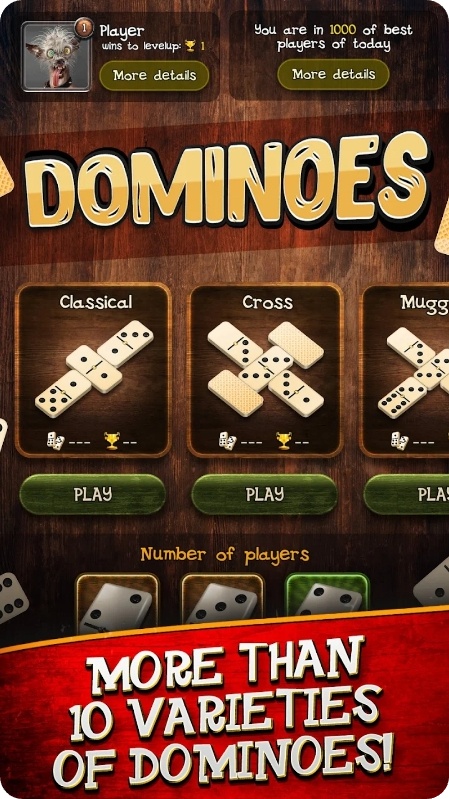 Dominos Game
This game delivers fun exp that is sure to keep you entertained for hours on end. It has a clean and easy-to-use UI and smooth animations that you'll surely appreciate.
You'll get to pick from three game versions, so whatever your prefs are, you'll find smth you'll like here. And with its clever mix of logical reasoning and luck, you're sure to be hooked in no time. You'll need to use your brain to outsmart your opponent, but a little bit of good fortune never hurts when it comes to those crucial tile draws!
The game itself consists of 28 dominoes, each with two square ends containing pips ranging from 0 to 6. The goal? Simply match the same number of pips on one end of a tile to another corresponding one in order to get rid of all your tiles before the opponent does.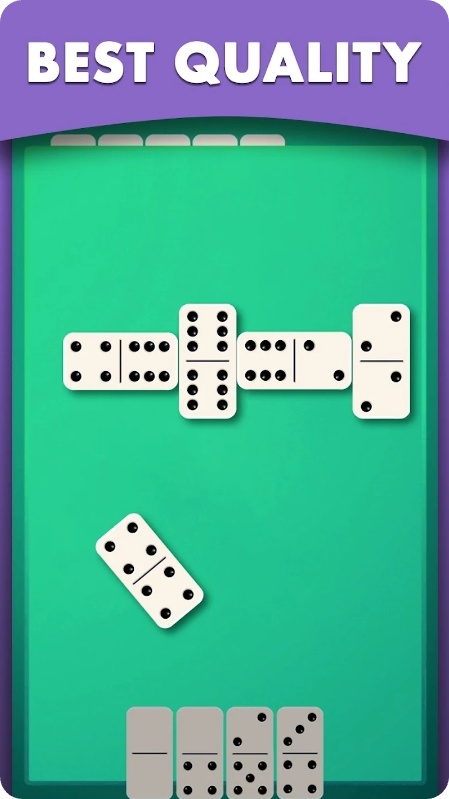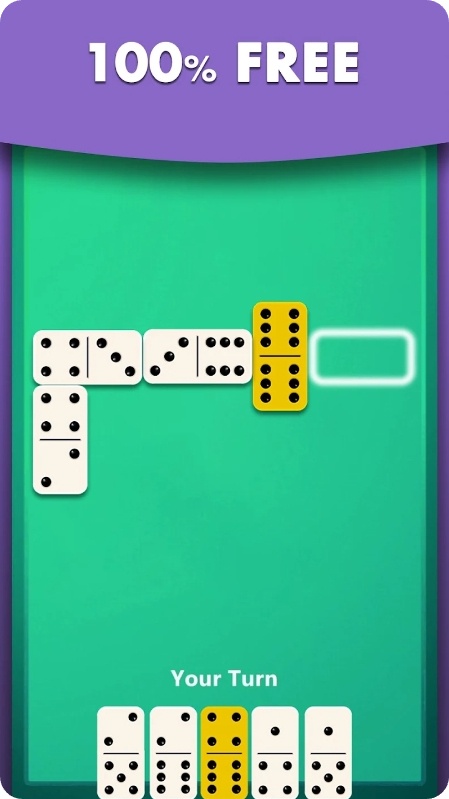 Domino Go
This game truly has it all: exciting graphics, multiple variations, and even multiplayer mode. One of the best things about this one is its attention to detail and meticulous gameplay. No matter which device or version you own, you'll be able to appreciate the incredible exp.
Plus, you'll be able to share the fun with your pals, and it really takes the exp to the next level. As you play, you'll get to boost your stats and acc.
With clear, detailed guides to watch and learn from, as well as a helpful breakdown of the logic behind each game, you can better understand how to get better and start winning more tiles. You'll be dominating the tiles in no time and making a name for yourself as the ultimate dominoes master.
And let's not forget about the bonuses. With hourly bonuses and lots of exciting plot twists, there's always smth new and fun to discover here.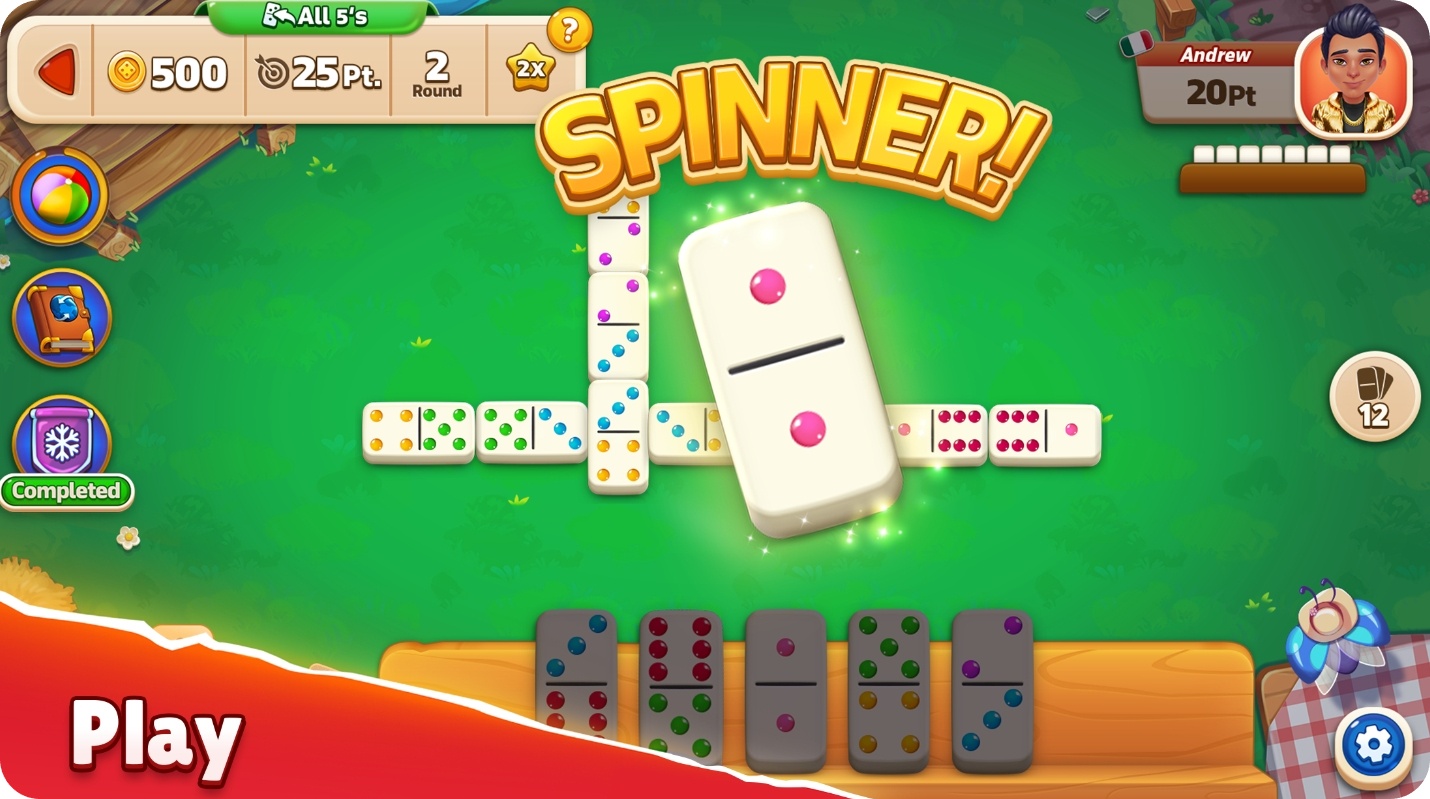 Check also: 11 Best Games Like Water Sort Puzzle
Domino Dreams™
Ready to immerse yourself in a world of limitless royal kingdoms and become the ultimate ruler of the board? Cause that's exactly what this app lets you do!
This game lets you construct stunning royal kingdoms with the help of your loyal peons. Each new chapter comes with a plethora of free coins, boosters, and tasks to keep you engaged for hours on end.
And as you masterfully match tiles, you'll unlock streak bonuses and pave your path to victory. You can also test your luck by trying a Superwheel. It can bring you tons o cool stuff, so don't get past it.
Spin it to win exciting rewards and boost your progress to new heights. And the more you play, the better you'll become, and the boosters will get bigger too. There are no hidden fees here, but you'll have to deal with as here and there.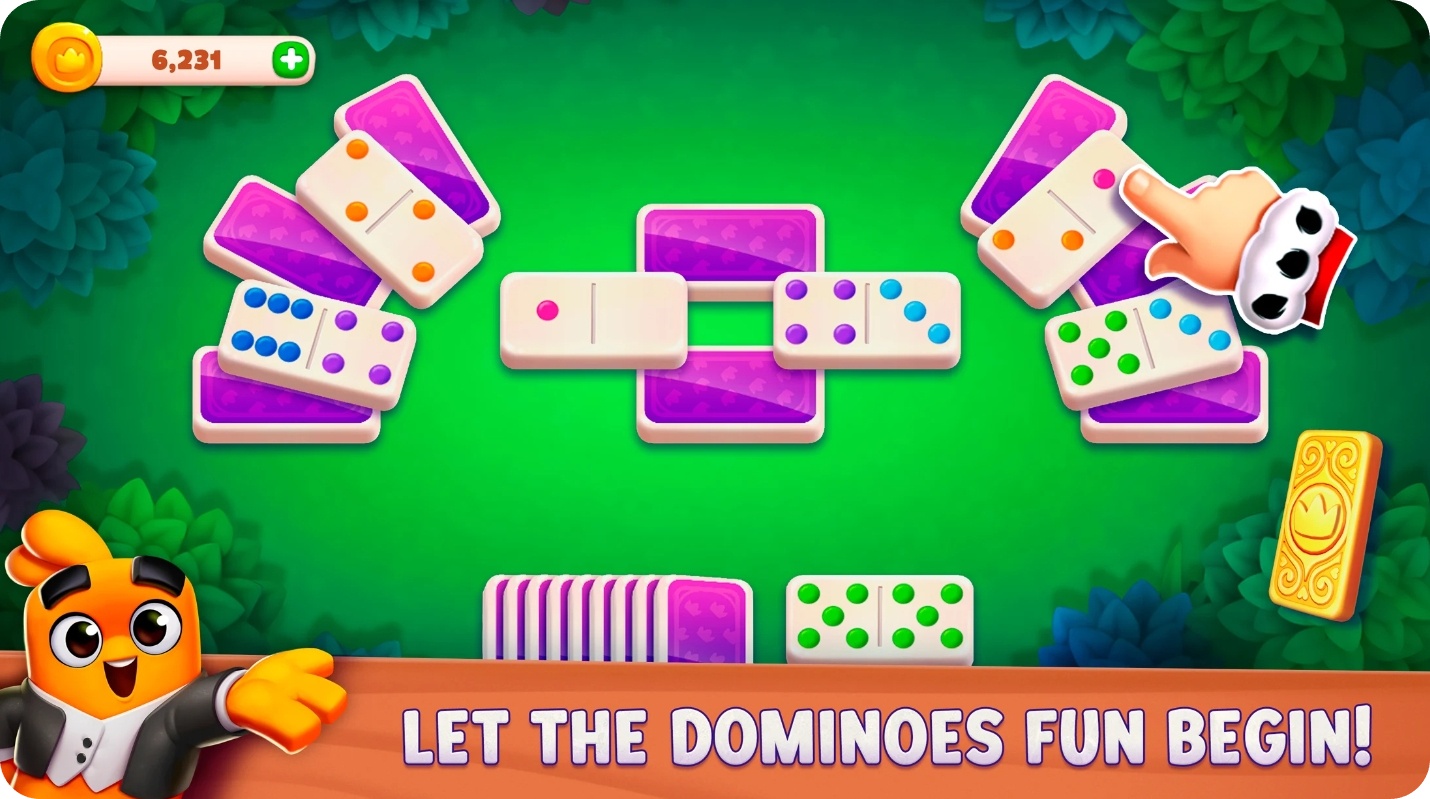 Dominoes
If you're a fan of Domino, you have to try out this one. It's one of the best options to get for a PC, and it's entirely free, too. Whether you're at home on your computer, on the go, or cozy on your couch with your tablet, this is an ideal companion to have some good old-fashioned fun.
The app covers 3 modes to pick from. Each mode brings a unique set of challenges and strategies, making it easy to switch things up. And if that's not enough, there are also themes and bgs you could switch to personalize the exp and make it truly your own.
Plus, you get smart computer opponents here. It delivers a solid challenge without ever feeling too difficult or unfair, making each game exciting and rewarding. And the user-friendly design makes it easy to pick up and play, with clear instructions and intuitive mechanics.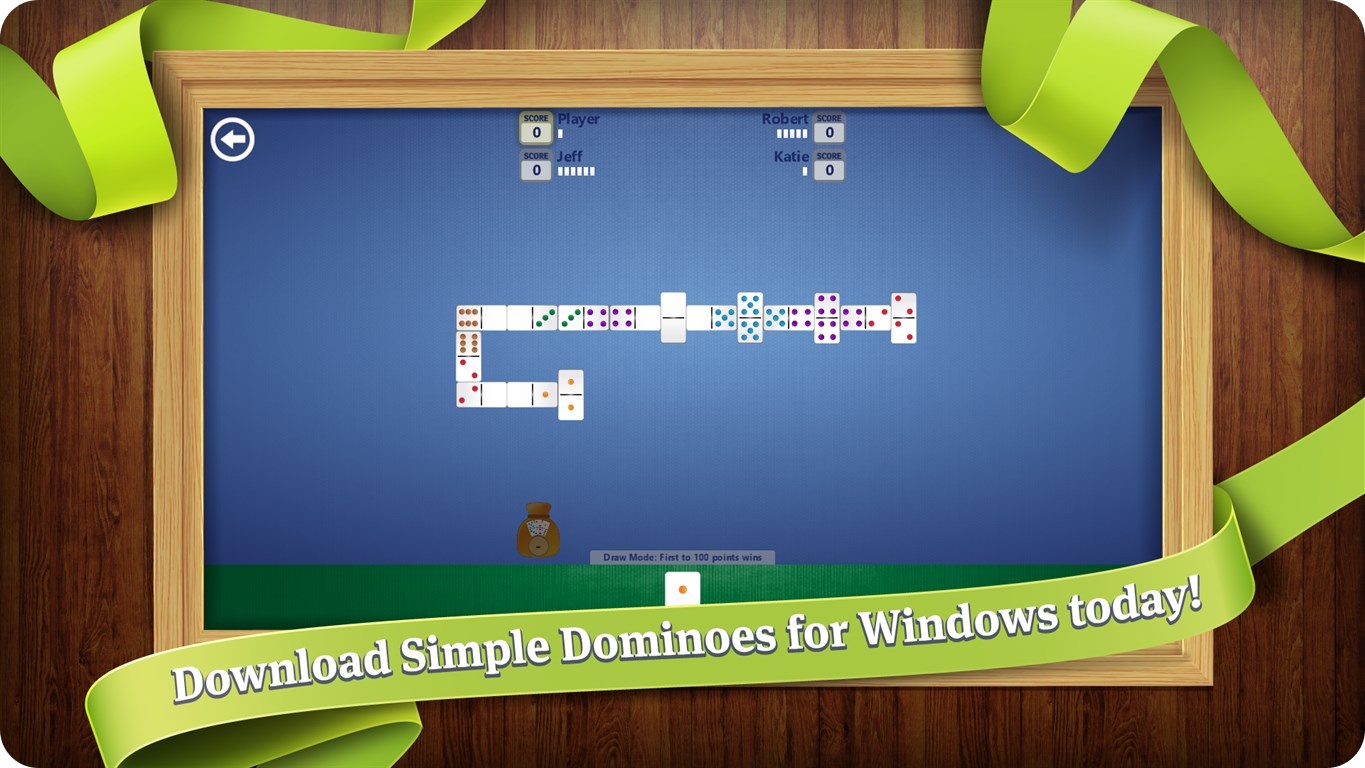 Dominoes Classic
This game gives a relaxing, and classic board game exp. It covers 3 modes to try, each with its own unique challenges and rewards. If you need a chill game to pass the time, it is the ideal option.
Simply match the tile you have to one of the ends already on the board and watch as the game unfolds. It's easy to learn and deceptively strategic: just because it's a simple game doesn't mean it's not engaging!
For those needing a bit more of a challenge, make sure to try block dominoes is an excellent option. The same basic gameplay applies but with the added twist of having to pass your turn if you run out of options. It's a great way to flex your critical thinking muscles and keep your mind engaged.
If you're up for a real challenge, all five mode is for you. It adds an extra layer of complexity, as you have to add up the pips on each end of the board and see if they're a multiple of five.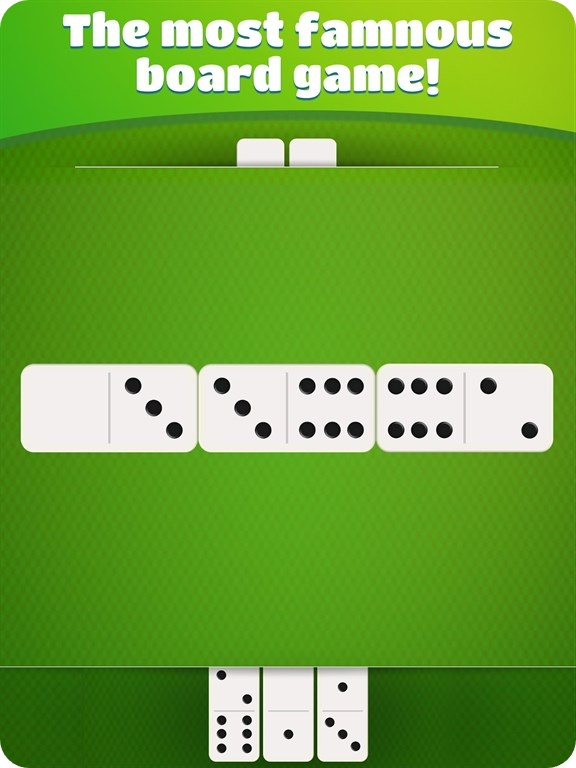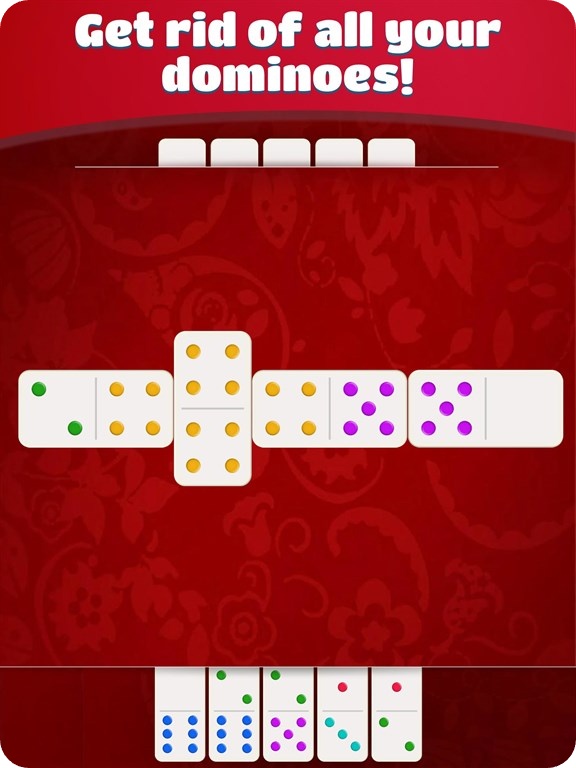 Dominoes Deluxe
It's a great game to unwind after a long day at work. As always, there are several modes to try, so no lack of variety. Whether you're going up against pals or the computer, there's never a dull moment here.
One of the great aspects of this one is how adjustable it is. You can pick from diverse themes and bgs to suit your mood and personality, making every game feel unique and special.
And if you're someone who likes to monitor progress, the app has you covered there too. You can view your stats and see how you stack up against the competition.
And with its friendly, fun, and witty tone, this app is sure to be a hit with anyone who loves a good game. The game is free, and the ads are minimal.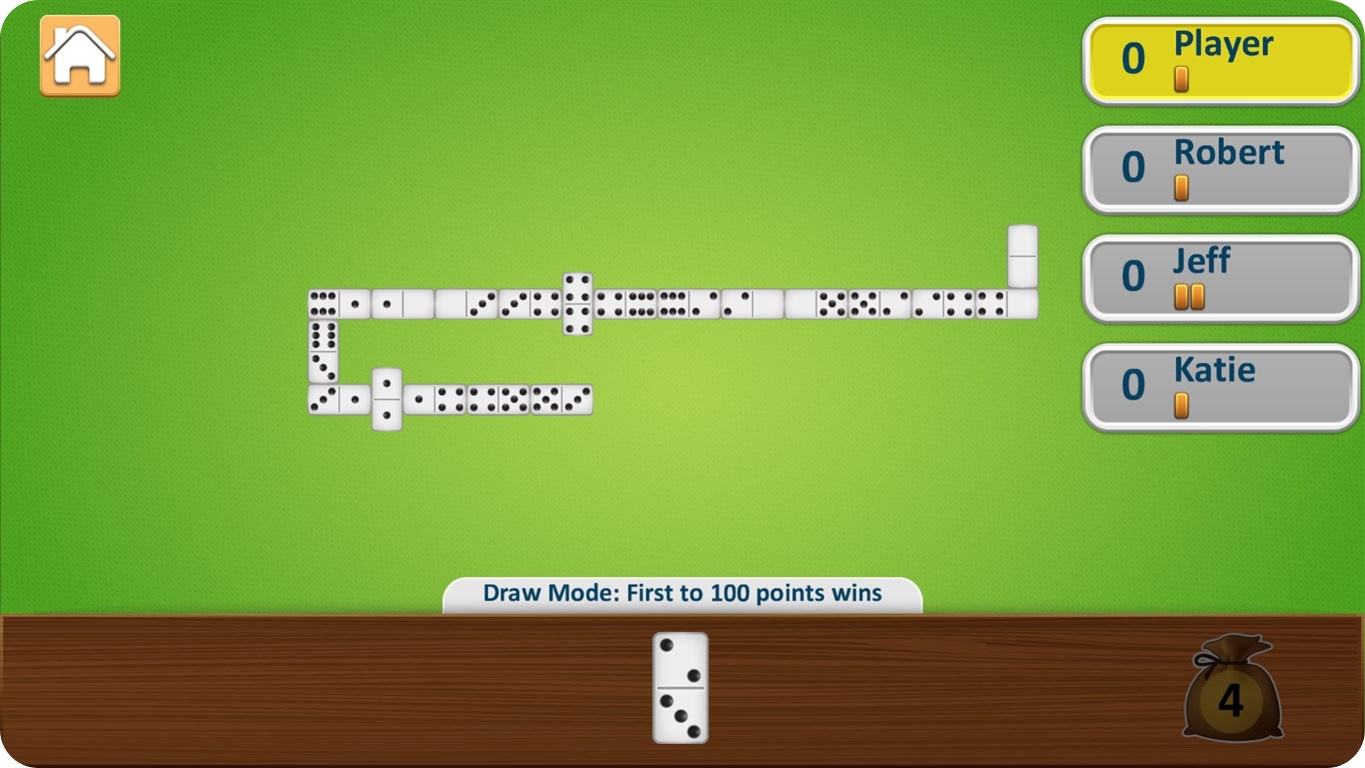 Domino Royale
If you're a fan of classic games and love to gamble, don't get past this one. The game covers unique modes and challenging rounds and delivers unparalleled gameplay exp that will keep you hooked for sure.
The app's sleek and user-friendly design makes it easy to personalize the game and earn exp with every round. The difficulty is also well-balanced, too. Whether you're a seasoned pro or a newbie, there's smth for everyone in this game.
What we love most about this app is the fact that you can earn real chips with every win, which you can use to unlock even more lvls with higher payouts. It adds a whole new level of excitement to the game!
But it's not just about the rewards – the game itself is incredibly fun and addictive. There are 5 unique modes, each with its own set of rules and challenges. It keeps the game fresh and exciting every time you play.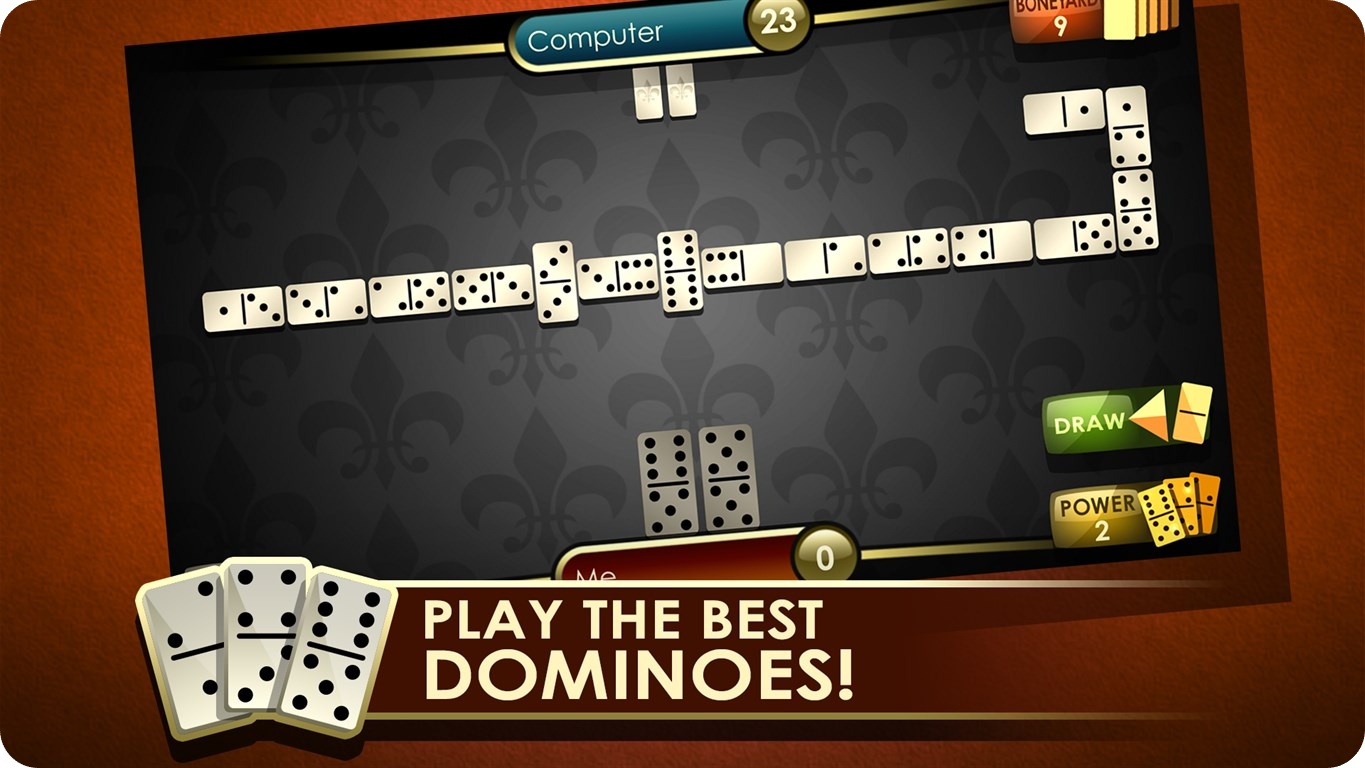 Amazing Dominoes
Ready to relive the good old days with a classic game of dominoes? This game will transport you back to your childhood while keeping you entertained.
The app covers endless challenges for players of all skill levels, whether you're a board game aficionado or just want a fun distraction during your workday. Take on the computer or gather a group of pals for a lively match.
And with a vast scope of options, you'll never get bored with it. The offline modes are also included, so you can enjoy your time without a web connection. Plus, you can view your stats and monitor progress if needed.
But that's not all – get ready to place bets and earn exciting rewards! The app covers diverse betting rooms, so you can pick the amount that suits you best. You'll earn gold by winning games and completing daily challenges. And with various themes, you can alter the gameplay to your liking.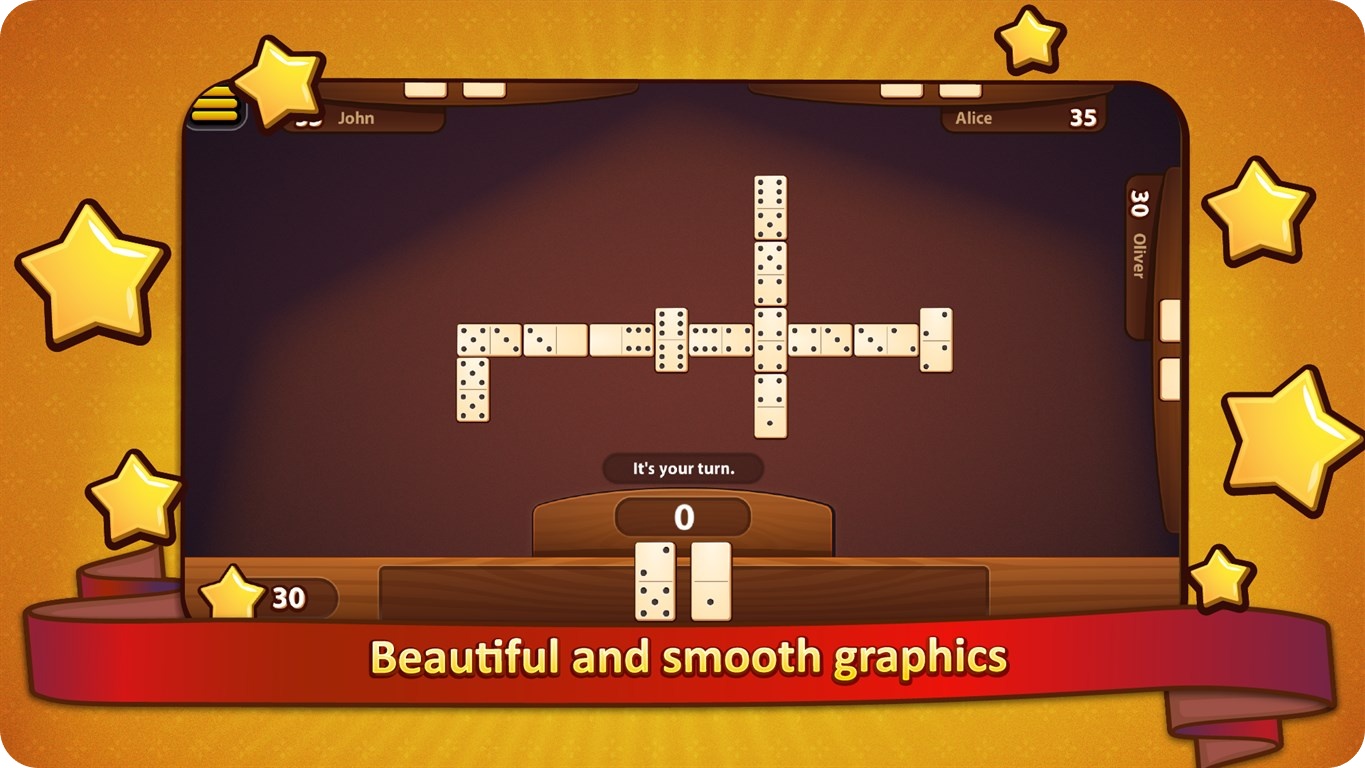 You may also check: 7 Best Modern Tetris Games
Classic Dominoes
To wrap up, there's a game for domino fans of all kinds. It covers various kinds of this board game, so whatever your prefs are, you'll find smth to like here.
One of the best things about this one is that you can play with bots. So, even if you can't convince your pals to go for a round, you can still enjoy all the fun the app has to offer.
And don't worry about getting bored with the same old layouts, because the app has a wide range of ones to pick from. You'll surely appreciate the attention to detail when it comes to the rules here.
Whether you're playing Block or Draw, you'll be following the exact same rules as you would in a real-life. And speaking of rules, the app makes it easy to pick your preferred variant of each game.