Moon + Program Reader Pro for Android OS is just a godsend for reading lovers! Also, this program is from the "must-have" set for everyone.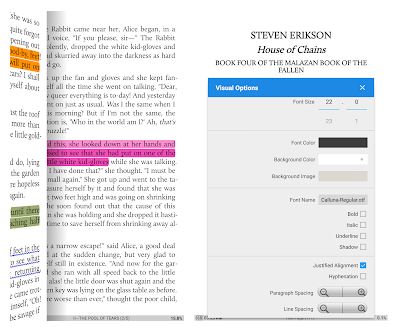 After all, even if a person is not an avid reader, he still sooner or later may need to view something, quickly read from a mobile device. And this is most convenient to do with the Moon + program Reader.
You might also want to check the best baby book apps.
The best thing about this program is the limitless possibilities for configuring both the interface, control, and display! At first, it took quite a long time to set up, but when you adjust everything to your needs, you only get pleasure from reading.
Everything changes: from the size, color, font type, to the information displayed in the status bar! The program has several types of bookshelves, covers are displayed, and it is possible to make a cover yourself.
There is a nice option to set up a reminder about the dangers of long-term screen reading. At the set interval, a message will appear on the screen, with a suggestion to rest. The rest lasts for the time specified by you in the settings and after that, you can return to reading.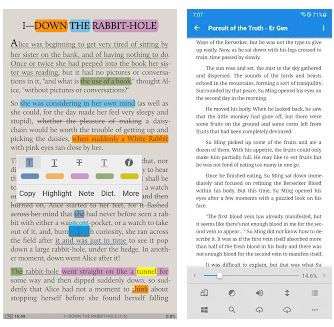 In the Moon+program Reader provides the ability to sync with DropBox, which greatly expands its capabilities! You can throw any number of books in the DropBox at home and connect and read them from any device, and when you open the book again, it will open at the place where you finished reading last time.
There is also a function for highlighting text, creating notes and bookmarks, you can save excerpts and then use them with ease. In general, the program is universal and reads many formats of electronic documents.
And for your kids who can't read yet, you can download great pre-school apps to get acquainted with the basic skills of math, reading, and writing.
Of course, when reading from the screen of a smartphone or tablet, the eyes get more tired than when reading paper books or using E-ink readers, but very often a smart or tablet is the only available source of literary art, and in addition, you can download books everywhere!