Nowadays, we're spoiled for choice when it comes to editing apps. From vintage filters to face-tuning tools, there's smth for every occasion. But we're here to talk about something a little different.
We've scouted the top photo morphing apps for Android & iOS you could try. These clever apps let you blend and swap faces in all sorts of weird and wonderful ways.
These let you pick two or more snaps and watch as they seamlessly blend together like magic. You'll get to turn to morph with animals, celebs, fantasy creatures, and more. Let's dive in!
Reface
Ready to have some fun with your snaps? That's what this app is here for. It will have you morphing faces and laughing out loud in no time.
What sets it apart is its eerily realistic mapping of your snap onto another one. Not only can you morph faces with celebs using deep fake, but you can also play with live swaps and gender ones. And let's not forget about the silly filters and movements that actually look like you! No more painfully obvious cut-and-paste pics here.
But it isn't just about face morphing. You can use the animator to try the morph tool and AI baby generator if needed. The AI tool can do much more than that, you can even try diverse hairstyles and all that.
And the best part? It only takes a few short moments to work its face magic. Before you know it, you'll be sharing awesome memes and funny clips. Just remember, this is not a simple deep fake. It is absolutely astonishing and will leave you and your pals in stitches.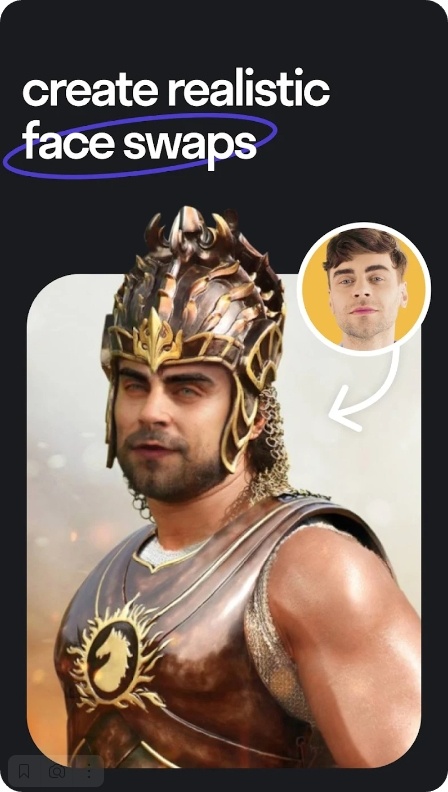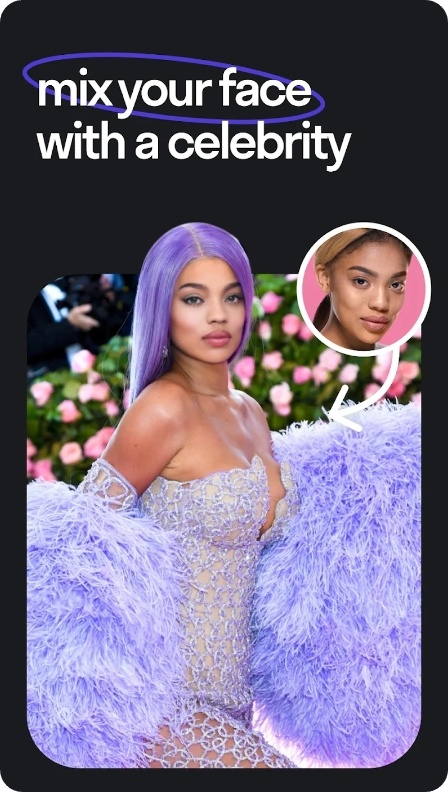 You may also like: 11 Best Gender Swap Apps
MorphMe
This app gives you a seriously entertaining face-morphing action. It lets you turn your face into anything you would like within secs. No skills required, the app will do all the work for you. Whether you're itching to be a celeb, an athletic superstar, or a beloved superhero, you can do it with this app.
And the best part? It's so easy to use. It takes a few simple steps, so you can faceplay any snap and share it with pals for a good laugh. But it's not just for fun and game, it can also enliven your snap and make them shareable on socials. Talk about a double whammy!
The app's morphing tech is top-notch, with diverse templates and custom clips to pick from. You can take your pick from any clip you like and morph faces with the subject. The results will have you in stitches – trust us. There's really no end to the original snaps you can do!
The app is ideal for IG aficionados who love to share their wittiness and creative side. The results are amazing, and it's so much fun to see yourself in such crazy and unexpected scenarios.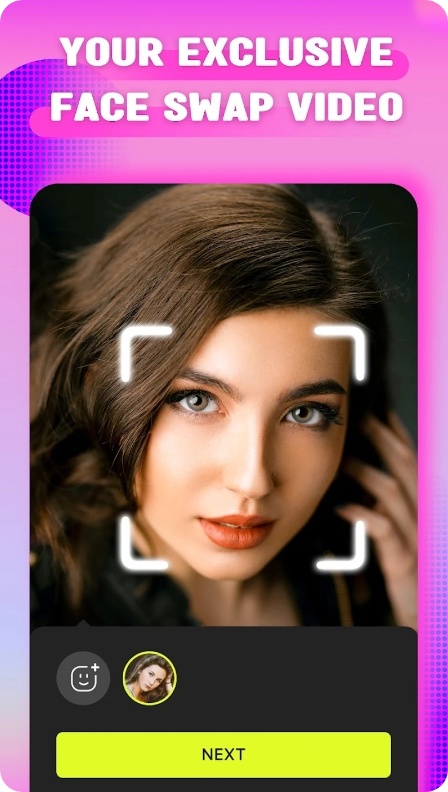 Pic Morph
It's one of the funniest apps out there that lets you morph faces into animals and other people. You can play around with it for a while, these kinds of snaps never get old.
The app has an immense database of characters to pick from, ranging from scary creatures to funny ones, dogs, cats, and even celebs. You would be spoiled for choice. Not only that, but it adds new ones every day, so you can always come back and try smth new.
The face morphing tool is what got me hooked. It works by slowly swapping your face into another one and the results are hilarious. You can even use a single snap and morph it into celebs, making it seem like you're hanging out with the stars.
Plus, the app is incredibly intuitive, even your grandma could cope with it. All you need to do is pick the subject to morph into, add the snap you want to use, and voila! You're now a roaring lion, a cute puppy, or your fave celeb. You can even make GIFs with it if needed.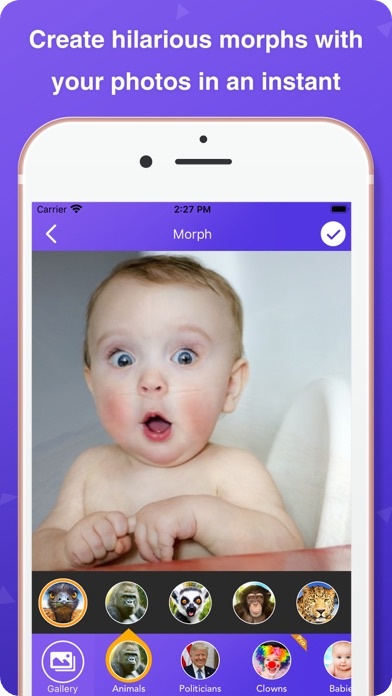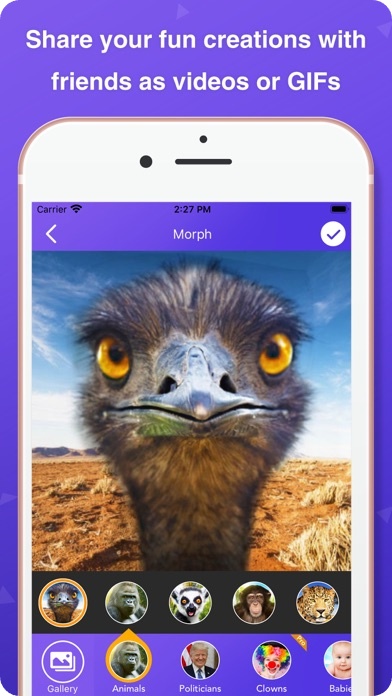 FaceJoy
This nifty tool lets you morph faces with everyone and anyone, from your fave actress to that ridiculously fit athlete on IG. And don't even get us started on the live gender switches: they're always hilarious!
One of the standout aspects of this one is the realistic and easy-to-use morph tool. Simply upload a snap and watch your face transform into someone else's! The results are so realistic, you'll have a hard time telling the difference between the original snap and the swapped one.
Feel free to play with faces in movies and reality shows, and watch as you become a star right before your very eyes! You can even modify your clothes and try out new styles with the help of templates.
The app also covers a scope of exotic dress styles that are sure to spark your creativity. And if you've ever dreamed of becoming a king, you can make that dream a reality with this app only. There's a paid pack, but the free one is fully usable.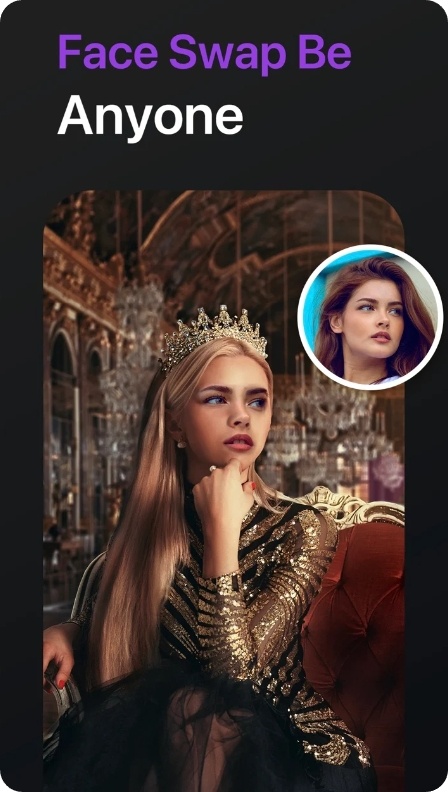 FaceHub
It's the ultimate solution for making stunning face-morphing clips with ease. That's an AI-based app with an array of tools that will blow your mind. The app uses a smart tech that lets you easily map your face onto any clip, no matter what action the person in the vid is performing.
Whether they are singing, dancing, crying, or shouting, this app can seamlessly morph your face onto theirs. Another perk of this one is the custom vid option. It analyzes the selected pic and clips and intelligently identifies the faces to automatically morph them.
It only takes three simple steps to get an ideal vid. You don't have to do anything manually, it's like magic. There are also tons of trendy templates. Suppose you don't have any vids to work with. It's no big deal! The app has an extensive lib of pre-made ones picked by experts that you can alter to your liking.
You can easily act like a movie star, or make funny clips by pasting your face onto a celeb. Plus, the UI is simple, and it doesn't have any hidden fees at all.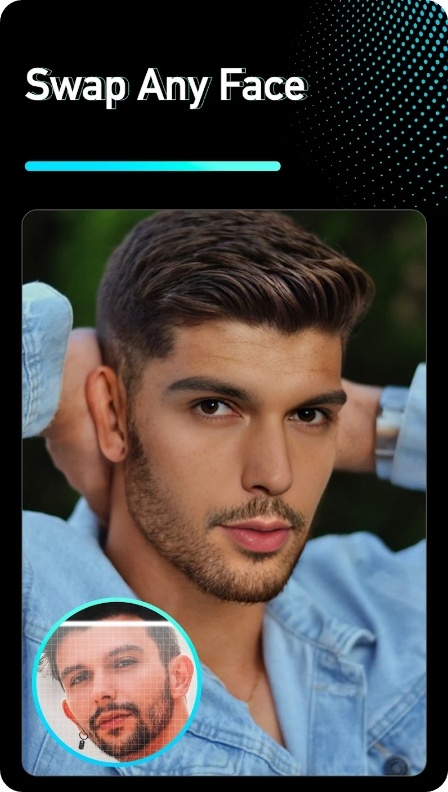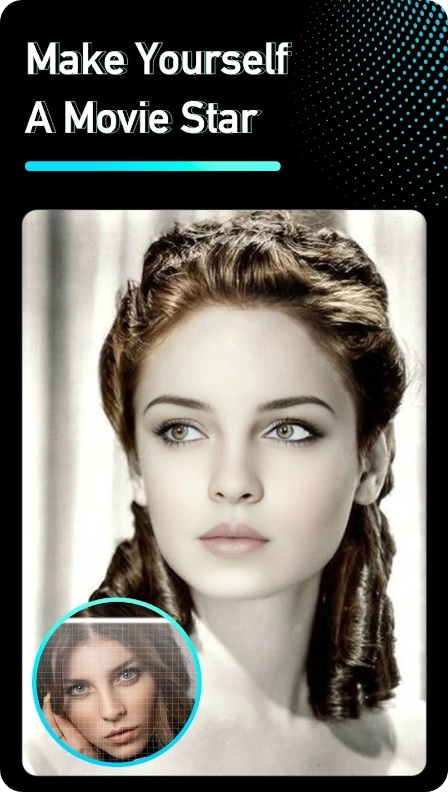 Check also: Top 10 Celebrity Voice Changer Apps
Face Morph
This face morphing app is ideal for anyone who wants to switch up their look and have some laughs along the way.
One of the most impressive aspects of this one is its automatic face detection. You don't have to worry about painstakingly mapping out your features for the app to work – it does it all for you. From there, you can start morphing in all sorts of wild and wacky ways.
The morphing and blending tools are top-notch. You can seamlessly morph your face into another person's or even an animal's. Trust us, the results will have you in stitches. And the animal option takes things to a whole new level of hilarity. There are tons of templates, including ones for bids.
But, let's get real here: the true appeal of this app is just how easy and fast it is to use. You don't need to be a tech whiz or spend hours trying to figure out the app's tools. It's simple and straightforward, so you can get to the fun stuff right away.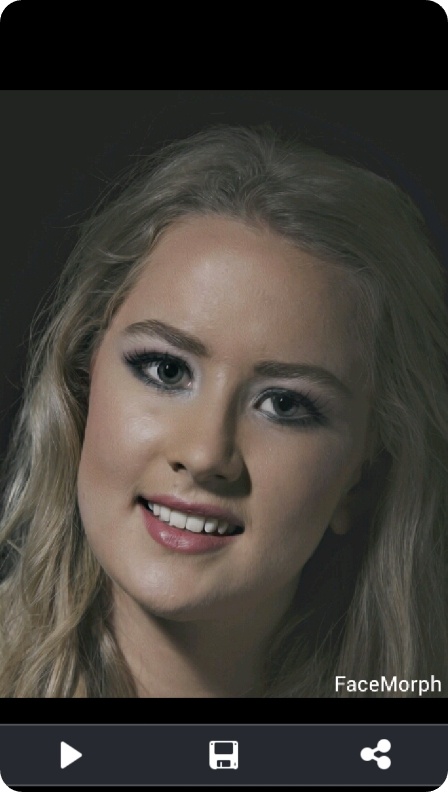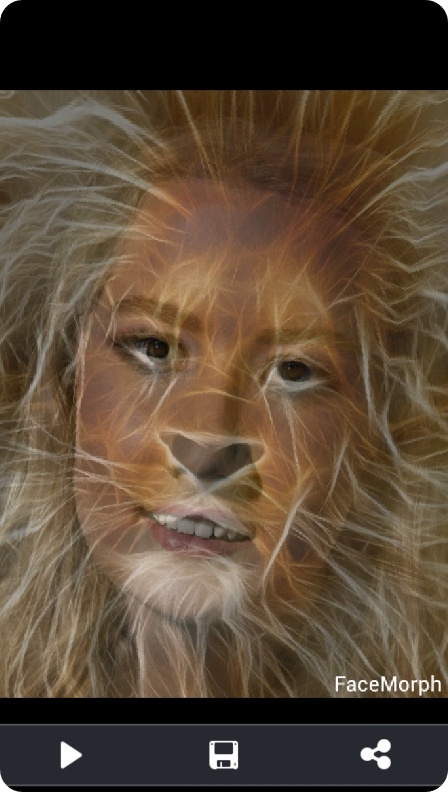 Zooface
This is a fun way to add some whimsy to your selfies. It lets you easily morph your face into that of various animals, resulting in hilarious and adorable snaps.
Using this one is a breeze. Simply pick a snap of yourself or a pal, and watch as the app recognizes the face and overlays it onto an animal of your taking. You can pick from a variety of animals, from cats and dogs to lions and tigers. The birds are covered as well, so no worries.
But what truly sets it apart is its magical face-morphing tool. With just a touch only, you can witness your face slowly morphing into that of the animal, resulting in a truly mesmerizing effect. And the best part? You can save your creations as either still pics, GIFs, or videos.
It's ideal for anyone wanting to add a little bit of creativity to their day. Whether you're feeling bored, adventurous, or just in the mood for some silly fun, this app is sure to deliver.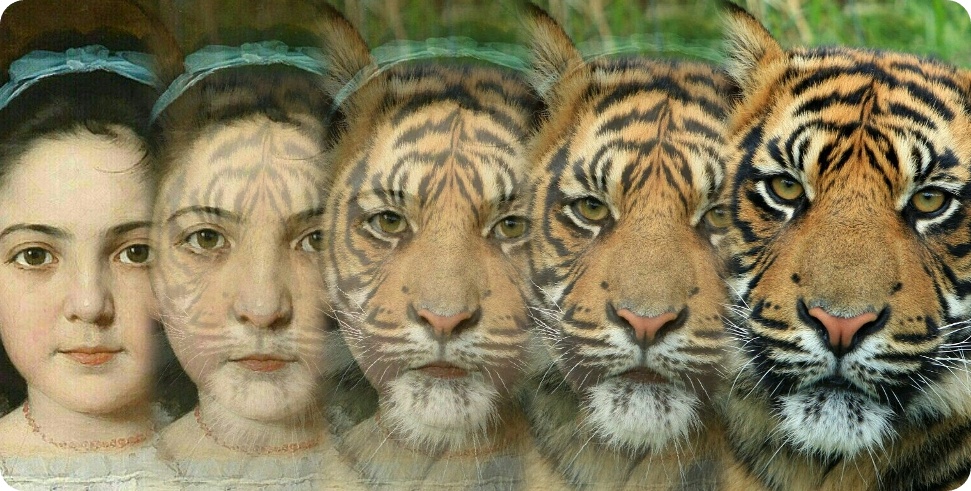 Face Swap
This app is the ultimate tool for adding hilarious masks and morphing faces with ease. The thing you'll surely like about it is the live cam tool. Simply point your cam at yourself, pick a mask or face morph, and let the app work its magic!
You can also record vids or make snaps with the filter, and the results are always sidesplitting funny. Don't want to use the live cam? No problem! You can also upload snaps from your cam roll and add face morph and mask filters to them.
Why not swap your face with your fave celeb, or make a funny image to share with your pals? Whatever comes to your mind, really.
It also has a vid editor, so you can load vids from your cam roll and make clips of all kinds. The process is super simple and intuitive, and the results are always top-notch. Sharing those clips is also a breeze. You can send the vids via messengers or post them on socials. It's fully free, and the ads are minimal.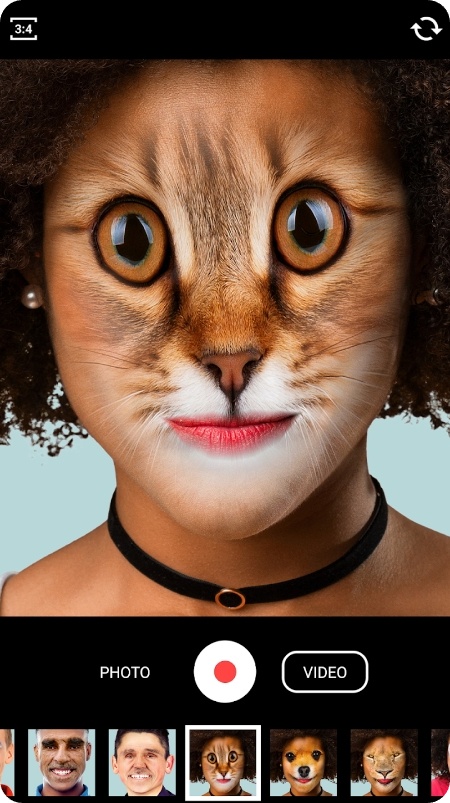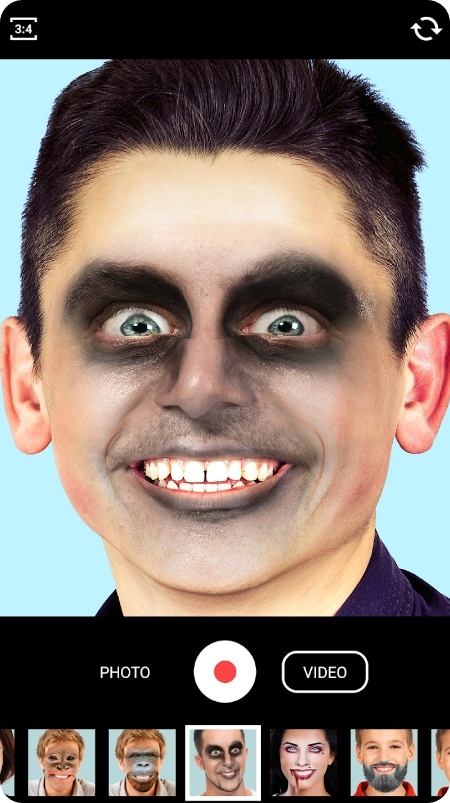 Beauty Face Plus
This is the kind of app to help you fulfill your dream of having an animal face. First off, let's talk about the sheer amount of animals covered by this one. There are over 50 options for now, and more are yet to get added.
Whether you're a fan of tigers, monkeys, or birds, there's smth for everyone. There are also tons of animal eyes, so you could adjust the morph in any way needed.
And while we're on the topic of modifications, let's not forget about the app's face morphing. There are 4 types to pick from, you'll be able to make an animal face that's uniquely your own.
Hereby, the app's UI is intuitive and friendly, and you'll get to aim the eyes, nose, and mouth with just a few swipes of your finger. And if you want to modify the animal face's range, you can easily fine-tune it as needed. There's also an eraser to remove all kinds of morphing, giving you even more control over your final product.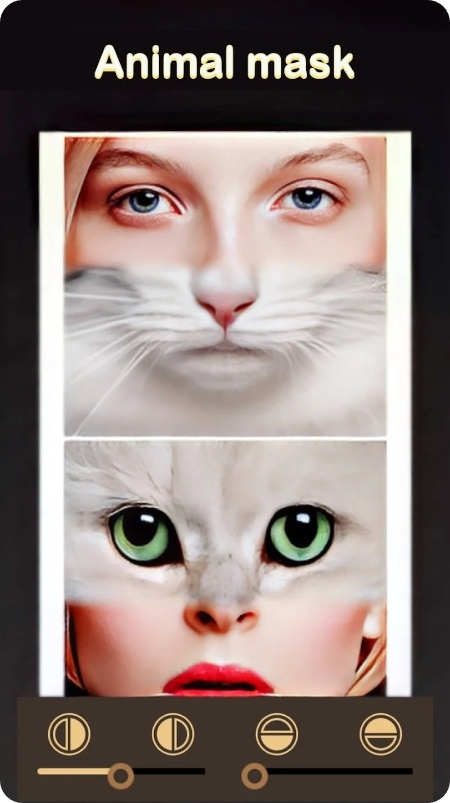 You may also check: 9 Best Potential Baby Face Generator Apps
Face Retouch, Morph & Swap
Lastly, there's an app that lets you have fun morphing yourself into animals and other people. It lets you try out diverse animals and try funny filters to play with. Plus, it's so easy to share your masterpieces directly on IG.
You'll surely like how many options there are. You can morph with anyone or anything your imagination can come up with. And the filters are truly endless! Seriously, there are so many categories, you'll never run out of ideas.
But it's not just about the quantity of options, it's also about the quality. The morphs are seamless, and the filters look so professional! Plus, you can zoom in and modify the snap to get that ideal shot.
And the best part? It doesn't take up hardly any space on your phone! So you can keep all your hilarious snaps without having to worry about filling up your storage. It's also free, and there are no hidden fees or packs for you to pay for. The ads are there, but they are fully bearable.