Celebs, we love them for their talent and charisma. They fill our screens and our lives with their presence. And what if you could emulate their tone?
That's why we've rounded up the top celebrity voice changer apps (Android & iOS). These let you sound exactly like your fave A-listers, and some let you sound like a male or female.
The apps do a great job mimicking the pitch and manner of talking, so you won't be able to tell the difference. From hilarious impersonations of your fave movie stars to epic one-liners of famous politicians, the apps have it all. Let's get into it!
Voicer
This might be one of the most entertaining and creative apps you came across (if you'll use it the right way, of course). It covers an extensive scope of voice-changing FX for you to play with. The most obvious use of it? Well, pranks and greeting cards, but you can surely use them to make content, too.
What sets this one apart is the thoroughness and quality of the options. You'll be able to try male and female voices, along with a vast scope of celeb ones. Trump, Darth Vader, Rihanna – you name it, the app has it all. There are over 15 options in general and still counting.
Notably, the app includes some trendy FX like the Billie Eilish clownfish, which is a must-try! The autotune is another fantastic thing to make an excellent voiceover. You can make some great vids with it, and laugh without your pals over it.
The interface is friendly and intuitive, making it easy to operate and adjust. The new voicemod is efficient and straightforward to use. It adds an extra level of fun, giving you more opportunities.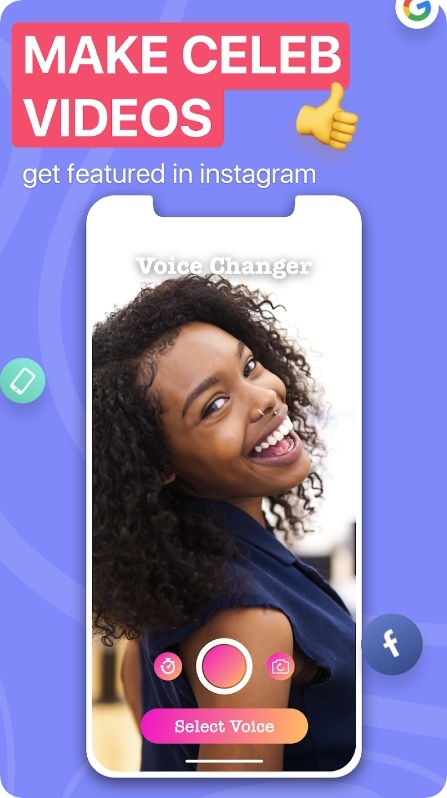 You may also like: 11 Free Apps to Make Photos Talk
Celebrity Voice Changer AI
This app lets you add an edgy flair to your vids. It taps into cutting-edge AI tech to generate an incredible variety of unique and authentic-sounding celebrity voices. These are sure to leave your buds and fam wondering how you did it.
From personalized birthday messages to hilarious clips for your friends, the possibilities are endless. The coolest aspect? It's super easy to use. Simply pick a voice, enter your desired text, and voila! You've just made a one-of-a-kind masterpiece.
The voiceovers and vids you can make are absolutely amazing, and your buds won't believe that it's not actually your fave celeb talking. You can also use this app to record greetings for your loved ones. Imagine the look on their face when they hear a congratulatory from their fave singer or actor!
All the voices are free, and the app adds new options from time to time. The quality is top-notch, and you can easily save any clip with no limits.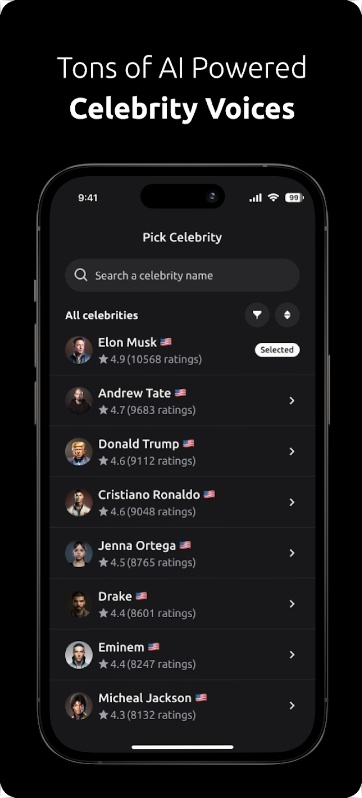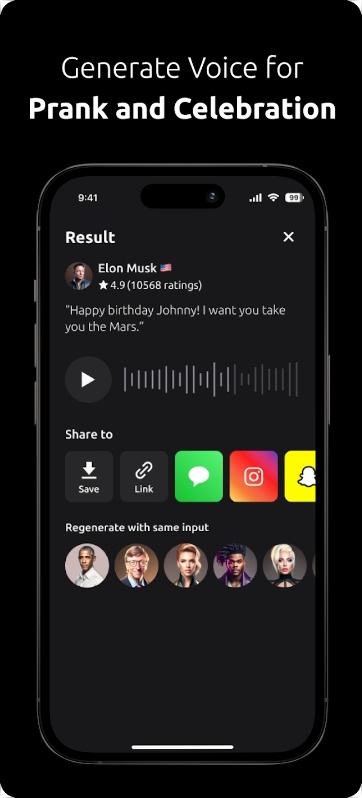 Celebrity Voice Changer
This app is a treat for those who want to prank their buds in a new way. It's sure to give you a good laugh, and there are so many things you could do with it!
First off, forget those cheap FX that may have disappointed you in the past. This app is the real deal. The tones are so realistic, you'll feel like you're talking to the actual celeb. And, the coolest thing? You can say whatever you want and have it spoken back to you by your favorite A-lister. It's like having your own personal impersonator!
But it's not just the lifelike voices that make this app so great. It's also incredibly easy to use. Simply tap and speak into the mic, it does the rest. Trust us, it will only take a few seconds to generate a vid that contains an altered voice. You can then share it with your pals and watch their reactions.
And let's not forget about the huge group of celebs that you can pick from. From Arnold Schwarzenegger to Cardi B, the list goes on and on. Each one is funnier than the next, making it hard to stop playing around with the app.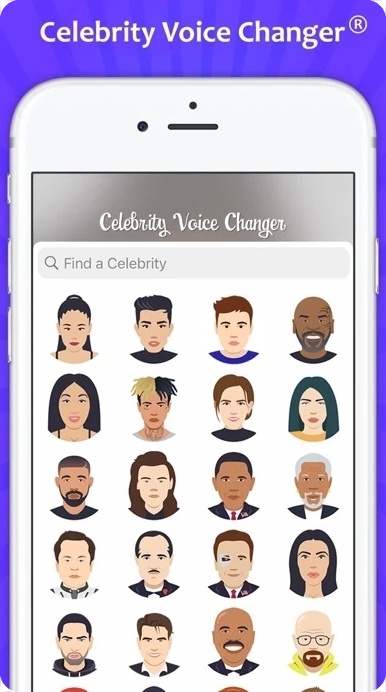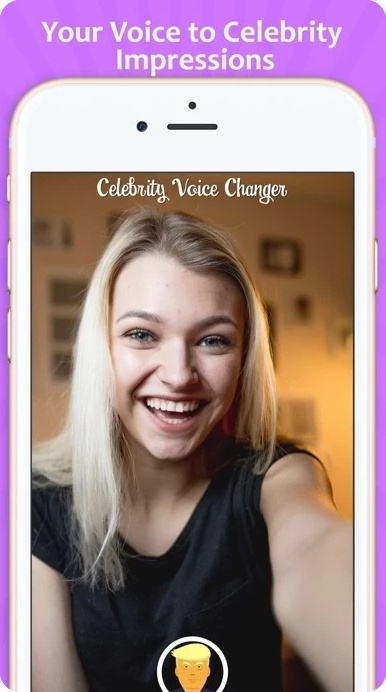 VoiceCopy
This app is nothing short of revolutionary when it comes to voice generation tech. It uses advanced AI tech to mimic voices with incredible accuracy and ease. It lets you try the voices of your buds, and celebs, and even gate a sample of your own. Fun, right?
The app uses an algorithm to render custom models that mimic the tone, pitch, and manner of your input. But isn't just about recreating voices, it's about having fun! Use the app to make hilarious voice impressions of your loved ones, or challenge your buds to do the same. The possibilities are truly endless here.
But what really sets it apart is its state-of-the-art generation capabilities. The app ensures that even the most subtle nuances of a voice are accurately recreated, so you can be sure that your voice models are as realistic as possible.
One of the things we love about this one is how easy it is to use. The app's UI is intuitive and friendly, meaning you don't need to be an expert to get started. Even better, it is suitable for all ages, so everyone can join in the fun.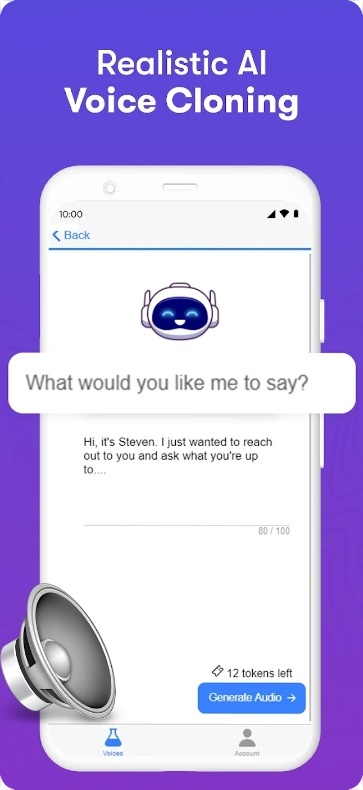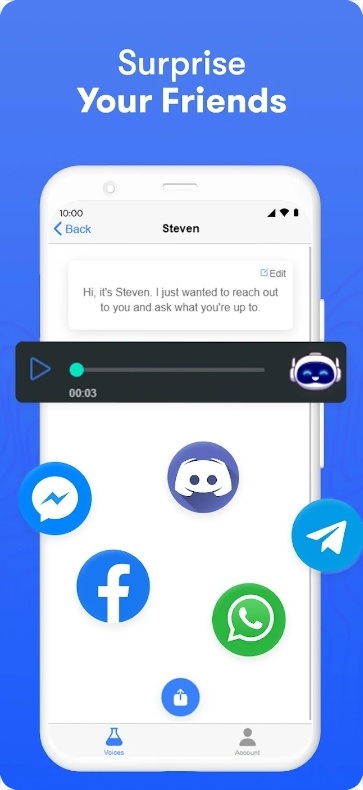 Parodist
Well, let us tell you, this app totally lives up to its name. It's a full-on parodist that does a great job mimicking the voices of celebs. Using it, you can stop sending the same old boring greetings to your fam and even prank your buds.
This app takes personalization to the next level by letting you pick from a variety of jokes. The app employs a sophisticated network that adeptly emulates the voices of celebs. Want to know whose voice sounds like yours? Simply say a few words, and the app will tell you which celebrity's voice is similar.
But the real fun comes with making pranks, and greetings. The AI tech makes it seem like the celeb is speaking directly to the recipient!
The app gives a hint for how to spell the name entered so that the joke comes out smoothly. And once the joke is approved, share the link with your buds and watch them laugh out loud. It's important to note that the voices are parodied by AI and the app is only for humor purposes. It's not meant to insult anyone, and you can't use it for ads.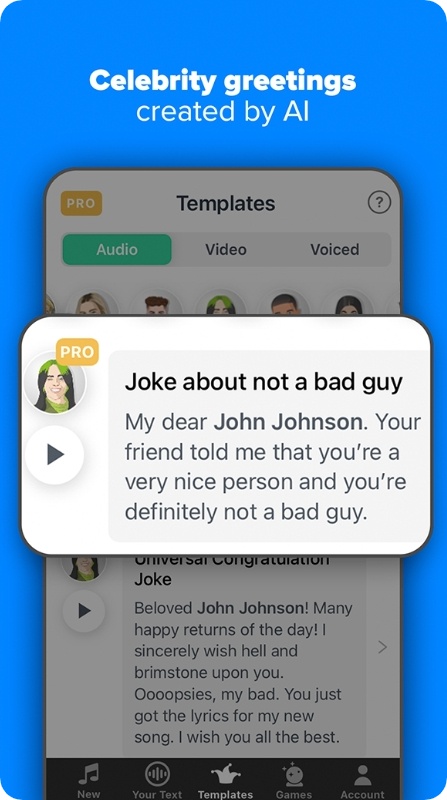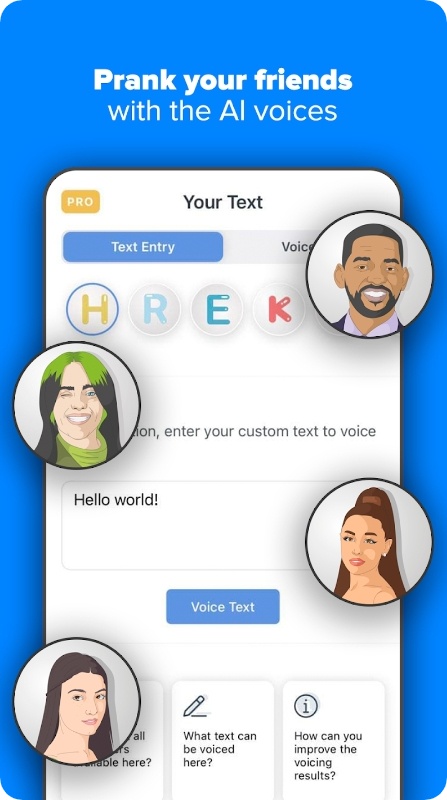 Check also: 11 Best Age Progression Apps
Voice Changer
This app is a delightful surprise for those seeking to playfully tease their buds. You can really get mischievous with it, making some cool pranks and greetings.
And if you've tried a similar tech before and weren't remotely satisfied by the results, don't worry, this app will live up to your expectations. The voices are remarkably lifelike, you'll really get an illusion that the real celeb is talking.
You can easily have any words echoed by your beloved A-lister. The app truly works wonders when it comes to impersonating. The app goes beyond its lifelike voices. And the ease of use sets it apart. Generating a vid takes just a few secs.
All the clips are sharable, and you'll be pleasantly surprised by the variety of voices. There is everyone from Ariana to Obama, so there's smth for everyone. Each one is funnier than the last, making it nearly impossible to resist the allure of endlessly tinkering with the app.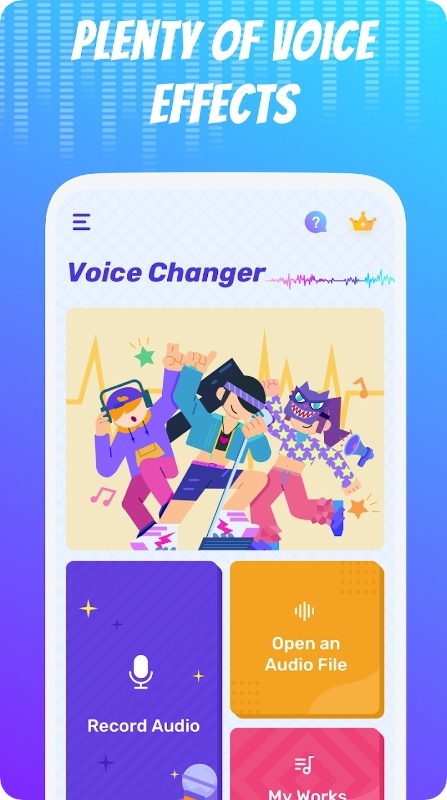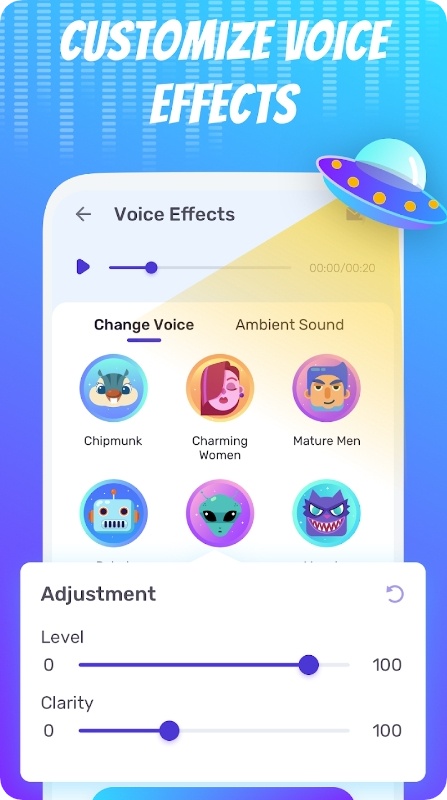 Famous Voice Changer
This app is an entertaining way to spice up your vids. It covers a deep learning AI tech that lets you transform your voice into a completely different one. To be more exact, you can make yourself sound like your fave celeb.
The app covers everyone from ironic movie stars to musicians. Not only is the transformation incredibly accurate, but the app also offers a range of vid tools that let you make hilarious and entertaining clips.
But the fun doesn't end there. The app is incredibly simple: you just need to pick a voice, record your own, and wait a few secs for the app to work its magic. Once you see the results, you won't believe how good the sound is!
Hereby, the free version has its limitations due to running costs. The premium pack gives you full functionality, but there are no trials here.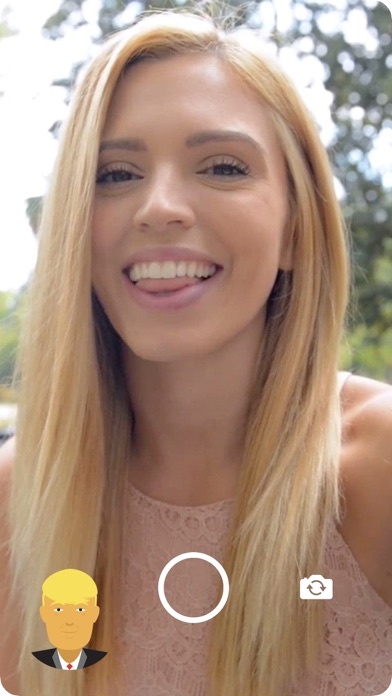 Celebrity Voice Changer Lite
This is not your average voice changer, as it offers a top-notch celeb experience for free. Say goodbye to the days of basic pitch FX, because with this app, you get the real deal.
Not only does it change your vote instantly to any celeb, but it also boasts an extensive selection of A-listers. That's right, you can have your words spoken back to you by the likes of Angelina Jolie, Morgan Freeman, and more. You can also request to add a new voice if needed.
One thing to note is that a web connection is necessary to utilize the app. But fear not, as generating a clip only takes a few seconds. And let us tell you, the end result is well worth the short wait.
The app is ideal for adding a little pizzazz to your daily convos with buds, and it works great for pranks, too. You can use it to entertain or just have a good laugh, this app is bound to do the trick.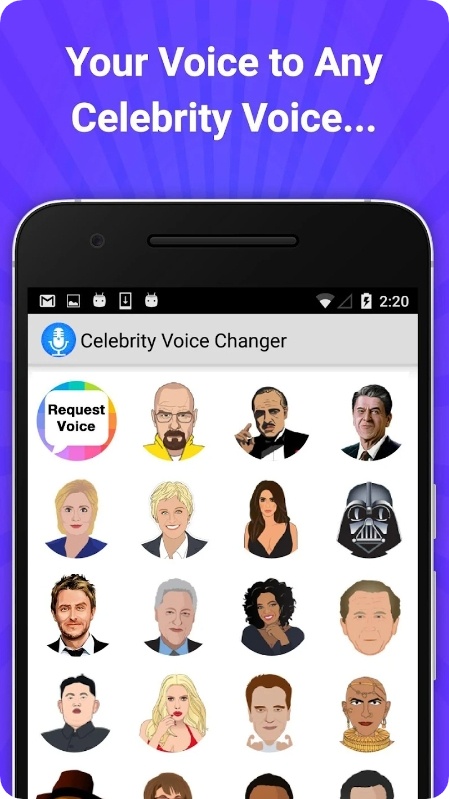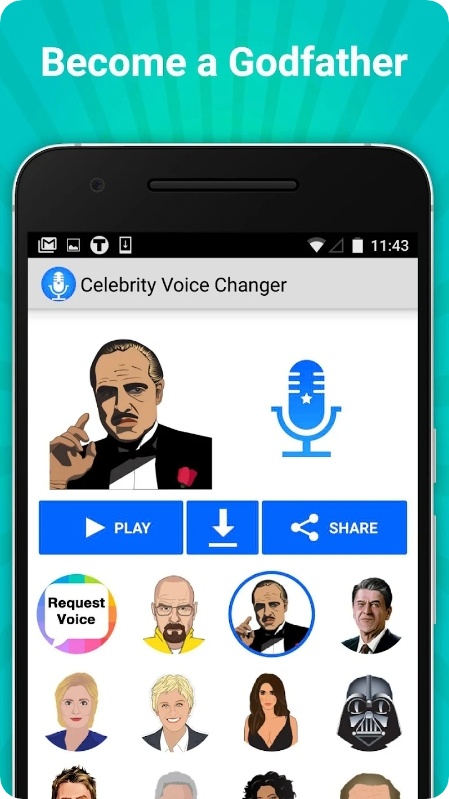 Funny Voice Effects
This nifty tool lets you pull off some hilarious pranks and make incredible greetings for your pals. It covers dozens of effects to modify your voice into smth completely unexpected.
There are options like rabbits, aliens, ghosts, and of course, celebs. There are also a few clip FX such as a VHS to make them more unique. All you need is to record yourself, pick the FX and let the app do its magic.
The process takes a few secs at best, and you have an HQ sound to use as you want. Well, you can't use it for ads or other profitable things, so keep that in mind. You can easily share your clips to make your fam and mates laugh.
But if you want to unlock the full exp, you'll have to get the pro version. It unlocks all the voices and offers fully unlimited usage. The new voices get added regularly, so there's always smth new to try.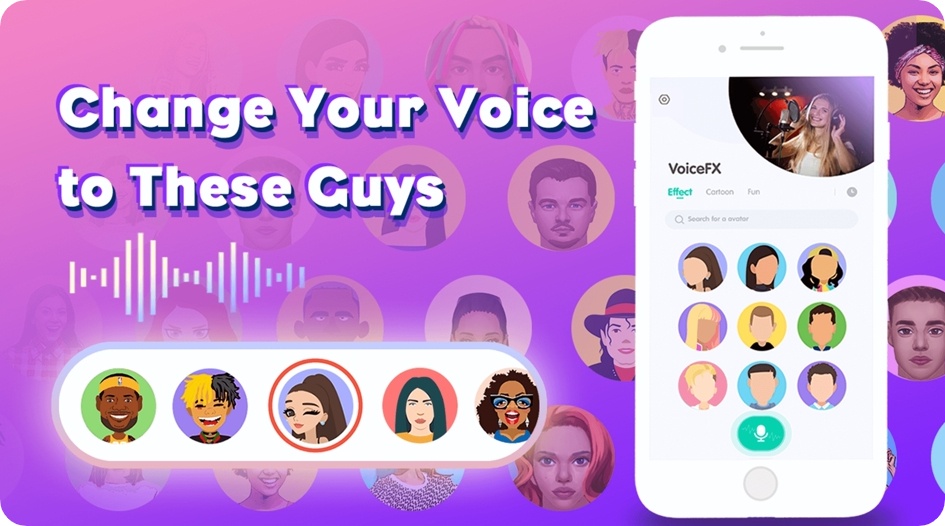 You may also check: Top 10 Face Swap Apps & Websites
Voisey
Lastly, there's an app to take your voice impressions to the next lvl. It covers a vast scope of celeb voices including singers, actors, and even politicians.
But the real icing on the cake is the ability to make voiceovers with some of the most iconic celebs. The app constantly updates with new options to keep things fresh and exciting.
The tech behind this app is easy to use, letting you modify your tone with just a few taps. The voice changer technology is incredibly intuitive and easy to use, allowing you to transform your voice with just a few taps. It's so much fun to play with here, you can make some truly outstanding clips.
You'll get to regulate the speed and add some extra FX if needed. And you'll surely like how easy it is to share your clips in HQ. The paid pack is included, but the free one is fully usable.