We all have that inner artist just waiting to burst out of us. And while not all of us can make masterpieces on canvas, there's another way to do that.
We've rounded up the best painter simulator games for Android, iOS, and Windows you could try. These will take you on a virtual journey where you can express your creativity and bring your wildest imagination to life.
No skills are required, some games let you color by number, while others have an AI tool that turns doodles into art. From realistic sims to casual time-passers, there's a game for everyone. Let's get into it!
Painter's Life
This app is a fun and creative way to spend your time. It's ideal for painting buffs and those who just want to feel what it's like to be an artist. This game is a gem for those in need of entertainment and creative outlet.
With the help of advanced AI tech, you can easily turn your scribbles into masterpieces that will leave the audience amazed. And the variety of prompts is impressive: from landscapes to abstract art, there's something for everyone.
But what really sets this app apart is its competitive mode. Not only do you get to create beautiful works of art, but you can also compete against others to determine who the ultimate artist is. All the participants show off their work in an online gallery. It's like the Hunger Games but with paintbrushes instead of weapons! (Okay, maybe not that intense, but still pretty cool.)
Even if you're a beginner, the game is incredibly user-friendly. You can easily jump in and start creating. And the results are seriously impressive, even if you've never tried digital painting.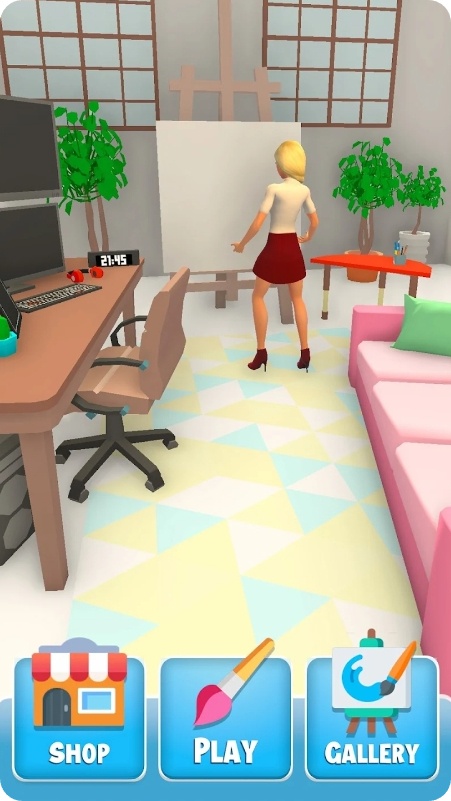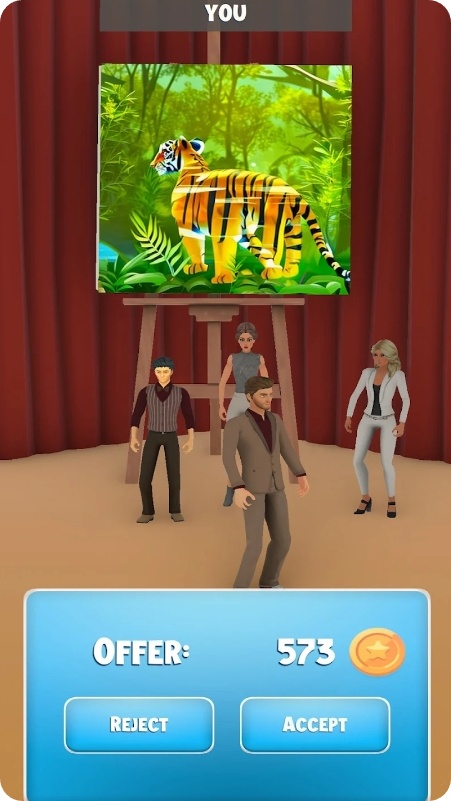 You may also like: Top 10 Anime Drawing Apps
The Artist
This game is a gem for anyone who has ever dreamed of becoming a famous artist. Here, you can start your career as a struggling artist selling your paintings on the street (doesn't sound like a lot of fun but trust the process).
As you gain more XP and become more skilled at your craft, you can start selling your paintings at home sales and eventually work your way up to the richest galleries in the world!
One of the coolest things about this one is the variety of locations you can paint in. Whether you're into the hustle and bustle of a city street or the peaceful solitude of a country landscape, there's a location for you.
But it's not just that that makes this app so engaging. The reactions of clients are variable and will keep you on your toes. Some of them will love your work, and some of them will hate it. Some will be willing to pay top dollar for your paintings, while others will try to haggle you down to pennies.
And if you're worried about your artistic talent, don't be! The game has a coloring feature that lets you paint by numbers with different colors. You don't need to be an experienced artist to enjoy it at all.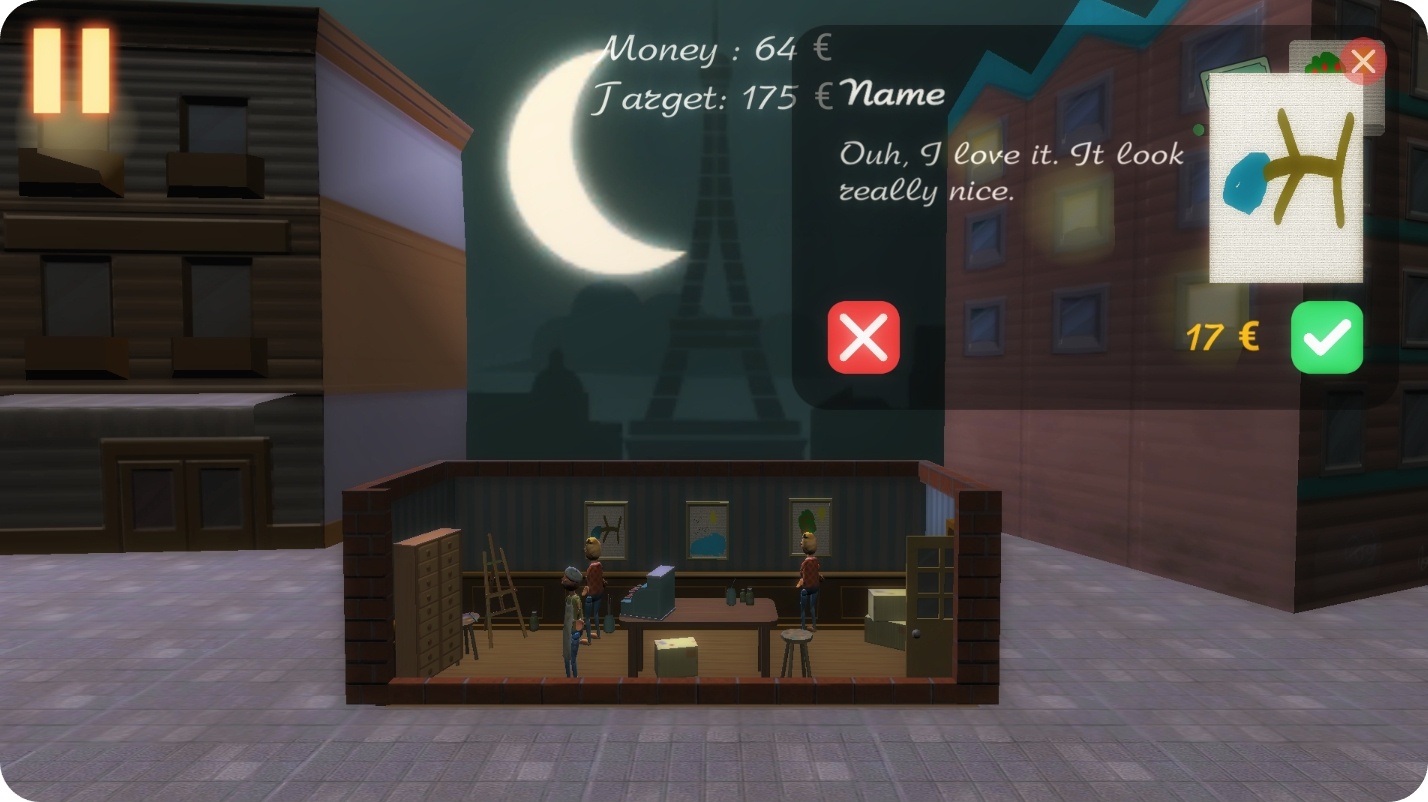 I Can Paint
This app is an absolute gem for anyone who loves painting. If you're someone who can barely draw a stick figure, you'll be pleasantly surprised by this one. It lets you make cool artwork with little to no effort (well, it's a game after all).
One of the best things about this one is how intuitive it is. Even if you have no experience whatsoever in painting, you can jump in and start creating stunning pieces in no time. The app guides you step-by-step through the process of mixing and painting colors, so you can get the shades and hues for your artwork.
The process is all about the paint dropper. This ingenious tool lets you fill your canvas with rich, vibrant colors in just a few taps. You can mix and match as many colors as you want, so you can make an endless variety of unique masterpieces. It's like a little art studio where you can spend experimenting with combos and techniques.
The only thing to note here is the atrocious amount of ads. It gets rather annoying pretty fast, so we recommend you turn on the airplane mode.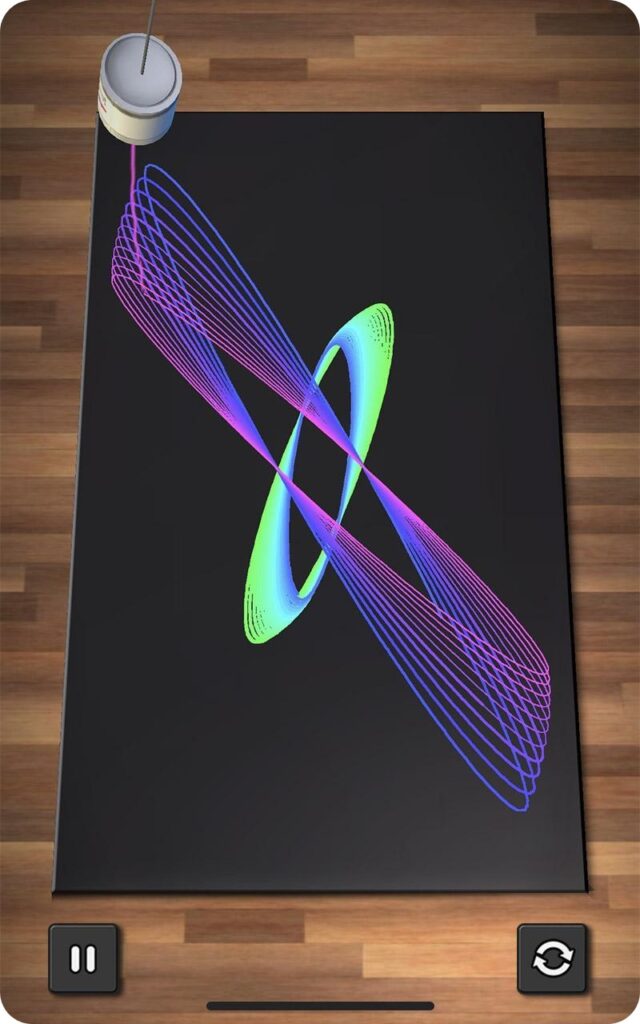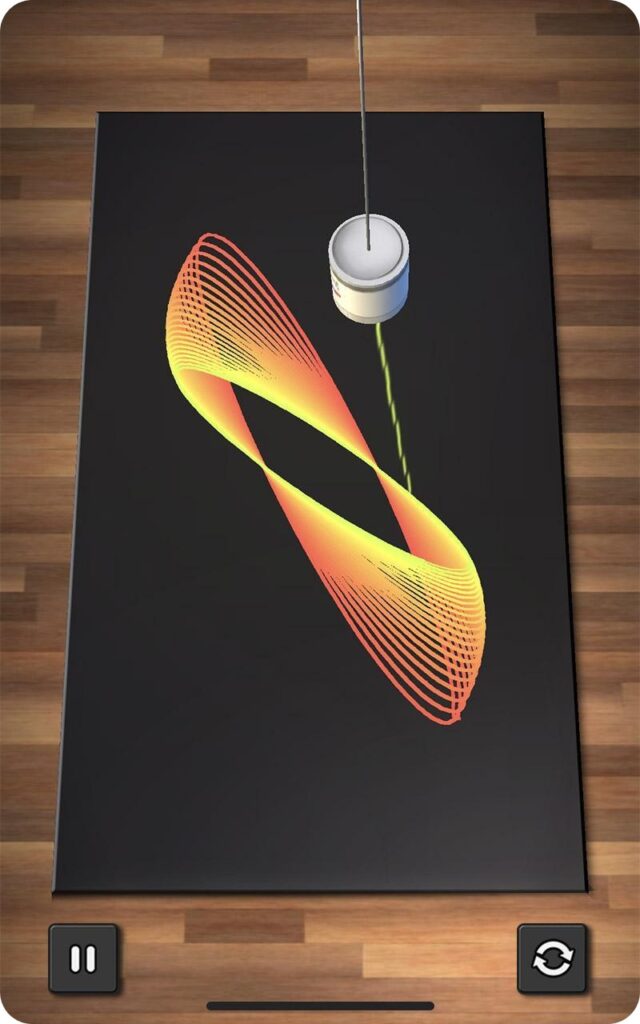 My Artist Life
This nifty little app lets you paint and draw to your heart's content on a virtual painting board, without getting messy or worrying about making mistakes.
One of the things we love about this app is how easy it is to use. You can select from a wide range of brushes, colors, and styles. Whether you want to make a watercolor masterpiece, a bold and vibrant acrylic painting, or a delicate pencil sketch, the app has got you covered.
But don't expect too much from it. It's a basic take on the artist's life, so you can fully make it work by drawing some funny doodles or smth. Then, you can proudly display your artwork in a virtual gallery. Here, potential customers can browse through your collection and purchase any pieces that catch their eye.
The more you sell, the more money you'll have to buy supplies And there's a whole house for you to take care of, too. In case you do want to make decent drawings, there are tutorials on how to do that. Nothing too complex, just the basics to keep in mind.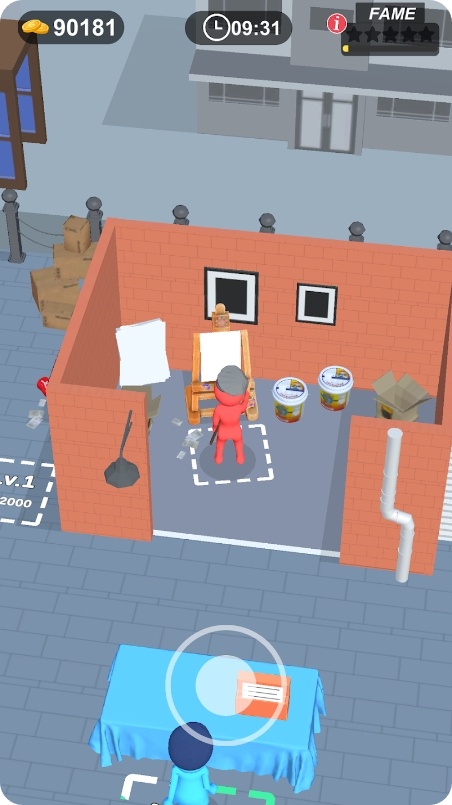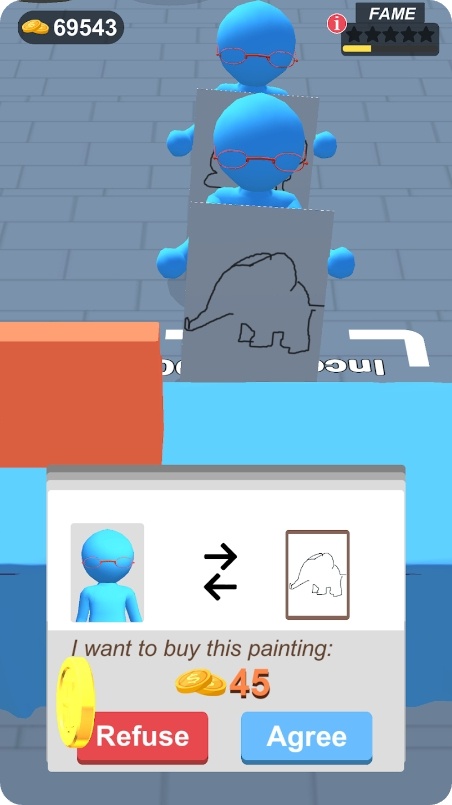 Check also: 21 Best Family Simulator Games
Artist Life
That's a simple app that lets you live a life as an artist. It's a one-stop shop for all things artistry and celebrity.
From painting to photo shoots, this app has everything you need to fulfill your artistic dreams and wow your celebrity clients. The gameplay is engaging and interactive, leaving you feeling like a true artist every step of the way.
One of the standout aspects of this one is the continuous story. You'll follow along as your artistic career takes off, taking on new projects and challenges at every level. Each step of the way, you'll have the chance to work with some of the biggest names in the industry and showcase your skills to the world.
But it's not just about painting and photography – there's so much more to explore here. From sorting through materials to choosing the ideal outfit for a photo shoot, every aspect of the artistic process is covered in this game. The graphics could've been better, but it is what it is. And don't get us started on the ads, there are far too many of these.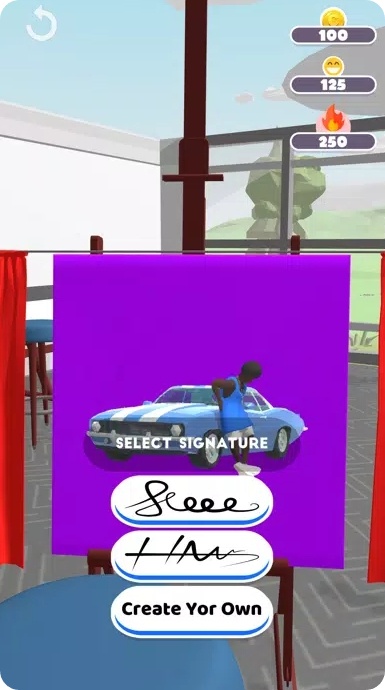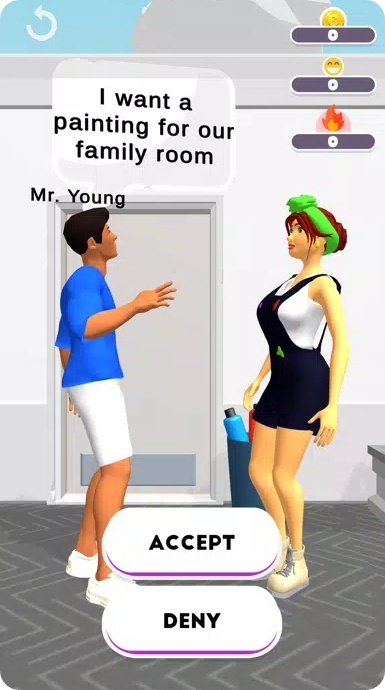 Passpartout: Starving Artist
With this game, you'll be able to paint your own masterpieces and sell them to a variety of customers. But as you can guess, it won't be that simple. You'll have to wrestle with subjectivity if you want to charm those self-proclaimed art connoisseurs into buying your work.
Here, you'll take on the role of a French artist trying to make a name for yourself in the chaotic Parisian art world. You'll have to balance your artistic integrity with the demands of your clients and the need to pay your coffee and baguette bills.
As you progress through the lvls, you'll unlock fancier galleries and customers, giving you new opportunities to showcase your creations and make a name for yourself. One of the highlights of this one is the way it immerses you in the French art world through a living puppet theater.
This unique presentation adds an extra layer of charm and intrigue to the game, bringing the cast and settings to life in a way that feels both whimsical and authentic. Of course, no game is complete without a great soundtrack, and this one is both groovy and delightful, perfectly complementing the game's whimsical and light-hearted tone.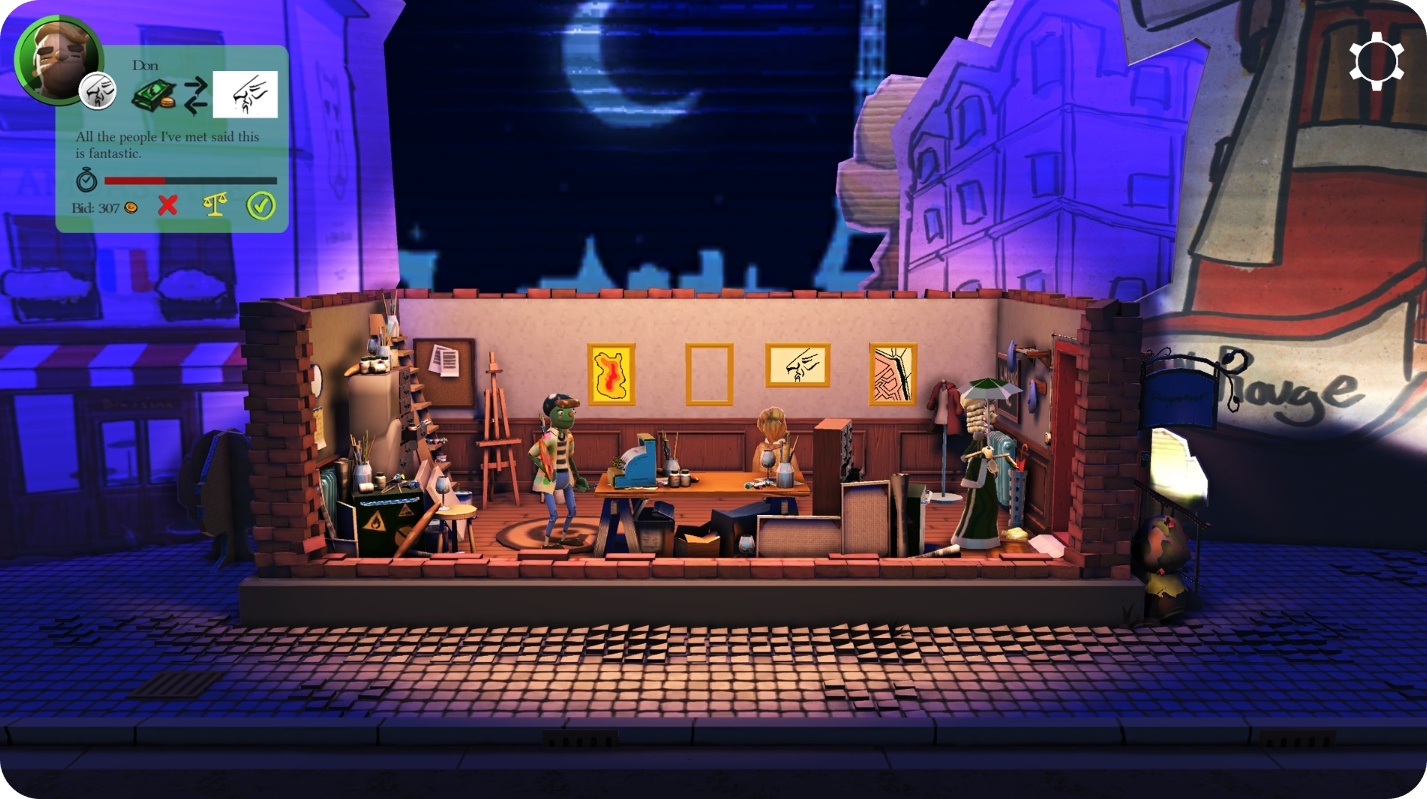 Painter Simulator
This one gives you the platform to explore your imagination and showcase your artistic skills. What sets it apart is the emphasis it places on the player's perceptiveness and imagination. Unlike other games that follow a fixed storyline, it lets you form the world you want to see, painted in the colors you want.
The game's mechanics are simple – use colors to make objects, vehicles, or characters move and progress through stages. As you move forward, you'll uncover the game's story and become an active participant in its unfolding.
The best part is that the outcome of the game is entirely up to you! Make decisions and become a leader by deciding which action the scenario maps will take. There are also some other modes where you can experiment and turn the world into smth entirely new. You can make the leaves blue or the grass purple, it's up to you.
The skill upgrade system encourages you not to give up even if something goes wrong and lets you choose the painting mode you want to use. As you progress through the game, you'll gain skills and set goals that you want to achieve.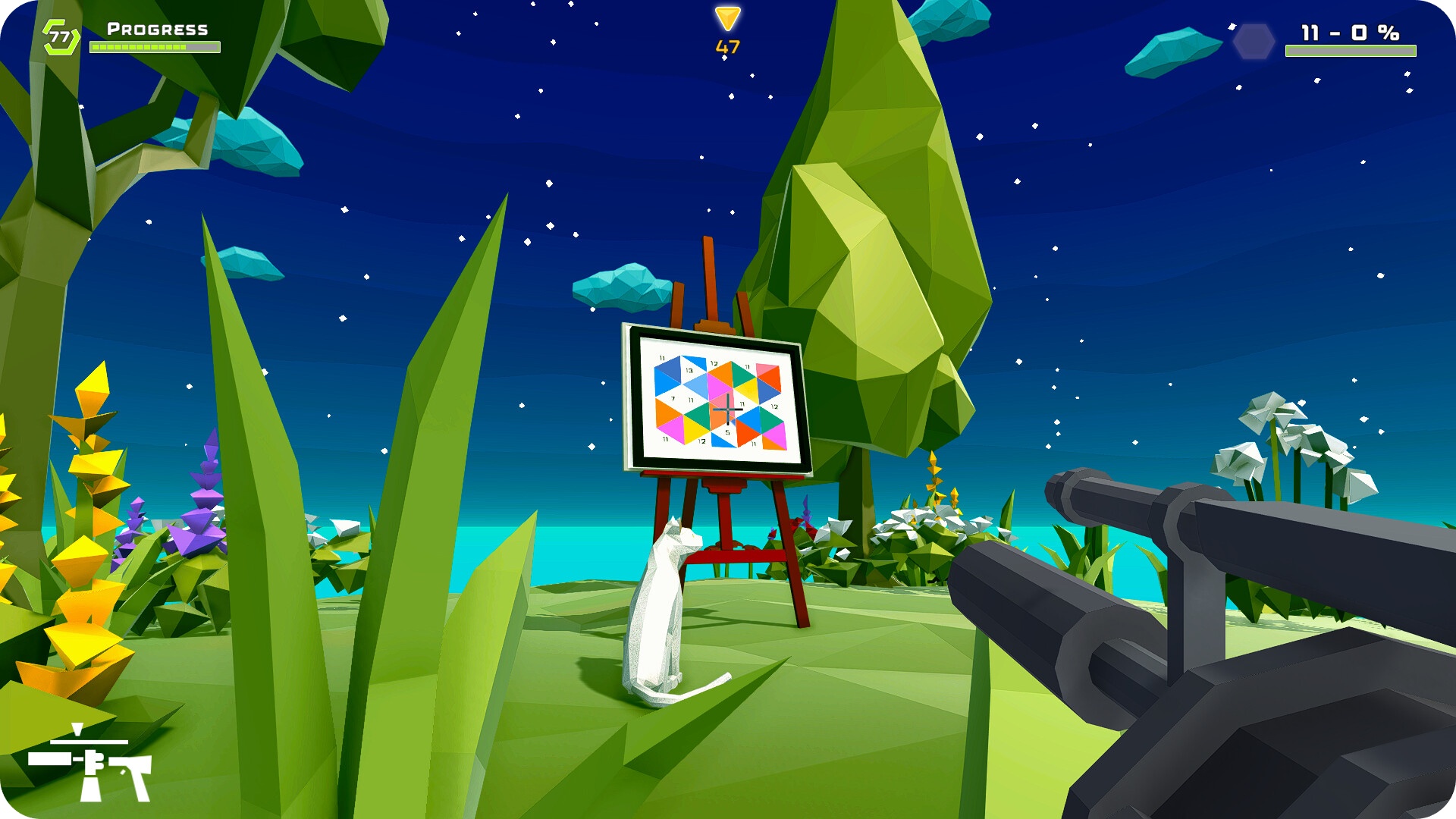 You may also check: 15 Free Digital Drawing Apps
Airlines Painter
Well, that's a rather limited take on painter simulators, but it's still fun to play. It can actually be quite entertaining for aviation enthusiasts and artists alike.
It lets you place your airline's brand all over the sides of planes with bold colors and eye-catching designs. With a simple and full-featured UI, you have the power to modify and decorate aircraft with a variety of tools at your disposal. From variable-sized brushes and straight lines to paint buckets and color pickers, you can do whatever you like.
The layer system allows for easy organization of your paint layers, and the lib of stickers (which you can even expand with your own pictures) gives you even more options for those final touches. Want to write a catchy slogan on the side of your plane? The text tool has you covered.
And did we mention that your creations can be saved or shared with just a few taps? Just in case you'll want to share your projects with folks. The game is free, and there are tons of lvls to go through, so it can keep you entertained for a few weeks or so.