Attention, board game enthusiasts. Are you ready to put your skills and luck to the test?
We've rounded up the best offline backgammon games for Android, iOS, and Windows you could try. These games are ideal for Domino fans, and those who enjoy building strategies.
Whether you're waiting in line at the grocery store or have a few spare minutes during your lunch break, having such an app can provide endless hours of fun and mental stimulation. Now you can roll the dice and strategize to your heart's content without the frustrating interruptions of a spotty connection. Let's dive in!
Backgammon Offline
This app is bringing all the classic dice-rolling goodness straight to your pocket. And the best part? It's totally free! But do not let the cost (or lack thereof) fool you, this isn't some amateurish app put together in someone's basement.
On the contrary, this one boasts some of the smoothest graphics and gameplay you'll find on a mobile platform. And the AI part? It's on a whole other level. We're talking machine learning and neural networks in full effect, making every move feel like you're playing against a real person.
One of the nicest surprises of this app is that you don't even need to be connected to the internet to enjoy it. That means you can roll your dice and strategize to your heart's content without worrying about losing your Wi-Fi connection mid-game.
Plus, there are no hidden fees, and no sneaky in-app purchases trying to sell you virtual dice or boards. There are even no banner ads cluttering up your screen, we all know those can be a real nuisance. One thing to keep in mind is that this app is intended for adult audiences and doesn't offer real-money gambling. But the thrill of winning a game of backgammon is its own reward, and this app delivers in that regard.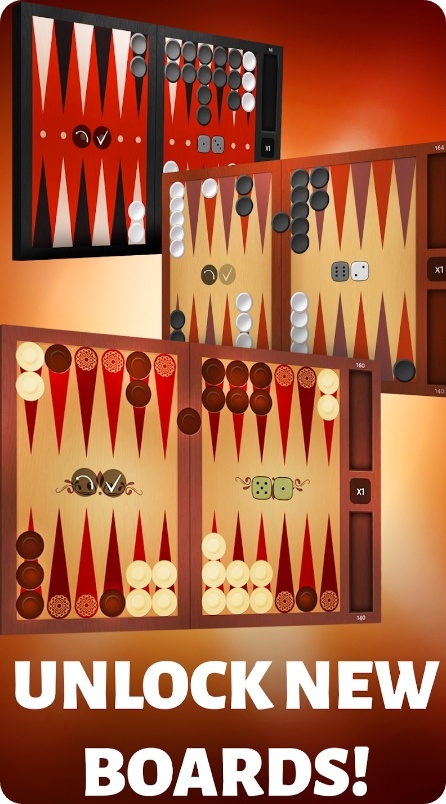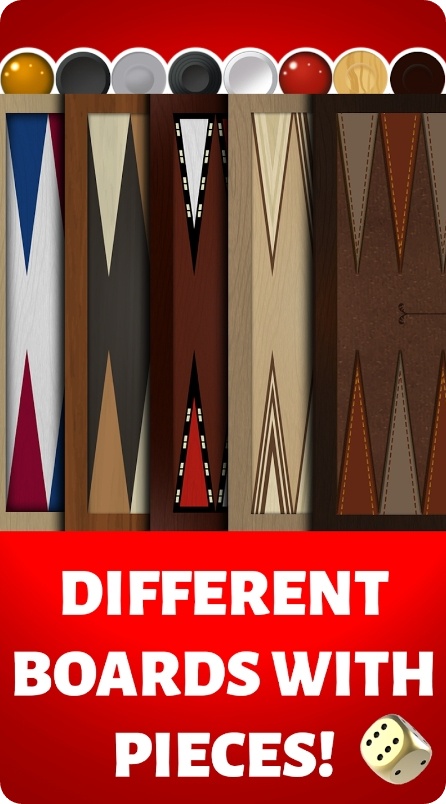 You may also like: 15 Best Reflex Games
Backgammon
If you're a fan of backgammon but are tired of constantly losing to mediocre AI opponents, you're in luck! This app will have you blown away by the high-level AI that it has to offer.
Not only does this game boast realistic dice probabilities, but the smooth graphics and gameplay will have you feeling like you're playing the real deal. And with the added bonus of being able to play completely offline, you'll never have to worry about losing a game due to a spotty internet connection.
But let's talk about the AI, the real star of the show here. Powered by advanced machine learning and neural networks, this AI is so good it'll have you questioning whether you're playing against a real-life opponent. It learns from your gameplay and adjusts its strategy accordingly, so no game will ever play out exactly the same way.
Plus, with no banner ads in sight, there will be no annoying interruptions to disrupt your concentration. And to top it all off, this app is completely free to download and play.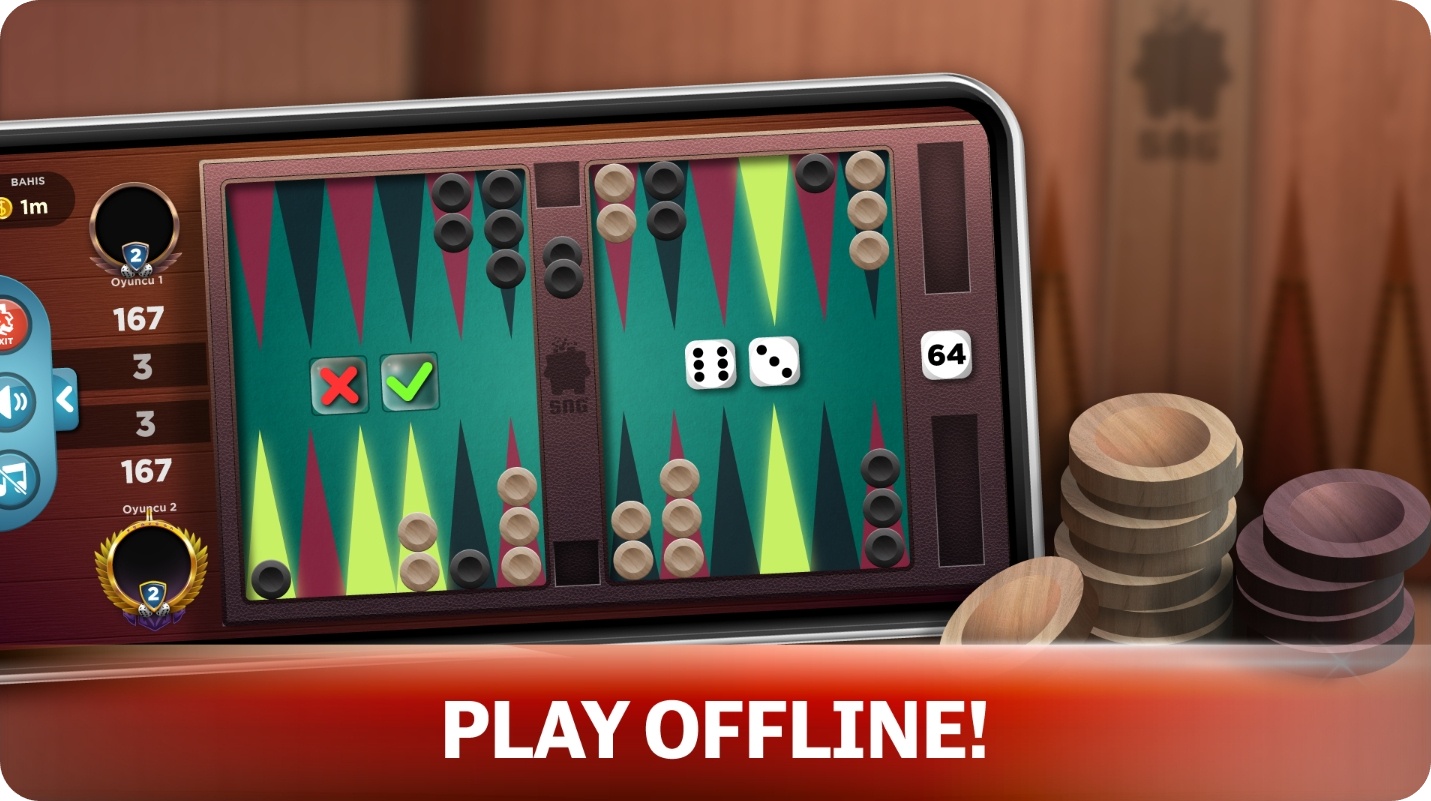 Backgammon Pro
This app takes the classic game of backgammon and kicks it up a notch. But it doesn't mean that it will offend the ones who appreciate the classic. This app is all about flexibility, and it lets you cater the game to your prefs fully.
It has all the bells and whistles you'd expect from a high-quality game. And with diverse design tables and stamps, you can adjust the look and feel of your game. Plus, the statistics are kept, so you can track your progress and brag to your friends about your winning streak.
And the best part? This app works without the internet! No need to worry about lost connections ruining your game. You can play anytime, anywhere. But what really sets it apart is the different levels of difficulty. Whether you're a pro or just starting out, there's a level for you. So challenge yourself, or take it easy and play at your own pace.
And let's not forget the added shortcuts for easy use. This app is intuitive and user-friendly.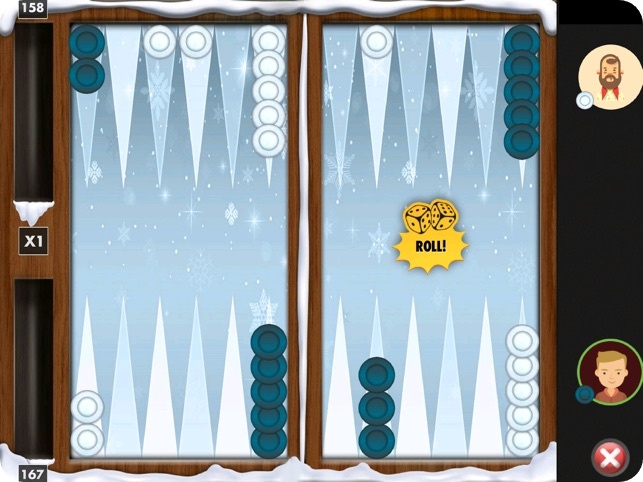 VIP Backgammon
This game provides you with just the right level of challenge, whether you're a seasoned pro a or complete newbie. It's here to give you completely free, authentic exp with enticing HD graphics that will transport you right to the heart of the game.
Whether you're rolling the dice for the first time or looking to hone your strategy, you'll easily cope with this one And don't worry if you're just starting out, the simple and easy-to-remember rules make it accessible for all ages.
But don't be fooled, this game is also challenging for experienced players thanks to the skilled AI that you can play against. Want to raise the stakes a little bit? Just switch over to the 2-player mode and test your skills against a friend.
One of the top aspects of this one is that you can dip in and out of it whenever you like, without needing a web connection. So whether you're sitting on the sofa at home, on the bus to work, or waiting in line at the grocery store, you can immerse yourself in a game of Backgammon.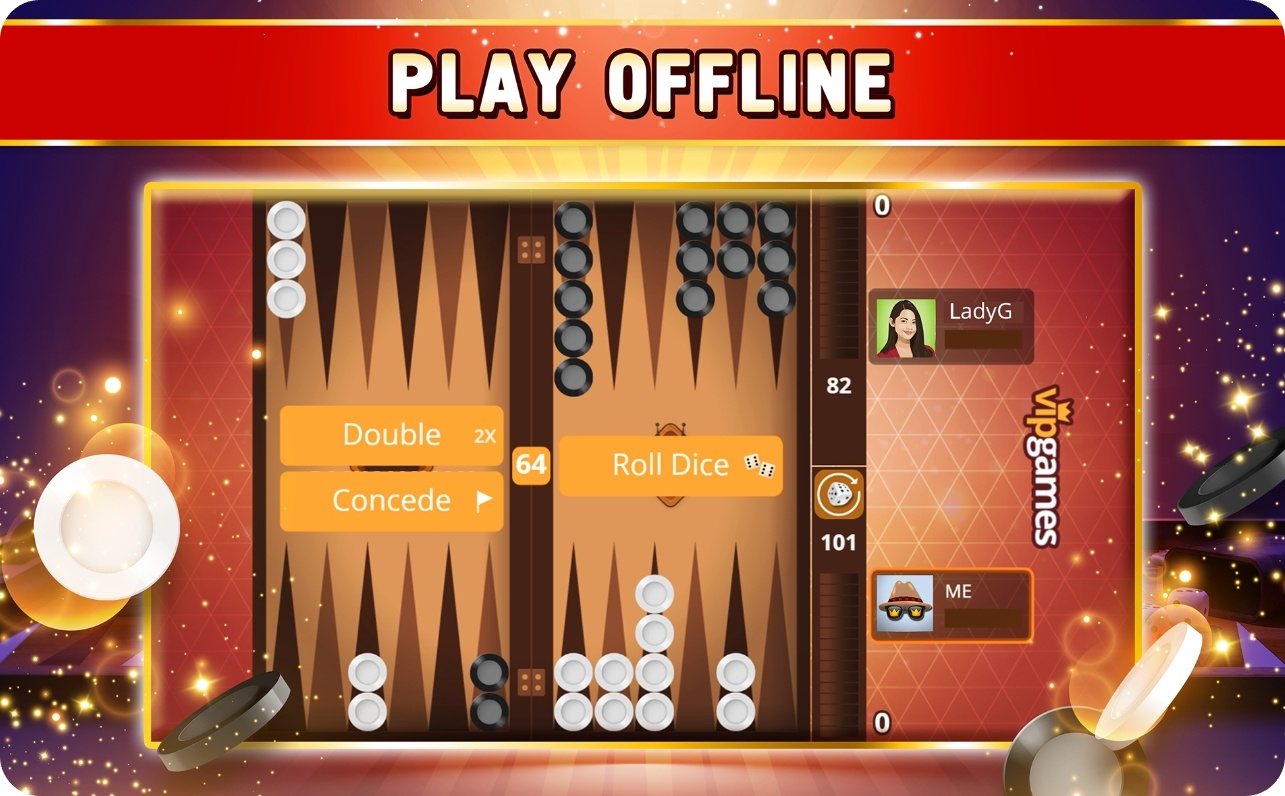 Backgammon
This app is nothing short of a masterpiece when it comes to skill and strategy games. We're talking about a game that has been played for centuries, and now it's been beautifully translated into an app.
The cool thing about this one is its ability to make you feel like you're playing against a real opponent. The app's AI is nothing to sneeze at – it's strong, it's clever, and it's always keeping you on your toes. Plus, with 2 modes, there's no room for boredom here.
But let's talk about the new tools. Set your own Dice Seed? Oh, yes, please! Now you can replay games over and over again with different strategies and dice rolls. And better yet, you can prove dice integrity to that one friend who always claims you're cheating!
And if you're a stats junkie, you're in for a treat. This app allows for a full extensive breakdown of your lifetime matches – ideal for analyzing your games and figuring out where you can improve. But let's not forget about the visual appeal. With four diverse boards and piece sets, you can adjust the look and feel of the game to your liking.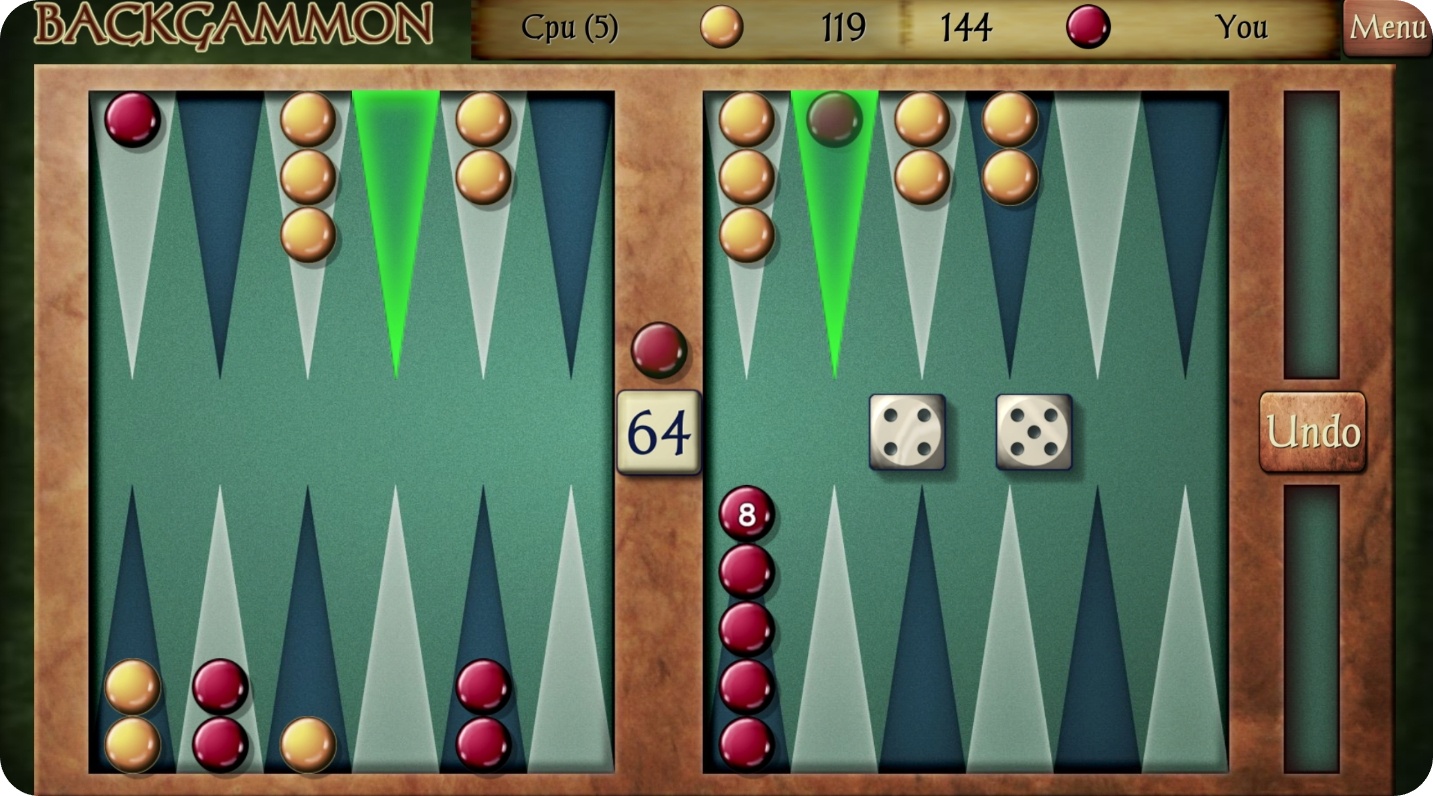 Backgammon
If you're a fan of logic games, it's time to add this app to your list of must-plays! This board game has been around for over 5K years and is a classic for a reason. And with this app, you can enjoy all aspects of backgammon on your phone.
This app comes with a fair dice roll. No more rigged rolls like with some other games! Plus, if you accidentally make a move or come up with a better strategy right after making a move, you can undo it. This tool is especially helpful for those of us who tend to get a little excited when playing!
Another great aspect is the highlighted possible moves. You don't have to worry about missing a move, because they're all right there on the screen. And the simple and intuitive design makes it easy to focus on the game without any distractions.
And for those just starting out, there are easy opponents to sharpen your skills before you take on more demanding players. Whether you're a seasoned pro or a newbie to the game, the app has something for everyone.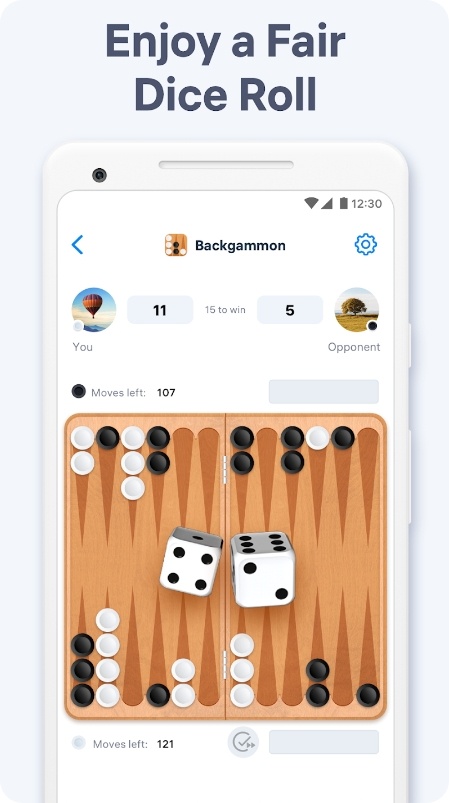 Check also: 15 Best Two-Player Game Apps
Backgammon Classic
Here's an app that brings a modern twist on a traditional favorite. One of the best things about this one is how easy it is to play. With just a single touch, you can start rolling the dice and moving your checkers around the board.
But just because the game is easy to play doesn't mean it's not challenging. With an adaptive AI opponent, you'll always be kept on your toes, trying to outsmart your opponent and make the right moves at the right time. And with options to play in 1 or up to 15 points, you can tailor the game to your prefs and style.
Of course, what really sets it apart is the doubling cube. Whether you're feeling confident or want to take a risk, you can use this handy tool to increase the stakes and make the game even more exciting.
And let's not forget about the ability to hit your opponent's checkers and remove them from the board. Nothing feels better than making a strategic move that leaves your opponent reeling! Finally, with the app's auto-save, you can rest assured that you'll never lose your place in the game.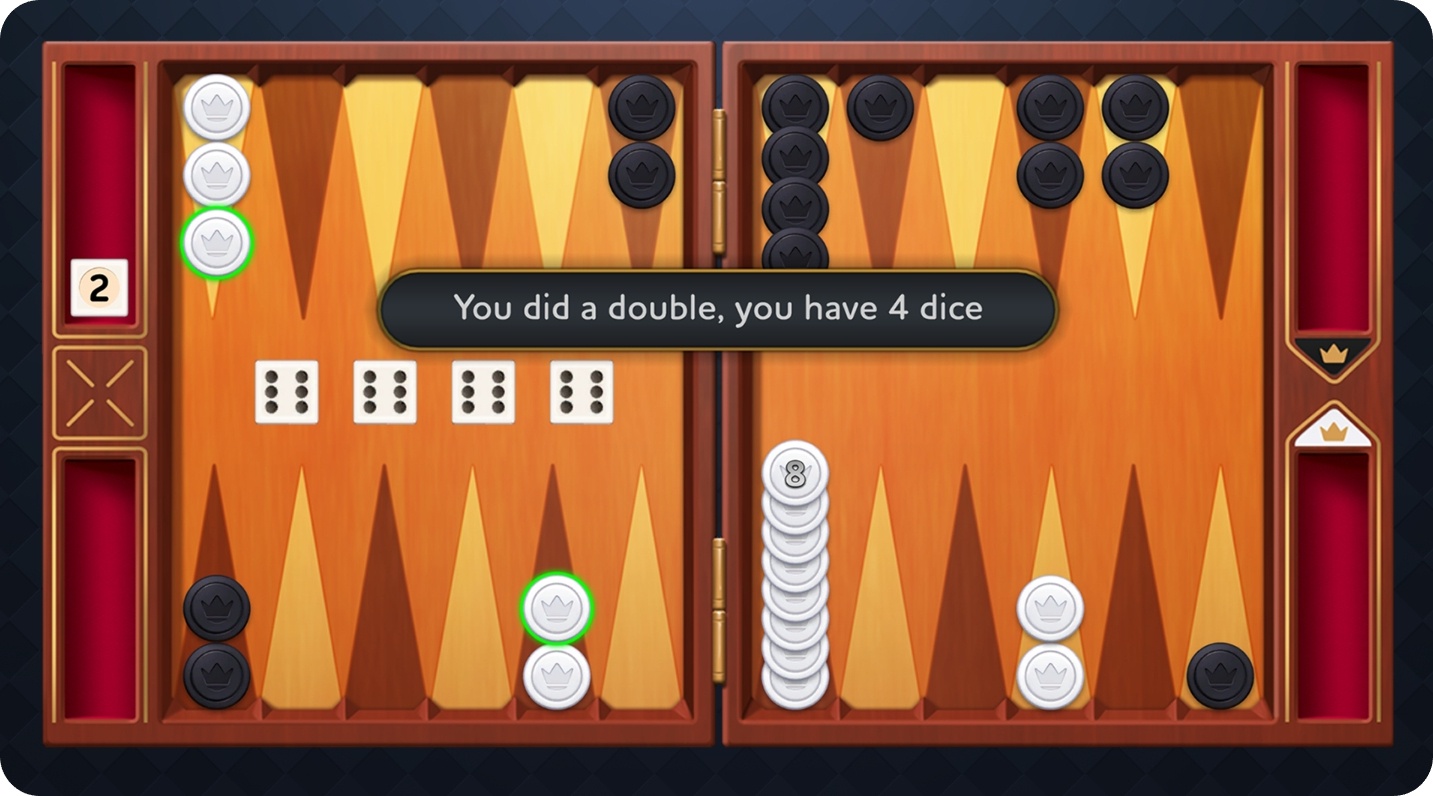 The Backgammon
That is the kind of app that won't leave you hanging. It covers all the basics, whether you want to dominate players around the globe or take on an AI opponent.
Let's get into the fun stuff aka the quests. It's like a global showdown, where you can challenge folks worldwide, climb up the rankings, and even spectate live games. Want to play against your mate? Just share the secret keyword and let the games begin!
Not in the mood for world domination just yet? No worries. The offline games come in 5 difficulty levels that cater to everyone's prefs. Plus, there are nifty tools to help newbies level up their game. Adjust the rules, choose your match duration, and dive into the world of strategy and skill from the comfort of your device.
The Challenge mode is here for those thrill-seekers who want to push their skills to the limit. Defeat the computer, collect shiny medals, and flaunt your achievements like a boss. Overall, it's the ultimate companion for those who crave both enjoyment and improvement.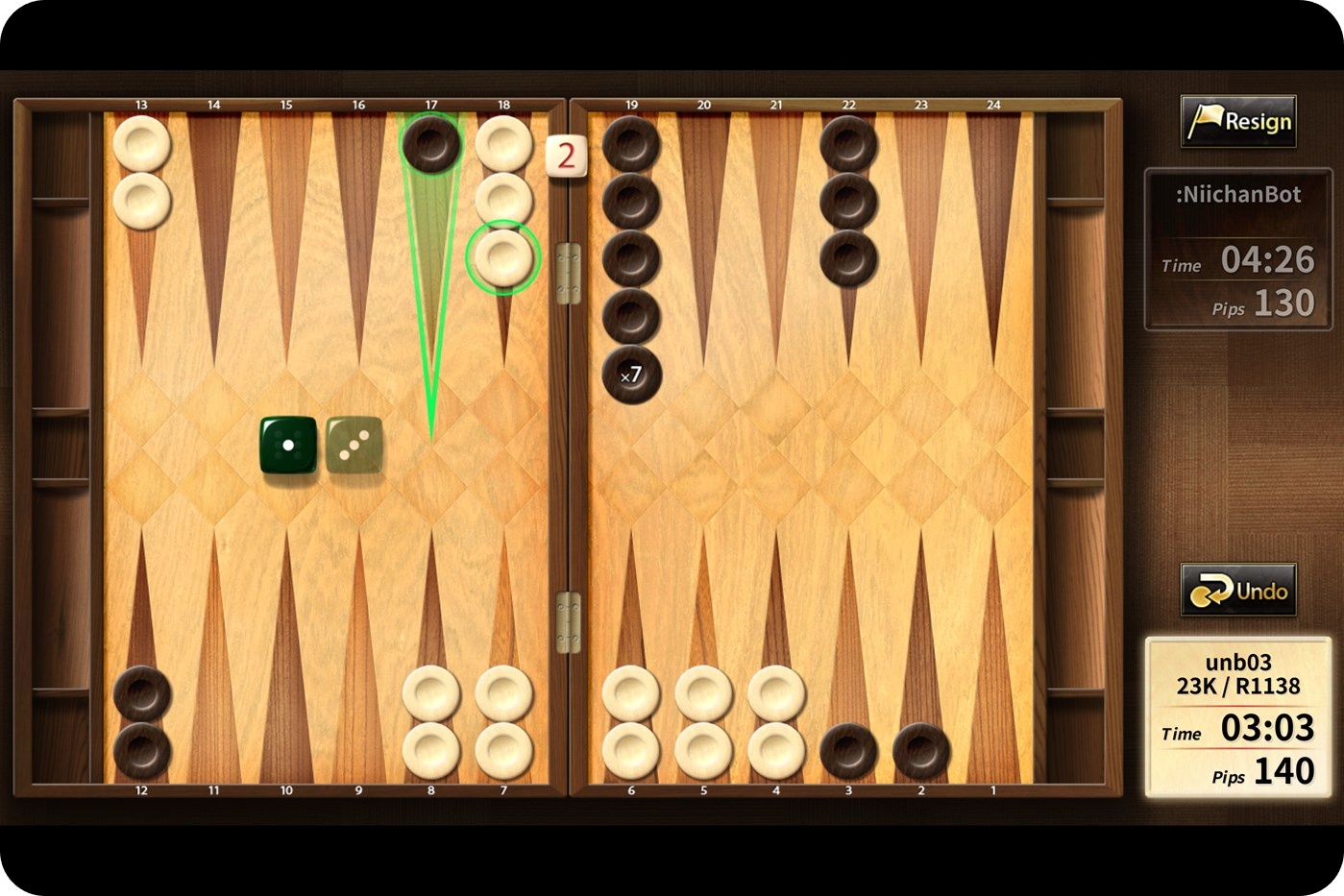 Backgammon Unlimited
It's a game that will tickle the minds of even the most experienced players. One of our fave things about it is the strong AI that challenges you to think and strategize through 5 complicity lvls.
And if that's not enough of a challenge, you can also play more rounds while using a doubling cube and the Crawford rule – a must-try for any serious backgammon player. It also comes with l hints that guide you through every move. And if you happen to make a mistake, no worries, the unlimited undo switch is always there to save the day!
If you're someone who values aesthetics, you'll be pleased by how clean and visually appealing the UI is. But the app doesn't just look good, it sounds good too! The app covers a refreshing soundtrack that adds an extra layer of enjoyment to the game.
The app saves your sessions automatically, too. There's no need to stress about losing your progress; you can effortlessly continue from where you left off and enjoy your game at your own pace. And with abundant statistics, you'll see yourself grow as a player round to round and over time.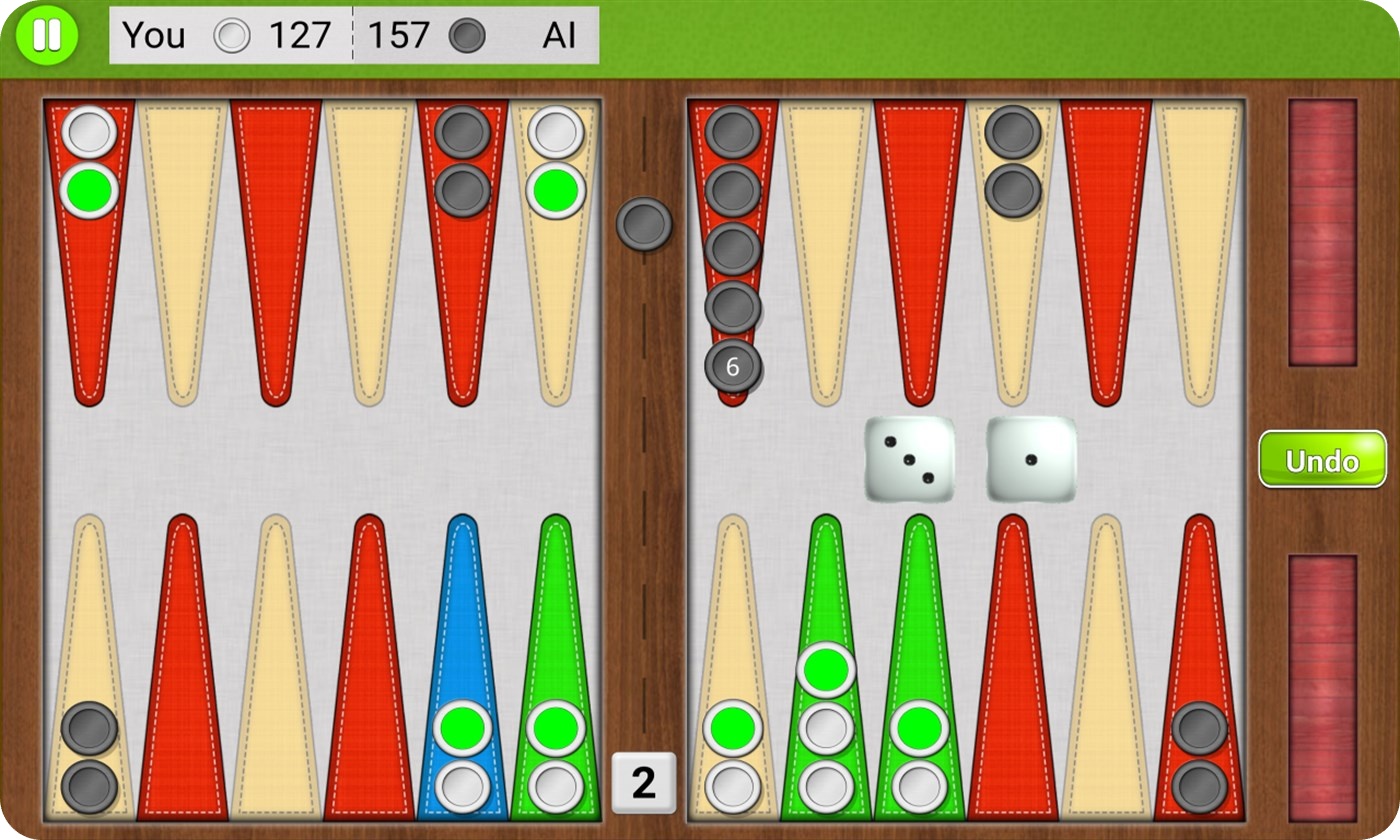 Narde
This app is a true gem among skill and strategy games. This app does justice to its centuries-old origin and has been executed with utmost precision. The AI opponent is no pushover, so you better come prepared with your A-game!
The app's tools are like cherries on top of an already scrumptious cake. With the ability to set your own Dice Seed, you can experiment with strategies and dice rolls – giving you endless possibilities to outsmart your opponent. And if there's that one mate who always accuses you of cheating, fear not! You can finally prove your innocence with the app's dice integrity feature.
For those stats geeks out there, the app gives a comprehensive breakdown of your lifetime matches. You can analyze your games, identify areas for improvement, and unleash your true potential. And let's not forget about the visuals – the app boasts four diverse boards and piece sets, so you can customize the game to your heart's content.
With its strong AI opponent, new tools, and stunning visuals, you'll be entertained for quite a while.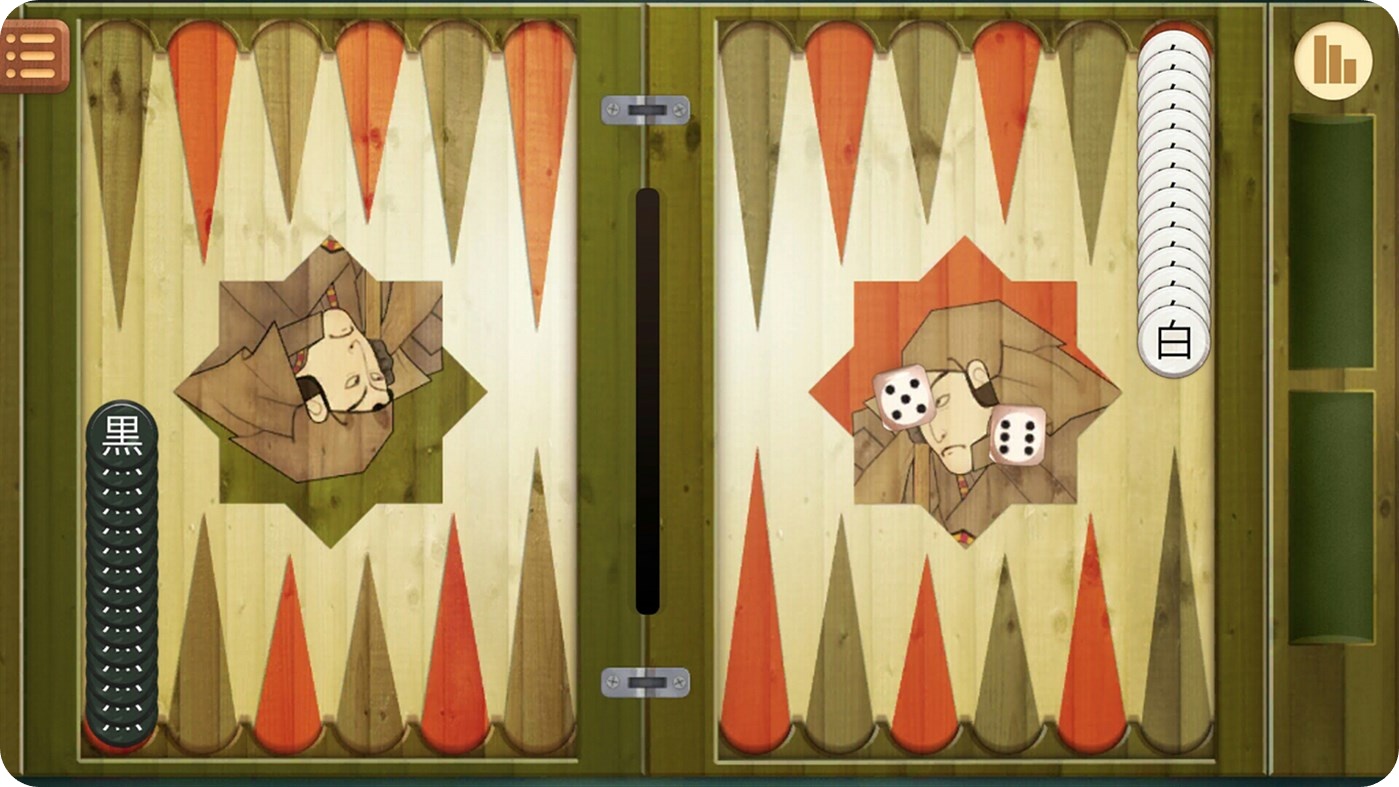 You may also check: 7 Best Jigsaw Puzzle Apps
Backgammon!
To wrap up, we have a classic game of backgammon to cover all your needs. First off, the app is completely free. You can play your heart out without any pesky payment prompts interrupting your session.
But don't let the lack of cost fool you into thinking this game is subpar. This is hands-down one of the best backgammon games you can find on Windows. Why, you ask? Well, for starters, it has a super-strong AI that will truly test your skills and strategy. And if you're feeling particularly confident, you can even adjust the difficulty lvl to up the ante.
But hold on, there's more. This app covers full-match play with a doubling cube rule option. And if you're a bit indecisive about which board and piece set to use, don't sweat it, there are tons of options here.
Oh, and did we mention the hint and stats? Yeah, this app has those too. So even if you're a newbie, you can feel like a pro with the help of these handy tools. And if you're worried about your dice-rolling skills, don't be. You can either use the random dice generator or manually input your dice rolls.