The best we can do to improve our lives is to optimize our time, so we can be healthier, happier, earn more, and live better and more comfortably. Every day we might be spending our precious lives solving daily tasks in an outdated way and dealing with inefficient software.
How would you spend your free time if there were more of it? Let's start dedicating our time to the projects of our choice more wisely.
In this article, we help architectures, engineers, constructors, makers, designers, artists, students, educators, and many more make the most of their time by providing a list of 11 Best CAD Drawing Software for PC, Android, iOS to easily create, edit, and analyze a design on your devices: a PC, smartphone or a tablet.
You may also like: 11 Best PDF Editor Apps for Android & iOS
Nowadays, CAD has become an exceptional and leading tool for drawing and sketching. It is used to create industrial and mechanical objects, and 3D modeling software – to create real-world articles.
At first, the process of creating in CAD programs can seem extremely complicated, though, with the help of specialized software and applications, it becomes much easier. With some of the apps from our article, even a novice can start drawing.
1. AutoCAD
This is easily the most popular software developed by Autodesk Inc for drawing and design that can be used on a desktop, on a cloud, and on mobile devices (both Android and iOS). It is an extremely convenient DWG viewer & editor software to create, draft, view, edit, and mark up DWG files.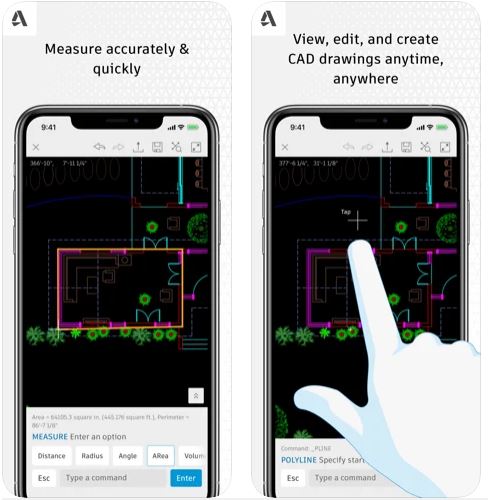 Import them from your emails or cloud, synchronize your projects with any of your gadgets, and have quick access to them at any time. Stay productive regardless of circumstances.
Before using the AutoCAD software, you have to create a free account. After you will be able to upload, open DWG files and see all available options, external references, and layers. It is a great app to make and modify AutoCAD drawings in real time.
You will be able to draw and edit various shapes with the help of object snap and keypad input that guarantees your projects to be entirely accurate. Besides, there is the Blocks feature that includes existing objects, which will help you move and copy them saving a lot of time.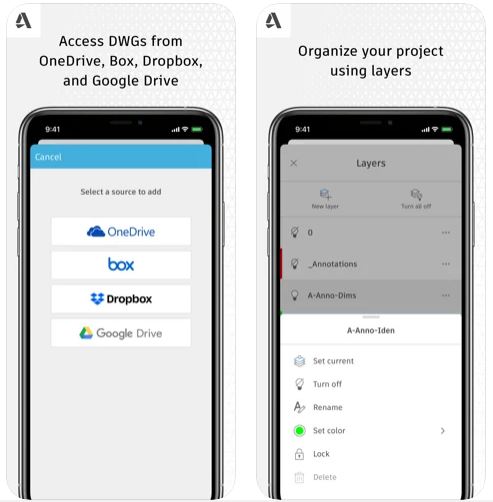 Speaking of the interface, it is flawless. Managing layers is also pretty convenient: see more detailed and context information compared to paper drawings. It means you can organize many projects with lots of additional opportunities. This feature will be favored by experienced architects, construction professionals, or engineers.
Another great feature is that the usage of the application does not require an Internet connection. There is a free 7-day trial after which you can decide whether you want to pay the full price to continue using it or not.
Note: The full version of Auto CAD (3D CAD Design) is not compatible with mobile devices. Auto CAD is a comprehensive professional design program that requires the resources of a complete desktop system to function and render.



You may also like: 11 Free Photo Scanning Software for Windows 10
2. AutoQ3D
Another strongly recommended by field professionals is AutoQ3D available for PCs, Android, and iOS mobile devices. It is suitable for all: architects, designers, engineers, students, and more. Moreover, you will be able to see them from various points of view.
There is access to panning, zooming, rotating points of view, as well as the top, bottom, front, back, right, left, isometric presets, which will help you adjust 3D creations easily and effortlessly. With lots of powerful tools available, including a video tutorial library with email support, and online forums it allows you to create, edit and share 2D and 3D models, designs and drawings.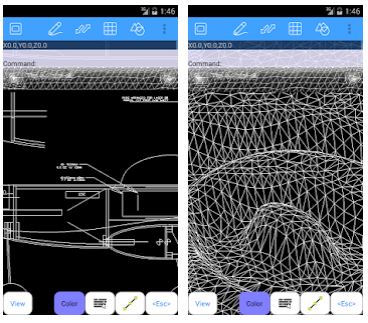 Designed for smartphones and tablets with a stylus interface, support surfaces, and 3d formats like STL, OBJ, DXF, and native 3DQ with textures, it is possible to print drawings with the Desktop version.
Let's see the provided tools closer. There are three-dimension shapes available in the app: lines, boxes, spheres, and more; circle, line, rectangle, arc, text, polygon, triangles, region, extrude, box, sphere, and revolve. Ability to draw your own surfaces using revolve and extrude from 2D primitives.
Snapping tools that increase the accuracy of making and editing objects help you draw from the end-point or mid-point of an object: end-point, nearest, intersection, midpoint, center, grid.
Modification tools that help edit 3D models with some basic operations: erase, trim, snapline, round, fillet, extend, offset, explode, slice, normal, texture uv.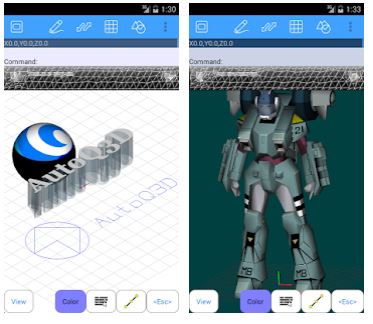 Edit tools: move, rotate, scale, stretch, array, and mirror.
With the group tools, organize items by groups to handle large 3D models easier. Group functions are helpful to manage several items as one entity making it more convenient to edit them.
Misc tools give additional drawing information and apply special commands: distance, angle text, distance text, area, perpendicular, and tangent lines.
There are also a few view modes available in the software: wireframe, hide, and smooth lines mode.
There is a free AutoQ3D CAD Demo version available supporting saving files in the DXF format. However, many features are not accessible compared to Premium users who can also save files in the STL and OBJ formats.



3. BIMx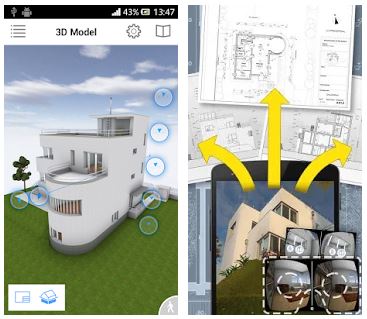 This app allows architects to present or share projects with clients developed by Graphisoft SE for both android and iOS gadgets. A cloud interface for working on-site gives you full control of
BIM projects and fills the gap between a design studio and a construction site, so there is no need to print out plans.
It is a perfect software for creating 2D and 3D building maps. It allows you to access an external Hyper-model element, get location feedback while navigating the application.
Its main features include: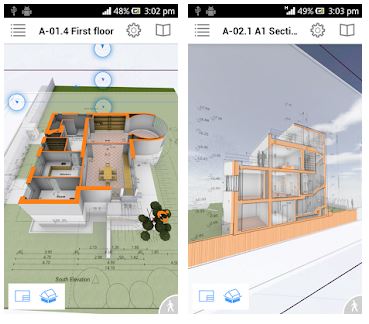 Full access to BIM content: 3D models, schedules, construction drawings, space or element information.
Compatibility with Google Cardboard VR for an immersive experience of designing on iOS and Android devices.
All-round 3D cutaways
Among additional BIMx Pro features are:
Live presentation with provided model views.
Google Could Print and AirPrint.
Smart measure in 3D models and on layouts.
Bonus: The BIMx Lab free beta version app available only for iOS delivers a 3D engine for BIMx. It eliminates a model size limit and collects customer feedback to improve the technology of all BIMx apps. Users have access to all additional functions of the paid BIMx Pro version. When the testing period is over, the new BIMx Lab will be merged into the BIMx app.



4. CAD Assistant
CAD Assistant is a free CAD drawing software developed by Open Cascade for personal and commercial use. It is a seamless app for elementary CAD model viewing and converting with basic features to create and view CAD files. Besides, it allows you to create an animation.
This software is optimized for gadgets with a multi-touch screen and supports intuitive 3D manipulation by finger gestures: select, rotate, fit, zoom or pan.
Available context menu and view cube help fit a model into the window and standard view choices. Setting submenu lets you access file information, application and viewer options, and the message log. To access inner model information, use clipping planes.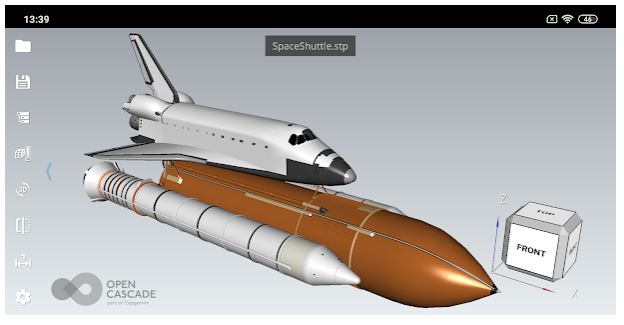 Easily modify existing materials' properties with a material editor. You have a choice of PBR metallic-roughness materials (metal-roughness, color, emissive, normal, and occlusion texture maps) as well.
With CAD Assistant, you can view the mesh in shaded, wireframe, and shrink view. If mesh holds colors, associated textures, or scalar data, you can view it with elements colored according to the selected characteristic. The supported mesh formats are STL, PLY, OBJ, JT, and glTF. The software supports such file formats as BREP, IGES, and STEP.
Among the issues using the app is time to open large files, though with the ones less than 50 MB will be no problems. When getting a low memory error, it can be solved by simply restarting the app.



5. CAD 3D Modeling
This software is developed by Mozongsoft Co Ltd that is suitable even for beginners. The application is inspired by CAD Assistant and be easily learned and mastered in a few days. It helps you easily draw, sketch, paint, design, and print right on your Android and iOS smartphone or tablet.
CAD 3D Modeling's intuitive UI gives you access to an optimized CAD experience to create complex 3D models with your fingertips and tens of 3D modeling tools.
Let's review the app's main features in more detail.
Its modeling tools include polyline, line segment, arc, ellipse, rectangle, spline, circle, and regular polygon. Among the advanced ones are revolve, extrude, loft, shelling, offset, pipe, chamfer, fillet, and others.
Boolean tools: boolean intersect, boolean union, boolean subtract, boolean xor, boolean section, etc.
The app lets you create simple 3D objects as box, cone, cylinder, truncated cone, torus, wedge, sphere, truncated wedge, pyramid, and truncated pyramid.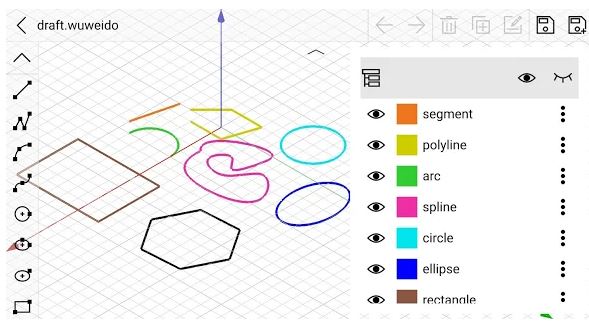 You can easily move, delete, duplicate, rotate, scale, and mirror geometry shapes.
Supported views include navigating to top, left, right, bottom, back, front, and ISO view.
Choice of such properties as material, color, transparency, display mode, and line width.
Do, save, and redo any changes.
Available text modeling instrument to support 2D and 3D text modeling.
The application supports IGES, STEP, and BREP CAD formats and can integrate data with such CAD modeling software as Solid Edge, Autodesk Inventor, SolidWorks, UG, PROE, CATIA, OPEN CASCADE, Rhino 3D, and many more.
An important characteristic is that the app can run offline and with no registration. Besides, the software allows you to work with standard CAD formats.


6. CAD Pockets (formerly ZWCAD Touch)
This is a multi-functional mobile app developed by ZWCAD Software Co Ltd is available for Android and iOS smartphones and suits top-tier designers, engineers, and architects. It allows to easily and quickly view, edit, revise, markup, share, and export DWG, DXF, to DWF files or any size without any lags.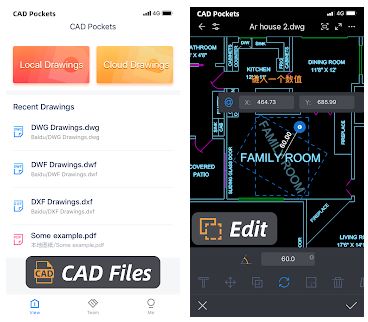 A great bonus is that CAD Pockets can be used as a photo editing app with all the necessary editing tools such as view, move, rotate, cut, copy, and many more. Besides, it includes various drawing, annotating, measuring, exporting tools, and not only. CAD Pockets supports many external storage services (Dropbox, Google Drive, OneDrive, Box, SugarSync,
and others). Synchronize your files with the cloud and keep them all updated in real-time, saving you precious minutes.
What is more, you can get access to your projects offline by saving them into your gadget, as well as downloading files in your cloud.
Create a new account and 30 days of the free premium version that has many more features, such as creating drawings, text search, advanced layer management, block insert and attributes, open DWF and PDF files, and password protection.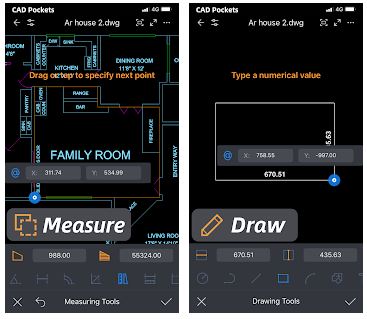 Besides, there is an opportunity to get a premium version forever for free. By signing up a new user, you get an extra free month, and by signing up 10 new accounts, you are gifted a lifelong premium version. Also, just by using the software, you can get free months of premium subscription, and by signing in at least 10 times a month, you are granted another free month.
Drawing features:
Multi-touch operations: zooming, snapping and panning.
CAD drawing (lines, circles, polylines, and texts), editing (copy, rotate, move, and mirror), annotating (dimension, image, revision cloud, and voice), dimensioning (linear, angular, radius, and ordinate) function support.
3D viewing and view control.
CAD layout and layer management.
Undo/Redo command.
Find Text function and its automatic location display.


You may also like: 11 Best Apps to Extract Text from Image on PC, Android, iOS
7. DWG FastView
This CAD viewer & editor app was developed by Gstarsoft Co Ltd and is available for both Android and iOS devices. DWG FastView allows you to create, edit, browse 2D and 3D drawings, and export and share projects as PDF, JPG, BMP, and PNG files. The best part is that it is a cross-platform app for being used in all situations.
DWG FastView does not require registration and supports offline drawings. When there is no Internet connection on your device, you still can play games and use the app. It provides free different CAD features as view, edit, find text, measure dimension, manage layers, move, rotate, copy, scale, color, record management results, and many more.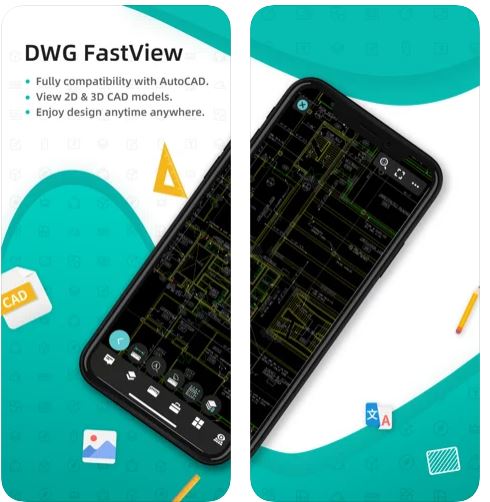 Besides, you will be able to create as many CAD projects of different levels of difficulty as you want without file size limitations. The Precise Drawing is a great feature that allows you to accurately adjust coordinates and edit parameters of items by the Keypad.
The user interface deserves a special mention. Zoom a drawing in and out just by modifying the space with two fingers, and view it in 360 degrees. Easily switch between 2D and 3D modes. The latter includes 3D Realistic, 3D Hidden, Wireframe, and other points of view.
Also, you can save a project in a PDF, JPG, BMP, or PNG format and use it in the AutoCAD app or access it from any cloud service such as OneDrive, Dropbox, Google Drive, and so on. With the premium version, you will get access to even more freedom of action.


8. Fusion 360
Fusion 360 is a revolutionary integration with Autodesk that helps increase transparency, collaboration, and the path from creation to manufacturing.
It is collaboration software for engineers and other professionals to quickly get comprehensive feedback about the design changes on the models' efficiency, manufacturability, and cost.
With the app's intuitive interface and flexibility to view, comment, mark up the projects, it is easy to collaborate with your coworkers from or outside the company. Fusion 360 offers 24/7 customer service and supports task and project management, and version control features.

Fusion 360's top features include:
Storing and viewing tens of formats (SAT, SLDPRT, IGES, STEP, DWG, F3D, STL, OBJ, SMT, DFX, etc.).
Reviewing small and big 3D models and assemblies.
Easy touch navigation: zoom, rotation, panning.
Viewing, tracking, and commenting on actions and updates of projects.
Writing messages and uploading images to share reports or details of a project.
Among the cons of the software, the inability to run the application offline is the biggest one. Besides, users note quite a poor coding, inconvenient functionality changes that you have to adjust to in the middle of your workflow.
You can enjoy a free version of the app for home users or get a full paid one.

9. Morpholio Trace
This is an intuitive drafting tool developed by Morpholio Apps for iOS devices.
It provides you a genuinely advanced and enjoyable sketching experience with the help of the most convenient and up-to-date tools.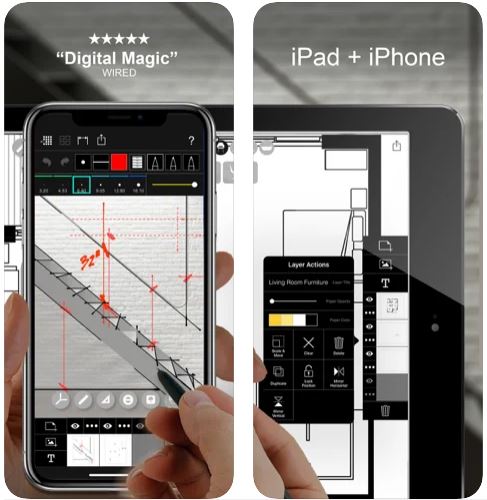 It helps promptly draw on maps, PDF drawing sets, 3D models, background templates, or images as if you were using tracing paper, and even layer ideas or comments to create instant intelligent sketches. Try using the app and with your fingers, and with a sketch pen, and notice how easy it is.
One of the most significant features of the Morpholio Trace is Custom pen palettes and Custom backgrounds. If you are planning to use the software regularly, these will save you a lot of time and make the workflow much easier.
A collapsible menu includes basic tools such as three widths, adding more layers, choosing from two colors, saving. Morpholio Trace has no fancy features, which can be described as functional minimalism.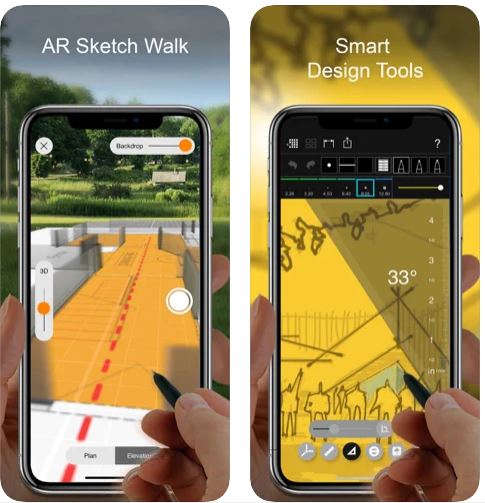 Main app features include:
Marking up 3D models, photos, drawings sets, or contact sheets.
Creating pieces with all your scale tools, stencils, pens, brushes, and moveable layers of trace.
Augmented Reality Camera for drawing live site pieces in perspective.
Calculating areas while sketching with SmartFill.
Augmented Reality Sketch Walk for inhabiting your sketches.
The exceptionality of the Morpholio Trace app is best evident in two primary modes: first is communication, where users can just trace over something to give feedback, second is idea exploration.


10. Shapr3D
Shapr3D is designed for iPads compatible with Apple Pencil (iPad 2018, iPad Air 3, iPad Mini 5, 9.7-inch iPad Pro, 10.5-inch iPad Pro, 12.9-inch iPad Pro) and all main desktop CAD software giving you incredible power to create.
The app runs on Siemens Parasolid, the geometric modeling kernel of Solidworks, which guarantees high-end power. This application is absolutely unique. It allows engineers, architects, industrial designers, and creatives easily but precisely sketch and model as on paper. With the intuitive and user-friendly interface and toolset, you can quickly transform your projects into 3D models and enjoy the workflow.

Let's see what are the main features of Shapr3D:
Sketching with Apple Pencil with such measurement units supported as mm, cm, m, inch, and foot.
Navigating a model with your fingers: spinning, zooming, and panning.
Creating 3D models with ease with the help of an intuitive set of tools of the four main toolbars: lines, arcs, circles, ellipses, polygons, etc.
Screen recording.
Importing both 2D and 3D drawings.
Importing, editing, and exporting files in IGES, STEP, XT, DWG, STL, DXF, or OBJ formats.
Exporting models right to a 3D printer or other manufacturing software.
Screenshotting tools with UI elements remove options useful for adding into a presentation or sharing with your team.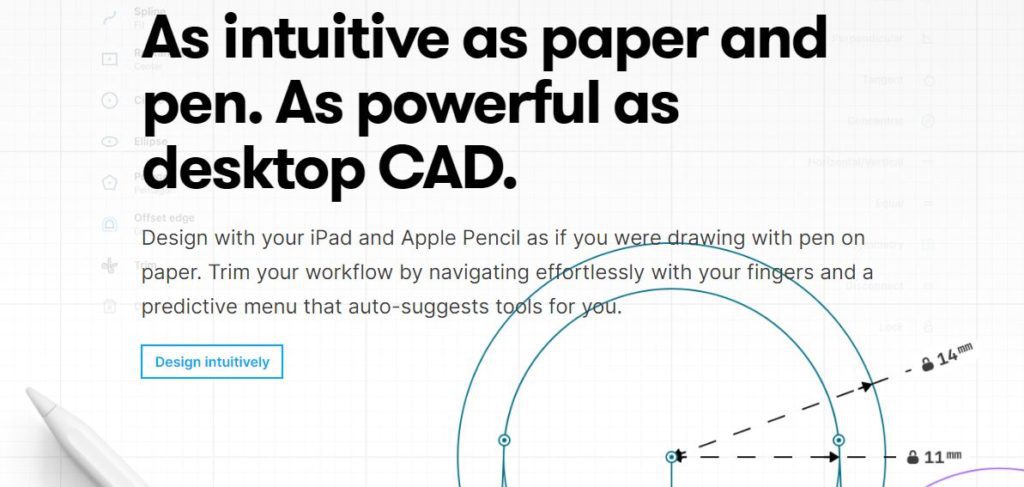 What deserves special attention is that users can always get help from responsive tech support, the app's own YouTube channel, and useful tutorials. However, users note a lack of material textures and assembly tools for a more complex design.
There is a free version of Shapr3D with a limited set of tools and support of only two devices. You can also get a 14-day free trial to decide whether you want to get a paid version of the app.


You may also like: 11 Best Paid Paraphrasing Tools in 2021 (PC, Android, iOS)
11. uMake
This app gives you access to the most powerful tools and allows you to create 3D models in the most convenient way. Having an Apple Pencil with the help of a built-in Keypad, sketch planes, snap tools, dimensions, and many more you will be able to make accurate and detailed items.
Let's say a few words about the app's powerful yet intuitive features that will help you express and enhance your creativity. If you only start working on uMake, not only it includes a helpful online manual, but provides you with a comprehensive online knowledge base: tens of tutorial videos with nuanced explanations and descriptions of the application's work, its settings, and tools.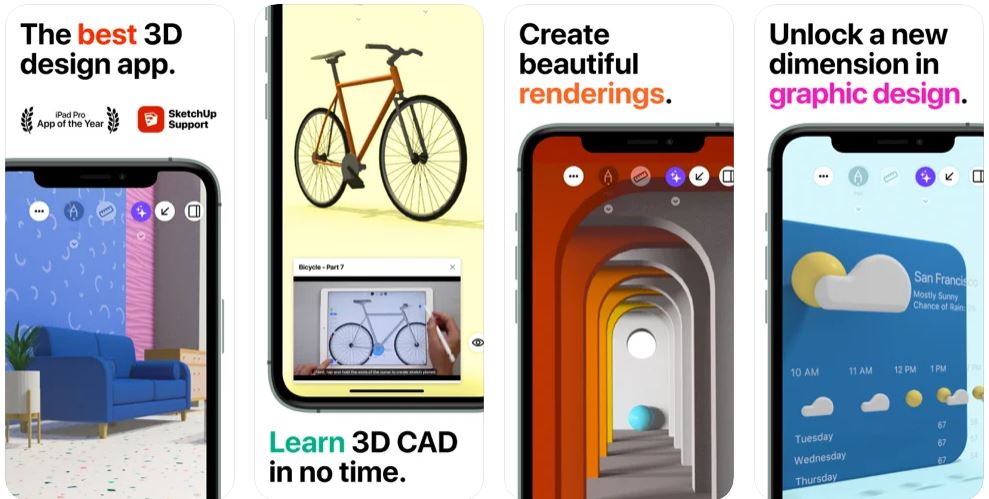 Moreover, uMake already has a library of lighting, textures, presets, and more than 250 built-in models to help you learn its infinite capabilities. The app is finger-friendly and supports Apple pencil pressure sensitivity.
The software includes essential modeling tools: extrude, extrude along path, push and pull, revolve, array, mirroring, and symmetry; and supports layers and geometry grouping.
With uMake, the process of creating 3D shapes seems to differ a little from other software in this field: it feels more like drawing 2D with an additional dimension rather than usual parametric modeling with sketches and planes.
You can even view your projects in augmented reality: you can freely project your concept onto a live video to see how it would look in real life. However, it must be said that uMake is probably made for professionals primarily working with visualizations and 2D sketches and is more suitable for concept work than physical creation with a 3D printer.
For further work, there is an option of importing reference photos: blueprints or floor plans.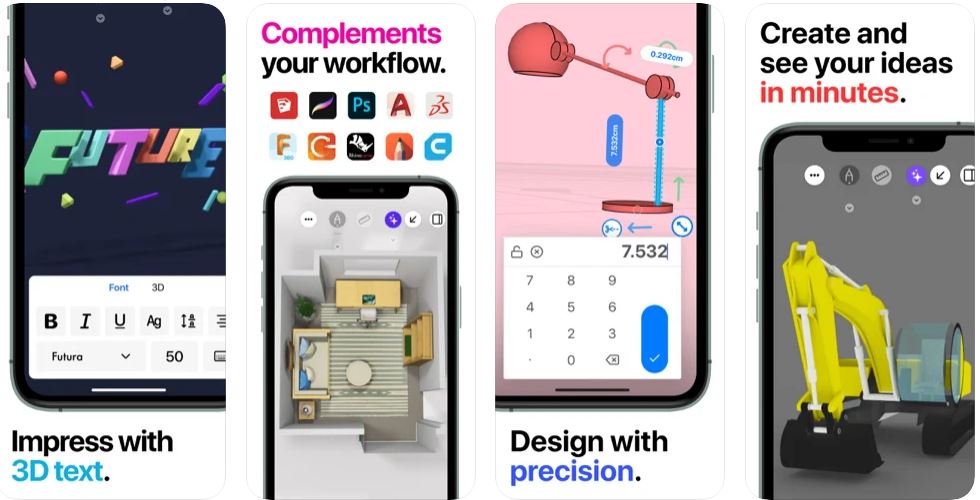 uMake is compatible with many traditional design apps for the freedom to move projects between drawing, painting, 3D printing, and CAD programs of your preference. The software can import and export the STEP STL, IGES, and OBJ formats. You can also enjoy a 14-day free trial before buying the full version.
The listed above CAD solutions for a PC, Android, and iOS definitely will save you much time and a lot of effort in your daily professional life. The best part is that you can use these applications across your devices and solve work questions on the go, regardless of your current conditions.
We recommend you try some of them and choose software that meets your requirements to save you time and make the workflow easier and more enjoyable.