To achieve their goal, people often lack motivation and energy, vitality that would contribute to the achievement of the goal. That is why I AM that I AM application developed.
An easy-to-use and useful application that will allow you to record and listen to your own affirmations. You don't need to go through a long registration process.
Check also funny message apps for your device to put you in a better mood.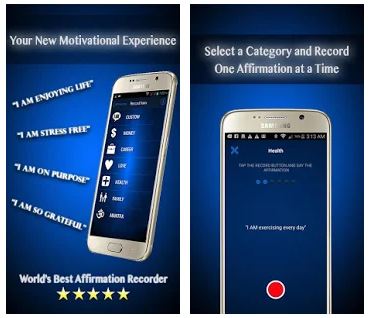 When you launch I AM that I AM application, you will see a classic blue and white interface. With various sections in which to work. This application will allow users to find harmony and motivation to achieve their goals.
The main page of the application comprises several sections. All of them closely related to the life circumstances in which a person needs help. Users will see such tabs as "Money", "Career", "Health", "Love", "Family".
Among other things, I AM that I AM application has a technical support service. Many users may have questions or problems. It is for their solution that the application exists. Compose your question and send it to the support specialists and they will definitely answer you.
A lightweight, discreet interface design will allow you to focus on your work and achieve better results. Convenient layout of the application does not cause any inconvenience when using.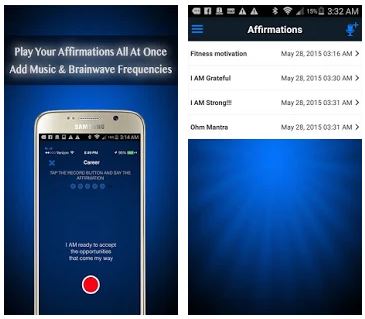 The principle of operation is quite simple. The user chooses any section from the offered "Money", "Career", "Health", "Love", "Family".
Goes into it and writes a motivational record. After that, the resulting record saved in the selected section. You can listen to it anytime, anywhere. What's more, you can choose background music for a more relaxed listening experience.
The application designed in a simple and intuitive way. Any novice user can understand the principles of work. A couple of minutes will be enough for you to understand the feature and how the application works.
In order to take your life to the next level, improve your health. Quit sugar – these apps will help you with that.
All a person needs to achieve goals is motivation. That's why I AM that I AM app has everything you need. Moreover, the application will give users the ability to record their own mantra. Listen to your own affirmations and change your life for the better with I AM that I AM.