The game The Farthest Frontier is popular with players around the world. When passing this game many people have questioned whether there are still games of this kind. To do this, we have created our top 9 games like Farthest Frontier to play on mobile.
And for more fun, you can also play the best offline strategy games.
Northgard
Nortgard is a strategy in the style of Scandinavian myths. You can become the leader of the Viking clan and conquer new lands. The plot begins with the following dark events.
The Viking High King is killed, and his royal horn was stolen by a man named Hagen. So hereby begins the saga that will send the son and heir of the King of Riga, along with his assistant Brandon, to the new continent of Nordgrad, which holds many secrets.
To build a new home there, you will have to fight wolves and undead, make friends or defeat giants, and much more.
In this game, you can play with other players on mobile devices or against them (up to 6 players), and duel modes are also available.
Here you can build a new settlement, give lessons to your Vikings, think over survival strategies, expand your possessions and discover new strategically important lands, as well as achieve victory in various ways: conquests, glory, wisdom, and trade.
We must say that this is one of the most popular games similar to Farthest Frontier. This kind of gameplay especially stands out.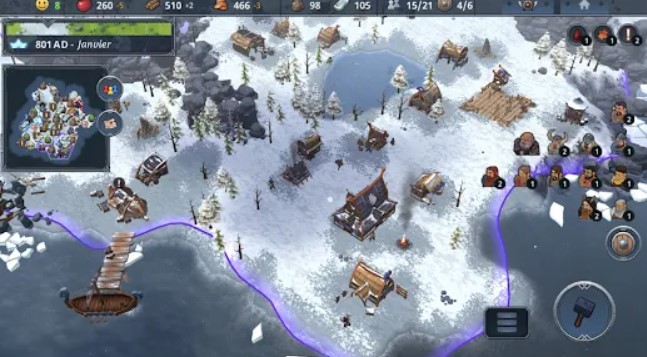 You may also like: 11 Best Games Like Minecraft for Android & iOS
Forge of Empires
Forge of Empires – а strategy game in which you need to become the leader of a growing kingdom. Control it for centuries, explore new technologies, expand your empire and become the hero of an epic story. Fight with other players and prove yourself as a wise king and a successful warlord.
You can build your own city and develop it from the Stone Age to the present (and beyond), develop new technologies, and discover new buildings and goods.
Moreover, in this game, you need to produce raw materials for the manufacture of goods, exchange goods and make deals with neighbors and discover new territories.
You will also need to establish control over your provinces and receive rewards., to capture district by district through military action or skillful negotiations.
Reviews of this game were distributed 50/50, there are no bad reviews about the plot itself, but there are many comments on the technical support of the game and periodic lags with loss of resources.
This game is a little less popular among players on mobile devices, but it can also compete with Farthest Frontier. In principle, this is the main similarity. At the moment of the game, it can sometimes be difficult to distinguish which of these two games you are going to play.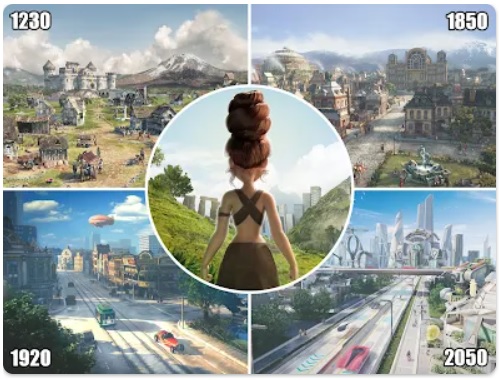 DomiNations
As in many other games similar to Farthest Frontier, in DomiNation you need to build your empire, unlike the previous ones, this game has a division into nations that can fight each other.
Each game begins with the construction of a small settlement, and then its development over the centuries.
Here you can study military strategy and technology from the great scientists of the university, such as Leonardo da Vinci and Catherine the Great. You can create wonders of the world and create technologies with historically reliable achievements.
Fight against opponents from eight nations and embark on historical campaigns, moving along the world chronology. Each nation has certain skills and abilities.
The main task (which is not surprising for this type of game) is to create your own military army and test military might against other players, you can also create alliances. In general, the usual game, but a huge plus is the division into nations, which is very interesting.
As for this game, it has gained wide popularity due to its gameplay, but it doesn't have much in common with Farthest Frontier, the main similarity lies in the genre and barely noticeable similarity in gameplay.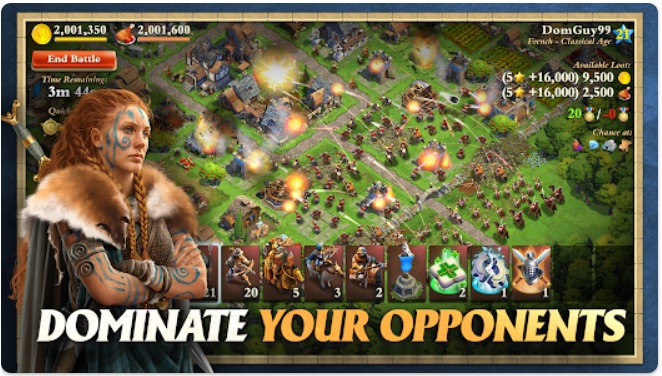 Rise of Empires: Fire and War
Medieval real-time military strategy.
The bottom line is that the player assumes the role of the leader of a small town devastated by the invasion of the Eastern Dynasty, and the mysterious appearance of the legendary "Harbingers of Death", who have now switched to the dark side and fully control the ancient forces of dragons.
You need to rebuild your empire from the ruins, train troops, tame dragons, bring back legendary heroes, and join your allies in an endless war.
According to the developers, the uniqueness of this game is that you can fight in real-time with players around the world and lead your country to greatness.
The game is famous for its good graphics, and a variety of characters, that's what the developers promise us.
In addition, this game is well suited for those who want to develop their strategic abilities, as the game has alliance battles with strong competition.
Here we could say that this game has the same amazing drawing as Farthest Frontier, but no, we won't say that. Again, the main similarity is the genre.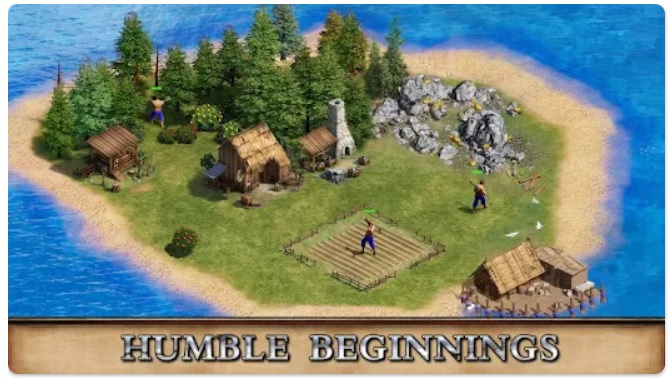 You may also like: 11 Best Games Like HoMM III for Android & iOS
Stronghold Kingdom
This game is a continuation of the once popular games Stronghold (2001) and Stronghold: Crusader (2002). Unlike the original, this game allows players to experience the Middle Ages in their own skin in the world's first castle MMO game.
The cross-platform strategy invites players to fight together and see famous characters again. Besiege the impregnable castles of the enemy, throw back the tyrant's troops, earn wealth, ruin the possessions of neighbors, live peacefully or do everything at the same time.
Only by fighting opponents, taking villages from the Wolf, and winning votes in the political arena, players will be able to win success. Stronghold Kingdoms is a fast and challenging game world created for a large number of players working for a single goal.
Features:
Build a fortress online and create a powerful defense for it;
control the Middle Ages and start a war in England, Europe, and around the world;
Besiege enemies, trade with factions, and explore a medieval world filled with thousands of other players;
explore new technologies and become a merchant, farmer, crusader, diplomat, or military commander; lead your faction.
To win, create alliances, and become a leader in the player-driven political RTS.
This game has similar gameplay to Farthest Frontier, well, remotely we can say that the design of the game itself is also similar.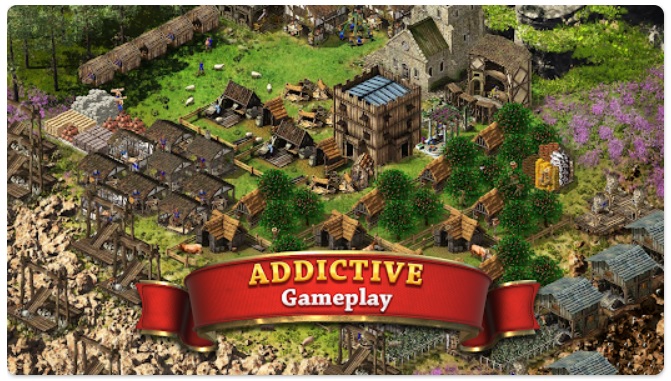 Sid Meier's Civilization
In this game, it is worth paying attention to the gameplay, the game designer is the popular designer Sid Meyer.
This game is a turn-based strategy game in which you have to build an empire that can stand the test of time. Try to become the ruler of the world by leading a civilization and bringing it from the Stone Age to the age of information.
Wage wars, establish diplomatic relations, develop culture and compete with the most outstanding leaders of mankind to create the greatest civilization in history.
The only drawback of this game is that all the most interesting things are in addition to the game that you need to buy, but initially, the developers do not report this.
But, according to the sellers, the addition brings new great centuries, loyalty categories, and the appointment of governors to the game, expands existing systems of diplomacy and management, and adds new divisions, districts, wonders of the world, buildings, and much more.
You will also get new natural phenomena, engineering projects, energy, and resources expended, as well as a World Congress and new conditions for a diplomatic victory.
A very cool game for those who want to play Farthest Frontier, but there is no way to do it over the phone. The games are almost identical.


Art of War 3
This game contains more opportunities to demonstrate your strategic skills. This is a unique real-time strategy.
This game is for those who are tired of boring clan games. It's for those who know how to think like a strategist, act in difficult combat conditions and make decisions worthy of a real commander. For those who are ready to fight and win!
Here you can fight with other players, come up with a variety of combat tactics, develop your winning strategies, and improve infantry, equipment, tanks, fleet, aircraft, and super-weapons to gain superiority over the enemy on the battlefield.
The game takes place in the near future. The world is gripped by a global conflict between the Confederation and the Resistance. Choose your side and fight shoulder to shoulder with other commanders to win this confrontation.
In this game, each player builds his own base and produces tanks, infantry, ships, and planes. Each unit on the battlefield is under the direct control of the player, as in the classic RTS.
The game opens up limitless possibilities for the formation of various combat tactics and winning strategies. his game is probably the most different from Farthest Frontier, but it doesn't get any worse.
According to the recommendations, this game has good gameplay that will not leave anyone indifferent. This, in addition to the genre, unites these two games.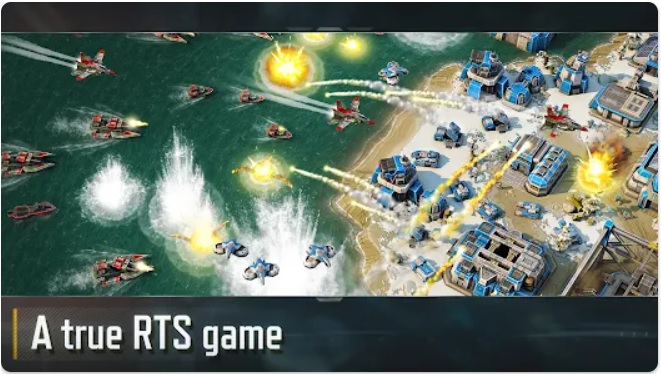 The walking dead: Survivors
This game is very different from the previous ones, but it is undoubtedly included in our top 9. This strategy game originates from the zombie epidemic.
Your settlement, which you will create at the very beginning, will be under constant threat of approaching walkers, and you will have to fight them off.
You will need to strategize your way to victory by strengthening your defenses, putting obstacles, building buildings, recruiting new survivors, and using their special skills to keep walkers away from the settlement.
Exploring this world offers an extensive map of the region with many important places, characters, items, and resources to search for. Getting to know your surroundings will play a huge role in your survival. Unlock key buildings on the map and compete with other clans for control over them.
This game has become popular due to the similar gameplay to Farthest Frontier.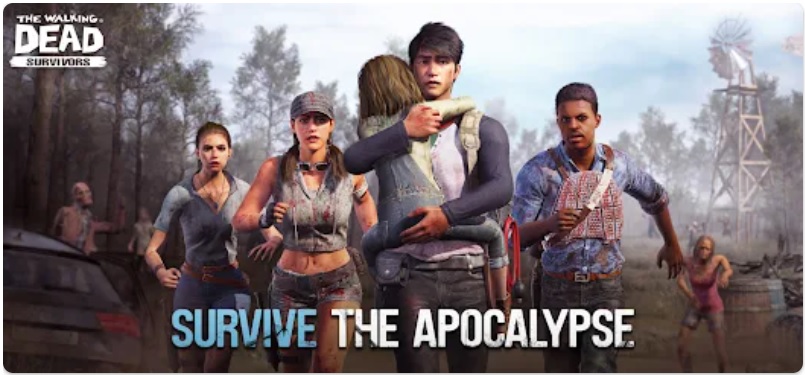 You may also like: 11 Free Farm Building Games for PC, Android, iOS
Rise of Cultures
The game tells about the history of mankind. Here you can build legendary cities, and explore different cultures. Come up with the best strategies for managing your lands. Developing, and getting acquainted with the famous cultures of the planet.
About the game:
Expand the borders of your empire, you can build cities of different civilizations;
discover different cultures and create history with your own hands;
explore new technologies;
fight and strengthen the power of your empire;
explore new territories;
trade with neighbors.
No wonder this game is the last on the list, it is similar to the Farthest Frontier only by genre.