Did you know that people who touch type make 10% fewer mistakes than those who constantly look at the keyboard? And it is only one of many advantages mastering this ability brings.
We have listed for you the the top 10 learning hot to type apps to help you upgrade your tech skills.
And we also recommend you to explore the best GIF keyboard apps for Android.
Typing Master
A nice basic option to start with. Like the majority of apps of the type, Typing Master builds your progress on the method of a color scheme that shows which finger you have to use to press this or that key.
The whole typing course is divided into twelve lessons. Each lesson introduces two keys and some punctuation marks as a rule for you to train. The lesson itself is also divided into six or seven sections.
The difficulty increases from one section to another so that you could proceed from typing simple sequences of letters to more complex units such as sentences and even paragraphs.
Your journey starts with two basic rows of keys – ASDF and JKL;. Every lesson adds two new letters to what you already know. The letters are depicted on the screen in different colors.
The app offers you different sequences of letters to repeat. Try to follow the instructions on the screen and type the letters with the correct finger.
Using this method, you will soon find out how to use all your fingers while typing and not look at the screen. This way you are to significantly increase your typing speed. However, such a technique may seem a bit boring since drilling the same letters for 15-25 minutes requires some patience.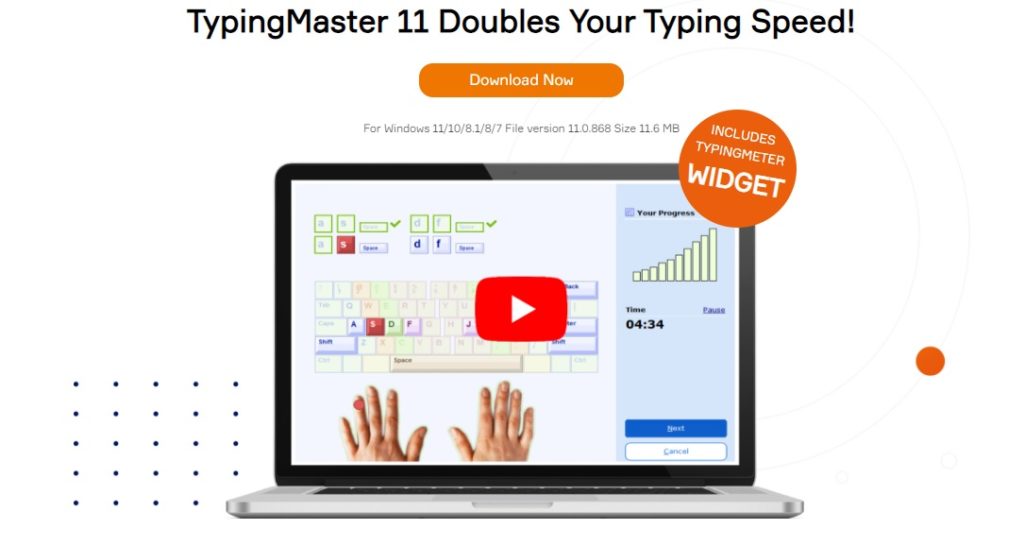 You may also like: 11 Best Virtual Keyboard Apps for Windows, Android, iOS
Typesy
Typesy is said to be one of the best apps to learn how to type fast. The app is more of a platform that contains more than one hundred courses not only on typing but on tech learning in general as well.
The developers of the platform state that one of their main goals is to diversify the ways and techniques you can use while learning to type or to master computer skills or those in the IT and business spheres.
We can agree that endless usage of the same colorful scheme may reject you from learning, but here you will not meet such a problem since the service offers hundreds of diverse activities and games to train your fingers and your mind at the same time.
Another cornerstone of the Typesy system is the adaptation to your goal and skills you already have. The app chooses the type of activity and its difficulty according to your progress that the system tracks with an advanced progress tracking algorithm.
As we have already mentioned, with Typesy you can significantly broaden your tech skills in addition to high typing speed.
The platform has established a partnership with such major services and software systems as Microsoft, Microsoft Office, Mac, and Google Workplace. You can opt for one of the courses to sharpen your skills with the help of the leading industry experts.
The algorithm is quite simple: you formulate your objectives, follow the progress, enjoy various exercises and watch videos from experts in tech skills and business. Indeed, Typesy is a good choice for those who want everything at once and are ready to master more than high typing speed.
Mind that the platform is paid, but you can have a 7-day free trial to see whether you need such a variety of opportunities or if you would like to go for a good old colorful scheme.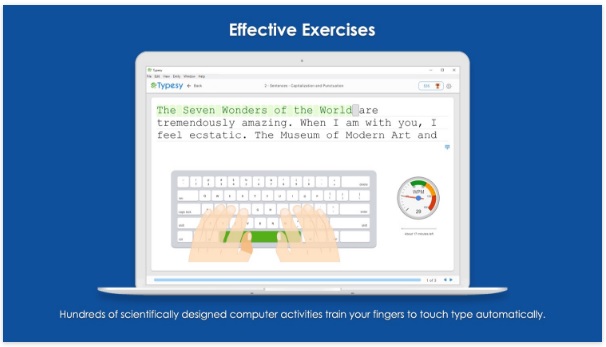 KAZ
The name of this app speaks for itself. KAZ stands for "Keyboard A-Z Teaching Typing since 1995". As you can see, the software has been present on the market for quite a while, but it still catches the eye of many clients.
Not so long ago, in 2019 Bett, the global community for education technology named KAZ the best typing course for both children and adults.
The main principle of the KAZ system is Accelerated Learning. It consists of several basic features including individualizing the learning process, high accessibility via KAZ online, and a sensible teaching approach.
As KAZ is suitable for every category of learners, from children to organization members, it successfully adjusters its methods so that everybody could have fun and study effectively.
You can study the course faster or slower depending on your objectives and pace. They say an average student finishes the program in 4 hours – a perfect option for those who don't feel for monotonous drilling.
KAZ is completely different from Typesy regarding the attitude towards progress tracking. Typesy states it is very important to follow your advancement, while according to KAZ it is useless.
It doesn't mean that music and images are not allowed. On the contrary, the platform uses it to activate major human senses that contribute to typing learning and significantly benefit the result.
More than 1 million people have already used this app to successfully master touch type.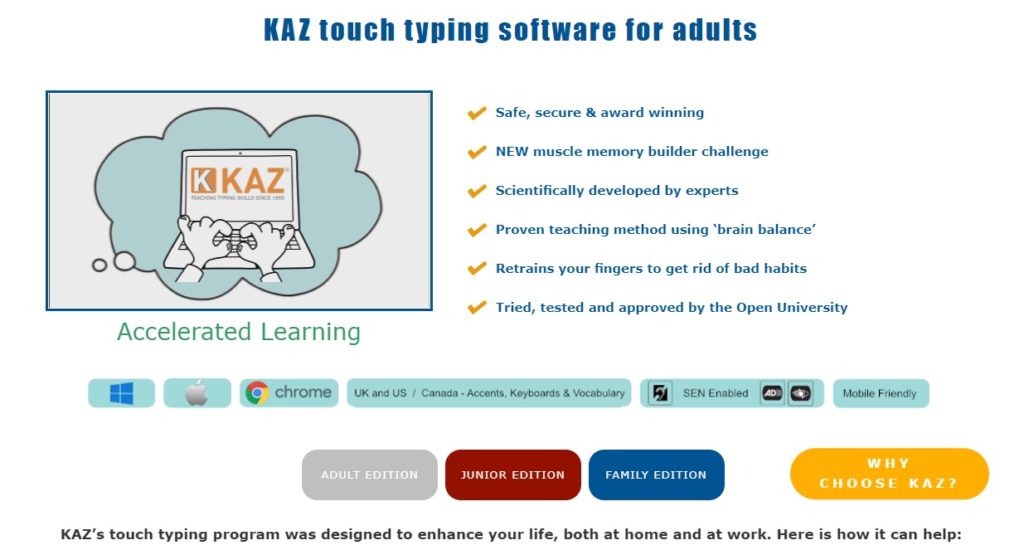 Typing.com
Typing.com is not an app but a website that performs similar functions to the apps described above and serves one main initial purpose – to teach you how to touch type. It is very easy to use since you don't have to download and install anything. Let's see what other advantages this site offers to us.
Typing.com is completely free. No matter what you are using it for and whether you use it for an organization like a class or a group of students – you can still enjoy the whole set of functions without needing to pay.
If you are a teacher, you can sign up using Teacher Signup and use the service to supervise your students' learning touch type.
If you are a student or just a regular user, you have to opt for Student Login. Typing.com automatically connects to Google Classroom, so it's extremely convenient to use in educational institutions.
The platform is full of various games each lesson contains. The lessons are very easy and normally contain two or three keys to master.
The service may seem a bit childish since it is quite similar to a game where you have to complete mini-games to get the stars. But don't underestimate it: the effect you will get by playing simple games for kids will be no different from the one you will get by boring software for adults.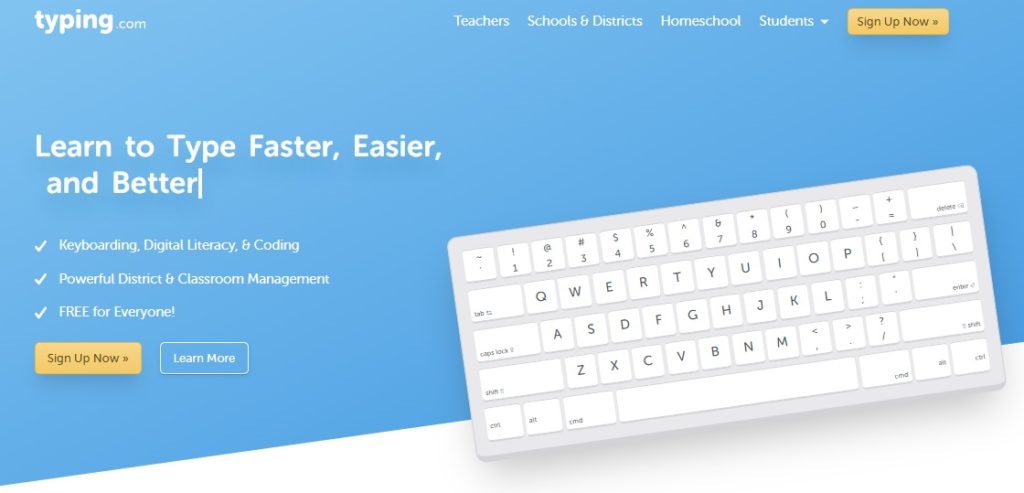 TypingClub
If mini-games and achievements are too tiring for you and you don't want to create an account, then there's a more suitable option for you – TypingClub.
Firstly, you don't have to sign in to the service and can start mastering touch type straightly from the moment you have entered the website. You will see a table of lessons.
The majority of them will be locked since you will have to complete one level after the other to make your way through the course.
However, if you are willing to save your progress, you will always be able to create a profile.
Each lesson starts with a very utile educational video that explains some crucial moments that you will have to remember about touch type. Since this method is not only about just pressing the right keys in a row, there are many tricks to use.
For example, this service pays attention to bumps to major keys F and J have. Now you can simply find your way back to them without looking at the screen, which is vital for, touch type.
Typing Club is all about simplicity and utility without uncomfortable useless procedures. This service will be of great help without providing any additional disturbance. And you still don't have to download it – just use your browser.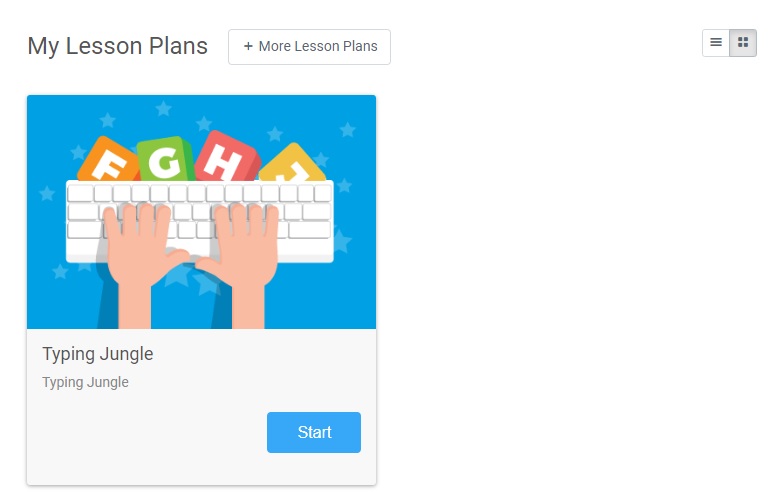 You may also like: 11 Best Apps to Extract Text from Image on PC, Android, iOS
The Typing Cat
Have you already forgotten about a basic color scheme? If you have, let us remind you about it with the following platform – The Typing Cat.
It is a website that uses the basic technology of dividing the keyboard into segments and teaching your fingers to be responsible for one segment only. The aim is as always to learn to type trying not to look at the screen.
To tell you the truth, though many modern touch-type services consider colors quite redundant in the process, they are still not bad to make associate groups of keys with your fingers. Each color represents one finger – what can be simpler and clearer?
The Typing Cat offers its users to play a Rain game if they become bored and to check their typing speed. It is always interesting to find out whether you have made some progress and where you are now on the path to your target speed.
The test function is also a good learning instrument since when you take it you can still see the preferable finger to press this or that key, so it's kind of a lesson as well.
During the test, you type an abstract from a real text, so it's a good opportunity to apply your theoretical knowledge from the course to practice.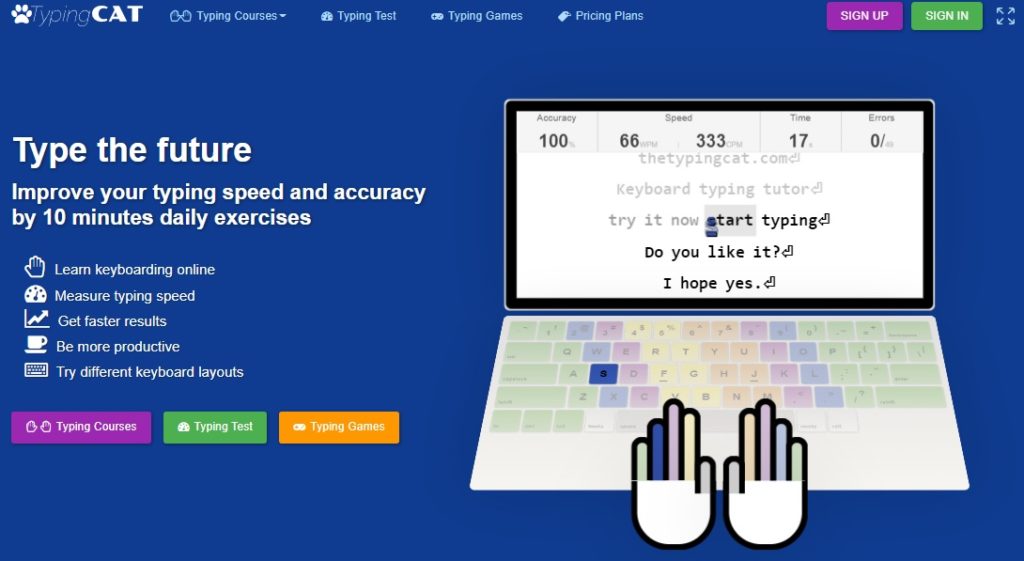 Ratatype
The main advantage of Ratatype is its extensive database of languages. Using this platform, you can master touch type in English, Russian, Ukrainian, French, Spanish, German, Italian, Portuguese, and Polish. No matter what language you are currently learning, touch type is useful for all of them.
Be aware of how to type special letters and symbols on your keyboard since you will have to use them too if the language presupposes their usage. For the rest, this service is kind of a basic option that uses typical methods.
If you want to, you can opt for a Game mode. It doesn't change the experience completely but adds some cute and funny details that can make learning a bit more pleasant.
We recommend using Ratatype if you are already at least a bit familiar with basic touch type methods and are ready to use them while learning different keyboard layouts. The platform doesn't teach you how to type with your eyes on the screen – it just shows the well-known scheme.
So, it probably will be more useful to master a typical QWERTY layout somewhere else before proceeding to more complicated keyboard types.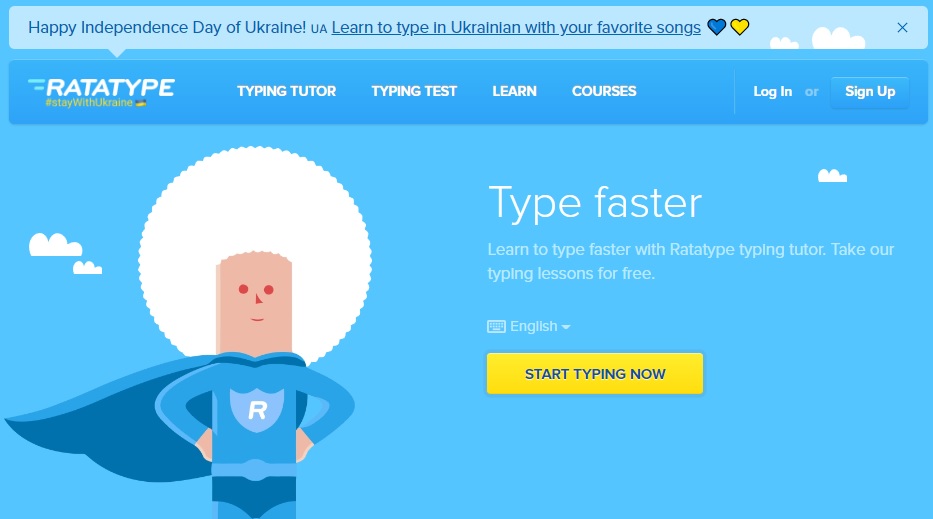 Key Hero
Let's get back to more traditional options that are dedicated strictly to the target. Key Hero is definitely for you if you want a retro laconic design and a needed minimum of functions.
Your journey starts with an obligatory typing test that shows where to move from. You can check your abilities in a great number of languages – probably the most excessive among how-to-type learning services. After that, a standard typing course begins, where you have to add more and more keys to the so-called Home Row of ASDF and JJKL;.
The technique this service uses is quite controversial since it is based on clear drilling. It is assumed that you will type better and faster if you type a certain set of letters over and over again. This approach is different from gradual and slow proceeding from one letter to the other.
To our mind, this platform is for more advanced users who want more to practice what they have already learned than to learn. It is a good instrument to test your progress and get only what you need with a minimalistic design and no additional options.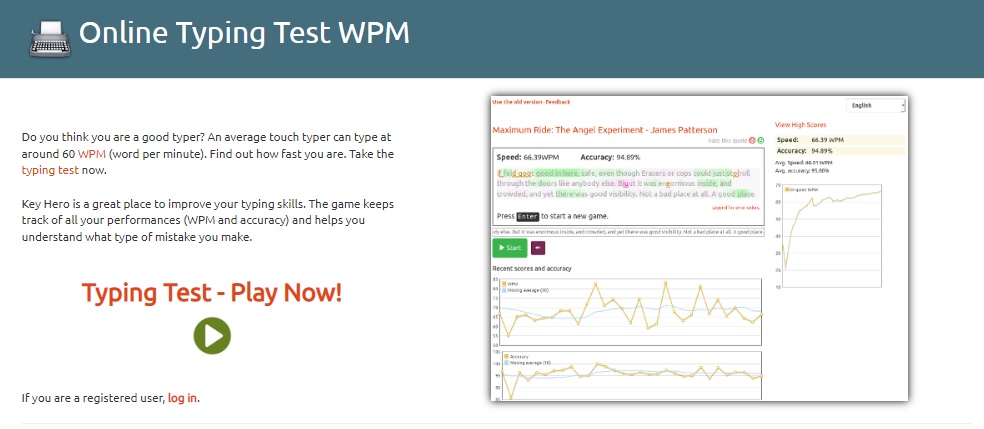 Typing Bolt
This platform is said to be supervised by Artificial Intelligence. You don't meet it somehow, it just works automatically to track your typing habits and your skill level. What makes the difference is that after AI finishes its work, it will offer you a personalized typing course tailored to your characteristics.
What also makes Typing Bolt rather attractive is that this platform doesn't offer you to repeat the same meaningless letter sequences over and over.
The developers made the service to offer you standard easy words that are used very often in real life. Indeed, it is much more efficient to practice the words that you can meet, isn't it?
When you start the course and proceed to a more advanced level, AI will adjust the difficulty level so that you don't get bored.
You will be able to see your progress with the help of a graphical representation the platform offers. The graphic is colorful and easy to understand and to get all the data you need to know from it.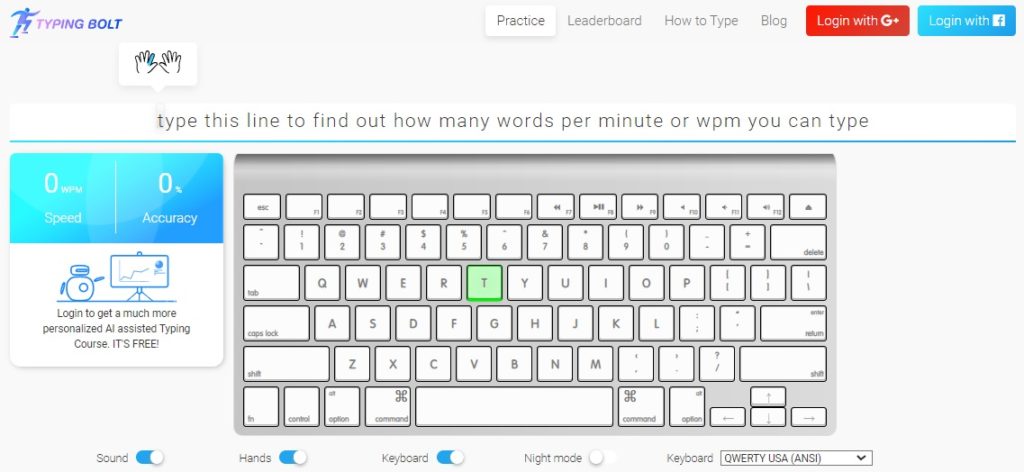 You may also like: 11 Best Stick Texting Apps for Android & iOS
Typing.io
As it often happens, the last on the list is not the least. Meet typing.io – a typing software dedicated only to coding.
Unlike the majority of apps and services, this platform helps coders to improve their typing skills and to master special characters that are crucial for any language used in programming.
The speed of coding depends on the speed of typing, so if you are a coder, you can take advantage of practicing on the website.
What makes typing.io really a useful tool is that it offers you to practice typing real code. It may be useful to observe it and to type exactly the things you can meet in your work life, not just the random symbol. This way you can learn to type and learn coding at the same time.
The website offers an extensive database of languages, from JavaScript to C++. But if you can't find your language, don't worry – just upload your code and practice what you need as much as you want for free. To keep your progress, you can sign in with a Google Account.