Have you ever had situations where you put aside your even most important things and then get negative consequences in your direction? In order to get rid of such incidents Francesco Cirillo created the so-called "tomato method."
This article will feature best pomodoro timer apps for Windows PC. And we also recommend you to check the best interval timer apps for your mobile gadgets.
Super Productivity
This program can be safely called the best in this matter because it combines a well-developed interface and ease of use, coupled with wide functionality.
Super Productivity combines two important qualities at once: reliability and privacy, which is an additional argument in favor of the program.

Some of the most important features to look out for:
a unique opportunity to create working and rest intervals, which makes it possible to organize yourself from the best side and finish things earlier
prompt task acquisition by importing data and then creating a productive work plan, as well as a clear notification system in the event of a change in any work cases
existence of a clear action plan when performing any project – creating records, downloading all necessary files and a workflow
complete anonymity, which consists in the absence of synchronization and saving any user data, including his logins, passwords, and everything like it
In addition, it is worth noting the materiality of such an option as "formation of useful habits." Thanks to the break timer, you can relax for a sufficient period of time with a return to work with new forces and ideas. The app conducts an ongoing review of your work procedures.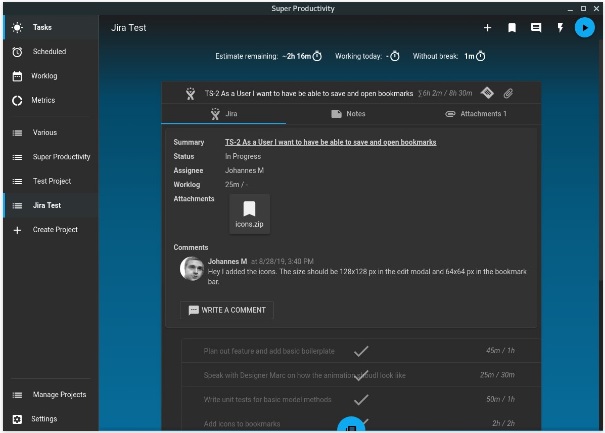 You may also like: 9 Best Mouse Auto Mover Software for Windows 10
Power Pom – Pomodoro Timer
Power Pom is the simplest app so that you can improve in yourself such qualities as self-organization, concentration, as well as clarity of mind. With this utility, you can take your productivity to the next level, subject to all the conditions necessary for this.

The developers pay special attention to the following characteristics:
setting the work time and break time in accordance with the established plan and the ability to vary the intervals
selection of different long and short time intervals to improve the psychological and physical health of the user
having the simplest and most proven work plan: twenty-five minutes of workflow, five minutes of short or thirty-long respite with a four-lap sequence
clear analytics coupled with counting all your working minutes as well as rest minutes
Thus, we can say that this program can be useful to you both at work in the office of the enterprise and anywhere else. All the functions of this utility are tied to self-control, so you will have to work hard, but it is definitely worth it. Good luck!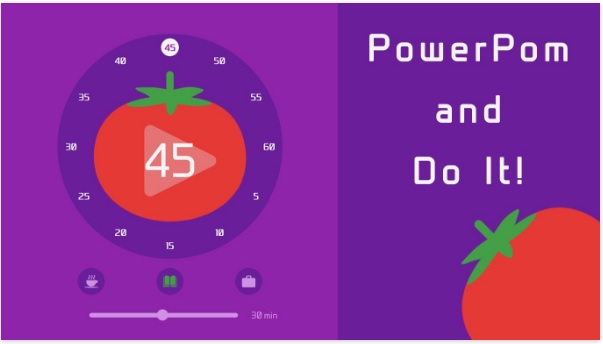 My Day: Plan your Goals
My Day can be called a truly unique tool that combines two advantages at a time: planning and analytics. The functionality of the utility is really wide, which is confirmed by both the developers themselves and a number of satisfied users. Take your productivity to the next level.

The most important characteristics of the program:
availability on absolutely any Windows device, be it a PC, tablet, console, laptop or even virtual reality glasses
the ability to set two modes to save the user's vision: day with high brightness and night with low
creating a step-by-step action plan that involves both implementing new steps and deleting old ones, as well as adding notes and highlighting the most important ones
detailed refined interface of the utility and a pleasing design that makes the workflow less exhausting
To sum up, we can say that this program is suitable for those who already have some skills in self-organization.
Thanks to the developed functionality, the utility will be able to increase your productivity, as well as give a new look at the workflow. Download this app and see everything with your own eyes.

OnePomodoro
OnePomodoro conveys to the user as clearly as possible the essence of a method that is guaranteed to improve its productivity.
Step-by-step execution of this experience will help make your hardest project to some extent exciting and even simple. Try this method, and you will get a decent experience.

This utility gives a close look at the following characteristics:
the presence of numerous designer bright themes made by professionals of their craft in order to provide diversity
variability in choosing the mode of operation with the utility depending on the environment in which the user is located: compact or full-screen mode
possibility of setting a more detailed and detailed plan among points for the performance of all work: long, medium or short breaks
unique ability to customize various tools within the app for easier and easier project execution
To summarize all of the above, we can draw the simplest conclusion – this app has everything you need to implement the productive method. Due to the fact that the method has been tested for years, you can apply it not only in the work, but also in other areas of life.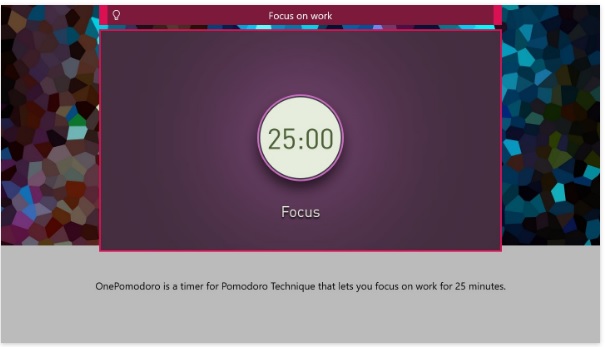 Elisi
Elisi can be attributed to the multifunctional app because in addition to the implementation of the "tomato method," it allows you to do a number of other useful things. Imagine a situation where you can realize multiple goals at the same time. Thanks to this utility, this becomes possible.

Elisi has options such as:
presenting your affairs using a virtual scheduler assistant, which allows you to present more and more clearly and combine rest with work
a method of nurturing good habits, which consists in tracking the time spent on meals, working on a project or anything else
tracking of completed tasks through the presented list, with subsequent division into completed and unfulfilled
the ability to set a specific goal and time interval to achieve it, which will help you improve focus and attention
Summing up, we can conclude that Elisi will be able to become an indispensable assistant when at work, at home or anywhere else. In addition, the app works even on the weakest devices without an Internet connection. Install this program and take a step forward in competent planning.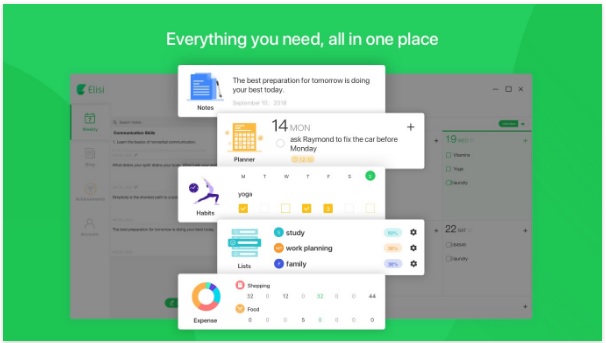 You may also like: 7 Best CDR to PNG Converters for Windows
FocusCommit
FocusCommit allows you to perform various tasks and projects using orderly work with timers of working time of twenty-five minutes and five minutes of rest. In addition, after completing four such circles, you will receive a long temporary respite.

Some characteristics which are necessary for work:
visibility in the presentation of work projects using the "remote manager" tool
in-depth analysis of all your tasks and records, time spent, as well as efforts using visual graphical advanced algorithms
visualization of the tasks you need using an interactive whiteboard and a number of the simplest Photoshop tools
the ability to synchronize your work plan according to the calendar, for example, one day – one item, two days – two items, and so on
Thus, we can express the thesis that FocusCommit allows you to work as quickly as possible, and most importantly – productively.
You will be able to gradually and clearly perform all your tasks, as well as given enough time to unload your brain. Download FocusCommit and start working wisely on projects.

Focus Journal – Advanced Pomodoro Timer
The Focus Journal is notable in that it is not an ordinary timer with the Francesco Cirillo method, but a more advanced system of operation. The utility is designed to form a useful habit for you, and not one-time use. The graphic component of the app, made conscientiously, is also worth attention.

Utility's options that really deserve attention:
incredible reward system in the program: for full focus and endless work to the end timer – red tomato, distraction to annoying factor or loss of concentration – green tomato
analysis of your activity, followed by delineation of useful activity from wasted seconds
record all necessary tasks and exercises designed individually for each user
advanced statistics in the form of various graphs and charts, summarizing your work over specific periods of time and highlighting the most and least productive
Summing up, we can emphasize that the Focus Journal will appeal to even the most inexperienced user due to its convenience and simplicity.
The utility was created a lot of time and became one of the quality standards, as evidenced by positive reviews. So, try using this app at least once – and you'll be surprised.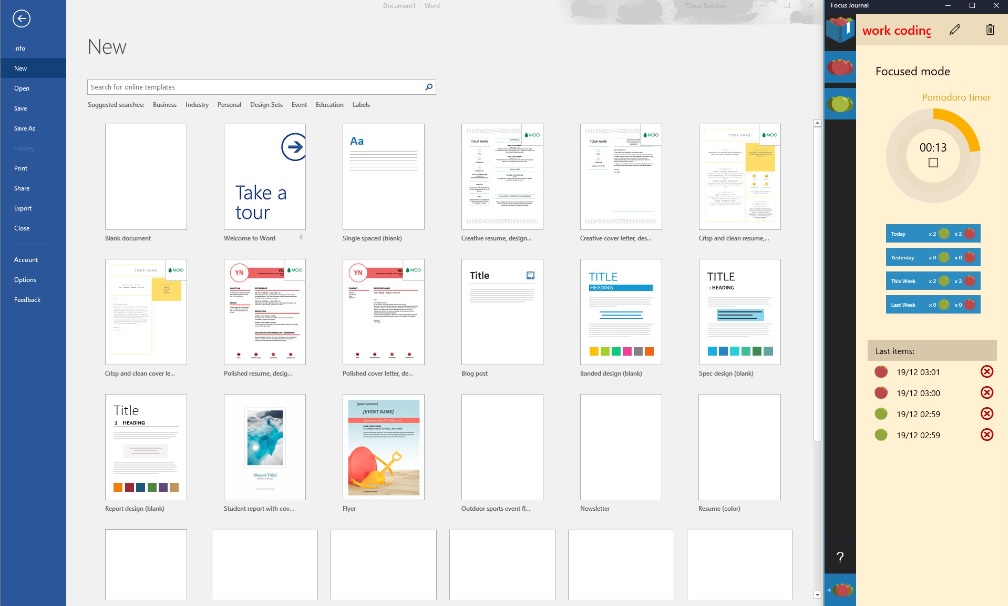 Unity Pomodoro
Unity Pomodoro can be called a tool for rational time use, which allows you to significantly improve productivity. The app is best used in desktop mode, that is, the mode for which it was created. When you are working with an app, it is advisable to disable other programs.

The most interesting functions of Unity Pomodoro:
the possibility of detailed settings inside the app, such as hour format (up to seconds), delimitation of short and long breaks, as well as the ability to turn on music during rest
the easiest-to-use functionality coupled with a user-friendly interface and easy control
the ability to work without distraction with the help of the absence of annoying factors in the program, as well as sufficient time for rest
control using short swipes, which allows you to spend the smallest amount of time moving from one project point to another
Thus, we can say that this program is best for those people who work mainly for PCs. The user-friendly interface, ease of use, as well as the initial goal of the developers to make the desktop utility have to do with it. Try downloading Unity Pomodoro and making sure for yourself.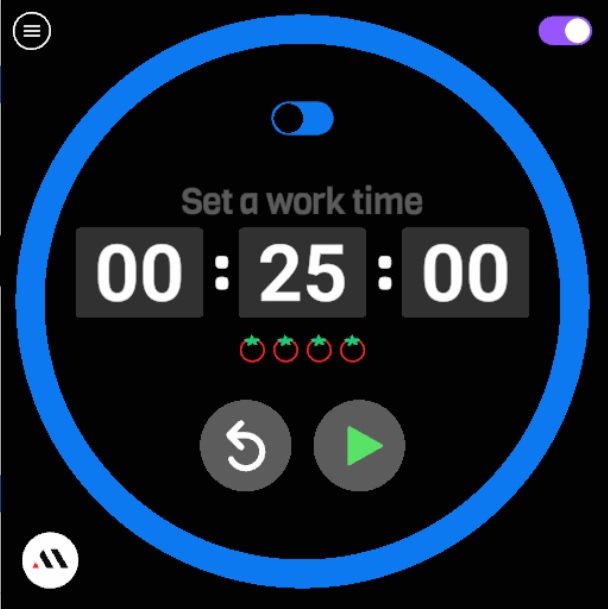 Pomodoro Timer Pro
This program can be safely called one of the simplest and most reliable because Brian Studio tried to do everything as simple as possible and without frills. Pomodoro Timer Pro combines the Francesco Cirillo method and a terribly simple interface.
One of the main features of the program is the ability to set different limits for working and rest times. You can set both a standard (twenty-five minutes – work, five – break) and create your own time periods.
So, you will have enough time to unload the brain. In addition, this utility is suitable for working in any environment, be it work, game exercises or training.
Combining everything that was said above, a simple conclusion suggests itself: Pomodoro Timer Pro is synonymous with words such as simplicity and reliability.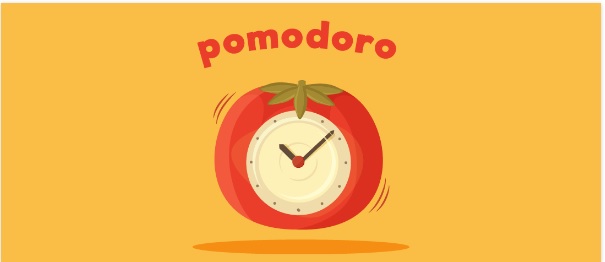 Pomodoro+
This program is another app that implements the idea of ​ ​ the "tomato method" to increase productivity. In this case, we can safely say that the utility has only the most necessary things. Firstly, the user needs to download all the necessary files into the app, and then start working.
The working and rest time timer in Pomodoro + is non-constant and varies depending on the user's desire. After completing one of the points, the user needs to tick it right in the utility. After four circles of repetitions, take a long pause and return to work.
Thus, Pomodoro + can be considered a good catalyst for productive operation. For full-fledged work, you will need to educate willpower for some time, which this program will perfectly cope with.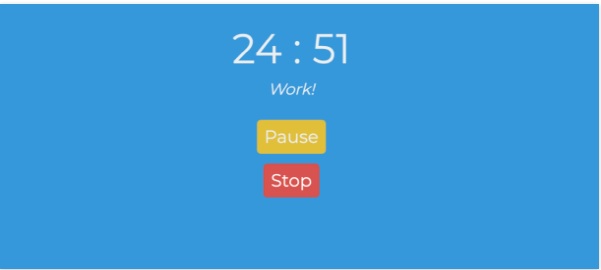 You may also like: 9 Best Library Management Software for Windows 10
Pomodoro – Tracker
Many people try to organize themselves, but they do not always succeed. It is at this point that Pomodoro-Tracker comes to the rescue, which is able to improve productivity under certain conditions.
For an ordinary employee, time is tantamount to ballast, what, the utility will help destroy this myth.

Key features of Pomodoro – Tracker:
varying time intervals ranging from the shortest to the longest
limiting health harm by locking the screen every second round of the workflow, followed by notifying the user
track progress on any of their projects during a week, month, or even a year, as well as manage tasks
highlighting the most important tasks for faster and more productive execution, as well as simplified management
Thus, Pomodoro – Tracker can be considered one of the most successful implementations of the Francesco Cirillo method. Thanks to this utility that many people have been able to achieve unprecedented success in their fields of activity to this day.