Tired of wrestling with design soft to make visually stunning graphics? Do you wish there was an easier way to transform your text-based data into beautiful visuals? Well, we've got smth for you!
We've rounded up the best free infographic AI generators from text you could try. These apps are here to save you from the daunting task of design.
With these apps on hand, you'll get to generate images, captions, and graphs from text in just a few clicks. These are the ideal way to spice up even the most mundane of data sets. Let's dive in!
Canva
Yeah, we know you've all heard about this one already (or even tried it). Who has time to spend hours tinkering with templates, right? Well, now your exp may become even more efficient with the variety of AI tools this app has to offer.
Let's start with the templates. You can adjust them to your heart's content with just a few clicks and prompts. From infographics to IG posts, you name it, it got it. And if you ever want to remove an element, there's a smart AI tool to help with that. No need to waste time switching between apps.
Do you struggle with coming up with captions? Say no more. The app's AI will generate them for you. And if that's not impressive enough, the image generator is the real MVP. Type in a prompt, and voila, you'll be spoiled for choice with four awesome image options. Trust us, you won't need any other tool once you've tried it.
Some may argue that those AI tools are basic compared to other tools on the market. However, it's precisely their user-friendly nature that makes them a joy to use. The translation tool is also a gem, allowing you to swap languages on the fly. It's a must-have for businesses and individuals looking to create multilingual content.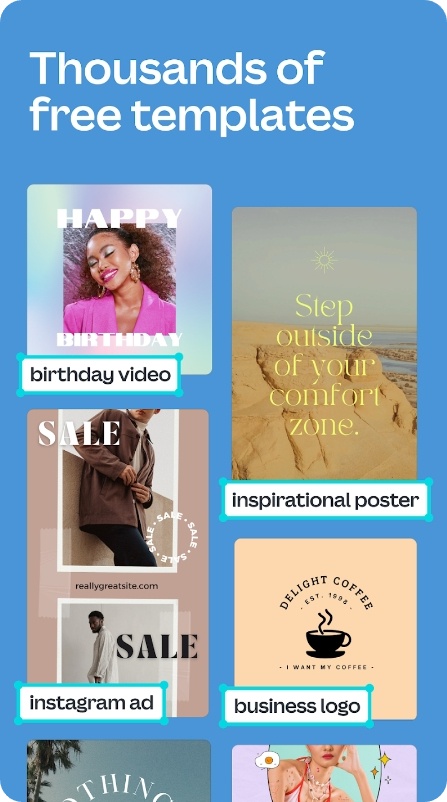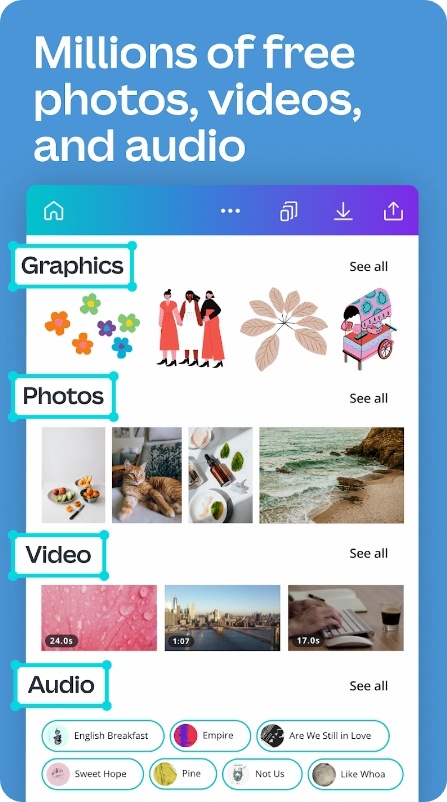 You may also like: 12 Best Fake Magazine Cover Apps
Adobe Express
It's the all-in-one tool we've been waiting for, and it's made for the average user with little or no design skills. It's like having a design assistant that saves you time and effort.
Let's talk about the real star of the show here, the AI tools. AI is not just science fiction; it's real, and it's here to help you make stunning art, graphics, and animations with ease. The app's AI tools are not here to replace your creativity, but to make your experience a whole lot easier. You just have to tell it what you want, and BAM! Your visual masterpiece is done.
And while you can't make infographics from scratch with AI, you can use it for design elements, captions, and all that. If you're worried that you won't be able to import other files or make unique brand kits, you can do it easily. You can import your files with ease, and you can make brand kits to make sure every visual you make reflects your company's unique colors, fonts, and brand identity.
One thing you don't have to worry about is breaking the bank. The app is still in beta testing, and most of the tools are free to use! With over 800 templates, ranging from basic to complex workflows, there is no end to what you can make with this app.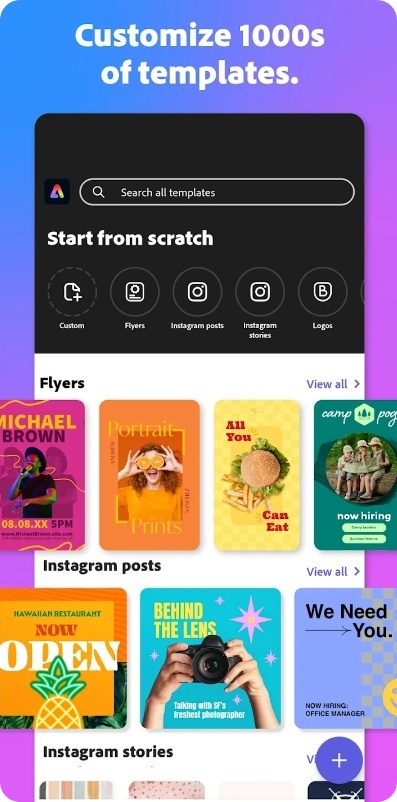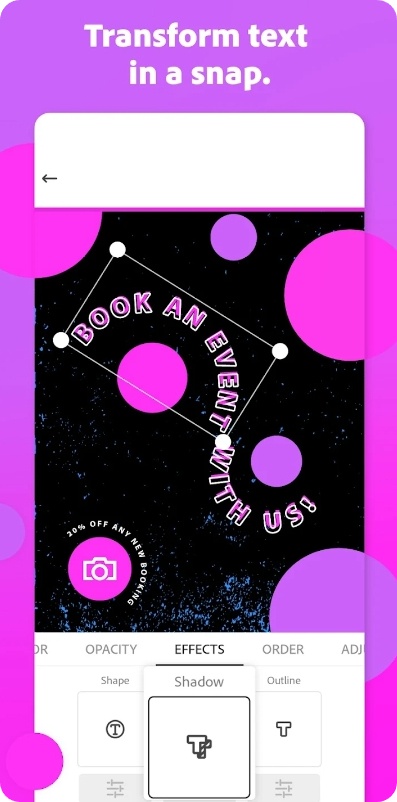 KnowledgeGraph GPT
This app is here to ensure you won't need to manually sift through piles of unstructured text data just to make a knowledge graph. This web-based app is a game changer in the world of data analysis.
This app can convert text into beautifully structured knowledge graphs with just a few clicks. And if you're worried about not having enough technical expertise to use this app, worry not! It is made to be incredibly user-friendly, requiring minimal input from its users.
One of the coolest aspects of this one is the ability to export your knowledge graph as JSON. This allows for further data analysis or integration with other apps. Plus, the fact that the code is available on Github as open source means that the potential for customization and integration with other programs is limitless.
Now, we know some of you may be thinking. But what about API integration? Multi-language support? Batch processing? Version control? And while those tools aren't currently available, we have faith that the brilliant minds behind this app will continue to innovate and improve upon it. All in all, worth trying, but it is yet to become flawless.

Appy Pie
With this tool, you can forget about run-of-the-mill infographics that look exactly like the next one. With a plethora of templates, from pie charts to timelines, making cool visuals has never been easier.
And if you're feeling a bit uninspired, don't freak out because this app has got your creative back. At the click of a button, it'll generate brand-new images that are sure to make your content pop.
But what sets this platform apart is its inclusion of an AI font and logo generator. Say bye to the tedious and often overwhelming process of branding, because this app will do it for you with minimal effort. It's a lifesaver for businesses in their early stages, enabling them to create pro logos and fonts that are sure to catch the eye of their target audience.
And with a free version that allows for 5 projects, it's accessible to all content makers. The app also covers GIF creation, pic editing, and unlimited clipart usage, making it your go-to solution for making visually appealing content.
Of course, there is one small catch. This app is all about the visuals – you'll need to provide your own words or look elsewhere for those.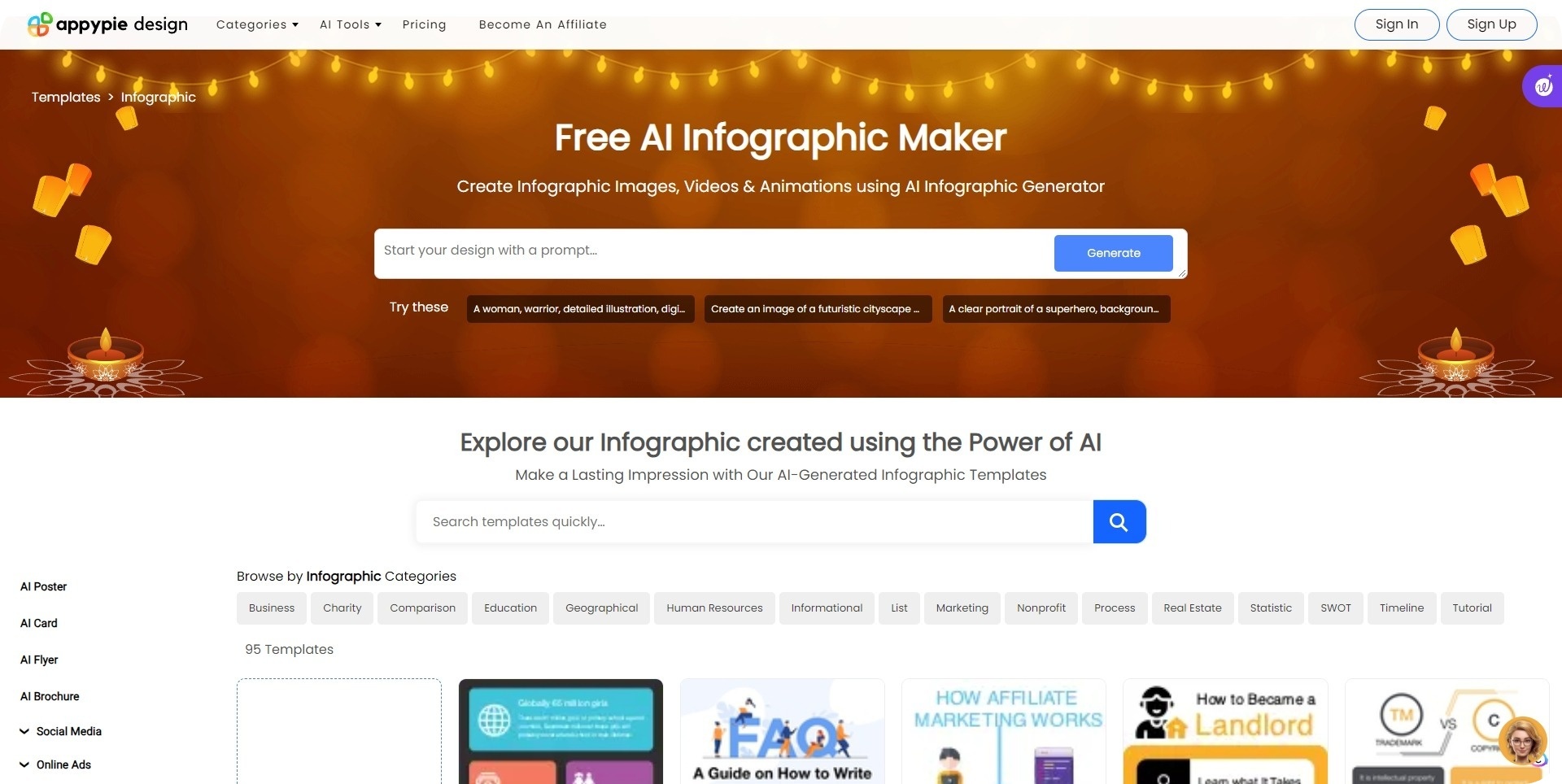 Check also: 11 Best Room Paint Visualizers
Uizard
If you're here for an app to ease the designing process, this one should definitely be on your radar. From simple UI to its hundreds of templates, the whole experience is great for those who want to make appealing infographics without spending hours on it.
What really sets this tool apart is its ability to turn hand-drawn sketches into functional wireframes in the blink of an eye! It's magic, or rather, AI at its finest. It will analyze and optimize your design, making sure that your app or website looks and feels professional, even if you're an amateur.
And what we really love about this one is the theme generator tool. It's like having a personal color palette and font library that's tailored to your brand's aesthetic. Let's face it; a consistent color palette and font style can make your design stand out from the rest. Luckily, it has got you covered!
The pricing is actually reasonable, with the added bonus of a free trial. So, if you need an app that can help you make infographics both quickly and efficiently, that's where it's at. No more designer's block, no more frustration, just infinite possibilities and creativity at your fingertips.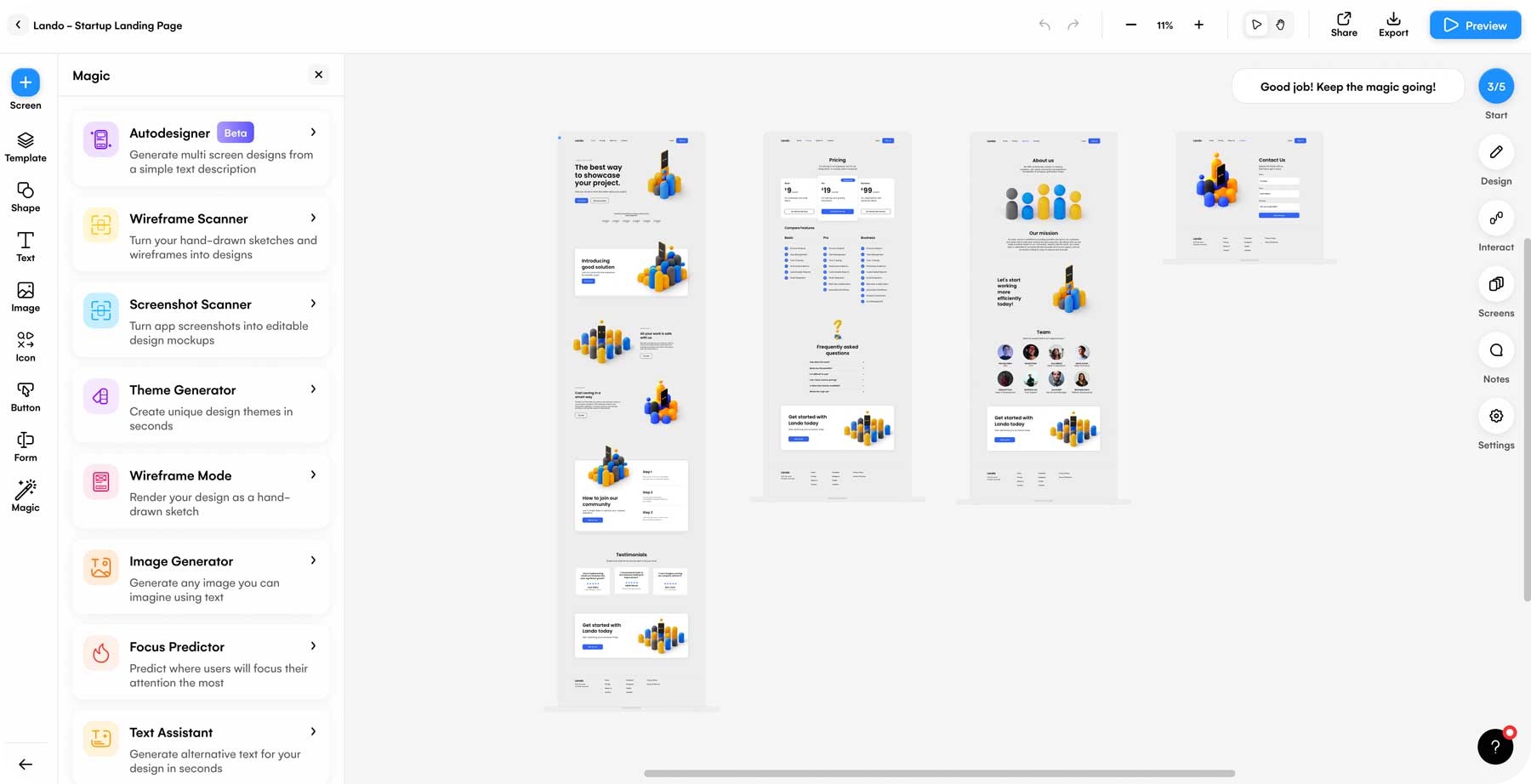 OutlineNinja
Get ready to say goodbye to those stressful, time-consuming hours staring at your screen trying to put together a visually stunning infographic. With this tool, you can now make eye-catching infographics in under 30 secs. Yes, you heard us correctly, 30 secs.
But don't let the speedy process fool you – the app delivers HQ infographics with an impressive level of accuracy. And, if you find yourself struggling to come up with data, the AI will even generate new text for you!
One downside is the limit on the number of talking points you can include in a question format. However, this constraint encourages users to focus on the most important info, resulting in concise and aesthetically pleasing projects. Plus, let's be honest, who has the time or wants to sift through pages of data?
Don't let the watermark that comes with the free version discourage you. With affordable sub-options, you can easily get rid of it and utilize the app's full capabilities. Not to mention that the app is part of a larger SEO solution that can help increase website traffic and SERP. Still not sold? The app comes with a $1 trial, letting you test it out before fully committing.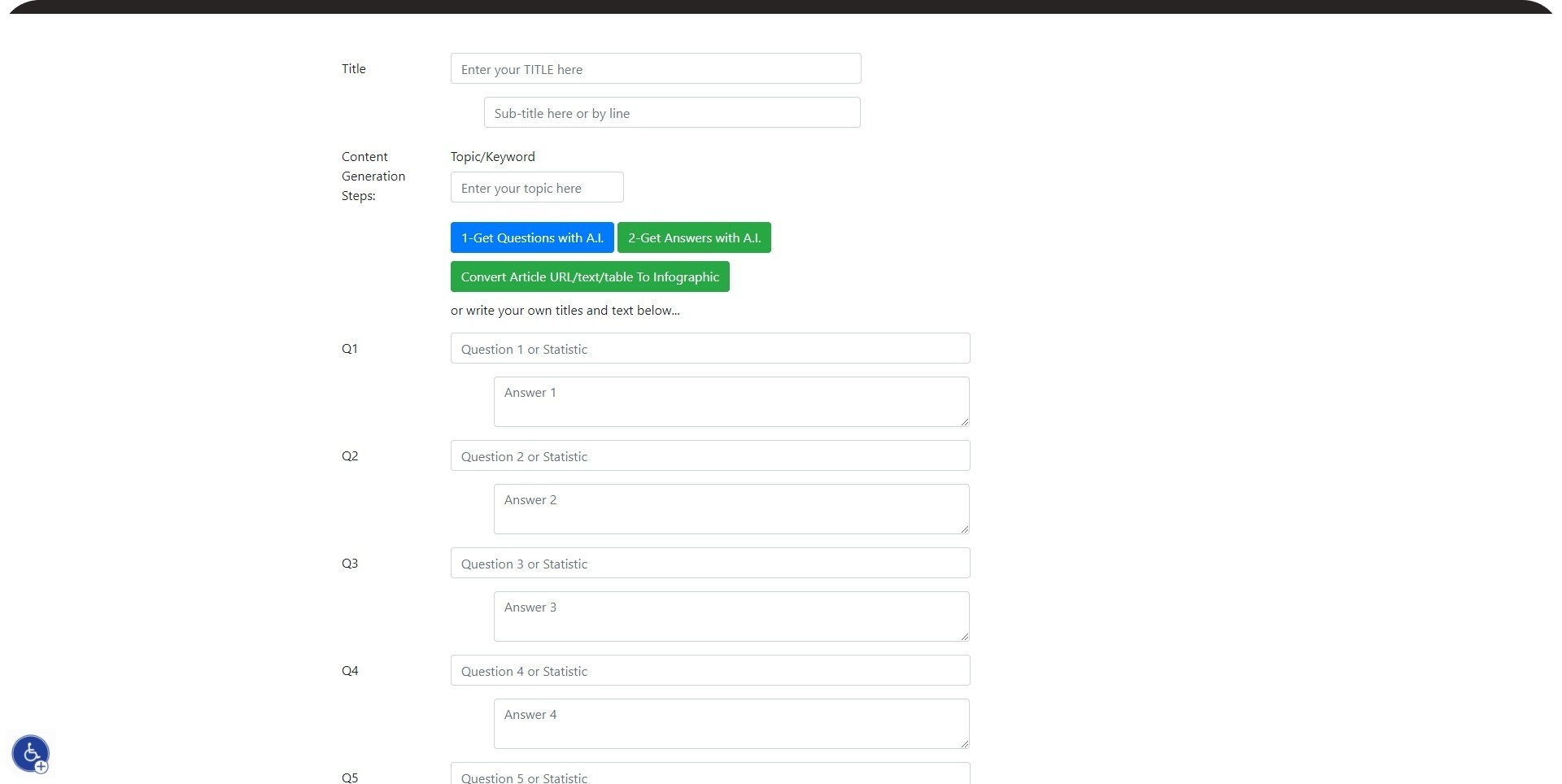 Easel.ly
It's an AI tool that will make the designing process a little (or a lot) easier for you. It depends on what you're using the most, but there are lots of tools you might be interested in.
First off, let's talk versatility. Not only can it tackle infographics (which, by the way, it nails), but it also handles logo creation, presentation making, and business card design. All in one neat little package. And the user-friendly UI? Don't even get us started. It's so intuitive that even your grandma could use it (no offense to any nana's out there).
As for the AI capabilities, there are a few useful ones as well. With just a few tweaks here and there, you can optimize design elements and make visually appealing layouts that will have your audience drooling. And all without spending hours pulling your hair out over a blank canvas.
But let's not forget about the price tag. It covers pocket-friendly packages for businesses of all sizes. Plus, with access to a plethora of templates and graphics, you can make pro-looking designs without breaking the bank. And speaking of accessibility, it even has a special sub-pack for students.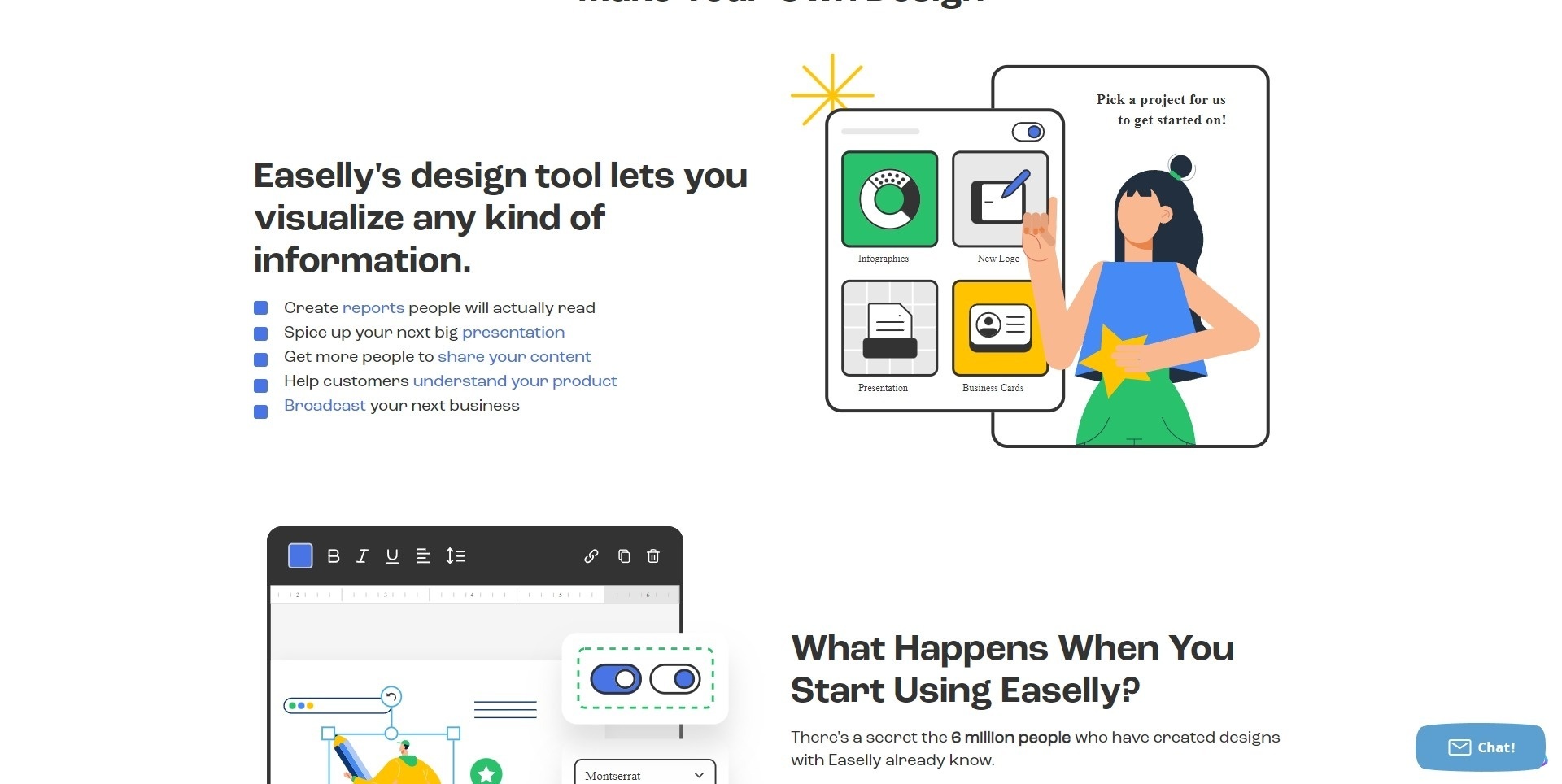 You may also check: 9 Best Instagram Carousel Apps (Android & iOS)
Piktochart AI
To wrap up, here's an app for all of us who want to make infographics but have no clue how to even start. You'll be pleasantly surprised by how effortless it was to make graphics with this app. But most importantly, how easy it is.
The UI is a dream. It's straightforward, and even a novice will feel like a digital artist in no time. The vast lib of templates makes it even easier to make infographics for any occasion – presentations, reports, posters, you name it. Want to upload your pics and dazzle your audience? You can easily do that.
The star of the show is undoubtedly their AI-generated template. All you need to do is enter your topic, sit back, and watch the magic happen. It's insane how quickly the app transforms your ideas into graphics. It's like having a brainstorming buddy that's available 24/7.
Unfortunately, the app is still in development, but trust us when we say it's worth joining the waitlist. In just 10 secs, you'll go from concept to canvas, and voila – your pro-looking infographic is ready to wow your audience.