GPT chat is a popular tool with AI technology that helps not only to have fun but also to write an essay, post for Instagram, and so on. Here you can choose the best app for your phone that will perform all these functions.
And before you start, we also recommend you to pay attention to message theme apps for chatting to be more fun.
ChatGPT AI Chatbot
This service is designed for people to help them with various routine and business tasks. It is possible not only to know something new about science but also to get well-written texts.
Try to use homework assignments or social media posts created by this chat. Just make a request and paste it. This way you get texts, homework, answers to complicated questions, and much more.
What is more, this GPT chat can become a friend for you. There is an opportunity to start a real conversation with an AI bot, which can talk as a person with you.
The conversations are interactive and require the user to choose their responses carefully, as they can have a significant impact on the outcome of the chat.
This makes the app highly addictive and encourages users to keep playing to discover new characters and chat scenarios.
As for the graphics, some users have also complained about occasional glitches and bugs in the app.
These issues can be annoying, as they can disrupt the experience and cause the app to crash or freeze. However, the developers are actively working to resolve these issues and improve the app's overall performance.
Advantages:
Unique and engaging chat experience.
Large following and positive reviews.
Interactive conversations with AI-powered characters.
Drawbacks:
Graphics could be improved.
Occasional glitches and bugs.
Can become repetitive for some users.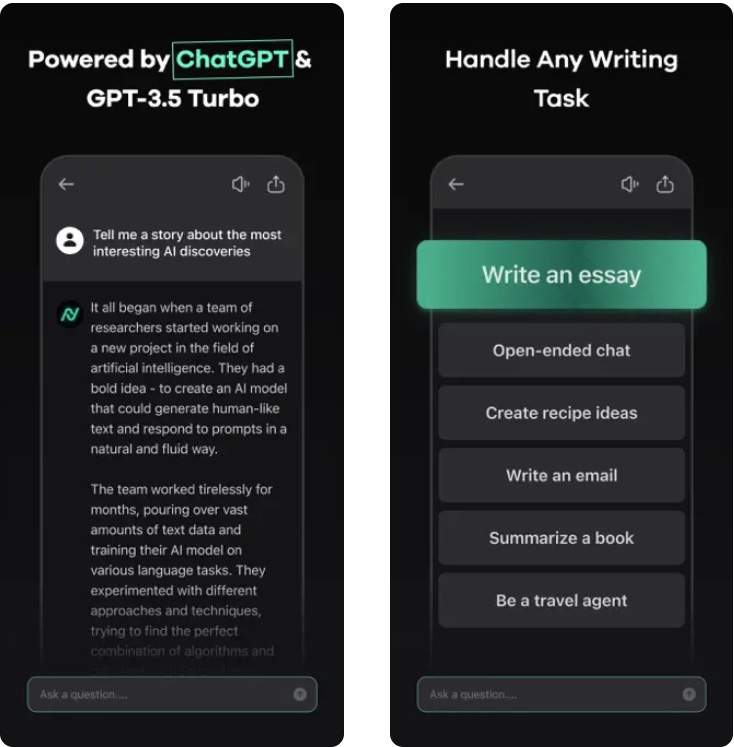 You may also like: 11 Free Funny Message Apps for Android & iOS
AI Buddy – Chat GPT – 4
This software for your phone has a chance to become one of your favorite apps.
You can chat with AI just like you do with a friend. Tell it about your day and get support. It can also tell you a joke to make you smile.
Moreover, the app offers a wide range of topics to talk about, which means that users can choose the conversation that they find most interesting.
Though the app's design is simple, some users have expressed disappointment with the app's graphics, saying that they could be better.
While the graphics are not the best, they are adequate for the app's purpose, and they do not detract from the overall experience.
Buddy AI is a worthwhile app to try out. The AI chatbot is designed to learn from its interactions with users, which creates a personalized experience that sets it apart from other messaging apps.
Advantages:
Personalized conversations with AI chatbot.
Engaging gameplay and a wide range of topics.
Free to download.
Drawbacks:
The graphics could be better.
Some reports of bugs and glitches.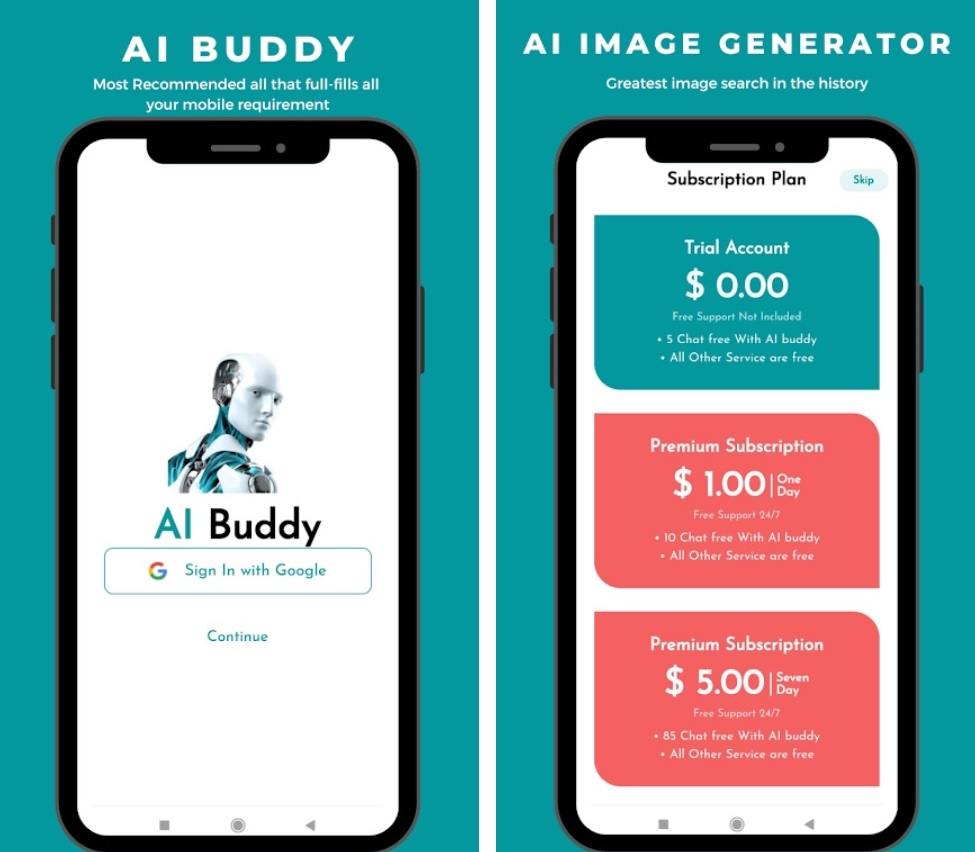 Genie – ChatGPT AI Chatbot
If you have a job or homework that should be written you can use this AI software. It has enough features to create qualitative content.
Genie Chat appears to involve interacting with a virtual assistant, or "genie," who can help you with a variety of tasks and answer questions.
Based on the app description, it seems that the chatbot can assist with things like setting reminders, playing music, and finding local restaurants.
As for the design, it is simple enough to use for all people. Just start a conversation with the chatbot as you do it with other people. Ask AI something or tell your problems, express emotions. Be yourself.
However, sometimes chatbots can be failing to understand requests to the app to crash altogether. There are also a few comments mentioning issues with pop-up ads or other forms of unwanted advertising.
Advantages:
Offers a variety of tasks and questions that the chatbot can assist with.
Colorful and modern-looking interface.
Drawbacks:
Some users have reported frustrating bugs and crashes.
Contains pop-up ads and other forms of unwanted advertising.
Basic or outdated graphics, according to some users.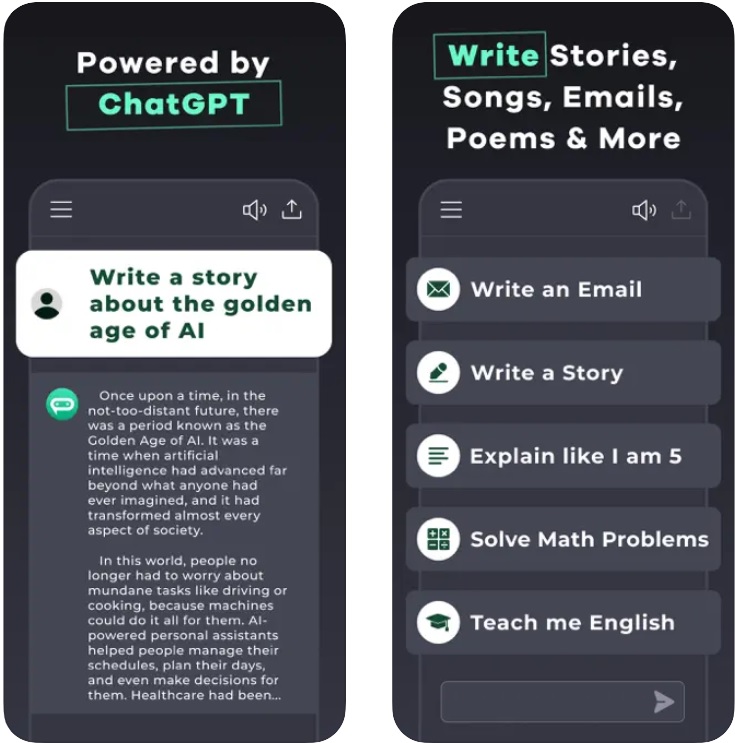 GPT-4 Writer & Chat
ChatGPT 4 is a language model app that enables users to chat with an artificial intelligence model.
It is an excellent way to pass the time and have fun while learning about new things. The model is smart, and it uses natural language processing to understand the user's messages and generate appropriate responses.
ChatGPT 4's interface is laconic, without bright colors that can be uncomfortable for
people's eyes. The design is modern and contains only essential features.
However, users can face slow downloading the answers becaus of the complexity of the natural language processing algorithms used by the AI model.
Also, some users may find the conversations with the AI model to be repetitive or lacking in depth. However, these are relatively minor issues that do not detract significantly from the overall experience.
It is also important to mention that GPT chat supports almost any language. This means that everyone, not only English speakers, can use it.
Advantages:
Impressive conversational abilities.
Easy-to-use interface.
Great for passing time and learning new things.
Can generate responses in multiple languages.
Drawbacks:
Occasional slow response times and repetitive conversations.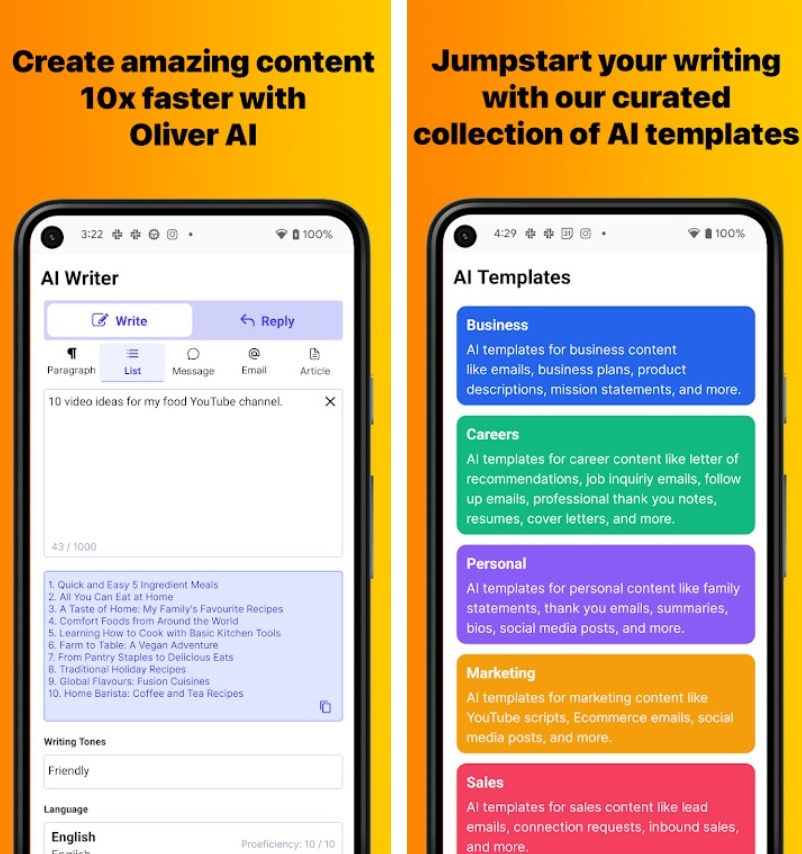 Chat GiPiTy – AI GPT 4 ChatBot
Do you want your virtual assistant who would be smart enough to speak with you and perform your tasks, not like a robot but like a real person? So you need to get this app.
This Gpt chat has special abilities to recognize what you text correctly and respond naturally, making for a more seamless conversation experience.
It is possible to ask the chatbot anything from the weather forecast to recommendations for local restaurants, and it will respond with informative and personalized answers.
However, the chatbot can be incorrect in answering you. This can be because the technology is still unperfect.
In case you are looking for a chatbot app that can provide personalized answers to a variety of queries, Gipity AI Chatbot is worth checking out.
While it may not be perfect, its advanced AI technology and constantly evolving features make it a strong contender in the chatbot app market.
Advantages:
Advanced AI technology.
Personalized answers.
Constantly updated with new features.
Drawbacks:
Some users report frustration with responses.
Occasional slowness.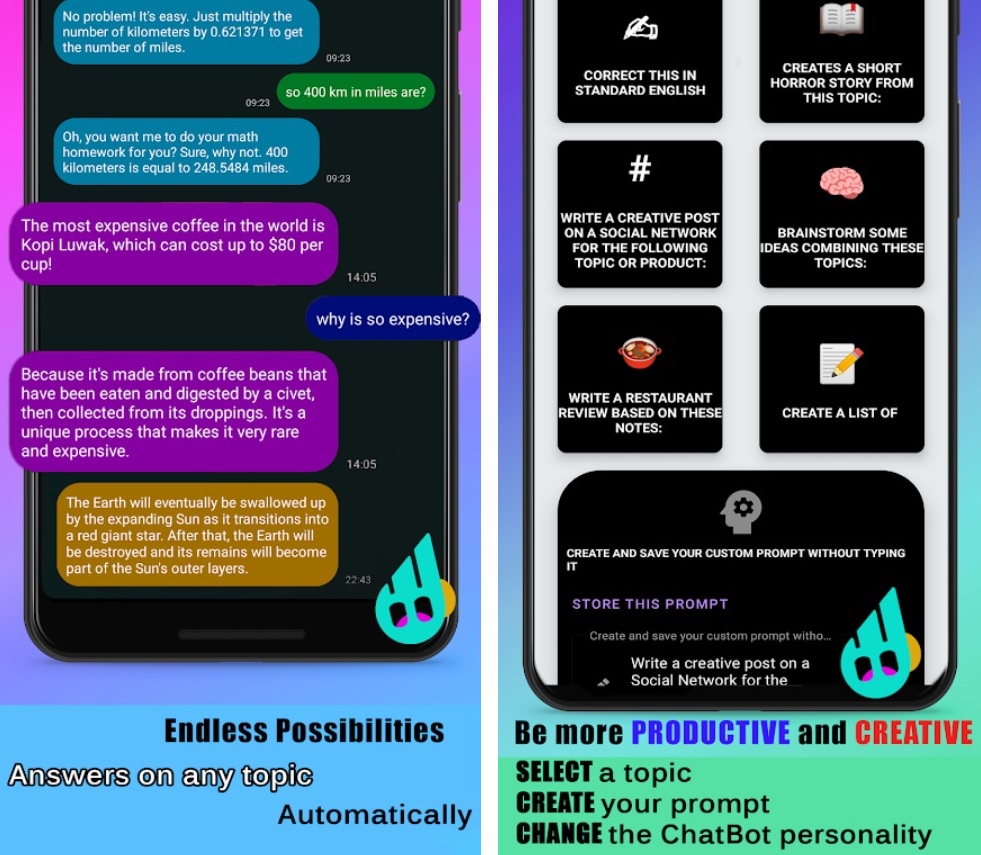 You may also like: 15 Free Local Chatting Apps for Android & iOS
Genisys AI – Chat Assistant
Genisys AI Chat Assistant is a great tool for anyone who needs help with different complicated tasks.
It is designed to provide users with a conversational AI experience where they can chat with a virtual assistant to get help with various tasks and questions.
Users have the option to ask questions, get recommendations, and receive information on various topics, ranging from weather updates to restaurant suggestions.
This software aims to provide an intuitive and user-friendly experience, with the AI assistant able to understand and respond to natural language queries.
By the way, the GPT chat can be slow to respond for some time.
There are some complaints about the assistant not understanding their queries correctly, providing inaccurate information, or failing to provide helpful recommendations.
Advantages:
Conversational AI experience.
User-friendly interface.
Drawbacks:
Some users may experience frustrations with the AI assistant's responses.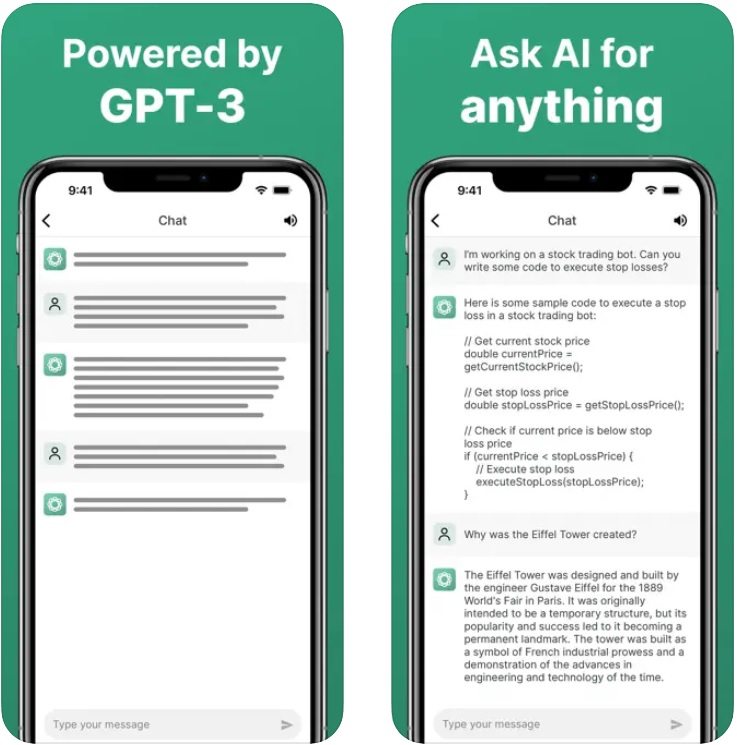 Mila AI: Assistant Chatbot
This app is a perfect choice if you need help in the sphere of essays, articles, and post-writing. This chatbot also can be your faithful assistant who will answer any of your questions.
Feel like a star who hires a special person to help you with matters. This app has abilities to perform different tasks. The chat can provide such information as new hobbies, make-up recommendations, psychology, and relationship.
It can do it because of special AI technology based on language
experience.
However, users can be disappointed with the app's slow performance. It happens because the request can be too complicated for GPT chat to understand and prepare an answer. You can try to ask it in a different way.
You can be sure that this software provides a convenient way to manage your daily tasks and stay organized, all while using a conversational interface.
The app's NLP capabilities are impressive and make it easy to interact with the virtual assistant.
Advantages:
Virtual assistant for daily tasks.
Natural language processing for a conversational interface.
Drawbacks:
Can struggle to understand certain requests and be slow to respond at times.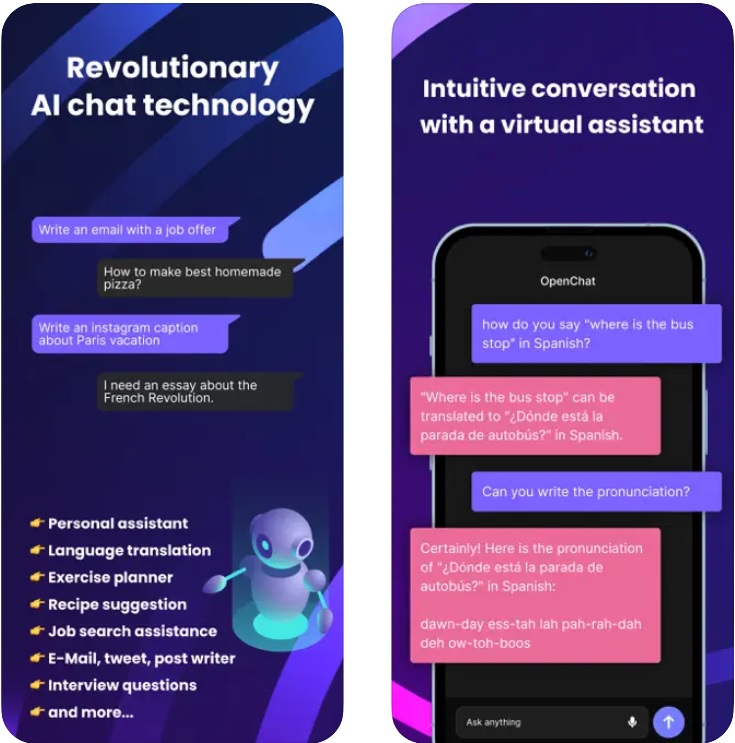 EZAi – Ai Content Chat Bot GPT
When you try this GPT chat assistant you will like it. This mobile AI service has all the reasons to become one of the most useful and convenient sources of getting information as well as any conversation.
All you need to do is to feel freely working with this app. Imagine it is your new companion who is always in touch and ready to help with any deal.4
Ask it a question and get an answer. Tell it about yourself and receive gentle support. Everything is simple and clear.
You have the option to chat with the AI assistant on a wide range of topics, from general knowledge to personal inquiries, and the chatbot provides quick and helpful responses.
However, there is one issue that should be mentioned. Though this AI bot is very smart, it can also be stupid sometimes. Just like people do. GPT chat can answer almost any question but some can puzzle it.
Advantages:
Free to download.
Offers a simulated human-like conversation experience.
Easy to navigate user interface.
Drawbacks:
Limited visuals and animations.
AI chatbots can struggle with complex queries or phrases.
Occasional inaccuracies and responsiveness issues.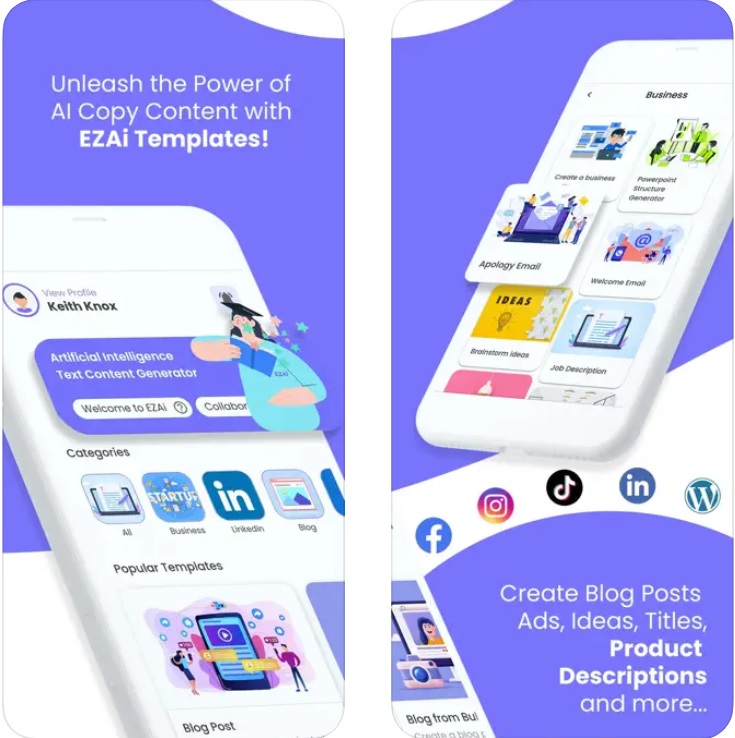 AiGo: AI Bot based on ChatGPT
This mobile software will become your favorite tool for your job and study.
You can initiate conversations with the AI chatbot by typing in your messages, and the chatbot responds accordingly.
The app has a user-friendly and easy-to-use interface, and users can easily navigate through the various chatbot functionalities.
Moreover, this service is easy on the eyes and is not cluttered with unnecessary visual elements. However, some users may find the graphics to be too basic or lack creativity.
Also, you can face some difficulties with the chatbot when it cannot understand complex sentences or respond accurately to specific queries.
Advantages:
Utilizes advanced AI technology.
Easy-to-use interface.
Minimalist design.
Drawbacks:
Chatbots can struggle to understand complex queries.
Occasional slow response time.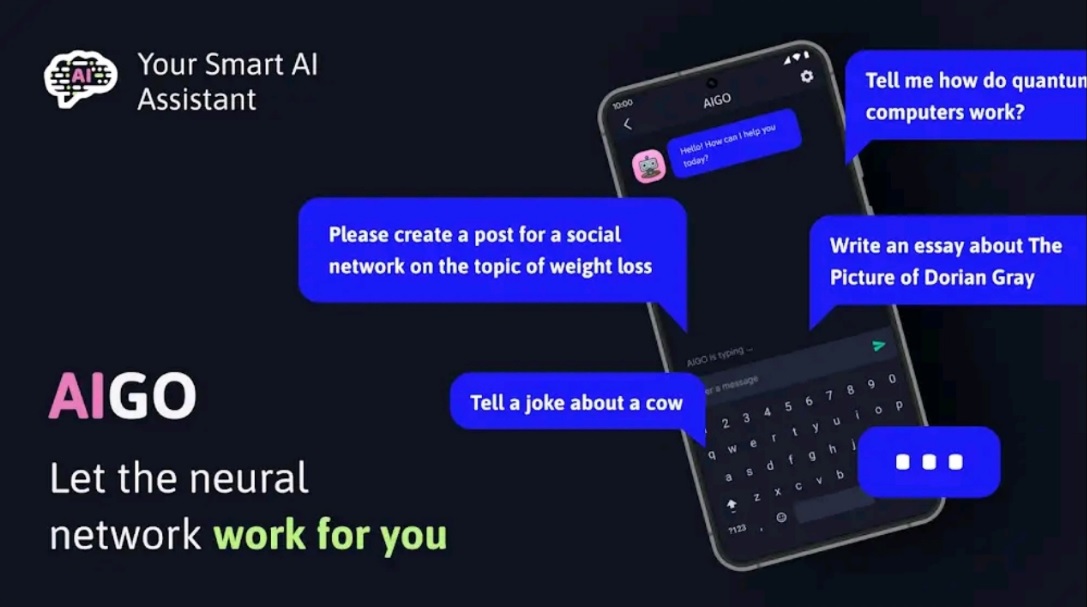 GPT ChatGod – Chat Ai GPT 4
This service is designed for you to do different tasks using advanced AI technology to simulate human-like conversations and provide a personalized chat experience to its users.
It can respond to various topics and engage users in conversations on different subjects. However, some users have reported that the AI's responses can be repetitive and predictable, leading to a lack of excitement in the conversations.
It is possible to enjoy the conversation and find answers to simple and complicated questions.
Also, some users have reported that the app's AI sometimes misunderstands their input, leading to confusing or irrelevant responses.
In addition, some users have expressed frustration with the limited range of topics and the lack of customization options to personalize their chat experience further.
Despite some negative feedback, many users seem to enjoy using ChatGod and find it a fun and engaging app.
Advantages:
AI technology provides a personalized chat experience.
Simple and intuitive interface.
Engaging in conversations on various topics.
Drawbacks:
Repetitive and predictable AI responses.
Limited range of topics and customization options.
AI misunderstands input sometimes.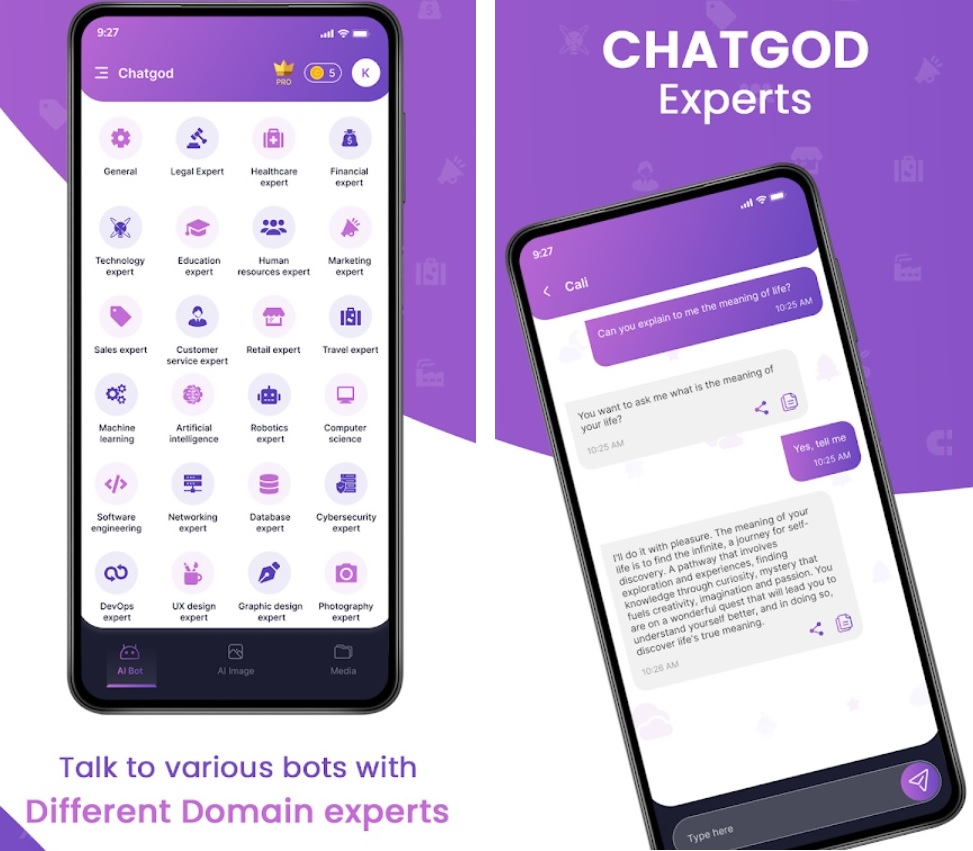 You may also like: 9 Best Christian Chat Apps for Android & iOS
BotBuddy – AI ChatBot, ChatGPT
BotBuddy AI Chat Bot is a worthwhile app for those looking for an exciting and informative chatbot experience.
The user can have conversations with the chatbot and get responses in real time. The app is designed to be entertaining and informative, allowing users to explore various topics and learn new things.
Additionally, the chatbot is programmed to learn from the user's inputs, making the conversations more personalized over time.
However, some of the responses from the chatbot can be repetitive. This can make the conversations feel less natural and limit the user's desire to continue engaging with the chatbot.
Advantages:
Engaging and informative chatbot experience.
User-friendly interface.
Good graphics and UI design.
Personalized conversations over time.
Entertainment value and educational content.
Drawbacks:
Repetitive responses from the chatbot.
Intrusive ads disrupt the user experience.