Easy File Organizer is a top-quality software that enables users to manage all their files, folders, documents, and desktop.
Easy File Organizer is pretty lightweight, so there is no need to waste too much time on the installation process.
Users can download this software on Mac, Windows, and Linux. While using this program, we have not faced any lags or bugs. Moreover, it works very fast and steadily!
For your Windows, we also suggest you to explore 7 Free Oscilloscope Software.
So, Easy File Organizer offers extended functionality, so below we would like to highlight its key benefits: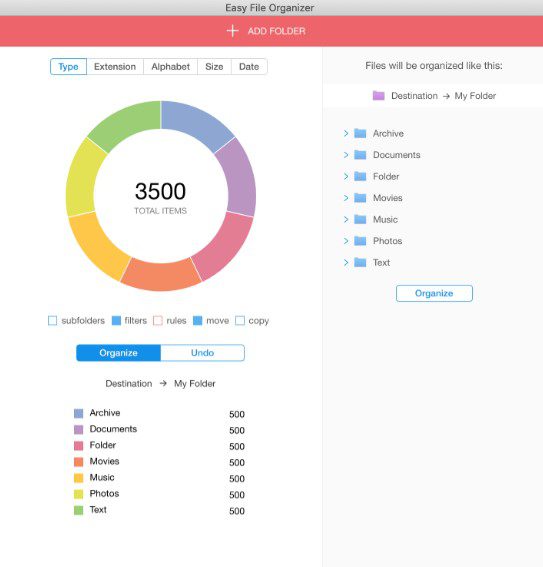 · Allows users to organize 1000 files in less than half a second
· Sort files by kind, extension, size, date, or ABC
· Organize files from all subfolders with a simple click
· Manage groups of files with custom rules
· Organize files into folders generated from file names
· Control preselected categories of files in a click.
· Check all your files before and after organizing.
· Organize files on external USB drives
· Auto-create multi-level folder structure based on file type, extension, or date
In addition to the aforesaid, if you want, you can also return all the organized files to the previous state. No doubt, this is a great bonus out there!
There is nothing difficult in this program, as it provides a very simple navigation. The program's interface is very convenient to use as well. Thus, it does not require any professional skills to understand how this tool works.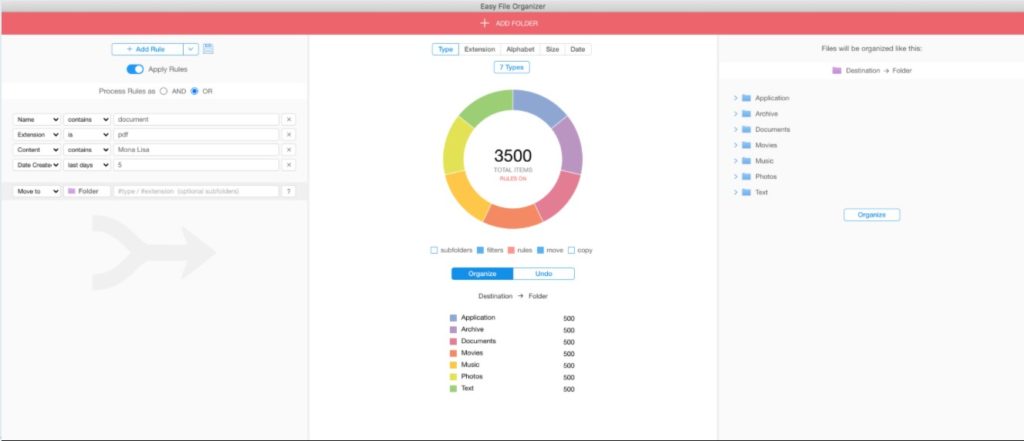 Furthermore, if you have any questions, you can write customer support at any time you want. Besides, you can download this program for free, but if you want to receive advanced features, the developer offers you to buy the premium version.
As a whole, the majority of users truly like this software, as we have not found any negative feedback.
You can also explore auto-mouse moving software for your Windows here.
User-friendly interface, quick installation, and a wide range of options – all these things are waiting for you in Easy File Organizer. Highly recommended!