Do you want to quickly manage all your business cards? In this case, Contapp will certainly help you to carry out this task. So, let's have a look!
Contapp does not take up much storage space – it weighs just 18M. Therefore, you will instantly download it.
And when you have mutual calls with someone – make them more fun – here we have 35 game ideas for video calls.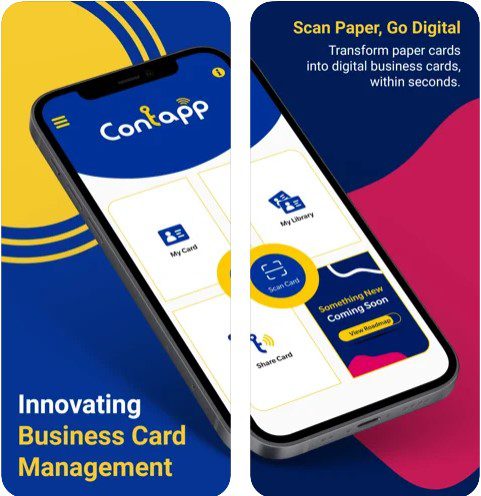 Moving on, Contapp performs the functions of a business card maker, scanner, and manager. Thus, the app allows users to create digital cards, scan or transform paper cards into digital ones.
Additionally, you can also add social media links to your digital business cards, as well as a profile picture or various notes. We have to mention that all these things you will do in a few seconds!
The next useful feature that many users will certainly like – you can keep and create an unlimited number of business cards.
By the way, Contapp comes with an intelligent library that enables you to quickly find all the necessary materials and filter options. Moreover, it supports secure cloud backup that offers all-day access to your library.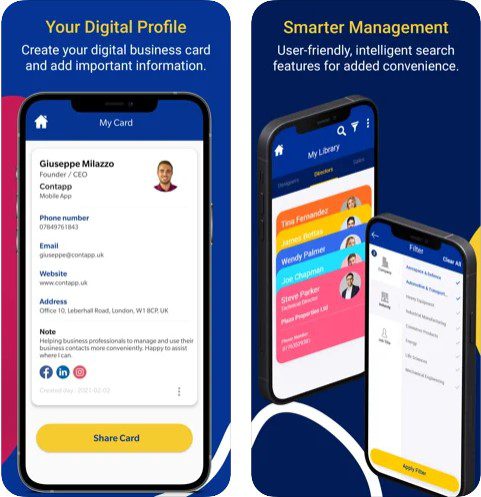 In this tool, you will also find a Save Location option that allows you to save the exact location of where you meet people. This function is integrated with Google Maps!
If you want, you can also share your digital business cards via groups and individuals by using Contapp or other platforms.
As for the app's interface, it is very user-friendly. The app's design is thoughtfully developed as well. While using this tool, we have not faced any lags or bugs.
The developer makes his best to guarantee an excellent user experience, that's why you can contact the provided customer service. Furthermore, the app's version is constantly updated!
And for those who don't like calls, but prefer texting, we recommend checking apps like TextNow.
To sum up, Contapp is truly worth downloading. We believe that this is an excellent solution for all business owners, startup founders, directors, managers, sales or marketing professionals.