ONLYOFFICE Documents is a full-featured tool where you can generate and edit a wide range of office documents – e.g. text files, tables, and presentations.
Once you have opened the app, you will get simple guides on how to use it. The app will also ask you to enable several permissions. After that, you can start working.
The app's interface is pretty clear to manage. Just tap on the + icon to add the desired document – text file, table, or presentation.

You may also like: 11 Free JPG to PDF Apps for Android & iOS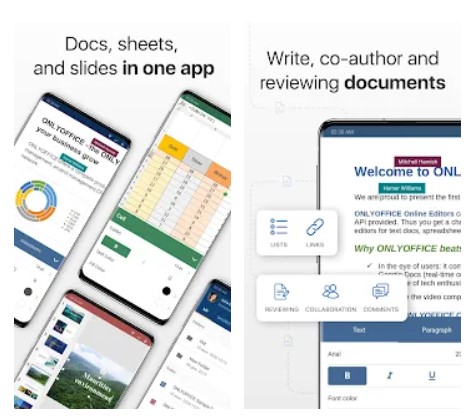 Apart from creating various documents, you can also instantly share these documents with others. Moreover, you can even set access rights for a document to other users. Here you can select a preferred option: read-only, review, or full access.
You and your colleagues can simultaneously edit the same document and even leave comments in all files. Plus, the internet is not required!

You may also like: 11 Best PDF Editor Apps for Android & iOS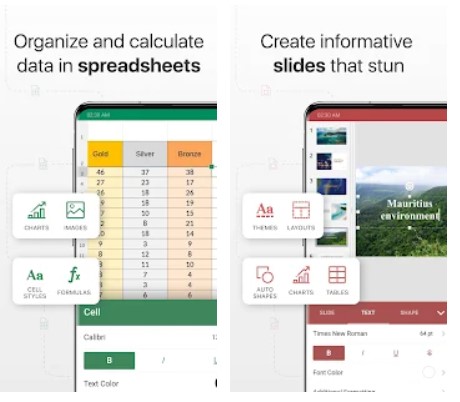 Moving on, the application is compatible with other Cloud services – e.g. Google Drive, OneDrive, Dropbox, SharePoint, etc.
In addition to the aforesaid, ONLYOFFICE Documents works with multiple formats – e.g. docx, xlsx, pptx,doc, xls, ppt, odt, ods, etc. If you want, you can even save and download documents in pdf, txt, html, csv formats as well.
Overall, ONLYOFFICE Documents come with rave reviews. The app works fast and simple, so we believe you will fully like it!

You may also like: 11 Free Photo Scanning Software for Windows 10