Tired of writing the same old boring quizzes for your website or classroom? Searching for a way to spice up your trivia nights? Well, you're in for a treat!
We've got the scoop on the best free AI questions & answers generators you could try. These apps use AI to come up with queries that are just as challenging as they are fun.
Whether you're hosting a quiz game with pals or making a test for students, these generators are a nice addition to your arsenal. From history to pop culture to cat memes, these can do anything. Let's get started!
AI Questions Generator
This app is here to make my life as an educator a lot easier. If you've been burdened for far too long with the task of crafting exams, this app will swoop in to save the day like a superhero.
Let's dive right into the nitty-gritty, shall we? The fact that it can make inquiries from any text is mind-blowing. Say bye to fruitlessly trying to form relevant questions from thin air. Now, all you need is a piece of reading material, and voila, the app will do the rest.
And here's the kicker, it covers all kinds of tests! Multiple choice, essay-style, you name it – this app's got your back. Beyond that, you can even save them for future use. No more spending your evenings trying to come up with new and exciting tests for your students. You can simply sit back, relax, and let the app do the heavy lifting.
Even those of us who aren't the most tech-savvy can easily navigate this app. It's laid out in a way that's easy on the eyes, and all the instruments are simple to use. So, it's accessible to everyone, from the tech gurus to the technologically illiterate.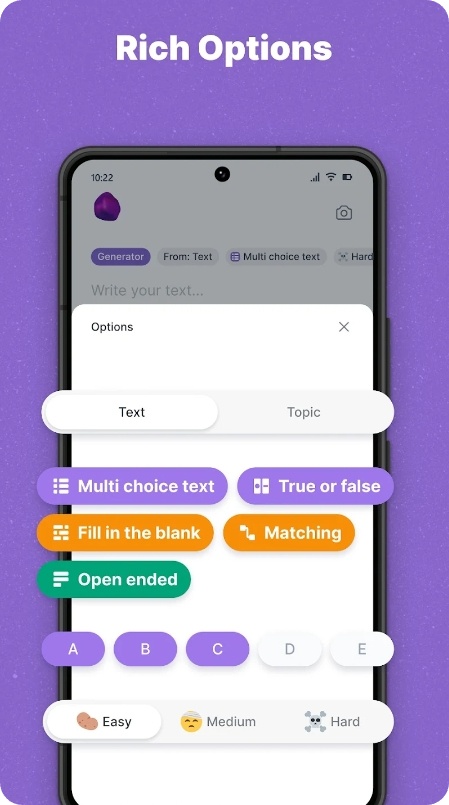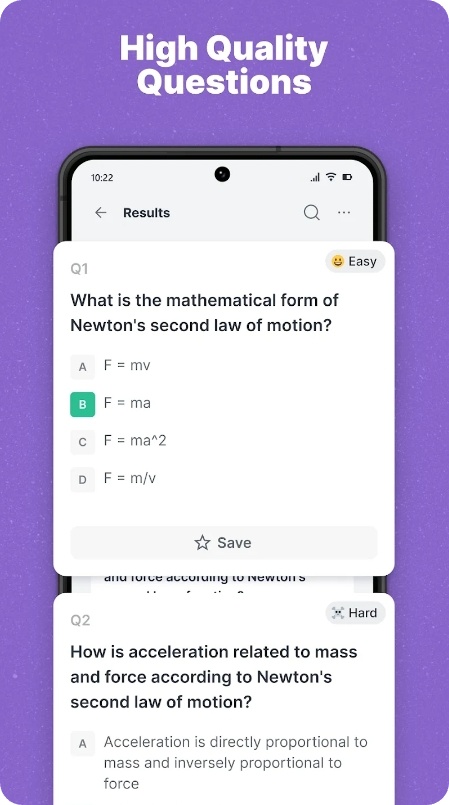 You may also like: 11 Best Memory Card Games for Kids
Quiz Maker Professional
If you're a fan of trivia night, you have to give this app a try. It's sure to take your exp to the next lvl and make sure you won't have to deal with the same old boring puzzles again.
This app not only covers the classic questions but also provides five additional types that will keep you on your toes. From picture and sound ID to matching and ranking, the app has got you covered. Get ready to challenge your pals and show off your superior knowledge (or learn something new yourself!).
It also includes automatic scoring, so you can easily determine who is the ultimate quiz master. And with the ability to share results and quizzes as a doc file, you can take your examinations on the go and play them with anyone, anywhere.
And let's not forget about the UI. It's sleek, simple, and easy to use. You don't have to be a tech wizard to make a quiz – it only takes a few minutes! Plus, receiving those from your contacts is a breeze, so you'll always have new challenges to tackle.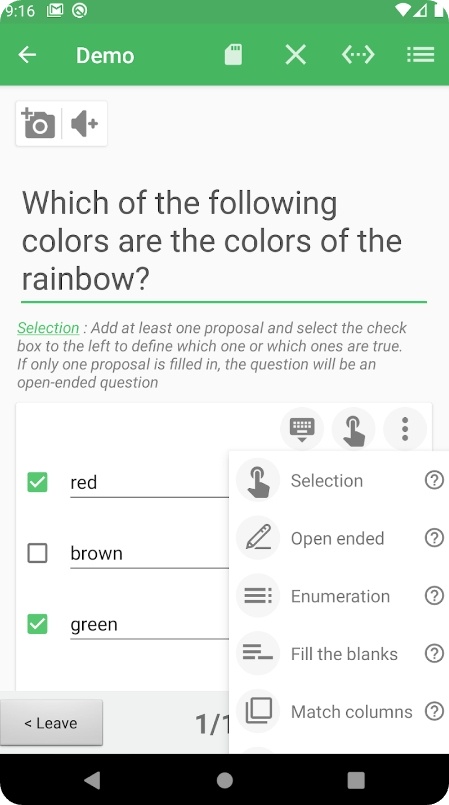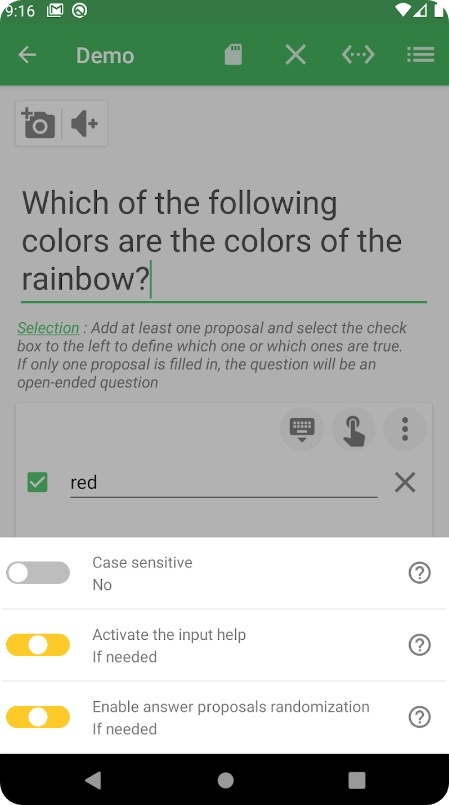 Quizlet
This app is a game-changer for anyone who wants to ace their exams or expand their knowledge.
To start with, let's talk about the sheer number of flashcard sets available. With over 700M of them, we're pretty sure they've got you covered no matter what subject you're tackling. And if you can't find what you need (which would be impressive), you can always whip up your own flashcards in the app to tackle those unique study needs.
The app offers diverse study modes that'll help you take those flashcards to the next level. Ride solo with the familiar "Learn" mode, or spice things up with "Match" or "Test" ones. You can adjust your quizzes too, and the app's AI is always on hand to make things easier.
But what about the dreaded "forgetting everything the next day" syndrome? Fear not, dear friends, because it uses spaced repetition to help make those hard-won facts and concepts stick in your brain for the long haul. No more cramming and forgetting, just a steady accumulation of knowledge that you can draw from when you need it.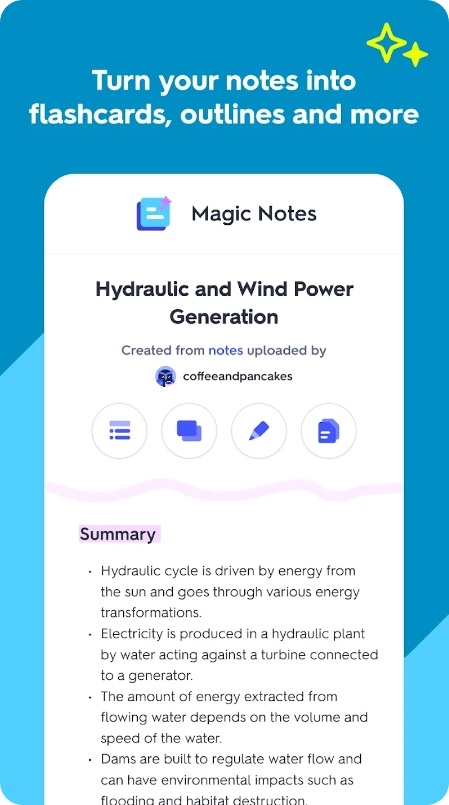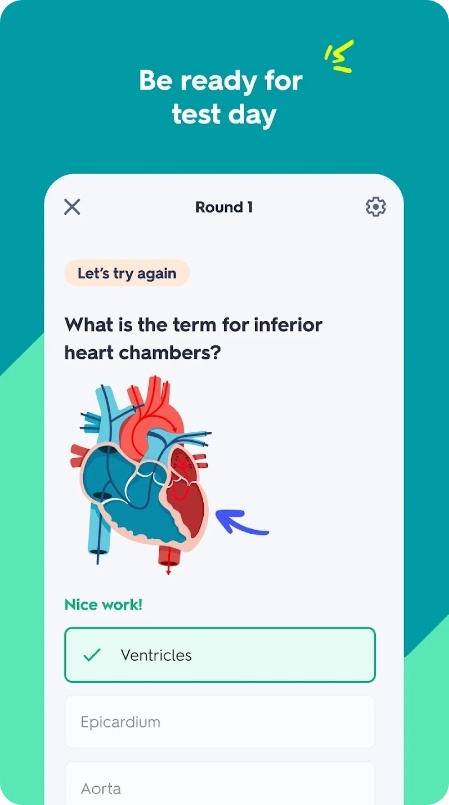 AI Quiz Generator
This app is not only effortless to use, but it also delivers personalized questions that are spot-on!
One thing that we absolutely love about this app is its versatility. Whether you want to test your knowledge of classic rock, TV shows, or Intellectual Property Law, this app's got you covered! And with diverse query types, and you can adjust them to suit your needs entirely.
But what makes this app stand out is the accuracy and relevancy of the queries generated. None of those outdated questions that you've seen a hundred times before. Nope. Just exciting and thought-provoking questions designed to keep you on your toes and learn something new.
And if you're an educator, this app is fantastic for student assessments. The open-ended ones will spark critical thinking and discussion among your students, making learning a tad more engaging. Another perk of this app is its thought-provoking questions that keep learners engaged for hours on end. No more boring quizzes that make you want to hit the snooze button.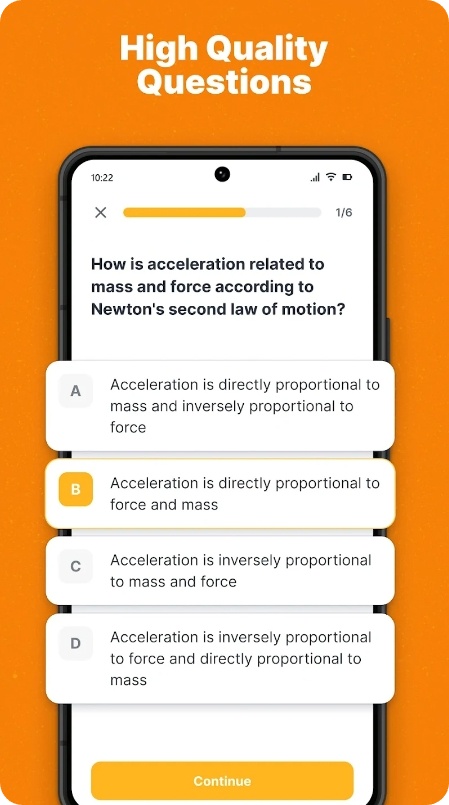 Question Maker AI
This app is an automated way to make tests for your students. And it's so smart, it practically has a PhD in education.
To use it, all you need to do is scan or type in the text you want to make inquiries from. The app will then use its advanced AI to generate a fully-formed question paper for you. And we're not talking about just any old questions – these are intelligent and tailored to the material you provide.
One of the best things about it is that it works even when you're offline. Thus, you can make quiz papers at any time, no matter where you are. So if you're ever stuck in an area with no Wi-Fi, you can still get some valuable work done.
But the perks don't stop there. The app also lets you save your project papers for later use. And if you have multiple papers saved, you can merge them all together for an even more comprehensive assessment.
It lets you shuffle the questions in your question paper with just one click. You can make multiple versions of the same paper, which is great for preventing cheating. Each student can get a completely unique test that covers the same material.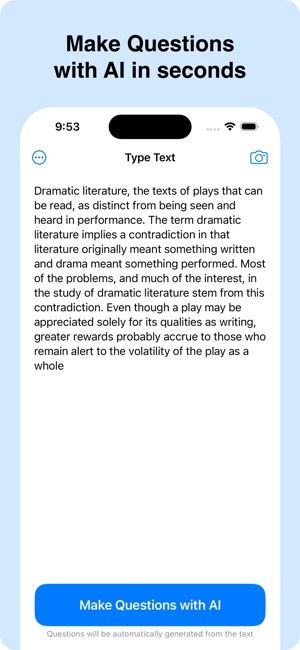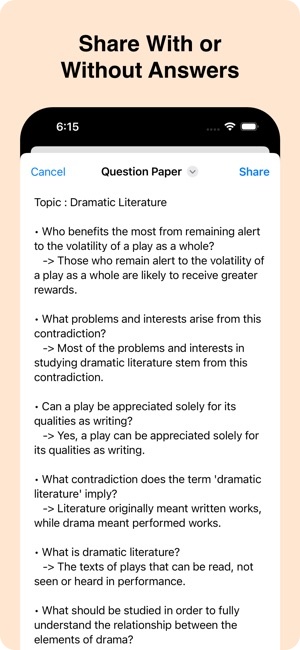 Quiz Me
Are you someone who loves to show off your wisdom about everything under the sun? Well, this is the app for you, then. It is an absolute gem, making quizzes, and trivia nights more interesting and fun.
Firstly, let's talk about its UI. It's sleek, modern, and extremely easy to navigate. Making a quiz is a cakewalk, and the AI behind it makes inquiries that are made to keep the users engaged, no matter what their interests. From movies to music, sports to history, this app covers everything.
It tailors questions to your prefs, so you never get bored of the same old content. You can also sort all your quizzes into categories. Whether it's a quiz you've created or taken, it's easy to search and find them with a simple click. You can share the results easily too, so no worries here.
What we love about it is that it doesn't just ask trivia questions. It goes beyond and shells out interesting facts and info about each topic. It's like having a personalized tutor in your pocket. You can rest assured that you're not only having fun but also learning something new.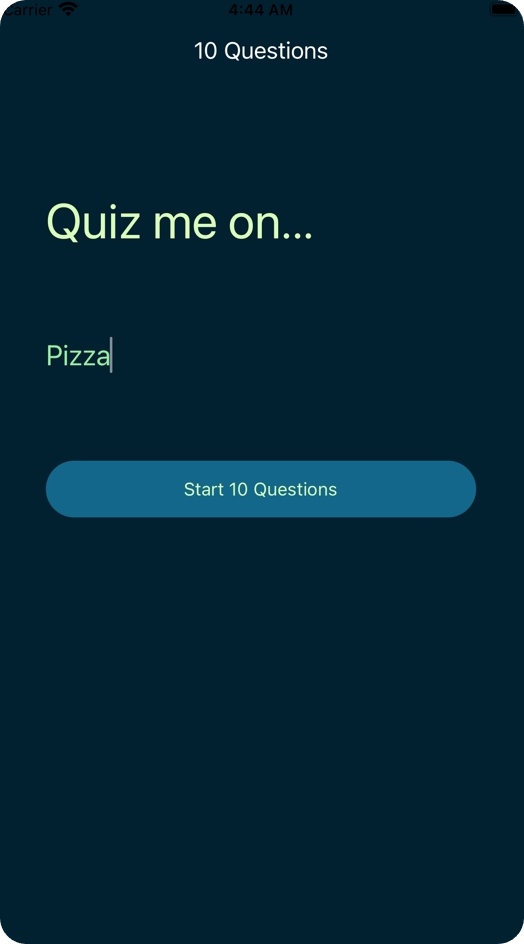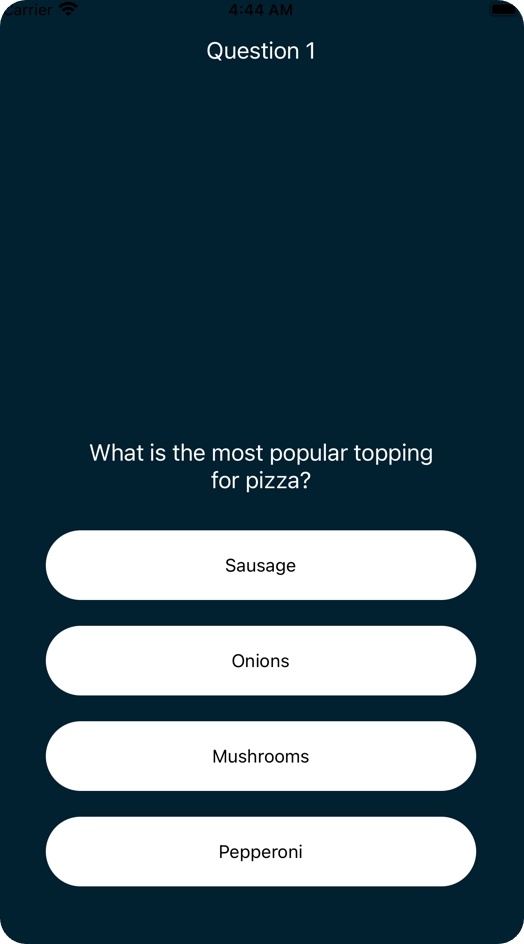 Check also: 11 Free AI Art Generator Apps From Text
Quiz Maker
Tired of boring, run-of-the-mill quizzes that make you want to snooze through the questions? Do you want to step up your education game or challenge your pals on their knowledge? This app is here for just that.
This gem of an app is a must-have for anyone who loves to make or play quizzes. We're talking about an app that lets you modify quizzes to your heart's content! Teachers can make quizzes tailored to their students, while mates can challenge each other to see who knows the most about Harry Potter (spoiler alert: it's always me).
But let me tell you, the app doesn't just stop there. It's also jam-packed with tools that make it super user-friendly. Seriously, you'll be asking yourself, "Where has this app been all my life?"
With this one on hand, you can add titles, descriptions, and even time limits to create a sense of urgency and excitement. Want to make things more challenging? No problem! Add multi-choice questions to really make your brain work.
And the best part? You can share your MCQ quizzes with anyone in just a few taps. That's right, spread the knowledge and share the fun. Who knows, you might even become the ultimate quiz master.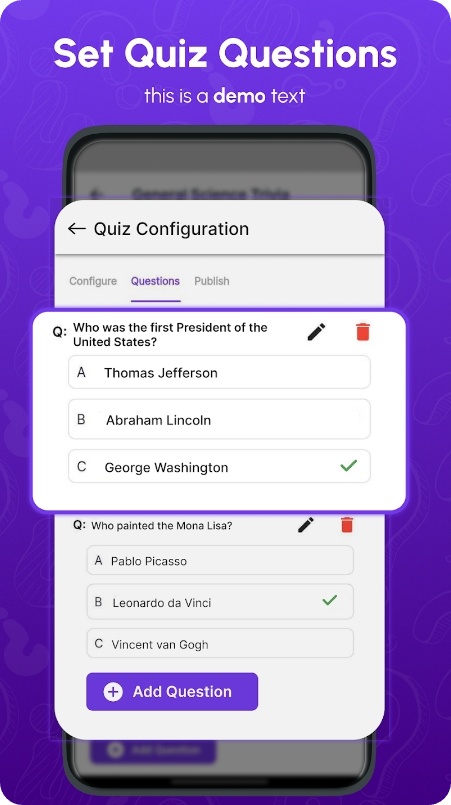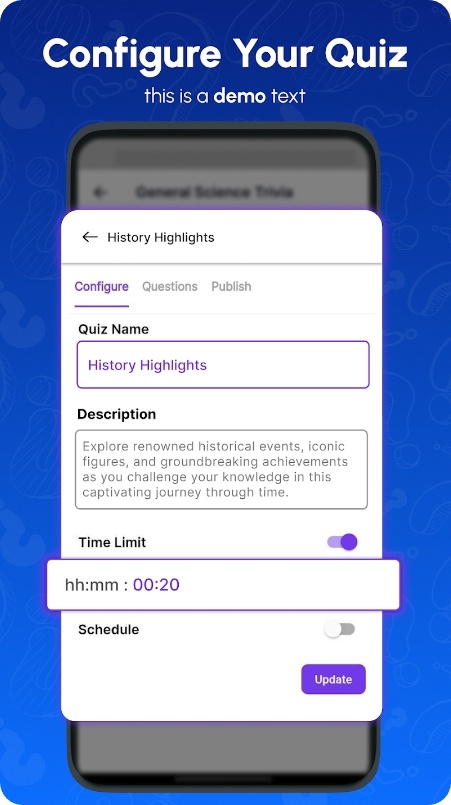 Questgen
Here's a quiz maker that is so simple, that it feels like magic! This gem of a platform lets you make assessments on the fly with just a few taps. You simply enter your text, pick a quiz type, and voila – you've got yourself a quiz!
It's like having a personal assistant at your fingertips, and with its AI tech, you can make quizzes you never thought possible. But don't let the simplicity fool you – it is no slouch when it comes to question quality. In fact, we were pleasantly surprised by the caliber of questions generated by this app.
It makes solid questions that really test skills and knowledge, so you can be sure that the tests you produce are both fun and challenging. And if you do happen to find any errors, the app lets you easily edit your content before exporting it in PDF or text.
One small caveat to keep in mind is that there is a word limit of 2K text per assessment. However, we found that dividing longer content into smaller parts was a breeze with its UI. With its intuitive design and endless possibilities, we can't recommend it enough for anyone in need of an ultra-fast and reliable quiz maker.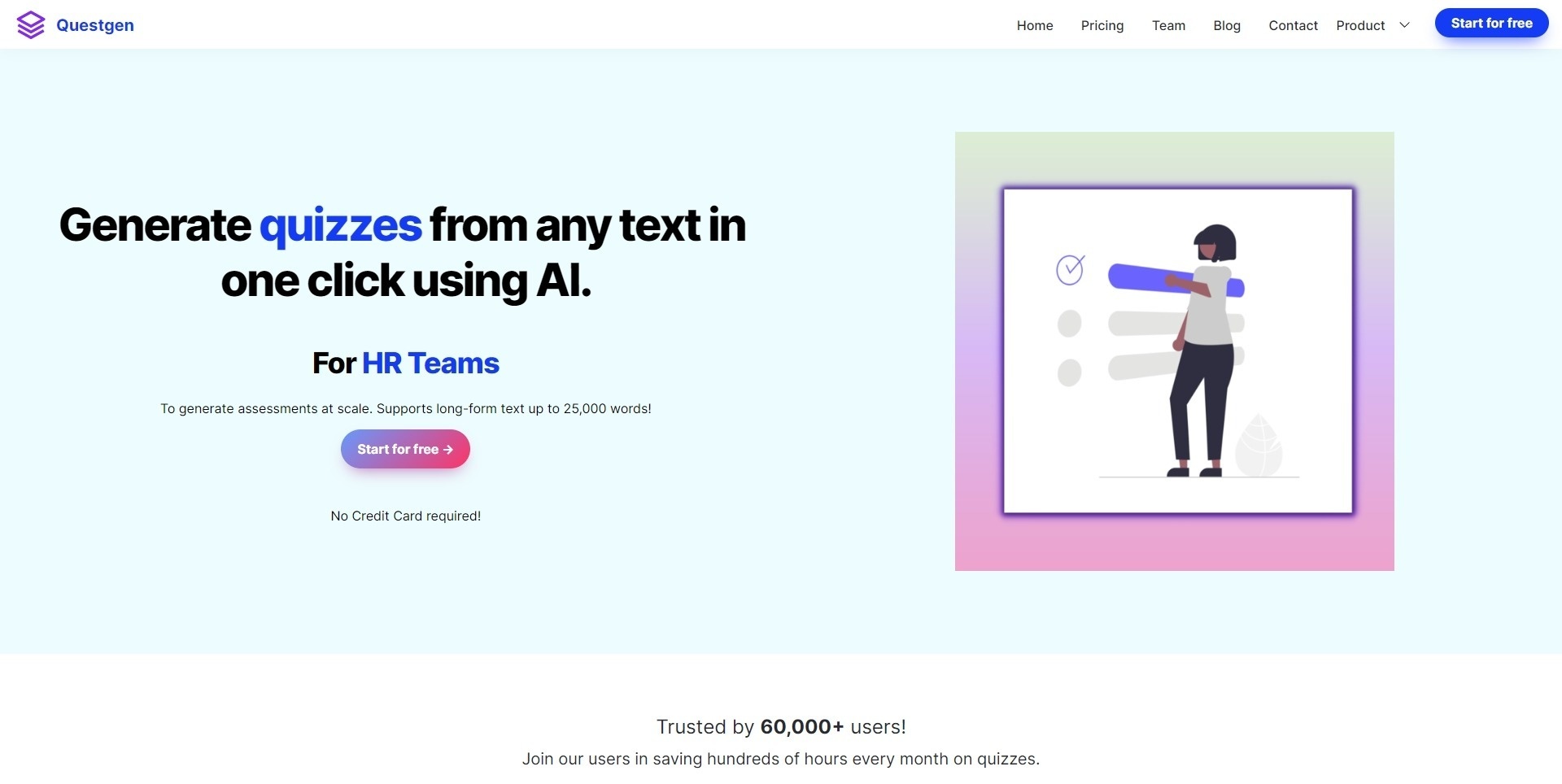 Quillionz
If you're still out there spending hours making tests for students, you need to try this one ASAP. This clever little tool is a life-saver for educators who want to save some precious time and effort.
All you have to do is copy-paste your teaching content into the app and let the magic happen. And the best part? It works with just about everything. Whether you're using a text, a clip, a link, or else it can work with it.
One of the things we appreciated most about this one is how accurate it is. The AI is clever enough to identify parts of the content that need to be rewritten or processed more smoothly to prepare better queries. It's like having a personal quiz-making assistant at your fingertips!
And once these are ready, it gives you plenty of options. You can save them in diverse formats, create a self-test, use them to make an online quiz, or simply save the content for later. But what about the accuracy of the AI, you may ask? Well, it even nudges you to rewrite those tricky bits before generating text, ensuring that the result is as accurate as possible.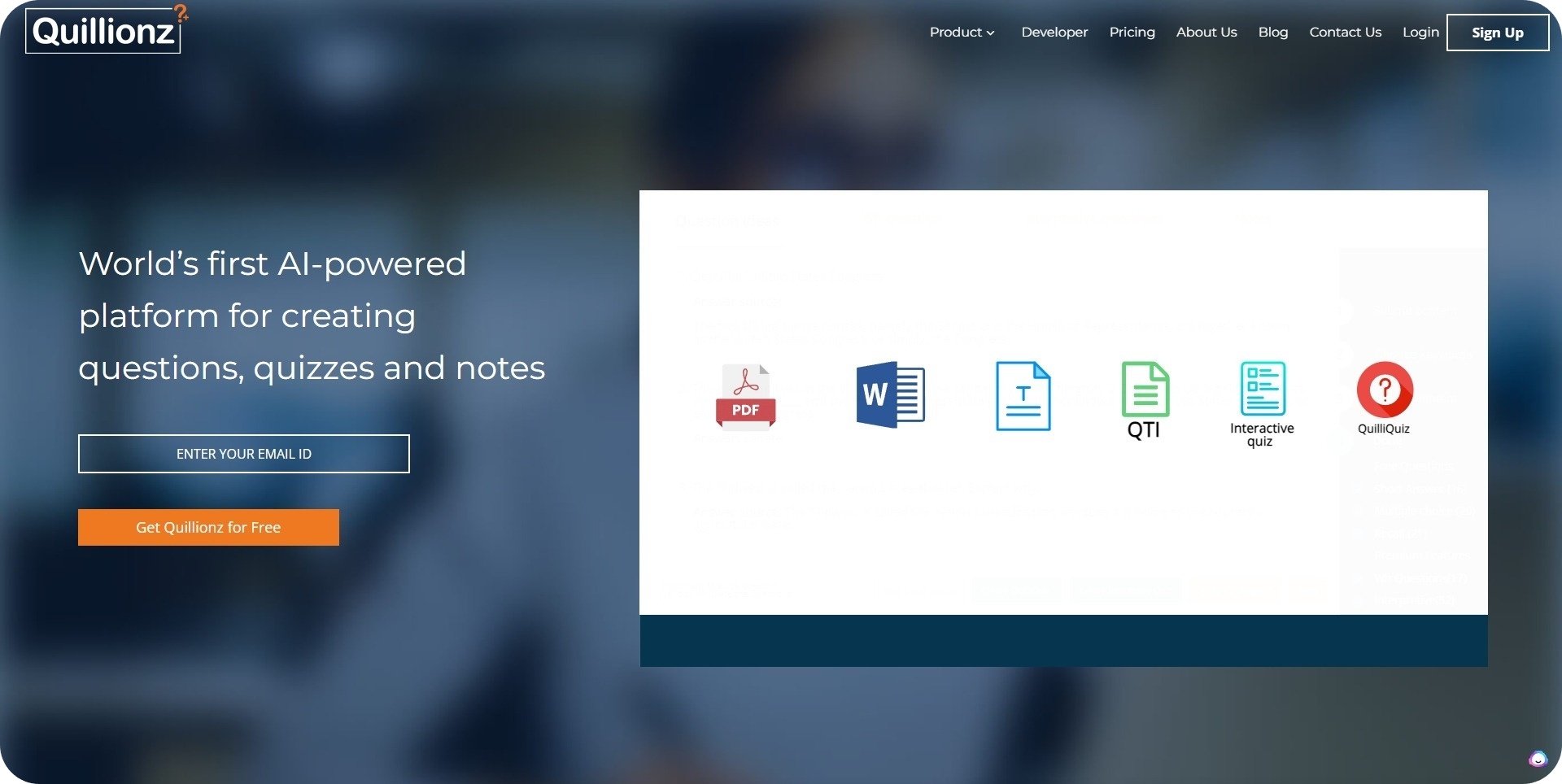 Fillout AI
This website is a superhero of all quiz makers. With its AI-made tests, making an interactive quiz has never been easier. But what sets it apart from the rest of the quiz makers is its ability to adjust them according to your needs.
Here, you can make a quiz based on a single text or input your own specific questions with ease. The dynamic tool makes it a cakewalk to add new questions to an already existing one. The scoring system engages the users even more and makes it more challenging.
Coupled with this, there's the ability to add your own font and logo to make it look like your own brand. It doesn't get any better than that! It is free, yet has all the aspects of a premium tool. It's fascinating that it can make a quiz based on one text and also allow you to alter it to your heart's content.
So, if you think you've seen it all when it comes to quiz makers, think again! It is here to revolutionize the way you make quizzes. Whether you're in for fun or a test, it's one of the best tools out there.

You may also check: 7 Best AI Photo Enhancer Apps
Quizbot
Lastly, we have a website that will change your quiz-making game forever. It is a gem for educators, trainers, and anyone wanting to make a fun, engaging, and interactive quiz.
With its smart AI tech, it can take any text, PDF, Word doc, or even a video link and convert it into an exciting quiz format that your audience will love. What sets it apart is its ability to generate all kinds of queries. Plus, it does all this in a matter of secs! So, if time is of the essence, it is definitely your go-to choice.
It even lets you make up to 50 questions for free, which is perfect for small quizzes. However, if you need more, you can pay for a yearly paid pack and get unlimited access to its full capabilities.
The website's UI is easy to use, and you can start making quizzes straight away. You won't be disappointed with the results, as the questions are well-crafted, challenging, and engaging, ensuring your audience has a blast while learning.