Tired of using a boring old timer to track your cube-solving sessions? Well, it's time for an upgrade, then!
That's why we've rounded up the best cube timer apps available for Android, iOS, and Windows. From adjustable themes to stats on your cube puzzle solving, these apps are sure to level up your cube game.
The right timer can help you monitor the results and maybe even inspire you to break some personal bests. And these apps are not only practical for boosting speed and accuracy but also come with fun tools to enhance your solving experience. Let's dive in!
My Cube Timer
If you're a fan of solving magic cubes, this app is a must-have in your collection! This app has all the tools you need to monitor your performance. First off, the app is super helpful.
It saves you the trouble of having to come up with a new scramble every time you want to start a new game. With just a tap, the app generates a new scramble for you, and you're ready to go!
What's even cooler is that the app calculates your best and average time. This is ideal for those who want to improve their game and monitor their improvement. Plus, with a limit of 500-time records, you'll never have to worry about running out of space.
For those looking for even more tools, the PRO version may seem quite interesting. It has an inspection timer that adds an extra layer of challenge to your game. It's great for those who want to personalize their game, too.
The app lets you view in-depth stats charts and export time records as CSV files for further use. The pro version gets rid of annoying ads as well.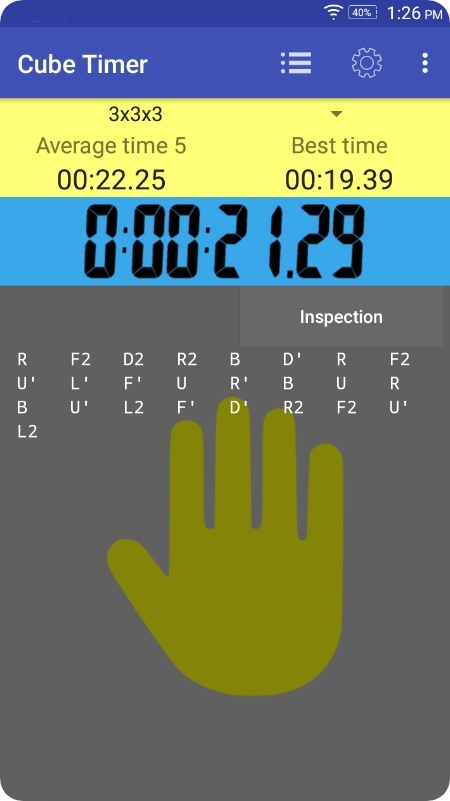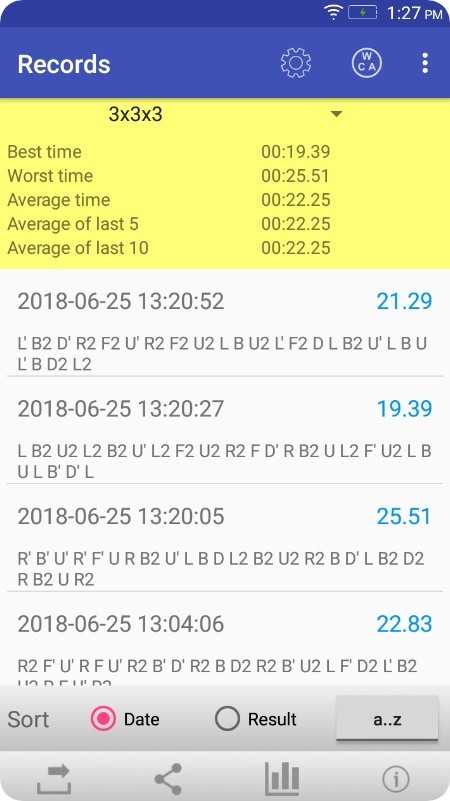 You may also like: 9 Best Interval Timer Apps
Cube Timer
This app is a treat for all the Rubik's Cube enthusiasts out here. This nifty little app is loaded with features that make it an absolute essential for any cuber wanting to up their game. It lets you track your best and average times over 5 and 12 solves.
Plus, you'll get to generate a random scramble for each solution, ensuring that your results are always fresh and challenging. The app boasts an intuitive UI that makes it easy to use in both portrait and landscape modes. And for those who prefer a darker theme, the app also offers a slick dark mode that's easy on the eyes.
One of the best aspects of this one is the timer history. This lets you track your progress over time, seeing where you've improved and where you still have room to grow. Plus, with the ability to export your times to a CSV file, you can easily analyze your results and find areas for advancement.
The design is pretty basic, it won't distract you from the app's main goal. The ads appear from time to time, but they won't interrupt you or reset the timer as well.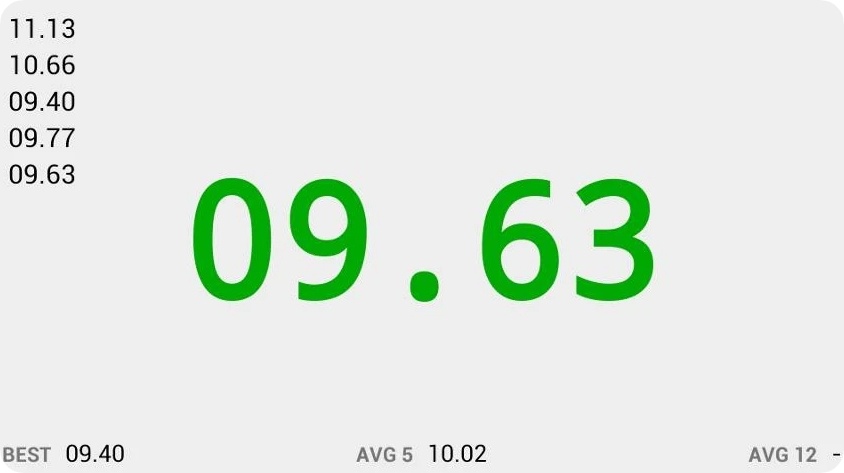 Cube Timer for Rubiks Cubes
If you need a sleek and efficient timer for your mafic cube sessions, this might be the one. With its elegant design and user-friendly interface, this app is the ideal companion for all your cube-solving needs. Its clean, clutter-free layout allows you to focus on the task at hand, while its dark mode lets you work even during your late-night sessions.
But that's not all! The app also lets you track your times and progress graphically. This lets you estimate how much you've improved over time, making it great for everyone who is trying to up their game and get better.
The stats are pretty detailed, and the graphs let you visualize the progress right away. The app counts your best and average time and saves all the logs automatically. You'll be able to export these as a doc file for further use if needed.
Additionally, the app covers over 10 puzzles and cubes, giving you a diverse and exciting array of challenges to tackle. Whether you're a newbie or an expert, there's a cube for everyone!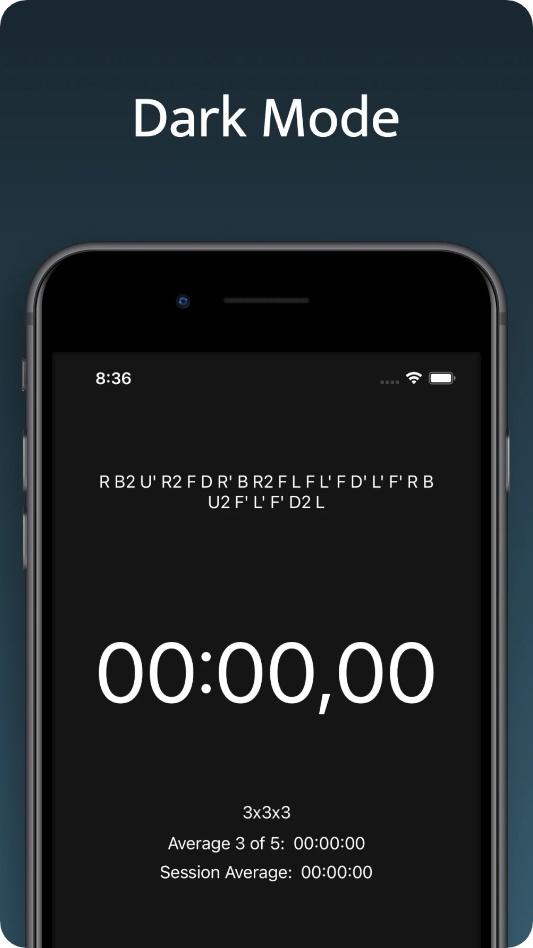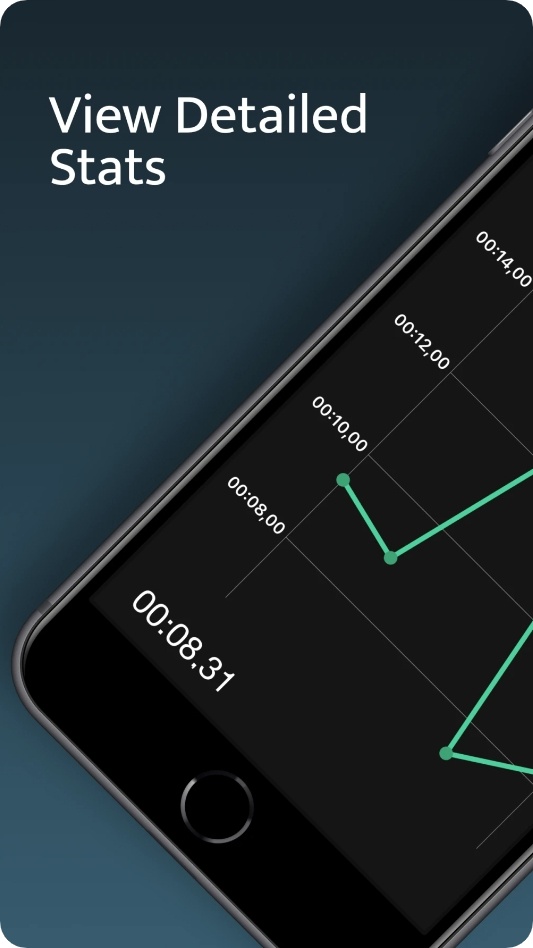 Cube Timer
That's a timer app that will help you practice speedcubing and improve your times. One of the best things about this app is the stats you get. With just a glance, you can see your average time, Ao5, Ao12, the best time, and the worst time. This makes it easy to monitor your improvement and see where you need to improve.
You'll surely love the fact that the app comes with built-in scrambles, complete with images. This is especially handy if you don't want to spend time coming up with your own scrambles. The UI is simple, and you'll quickly figure out how to use the app.
This app doesn't just keep track of your times, it also registers all your solves. You can even edit these by changing the used cube or adding a note. It can help you analyze your progress and identify your weak areas.
You can add your own custom cubes with their unique colors: normal or stickerless. Being able to use your own cube colors adds a personalized touch to your experience, making every solve feel more enjoyable and satisfactory.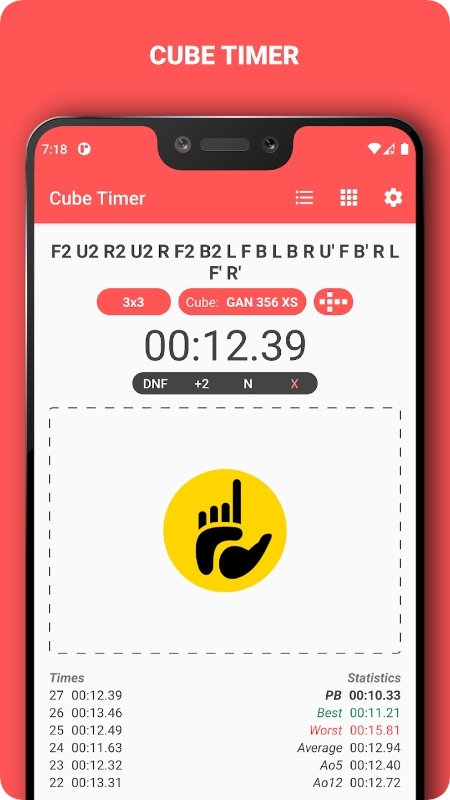 Cube Timer
Here's a reliable and easy-to-use cube timer app. It's a real gem for speedcubers of all levels. Whether you're a newbie still learning the ropes, or a seasoned pro looking to beat your own best, this app has everything you need.
The app is super easy to use: just hit the timer button and get solving! The UI is clean, making it easy to focus on your solve without any distractions. Not only does it time your solves and save your best times, but it also generates random scrambles to keep your skills sharp.
And if you're ever stuck on a particular part of the solve, no worries, this app has got you covered. It even includes step-by-step tutorials that can teach anyone how to solve a cube! Another thing you'll certainly appreciate is the ability to have up to 4 accs.
Each acc can store up to 4 cubes, so the possibilities are endless. This is ideal for families or groups of friends who all love to cube and want to keep track of their progress separately. And if you ever want to remove individual times from your history, the app makes that easy too.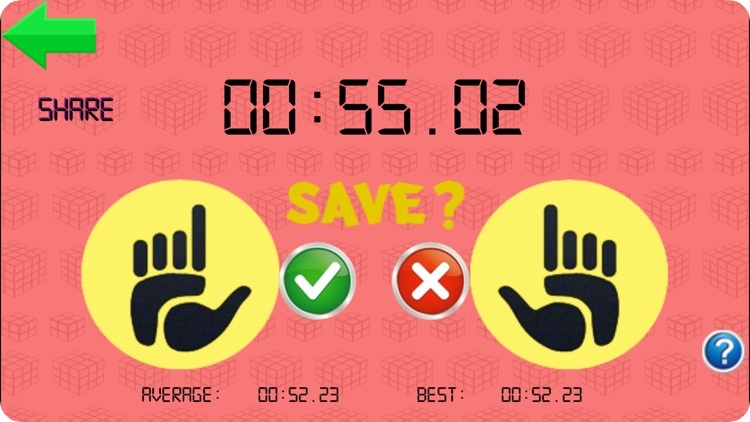 Check also: 9 Best Box Puzzle Game Apps
CubeX
This nifty solver is a one-stop shop for all your cubing needs. It's got a sleek and user-friendly interface, making it easy for anyone to solve their cube in minutes. It can generate the shortest possible solution from any valid input state.
Thus, you won't have to worry about wasting time trying to figure out the best algorithm. Just let the app guide you, sit back and watch as it works its magic! It also lets you play with and learn about the cube virtually! It's ideal for practicing different algorithms without a physical cube.
The app also has a timer that simulates the professional cube timer used in competitions. The timer not only helps you monitor the solve times but also lets you analyze and improve your algorithm. Needless to say, it's an invaluable tool for speedcubers.
Moreover, the app offers two solving mechanisms. Both of these work exceptionally well and help solve any valid pattern on the cube in the shortest possible number of turns. And if you happen to get stuck in a particular pattern, there's a pattern solver to help you out.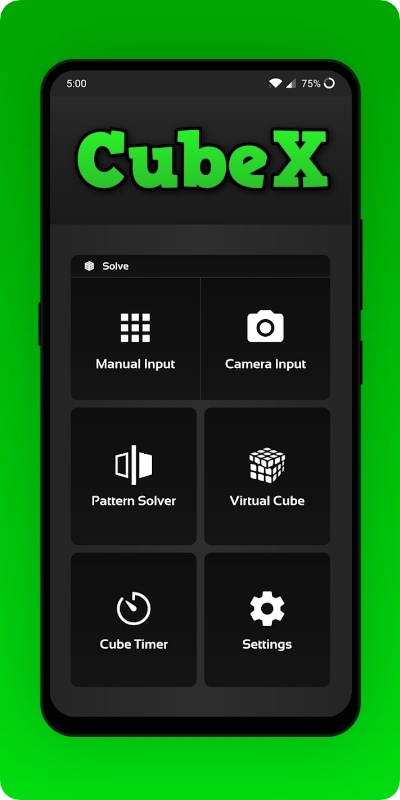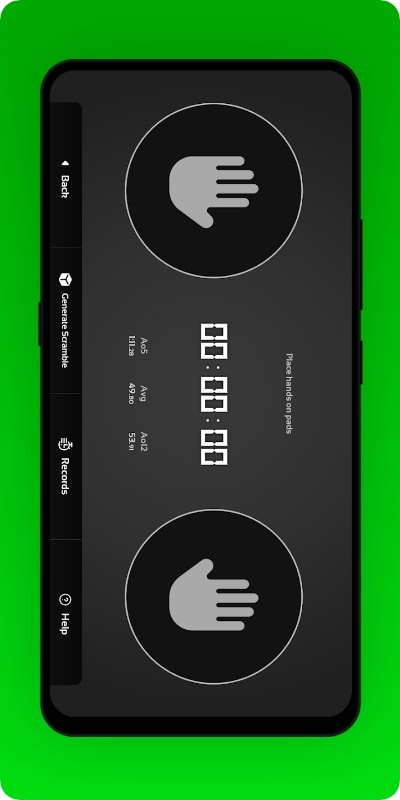 Twisty Timer
This app is a real game-changer for speed-cubing enthusiasts! The app is pretty visually appealing and lets you track your solves in an organized manner. Its UI is super user-friendly with a clean, intuitive design.
You won't have to spend any time fumbling around with the UI and can dive straight into tracking your solves. And speaking of tracking, the app lets you graph and share your solves, so you can show off your progress to your cubing buddies.
You'll also get to make categories for different events to keep the data sorted and easily accessible. The scrambles generated by the app are based on the same open-source program used in official competitions, so you can be sure you're getting accurate and reliable data.
And if you're looking to improve your 3×3 times, the app gives you optimal hints for cross and x-cross for each scramble. The app covers over 20 themes and comes with flexible settings that can cater it to your needs. And the full-on algorithm reference means you can expand your cubing knowledge even further.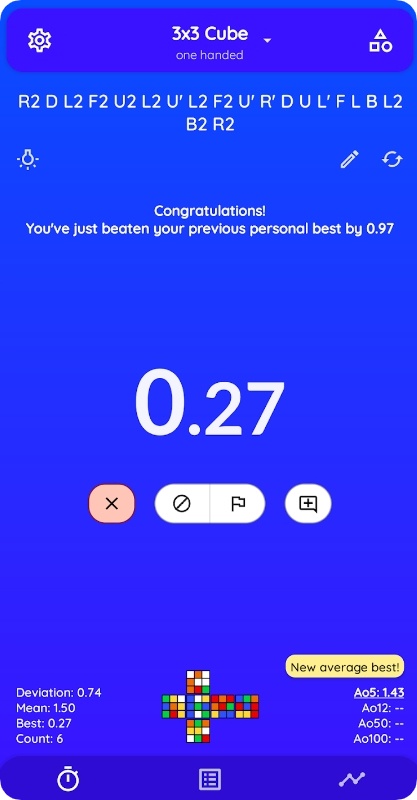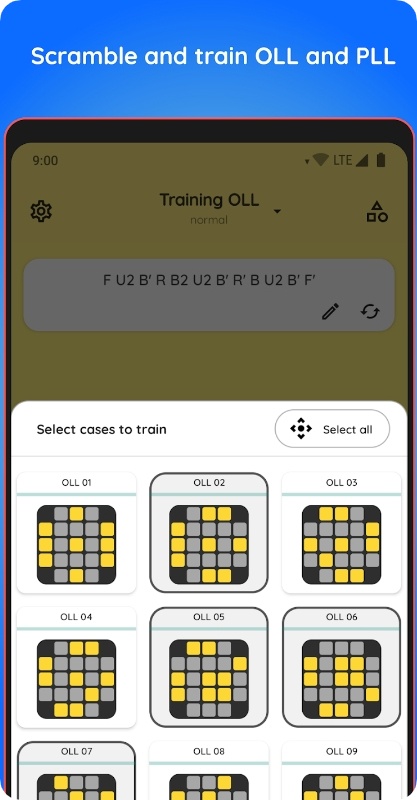 Simple Cube Timer
Tired of using clunky and complicated Rubik's Cube timers? This handy PC tool is here to help. First off, the app is made with simplicity and functionality in mind. It has all the necessary tools that you would need for a cube timer, really.
It can time your solves, generate scrambles, and calculate stats. What else could you ask for, right Plus, with the ability to support multiple puzzle types, the fun, and excitement never end! But don't just take our word for it. The app's efficient algorithms ensure accurate timing and scramble generation, giving you the edge you need to improve your solve times.
And if that's not enough, the app's vibrant and visually-appealing UI makes tracking your progress all the more enjoyable. Plus, with frequent updates and new puzzle types in the pipeline, the app will have you coming back for more.
The user interface is super easy to navigate and the timer is very responsive and accurate. Plus, you can customize the timer to suit your prefs.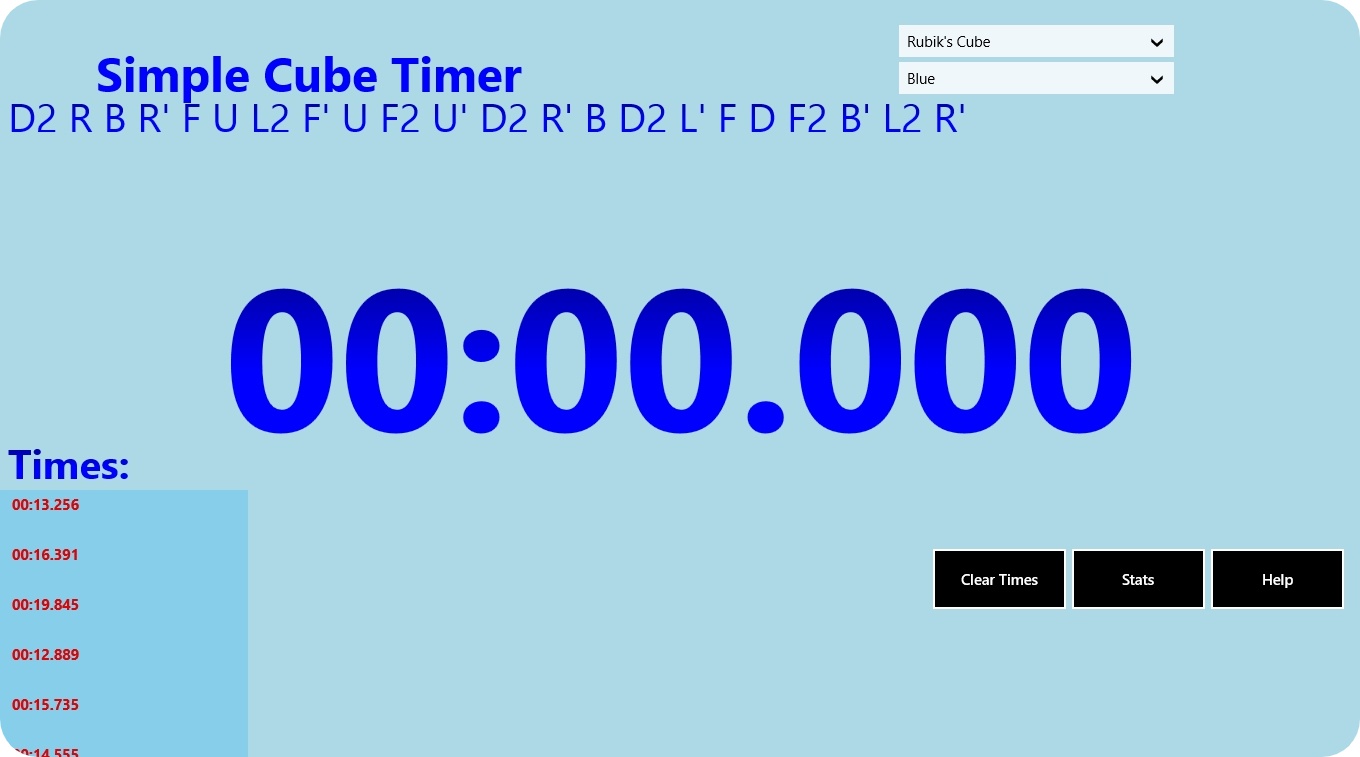 You may also check: 11 Best Pomodoro Timer Apps
Rubik's Cube Timer
To wrap up, there's a Rubik's Cube timer that can keep up with your agility and pace. This handy little app lets you time all your cube-solving with ease. All you have to do is hold down the space bar and release it when you're ready to launch the timer.
Once you're done, a simple press of the switch to stop the timer, and voila! Your time is recorded! The app also monitors all your times and displays them for you. You can easily check your best time and overall average one.
And if you want to see how you've been performing lately, the app has got you covered too! It shows you your last logs for the 5, 10, or even more solving. You can also view your best and worst times with just one tap.
Apart from its functionality, the app is user-friendly and easy to navigate. Its simple and sleek design makes it a joy to use. And did we mention that it's free? That's right, you get all these amazing tools for absolutely no cost at all!