Whether you're a cinema buff or simply love a good blockbuster, staying in the loop with the latest films is always a thrill. But with so many options out there, how do you know what films really worth your time?
Lucky for you, we've picked the best apps for fresh movie reviews you could try. No more guessing if that new film is worth your attention or not. These apps will provide you with everything from plot synopses to ratings and beyond. Some of these apps even show you the best streaming platforms to watch movies on. Let's dive in!
Raters
Tired of scrolling through endless lists of movies, only to end up watching something that doesn't quite satisfy you? This app is here to save the day (and your movie night)! It's truly a game-changer when it comes to finding the right movie for you.
With its advanced tech, the app matches you to users with similar movie tastes, so you can trust that the recs you receive will be spot-on. Whether you're in the mood for drama, horror, or smth in between, the app has got you covered.
One of the best aspects of this one is the ability to follow users with exquisite taste in cinema and check out their reviews for motion pictures. This not only gives you great insight into what films to watch, but it also helps you make your own cinema theater at home. Impressive, right?
But it doesn't stop there. The app covers recs for groups, which is a true lifesaver for those times when you can't seem to agree on a film. And if you're in the mood for something specific, you can use the filters to get a more accurate rec for the occasion. Genius!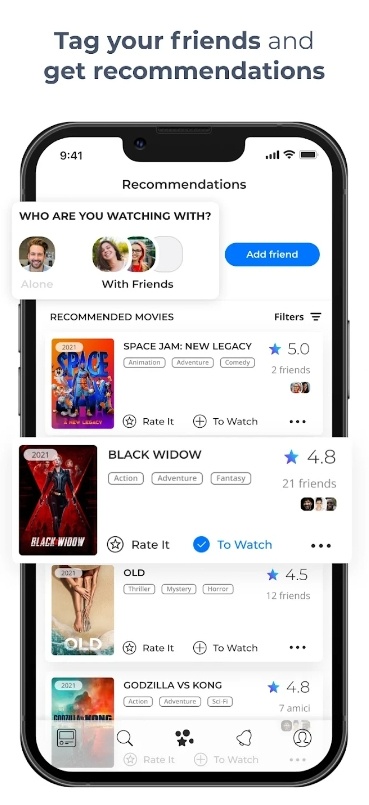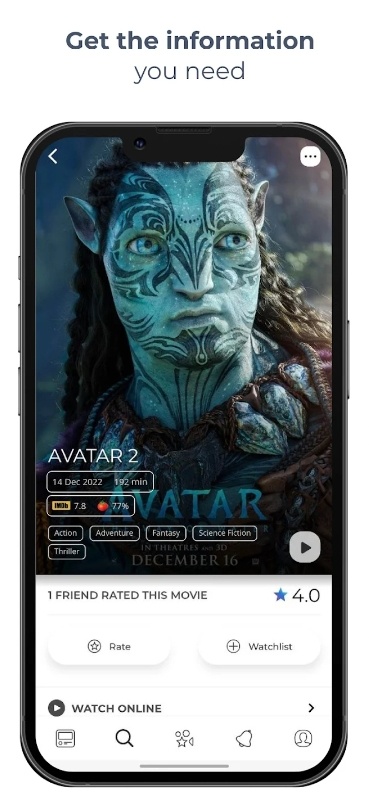 You may also like: 12 Best IPTV Software
Letterboxd
This app will change the way you interact with movies. It lets you access your fave social network for film lovers on the go. First off, signing in with your existing acc is super easy and the mobile UI is super sleek.
You can browse through viral, highly rated, and most anticipated films and get a ton of info about them. This includes trailers, member ratings, cast, news, and all that. It's an ideal app to help you find your next movie night pick.
But it's not just about finding your next movie fix. You can also use it to review films you've watched in the past, read and post comments on reviews and lists, and even follow other members who have similar tastes.
Thus, you'll get to keep up with what they're watching and loving. Plus, you can access member profiles (including diaries and films) and cast/crew filmographies to discover even more hidden gems. You'll also get to make a list of anticipated releases and films you're going to see. You can even make a list of movies to rewatch if needed.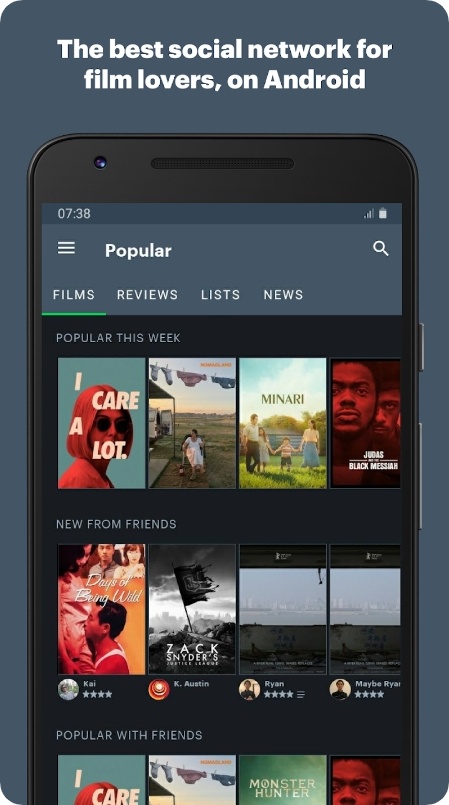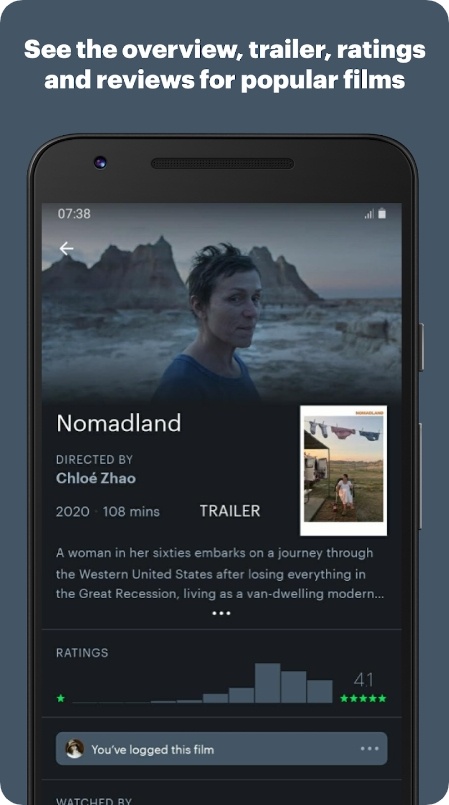 IMDb
If you're a movie buff, you already know what this app is about. It's the ultimate network for everything entertainment-related. From discovering the latest and hottest films to tracking what you want to watch, this app has got you covered.
The coolest thing is that the app tailors its recs specifically to your interests. The personalized top picks tool will never let you down by suggesting movies you're sure to love. And with millions of entertainment programs available for browsing, there is always smth new and exciting to watch.
But it's not just about recs. The IMDb app also provides a wide range of info about movies and shows. It includes critic reviews, trailers, and all kinds of updates. You can easily get lost reading all the reviews and growing through ratings. You can also follow people to see what they are recommending.
And if you just want to kill time doing smth fun, you can browse through movie quotes, celebrity goofs, and trivia. There's also a special news section and event coverage. It's like having a movie encyclopedia right in the palm of your hand.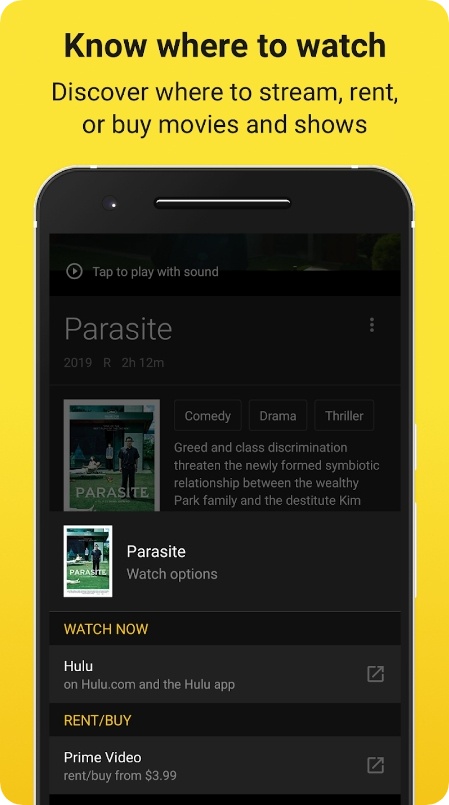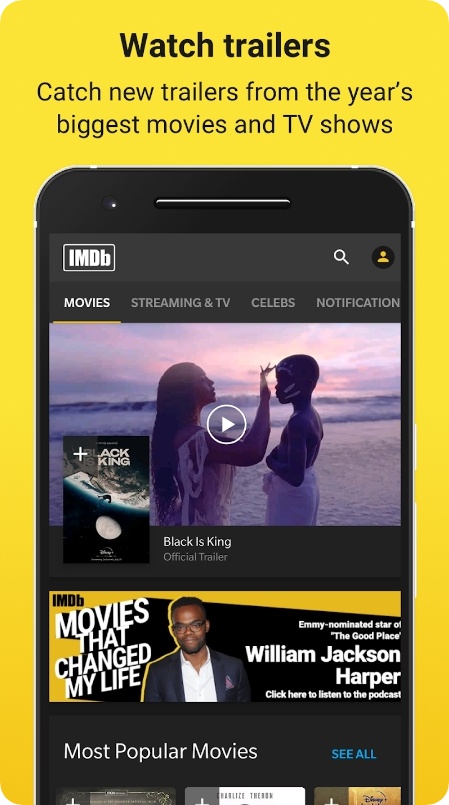 RecSpot
Tired of wasting time scrolling through endless recs on streaming platforms? Give this app a try. It's a real treat when it comes to finding your next fave movie, book, or restaurant. The app has recs for multiple things, but it works great if you're looking for film reviews.
With this one, you can say goodbye to hidden algorithms and hello personalized recommendations from trusted connections. The coolest tool here is the app's custom lists. You can make lists of anything: your top picks in movies, bars, and whatever else.
This makes it easy to remember what you want to watch or where you want to go, and you can even share your lists with your mates. The app also runs on swipe-to-like mechanics. It lets you easily rate things and browse through them quickly.
The app comes with a community aspect, too. You can use it to find people with similar niche interests, such as anime fans or rom-com connoisseurs. You can follow influencers or mates who share your interests and get recs for new movies or things to try.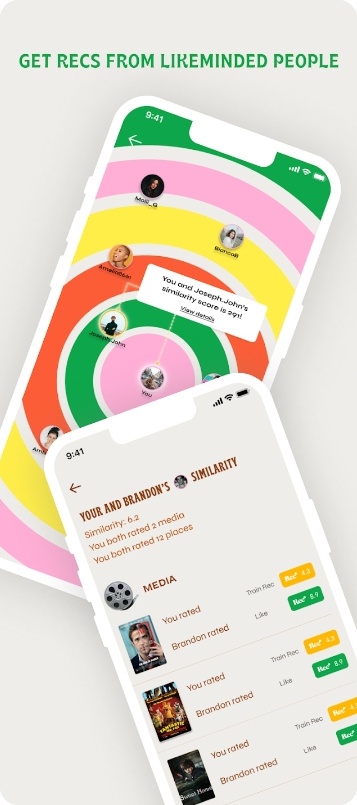 Cinematics
If you're someone who is always unsure of what to watch next, this app is for you. It's your ultimate movie guide, ready to give recs and fresh reviews for the newest releases. This app has it all: ratings from all the major sites, tons of assessments, and much more.
First of all, the search bar is top-notch here. You can quickly browse films by categories and look through compilations. These will show you the most-watched, top-rated films along with those that are now playing.
You can also browse through ratings and reviews from all the most famous platforms like Rotten Tomatoes. The app covers in-depth info for every film, including cast, trailers, news, and a list of similar films you could check out.
It also comes with personalized sorting. You can easily discover movies by year or by genre, making it easy to find exactly what you're in the mood for. You'll even get to set release alerts to never miss a chance to attend a premiere. The app is free to use, and the ads won't bother you too much.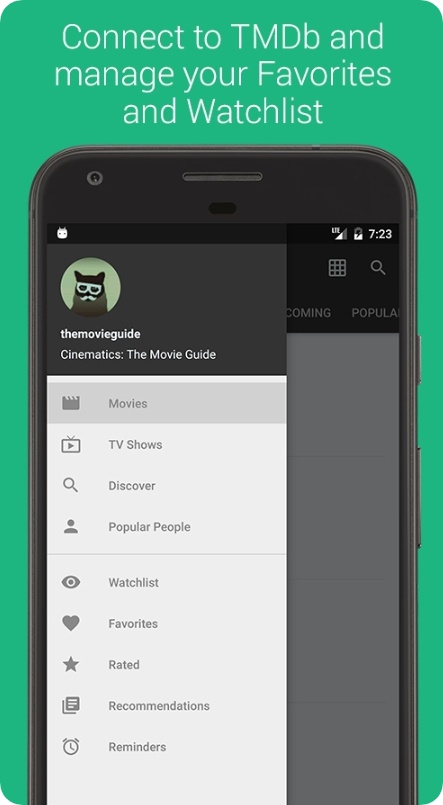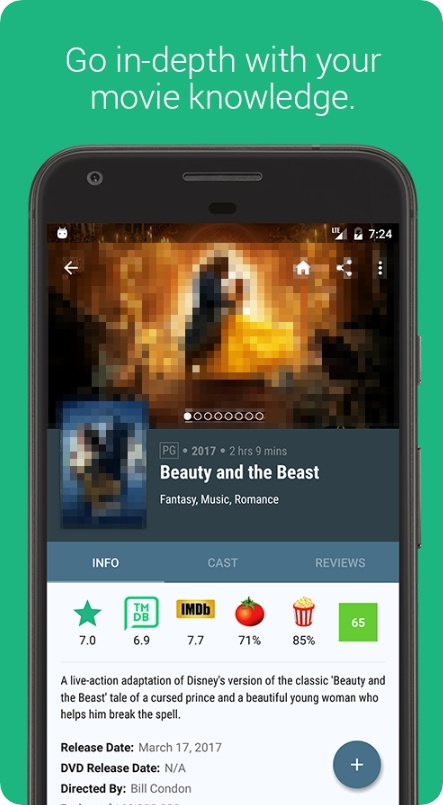 Friendspire
Endlessly scrolling on Netflix, only to end up watching smth you've already seen? This app is the answer to all your recommendation woes! From movies and TV shows to books and podcasts, this app has it all.
Gone are the days of generic suggestions and ads cluttering your screen. Say goodbye to those confusing notes on your phone and hello to a dynamic list that you can filter and sort with ease. And the best part? You can save all your fave recs in one place.
But it's not just about finding great recs, it's about doing so quickly and easily. The app's filter system lets you search for flicks by the streaming service they're on. Handy, right? You can also rate flicks and books to share with the community. The same goes for curated lists of films, books, podcasts, and all that.
And make sure to follow people with similar tastes to get personalized recs that cater to your needs. With recs based on your likes and dislikes, you'll never be at a loss for smth new to watch.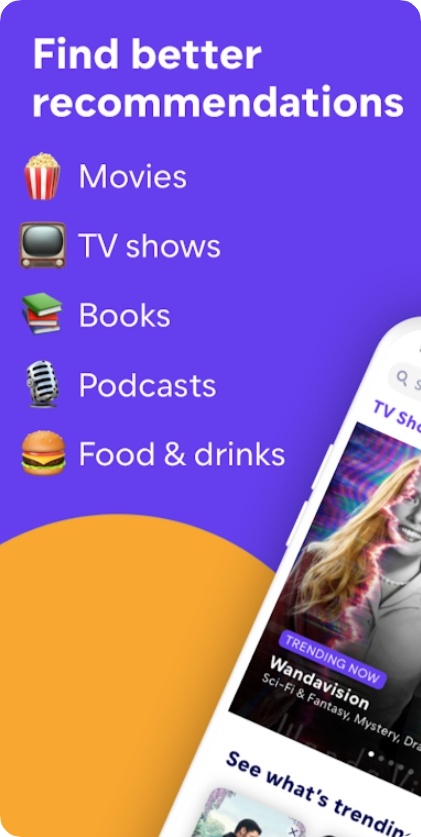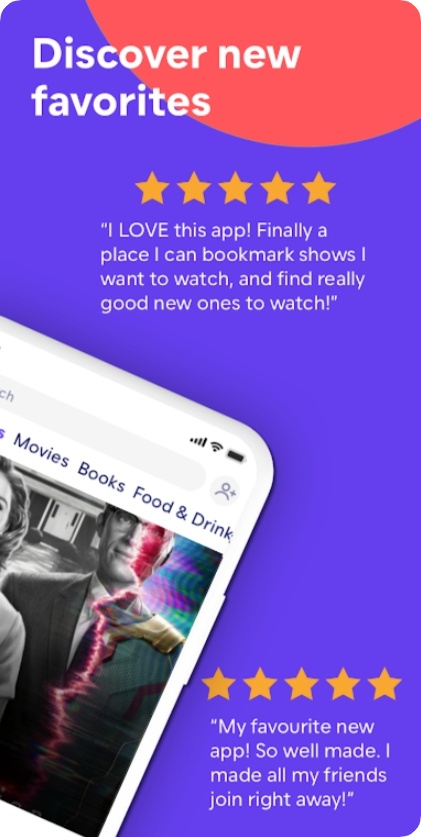 Spotflik
This app is a gem for those who love movies and want to find new ones that fit their personal taste. The app lets you rate the films you've watched, which helps the movie engine suggest ones that you'll love. The more you rate, the more accurate the suggestions become. Say goodbye to endless scrolling through films you have no interest in.
What's even better is that the app tells you where your fave pics are streaming. No more wasting time searching on multiple platforms. You can even specify what platforms you prefer for even better recs.
Are you planning a movie night with your partner, friend, or family members? No problem! Pick the films you've both enjoyed watching and the app will suggest ones that suit everyone's viewing prefs. You can also play movie games to test your knowledge of cinematography.
Plus, the app notifies you of all the latest movie trailers, releases, and all that. You'll get to manage a watchlist on the go and watch the films you're interested in later.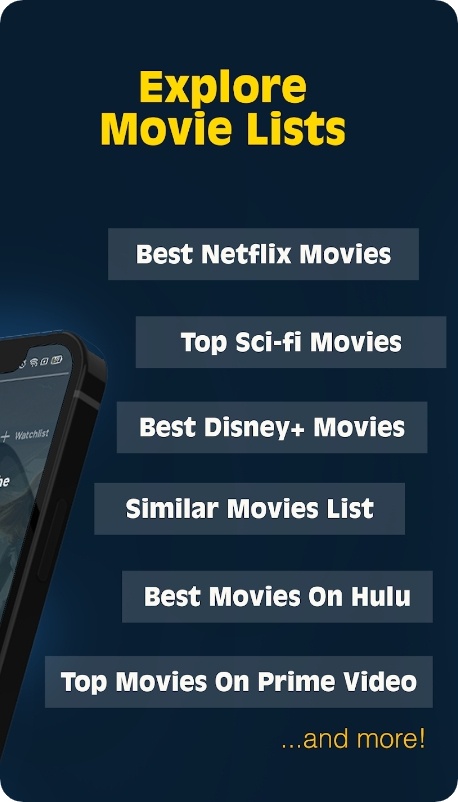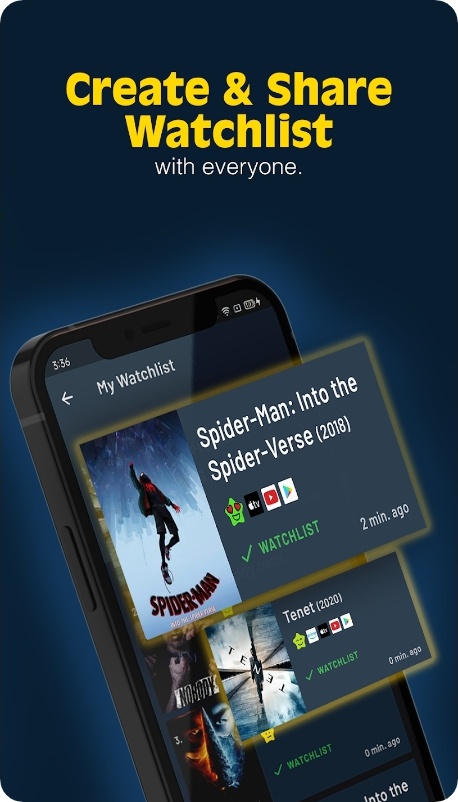 Check also: 7 Best Apps to Connect Android to TV
WATCHA PEDIA
There's an app that helps you pick the ideal movies every time. With over 500M ratings and reviews, this app is one of the best out there. It lets you explore all sorts of content, from popular shows to more niche, curated ones. It's like having a personal film and TV show lib right at your fingertips!
Above that, the app will suggest films you will potentially love. Its algorithm is spot-on, and you'll get to discover countless great movies and shows based on its expert recs. Say goodbye to the hassle of finding smth to watch, and hello to your new entertainment companion.
But the perks don't stop there. You'll also get to make lists of films you've seen and love just to keep up with it (and easily share with mates). Another great thing is the community aspect of the app. There are diverse reviews and user collections, so you can connect with other movie lovers, read their reviews, and learn smth new. It's free to use, and you won't get too overwhelmed with ads.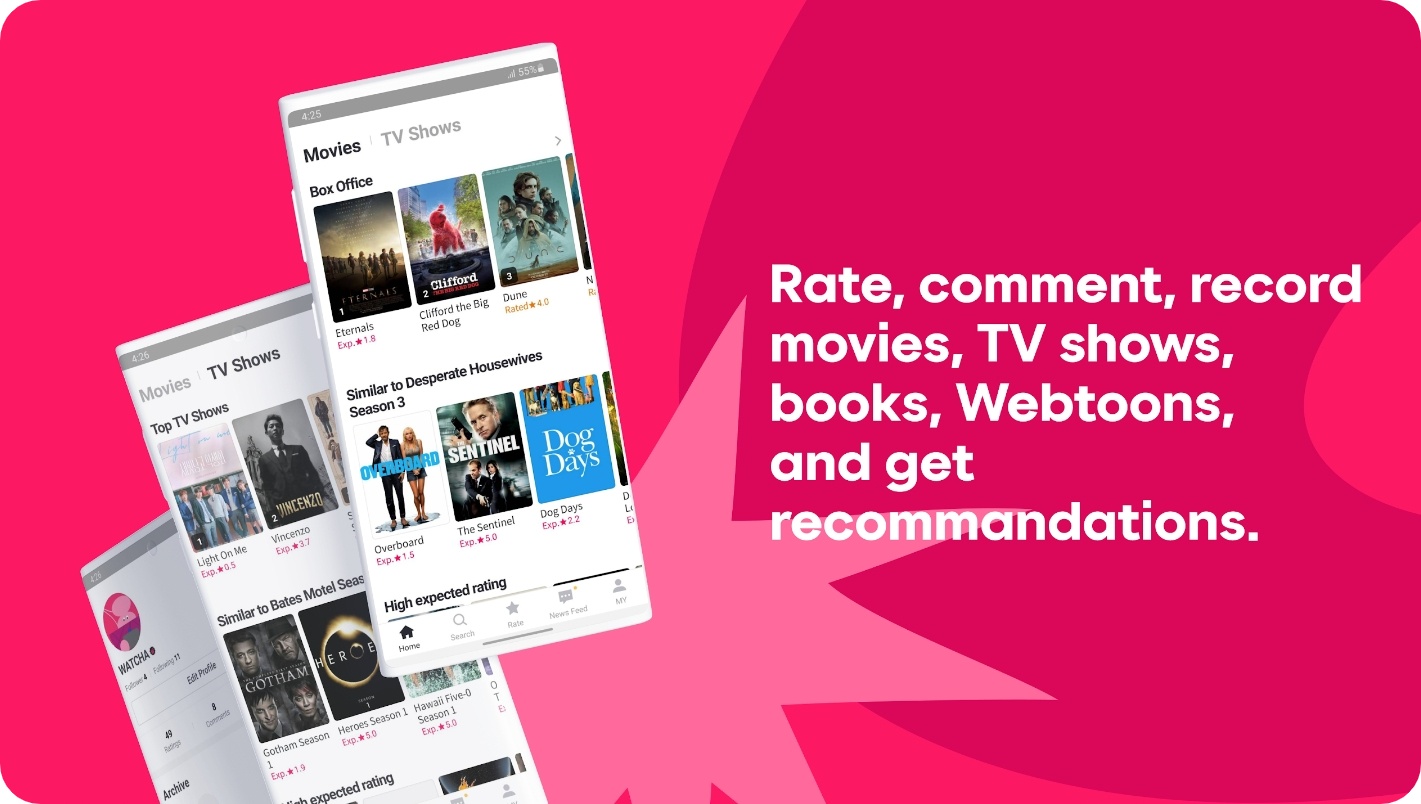 Reddit
Does this app even need an introduction? It's a platform of endless possibilities and diverse discussions, you can surely use it to find film reviews. With over 100K communities you're sure to find a community of movie buffs with opinions on the latest releases.
The app may seem overwhelming at first, but you'll quickly figure it out. It's actually pretty easy to navigate. From the homepage, you can quickly and easily reach your fave trends. And the search makes it a breeze to find exactly what you're looking for.
The trends are where the real magic happens. Members post and comment on all kinds of topics here. And with the ability to upvote and downvote comments, you can quickly see which reviews are most popular (which helps to find really insightful ones). Your feed will change with time to fully match your prefs and interests.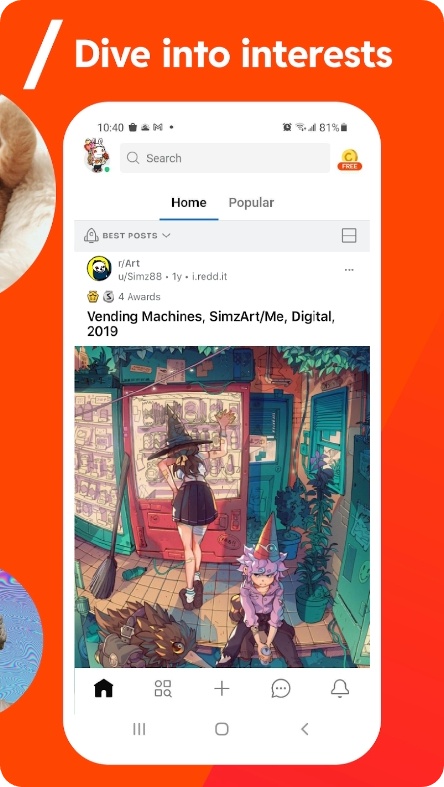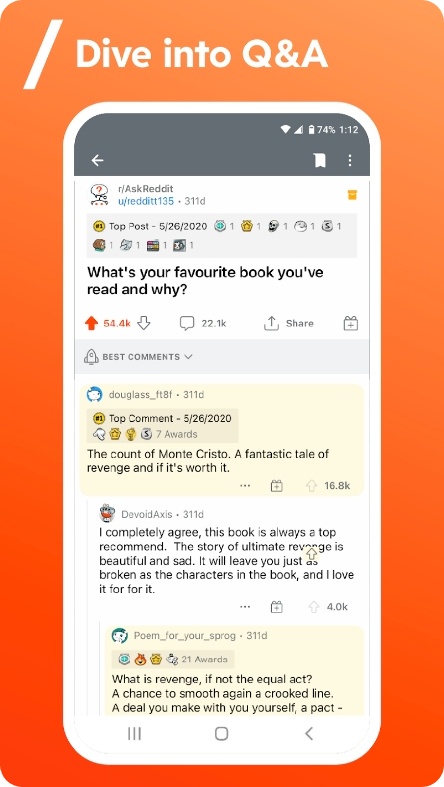 TV Time
Whether you're a binge-watcher or a casual viewer, this app will change the way you deal with films. It's based on personalized rec syst.

It suggests films that will catch your interest based on the ones you've already seen. You can blithely explore new content, and discover hidden gems in the vast sea of entertainment.

The app has a strong community, where fans of all genres come together to express love and appreciation for their fave programs. You can rate episodes and movies, vote on characters, and even create memes of the most iconic scenes.
There is no shortage of debates over plot twists and theories, and you can read reviews without worrying about spoilers. Of course, there are reviews, too. It may not be the central point of the app, but you can use it for that, too.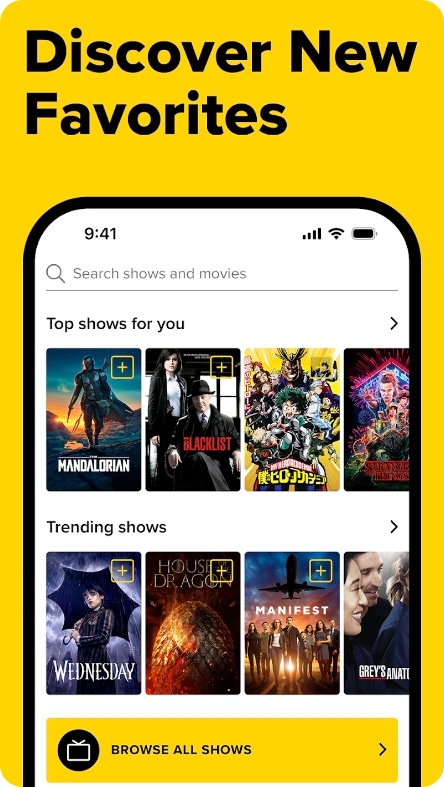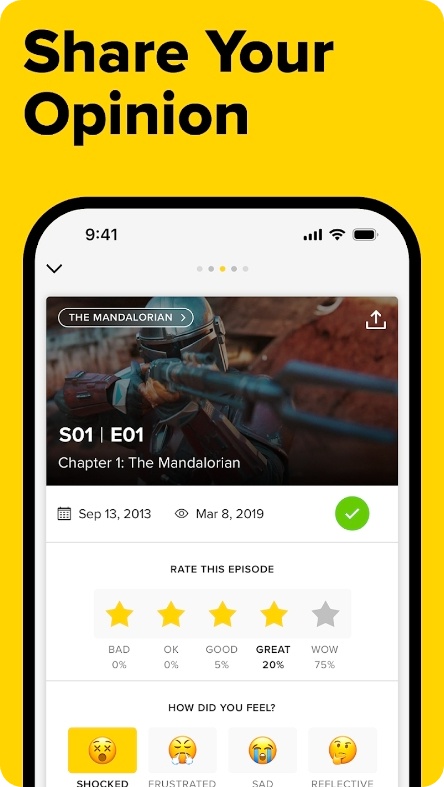 Moviebase
It's a must-have for all the film lovers out there. This app lets you easily find smth to watch, as you can search for films, cast, genre, and all that. It also covers personal recs based on your taste (say goodbye to endless scrolling).

The app isn't just a search engine, though. It's a one-stop shop for all your movie needs. You can read ratings, reviews, and user comments to make informed decisions about what to watch.
Not sure you're sold on a certain pick? No problem – browse through posters, backdrops, and fanart to get a better feel for the film or series. And don't forget to add everything worthy to your watchlist.
And if you're looking for smth specific, the app has got you covered. You can filter movies and explore pre-made compilations. Plus, you can even view upcoming airing times on the app's calendar.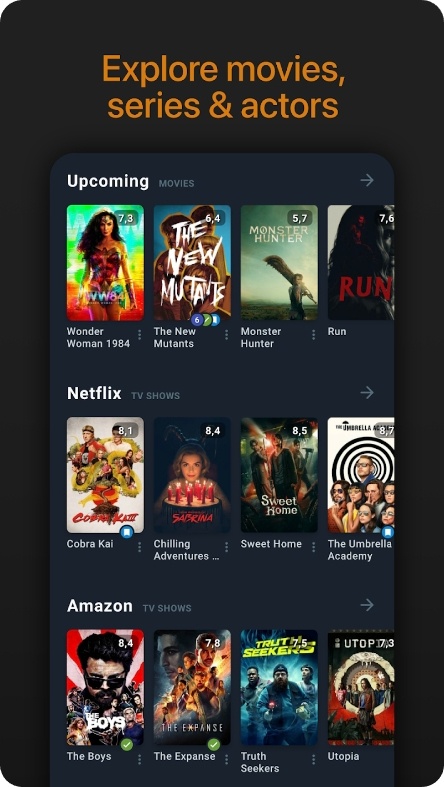 You may also check: 9 Best Boxing Streaming Apps
Likewise
This app lets you get cool recs for movies (and more). It's a versatile platform for recommending all kinds of stuff, really. It covers books, podcasts, shows, and all that.
This app is a gem for entertainment enthusiasts who want to take their hobbies to the next level. The best part? It's tailored to your distinct tastes, so it learns what you like and gives you smarter recs.
Want a new binge-watch for the weekend? Or a great book to read before bed? The app has got your back. But that's not all. You can search through the sea of content with one convenient app. It's fast and easy to search across all your streaming services at one time.

You can surely use this one to find reviews for all the new films. Love lists? We totally get it. This app lets you make these for everything you may need.