Word Detective is an addictive puzzle game for geniuses and word makers. Word Detective is an app designed to train your brain and learn unfamiliar words while having a great time. Focus to find all the hidden words in the tables and connect them with a simple tap on the screen.
You might also be interested in word search apps – therefore you will be able to find any information using the right phrases.
At first, you think that the game is easy, but after passing each category it will become more difficult. The game gives you the opportunity to improve your vocabulary and trains your thinking tactics.
If you have questions or problems when using the application, Word Detective, you can always contact the support service. The reply from the support services always comes fast, so you don't have to worry.
When you first start Word Detective you will see the main menu which contains two main Play buttons and a rating button. Below are 4 additional buttons that handle settings, interface styling, and more. By clicking the Play button, you will see the crossword format.
Each line has its own picture. The user's task is to solve them and complete the crossword puzzle. As you progress through the level, you can use different hints to achieve better results. Select a picture and try to guess what they hide under it.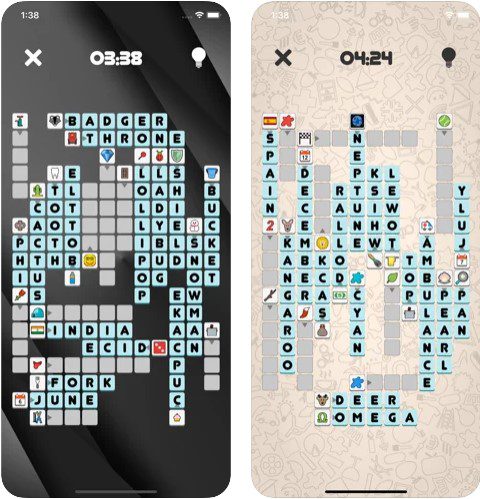 Then collect the letters to get the desired word. Keep in mind that each game has a timer during which you need to find all the hidden words in the table.
Swipe left and right correctly to reposition letters and insert the correct letters. This filling principle will allow you to fill quickly in the required line. Fill in each field and move on to new ones.
Also, if you are looking for more ways to learn more words, we can offer you these apps that will help you to find out about one new word every single day.
Overall, Word Detective has simple, lightweight, and addictive gameplay. The time limit makes the game more interesting. It made the beautiful visual design for enjoyable gameplay. What's more, helpful hints are available to help you if you get stuck.