Do you want to instantly translate someone's speech? If your answer is "yes", we have to advise you to download the Speech to Text Translator app.
More speech-to-text translator apps can be found here.
We would like to mention that this application is not very popular in the market, but it has lots of useful options. Plus, it is extremely lightweight, so you install it in a few seconds!
But what are the key benefits of this tool?
First of all, Speech to Text Translator is a speech recognition application that allows users to convert text to speech and quickly translate the speech.
Moving on, the app also allows users to take notes that they can copy to a clipboard or even listen to them. After that, you can search the notes on the web or share with e-mail, SMS, social media, and such messaging applications as WhatsApp, Viber, Skype, etc.
The next useful function that many users will certainly like – the app supports a wide range of foreign languages. For example, English, French, Spanish, Italian, Arabic, Hebrew, Turkish, Bulgarian, Danish, Greek, Estonian, Persian, Georgian, Finnish, and so many others. Thus, you will certainly find the necessary one!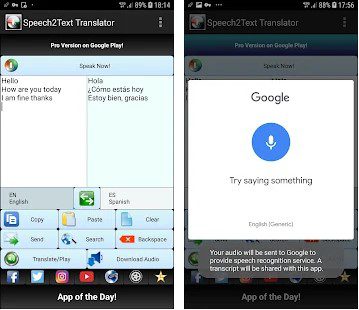 As for the app's interface, it is very simple to manage. Furthermore, when you open the app, you will find all the options on the bottom of the screen. Therefore, even novice users will quickly understand how everything works there.
In addition to the aforesaid, the developer tries to provide an excellent user experience, therefore the app's version is constantly updated. While using this app, we have not faced any lags or bugs.
You should also explore speech-to-text software for your PC.
To sum up, if you are going to learn a new foreign language, Speech to Text Translator is certainly a must-have tool for this task. Listen, speak, and translate with a help of this app. We can surely say that this tool will be suitable for all kinds of users.