Protein is an essential part of the diet to maintain a healthy lifestyle and a well-shaped body. It is also a predominant element in the diet of any athlete because it makes muscles stronger. In addition to this, it has many other benefits that are difficult to list in one article.
However, we would still like to help you control your intake of this element. With these best protein calculator apps for Android & iOS, it is effortless to do so. Moreover, many of them also have extra tools that will appeal to those who are watching their health.
If you take care of your health, then you should definitely try these best apps that help to quit sugar for Android & iOS.
Protein tracker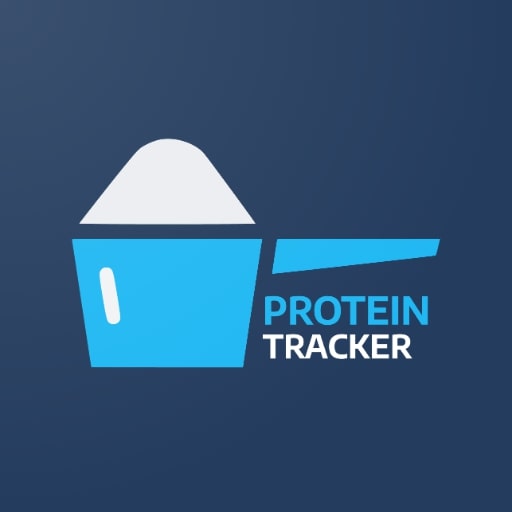 An app for gym goers and health enthusiasts. In the program, you need to specify the weight to calculate the necessary protein. It will help you quickly build muscle mass.
The main screen indicates the average consumption of protein, the normal value, and how much is left to it.
There is a function for marking meals. If meals are repeated, it's enough to swipe the card to the left so that you don't have to re-enter the information. If you enter incorrectly, you have to swipe to the right to delete the card.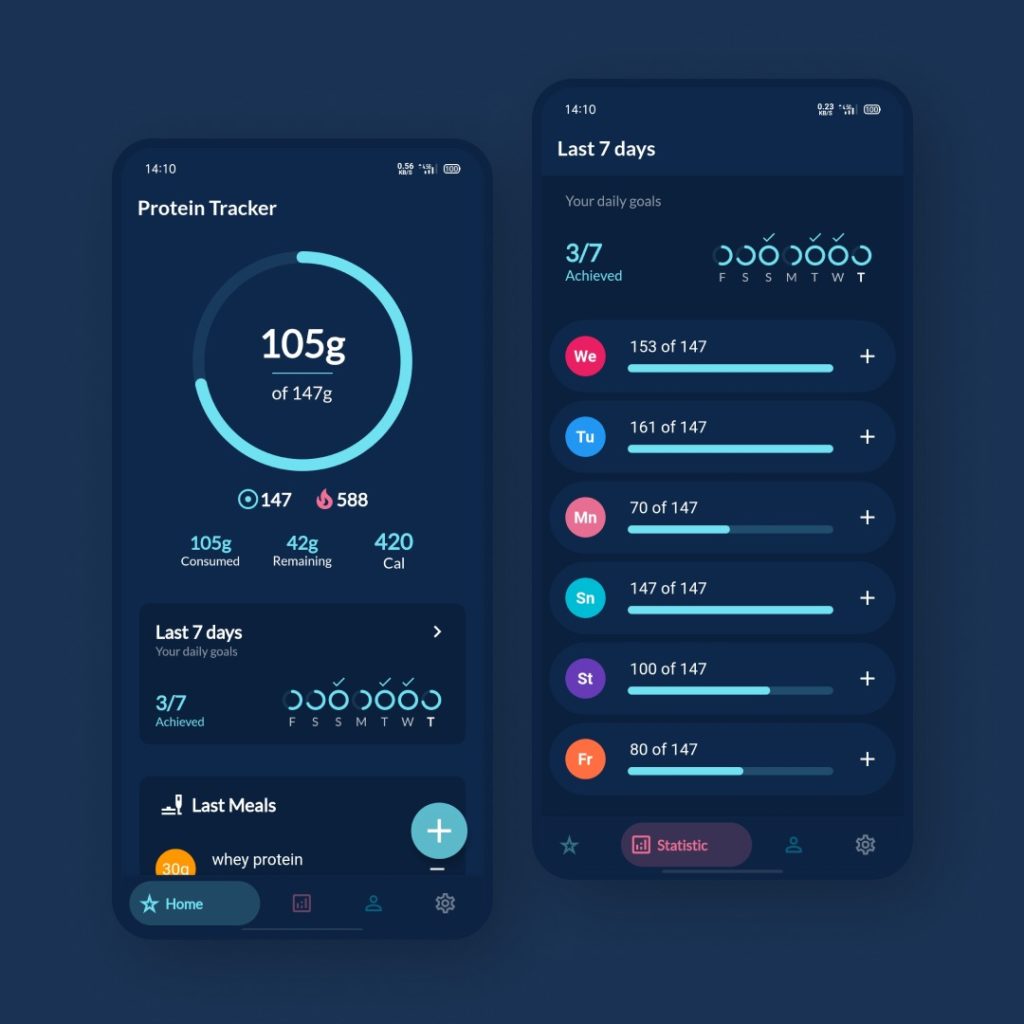 The main screen also shows the progress for the week. The app works offline, without using the Internet. You can edit the weight value by converting kilograms to pounds.

You may also like: 9 Best Interval Timer Apps for Android & iOS
YAZIO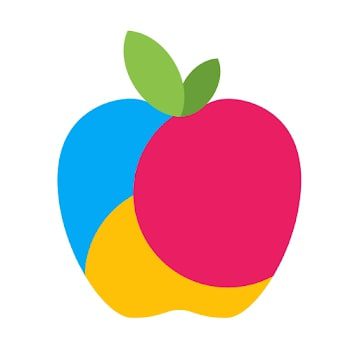 The YAZIO app allows you to track your physical activity and adhere to a healthy eating program. You can keep a diary and track your progress.
Before you start using the app, you need to specify your personal data and goals. Thanks to the information provided, the algorithm will be able to select an individual program.
First of all, you should select a goal. After that, it is necessary to specify your own weight, target weight, gender, height, and date of birth. In the end, it will be left to register or log in. Note that it is possible to continue using the app without authorization.
The internal base of the utility contains a huge amount of useful information. You are given the opportunity to read various articles on the topic of healthy eating. They include data on losing weight and gaining muscle mass.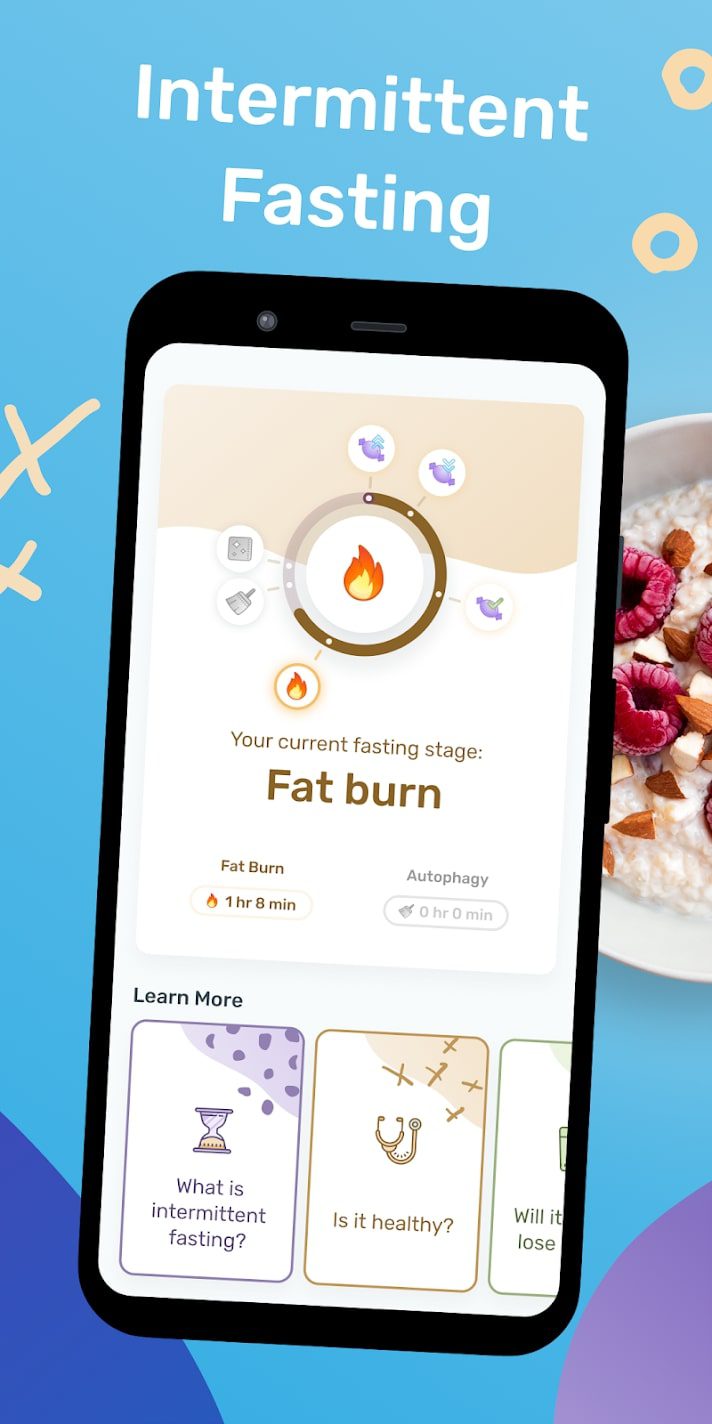 Besides, there are many recipes in a separate tab to help you eat right. They also allow you to calculate the amount of protein, calculate calories and prepare healthy and tasty dishes. Additionally, you are shown individual recommendations for fluid and food intake.


MyFitnessPal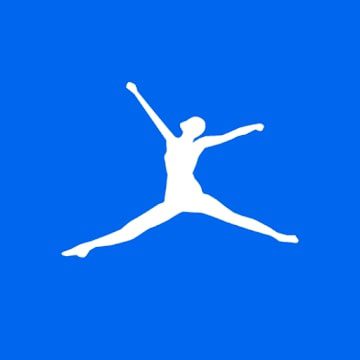 With the MyFitnessPal app, you can keep calorie counts and create a workout program. It is possible to add your own menu of meals and exercises for physical activity.
The app has a huge amount of functionality to help you develop a nutrition and weight loss system. Create your own menu and exercise plan.
Track the statistics of the exercises you do and the number of calories in the food you eat.
Here you can track your progress by intervals, set goals for your weight, age, and gender. Add friends, get help from them, and from people in the community. Share achievements and publish them on Facebook and Twitter.
This program includes a recipe calculator. With its help, it calculates the number of proteins, fats, carbohydrates, and sugar in dishes.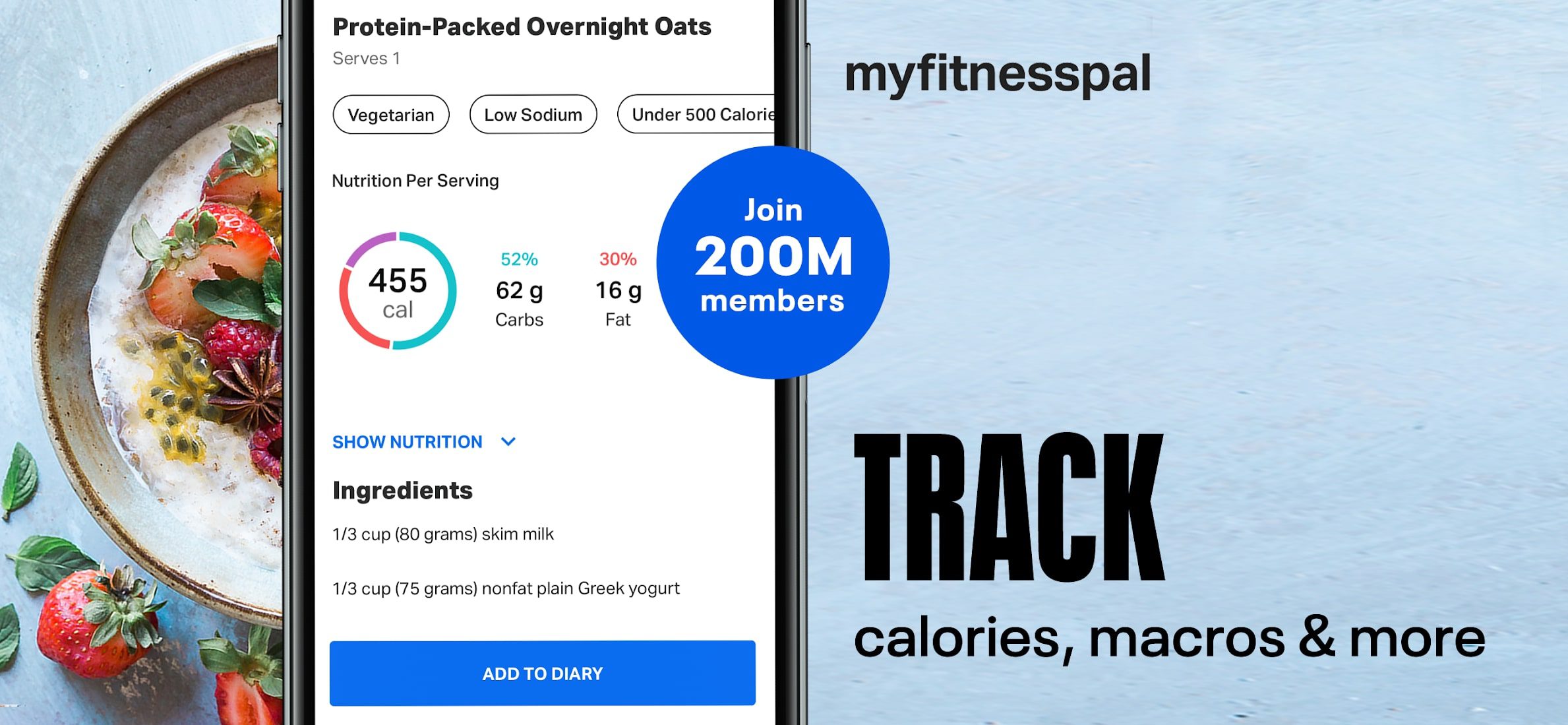 The barcode scanner function allows you to quickly find the description and composition of the products of interest. You will also be able to add planned meals to your diary.


Calorie Counter HiKi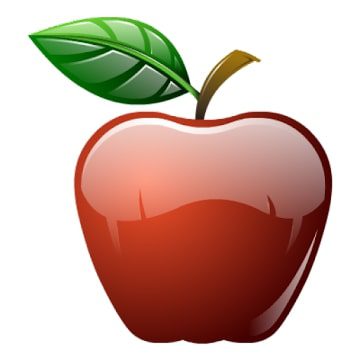 Calorie Counter HiKi allows you to count calories and keep track of your weight. You can get statistics on changes and tips on nutrition.
Use it to make a diet and achieve your desired goal. It prompts you to enter the data before you start. You need to specify gender, age, height, weight, goal, lifestyle, and amount of physical activity.
The app will automatically calculate your BMI and determine the daily calorie limit you need to reach your goal. You can also find out how much water you need to drink per day.
To keep calorie counts, you are to enter data about each meal in the app. It is possible to select foods from a common database or by scanning the barcode on the package. The utility also contains detailed data on the energy value of prepared meals.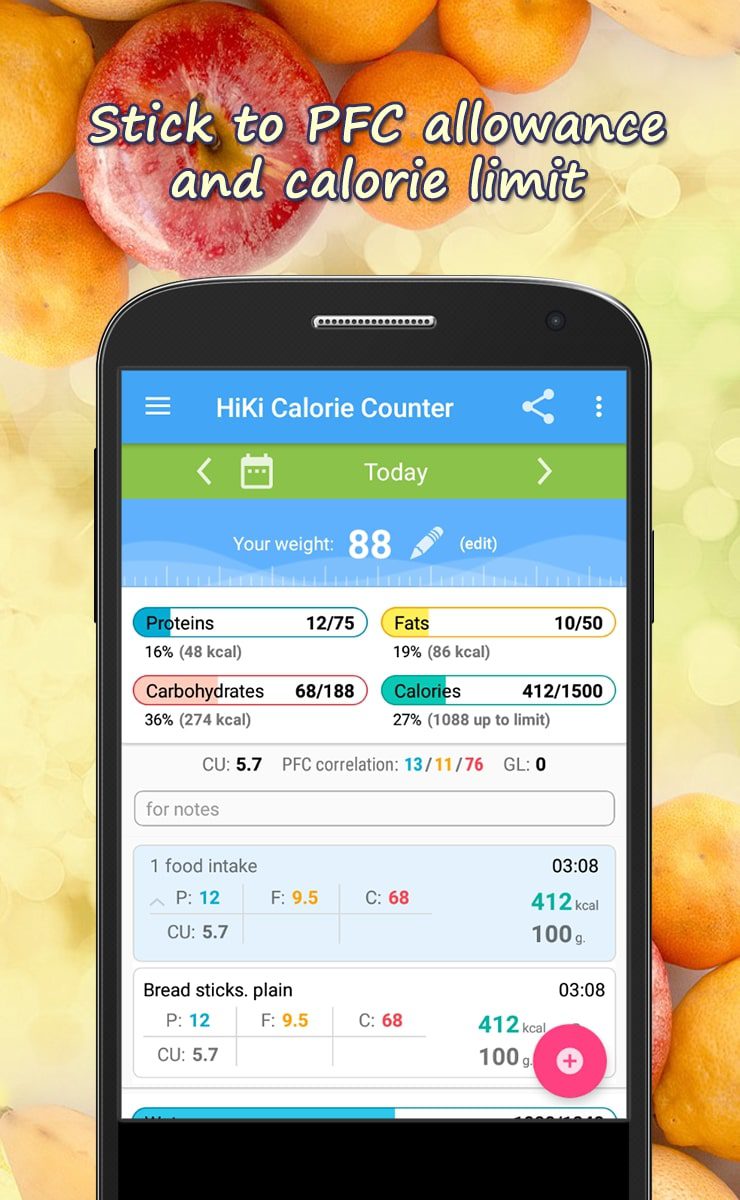 Besides, the app allows you to take into account physical activity. In the corresponding section, you should select the type of activity and specify the number of hours spent. It is also possible to enable reminders to eat or drink water.

FitMenCook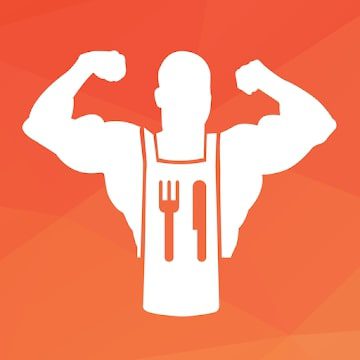 The FitMenCook app allows all of its users to access a catalog of cooking recipes. There is a function to search for dishes by name, as well as the ability to make a shopping list.
The utility will be useful for athletes and those who lead a healthy lifestyle. The catalog contains dozens of instructions on how to prepare healthy and delicious dishes.
Detailed information about the number of proteins, fats, carbohydrates, and energy values is available for each of them. With the app, you can search for dishes by name or category.
Select the number of servings and get information on how many ingredients are required for cooking. The utility also contains video tutorials that can be viewed on YouTube.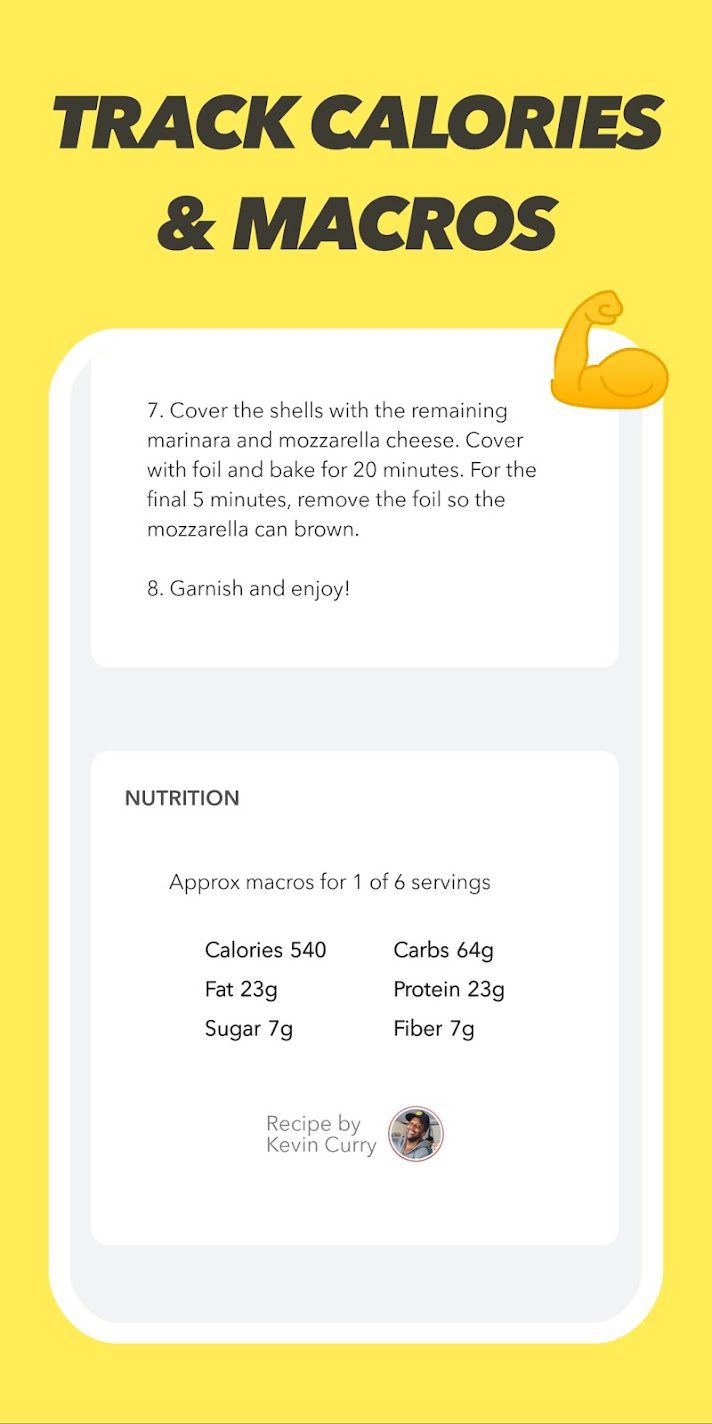 The app allows you to add recipes to Favorites and share them with friends. Tick the necessary ingredients and add them to the shopping list. All products will be automatically sorted according to the category.


You may also like: 13 Best Sleep Talk Recorder Apps for Android & iOS
Lifesum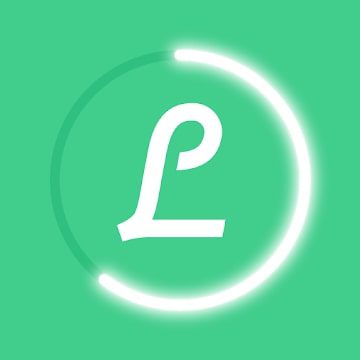 The Lifesum app helps you keep track of your diet and monitor your calorie intake, including protein.
You will be able to enter data about your meals and get tips. Cooking recipes and diet plans are available.
To use the app, you need to create an account with your name and email address. After that, you are to fill out your profile with your age, gender, height, and weight.
You should also select your desired goal. There is an opportunity to lose or gain weight. Based on this data, the utility will calculate the recommended number of calories consumed daily.
To control nutrition, you have to regularly enter data about the foods and meals eaten for breakfast, lunch, and dinner. A built-in barcode scanner is available. You can also add information manually by selecting a category and type of food.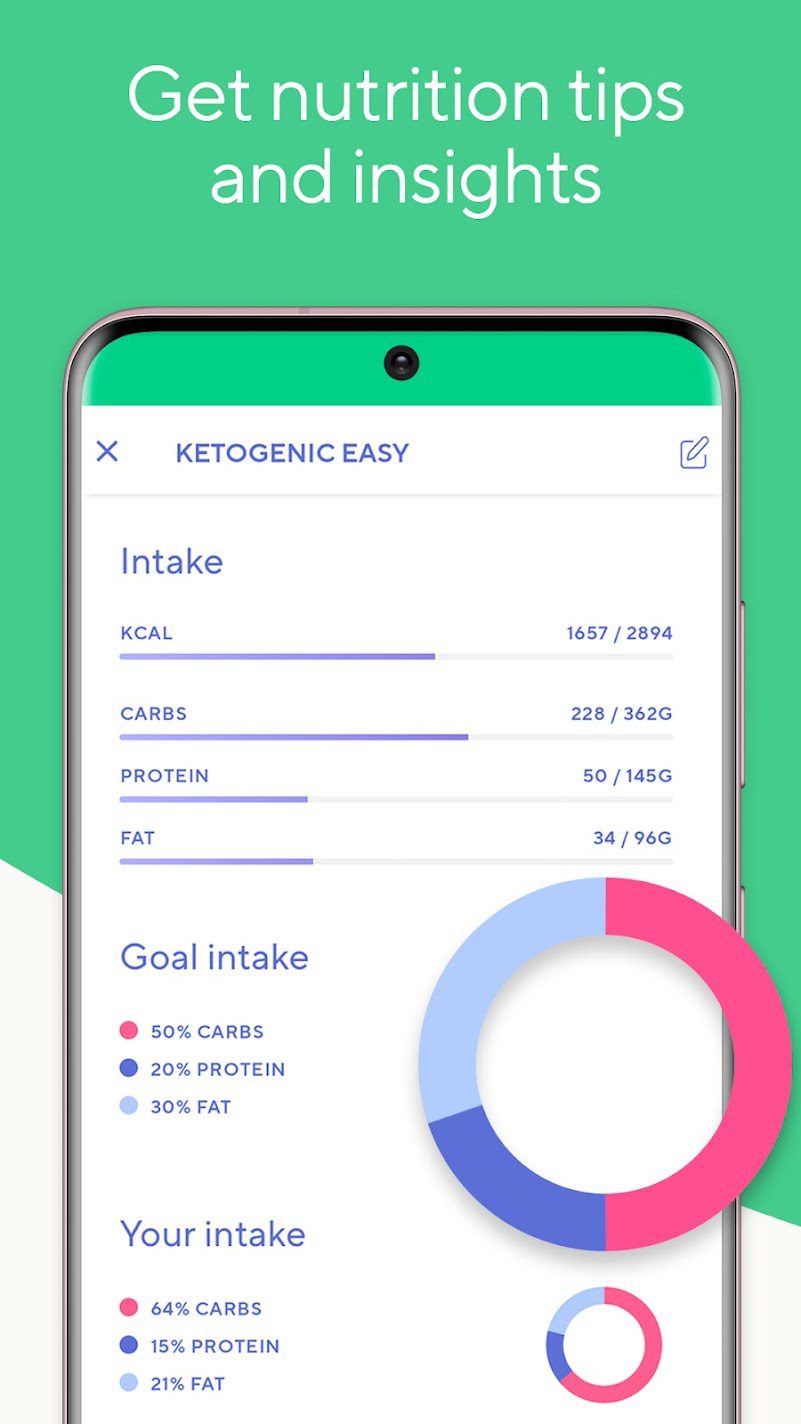 The main screen displays information on how much protein, fat, and carbohydrates to consume throughout the day. The utility also helps you control the amount of water you drink.


FatSecret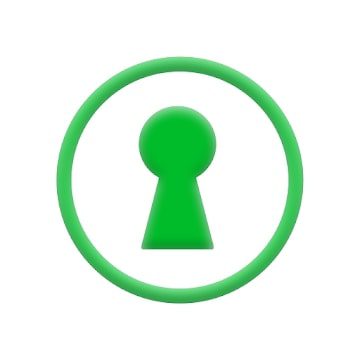 FatSecret is a cross-platform calorie counter that will help you get the body you've always dreamed of.
The first time you start the app will ask you to choose one of three goals. You will know how many calories you are consuming.
The app adapts to your individual parameters. So after selecting the goal, you will need to specify your age, gender, height, and lifestyle.
Also, enter your actual and desired weight. Based on these data, the service will calculate the recommended daily amount of calories that you should adhere to.
When you tell the service about yourself, you can move on to recording the calories consumed and spent. The "Diary" tab is designed for this purpose. When you open it, you are to add the foods and portions you have consumed during the day.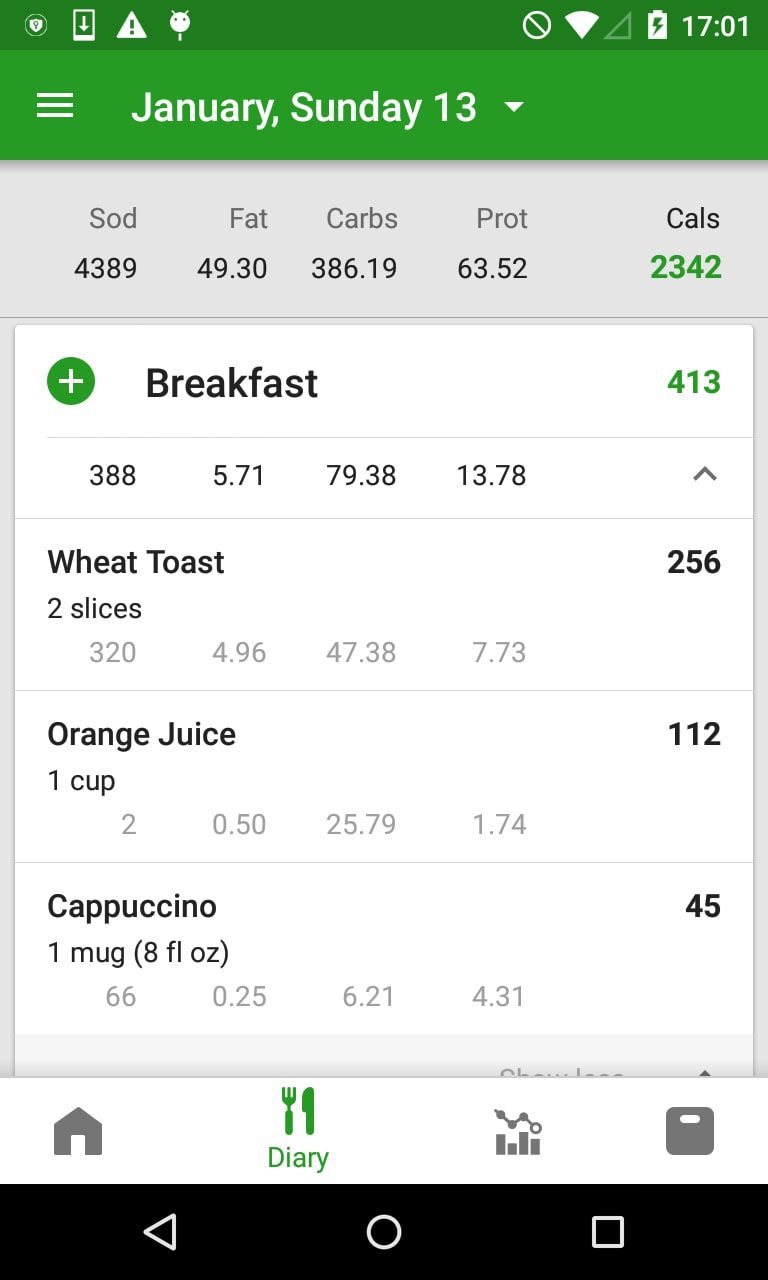 The system will convert everything into calories by itself. For more control, you can periodically enter your weighing results on the Weight tab, which also displays a graph of changes. You can follow the calorie trends on the "Reports" tab.


Noom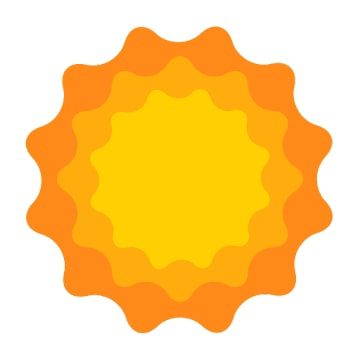 Noom is a unique app with a meal planner and recipes for weight loss.
The app is tripled as a food diary in which you can keep a calorie count and record the food you eat. With the smart barcode scanner, you can easily determine the healthiness of a product.
Enter your individual body measurements and age to create a unique diet program.
The app itself will make a shopping and exercise list for you that you need to go through to get results. There is also a pedometer, which will allow you to count the calories lost during a walk.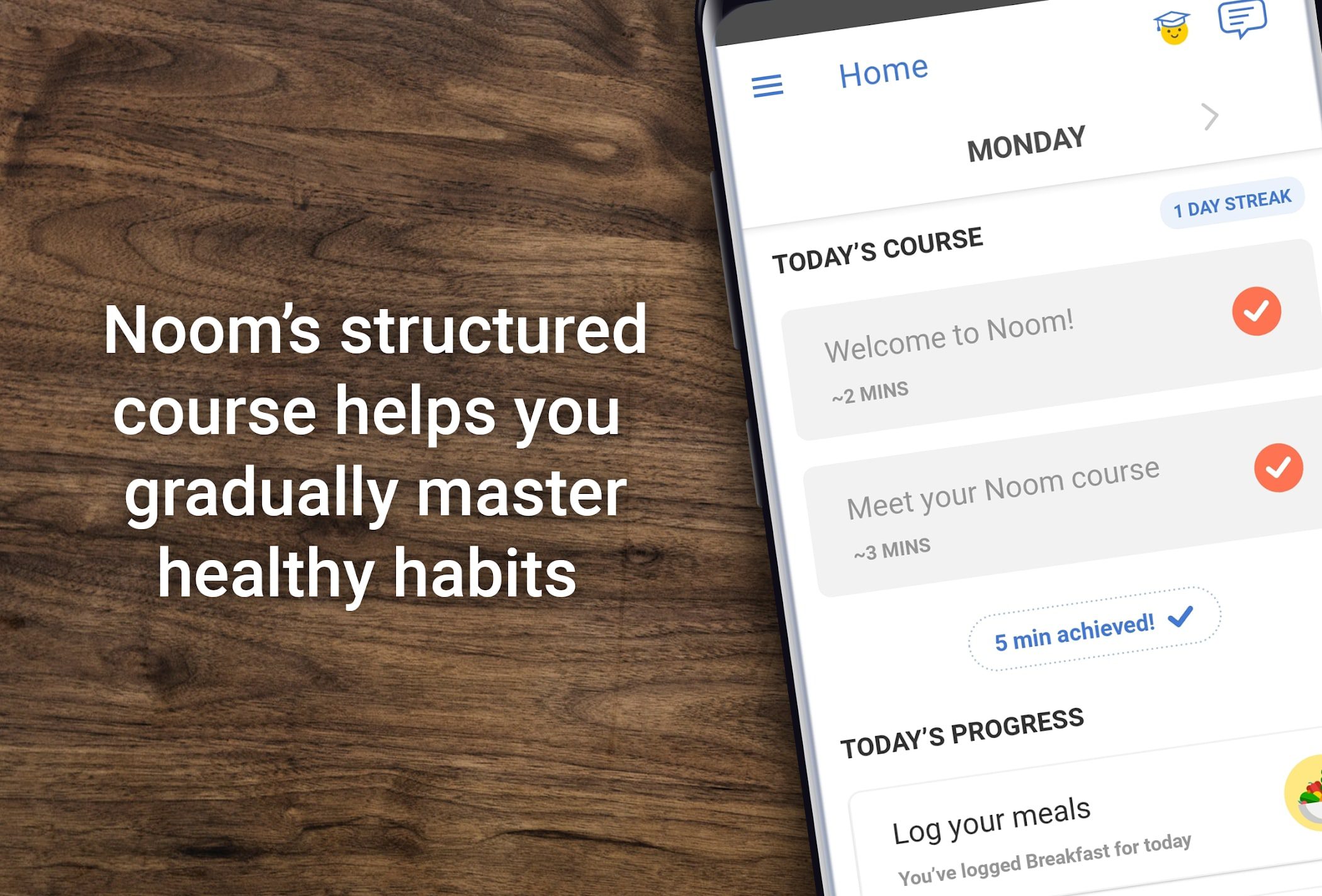 The restaurant manager will tell you what meal you can eat at a place near you. Such additions as a cookbook and fitness magazine will always keep you up-to-date with food and sports trends.


You may also like: 9 Best Gym Simulator Games for PC, Android, iOS
Lose weight without dieting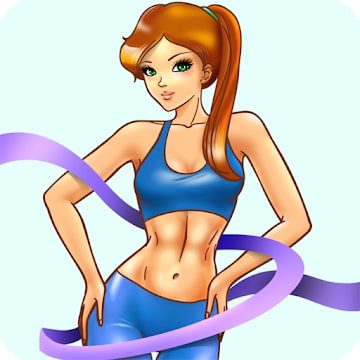 The Lose weight without dieting app helps track your health and eat in the right way.
In the app, you will find several planned food and workout systems. The program will make your journey to a healthy slim body exciting and convenient.
Just record all the foods you have consumed during the day. The utility will count calories, show the number of carbohydrates, fats, and proteins.
The service will then provide you with the information you need to achieve the chosen goal. It will tell you how to change your diet to achieve the desired results.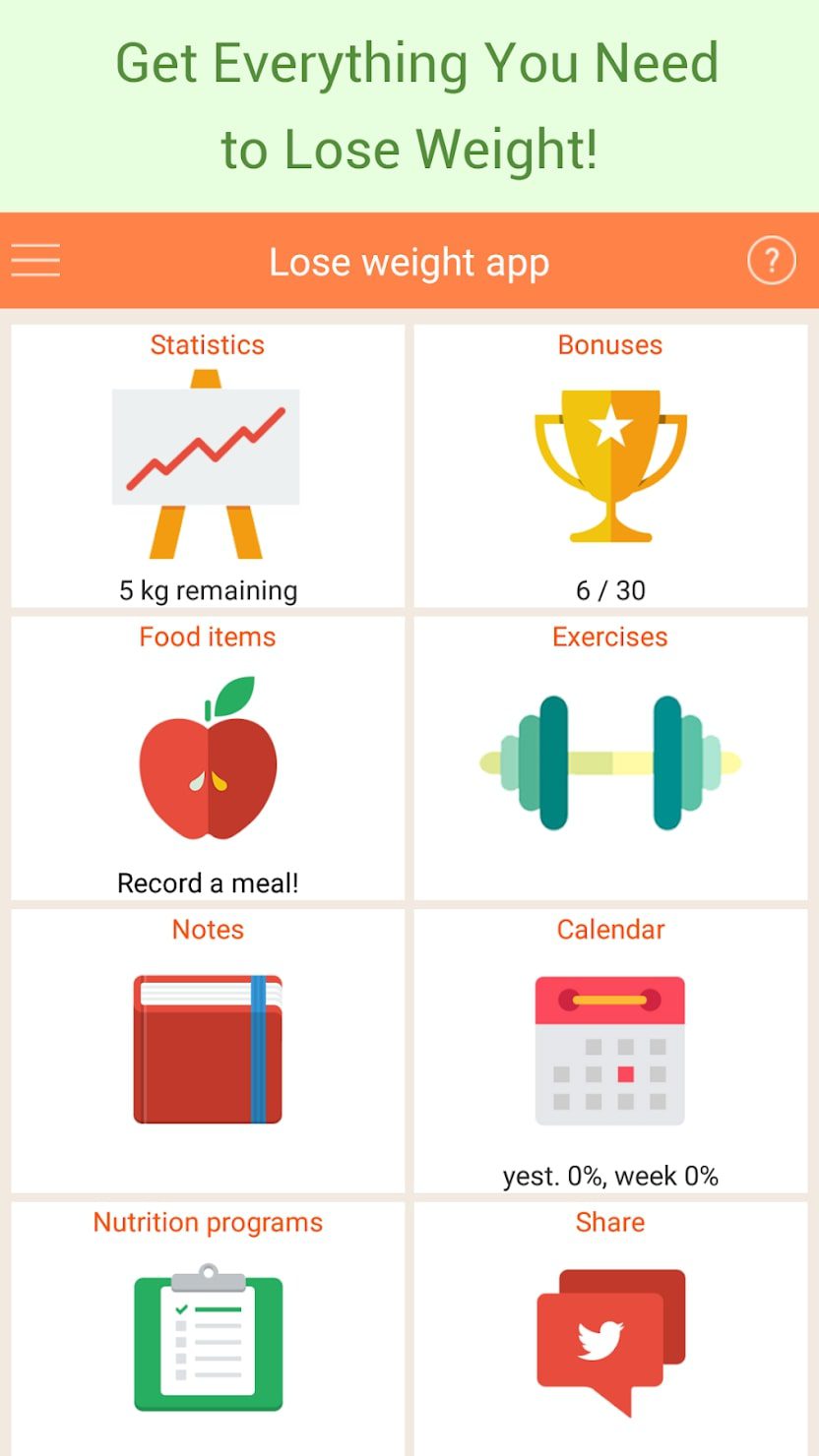 The app has a plain and clear interface. You can download and use it absolutely free.