Listen up makeup enthusiasts and beauty gurus alike! If you're tired of swiping through countless foundations that are either too light or too dark for your skin tone, then we've got some exciting news for you.
The hunt for the perfect foundation match is officially over, thanks to the best foundation match apps for Android or iOS. These apps let you detect your skin tone and find the most suitable foundation shades right away.
That's right, no more guessing games or returning products that just don't work for you. With these on hand, you'll be able to find your ideal shade match with just a few taps. Say goodbye to bad makeup days and hello to flawless, effortless coverage. Let's get started!
Match Me
Finding an ideal foundation shade can be a daunting task, but thankfully, this app is here to save the day (and your complexion!). This app is a game-changer for online makeup shopping. First things first, let's talk about the user experience. The app is incredibly easy to navigate, even for those who aren't tech-savvy.
With just three simple steps, you can find your ideal match: pick your fave brand, snap a selfie (or upload one), and voila! The app will pick the closest option to your unique skin tone.
But let's get to the real question: Does it work? Yes, my friends, it certainly does. The app covers a scope of popular brands, so you're sure to find your match regardless of your preferred brand. Plus, you can switch to manual mode and try out the shades if you prefer to play around a bit.
No more guessing or hoping for the best – this app takes the guesswork out of foundation shopping. And the best part? It is completely free. Yup, you read that right. You can save the app at no cost and start finding your colors right away.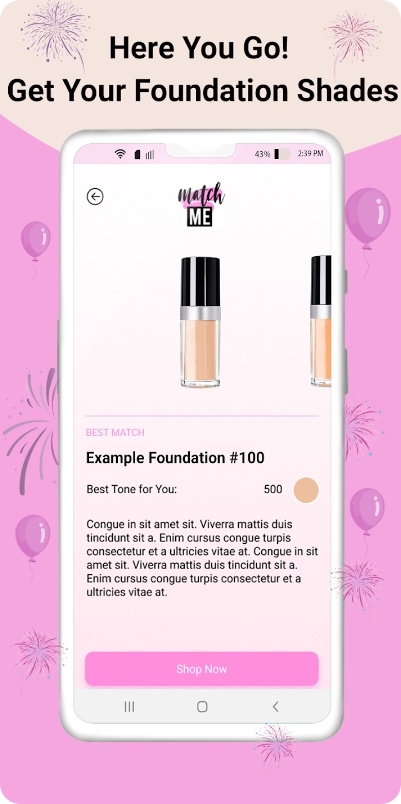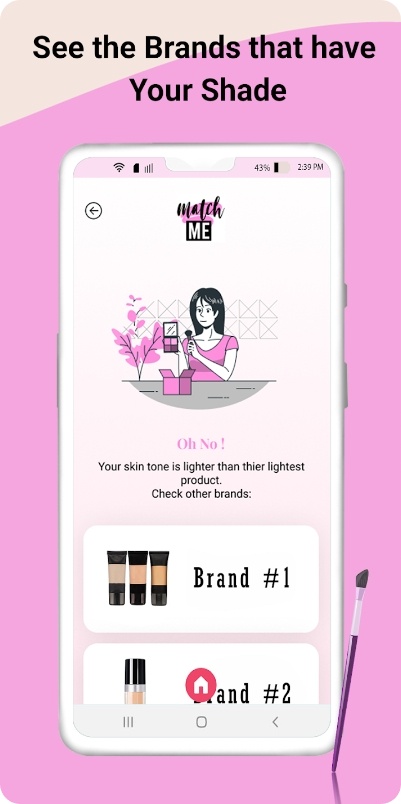 You may also like: 9 Best Skin Analyzer Apps
Unotone
Tired of using the wrong shades of makeup that just don't seem to flatter your skin tone? Give this app a try, it's your daily helper in the makeup and color analysis world!
This app is loaded with tools that will help you find the makeup products for your skin tone. All you have to do is use your cam to detect a skin tone and voila, the app will show you the suitable products from your fave brands. Say goodbye to wasting hundreds of dollars on makeup that doesn't work for you!
But that's not all. The app also has color palettes that will help you determine your undertone and find the shades that will make you look like a superstar. Form your own palettes and experiment with colors until you find the ideal combo that compliments your natural beauty.
And let's not forget about the community aspect of the app. You can chat with others and seek advice while also helping those in need of some makeup tips and tricks. It's a win-win situation!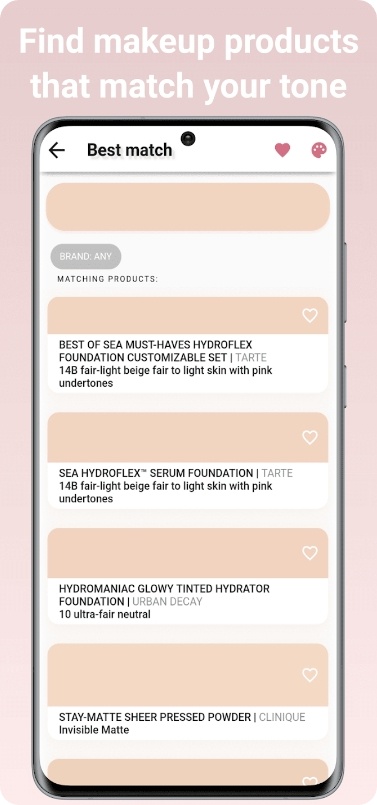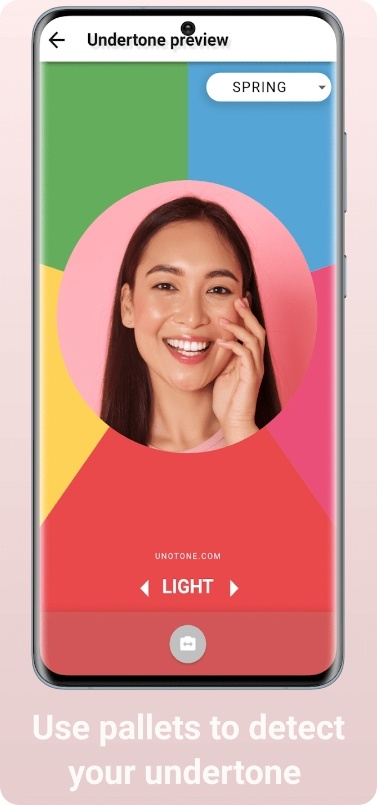 Slapp
This app is a game-changer for anyone who struggles to find the right foundation shade. No more awkward trips to the makeup counter, no more swatching colors on your hand and hoping for the best. You just snap a selfie or upload a pic, and a match is waiting for you.
And let's talk about the brands, shall we? Charlotte Tilbury, Estee Lauder, Fenty. These are the big names in makeup, the ones you see on IG and covet from afar. But the best part is that the app only features brands that provide products for all skin tones. No more limited shade ranges or way-too-white shades for darker skin.
But it doesn't just stop at foundations. Oh no, this app has everything you need for a flawless complexion. Highlighters, primers, BB creams, concealers…you name it, the app got it. And if you want to stay up-to-date with the latest beauty trends and makeup tutorials, just head to the app's homepage.
But let's talk about the real star of the show here: the personalized shop. Once you've uploaded your selfie, the app uses AI to match you with the perfect products for your skin tone and type. And the best part? You can shop 24/7, wherever you are. No more racing to the mall before it closes or fighting crowds at the department store.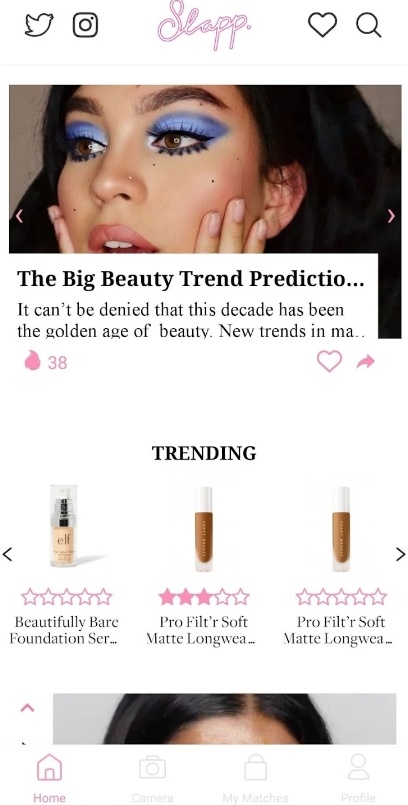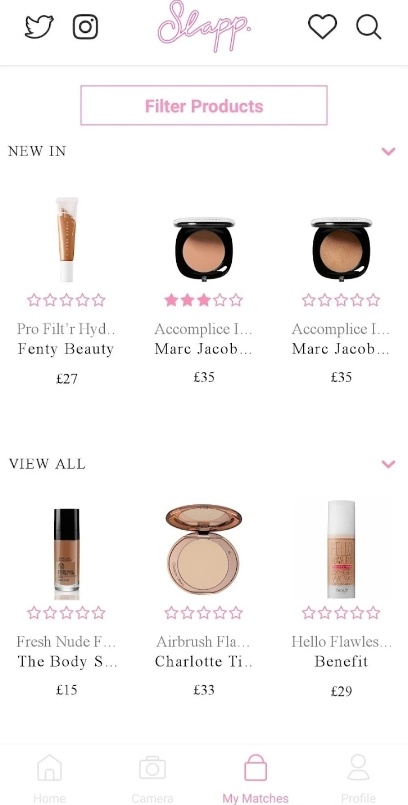 Check also: 5 Best MakeUp Discount Apps
YouCam Makeup
Tired of spending all your time and money trying out diverse shades? This app can help you get rid of those struggles once and for all. This beauty cam might throw you off at first, but trust us, it's more than just a filter-filled photo app.
The app covers over 100 shades, and you can try all of them in real-time. You can test out different shades and see how they look on your face before you commit to buying a whole bottle. And let us tell you, the before/after tool will blow your mind. You'll wonder if you're looking at the same person!
Now, how is it helpful? Well, all these are actually stuff you can get in real life. Cool, right? The app also covered concealers, powders, eyeshadows, and of course, lipsticks.
Not only does it cover a scope of foundation shades from real brands, but it also provides a natural-looking finish. No more caking on the makeup, ladies! You can also adjust the intensity of the foundation to make it look like it's barely there.
But we know what you're thinking: "But what if my desired shade isn't on the list?" Don't worry, you can still use the app to find your shade and then compare it to the shade scope of the product you want. It's like playing matchmaker for your face!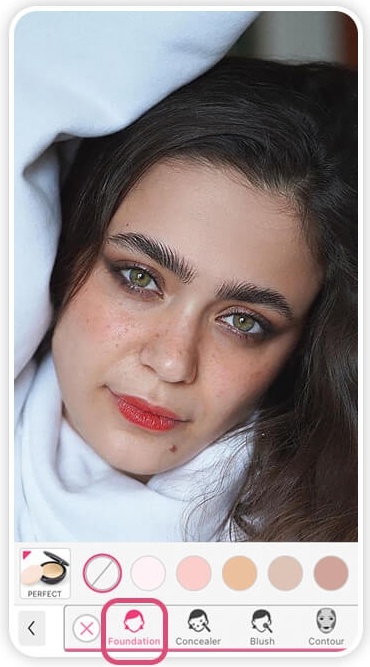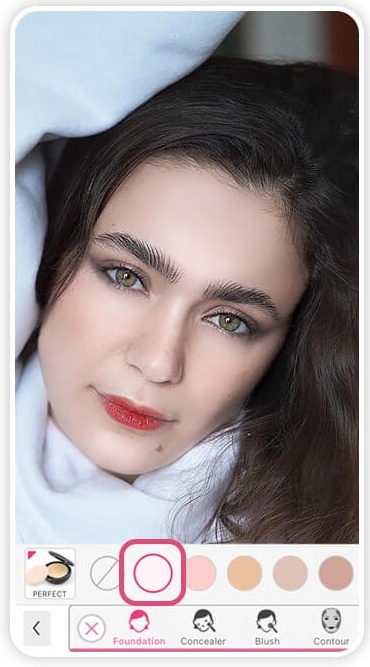 Makeup Manager by MM
This app is the ultimate solution for busy artists who want to streamline their matching process and connect with their clients more efficiently. Can you get it for personal use? Sure, who is here to stop you?
With this app, you can send a PDF to your client before color-matching them, giving them full instructions on how to get the matching pic. Plus, you can upload their pic and match them with a dynamic color wheel, ensuring that you get the ideal shade every time.
The app also lets you create a professional PDF complete with a clickable link that takes them back to your website or social media page. You can even adjust a PDF to make it specific to your brand!
If you need a new way to show off your skills and make before and after shots, the app has you covered. With side-by-side collage templates, you can get stunning visuals that are sure to impress your clients.
And if you're worried about forgetting what your client color matched to, fear not! The app lets you view your past personalized matches and reshare them, so you always have a record of your work.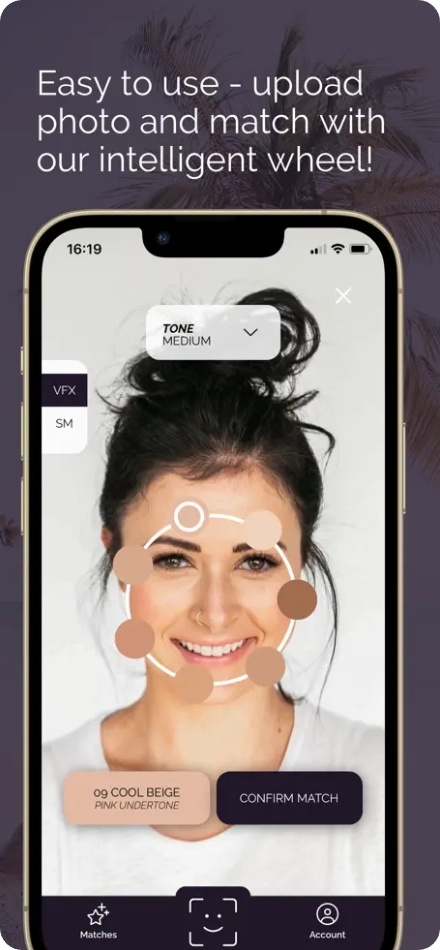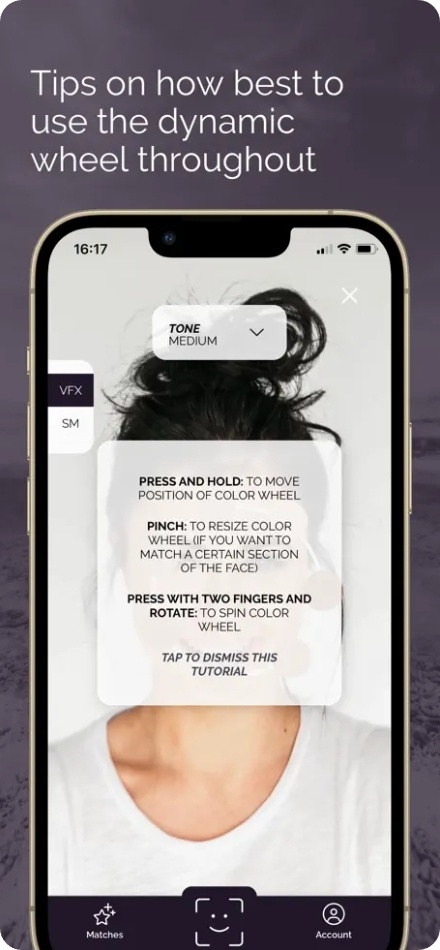 You may also check: 13 Best Headshot Photo Apps
Glamai
To wrap up, we have an assistant app that can help you take your beauty routine to the next level. This innovative app is the personal guide you've been dreaming of.
One of the top aspects of this app is the ability to help you find a foundation match. If you've ever spent hours standing in the makeup aisle at the store trying to figure out which shade is right for you, you know how frustrating it can be. But with this app, all you need is to know your shade in any foundation, and the app will help you find the most similar ones in others. It's like having your own personal makeup artist right in your pocket!
But the foundation isn't the only product you can find with this app. It lets you discover top-rated skincare and makeup across a range of categories, from serums to lipsticks and more. You can personalize the experience by picking the types of products you're interested in, too.
You can also read the real reviews and recs from other users. It's like having a community of beauty experts at your fingertips! You can also compare real reviews with influencer ones and see which products are worth your hard-earned money.