On the hunt for a way to improve your reaction time while having fun? You've come to the right place.
If you enjoy a good challenge and testing your reflexes, we've got the solution for you: free reaction time games for Android & iOS. These let you test and sharpen your reaction in a fun way.
And along with endless entertainment, you'll get to sharpen your reflexes. From tapping to avoid obstacles to touching the screen as fast as possible, these will hone your reaction in a fun and engaging way. Let's get into it!
Brain Games – Left vs Right
Let's start with an app to give your brain a daily workout. It is the ideal way to keep your mind sharp and prepare you for any challenges that come your way throughout the day. It covers over 50 mini-games of all kinds, so there's really smth for everyone.
All the games are aimed at different abilities of yours. For instance, there are ones to test your retort, ones for awareness, adaptability, patience, and more. The games teach you to be aware of your surroundings and use analytical skills, and you'll notice the rest within the first month.
The app is incredibly user-friendly, with a simple UI. You can start training for free and unlock even more games by watching a short vid. Plus, the game's design is visually appealing, making it a fun exp for users of all ages.
But perhaps the best part of the app is how easy it is to incorporate into your daily routine. With just 10 minutes a day, you can give your brain the exercise it needs to stay in tip-top shape. It's a gem for those who are short on time but still want to prioritize their mental health.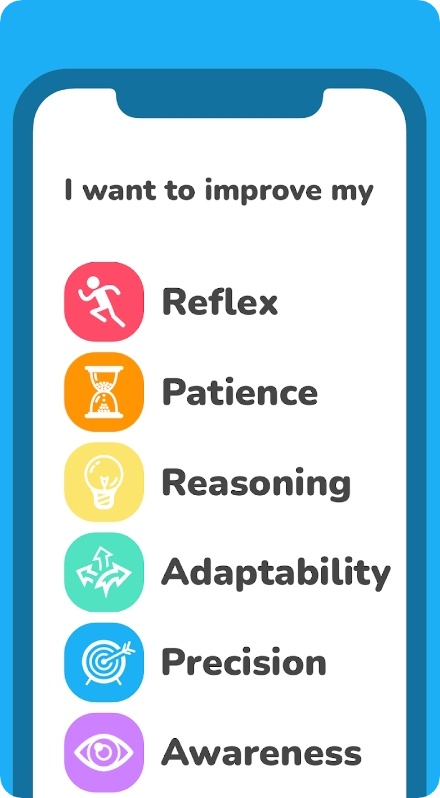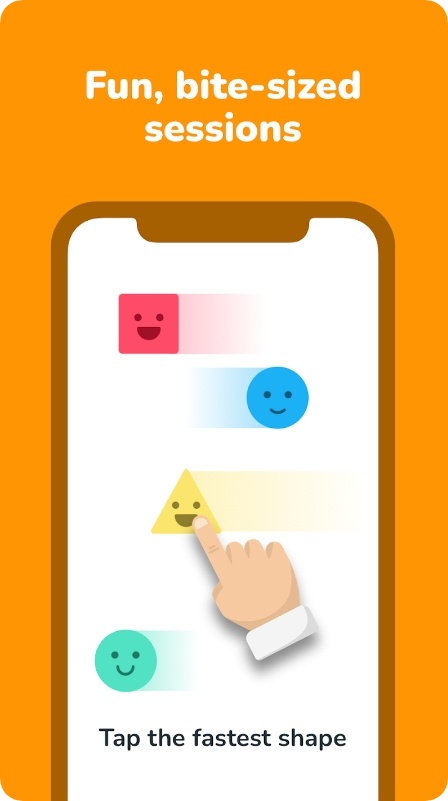 You may also like: 9 Best Memory Card Games for Adults
NeuroNation
That's the kind of brain training app you didn't know you needed before actually trying it. It's packed with over 34 exercises and 300 lvls, is it's a true gem for balancing all the vital abilities. It lets you work on mental health, concentration, reaction, and memory.
This app is like having a personal brain trainer at your fingertips. What sets this one apart is its personalized approach. The app analyzes your strengths and potential to make a unique plan tailored to your needs.
You can monitor your progress and adjust your plan accordingly, ensuring you stay on track and achieve your goals. But don't just take our word for it. A study conducted by the app has confirmed the effectiveness of its memory training. That's right, it's scientifically proven!
And let's not forget the fun factor. It isn't just about qualifying your brain, it's about doing it in a fun, engaging way. You get the ability to connect with other users and take on challenges with your mates. Overall, it's a great way to keep your brain sharp while having a good time.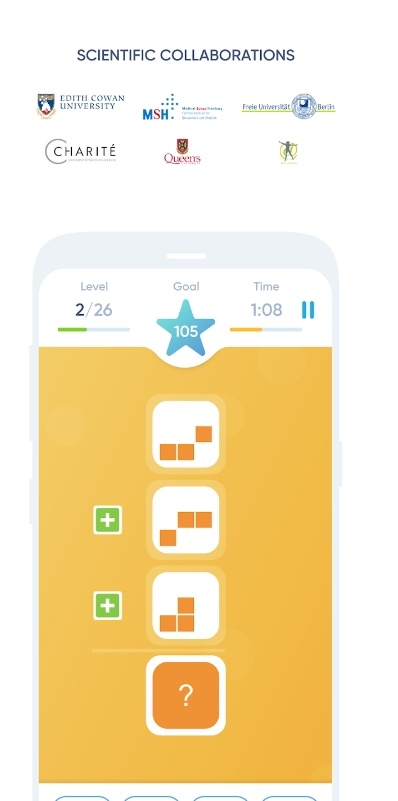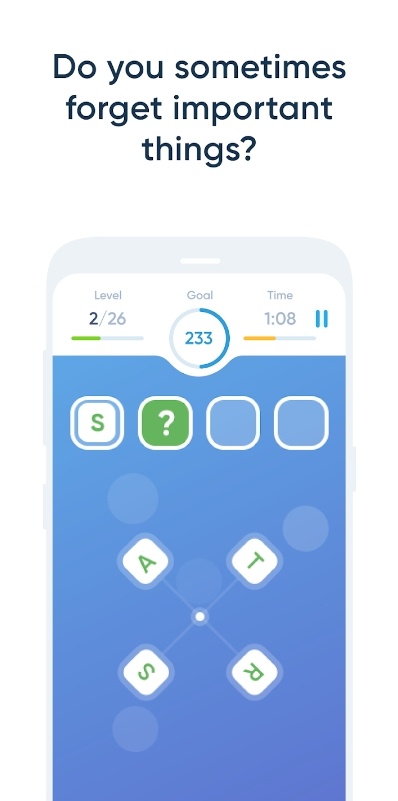 Reaction training
Tired of feeling sluggish and slow-witted? Are you eager to sharpen your mental prowess? That's exactly what this app is here for. It covers tons of brain teasers, riddles, and sports-related drills to hone and entertain you.
Hereby, you can alter the settings to adjust the level of difficulty, remove the countdown, or modify the number of repetitions. So whether you're a newbie or a pro, you can find your ideal lvl of challenge. The app also monitors your improvement with detailed stats for each exercise.
It also covers various themes you can easily switch if needed. From sleek and modern to a playful, colorful vibe, this app has it all. The UI is minimal and intuitive, so you'll quickly figure out how the app works.
And the exercises themselves? They're diverse and varied, with more than 45 games to train your reaction time. There are Schulte tables, shake exercises, and a lot more. You can work on everything from your peripheral vision to your spatial imagination to your quick-click skills.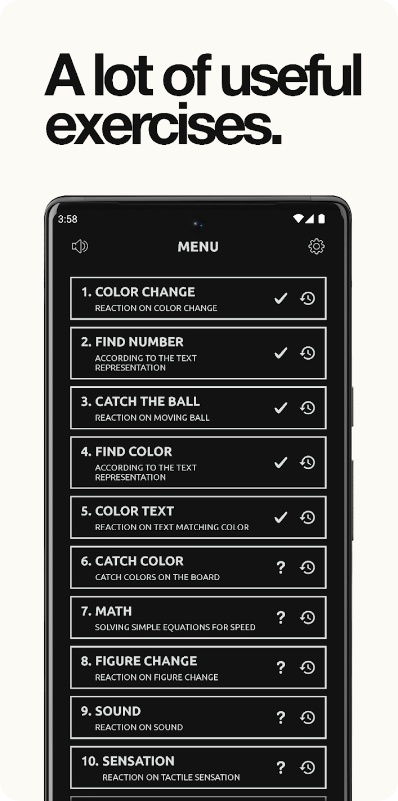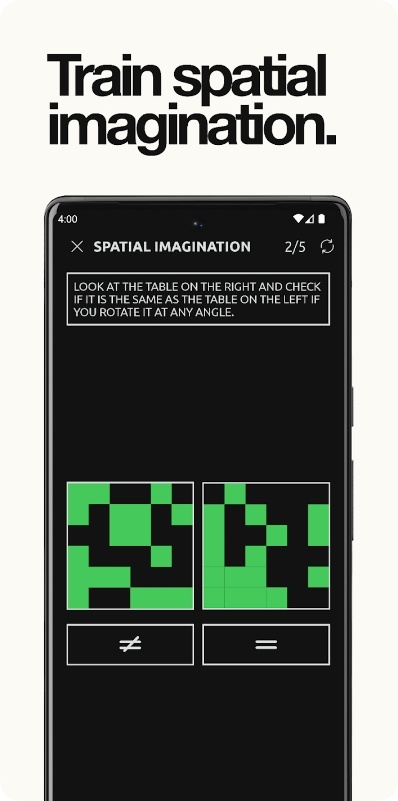 Dumb Ways to Die
Here's an incredibly fun and addictive game that tests your reaction time. It is jam-packed with 82 hilarious and time-based mini-games that will keep you hooked for hours on end. You'll get to unlock charmingly dumb characters for your train station as you work your way through the many challenges.
But don't let the lighthearted nature of the game fool you, it takes quick reflexes and a steady hand to master some of the challenges. From navigating a maze of forks in a toaster to avoiding piranhas in delicate areas, the obstacles you'll face are as absurd as they are challenging. And that's just the tip of the iceberg!
What makes this one special is the animated and endearing characters that you'll fall in love with. And it's not just the fun and games that will keep you coming back for more. Many users have reported that playing this game has helped them calm down and deal with anxiety.
In addition to the action-packed gameplay, there are plenty of other tools to love about the app. For one, it's incredibly easy to pick up and play, so you don't need to be an expert to enjoy it.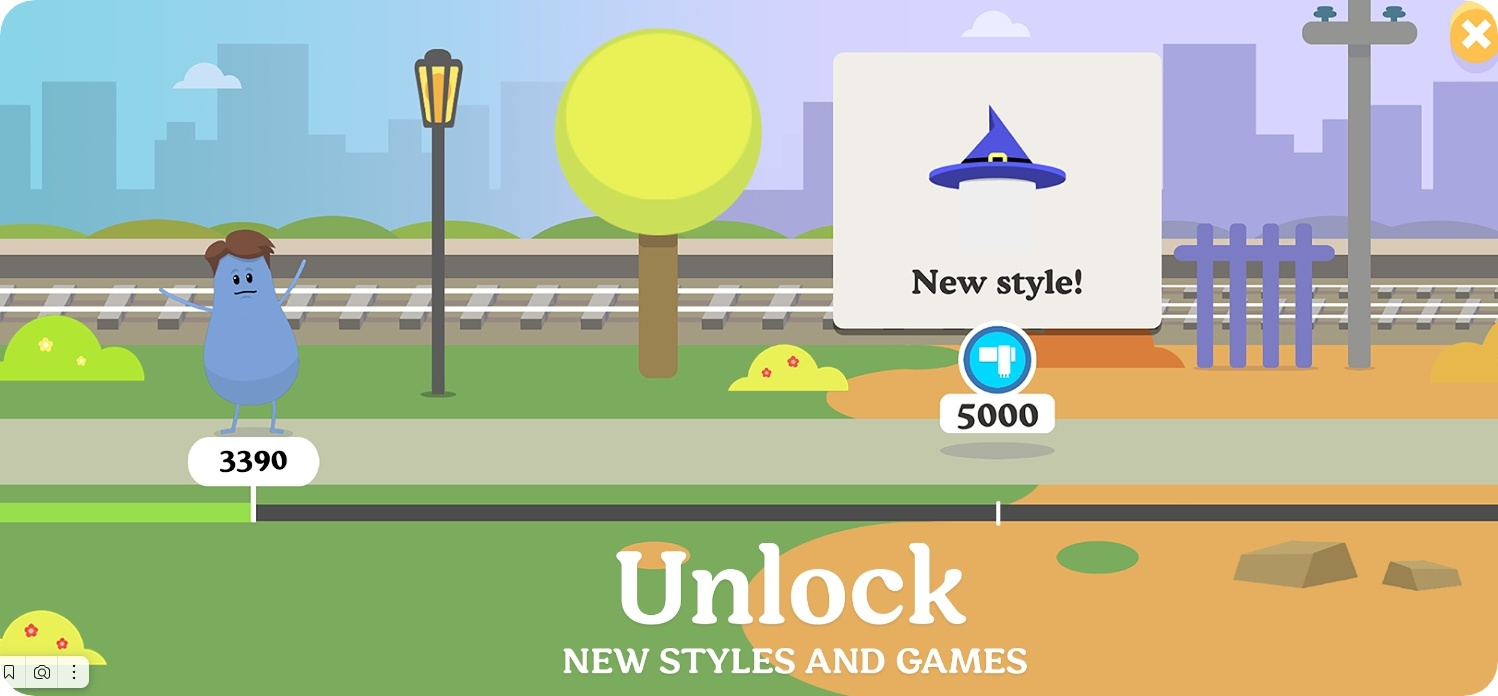 Check also: 11 Best Games Like Water Sort Puzzle
Magic Tiles 3
This app is a true masterpiece, blending classic piano pieces with a fun and addicting game format. Its gameplay is simple yet addictive. You'll find yourself tapping away at the tiles, trying to keep in rhythm with each song.
And let us tell you, the sensation you get when tapping the black tiles is indescribable. It's as if you're actually playing a real piano! Yeah, the gameplay may seem simple at first, but it gets increasingly harder with time, making it a real challenge for improving your hand-eye coordination.
But the real appeal of this one lies in its diverse lib of songs. From upbeat POP hits to soothing classical melodies, you're sure to find a song that suits your tastes. And the best part? New music is frequently added, keeping the game fresh and exciting.
Speaking of which, the game itself has numerous modes and levels of difficulty, so you'll never get bored. Plus, you can battle against other users, adding a whole new level of competitiveness to the mix. The app also saves your progress, so you can always pick up where you left off.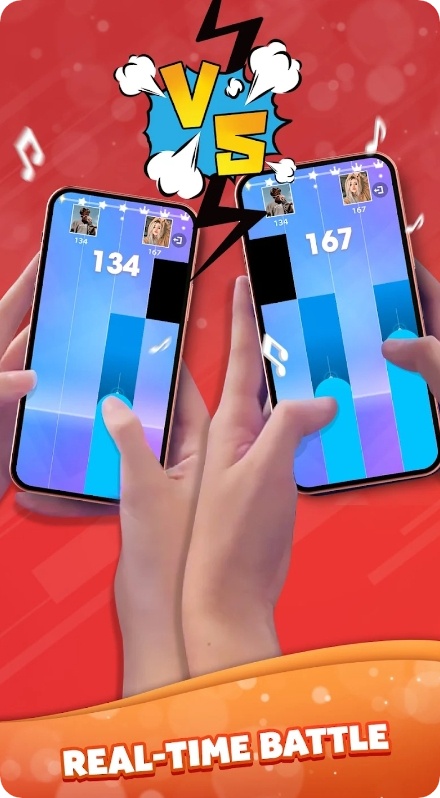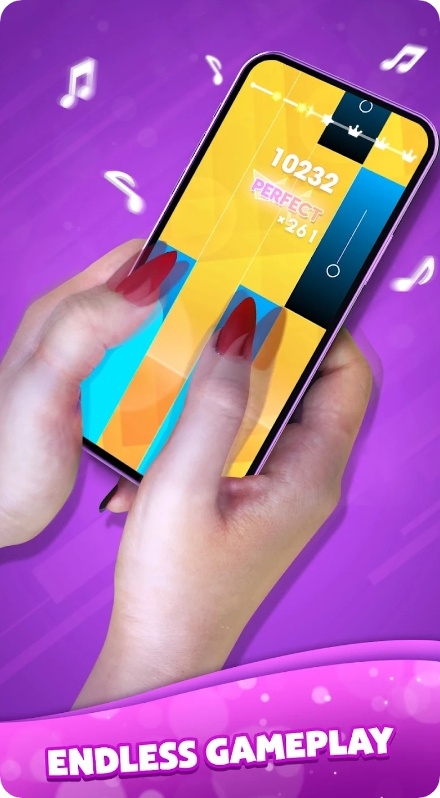 Reflex
This little app can give you a real reaction speed boost. It boasts a vast scope of experiences to work on your abilities and overall mental sharpness. Take the Schulte table exercise, for example. By finding numbers in a grid, you'll train your eyes to process info faster than ever before.
Or try out the math exercises, where you'll have to solve simple arithmetic problems in record time. And for those who enjoy a good challenge, the memory test will put your brain to the ultimate test by requiring you to remember a sequence of colors and repeat it.
But that's not all, the app has a plethora of mini-games to keep you on your toes, from the sound to swipe reaction tests. And let's not forget about the eye memory training, where you'll have to recall the position of colored dots with impeccable accuracy.
Well, you've got the point, you'll never get bored with this one. It's a great tool for sharpening your reflexes. And the e friendly and fun tone of voice will keep you entertained and motivated throughout the entire process.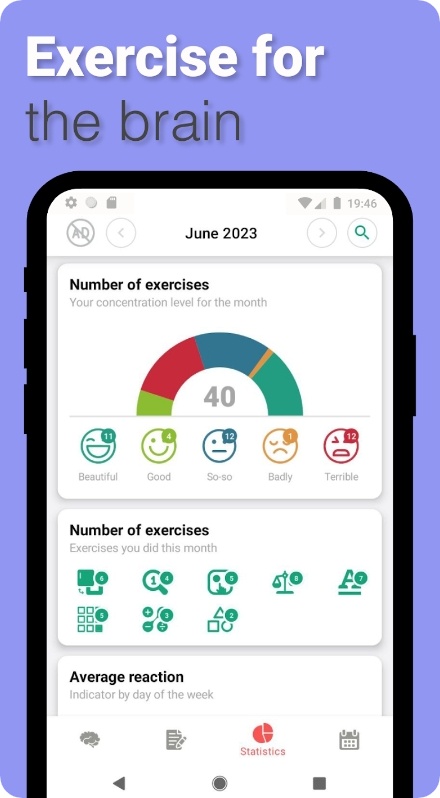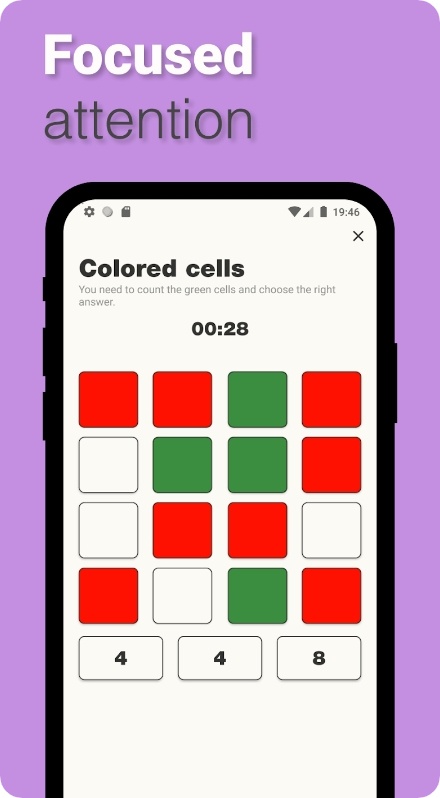 You may also check: 9 Best Box Puzzle Game Apps
Brain Spark
Lastly, there's an app to help you boost your mental agility. It's a real game changer for anyone who wants to improve their concentration and reaction skills. This clever little app will have you hooked from the moment you start playing.
Each level challenges you to quickly identify the correct color. But, watch out! In reverse mode, you'll need to select the wrong one. It's sure to mess with your brain but in the best way possible. The game will reward you for quick taps, so if you have lightning-fast reaction times, you can score even higher.
Its simple gameplay and score system makes it easy to play in your spare time, whether you're waiting for a friend or just need a quick mental workout. But the real cherry on top? Global leaderboards, where you can show off your scores and measure your progress against other users.
One of the best aspects of this one is the motivating music. As you play through the levels, the music pushes you to keep going and beat your own high score. And with a simple gameplay and score system, you can play on your own time without any stress.