Spiders attack the apple orchard!
Apple Spider is a simple and fun casual arcade game. Short game sessions and simple controls make this game a great way to have fun when traveling or in your spare time. You should note that this game is exclusive to the App Store!

You may also like: 11 Best Physics Sandbox Games for Android & iOS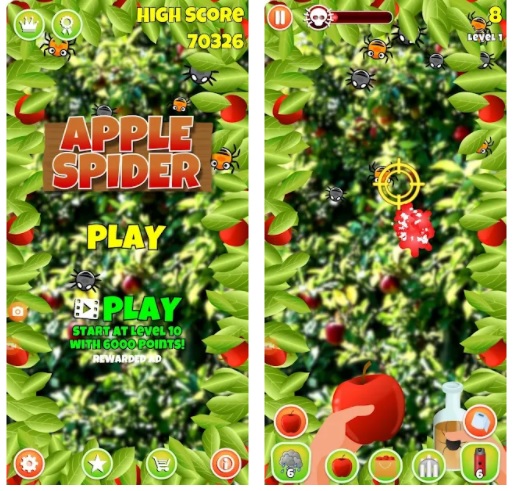 The interface and controls are simple and straightforward enough – click on the screen to throw objects. This game is for those who love reaction games and destroying large crowds of enemies. Try to keep up with the fast pace of the game, otherwise, you won't win!
As always, a nice bonus is the leaderboard and achievement table – compare yourself to other players and get better. Increase the record and become the first!

You may also like: 11 Best Games Like My Time at Portia for PC
A variety of gameplay is achieved thanks to several types of weapons! This is quite a complex game so be prepared to sweat as much as possible to gain as many points as possible.
Nice and rather cheerful background music creates a mischievous and relaxed atmosphere, and the sound effects nicely complement the gameplay, and you get the feeling of being in the game itself. All in all, this game deserves high marks, and for everyone to try their hand at protecting the apple orchard.

You may also like: 7 Best Horror RPG Puzzle Games for PC, Android, iOS