Notebooks – write and organize is an app used as an editor, file organizer, PDF creator, and more.

You may also like: Local Chatting Apps for Android & iOS
The developers suggest you use their development for making your life easier. For example, if you're out in the town, a random idea or plan can appear in your head. To remember it, you can quickly open Notebooks and write everything down easily and quickly.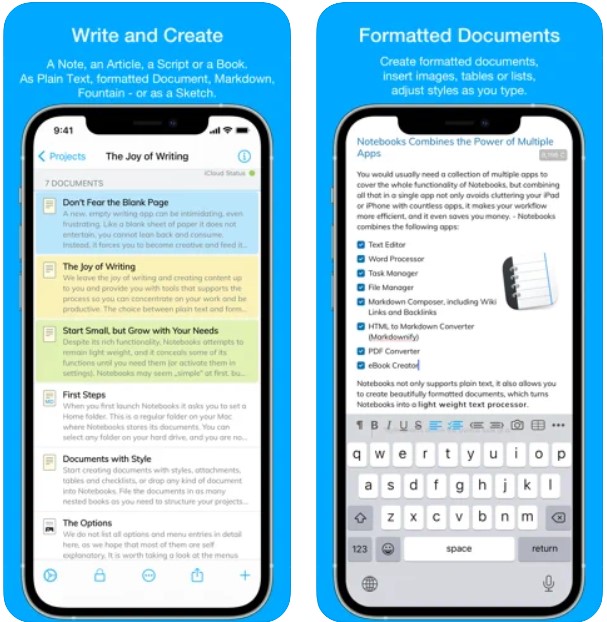 The application makes it possible not only to note some tasks but to organize and custom them directly. It is even possible to write books.
One of the convenient features is the saving of the documents in standard formats (word documents, PDF files, etc). It makes the work with the notes super enjoyable through the easy way of the transfer on other devices or apps.
In addition, with Notebooks, you can use a markdown feature. It will help you to create formatted documents from plain text. To activate this function, you will need to click any word in a formatted markdown text and start writing on that position. You can create checklists (-[]) and tick them off in the formatting view.

You may also like: 13 Best Last Seen Tracker Apps for All Socials (Android & iOS)
Some further nice features include the possibility to scan the document, to use Apple Pencil, sync files in between your devices (any format of the document is available to sync).
Talking more specifically about the possibilities of the Notebooks app, there is a huge amount of text formatting in it. You can move the text to any side of the document, invite tables, pictures, lists. It is possible to adjust the style of the written text.
Your files will be shown on the main screen. The system will make it possible to see in which style the document is written, show whether there are any pictures or not.
The developers made it possible to schedule the tasks and search for the written documents through different features (recent items, recently modified, contexts, etc.)
A nice bonus is a dark mode and the ability to make the light warmer or colder.

You may also like: 9 Best Weather Overlay Widget Apps for Android & iOS