Lighting Calculations is a multifunctional application that allows you to make calculations in the field of lighting. This tool is full of various features, so let's read more about them!
You can also check the article about the Free OHMs Law Calculators for Windows.
The app is pretty lightweight, so you will not have to waste too much time on the installation. When you first open it, you will find the following sections – Main, Conversions, Resources, Formulas, and Favourites.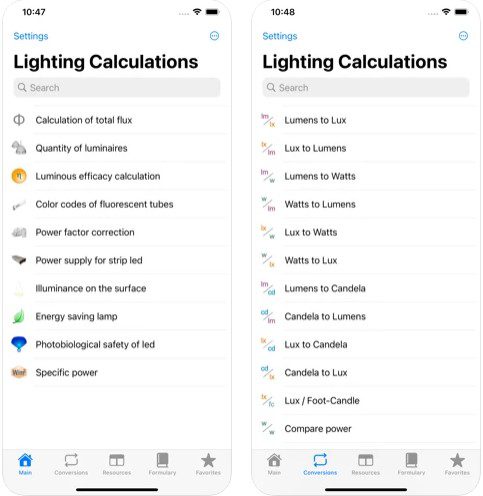 So, in this app, you can make a great variety of calculations. For example:
· Calculation of total flux
· Lighting requirements for interiors
· Quantity of luminaires
· Luminous efficacy calculation
· Power factor correction
· Lux meter (compatible only on devices with light sensor)
· Energy-saving lamp
If you have faced any difficulties while using this tool, you can check the FAQ section in the sidebar or you can contact tech support. The customer specialists are very responsive, so they will tackle all your problems.
Another useful option there – the app allows you to use various converters. No doubt, this is a rare advantage for such kinds of apps!
And in case you want to explore more useful calculators, you can see the article about Miller Welding Calculator Apps.
In addition to the aforesaid, the app offers a wide range of useful resources. Below, you will find some of them:
Type of lamps
Lamp fittings
Bulb shapes