Currently, Grammarly is the most widespread and popular service to check spelling mistakes and grammar for native and non-native English speakers. And frankly, the service is awesome! But the problem is in some countries Grammarly doesn't work or everywhere users sometimes face issues with it.
That's why in the following article we have collected the free Grammarly online & offline alternatives in case you want to explore something new. In addition, we recommend you to check the article about the best speech to text apps for improving the writing productivity.
ProWritingAid
One of the reasons why Grammarly is so popular is because it's versatile and it's a cross-platform app. It can help you to fix your spelling mistakes almost at every website that you open which means it's reliable. And these are features you can also find in the ProWritingAid as well.
Just like Grammarly, ProWritingAid will make the corrections to your spelling, grammar, and readability across the web. In general, it's one of the best free alternatives for Grammarly, and even if you decide to unlock its premium version, its paid accounts are still cheaper than the ones that Grammarly has.
ProWritingAid main features:
Users can customize the spell-checking to fit a specific genre, for example, fiction or copywriting
The built-in quizzes help you to learn the grammar, there are also videos, and articles
In ProWritingAid you can select from 20 different reporting options to tailor your feedback to your specific needs
In all other aspects, this app works really similarly. You're getting the same convenience of real-time mistake-fixing suggestions. Apart from that, you can integrate service with such popular options as Microsoft Word or Google Docs, and ProWritingAid supports other tools such as screen and open office.
It could even mean it's better than Grammarly because it has some extensions that the last doesn't have. Therefore, we highly little commanded that you want to try something like Grammarly's wide region approach.
Because of the extended reporting system, you will get the same type of feedback but there are more ways provided so you could understand it. ProWritingAid is beneficial also if you want to improve your grammar skills.
All in all, the free version of ProWritingAid will be more than enough to correct your spelling mistakes, Grammar mistakes, and even clarify this stylistic.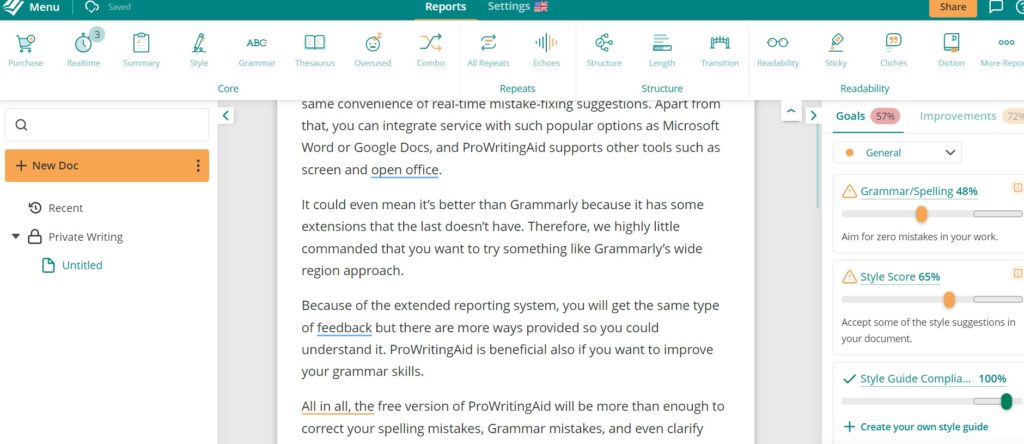 You may also like: 9 Best Speech to Text Software for PC
Hemingway
Another Grammarly analog is quite similar. It is easier to use than ProWritingAid and it is clear and effective. According to the classical scheme the app will underline the mistakes you need to fix and it will show you suggestions.
Hemingway's main features:
The app not only underlines the incorrectly spelled words but highlights them with different colors to identify the type of the mistake
With this app, you can upload your finished work directly to WordPress
Works offline as well
The best advantage of Hemingway is its color-coded feedback system. It's easier to read the feedback and Hemingway's because it has a better variation of colors and a better highlighting system.
Another advantage of this software is it doesn't require you to create an account to tart using the service.
It's based on the same integrated approach as promised, but the developers made it a little bit more sophisticated. However, Hemingway cannot follow you across every in-browser text field like Grammarly.
Here you will always have to type your text directly into the engine to see all the mistakes. So this option will be preferable for those who don't mind copying the text into Hemingway first, then correcting all the mistakes, and only then continue working with the text.
Hemingway also prominently displays the readability of your work level and word count. The software has a good focus on the mechanics of grammar. It's also important to mention that here you can find more advanced insights on tone and style.
And in case you decide to go for the premium desktop version there's just a one-time payment which is not much. But overall, all the free features that Hemingway provides are more than enough to create a good readable text and correct all the mistakes.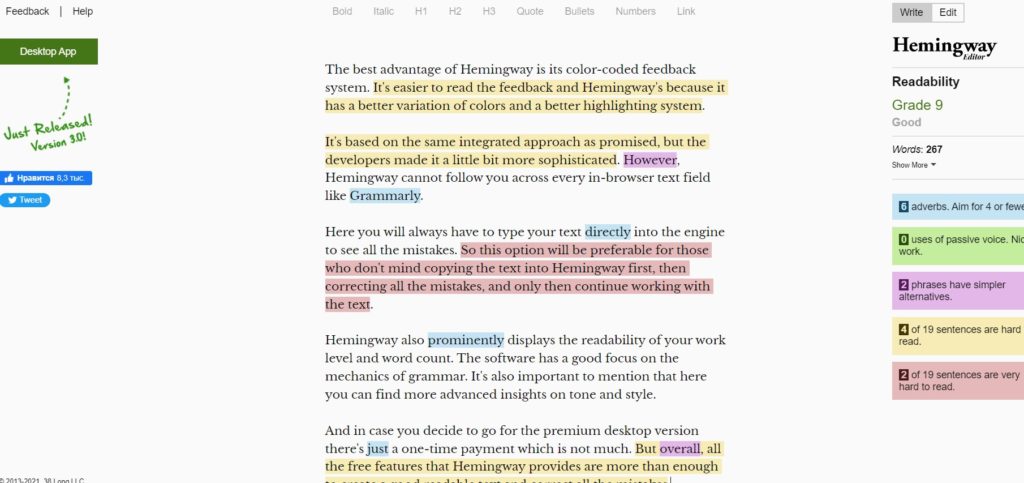 Sapling
One more good alternative to Grammarly is based on the work of AI systems. The main significant feature of Sapling is it provides personalized corrections and suggestions for your text.
This software will be more suitable for business purposes. But it doesn't mean everyone else cannot use it. Here are the Sapling main features:
A collaborative analytics engine that can incorporate individual mistakes into team-wide feedback
One-click response options for nearly instantaneous messaging
Enterprise-grade infrastructure designed to handle large amounts of data with strong security
In all other features, Sapling doesn't really share many common features of Grammarly for grammar and spelling checking. But one thing that they have in common is the browser extensions. What is more, just like Grammarly, Sapling provides quality scores and error analysis and reports.
At the same time, the main difference between those two services is that Sapling is optimized to work in service chats and help desks while Grammarly is a more universal application. Sapling is a great choice if you're looking to boost customer service with improved communication.
But actually, Sapling is capable to find 60% more errors than Grammarly. This fact makes this software a much more reliable and better alternative to Grammarly. All those aspects make sapling a perfect fit for professional settings and it's a nice choice for all who prioritize speed.
We would even recommend using it if you're dealing with a lot of short-term customer communications. One of the best parts about sapling is that its basic version is completely free.
As always, there is a premium version with some advanced features but the fact that such a great tool is available for free makes it a great alternative to Grammarly service.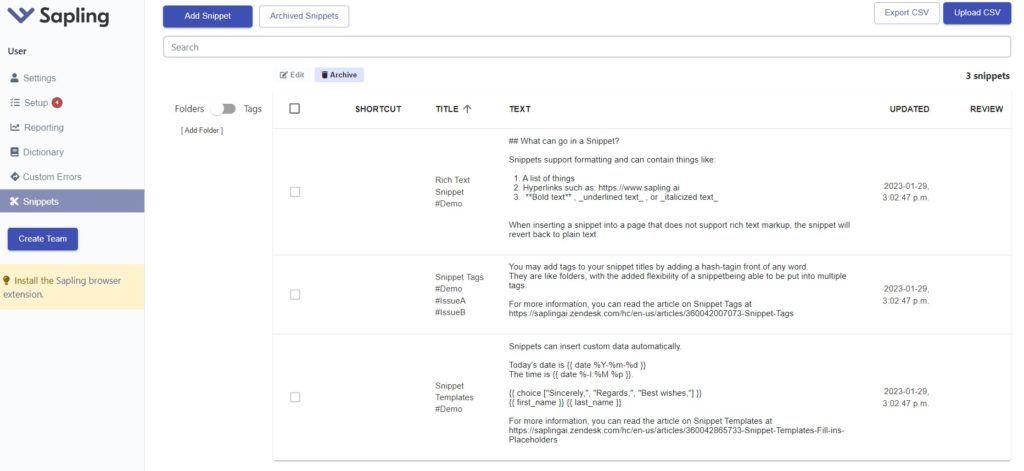 Ginger
Ginger will be a great help for those who have to write long readings. It doesn't just fix the errors in your text, but it helps you to make it more stylistically and lexically correct.
Ginger main features:
Contains a feature that can correct all the mistakes in the text at once
Suggest synonyms for the words based on the style of your text
An AI-based sentence rephrasing tool to cut down on wordiness
Ginger is similar to the Grammarly app because it also provides spelling and grammar tapes based on the context. Even they are interfaces are quite similar both services underlying mistakes, make suggestions for corrections, and so on.
Also, unlike other services on this list, Ginger has a mobile app which is also a plus. And one especially interesting feature of the service is that it offers a text reader that will allow you to hear how your text would sell naturally if someone would read it.
The only thing is that Ginger prioritizes style corrections more than grammar and spelling checking and, to be honest, it's not the best service in terms of grammar. Ginger also lacks an accuracy score and it's not better than Grammarly at this point.
So, if the purpose of your writing is heavily focused on communication, we would definitely recommend using ginger. It's really difficult to compete with its AI suggestions and instant access to relevant synonyms that Ginger provides.
Moreover, we would recommend this service to everyone for whom English isn't the first language. The information that the AI here contains is gathered from other users so you know that you're working with real-life data to improve your language-specific connotations.
And just like all the other options on This list, Ginger is available for free we possibility to go to the premium version.

PaperRater
Even though it might have a little bit of a scholastic-like name and retro-looking interface, PaperRater is one of the best Grammarly alternatives on the market. It is a multi-purpose tool and will suit any type of check – starting with a scientific paper, and ending with a blog post.
PaperRater main features:
In-engine performance graphs show the changes in your scores in the real-time mode
Allows you to make your text more lexically complex and advanced
You can select the goals of the spelling checking, depending on the audience, so the app would do customized checking
Both Grammarly and PaperRater can be used to check for plagiarism. But the latter has more of an academic focus since it has a more robust and giant for this.
Therefore, here we can check the originality score for your works and links so in this case PaperRater is better than Grammarly. What is more, PaperRater doesn't require creating an account to start the work.
On the other hand, it's not as convenient as the original service. You will always have to copy and paste your texts into the enjoying so you could get the results. It's not really convenient and not well suited to short-form works like comments or emails.
Another drawback that we noticed is unlike all the resources above, this one is annoying for popping ads.
At the same time, PaperRater provides well-rounded advice. It uses the help from another website similar to Grammarly that we've already covered before: Ginger. Therefore, it combines the features of the two services at once.
Therefore, PaperRater is a nice choice for everyone who works in a scholarly sphere. As we said before, it will be more suitable for the long-term form of work with thoughtful, in-depth responses.
The basic features of PaperRater are free. And if at some point you feel like you want to go for the premium features you will have to pay the monthly or yearly price.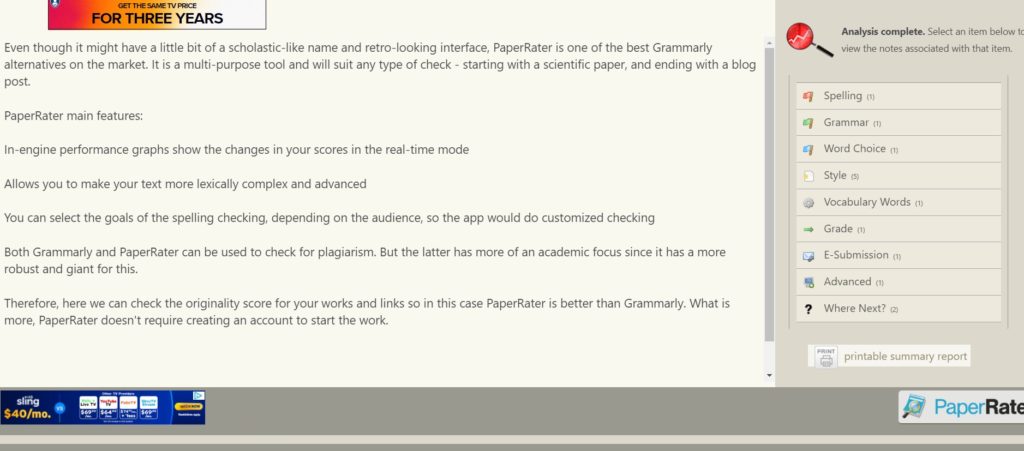 You may also like: 11 Best Apps Like Bitmoji for Android & iOS
Writer.com
This alternative to Grammarly is collaborative software for business. Writer.com will be useful for a group of writers that write under the same name so they need to stick to the unique style, and, of course, eliminate all the spelling and grammar mistakes.
Writer.com main features:
There are styles templates to help you to facilitate and better organize the teamwork
Reusable response snippets help to reduce the time for the feedback
The service includes different permission levels so everyone in a project could be assigned to a certain role easily
Among the other similar features, we can highlight that Writer.com and probably both share a personal dictionary feature. These services will allow you to create your own customized list of words that they will recognize.
However, this service, Writer.com like some nuances between dialects, and that mean that you will need to edit the dictionary more frequently. But when it comes to broad communication, Writer.com is quite an advanced service.
It means that you can select an inclusive language option that will flag any potential incentive words or phrases. It is actually quite a useful feature because it will help to avoid offending anyone and will help your writing to resonate with as many people as possible.
Another thing about Writer.com is that it can adjust to your personal writing tile and allows you to curate your writing standards alongside your personal dictionary.
We would say that this service would fit best and agency. Since it's a collaboration software like Google Drive it's so easy to use for a group of people. And the best part, in this case, is that Writer.com comes free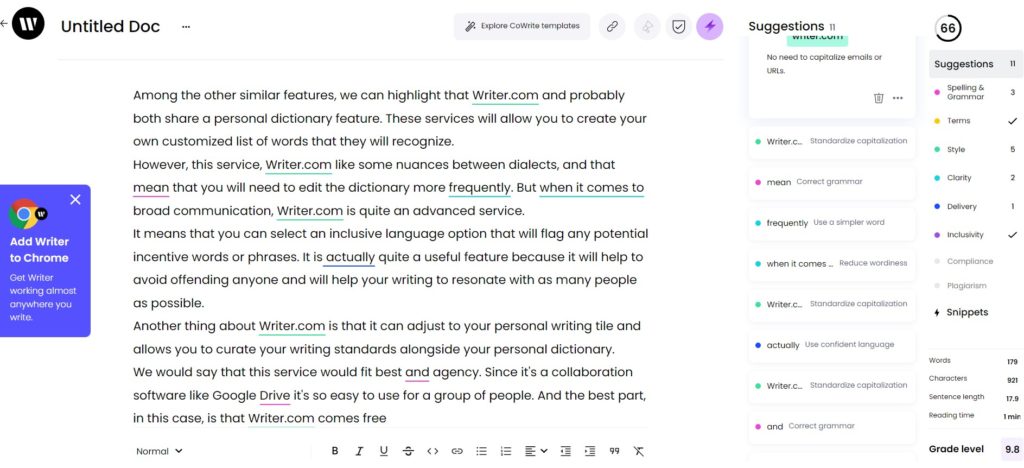 LanguageTool
LanguageTool must be one of the most popular alternatives to Grammarly and it's been one of its main competitors. It is a general editor and spelling mistakes corrector and it has all the same features that the Grammarly service does.
LanguageTool main features:
Can automatically check if the name of email recipients and the gender used in the message are matching each other
Allows to do a check-up to 100,000 characters at a time
Can scan for mistakes in complex numbers, such as ISBNs
Another great and prominent feature of LanguageTool is it's available more than in 20 languages. While no other app can brag about similar achievements, we would say that the interface of LanguageTool is something between Hemingway and Grammarly.
It has a color-coded system of highlighting the mistakes like Hemingway, which means it brings more detailed feedback.
One more difference between LanguageTool and Grammarly is the ability to customize the user experience. Language tool offers broader possibilities in this case. It provides both a dark mode and a distraction-free module to help tailor your interface.
In case you want to make your feedback more in-depth and customized, you can also activate the picky mode for advanced results. In case you're trying to reach a broader audience, we would definitely recommend using the language tool in this case.
The fact that it includes the settings for different languages and different dialogue databases will allow you to easily tailor the text to various users. Moreover, it is a wise choice in case you want to personalize your experience as much as possible.
Besides the interface settings, you will be able to customize the personal dictionary. And just like Grammarly, LanguageTool is available as a browser extension so you can use it everywhere across the web.
The basic features of LanguageTool are free the only thing is it allows to check a limited amount of text. But even if you decide to go for the progression, it's not that expensive.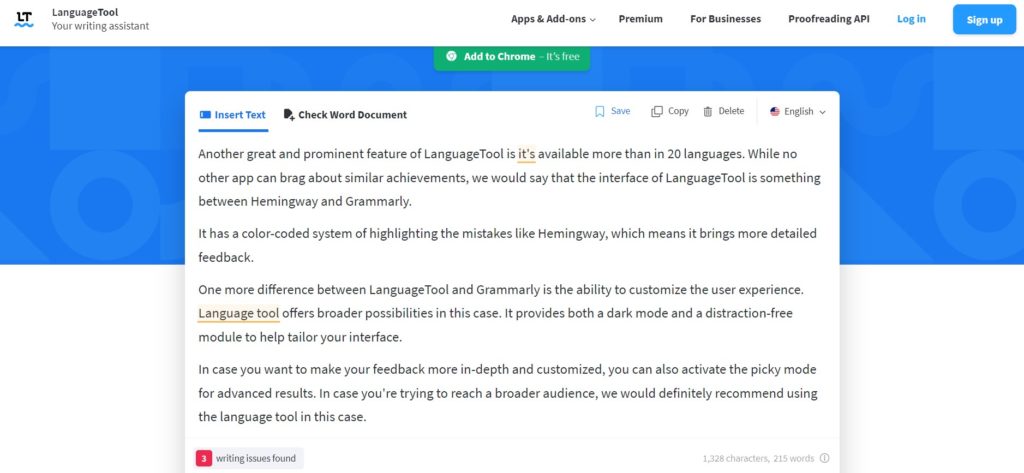 SlickWrite
SlickWrite is a tool that you can use only in online mode and it is really similar to Grammarly. It checks your grammar and spelling and also gives you alternative suggestions for the words you used.
SlickWrite main features:
The app has separate sections for spelling, grammar, and flow check-ups
Service provides a detailed explanation of the mistakes
No extension, only the website
The distinctive feature of SlickWrite is that it can also analyze the flow and structure of your text and artificial intelligence will help you to make improvements.
For instance, it can check the adverbs and explain in detail why this is a mistake and what will be the best substitution. Of course, it's not always 100% accurate but just like in Grammarly. In total, slick right contains more options and features than the original service.
Here you can select different types of analysis, including analyzing the flow of the text, the idea of the text, the style of the text, and just basic spelling and grammar mistakes.
There's also a separate section where you can view the statistics for your text. These old features make slick right in advanced checker for your writing, but unfortunately, you cannot use it as a browser extension. The tool is totally free though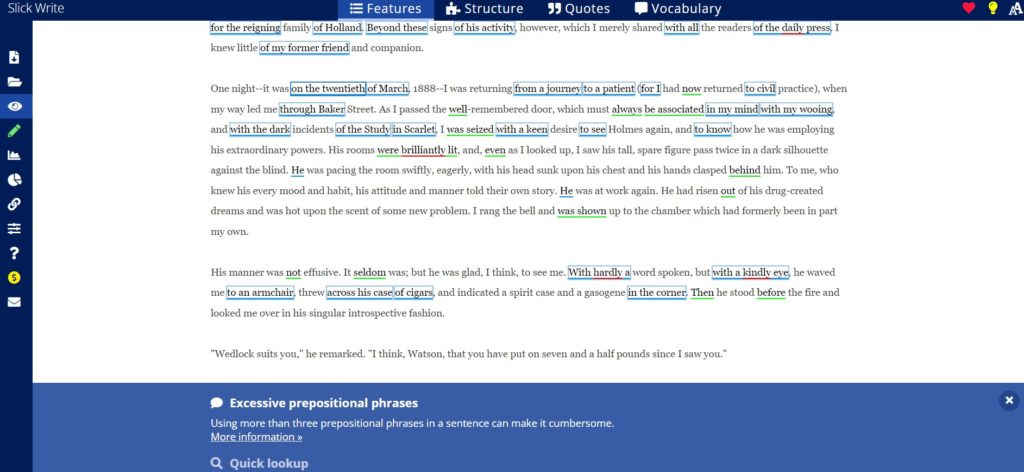 Readable
Readable is another good alternative to both Grammarly and Hemingway services. Just like these two services, this one check for spelling and grammar mistakes, and the special feature of it is that it provides a readability score.
To be more precise, it gives you different readability scores based on different methods of assessing readability. Here you will find such features as Flash Reading Score that is used by different institutions, including government agencies.
The maximum score that you can get is 100 and the closer you get to this point the better. For business and professional writing there is a Gunning Folks index score.
This service is so meticulous that it can point out the sentences that don't sound good because they have too many syllables or it can highlight the words that have more than 12 letters.
It can also point out adverbs and cliches. Therefore, if you need to prepare your text for some business writing or professional publicists writing readable is a great service.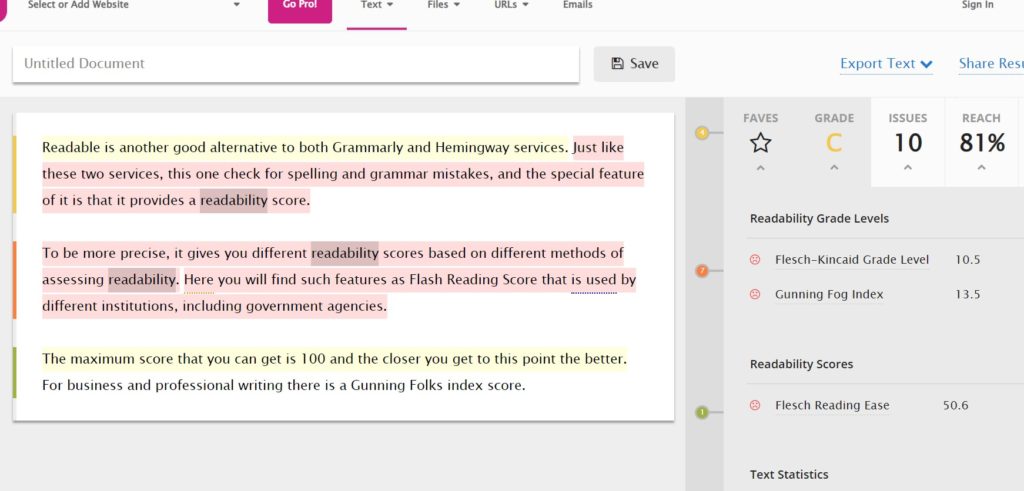 Outwrite
Outwrite is a service that focuses more on the purpose of your writing before it will start fixing the mistakes. And just because the service tries to make your experience as personalized as possible, it will ask you to create an account at the beginning, and there you can go straight to this text checking.
Just like Grammarly, it will highlight your errors with different colors, each color symbolizes the type of mistake. In total, outright is able to detect four types of mistakes: spelling, grammar, style, and structure.
If you point the mouse at this part we're underlined, the app will offer the correct variant. Overall, the software is free, but some advanced features, such as rewriting and pleasure reasons are only available in the pro version.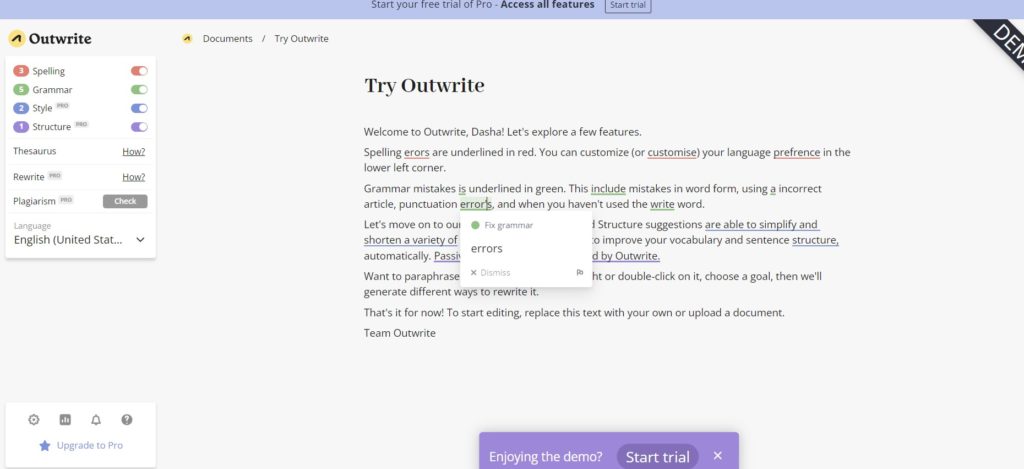 You may also like: 11 Free Photo Scanning Software for Windows 10
1Checker
1Checker is a less sophisticated little tool that will also allow you to take your spelling and grammar mistakes. Among all the apps on this list, this one probably the least similar to Grammarly. However, it's still free to use and some pictures of it are available in offline mode.
This is also the only software on this list that you need to download and install to your desktop. However, if you don't want to download anything you can still use it on a Chromebook. In general, the app is available for all types of OS.
In the program itself, you will find the small dictionary search bar next to the editor section. Therefore, you will be able to quickly search for the word's definition. This is a useful feature when you're not a native speaker and want to make sure if you're using a word correctly.
You can also search for translation using the search bar. To highlight the mistakes the software uses the flag signs. If you point on the highlighted word, the app will suggest the correct one.